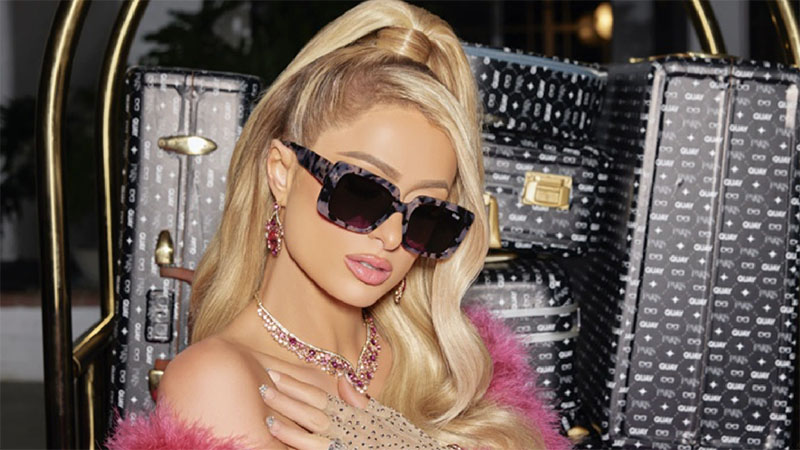 Olivier Rousteing is the new guest couturier for Jean Paul Gaultier, and Paris Hilton launches collaboration with Quay. Find these stories and more as we uncover the top international fashion news of the week.
Olivier Rousteing Named Guest Designer for Jean Paul Gaultier
Olivie Rousteing is the next guest designer for Jean Paul Gaultier. The Creative Director of Balmain will work on the July collection, which will debut in Couture Fashion Week in Paris. This announcement comes after Glenn Martens' (of Y/Project and Diesel fame) collection at Paris Fashion Week earlier in the year. Gaultier retired from his namesake label in 2020, when he invited a rotation of designers to take over the label of every collection.
"I've always been obsessed with and inspired by the Jean Paul Gaultier world," said Rousteing of the news. The French designer explained that much of his inspiration for present-day Balmain stems from Galtier's work, such as padded shoulders, corsetry, and sailor stripes. "I think he brought so much into the fashion world and the fashion industry," he said. "What I love about his aesthetic is all the incredible work on tailoring, on cuts, the craftsmanship, the savoir-faire, and the incredible glamour and sexiness he brought to the runway."
View this post on Instagram
Gigi Hadid and Mica Argañaraz Donate Fashion Week Earnings to Ukraine
Gigi Hadid is following Mica Argañaraz's footsteps and will donate her earnings from walking at this season's Fashion Month to Ukraine and Palestine relief. "Having a set Fashion Month schedule has meant that my colleagues and I often present new fashion collections during heartbreaking and traumatic times in history," she wrote in an Instagram post.
View this post on Instagram
Paris Hilton Collaborates with Quay Australia on Sunglasses Collection
Paris Hilton is collaborating with Quay Australia on a capsule collection. The QUAY X PARIS collection features a series of sunglasses, inspired by the Y2K movement. Hilton is famous for spearheading the fashion trends of the early '00s. There are 12 styles to choose from, available as prescription and blue light options. "Paris Hilton has been an icon in the fashion, business, entertainment, and philanthropic space for decades on end, "said CEO of Quay, Jodi Bricker. "Her ability to constantly evolve, start new trends, innovate in multiple industries, and now lead in the digital space, all while being an empowered female who empowers others, is exactly why she is the perfect collaborator for Quay."
Additionally, the two have partnered with the non-profit organization Project Glimmer for its Giving is Sliving philanthropy program. Together, they will donate $25,000 to Project Glimmer, and Quay will host an 'Empower Hour' to the women at the organization. "Collaborating with a brand that is both led by women and has such a strong emphasis on empowering women, all while being able to give back with them to a charity like Project Glimmer is exactly what I aim to do. Our missions are aligned, and I couldn't be prouder of our partnership, said Paris Hilton of the partnership. The glasses are available for purchase online and in-store.
View this post on Instagram
Mont Blanc Names New Artistic Director
Mont Blanc has a new Artistic Director – Marco Tomasetta – and launching a new leather goods collection along the way. Tomasetta has formerly worked with brands including Prada, Chloé, and Givenchy, where he was most recently a Creative Design Director. The new leather collection, Meisterstück, is named after one of its famous pens and will include briefcases, laptop bags, cross-body, and totes.
"The first thing I wanted to do with Montblanc was work with materials that were more supple or avant-garde in order to design new products to protect daily technology and, of course, pens," Tomasetta said. "I wanted to join Montblanc because it has leather in its DNA, and looking back in the archives, they had a pen first, and then came a selection of small leather goods to protect the writing instruments. It's a tradition."
View this post on Instagram
SUBSCRIBE TO OUR NEWSLETTER
Subscribe to our mailing list and get interesting stuff and updates to your email inbox.