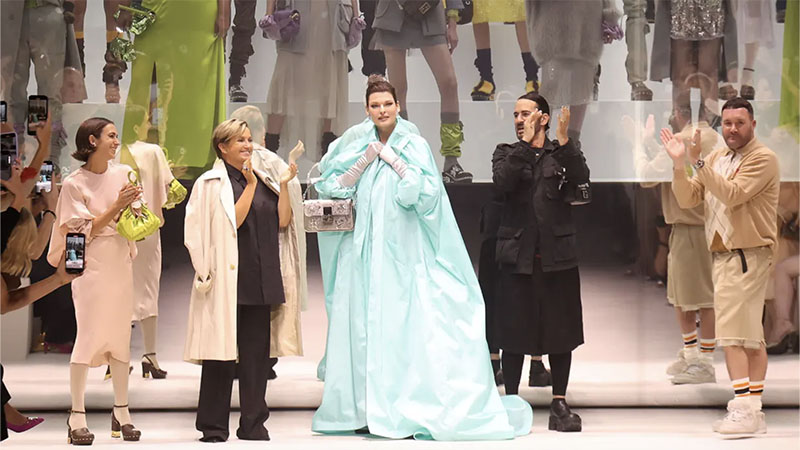 NYFW is here, Linda Evangelista makes a triumphant return to the runway, and Edward Enninful launches his memoir. Find these stories and more in the top international fashion news of the week.
NYFW Kicks Off Fashion Month
Fashion month is here, with NYFW kicking off festivities. Christian Siriano hosted his collection in Elizabeth Taylor's former mansion, with guests including Janet Jackson, Alicia Silverstone, and Coco Rocha. "It isn't about a hype look anymore," said Siriano of his show. "It's more about what's beautiful, classic, timeless, and modern."
The first day featured shows from Proenza Schouler, Collina Strada, and Fendi, featuring a lineup of Bella Hadid, Kendall Jenner, Vittoria, and Sherry Shi. Throughout the week, we will see shows from Peter Do, Khaite, Carolina Herrera, LaQuan Smith, and Tory Burch. NYFW will close out with collections from Michael Kors and Tom Ford.
View this post on Instagram
Linda Evangelista Makes Return to Runway at NYFW
Fendi celebrated the 25th anniversary of its iconic Baguette bag during NYFW, with Linda Evangelista making a triumphant return to the runway, closing the show. Following a 15-year absence, the supermodel walked in an oversized blue floor-length coat with pastel pink gloves and Baguette. The runway featured a blend of mint, soft pink, lime green, and gray pieces, with oversized fur hats, coats, flowing dresses, and mid-length skirts.
In 2021, Evangelista opened up about a botched CoolSculpting procedure, leaving her body 'brutally disfigured' and 'permanently deformed.' She sued the parent company as a result, which was settled in July. She previously fronted the Fendi campaign for its 25th anniversary of the 'It Bag,' then featured on the cover of British Vogue's September issue.
View this post on Instagram
Designers Cancel LFW Show Due to Queen's Passing
Queen Elizabeth II's passing this week has prompted Burberry and Raf Simons to cancel their LFW show. The two designers made the decision as a 'mark of respect' for the late Monarch, who died at her Balmoral home on Thursday, September 8th. It is tradition for Commonwealth countries to enter a 10-day period of Royal Mourning. "It is with great sadness that we have learned of the passing of Her Majesty The Queen. As a mark of respect, we have taken the decision to cancel our Spring/Summer 2023 runway show due to take place on September 17th in London," wrote Burberry in a press release.
"As the country enters a period of official mourning, we will pause during this time of great sadness. We will take this time to respect the legacy of Her Majesty Queen Elizabeth II and her 70 years on the throne. Our thoughts are with the Royal Family and the people of the Commonwealth," shared Raf Simons, who also planned to show his collection on September 17th. It is unknown if/when the collections will be shown.
View this post on Instagram
Stars Celebrate Launch of Edward Enninful's Memoir
Edward Enninful, OBE's memoir, A Visible Man, is finally here! To celebrate the launch of British Vogue's Editor-in-Chief's memoir, he hosted a party with influential and famous faces. The cocktail event kicked off his book tour, featuring Michaela Coel, Malala, Kate Moss, Adwoa Aboah, and Mayor of London Sadiq Khan, among others.
His memoir, which hits shelves on September 6th, discusses his youth in Ghana, his expansive career journey as Fashion Director of i-D at 18, Creative Fashion Director of W, and then Vogue, of which he became the first Black Editor-in-Chief of British Vogue.
View this post on Instagram
Gigi Hadid Debuts Guest in Residence
Gigi Hadid's fashion line, Guest in Residence, has finally arrived. The luxury cashmere brand features comfortable and timeless loungewear, socks, and cardigans in soft pink, brown, orange, and blue. To celebrate the launch, the supermodel hosted a party in NYC with sister Bella, Emily Ratajkowski, Edward Enninful, and many more.
"Reflecting on years of travel and transience, away from creature comforts, no matter where I was a guest in residence – I always managed to find a home in myself – my internal residence of sorts," Hadid said of her brand. "I strived to remain grounded despite the existential feeling that we are guests on this planet and in our bodies. That we are guests when we travel. That we are guests in our clothes. The genesis of Guest in Residence is to honor past heirlooms and give life to new ones spanning generations."
View this post on Instagram
SUBSCRIBE TO OUR NEWSLETTER
Subscribe to our mailing list and get interesting stuff and updates to your email inbox.