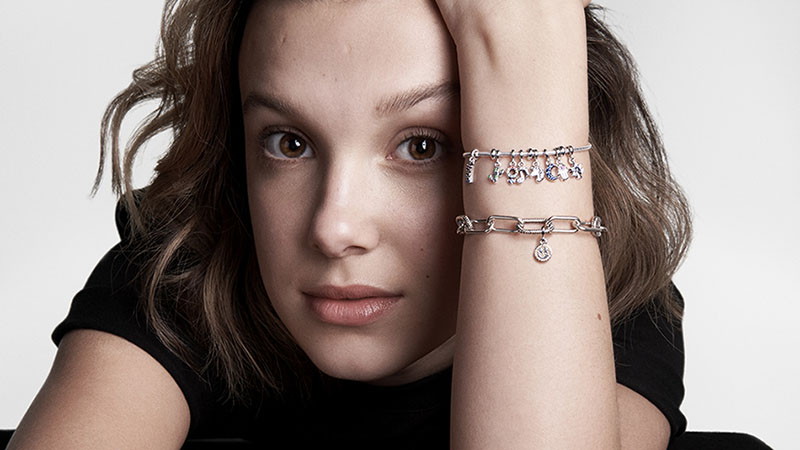 This week in fashion, Millie Bobby Brown is the face of Pandora and Iman will receive the Franca Sozzani Award. Find these stories and more as we uncover the top international fashion news of the week.
Millie Bobby Brown is the New Pandora Ambassador
Actress and model, Millie Bobby Brown is the new ambassador of Pandora. For the next two years, she will be the face of the jewellery brand and will front its latest campaign. The shoot includes soft lights, quirky poses and celebrates 'self-expression'. "I love Pandora because everyone can tell their own story, and each symbol can represent your individuality," Bobby Brown said. The brand's video unveils in October.
Lauren Hutton is StriVectin's First Celebrity Ambassador
Lauren Hutton is the first celebrity ambassador for StriVectin. Almost 50 years after signing the first exclusive modelling contract with Revlon, she's returning to the industry to prove that you can be 'beautiful at all ages'. She began her career in the '60s and is considered one of the most successful models of her time, alongside Twiggy and Jean Shrimpton. The campaign includes the model in empowering clothes, with slogans such as 'Beauty is As Beauty Does' and 'Confident'. Ms Hutton considers this campaign as one of the proudest of her career. "I said coming back [to fashion] at 46 or 47 was the thing I'm proudest of, but it makes me awful proud to come back at 75," she said.
Iman to Recieve the Franca Sozzani Award
Supermodel, Iman, is set to receive the Franca Sozzani Award in Venice. Iman is the third recipient of the award, which recognises women who stand out for their artistic accomplishments as well as outstanding social work. Iman created a skincare line for women of colour and has been a part of the Children's Defense Fund for many years. Other winners include Salma Hayek and Julianne Moore.
"Iman's work has disrupted the fashion industry in a way similar to Franca's: bold, innovative and inclusive," said Francesco Carrozzini, who established the award. "Using her platform to the best of its potential, Iman's work from lobbying the CFDA for an increase of diversity on the runway to impactful humanitarian work displays her true passion and focus. We are truly honoured for her to accept the Franca Sozzani Award." The ceremony takes place in Venice on August 27th.
Peabody Essex Museum Releases an Iris and Carl Apfel Gallery
New York style icon, Iris Apfel is having her work celebrated in the Peabody Essex Museum. The artist, designer and model is celebrating her 98th birthday in August. "For people who don't know her well, that is one of the things that people admire. Isn't she great continuing to do this at her age? But for people who know her, age is not a factor. This is just who she has always been. That's the part that is inspiring. She is not letting the number of years that she has been on the planet slow her down in any way," said Petra Slinkard, The Nancy B. Putnam Curator of Fashion and Textiles.
Victoria's Secret Hires Its First Transgender Model
Victoria's Secret has reportedly hired its first transgender model, Valentina Sampaio. The model posted behind-the-scenes snaps from a VS shoot and tagged 'PINK' in her caption – PINK is VS' sister brand. Alex Schmider, the GLAAD Associate Director of Transgender Representation, said: "Valentina Sampaio has a major opportunity to send an uplifting and affirming message to transgender women around the world that they belong and show that inclusion is what's best for brands today." The lingerie company is yet to confirm the casting.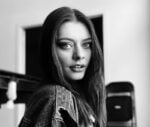 Alexandra Feiam is an experienced fashion writer who holds a degree in journalism. She has an impressive portfolio and expertise working as the Editor at Power Retail and Commercial Content Editor at Newscorp. Ally has been writing for The TrendSpotter since 2018, and her work has been featured in notable publications such as The Herald Sun, Arirang TV South Korea, Kidspot, The House of Wellness, and The Daily Telegraph.
SUBSCRIBE TO OUR NEWSLETTER
Subscribe to our mailing list and get interesting stuff and updates to your email inbox.