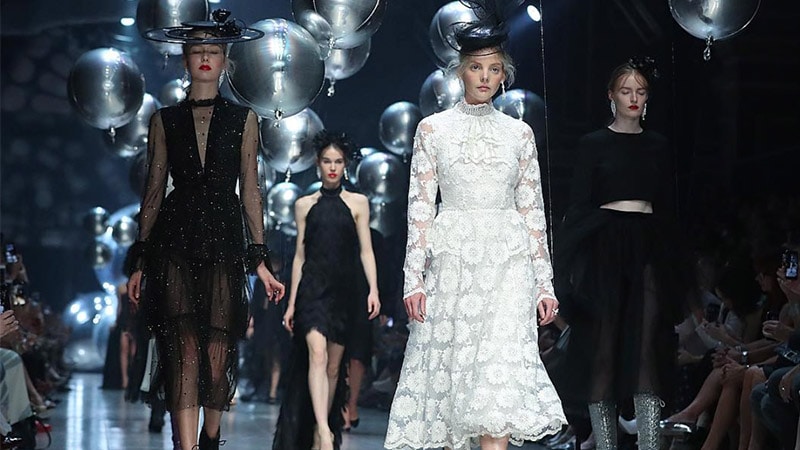 This week in fashion, Rita Moreno rocked a 56-year-old dress to the Oscars, Margot Robbie became Chanel's newest ambassador and Virgin Australia Melbourne Fashion Festival celebrated everything fashion with a week of runways. Find these stories and more as we reveal this week's top international fashion news.
1. Rita Moreno re-wears her same Oscar dress from 1962 to the 2018 Oscars
Legendary Hollywood starlet Rita Moreno made fashion waves this week, recycling her 1962 Oscars dress for this year's Academy Awards. The 86-year old rocked her gorgeous gold and black number with a voluminous skirt while accepting her award for best-supporting actress for her role in West Side Story. Fifty-six years later, she strutted her stuff down the red carpet in the very same dress. Just like that recycling has never been more elegant.
Ms Moreno who promised to re-wear the garment over twitter last month, told E! Host Ryan Seacrest while at the 2018 Oscars,"I would think it would tarnish." This gorgeous gown was, however, successfully repurposed for Sunday's event. The revamp saw the dress made strapless and heavily accessorised with a black and gold collar necklace, a chunky bracelet and earrings. As well as elbow-length gloves, which she also wore in 1962. The skirt is made from a single piece of obi fabric, which is traditionally used to make kimonos and was created in Manila. Ms Moreno is one of only 12 people to win an Emmy, a Grammy, an Oscar and a Tony. She now stars in Netflix's One Day at a Time and can add modern day fashion icon to her list of outstanding accomplishments.
2. Harry Styles is the new face of Gucci
Rumours started circulating of this perfect pairing after Harry Styles was spotted on the set of a Gucci shoot. The fashion house has now confirmed the 24-year-old musician as the face of its new tailoring campaign. Considering Harry regularly sports Alessandro Michele's designs with his signature flair, this seems like a fitting match.
Gucci confirmed Harry's affiliation with the brand, however, this is all we know about the forthcoming partnership. Gucci has only released one official campaign image so far and still, this doesn't give us much to go on. The image features a close-up crop of Harry's forehead with a fish and chip sign hanging above, but the full campaign is set for release soon. Expect flamboyant suits, luscious rockstar locks, and brooding yet boyish pouts. We are also hoping for moody and vintage inspired images capturing Harry's classic, yet edgy James Dean-esque charm.
3. Margot Robbie is announced as Chanel's newest ambassador and re-sews her own sleeve back on after it falls off at the Oscars
Speaking of perfect pairs, Margot Robbie is Chanel's newest ambassador. Margot hit the news by wearing a black tired Chanel dress with beaded detailing to the Charles Finch and Chanel Pre-Oscar Awards Dinner. Officially announcing her new role, she certainly looked the part at the 2018 Oscars. The Australian beauty wore a stunning Chanel haute couture number made by Karl Lagerfeld. However, her debut as the fashion house's newest ambassador was specular, for more reasons than one.
The Best Actress nominee looked like Chanel personified and proved she could have a pretty promising career as a seamstress, you know if the whole acting doesn't work out. One of the beaded sleeves of Margot's gorgeous white gown reportedly fell off backstage. However, the I, Tonya actress thought quick on her feet, borrowing a sewing kit from an assistant and sewing the sleeve back herself. Margot joins the Chanel family along with Lily-Rose Depp, Caroline de Maigret, Keira Knightley and Pharrell Williams.
4. Poiret returns to the runway during Paris fashion week after nearly 100 years.
After 90 years, the French heritage fashion house Poiret has returned to the runways of Paris. One of the most influential fashion houses of the 20th century, designer Paul Poiret is credited with liberating women. Renowned for exquisite designs, Poiret is most famous for his rejection of the corset in 1906 and freeing women from the petticoat in 1903. Inventing the sheath and the sack dress, he was also the first to posit the idea of couture trousers. He was also the first designer to release a fragrance.
Now, through new designer Yiqin Yin, his legacy lives on. The debut of Yin's ready-to-wear collection captures the essence and bears the name of Poiret. With soft, gently flowing styles in a rich and a varied colour palette reminiscent of the label which has been linked to the invention of draping in place of traditional tailoring. This is the latest in a selection of heritage houses receiving modern revamps, such as Vionnet and Schiaparelli.
5. VAMFF kicks off with Australian and International runways.
Virgin Australia Fashion Festival 2018 kicked off this week with a slew of designer and street style runways. Opening with the runway of all runways, The Gala Runway, presented in partnership with Vogue and David Jones, featured the largest line-up of Australian and international designers. Top designers such as Atoir, Manning Cartel, Thurley and many others showed off their new collections. The runways saw an abundance of sleek suits, bright block colours and structured silhouettes.
Presented by Elle Australia, Runway 2 was a spectacle of beautiful craftsmanship and design. It featured designers such as By Johnny, C/MEO Collective, Acler and Morrison. C/MEO Collective present a sea of red, frills and gorgeously tailored pants, dresses and coats. With other labels opting for more relaxed fits and moodier tones. Harper's BAZAAR Brides presented Runway 4, which debut bridal trends for AW18. The highly anticipated National Graduate Show saw collections from Australia's most promising students from renowned design institutions and universities.
The country's coolest labels like LifewithBird, Bec + Bridge and P.E Nation took to the runways for Runway 6, presented by Who What Wear. LifewithBird showed us traditional exquisite tailoring with some cool on-trend twists. GQ Australia Menswear Runway presented by Asahi Super Dry showcased essential Autumn Winter looks by Jac+ Jack, Autonomy, Jack London and many more menswear icons.
Including famous faces, Jennifer Hawkins, Elsye Knowles and Rachael Finch, the Myer Style Series completed its run yesterday. The style series included The Australian Designer Runways featuring Asilio, Acler, Sass & Bide, MJ Bale, Elliat and many more. The "street style runways' featured Nobody Denim, Tallulah, Country Road, Converse, Australian Fashion Labels and more. The week of VAMFF has been a smorgasbord of delicious designer and street style trends. We can't wait to see what the rest of the festival has in store.
SUBSCRIBE TO OUR NEWSLETTER
Subscribe to our mailing list and get interesting stuff and updates to your email inbox.