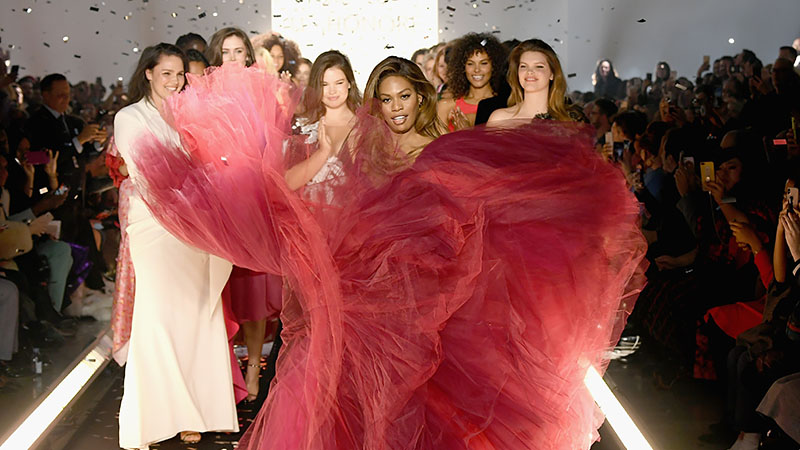 This week in fashion, Tyra Banks is opening a modelling theme park, Nicky Hilton shows off her new summer-inspired clothing collection at New York Fashion Week, Emily Ratajkowski launched a line of sexy lingerie and Laverne Cox closes 11 Honoré's fashion show. Find these stories and more as we reveal the top international fashion news of the week.
Tyra Banks is Opening a Modelling Theme Park
Though Tyra Banks has proven time and again that she is no ordinary model when it comes to her career — opening a model-themed theme park is definitely not something we could have imagined the former Victoria's Secret Angel doing. Banks' groundbreaking career has seen her as the first African American woman to grace the cover of Sports Illustrated's swimsuit issue solo. In addition to this, she has created a reality TV show — America's Next Top Model, she also hosts her own award-winning talk show (The Tyra Banks Show). She acted in various movies and TV shows and in 2011 she published a young adult novel, Modelland, which became a best-seller.
Variety reports Banks is planning to open a 21,000 square foot attraction later this year in Santa Monica, California, holding the same name as her 2011 novel, Modelland. So what does a model-themed attraction entail? It is confirmed to have "retail and dining options, [and] will be open to the public, who can buy tickets." Variety also reports the theme park will be an inclusive space and will "stay true to Banks' mission of bringing modelling to the masses while expanding the definition of beauty. I've always been insanely inspired by attractions like Disneyland and Universal Studios and have wanted to bring that spirit of adventure and storytelling to the world of modelling," Banks told Variety.
Nicky Hilton Shows Off Her New Summer-Inspired Clothing Collection at Fashion Week
Nicky Hilton Rothschild is ready for summer! The socialite debuted her Nicky Hilton x Tolani collection at New York Fashion Week A/W 2019. The line was influenced by the fashion designer's most loved vacation spots around the world.
"This collection was so fun for me, inspired by all of my favourite summer destinations," Hilton explained in an exclusive E! News interview on Twitter. "Hence, the passport collection." From Greece to Montauk, the mother of two has no shortage of family vacation memories. But one spot is particularly memorable for Hilton. "I meet my husband in Rome. I got engaged in Lake Como so Italy is very special to me," she revealed. Each patterned piece in the collection is inspired by a specific location from the star's past.
Laverne Cox Closes 11 Honoré's Fashion Show
Laverne Cox showed us how it's done when she walked out in 11 Honoré's fashion show this week. As the closing model for the label's runway debut, the actress spared not a single shred of confidence as she strutted down the catwalk. She twirled in a pink Zac Posen ballgown and flipped her hair to Robyn's "Honey". With each step, Cox got more creative as she nearly danced her way to the end, playfully throwing around the gown's layers of tulle.
To cap things off, the show's army of stunning models reunited behind her for a final walk. The show concluded with glittering confetti falling from the ceiling as they paraded down in their designer duds. As a brand, 11 Honoré serves as a size-inclusive place for customers to embrace their bodies. In addition to Cox, the show featured familiar faces in the body positive movement, including model Candice Huffine.
Emily Ratajkowski Launched a Line of Sexy Lingerie
Emily Ratajkowski's line of sexy bikinis just got an even raunchier upgrade. The 27-year-old model revealed that her swimwear brand, Inamorata, is officially expanding into lingerie. "A little over a year of @inamoratawoman and I'm so thrilled to finally share what I've been working on for you guys," she captioned an Instagram photo. "Introducing BODY, a category that is so much more than lingerie. I hope you guys love it as much as I do".
The new collection includes a wide range of bodywear, from bralettes and lacy thongs to cropped tank tops and bodysuits. With designs including the Ludlow, Bowery and Canal, all of the items are named after well-known streets in New York, and none of them retail for more than $55. Though the items won't officially begin shipping until February 11, the collection is now available for customers to shop online.
SUBSCRIBE TO OUR NEWSLETTER
Subscribe to our mailing list and get interesting stuff and updates to your email inbox.