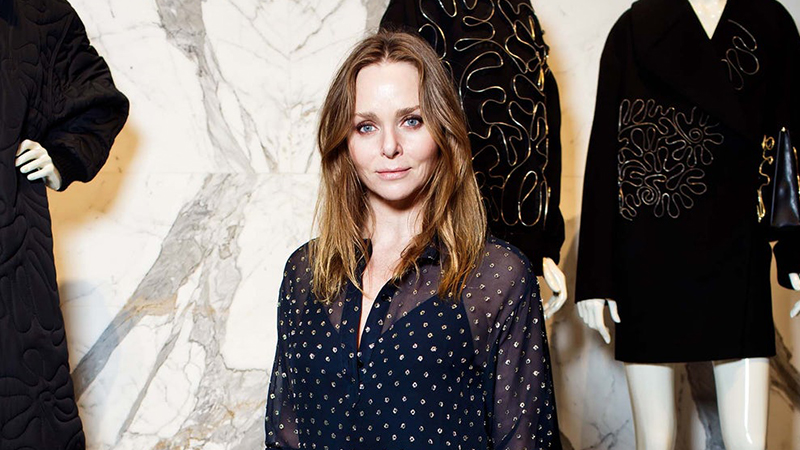 This week in fashion, Chanel announces the location for its pre-fall show, Burberry banned fur and will stop destroying products, Celine updates logo and Nike's Colin Kaepernick ad causes controversy. Find these stories and more as we reveal this week's top international fashion news.
Chanel Will Hold its Pre-Fall Runway in New York City
Chanel's annual Métiers d'Art show will take place at the Metropolitan Museum of Art on December 4th. This historic runway celebrates the master craftsmanship of Chanel as well as debuting the pre-fall collection. Hamburg, Germany, Rome, and Paris have all staged recent collections.
The decision to hold the show in New York City stems from the personal history of Coco Chanel herself. The designer first found herself in NYC in 1931 while travelling to LA. She then returned to the Big Apple later that year. Since then, a love affair sparked with NYC and Chanel as she continued to cultivate her American clientele. The MET is no stranger to hosing Chanel collections, housing a retrospective show of Coco Chanel's groundbreaking designs shown side by side with Karl Lagerfeld's in 2005. It will be sure to make for an iconic and exciting destination for the December show.
Burberry Announces it Will No Longer Use Real Fur and Stop Destroying Products
Burberry has responded to the backlash it faced earlier this year for destroying millions of dollars in unsold clothing by announcing that it will adopt more sustainable practices. The British fashion house announced earlier this week that it would not only incinerate unsold goods, but it also plans to ban the use of real fur.
Burberry revealed the news in a statement which read, "This commitment builds on the goals that we set last year as part of our five-year responsibility agenda and is supported by our new strategy, which is helping tackle the causes of waste." This change follows news which broke in July which revealed that Burberry destroyed clothes and perfume worth over $36 million in 2017. This is often done to prevent goods from being resold or replicated for cheaper prices.
Celine Gets a Brand New Logo
Celine has been making headlines since Hedi Slimane became Phoebe Philo's successor following her departure from the label after 10 years. Now, it seems the French label will undergo a rebranding. The official Instagram was stripped clean and filled with posts alluding to Slimane's new direction for the brand.
The rebranding includes a new logo, which was inspired by the original version that existed in the 1960s. The accent was removed to reflect the brand's minimalist 1960s era and enable a simplified and more balanced proportion. This is not the first time Slimane has radically rebranded a high-end label, he is also responsible for converting Yves Saint Laurent, into Saint Laurent, a multi-million dollar company during his helm.
Nike's Latest Ad staring NFL Player Colin Kaepernick Causes Controversy
On Wednesday Nike released a new campaign on YouTube featuring former San Francisco's 49ers quarterback Colin Kaepernick, Lebron James, Serena Williams and a slew of other athletes. Kaepernick shared a campaign image in it's Instagram which featured the words, "Believe in something. Even if it means sacrificing everything". This is a reference to Kaepernick's lawsuit against the NFL. The suit alleges the NFL colluded to keep the quarterback out of the league over his protests against police brutality. These protests saw Kaepernick and other NFL players kneeling during the national anthem. Many, including President Donald Trump, have claimed that his actions are disrespecting his flag and the country.
Some customers are so unhappy with the NFL player being included in the "Just Do It" campaign that they have taken to social media posting videos of themselves destroying their Nike socks and other garments. Trump has taken to Twitter. "Just like the NFL, whose ratings have gone WAY DOWN, Nike is getting absolutely killed with anger and boycotts. I wonder if they had any idea that it would be this way? As far as the NFL is concerned, I just find it hard to watch, and always will, until they stand for the FLAG!" the president tweeted. Trump claims that the boycott has been punitively damaging to the sports label. However, seeing as customers have only been destroying apparel which they have already paid for, we doubt the consequences have been too dire.
Stella McCartney,

Alber Elbaz and More Will Headline 'Business of Fashion's Annual Event, VOICES 2018'
Business of Fashion has dropped its speaker lineup for its annual event called VOICES. Stella McCartney headlines the 2018 panel of the BoF's annual gathering for big thinkers. She will also receive the Global VOICES award for her work in the field of sustainable fashion. She will also lead a discussion surrounding sustainability in the fashion industry and making her business independent from Kering.
Acclaimed fashion designer Alber Elbaz will also appear at the event. Best known for his work at the helm of French label Lanvin, Elbaz will share his perspective on the current fashion climate. Renowned journalist, Christopher Wylie and award-winning actor, writer, producer, rapper, soon-to-be director and activist, Riz Ahmed will also hold discussions. The event will take place from November 28th to December 1st at Soho Farmhouse in Oxfordshire.
SUBSCRIBE TO OUR NEWSLETTER
Subscribe to our mailing list and get interesting stuff and updates to your email inbox.