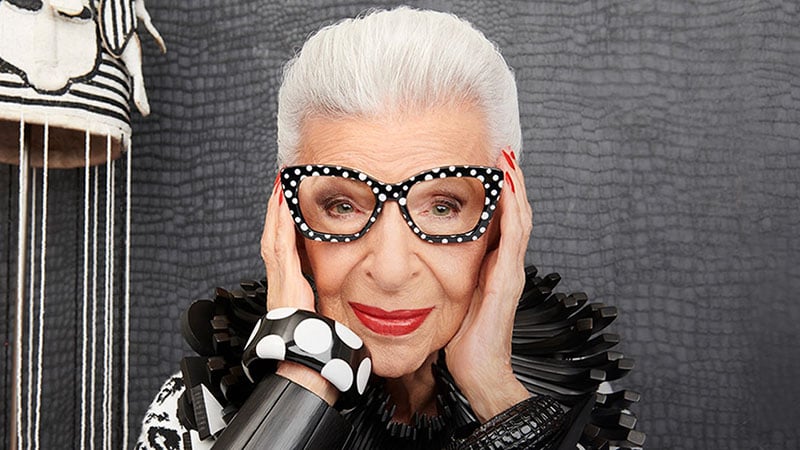 British Fashion Council names its 2021 winner, and Iris Apfel is celebrating her 100th birthday with an iconic collaboration. Find these stories and more as we uncover the top international fashion news of the week.
Iris Apfel Celebrates 100th Birthday With New Collaboration
Iris Apfel is celebrating her 100th birthday with a collaboration with Zenni Eyewear. The 99-year-old became a style icon throughout the fashion circles and signed with IMG Models in 2019 at 97. Famous for her iconic style and oversized glasses, the NY-native is curating a series of eyewear, dubbed the Iris Apfel Edit.
"I adore accessories, and I think glasses can absolutely make an outfit," she explained. "I collected them long before I needed them. For me, glasses inspire or finish all of my looks. We all shouldn't want to look the same, and glasses are a fantastic way to find your own unique style and change things up." Five designs are available for purchase, including her signature black round specs – she also includes a series of Mini Iris for kids.
Bethany Williams Named British Fashion Council Winner
Bethany Williams has won the British Fashion Council and Vogue's Designer Fashion Fund initiative. The London designer is awarded a £200,000 prize to help her build the business 'to the next level.' Her pieces combine a passion for sustainability and philanthropy, blending the fashion-forward styles with social enterprise.
"As designers, we are problem-solvers," she told Vogue. "We want to provide an alternative system for fashion production, as we believe fashion's reflection upon the world can create positive change." In second place is Supriya Lele, who works with 90s minimalism and grunge, inspired heavily by her British upbringing.

Vans Co-Founder Dies at 90
The co-founder of the iconic shoe brand, Vans – Paul Van Doren – has died at 90. Beloved by skateboarders and surfers, the LA designer created the footwear in 1966 and has been an integral part of the subculture ever since. Paul and his brother James started the company after working as a shoe manufacturer for years. He sold the first pair for $2.49 and sold 12-14 pairs on the first day of opening. "Paul was not just an entrepreneur; he was an innovator," said the company about his passing. "Paul's bold experiments in product design, distribution, and marketing, along with his knack for numbers and efficiency, turned a family shoe business into a globally recognized brand."
Miu Miu Partners With Levi's for Sustainable Jeans
Miu Miu is partnering with Levi's to create an extraordinary set of denim. The sustainable arm of the Miu Miu brand, Upcycled, is reimagining the iconic 501 jeans and Trucker jackets, covered in flower embellishments, hearts, crystals, and pearls. Emma Corrin, Lila Grace Moss, and Georgia Palmer star the campaign, where they sport the pieces against a blank background – shot by Johnny Dufort.
Each model wears a piece from the collection, and all have a distinct 'Miu Miu' style. Each item of clothing is created from pre-loved items from Levi's collection, with inspiration taken from the 80s and 90s. Giant lace collars, puff sleeves, and ivory silk-duchesse cover the edges, and small embroidered flowers adorn the spaces of denim. True to its sustainable edge, no two items of clothing will be the same. Prices start at $980 and work their way to $5,800, and will be available for purchase online and in-store.
SUBSCRIBE TO OUR NEWSLETTER
Subscribe to our mailing list and get interesting stuff and updates to your email inbox.