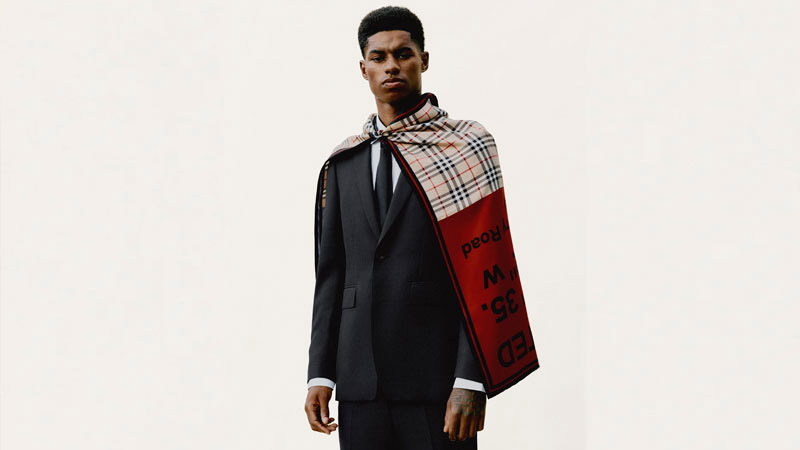 Burberry is collaborating with Manchester United on a new charity initiative, and Gucci is forgoing its fashion show for a miniseries, starring Billie Eilish and Harry Styles. Check out these stories and more, and stay up to date with the latest international fashion news that happened this week.
Gucci to Showcase New Collection Via a Miniseries
Gucci will not be showcasing a fashion show this season and will instead debut a 7-part miniseries called 'Ouverture of Something that Never Ended.' It will be presented in a new digital film festival, aptly named GucciFest. Some of the guests starring in the new show include Billie Eilish, Harry Styles, and Jeremy O. Harris.
The series includes short films showcasing 15 young designers, like Hillary Taymour and Priya Ahluwalia. Gus Van Salt and Alessandro Michele will direct the miniseries. The immersive event will debut on November 16-22 and will stream via platforms such as YouTube and Instagram.
H&M Announce New Head of Sustainability
Leyla Ertur is the new Head of Sustainability at H&M. She has worked with the brand since 2000, with experience spanning from global supply chain management to global quality strategy. The fast-fashion company is planning to explore sustainable practices further and 'push boundaries' in the industry. Ertur will replace Anna Gedda, who will move to the Head of Steering and Strategic Planning for the retailer.
"I'm excited about what she will bring to the role as we continue pushing the boundaries within sustainability, driving the agenda both at H&M Group and for the industry," said Helena Helmersson, the CEO of H&M. The fashion retailer has plans to use only recycled or ethically-sourced materials by 2030, adding supplier information to items sold online. "Sustainability is at the core of everything we do," said Anna Ertur.
Pierre Wargnye Dies at 73
Pierre Wargnye has died at the age of 73. The Paris-based perfumer was the nose behind iconic scents, including Drakkar Noir by Guy Laroche and Pleasures for Men by Estee Lauder, and working with Givenchy, Hugo Boss, and many others. "He was an iconic perfumer and member of the IFF," said Nicholas Mirzayants, the Executive Director of IFF Perfumery.
"He has created many classic fragrances that have entered the lives of many people. We are very fortunate to meet and work with him, learning from him and sharing our craft with him. This is a great loss. We will honor his memory and legacy."
Burberry Creates Global Charity Initiative
Burberry is collaborating with Manchester United's lead striker, Marcus Rashford, on a new charity initiative. Rashford began working to reduce child food poverty and lobbied to introduce free meals to children when they're not in school. The pair plan to provide donations to FareShare, funding thousands of meals, and distributing them to 11,000 charities and community groups.
Burberry has also pledged to support youth organisations across Manchester and London, as well as globally. The brand will also team up with the International Youth Foundation to contribute to the Global Youth Resilience Fund, which helps young entrepreneurs develop solutions to close the gap in nutrition issues worldwide.
Katie Ruensumran Launches One-Size-Fits-All Clothing Line
Katie Ruensumran, a London-based consultant and influencer, is launching her own fashion label, The Meaning Well. The clothing line aims to be one-size-fits-all and combines tailoring with free-flowing silhouettes. "I'd rather take this money to pay for the pattern cutter and the graphic designer who lost their job. It is about helping each other. The brand can support local businesses and designers," she said.
Reunsumran is famous for her oversized and flowing silhouettes and dresses, often sporting them while attending Fashion Weeks around the world. "I'm not skinny, I'm not slim, so I'd rather buy an oversized blazer or oversized dress," she said. "I want to wear something that I can work from home and do a Zoom. I want to dress up, but in a more comfortable way. It doesn't matter if you're slim or bigger like me—it fits everyone." The influencer won't be showcasing seasonal collections but will instead release the same designs in varying fabrics.
SUBSCRIBE TO OUR NEWSLETTER
Subscribe to our mailing list and get interesting stuff and updates to your email inbox.