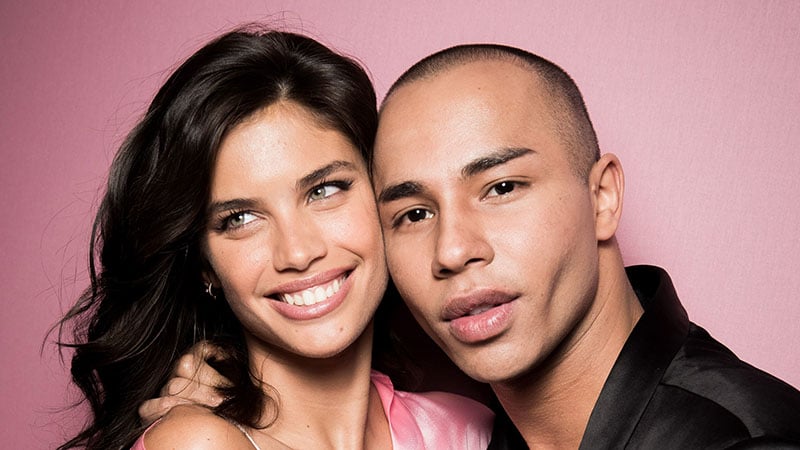 Learn about Condé Nast's first LGBTQ media platform, get a first look at Olivier Rousteing's collection for Victoria's Secret and read up on the highlights of Paris Fashion Week as the fashion month comes to a close. Discover these stories and more as we reveal this week's top international fashion news.
Condé Nast to Launch First LGBTQ-Focused Media Platform
On Wednesday, publishing powerhouse Condé Nast announced the launch of a new LGBTQ oriented publication, entitled them. The platform is the publisher's first new independent venture since the rather short-lived launch of Portfolio in 2007. Them is going to be headed by Condé Nast's digital wunderkind Philip Picardi, who is also the Digital Editorial Director of Teen Vogue and Allure. He first pitched the idea to Anna Wintour earlier this summer. "There is a cultural revolution happening that is – as always – spearheaded by young people who believe in fighting for equality, and we want to create a space that's reflective of this moment," he said in a statement. "We're excited to showcase the voices and perspectives of people in the community, and prove through our storytelling that, by celebrating them we're really celebrating all of us."
In a heartfelt Instagram post this week, he introduced the platform's founding team to his online audience. "I was an itty-bitty gayby in an Abercrombie muscle tee, sitting up in my room and reading VOGUE, when I first felt recognized by a magazine. There, Anna Wintour had stressed the importance of marriage equality as a civil right, and called for the fashion industry to stand with her. Around 12 years later, I am so proud to announce that I've been working with Anna — and an incredible team at Condé Nast led by @fsantarpia, Pam Drucker Mann, and more — on the launch of @THEM: the company's first-ever LGBT media brand." Them is due to go live on October 26, but you can already subscribe to their social media channels and newsletter.
Victoria's Secret Announces First Designer Collab with Balmain
Hold your horses as for the first time in its long-standing lingerie history, Victoria's Secret has partnered with another high-end fashion house to deliver the looks for its coveted runway show. The chosen one is no other than the man who gives everyone else pure cheekbone envy: Olivier Rousteing of the #BalmainArmy. The designer created a range of custom looks exclusively for the 2017 event held in Shanghai on November 28. In addition to that, there will be a capsule collection available to the public just one day after the initial show.
On Thursday, Victoria's Secret published a first teaser of the collaboration on social media, featuring an intriguing blur of the items to come. In true Balmain fashion, we're expecting a dramatic line featuring an array of studs, embellishments and fishnets, embedded in sharp, confident, body-con tailoring. In the past, Rousteing has shown an affinity for casting VS models for Balmain campaigns, runway shows and other events. This collaboration appears to be taking his relationship with the lingerie brand to another level. Take a look at the video teaser below and follow all updates to come via the hashtag #VSxBalmain.
Paul Andrew Appointed Women's Creative Director at Salvatore Ferragamo
Only a year after joining Salvatore Ferragamo as the design director for the labels women's footwear line, Paul Andrew has also been named the creative director of womenswear. He succeeds Fulvio Rigoni, who was assigned the position in November last year. Rigoni's Spring 2018 ready-to-wear collection has been described as "fine enough but generic" by Vogue fashion critic Luke Leitch. "Paul has a dynamic vision for the Ferragamo woman, which he has demonstrated with crystal precision and success in footwear over the past year," chief executive Eraldo Poletto explained in a release. "He has a sensitivity for the essential codes and values of the Ferragamo house, and is able to recast and reassert them with an exciting, modern energy. I am confident that with this new responsibility, Paul will now be able to creatively unify all categories of the women's business with coherence and synergy, strengthening our brand identity."
After a substantial history of working in accessory design for fashion houses such as Alexander McQueen, Narciso Rodriguez, Calvin Klein and Donna Karan, this is the first time Andrew will be able to prove himself in womenswear design. "I am grateful for the confidence and trust the Ferragamo group and family have put in me," he said in a statement on social media. "It has been a privilege to work with the expertise of one of the world's great fashion and leather goods houses. I am thrilled by the opportunities that lay ahead in forging a single, powerful identity for a new Ferragamo woman." His first ready-to-wear collection will debut earlier next year during the Autumn/Winter 2018 shows.
Highlights of Paris Fashion Week
As always, the fashion month climaxed as the crowds ventured to Paris for the fashionable hurray of the season. In front of the city's breathtaking ensemble of backdrops, designers let their creativity and craftsmanship do the talking. Chanel held the audience in awe as models walked the runway in front of a real-life sized waterfall that Lagerfeld had installed into the main hall of the Grands Palais exclusively for the show. Saint Laurent showed their collection in the shadows of the iconic Eiffel Tower and Maria Grazia Chiuri of Dior had people ponder about the meaning behind cryptic messages printed onto her Tees. "I read somewhere that I had 'captured the trend' of the time," she told Vogue prior to the show. "These are my values! Did they really believe I was trying to capture a trend? These are strange fashion times we're living in. There's something wrong."
After teasing make up lovers all summer long, Balmain gave the fashion world an exclusive look at the L'Oreal Paris x Balmain lipstick collection in action during their Spring 2018 show. Later in the week, L'Oreal debuted its very own first-ever runway show, starring Hollywood icons Jane Fonda (79) and Helen Mirren (72). The beauty brand used it's catwalk along the Champs-Élysée to showcase over 70 different hair and makeup styles on some of their celebrity brand ambassadors.
Chanel Pre-Fall Collection to be Shown in Hamburg
In the past 16 years, Chanel's annual Métier d'Art presentations have become known as a homage to the rich history and craftsmanship of this iconic French fashion house. In recent years, design legend Karl Lagerfeld has used the opportunity to showcase his pre-fall collections at a number of exclusive locations around the world. Previously chosen cities included Salzburg, Edinburgh and Dallas. Chanel now announced that this year's pre-fall collection is going to be shown in the Lagerfeld's hometown of Hamburg, in the city's newly built concert hall, the Elbphilharmonie. The building has already been dubbed as one of the largest and most acoustically advanced concert halls in the world. Since its inauguration in January 2017, it has already seen a number of high profile visitors, including the Duke and Duchess of Cambridge and political world leaders.
Apart from Lagerfeld's apparent ancestral connection to Hamburg, his reasons for choosing the Elbphilarmonie remain unknown for now. From past Métier d'Art presentations, we have learned that each location embodies the collection's main motifs. However, the philharmonics architecture might unveil a bit of a clue. Built upon an old warehouse near Hamburg's historical Speicherstadt, it's glass facade somewhat resembles a hoisted sail or water waves. Perhaps a nod to the water elements that already inspired Chanel's Spring 2018 collection.
SUBSCRIBE TO OUR NEWSLETTER
Subscribe to our mailing list and get interesting stuff and updates to your email inbox.