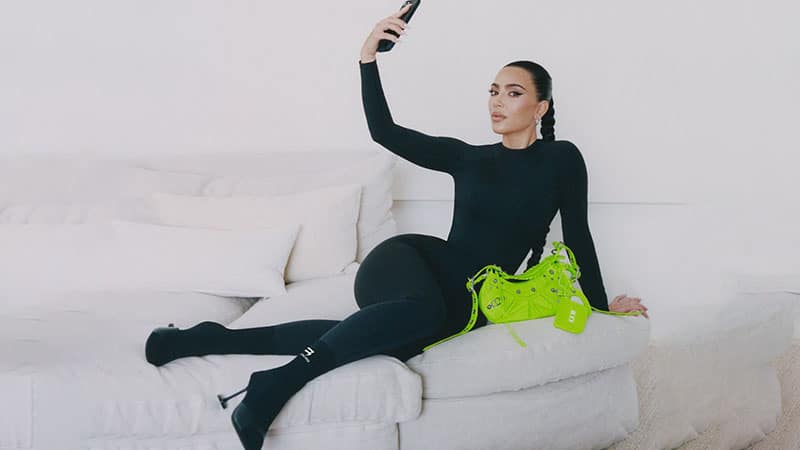 The artistic directors of Nina Ricci are departing, and Gigi Hadid joins the 'Next in Fashion' panel. Stay up to date with the latest international fashion news stories of the week.
Artistic Directors of Nina Ricci Part Ways
Rushemy Botter and Lisi Herrebrugh are leaving Nina Ricci, as the Maison focuses on accessible luxury and a push for digital. In a statement shared by the label, the two Artistic Directors made a 'mutual agreement' to leave after replacing Guillaume Henry in 2018. The business will focus on a "new creative and innovative direction for Nina Ricci," the statement read. The pair will now focus their attention on Botter, their own brand. A replacement for Nina Ricci is yet to be announced.
"It is by mutual agreement and after three and a half years of a rich collaboration that the house of Nina Ricci and its two artistic directors, Lisi Herrebrugh and Rushemy Botter, have agreed to end their partnership," read the statement. "The house Nina Ricci warmly thanks Lisi and Rushemy for their poetic interpretations of the brand's collections, which brought a fresh approach and a new sense of modernity to Nina Ricci, which we will continue working on going forward."
View this post on Instagram
KKW Stars in Balenciaga Campaign
Kim Kardashian is the face of Balenciaga's latest campaign. The reality star and business mogul stars in a series of photos, wearing an array of pieces from the designer, including an all-black skin-tight ensemble with a neon green Le Cagole bag. Other images showcase her in a leopard print coat and sock boots and a hyper-tailored coat with an Hourglass handbag. She stars alongside other Balenciaga muses, including Justin Bieber and Isabelle Huppert. The series of photos took place in Kardashian's Calabasas home, where she can be seen lying on the sofa taking an apparent selfie. Stef Mitchell shot the campaign. The shots will be on billboards worldwide, including Théâtre de la Ville in Paris.
View this post on Instagram
Jasmine Tookes and Josephine Skriver Launch Activewear Brand
Supermodels and Victoria's Secret favorites Jasmine Tookes and Josephine Skriver are teaming up for their activewear line- Joja. This comes off the back of the wellness Instagram account they launched together in 2016, focusing on creating a fashion and fitness-focused community. Joja includes 28 pieces, available in sizes from XS to 2XL, and celebrate the beauty of activewear rather than the performance. The models, who have known each other for 12 years, spent time studying the details of every brand they worked with and modeled for, and created a collection that they would wear on the streets and in the gym.
"Joja was started with the foundation of inspiring people and ourselves. We wanted to share our workouts because there are so many myths about lifting and the health aspects for female fitness in general," said Josephine Skriver. "Just being able to share that journey and how different it is for each of us, while also being able to do it together, makes it fun. We wanted to add that into our collection and the brand."
View this post on Instagram
Gigi Hadid was Named a Co-Host of Next in Fashion
Gigi Hadid is the new co-host for the second season of Next in Fashion. The TV show, hosted by Tan France, will air on Netflix. Hadid replaces Alexa Chung, who was a co-host for its first season before it was axed. While it's unknown why Chung isn't returning, fans are happy that it has been renewed after its subsequent axing.
Next in Fashion is a reality TV show that was first aired in 2020, hoping to find the next big name in fashion. The winner will receive a cash prize of $250,000 and the chance to have their pieces sold on Net-A-Porter. "Who would have thought when we met over Facetime 4 years ago that we'd be hosting NEXT IN FASHION TOGETHER!" Read a statement from Gigi and Tan on Instagram. "You read that right! The secret's out. You better get ready, casting is now open … " Details of the release date are yet to be confirmed.
View this post on Instagram
SUBSCRIBE TO OUR NEWSLETTER
Subscribe to our mailing list and get interesting stuff and updates to your email inbox.