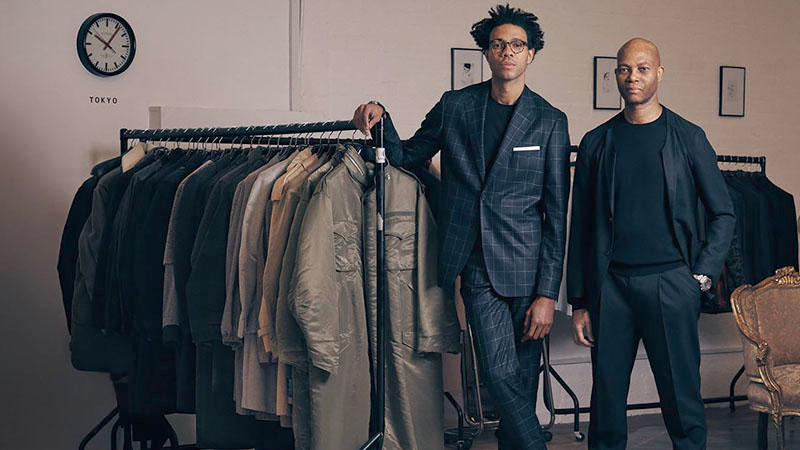 This week in fashion, designer Joe Casely-Hayford dies at the age of 62, Tim Walker's latest shoot for 'W' magazine highlights fantastic fashion, and My Size launches Smart Measurement Fashion App. Find these news and more as we reveal the top international fashion stories of the week.
Designer Joe Casely-Hayford Dies
Fashion designer Joe Casely-Hayford has died aged 62. Casely-Hayford, who had cancer for three years, was regarded as one of the great British designers of his generation. He became well known in the late 1970s for his bespoke tailoring, which he broke down to give a streetwear sensibility. A graduate of the Tailor and Cutter Academy and St Martin's School of Art, he obtained formal Savile Row training before starting his eponymous fashion house in 1984 alongside his wife, Maria. It quickly attained cult status on the international fashion scene. It was popular with many young stylists, designers and journalists.
"He was the first London designer to bring the cultural mix and energy of the East End together with the amazing skills of a Savile Row tailor," said fashion critic Sarah Mower. Casely-Hayford "could be subversive, but his work was always grounded in sartorial excellence", said his friend, Mark C O'Flaherty, when he announced the news on Thursday. "He created suits for prime ministers and rock stars, from Lou Reed to the Clash. When Bono was the first man to appear on the cover of British Vogue, in 1992, it was wearing Joe Casely-Hayford."
Tim Walker's Latest Shoot For 'W' Magazine Highlights Fantastic Fashion
Tim Walker has a long history of bringing fantastical fashion to life through his photography. Whether that's shooting Pirelli's 2018 all-black "Alice in Wonderland" inspired calendar or creating iconic Juicy Couture campaigns. Earlier this week, the unveiling of W Magazine's annual "Best Performances" portfolio showcased the latest instalment of Walker's unique vision. It shows a combination of high fashion, dreamy portraits of your favourite actors, a giant bouncy castle and a collection of whimsical "egg people."
The portfolio includes seven different covers. Nicole Kidman in Armani Privé, Saoirse Ronan wearing Celine by Hedi Slimane and Michael B. Jordan in Calvin Klein posing with Margot Robbie in Chanel, just to name a few. It is a delightful mix of well-loved names like Amy Adams, Ethan Hawke, Emily Blunt, Willem Dafoe and Jonah Hill. Alongside them are breakout stars (think Elsie Fisher, Yalitza Aparicio and Noah Centineo) wearing some of fashion's best designers. According to W, this selection of actors helps us "celebrate the fact that there are finally big changes happening on the big screen. And there is no going back."
My Size Launches Smart Measurement Fashion App for Android
Developer and creator of smartphone measurement solutions, MySize Inc., announced this week the release of its MySizeID technology for Android. The newly launched consumer fashion app, already available on iOS, can be downloaded for Android via the Google Play Store. My Size will showcase the Android release of MySizeID for the first time at NRF at its booth at The Javits Centre in New York City from January 13-15.
The Android release continues a strategic effort by My Size to put its MySizeID in the hands as many consumers as possible. It most recently launched its online store Modelista, which is the first e-commerce marketplace with a fully usable MySizeID integration. It launched MySizeID for iOS in September and partnered with the Lightspeed e-commerce platform in October. They have a view toward building customer loyalty while also showcasing MySizeID's business impact to global retailers.
Ewan McGregor Will Play Halston in New TV Series
A new limited series about acclaimed American designer Halston is officially in the works. Simply Halston will document the rise and fall of the designer who helped define the 70s and 80s fashion scene. This week it was announced that Ewan McGregor will play the designer, in addition to being the executive producer on the project. Legendary Television is prepping the series, written by The Affair's Sharr White. Daniel Minahan of American Crime Story will direct it.
SUBSCRIBE TO OUR NEWSLETTER
Subscribe to our mailing list and get interesting stuff and updates to your email inbox.