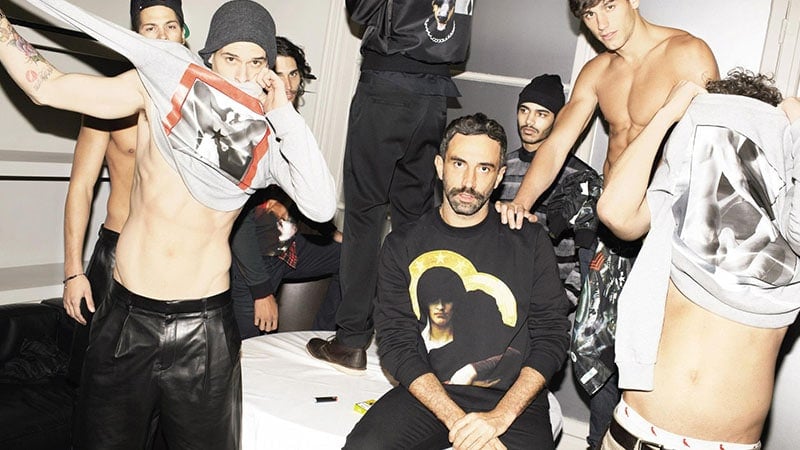 From Riccardo Tisci's surprising Givenchy exit to Kim and Kanye's new kidswear line, these are the top international fashion news stories of the week.
Riccardo Tisci Exits Givenchy
After 12 years at the helm of Givenchy, Riccardo Tisci has stepped down. The designer reportedly finished up with the French fashion house on January 31 when his latest contract expired. As such, the brand will not hold a runway show during the upcoming Paris Fashion Week. Givenchy's recent Fall 2017 Menswear and Spring 2017 Couture collections were Tisci's last for the label.
"I have very special affection for the House of Givenchy and its beautiful teams," said Tisci. "I want to thank the LVMH group and Monsieur Bernard Arnault for giving me the platform to express my creativity over the years. I now wish to focus on my personal interests and passions."
Although there's no word yet on who may replace Tisci at Givenchy, the rumour mill is spinning about where the Italian designer will head next. According to sources, Tisci is currently in talks with Versace as the Italian fashion house prepares for an IPO. Adding fuel to this fire is the fact that Tisci has a long relationship with Donatella Versace which has even seen the friends pair up for a Givenchy campaign.
Rebecca Minkoff Unveils Smart Bags for Fashion Show
This weekend, Rebecca Minkoff has taken over the Grove in L.A. for her see-now-buy-now Spring 2017 fashion show. While the day's events were set to be jam-packed with everything from yoga and wine tasting to a book signing and photo booth, it was a pop-up store that caught the most attention.
Opened the day before the show, the pop-up store played host to a range of products including ten limited-edition smart handbags. Dubbed the #alwayson Midnighter style, these studded handbags were infused with technology, as all Rebecca Minkoff bags will be by summer 2017 (US).
Not only do each one of these high-tech bags qualify the owner to become part of the brand's loyalty program, but they also provide special access to e-commerce services, private styling sessions, style recommendations, and video content. On top of that, the ten sold this weekend also acted as a metaphorical golden ticket, allowing the purchaser to gain access and scan into the brand's fashion show.
Gigi and Bella Hadid Take a Stand Against Trump's Immigration Order
While the majority of the fashion industry has stayed silent on Donald Trump's executive order restricting immigration from several Muslim-majority nations, models and sisters, Gigi and Bella Hadid have spoken out. The pair took to the streets of New York last weekend to join protestors marching in defiance of the ban, which has been dubbed "un-American".
Walking through the Battery Park neighbourhood with a reported crowd of 10,000, the Instagram stars were photographed wearing red, white, and blue. They also carried a sign that read "We Are All Hindus, Buddhists, Muslims, Atheists, Christians, Jews," with letters arranged vertically to spell out "Humans".
Gigi and Bella's own parents are immigrants to America. Their mother, Yolanda was raised in the Netherlands while their father, Mohamed is a Jordanian-American, Muslim of Palestinian descent. Gigi's boyfriend, singer Zayn Malik, is also Muslim.
Kim Kardashian West and Kanye Announce Kids' Clothing Range
Kim Kardashian West took to Snapchat this week to announce the news that her and her husband, Kanye, are now designing childrenswear. The first look at the collection is modelled by the couple's daughter, North and features a kids' version of a Yeezy coat, which was seen on the runway at the label's last show, and a sequined, yellow dress. According to Kim, the fabric and colours were chosen by the three-year-old.
This isn't the first time the famous family has dabbled in creating childrenswear. Kim has previously created a Kardashian Kids line with her sisters, Kourtney and Khloe while Kanye downsized his Yeezy Boost 350 sneakers to fit infants last year.
The news comes at the same time as confirmation of the next Yeezy fashion show, which will present the brand's Season 5 collection. Once again the label will show during New York Fashion Week despite not being part of the official schedule. The show, which was originally slated for 5 PM on February 15 at Pier 59 Studios, will now take place at 3 PM to avoid clashing with the shows of other designers.
Lady Gaga Stars in Tiffany and Co.'s Latest Campaign
Tiffany and Co. have revealed Lady Gaga as their latest campaign star. The singer and actress will be featured in the luxury jeweller's newest Legendary Style campaign as the face of the brand's new range of fashion jewellery, named Tiffany HardWear. Previous stars of Tiffany's Legendary Style campaign include Christy Turlington, Lupita Nyong'o, and Elle Fanning.
The campaign, which has only released a teaser so far, will premiere today with a television commercial. The ad will be aired during the Super Bowl, which will also feature Lady Gaga as a half-time show performer.
The Tiffany and Co. HardWear collection will hit stores on April 28 with pre-orders available from February 5.
SUBSCRIBE TO OUR NEWSLETTER
Subscribe to our mailing list and get interesting stuff and updates to your email inbox.