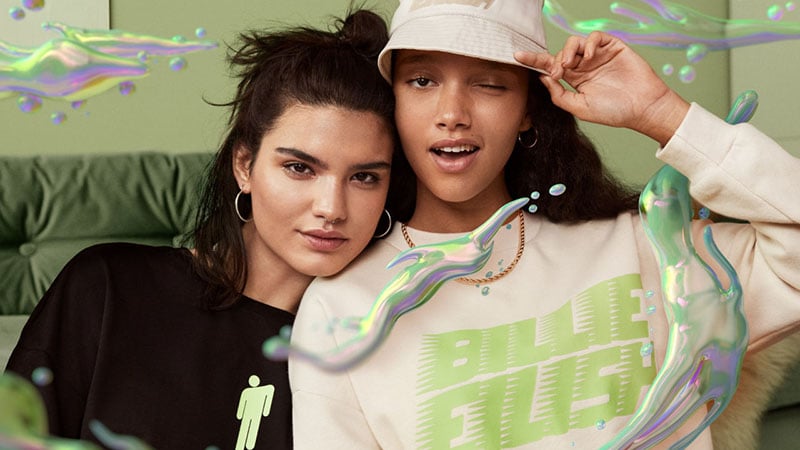 This week in fashion, Gucci collaborates with Disney, and Billie Eilish launches her merchandise line with H&M. Find these stories and more as we uncover the top international fashion news of the week.
Gucci Debuts Collaboration with Disney
Gucci is releasing a collection with Disney to celebrate Chinese New Year. This year honors the year of the rat – the capsule line will feature Mickey Mouse. The campaign was filmed in Disneyland, directed by Harmony Korine and art direction by Christopher Simmonds. Among the lineup of the launch included Earl Cave, Zoë Bleu, and Chinese actress and Gucci ambassador, Ni Ni.
The collection features bags, sneakers, T-shirts, pajamas, and a series of jewelry. "The colorful, energetic imagery has the look of holiday postcards, and the eclectic, surreal spirit of today's Gucci is perfectly at home in the fantasy world of Disneyland," says the label in a press release. "Through Harmony Korine's distinctive lens, it is easy to see how Disneyland inspires an uninhibited, childlike sense of fun." The Gucci x Mickey Mouse collection is available for purchase in-store and online.
Teri Hatcher Stars in Marcell von Berlin Campaign
Teri Hatcher is starring in the new Marcell von Berlin campaign and showcases her in a series of gowns. The actress features in the German brand's latest ad, as she represents the 'modern, powerful woman,' the designer explains. "Teri is a successful actress and businesswoman. On the other hand, she is so sweet, has great energy, and brought such good vibes to the shoot," says Marcell Pustul, the label's CEO. "We wanted to work with someone that embodies the modern, powerful woman of our current time."
Billie Eilish Launches Sustainable Collection with H&M
Billie Eilish is launching a collaboration with H&M Divided, which is sustainably sourced. The merchandise collection features oversized hoodies, T-shirts, beanies, and socks, which reflects the singer's distinctive style. The 'Bad Guy' singer often sports large items of clothing as she wishes to prevent unwanted comments about her body.

She is an advocate for sustainable products and climate awareness – this plays a role in the collaboration. "Billie Eilish is obviously an inspiring artist but also someone a lot of people around the world admire for her personal style and empowering way of expressing her values," explains Emily Bjorkheim, the Head of Design at H&M. "We want to enable her fans to step into her world and feel empowered to freely express their style as well." The collection is available for purchase online and in-store now.
Sir David Jones Dies
Sir David Jones has died at the age of 76. The former boss of various British high street labels battled Parkinson's Disease since the age of 39, but he made it public in 2000. His achievements in the fashion industry include transforming Next into a 'powerhouse' brand and was the Executive Chairman of JJB Sports. "His blend of common sense, financial prudence, and personal warmth has been an inspiration to all of those who have worked for him," says Lord Simon Adam Wolfson, the Chief Executive of Next.
The businessman was in the Chief Executive role from 1988 to 2001, and the brand experienced significant growth. Since his move from the role, Next has seen consistent development in sales and its net share increasing by 5.2%.
Nick Knight Named as Fendi Photographer
Fendi is naming Nick Knight as its photographer for advertising campaigns. He will replace the late Karl Lagerfeld, who passed away in February 2019. The late designer was 'famously' the brand's photographer until his death – this announcement marks a new chapter for the Italian fashion house. "[Knight] listens, he is a great artist, I always admired him, and now for the first time I had the opportunity to work with him," says Venturini Fendi. She also explains that the photographer is a 'real visionary' and he puts her in 'such a different mood, more open to experiences, and [she feels] more freedom.'
SUBSCRIBE TO OUR NEWSLETTER
Subscribe to our mailing list and get interesting stuff and updates to your email inbox.