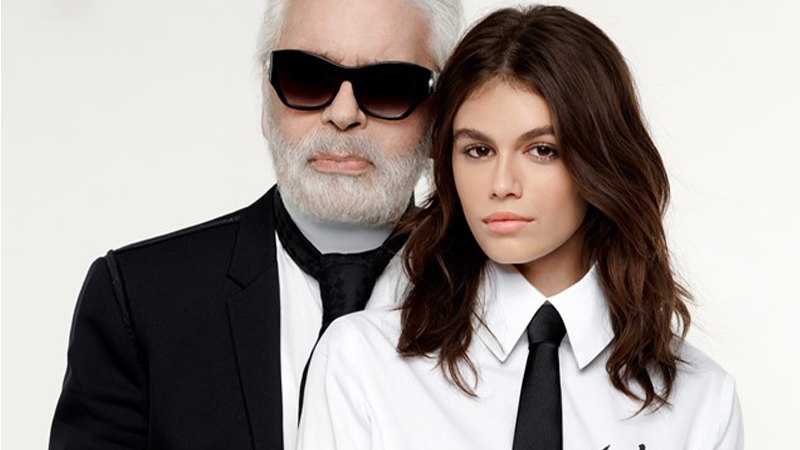 This week in fashion, Melbourne Fashion Week kicks off, Balmain introduces a virtual army of digital models, Karl Lagerfeld launches a collection with Kaia Gerber and Serena Williams dominates U.S Open in a tutu. Find these stories and more as we reveal this week's top international fashion news.
Balmain Introduces Virtual Army of Digitally Created Models to Promote Racial Diversity
Creative director of Balmain, Olivier Rousteing has made an interesting move in an effort towards promoting visual diversity in the fashion industry. Rousteing is one of only three black men to ever hold a top job at a major fashion house, has created a digital version of #BalmainArmy. And, everyone is welcome. The virtual army features three digitally created models from varying ethnic backgrounds.
"Anyone and everyone is always welcome to join Balmain army's growing ranks — they need only share our bold spirit of adventure as our new virtual icons, Margot, Shudu and Zhi who mirror the beauty, the rock style and the confident power," says Balmain's official website. The models were created by photographer Cameron-James Wilson, famed for creating Shudu, the world's first artificial supermodel in 2017. This is not the first time Roustein has worked to promote racial equality. He helped black actresses challenge racism at the Cannes Film Festival earlier this year and also designed Beyoncé's iconic Coachella costumes.
Karl Lagerfeld Drops Collection with Kaia Gerber
After months of anticipation, Karl Lagerfeld has finally dropped his collaboration with the model of the moment, Kaia Gerber. The 16-year-old daughter of supermodel Cindy Crawford starred in the fashion house's Fall/Winter campaign earlier this year. And Lagerfeld has said, she was the ideal choice for a collaboration. "Kaia was the perfect candidate for the collaboration; she's the world's most in-demand model and a style trendsetter whose eye for fashion is curated and confident," the official website states. Kaia has also stated on the official website, "I've always appreciated design a lot and thought about doing it, but I never dreamed I would do it this young," she says. "But having someone like Karl as a mentor is probably one of the best people you can have in that role, if not the best."
The collection consists of ready-to-wear pieces and accessories. This includes footwear, sunglasses and jewellery. The line combines Karl's iconic essentials with Kaia's trend-setting vision. Aiming to bring a youthful and cool touch to his classic and elegant designs. The range features mix and match pieces as well as a few special occasion items including little black dresses, luxurious blouses, cool puffer jackets and more.
Serena Williams Hits Back After Catsuit Controversy, Dominating the Court in a Tutu
Following the controversy surrounding the ban of Serena William's Nike catsuit, the tennis star has made fashion headlines once again. Proving that what she wears does not impact how she plays by taking out her first match in U.S Open while wearing a tutu.
The 23-time Grand-Slam winner's outfit was a custom sports version of a tutu, designed specifically for Williams by Virgil Abloh for Nike. Also designed by Nike, the catsuit worn by Williams only a few weeks ago during the French Open was deemed disrespectful to the game of tennis by the President of the French Tennis Federation. The outfit was subsequently banned which has spurred a slew of public backlash. Williams has been praised for taking the controversy on the chin, making no public statements on the matter and continuing to play her own game, in her own style. The black one-shoulder dress with full tulle skirt is part of Abloh's 'Queen' collection for Nike. A limited number of the dress will soon be available for purchase at select Nike locations in the US.
Hugo Boss Re-release Michael Jackson's Iconic All White Suit
Hugo Boss is celebrating the king of pop's 60th birthday in style. BOSS is re-releasing a limited run of Michael Jackson's iconic all-white suit. In fact, the German luxury label will be dropping an entire MJ inspired line.
Including a series of T-shirts, donning iconic imagery taking us throughout his career, the collection has been dubbed BOSS x Michael Jackson. There has been only 100 of MJ's famous suits, which he wore on the cover of his Thriller album, made worldwide. With only six available in Australia.
Melbourne Fashion Week Commences
Melbourne has been converted into a hub of all things fashion as Melbourne Fashion Week kicked off on Friday. The opening weekend of this week-long festival has seen a buzzing array of parties, talks and of course, runways.
Vogue American Express Fashion's Night Out opened the festival on Friday and continued through to Saturday. Happy shoppers were able to partake in a little retail therapy while being offered generous discounts from the likes of Calvin Klein, David Jones, Mecca and more. Street Runway One was also a highlight of the opening weekend featuring looks by retailers, including Cue, Elk and Obus. From runways to seminars and workshops and of course all of the most fashionable parties, we can't wait to see what the rest of the week will bring. Check out the full program of events here.
SUBSCRIBE TO OUR NEWSLETTER
Subscribe to our mailing list and get interesting stuff and updates to your email inbox.