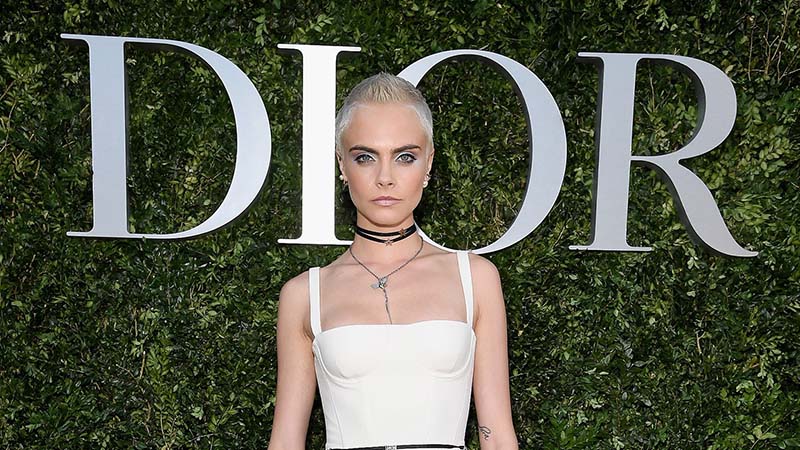 This week, Condé Nast banned Terry Richardson, Proenza Schouler announced a second fashion line, the BFC enlisted this year's Fashion Awards nominees, and Ford singed its first transgender model. Discover these stories and more as we reveal this week's top international fashion news.
Condé Nast Finally Drops Terry Richardson
In a long-anticipated response to the sexual assault allegations made against Terry Richardson, Condé Nast International finally announced that as of Monday, it would no longer be working with the acclaimed American fashion photographer. This will include the publisher's stable of high-gloss magazines such as Vogue Paris, Vogue Italia and British Vogue. According to an email published by the Telegraph, Condé Nast's COO James Woolhouse circulated a statement saying that "any shoots that have been commission[ed] or any shoots that have been completed but not yet published, should be killed and substituted with other material." First reports of his sexually explicit behaviour towards young models already surfaced in 2013. In response, some companies, like Target, Aldo and H&M cut ties with the photographer. However, many high-end designers, magazines and celebrities like Kylie Jenner and Miley Cyrus, kept working with Richardson.
It appears that in light of the recent Harvey Weinstein scandal, the fashion industry finally felt compelled to act. Following Condé Nast's announcement, more brands have declared, they would cease any future collaborations with the alleged sexual predator. Among them, Bulgari and Valentino, whose accessories campaign Richardson has been shooting since 2013. However, many industry professionals still wonder whether it's 'too little, too late.' Designer Prabal Gurung voiced his concerns on Instagram, saying that it's important to hold those accountable who maintained professional relationships with the photographer. "They cannot say they didn't know because we all knew. Every publication who hired him, every stylist who worked with him, every agency who sent models on his shoot, even the UPS delivery man knew," he wrote. "So why, when so many of us know the same horrific truth, does it take us so long to get here?"
Proenza Schouler Launches Second Fashion Line
High-end womenswear label Proenza Schouler is dropping a second fashion line, reportedly named White Label, or PSWL. It will serve as an extension of the brand's already well-established ready-to-wear line. PSWL will carry a more casual vibe, made up of printed T-shirts, denim and other basics. While their collections already included similar items previously, the new line is an effort to highlight those everyday pieces to give Proenza Schouler consumers a more accessible and affordable option. "It has always been a goal of ours to fully develop a well-rounded and balanced collection that mixes the high-end with the everyday in a way that speaks to both many of our personal friends, and to the designer customer we've developed over the years," said Jack McCollough and Lazaro Hernandez in a joint statement. "A more casual lifestyle has always been true to who we are as individuals."
As the face of PSWL, they have chosen all-time It girl Chloë Sevigny, who will front the line's first ad campaign. The collection will hit the stores in New York on November 6 with items starting at $195USD for printed shirts and jumpers and $290USD for denim. The casual collection appears to be the designers' second attempt this year to grow the brand's global profile. During the Spring/Summer 2018 fashion shows they realigned their presentation to the Paris couture schedule. According to WWD, this move was made "in an effort to get more of its runway show into stores and take advantage of the bigger budgets afforded to the pre-collections."
BFC Announces the 2017 Fashion Awards Nominees
Earlier this week, the British Fashion Council announced the nominees for the annual Fashion Awards gala in London. Amongst the contenders for the award of Designer of the Year are Alessandro Michele, whose youthful approach to design has made Gucci more relatable to the millennial consumer, Raf Simons for Calvin Klein, and the queen of French cool Phoebe Philo for Céline. Sarah Burton, who already collected an award last year in the category Best Brand on behalf of Alexander McQueen, is nominated for British Designer of the Year. So are Erdem Moralioglu and Christopher Kane. After a stand-out fashion month, model newcomer Kaia Gerber is honoured in the category Model of the Year together with last year's winner Gigi Hadid. Hadid's sister Bella, runway-favourite Adwoa Aboah and America's Next Topmodel alumn Winnie Harlow are also among the nominees.
Established in 1989, the Fashion Awards have become an annual initiative to celebrate the best of British and international talent within the industry. They also serve as the primary fundraiser for the BFC's Education Foundation, aiming to secure a sustainable lifeline for future generations of the fashion industry. Last year, Balenciaga's Demna Gvasalia won the International Ready-To-Wear Designer award, Ralph Lauren was honoured for his outstanding achievements, and Simone Rocha was voted British Womenswear Designer of 2016. Alessandro Michele, who is in fact named in three different categories this year, took home the award for International Accessories Designer. The Fashion Awards 2017 are presented in partnership with Swarovski and are going to be held on the 4th of December at London's Royal Albert Hall.
Ford Models Signs Andreja Pejić
Andreja Pejić has just joined Ford Models as their first openly transgender model. Thus, the 26-year-old Australian is following in the footsteps of industry icons such as Christie Brinkley, Jerry Hall and Alek Wek. Born into a Syrian war refugee family, Pejić is the first transgender model to have been featured in Vogue, on the cover of GQ and to be the face of Make Up For Ever. "Three years ago I was dropped by a modeling agency after I came out publicly as transgender," Andreja confessed in an interview with Forbes. "It feels good to go from not even knowing if I would have a future in the modeling business to joining forces with one of the biggest names in the industry."
Andreja was discovered in 2017 while working a part-time job at McDonald's. After shooting a fashion feature for French Vogue styled by Carine Roitfeld in 2010, the blonde beauty went on to conquer international runways, walking for the likes of John Galliano, Marc Jacobs, Raf Simons, Paul Smith and Jean Paul Gaultier. Famous for her androgynous frame, she has been one of the first models to show both, menswear and womenswear. Now working with Ford, Andreja wants to continue being an advocate for inclusivity within the industry. "I think the next step is getting away from feeling like charity. Sometimes the requests I get for bookings, it's almost like a charity donation. When clients and companies want to get on this diversity wagon, I find that the jobs, money and opportunities being offered are still very much below what's offered to traditional talent."
Cara Delivingne Fronts Dior's New Anti-Ageing Campaign
Dior had the beauty world talking this week when the fashion house announced the launch of a new anti-ageing line starring 25-year-old model veteran Cara Delivingne. Entitled Capture Youth, the line features a range of wrinkle prevention products that are meant to delay the ageing process – if used early on. Unlike Dior's Capture Totale beauty line, which targets women in their 40s and 50s, Capture Youth is aimed at millennial women in their 30s or even younger. The line was produced in collaboration with the Université Pierre et Marie Curie in Paris. They found that "the epidermis' intracellular antioxidant defense system, called glyoxalase, which controls skin's ability to fight against visible signs of aging, gets weakened by time and environmental factors," said Edouard Mauvais-Jarvis, the environmental director and scientific communication director of Parfums Christian Dior.
Capture Youth contains the extract of Iris Florentina, which is said to have the ability to increase the activity of glyoxalase and therefore, delay the appearance of wrinkles. In recent years, the idea of preventing the ageing process before it even begins has gained a lot of popularity in the beauty sector. Many experts endorse the introduction of anti-ageing products to your skincare routine from as early as 21. Age-defying supermodel Claudia Schiffer outed herself as a supporter of this theory, crediting her still youthful looks to using anti-ageing as part of her career from the age of 20.
SUBSCRIBE TO OUR NEWSLETTER
Subscribe to our mailing list and get interesting stuff and updates to your email inbox.