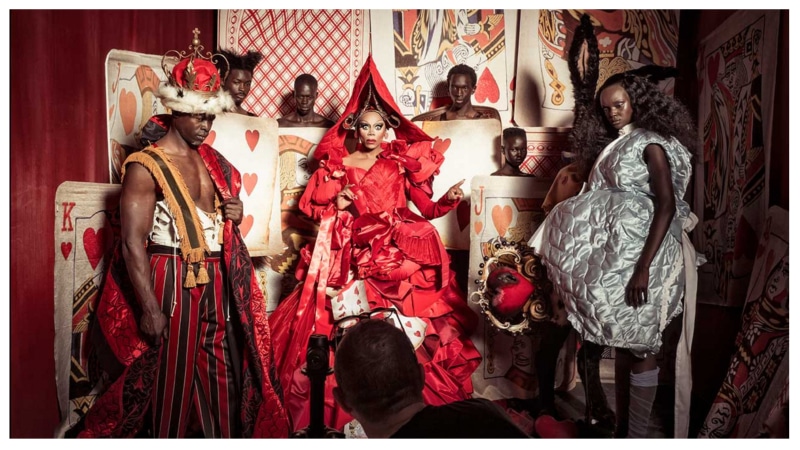 This week Pirelli fell down a weird and wonderful rabbit hole, Stella McCartney discovered a vegan-friendly silk and Gucci revealed the locations that inspire them. Discover these stories and more as we reveal this week's top international fashion news.
Hermès Famous Window Designer Inspires Grand Palais Exhibition
Everyone loves to go window-shopping. Usually, however, it is the designs housed in the elegant, masterfully arranged windows, which receive all the attention. For three decades, Tunisian window designer and head stylist at Hermès, Leïla Menchari, changed this. From 1977 to 2015, she was responsible for the fantasy, surreal windows of Hermès Parisian flagship. Transforming a simple 2x2m space into otherworldly realms, Menchari and her windows became an iconic part of the brand's history.
In the small space, luxury handbags rested amongst enchanted woodlands, silver throne rooms, bountiful banquets and a mystical Pegasus. Her extravagant displays transported onlookers to treasure troves from foreign lands and hidden, exotic rooms filled with enigmatic creatures and rare delicacies. Now, Hermès is paying tribute to Menchari with a new exhibition at the Grand Palais. Titled, "Hermès à tire-d'aile – Les Mondes de Leïla Menchari," it will showcase eight tableaux created by scenographer Nathalie Crinière, in collaboration with Menchari herself. The exhibition will run from November 8th to December 3rd.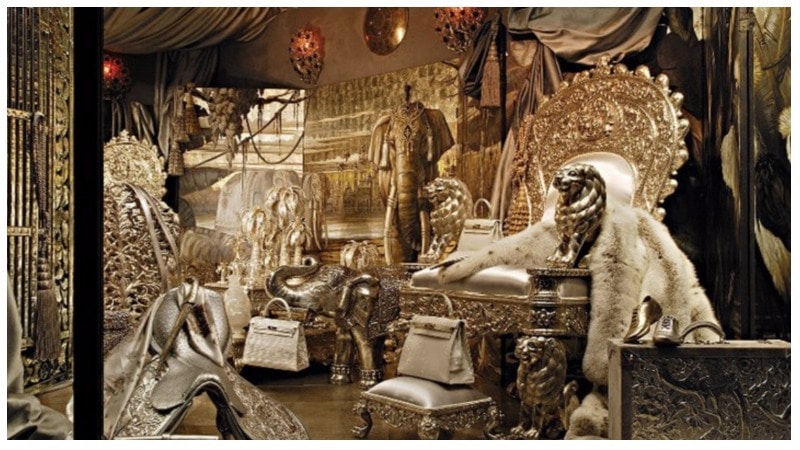 Gucci Unveils their Key 'Places' of Inspiration
As Alessandro Michele has demonstrated with his pivotal collections for Gucci, fashion is about more than clothing. It is about people and places, and the ideas that they inspire. As a result, the luxury fashion house is now inviting the public to explore the locations that have inspired its talented creative director. As the brand stated, their new venture, 'Gucci Places' is "dedicated to those seeking the unexpected in travel and experiences." Furthermore, it will "establish a network of curious sites around the world," which all play a part in the brand's ever growing history.
The first Gucci Place revealed is Chatsworth House in England. The historic, grand house is currently hosting an extravagant exhibition titled 'House Style'. The exhibition explores five centuries of royal fashion, art and adornment. Chatsworth House's lush, labyrinthine gardens were also the location of Gucci's 2017 Cruise campaign. In correlation with this setting, exclusive Gucci Courrier accessories are now available. These include two rare patches, which feature a snake and coronet to represent Chatsworth House, and a bee as the symbol of Gucci Places. They are available exclusively at Chatsworth House's store and Gucci's Sloane Street boutique in London.
Pirelli's 2018 Calendar is a Twisted New Version of Alice's Wonderland
Through the looking glass of the 21st century, Pirelli's reincarnation of the classic tale of Alice in Wonderland looks vastly different from the original. As the world of fashion cries out for diversity, the car tyre manufacturer has revisited the old classic with a twisted, modern approach. Enlisting the likes of Naomi Campbell, Lupita Nyong'O, Adwoa Aboah and Australia's Duckie Thot, Pirelli shot its surreal 2018 calendar. The all black casting was styled by British Vogue's newly appointed Editor in Chief, Edward Enninful, and shot by legendary photographer Tim Walker.
In North London, the set of the photo shoot reflected a shadowy fairy tale not unlike the tales from the Brother's Grimm. Crumbling doll houses, burnt toast, oversized mushrooms and giant, distorted playing cards all flourished down the strange rabbit hole. There, Ru Paul ruled as the Queen of Hearts, while Naomi Campbell, the royal beheader stated, "I chop off people's heads, and I like it." Challenging expectations in a multitude of ways, the 2018 calendar presents a dramatic change from the provocative, pin up girl calendars of days past. Regarding the choice to assemble an all black cast, the photographer, Tim Walker, explained, "Now we have Alice looking different. Alice can be anyone. Focus on what it represents. It's important for cultural development."
MoMA's New Exhibition Poses the Question: Is Fashion Modern?
What do you get when you bring together a Burberry trench coat, a 1980's Prada backpack, Aviator sunglasses and some 1970's moon boots? An eclectic collection of iconic pieces is one answer. MoMA's upcoming fashion exhibition is another. From this October 1st to January 28th, 2018, New York's Museum of Modern Art is hosting an exhibition exploring the past, present, and possible future of 111 items of clothing and accessories. These pieces, which also include a range of little black dresses, a hijab, and Chanel's No. 5 bottle, have each been selected for the impact they have had on 20th and 21st-century fashion.
Titled, 'Items: Is Fashion Modern?', the museum's first fashion show in over 70 years revisits a question posed in 1944. Back then, architect and curator, Bernard Rudofsky, led an exhibition exploring whether clothes were modern. Now, the museum is reinterpreting Rudofsky's investigation, expanding from clothing to all forms of fashion. Focusing on the objects themselves, rather than their designers, the upcoming show presents the pieces alongside images and videos of their historical origins. It will demonstrate how they have impacted fashion's evolution, as well as their relationships with culture, politics, technology and the economy.
Stella McCartney Partners with Biotechnology Company Creating Vegan Silk
Eco warrior and high fashion designer, Stella McCartney, has once again raised the bar for ethical and sustainable fashion initiatives. This week, she has partnered with a biotechnology company, Bolt Threads, to pursue a new field of luxury fabrication. Bolt Threads creates advanced sustainable materials using proteins found in nature and a clean, closed loop manufacturing process. This includes their signature "spider silk", which is a vegan protein created from yeast. McCartney plans to use this innovative material in her mission to reduce the fashion industry's detrimental impact on the environment.
Regarding the decision to partner with Bolt Threads, McCartney explained, "Now is the time to search for answers, for alternatives. For me, I've always struggled with the use of silk and finding Bolt has been a life-changing and career-changing moment for me." Her first piece to stem from the yeast protein silk will be a one-off golden dress. The dress will feature in the upcoming MoMA exhibition, 'Items: Is Fashion Modern?'
SUBSCRIBE TO OUR NEWSLETTER
Subscribe to our mailing list and get interesting stuff and updates to your email inbox.