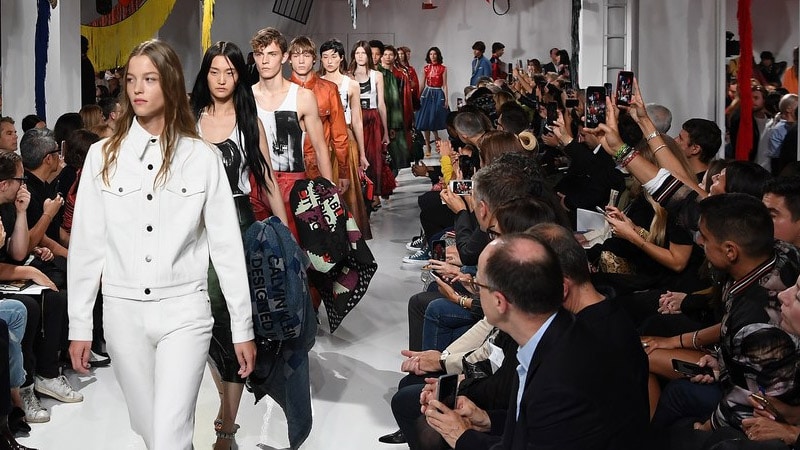 This week, Opening Ceremony wants you to get 'crazy gifts', Ellery will be showing at Paris Couture Fashion Week, NYFW will combine its men's and women's schedule and Adriana Lima spoke out about body positivity. Discover these stories and more as we reveal this week's top international fashion news.

Opening Ceremony Hands Out 'Crazy Gifts'
What do you get a person who has everything? How about a once-in-a-lifetime experience courtesy of Opening Ceremony. For the second year in a row, the brand's founders Carol Lim and Humberto Leon, have thought up a special set of gifts for you to give this holiday season. Entitled "CrazyCozyCool", the gift guide offers a number of one-of-a-kind experiences that are sure to produce awesome long-term memories. This year's gifts include a custom voice/video message from Whoopi Goldberg and Jonah Hill at USD$1000 each, lunch with style icon Chloë Sevigny for USD$2000 or a private rehearsal, backstage tour and performance with NYC Ballet choreographer Justin Peck valued at USD$5000.
Like last year, these presents do come with a strict set of rules in order not to spoil the experience for everyone. For instance, you are not allowed to pitch business ideas to Chloë or ask Whoopi and Jonah to record inappropriate messages. Or in other words: just brush up on your table manners and be on your best behaviour so Santa doesn't cross you off his 'nice' list. Last year's gifts included a home-cooked meal by Lim and Leon themselves, a reading by "Hollywood Medium" Tyler Henry, a bespoke Opening Ceremony piece, and a "luxurious red wine back experience amongst other offerings. Once again all proceeds are set to go to charity. You can view the full "CrazyCozyCool" gift guide for 2017 here.
NY Fashion Week to Combine Men's and Women's Schedule
New York Fashion Week has announced that it will be combining the men's and women's show schedule for the Autumn/Winter 2019 presentations in February. Previously, New York Fashion Week: Men's has been a separate entity from the main showings in February. This step appears to be a logical progression of the already changing fashion schedule, which had several fashion brands consolidate their men's and women's shows into one joint presentation. Among them are Gucci, Vetements, Saint Lauren, Givenchy, Burberry and most recently, JW Anderson to name a few. CDFA Vice President of Marketing Mark Beckham told WWD that the institute is committed to "keep finding ways to help designers find new outlets to show their collections. Whether that's showing men's and women's together, showing off-schedule or even overseas… By having the men's show adjacent to women's we hope we will have a strong showing for NYFW."
Ellery to Show at Paris Couture Fashion Week
In a continued series of fashion week shake-ups, Ellery is the latest brand to move its presentations and production schedule in order to pursue a different design and sales pace. Having previously shown at Paris Fashion Week, the label will now join the Paris Couture Fashion Week starting in January 2018. According to Vogue, this decision was made to suit the label's business model better. "Ultimately, the benefit […] is to create time; time to design, innovate, and produce a designer product," Ellery told the magazine. "Our aim is to give the garments and the artisans the respect that they deserve. The significant time that it takes to create a collection should be reflected in the subsequent weeks and months that the garments spend on the shop floor before being marked down. In order to do this, we must change the schedule of the industry—sell earlier, then deliver earlier."
While Ellery is not the first fashion brand to shift its schedule towards the couture fashion week, it's the first one to split two annual collections over four presentations. Half of each collection will be shown at the Paris couture shows, while the other half will be presented to press and buyers as part of the ready-to-wear schedule. According to the designer, this decision was based on today's fast-paced online environment. "We acknowledge that in this digital world audiences enjoy frequent newness, which is why we will be staggering the release of our collections to continue to be four times per year whilst we deliver product monthly in store."
Supreme x Rolex Rumoured to Release Collaboration
Rumours have been circulating on the net this week that luxury watch brand Rolex has once again teamed up with the street style label Supreme. According to the Instagram account dropsbyjay, the collaboration will drop at some point in 2018. If the speculations prove to be correct, the collection will feature not only some seriously stylish timepieces but also a range of apparel. The first time Supreme partnered with Rolex four years ago when they released a customised and super-limited edition of the Rolex Submariner. The piece featured a box logo on the back and a "FUCK EM" slogan on the watch dial. As opposed to the previous collaboration, the new collation is said to be available for public purchase, so you won't have to drop $50.000 a piece on the resell market.
Adriana Lima Says She's Done Taking Clothes Off
The longest-serving Victoria's Secret angel, Adriana Lima, startled the world with a cryptic social media message. In the Instagram post, the lingerie model shared a seemingly recent epiphany she had about the public perception of the female physique and body positivity. "Everyday in my life, I wake up thinking, how do I look? Was I going to be accepted in my job? And in that moment I realized that majority of woman probably wake up every morning trying to fit into a stereotype that society/social media/fashion etc imposed," she wrote. "That's not a way of living and beyond that… that's not physically and mentally healthy." The wakeup call came for Lima after being offered yet another gig in a "sexy video" and a friend trusting her with personal body issues. As a result, the Brazilian beauty decided she wouldn't continue taking her clothes off for an "empty cause."
"I will start with me. I refuse to embrace that. I am next to you. And I will stand by you," she continues, calling on her followers to "change the world." Since the post appeared somewhat out-of-character for the 36-year-old, her 11.5 million followers quickly caught onto it. Have tasted the wind of change, Lima also thought to rid herself of some of her own Insta friends including almost every current Victoria's Secret angel, as well as the official VS Instagram account and the creator of the VS fashion show, Ed Razek. Only recently, fellow long-term angel Alessandra Ambrosio retired from Victoria's Secret catwalk after 17 years. Adriana Lima has been rumoured to follow suit in a couple of years' time. Her Instagram announcement has sparked rumours that she won't return to the VS runway in 2018.
SUBSCRIBE TO OUR NEWSLETTER
Subscribe to our mailing list and get interesting stuff and updates to your email inbox.