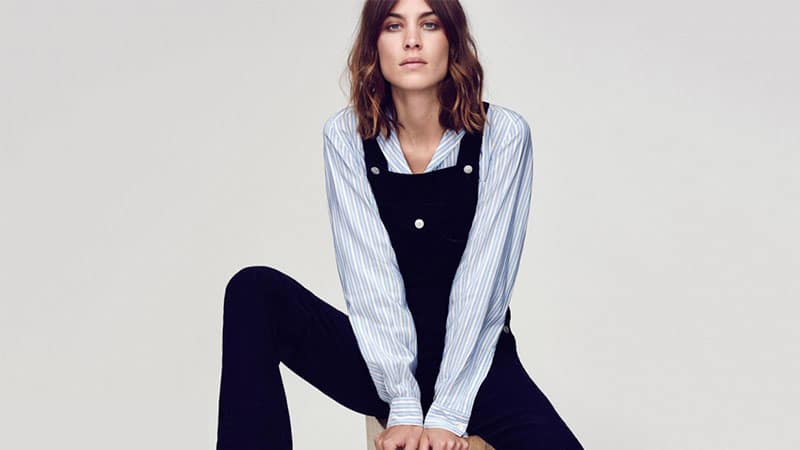 From Christopher Bailey's replacement as Burberry CEO to Alexa Chung's debut label, these are the top international fashion news stories of the week.
Christopher Bailey Replaced by Marco Gobbetti as Burberry CEO
Following last month's 75% pay cut, Christopher Bailey has stepped down as the Chief Executive Officer of Burberry. Replacing Bailey in the top role will be Marco Gobbetti, who is currently the CEO of Céline. The change is set to come into effect during 2017.
Bailey, who has held the dual positions of CEO and chief creative officer since 2014, will continue to lead the creative side of the business. He will also take on the new role of president for the British label.
"I am very excited that Marco Gobbetti is joining us as Chief Executive Officer and as a partner to me," said Bailey following the news. "Marco brings incredible experience and skills in luxury and retail with him that will be invaluable to us."
Hermes Buys Stake in Luxury Footwear Brand Pierre Hardy
French fashion house, Hermès has strengthened its relationship with designer Pierre Hardy by purchasing a minority stake in his eponymous label. Industry experts are viewing the investment as a strong vote of confidence in Hardy's brand and the current luxury footwear market.
"I'm delighted with our partnership with Pierre Hardy, which shows how proud we are to support creative talent and incredible expertise as part of this unique tribe that strives for excellence," said Hermès International Chief Executive, Axel Dumas.
Hardy, who is a luxury footwear and accessory designer, has been working with Hermès since 1990 and debuted his eponymous label in 1999. Following the development of this new relationship between the two brands, rapid and global expansion is being predicted for Pierre Hardy.
Alexa Chung is Finally Launching Her Own Fashion Brand
After countless collaborations with brands such as Marks and Spencer, Superga and Madewell, Alexa Chung is finally starting her own fashion brand. Eponymously named Alexachung, the "contemporary-priced" brand is set to debut next May. According to reports, the range will include a variety of women's products from denim, daywear and evening wear, to shoes, jewellery and special items.
In preparation for the label's launch, the British "It" girl has appointed Edwin Bodson, who formerly worked for Haider Ackermann, as managing director. A six-person design team is also on board to help Alexa achieve her business goals.
Aside from collaborating on collections, Alexa has much experience in the fashion industry through modelling, presenting, styling, editorial work and even running a fashion app. On top of that, the business-savvy Brit also has a sell-out Mulberry handbag named after her.
Tiffany & Co. Announces Accessory and Homeware Collaboration with Reed Krakoff
Tiffany & Co. has announced this week that it has hired Reed Krakoff to collaborate on accessories, home wares, and gifts. The American designer will work alongside design director, Francesca Amfitheatrof, who leads jewellery and watch design, to create the range.
"It's going to be an amalgamation of historical Tiffany icons and my own modernist taste, and looking at that through a lens of how things are made, of quality, craftsmanship," said Krakoff of his design approach for the project.
The project, which will see products hit stores in 2017, marks the second significant partnership for Krakoff since suspending his eponymous label last year. The former Coach creative director also collaborated with American retailer Kohl's for a collection. Whether this partnership will be ongoing after the first range of products is released, remains to be seen.
Gisele Bündchen Reportedly Set to Host Olympics Opening Ceremony
Former supermodel, Gisele Bündchen may be hosting this year's Olympic Games opening ceremony. Extra, a newspaper from Brazil has reported the news, saying that the Brazilian-born model will undertake the special role to initiate the beginning of the Games.
Taking place on August 5th in this year's host city of Rio de Janeiro, Brazil, the opening ceremony will be held at Maracanã Stadium. According to reports, the special event will be themed around the future.
Though details about the event's proceedings are scarce, reports say that Gisele will be making a special walk to mark the beginning of the Games. The former Victoria's Secret model will apparently strut her stuff through a "futuristic gateway" on the night, which coincides with the theme of the event.
SUBSCRIBE TO OUR NEWSLETTER
Subscribe to our mailing list and get interesting stuff and updates to your email inbox.