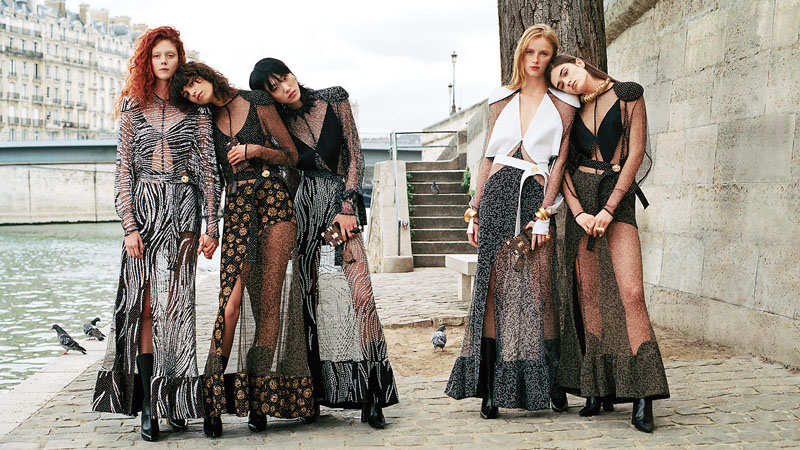 From Louis Vuitton's trip to Japan to Tommy Hilfiger's first Pitti Uomo show, these are the top international fashion news stories of the week.
Louis Vuitton is Heading to Japan for Cruise 2018
Louis Vuitton has revealed that Japan will be its next destination to show its Cruise collection. Although the brand is yet to announce the exact location of the show, the presentation will take place on May 14.
While exciting, artistic director Nicolas Ghesquière's decision to show the brand's Cruise 2018 collection in Japan isn't completely out of the blue. Louis Vuitton has a long history with the country in terms of both retail business and artistic collaborations. The brand has previously worked with Japanese artists and designers such as Takashi Murakami, Yayoi Kusama, and Rei Kawakubo.
This won't be the first time that Louis Vuitton has chosen unique locations around the world to show its Cruise collection. In recent years, this list has included Monaco, Palm Springs, U.S., and Rio de Janeiro in Brazil.
Tommy Hilfiger Presents at Pitti Uomo for the First Time
This week, Tommy Hilfiger headed to Florence, Italy to present for the first time at the city's Pitti Uomo men's trade fair. Taking with him some of the world's most influential millennials, Hilfiger and his team took over the historic Palazzo Corsini on Tuesday night.
Debuting the Hilfiger Edition Fall 2017 collection, the presentation saw a distinctively youthful aesthetic mixed in with the brand's usual preppy style. Acting as both models and representatives for this new millennial-focused menswear collection were the rising stars, Presley Gerber, Lucky Blue Smith, Rafferty Law, Gabriel-Kane Day-Lewis and Julian Ocleppo.
"Since I first launched my brand in 1985, menswear has been a key part of the Tommy Hilfiger brand," said the designer. "Men's fashion is really having a moment right now, and it's great to be here at Pitti – one of the greatest platforms in the world for menswear designers – to celebrate the growth and achievements of the men's fashion world."
Lacoste Celebrates Iconic Polo Collection with Exclusive Pop Up
Premium French label, Lacoste is celebrating its iconic polo collection with an exclusive pop-up roadshow. Designed to highlight Lacoste's authentic sportive roots, the pop-ups will showcase the brand's signature L.12.12 collection throughout select countries in Asia Pacific.
The L.12.12 was the very first cotton polo shirt made. It was created in 1933 by French tennis champion and brand namesake, René Lacoste. Made of an innovative petit pique jersey, the shirt revolutionised sportswear, allowing players to feel both relaxed and elegant on and off the court. Today, the L.12.12 Petit Pique pattern continues to be a favourite amongst customers and has been adapted to an entire collection of products.
The L.12.12 celebratory pop-up roadshow will kick off at Lacoste in the Melbourne Emporium Centre. Running from January 16-29, customers will be able to have their L.12.12 polo customised with their initials and a limited-edition artwork, complimentary with any polo purchase. The roadshow will then continue throughout the Philippines, Thailand, Indonesia, and Singapore.
Ivanka Trump to Step Down from Her Fashion Label
Soon-to-be first daughter, Ivanka Trump has announced her resignation from her eponymous fashion brand. The businesswoman and entrepreneur revealed that she will step down from all officer and director positions she holds with the label to focus more exclusively on politics. On top of that, she will also remove herself from management and operations of the Trump Organization while her husband, Jared Kushner departs his real-estate business and role at The New York Observer. Not only will these departures allow Ivanka to focus her time in Washington, but they also comply with ethics laws.
Despite Ivanka's departure from her eponymous label, the brand looks set to continue without her.
"We are sad to see @ivankatrump leave the team," said the brand in on Instagram. "—Washington, D.C., you're lucky to have her!! Stay tuned to find out what we've got in store on IvankaTrump.com for 2017, it's going to be a fantastic year!"
The Trump family's involvement in the fashion industry also saw another headline this week as President-elect, Donald Trump met with LVMH CEO, Bernard Arnault. According to reports, the pair met to discuss manufacturing and the possible expansion of LVMH factories and facilities in the U.S., amongst other issues.
American Apparel to Close Stores Following Sale to Canadian Company
Following a tumultuous few years, American Apparel looks set to finally close. The struggling retailer was recently bought at auction by Canada's Gildan Activewear for $88 million and will now apparently close stores. According to reports, the company plans to shutter all of its 110 remaining U.S. retail locations, as well as its distribution centre in La Mirada and production facilities in Garden Grove and South Gate, California. Due to the shuttering of these factories and the brand's downtown L.A. headquarters, an estimated 3,500 employees could soon be out of work.
"This was always about buying assets out of bankruptcy. The reality is this wasn't a purchase of an ongoing concern," said Gildan spokesperson, Garry Bell following the company's auction purchase of American Apparel's intellectual property and manufacturing facilities.
Despite rising to immense popularity during the mid-2000s, American Apparel has seen a steep decline in recent years. As well as financial trouble and filing for bankruptcy, the brand also faced difficulties due to numerous sexual harassment allegations against its founder, Dov Charney.
SUBSCRIBE TO OUR NEWSLETTER
Subscribe to our mailing list and get interesting stuff and updates to your email inbox.