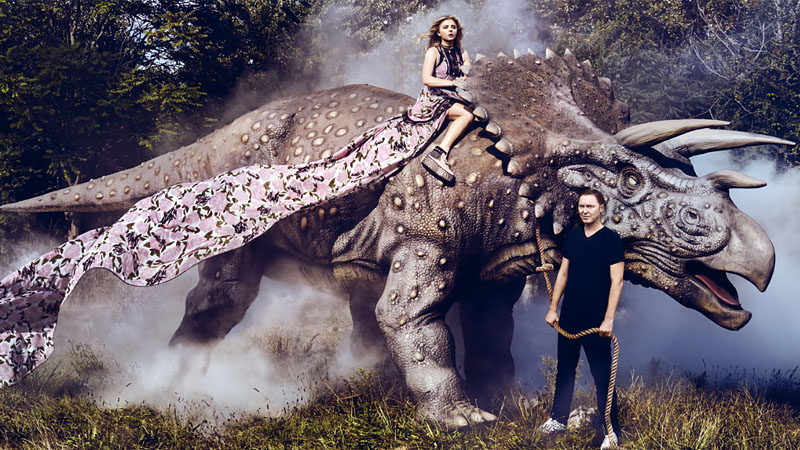 From Cara Delevingne's return to the runway to Khloe Kardashian's history-making denim, these are the top international fashion news stories of the week.
Cara Delevingne Walks for Chanel Metiers d'Art Show
Cara Delevingne has made a return to the runway to walk in this year's Chanel Metiers d'Art show. The 24-year-old, who recently took a break from modelling to pursue her acting career, headed to the recently renovated Paris Ritz to appear in the show.
The show, which takes place very close in time to both the Victoria's Secret Fashion Show and The Fashion Awards, forewent the usual slew of models and opted for some fresh faces instead. Joining Cara on the runway was Lily-Rose Depp, the daughter of Johnny Depp, who walked for Chanel for her first time. Lily-Rose has also been the star of some of Chanel's most recent campaigns and was awarded the privilege of opening this year's Metiers d'Art show.
Also appearing on this year's runway was "Instagirl", Sophia Richie and singer, Pharrell Williams.
2016 Fashion Awards Take Place
The British Fashion Council's annual awards ceremony, now known simply as The Fashion Awards, has taken place for 2016. Held at London's Royal Albert Hall, this year's ceremony saw countless industry heavyweights, including the likes of Anna Wintour, Kate Moss and Lady Gaga, attend. Honouring a range of British and international talent, the event presented awards for categories such as Outstanding Achievement, New Fashion Icons, British Menswear Designer, British Womenswear Designer, International Ready-to-Wear Designer, and more.
Khloe Kardashian's Good American Saw Biggest Denim Launch in History
Khloe Kardashian's new label, Good American, launched in October and according to sales results, it was the biggest denim launch in history. The body-positive and curve friendly brand apparently raked $1 million in sales on its very first day of trade.
Although the results are staggering, it isn't a surprise that the label saw a highly successful launch. After all, the whole Kardashian-Jenner clan has numerous highly successful business ventures behind it. While Kim Kardashian West has seen incredible results with her mobile game, Kim Kardashian: Hollywood, the youngest of the family, Kylie Jenner, has created a booming cosmetics business around her famous Lip Kits.
Good American, which was bolstered by social media marketing before its launch, now looks set to expand its product range into other areas of denim. The brand, which ranges from sizes 00 to 24 currently offers three styles of jeans, Good Legs (skinny cut), Good Cuts (boyfriend cut) and Good Waist (high-waisted cut).
Pantone Announces Colour of the Year for 2017
Pantone, often considered the world authority on colour, has announced its choice for 2017 Colour of the Year. "Greenery" will be the apparent ruling hue of the new year, offering the world a new refreshed and reinvigorated take on life.
"Greenery is a fresh and zesty yellow-green shade that evokes the first days of spring when nature's greens revive, restore and renew," says Pantone. "Illustrative of flourishing foliage and the lushness of the great outdoors, the fortifying attributes of Greenery signals consumers to take a deep breath, oxygenate and reinvigorate."
Typically a colour for the springtime, Pantone predicts that this hue, which it also calls "nature's neutral", will be a hit all year round. Taking over from last year's calming colours, Serenity and Rose Quartz (baby blue and light pink), Greenery is symbolic of a new global mood of hope in the face of an uncertain future.
Reformation Teams up with Haim for New Year's Eve Collection
Cult-favourite L.A. label, Reformation has teamed up with Haim to create a killer New Year's Eve collection. The stylish eco-retailer joined forces with the three Haim sisters, Este, Danielle, and Alana, to produce the special 10-piece capsule range for the party season.
Filled with the distinct indie rock stylings of the band, the NYE collection has party needs covered with stylish and fun, dresses, tops, jumpsuits, bodysuits, miniskirts, and even one patent leather jacket. Plenty of luxurious velvet, slinky satin, and deep-V necklines also appear in the collection, giving it a very glamorous '70s vibe.
The collection launched on December 5th and is now available for purchase in-store and online at www.thereformation.com.
Coach Celebrates 75th Anniversary with a Star-Studded Party
Coach's 75th-anniversary celebrations have come to an end, but not before the brand had one last great party. The fashion house took over New York City's Pier 94 on December 8 to throw an unforgettable celebration. Complete with a Women's Pre-Fall and Men's Fall 2017 runway show, the party cemented Coach's new positioning as an exciting and cool label to watch.
Not only did the celebration feature musical sets by guest DJs, Lolawolf and Mark Ronson, but it also saw a packed, star-studded crowd. Amongst those in attendance were famous names like Drew Barrymore, Dree Hemingway, Zoe Kravitz, Riley Keough, and Emma Roberts.
As for the show itself, it took place amongst a set that drew inspiration from a motel parking lot. Complete with vintage cars, the set was somewhat reminiscent of the Coach 1941 Spring 2017 "junkyard" runway earlier this year. Fake snow was also on offer as to create a thrilling show, as was the Young People's Chorus of New York City who performed a special arrangement of "Empire State of Mind".
SUBSCRIBE TO OUR NEWSLETTER
Subscribe to our mailing list and get interesting stuff and updates to your email inbox.