Find space in your home and life for better health and wellbeing with an infrared sauna. When you step into an infrared sauna, your body is heated directly, penetrating the skin, muscles, and cells. Not only is it a wonderful way to relax, but it also has plenty of other incredible benefits. These range from improved cardiovascular health and detoxification to weight loss, better immunity, clear skin, quality sleep, and faster muscle recovery. It's a deeply transformative and nourishing experience, combined with a touch of luxury that will put you on a path to a healthier, happier, more connected life. While there are a few companies that supply Australia with infrared sauna, we recommend Found—Space. From compact units for apartments to impressive barrel saunas for your backyard, you're sure to find the perfect sauna for your home and unique health needs.
What is an Infrared Sauna?
An infrared sauna is an enclosed chamber, often made of wood and glass, that uses infrared light to heat anyone sitting in it. Infrared light is a safe wavelength of light that people feel as heat. It's a radiant warmth that feels similar to sitting in the sun and generally reaches temperatures around 60 degrees Celsius. This warmth penetrates deeply and gently into the body and muscles, giving you a cardiovascular workout while removing heavy metals and toxins. These saunas boast various benefits, from relaxation and improved circulation to better sleep and pain relief. You can get in-home infrared saunas from brands such as Found—Space or access them at venues like day spas or health retreats.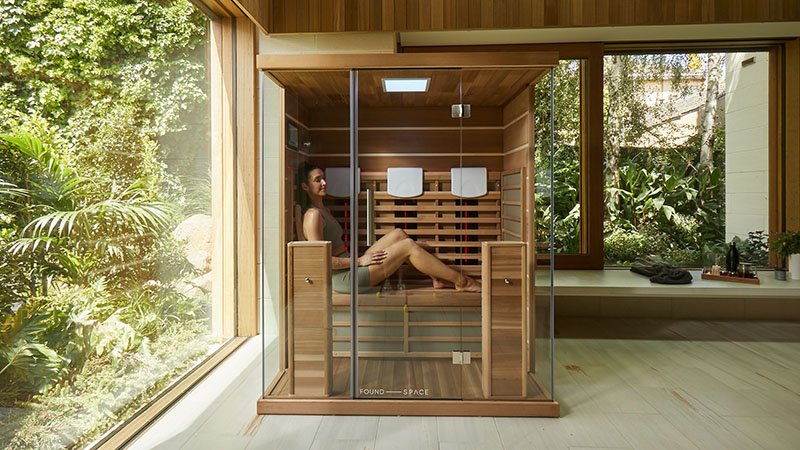 Found—Space Infrared Saunas
Formerly known as iHealth Saunas, Found—Space is a proudly Australian company that has been helping people re-create their home's spaces to better serve their health and wellbeing using infrared sauna since 2008, making it the longest-running infrared sauna company in the country. The addition of a Found—Space sauna to your home will provide you with a transformative experience that will harmonize your mind, body, and soul, so you can live a long and healthy life. Driven by the purpose to create a healthier world, Found—Space saunas focuses not only on providing high-quality infrared saunas for homes and businesses but also on going above and beyond when creating an amazing experience for their customers. The team will not just provide you with a sauna – they'll work with you in integrating it into your daily life. This unique approach to business makes them the most empathetic and progressive company in the industry.
Choose from a range of deeply therapeutic infrared saunas that showcase transformative technology to help you find alignment and wellness. They feature clean lines and glass, color therapy, halo lighting, and blue-tooth connectivity so that you can enjoy a peaceful space for daily relaxation and rejuvenation.
Found—Space – Lite Range Sauna
The Lite Range Sauna is simple but effective. It uses kiln-dried Canadian hemlock and low EMF carbon wall panels emitting 7,000 to 10,000nm wavelength of safe, soothing far-infrared light. Meanwhile, the Bluetooth-connected sound system allows you to stream calming music, your favorite podcast, or a guided meditation. This no-frills design is ideal for daily use and is the most cost-effective option. It's best suited to indoor locations and comes in both a two and three-person model. Finally, you can also pre-program it to turn on, so it's ready when you are.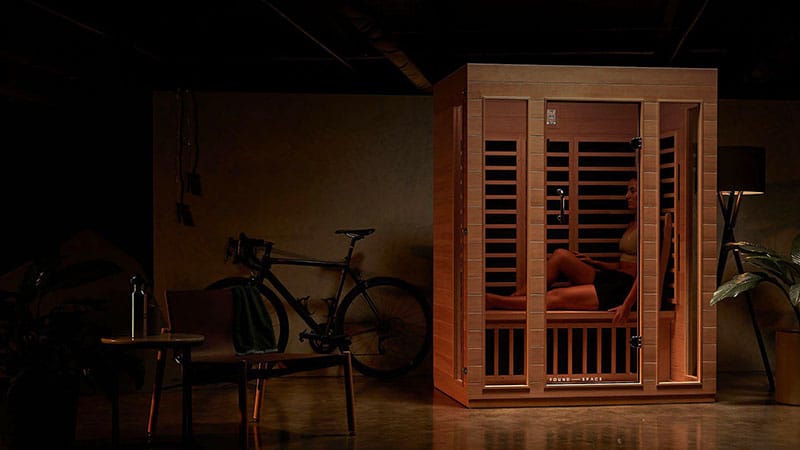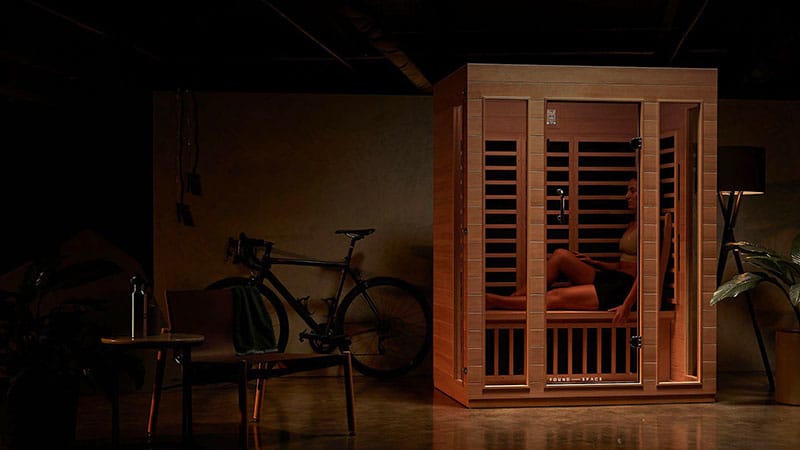 Price: AUD5,250/AUD5,750
People: 2 or 3
Dimensions: 2 Person – 1.19m wide x 1.04m deep x 1.90m high – 3 Person – 1.45m wide x 1.04m deep x 1.90m high
Warranty: 2-year heater warranty
Found—Space – Premium Range
Upgrade your Found—Space infrared sauna experience with the Premium Range, the brand's signature experience. It's the perfect complement to a healthy routine. This design boasts double-skinned walls made using first-grade Canadian hemlock timber, kiln-dried for 45 days, which provides superior insulation, stability, and sound exclusion. It also includes both wall and movable ceramic heaters that allow you to target particular areas using the 7,000 to 10,000nm wavelength of safe, infrared light. Make use of color therapy lights, an essential oil diffuser, and a Bluetooth sound system for music or meditation. The other thing that takes this unit to another level is the meticulous finishing. There are brass details, intricate joinery, and softened edges. It's a luxury far-infrared sauna that ensures you get the best experience.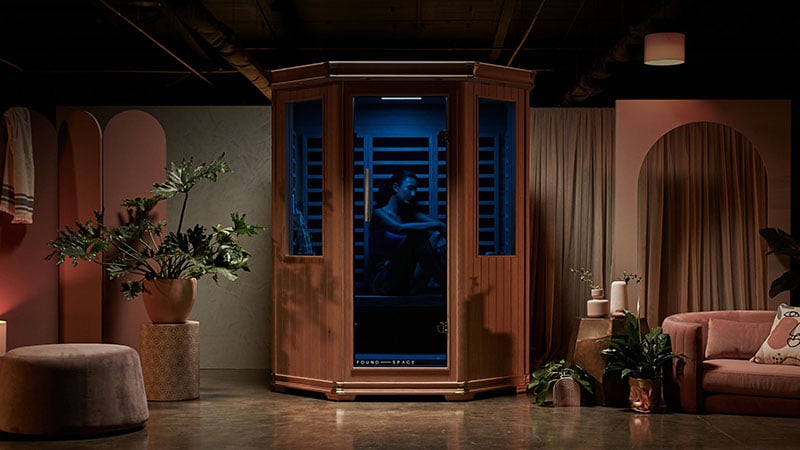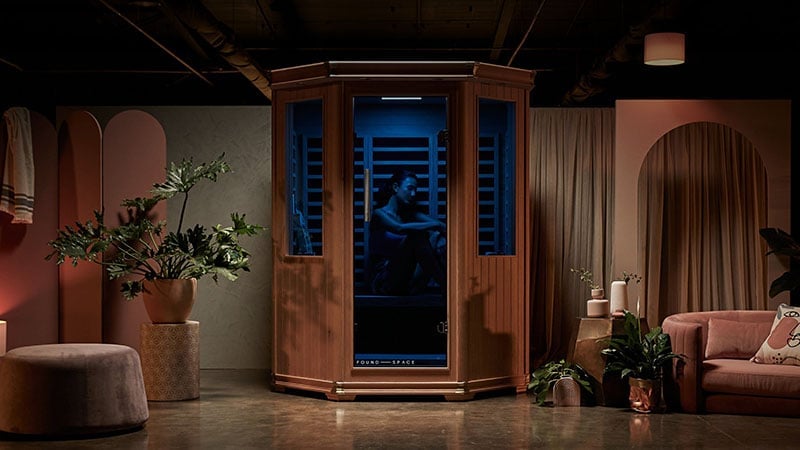 Price: AUD7,990/AUD8,990/AUD9,490
People: 2 , 3 or 4
Dimensions: 2 Person Premium – 1.29m wide x 1.20m deep x 1.95m high – 3 Person Premium – 1.62m wide x 1.30m deep x 1.95m high/4 Person Premium – 1.80m wide x 1.21m deep x 1.95m high
Warranty: Lifetime heater warranty, & 5-year cabinet and electrical warranty
Found—Space – Full Spectrum
The Full Spectrum Infrared Sauna from Found—Space is the pinnacle of excellence. You'll be able to reach your health and wellness goals even more effectively. It boasts the latest programmable heating technology in the signature carbon wall panels and is adjustable along the entire spectrum, from 620nm to 10,000nm wavelength of light. This means you can use both near and far infrared therapy for optimum results. You can also utilize color therapy to set the mood with halo lighting. Then, add relaxing essential oils while listening to music or a podcast on the Bluetooth sound system. Lastly, the fit and finish are also excellent with CNC-machined double skinned walls using beautiful Western Red Cedar & Aspen wood. It's the finest experience in an infrared sauna, all in the comfort of your home.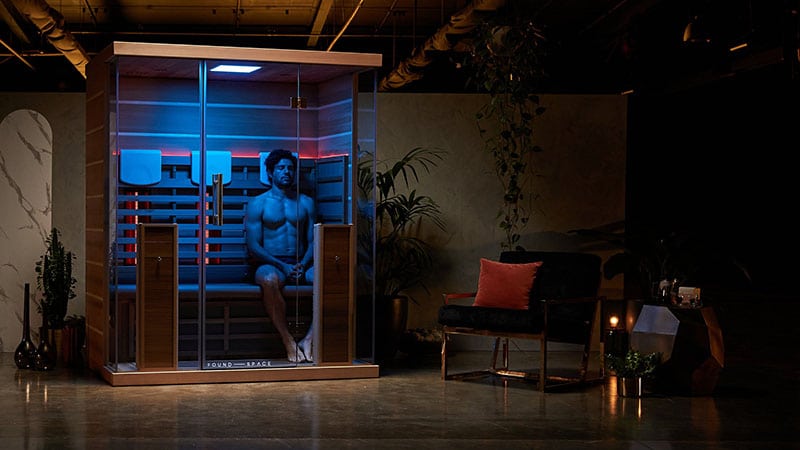 Price: AUD8,990/AUD9,990
People: 2 or 3
Dimensions: 2 Person Full Spectrum – 1.30m wide x 1.05m deep x 1.95m high – 3 Person Full Spectrum – 1.63m wide x 1.05m deep x 1.95m high
Warranty: Lifetime heater warranty, & 5-year cabinet and electrical warranty
Found—Space – Outdoor Barrel
Incorporate nature into your infrared sauna experience with the Outdoor Barrel Sauna from Found—Space. It's designed to be experienced in your backyard so that you can connect with the outdoors. Set it up on a deck, by the pool, or any solid flat surface. Built to last, it uses 20mm thick Canadian cedar panels with shingle roof riles, an 8mm toughed glass door, and stainless-steel straps. It will need some maintenance, but with care, it will last for years. Enjoy full-spectrum adjustable heating with carbon wall panels and moveable ceramic heaters. This means you can target specific areas with either near or far-infrared light for peak results. You can also preset it to heat up, so it's ready when you are. Lastly, there's also color therapy lighting, an essential oil diffuser, and a Bluetooth sound system – all of which allow you to tailor your experience.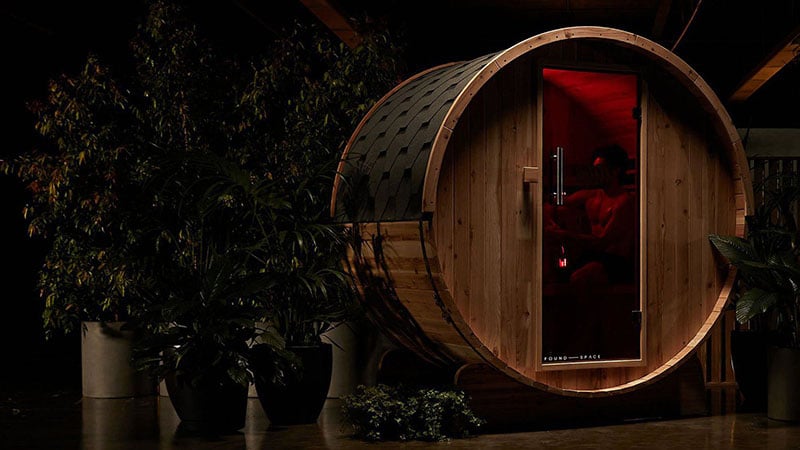 Price: AUD14.990
People: 4
Dimensions: 1.95m wide x 1.5m deep x 2.11m high
Warranty: Lifetime heater warranty, & 5-year cabinet and electrical warranty
Found Space – City Compact
Apartment or smaller-space living doesn't need to be a barrier to health. The Found—Space City Compact is the world's smallest sauna at just 58cm deep when closed and ideal for a single user. The unit slides out when in use, then back in for compact storage. The design features the same Canadian hemlock interior construction as the Premium and Lite models, with far-infrared carbon wall heaters. Meanwhile, the exterior uses polar-white, matte-finish melamine for a beautiful, urban look. Stay connected with a Bluetooth sound system, so you can listen to a podcast, follow a guided meditation, or listen to relaxing music. It's a perfect choice if you have limited space but still want the powerful, beneficial effects of infrared sauna therapy in your own home.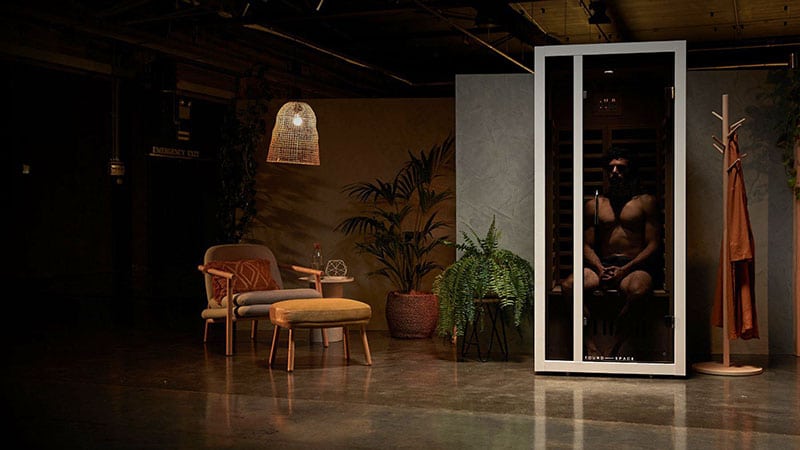 Price: AUD5,750
People: 1
Dimensions: Contracted – 85cm wide x 58cm deep x 1.90m high Expanded – 85cm wide x 106cm deep x 1.90m high
Warranty: Lifetime heater warranty, & 5-year cabinet and electrical warranty
Found—Space Smart Sauna Technology
Found—Space's Smart Sauna is an industry first and makes prioritizing your health as easy as possible. Available with the Full Spectrum model, it features 24/7 connectivity through the Smart Sauna app. It lets your turn your sauna on from anywhere, controlling the settings from the palm of your hand and setting up your ideal sauna ritual. Choose from the full spectrum heating system ranging from 620nm to 10,000nm wavelength light for the most benefit. There's also color therapy, Bluetooth connectivity, and an intelligent interface that connects to your phone. In addition to sauna control, you can make use of in-app wellbeing content to continue learning about your health and personal growth journey. It's the world's smartest sauna that lets you connect your way.
Differences between Found—Space Premium and Full Spectrum Saunas?
Both the Found—Space Premium and Full Spectrum infrared saunas provide a luxurious experience. Each is made with quality, well-finished wood – Canadian hemlock for the Premium and Western Red Cedar & Aspen for the Full Spectrum. They also both boast color light therapy, aromatherapy, and Bluetooth connectivity. The main difference is that the Premium uses wall and movable ceramic heaters providing 7,000 to 10,000nm far-infrared wavelength light. Meanwhile, the Full Spectrum offers the entire light range, combining both near and far-infrared light to maximize benefit. The Full Spectrum comes with a two or three-person capacity, while the Premium has two, three, or four-person sizes. Finally, you can upgrade your Full Spectrum sauna by opting for the Smart Sauna, providing superior connectivity for an even more tailored experience.
What Makes Found—Space's Saunas Different?
There is a lot that makes Found—Space an industry leader in infrared saunas. First, the company has been helping customers improve their health and wellbeing for nearly 20 years, making it the longest-running infrared sauna company in Australia. As a purpose-led company, they believe wellbeing starts at home, and the brand sits at the junction of health, home & spirituality. They don't shy away from soulful conversations and want to support their customers in discovering their own path on their growth and connection journey. Finally, quality is at the forefront of every design. Each is made from FSC certified timber, meets Australian Electrical standards, and has an industry-leading warranty. While some competitors offer lower prices, it's a product where you get what you pay for, and the price reflects the incredible quality and transformative technology of these infrared saunas.
Found—Space Signature Experience
While sweat may be central to the Found—Space experience, it is not the only part. The Signature Experience takes you on a journey to a more fulfilled life, focused on your health and wellbeing. The first stage is the Catalyst. You make the decision to buy an infrared sauna, and it's placed in your home. It disrupts the status quo and encourages you to take time each day to sauna. This then evolves into the next stage – Ritual, where it becomes a habit along with other healthy behaviors. The final step is Connection when you recognize how life has changed for the better. It marks the beginning of a new phase of continuous improvement and consistently striving to be healthier and happier.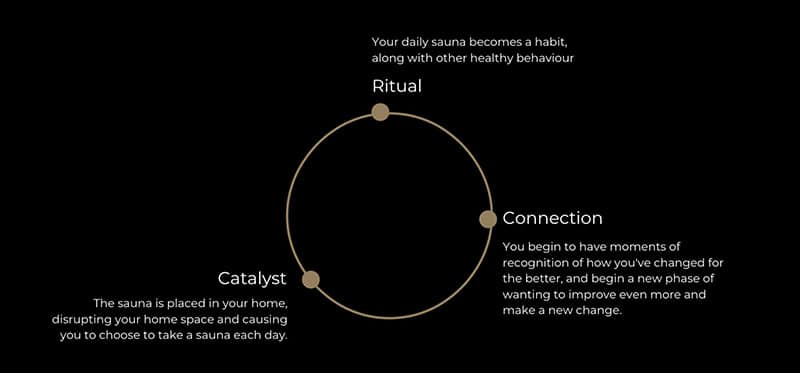 Found—Space Podcast
Be inspired by the journey of those achieving their dreams with the podcast, Finding Space With Alex Tyson, the CEO of Found—Space. In it, Alex talks with people who have worked hard to do what they want and be who they want to be at the most authentic level. It's about finding compassion and intelligence within yourself, which then allows you to find space for personal and professional growth. Hear unique perspectives and fascinating stories from guests like CEO of One Eleven Health, Cassie Cameron, Plant Proof founder Simon Hill or Australian cricketer Ellyse Perry. The podcast is available on Spotify, Apple, and YouTube.
Infrared Sauna vs. Traditional Sauna?
There are a few key differences between traditional and infrared saunas. First is the type and source of heat. Traditional saunas (both steam and dry) heat the air around you, creating a hot environment to encourage sweating. They can be heated with a wood stove, hot stones, embers, or electricity, and the temperatures can reach up to 80 degrees Celsius. Meanwhile, an infrared sauna heats the body directly using special lights. The maximum temperature is also lower at 60 degrees Celsius, which can be more comfortable and let you do longer sessions. Next, the heat-up time differs as well. Traditional saunas can take up to 30-40 minutes to heat, while infrared only takes 15-20 minutes. Finally, there's a difference in size and running costs. Infrared saunas tend to take up less space and consume less power in the running, resulting in lower operational costs.
Far infrared vs. near-infrared sauna
Near-infrared (NIR): The infrared spectrum of light is from 700 to 100,000 nanometers (nm). As such, near-infrared is 700nm to around 1400nm. This is closer to the visible spectrum for humans and can penetrate up to nine inches into the body. Benefits include better healing, stimulation of collagen production, sweat production, and pain relief. They emit low levels of electromagnetic fields (EMFs).
Far-infrared (FIR): At the other end of the spectrum is far-infrared, which is 3,000 to 100,000 nanometers. It's further away from the visible light spectrum and penetrates less deeply into the body. Benefits from this include improved cardiovascular health, reducing arrhythmias, better sweating, and improved circulation. However, these do emit higher levels of EMFs than NIR.
EMF: EMFs stand for electromagnetic fields, a form of invisible energy waves or radiation. They come from natural sources like the sun and artificial sources like electricity, microwaves, gamma rays, and x-rays. Infrared lights like those used in saunas do emit EMF, but it's extremely low-frequency radiation and won't change or damage DNA or cells (so you won't turn into the Hulk using your infrared sauna!). Consequently, there's no danger associated with the use of proper infrared saunas.
Infrared Sauna Benefits
There are a plethora of health and wellness benefits associated with regular infrared sauna use. They range from pain management and stress relief to cardiovascular health, weight loss, faster muscle recovery, and better sleep. Enjoy the best results with at least three sessions per week, 30-45 minutes per session at 45-55 degrees Celsius. It's the ideal time to switch off, focus on your body, and meditate in the quiet to calm a busy mind. What time of day you use your sauna depends on your health and wellness goals and how it works for your body.
Detoxification
Sweating is one of the key ways that the body removes toxins. As such, the direct heat exposure from frequent infrared sauna sessions increases your body temperate, encouraging a sweat response. The deep penetration of the light into your body also helps you get rid of heavy metals and toxins. However, regular sauna use is best incorporated as part of an overall healthy lifestyle for the greatest outcomes. This includes a nutritious diet, avoiding alcohol and smoking, exercising regularly, staying hydrated, getting plenty of quality sleep, and reducing stress where possible.
Better Skin
Clear, healthy, glowing skin is another great benefit of using an infrared sauna regularly. As the heat penetrates the skin and muscles, it breaks down toxins and pushes them out through sweat. This can not only help clear skin but can be effective in reducing cellulite. In addition, infrared saunas increase blood flow around the body, accelerate cellular activity, and pump nutrients to your skin cells. The result of this is an anti-aging effect that minimizes fine lines and wrinkles and even helps would healing. However, it's essential to stay well hydrated before and after a session. It's also advised to clean the sweat off your skin and rinse with cold water to close your pores and boost the benefits.
Improved Circulation
The light of an infrared sauna provides the body with a natural circulation boost. It increases both oxygen circulation and ATP production – the energy-carrying molecule. While it's excellent for general blood circulation, it's also beneficial for high blood pressure. The heat provides a 'passive' cardiovascular workout through increased heart rate and body temperature. Plus, it can also dilate the blood vessels, thereby helping to lower the pressure. High blood pressure has a number of contributing factors that infrared saunas can help mediate, through weight loss, detoxification, stress management, and improved sleep.
Pain Relief
Regular use of infrared saunas can help with pain relief, especially in your joints, by reducing inflammation. The deep penetration of the heat stimulates blood flow, improves circulation, increases oxygen, and promotes white blood cell production. It can also help relax the muscles and loosen the body up, helping to eliminate stiffness. This can benefit anyone with general joint pain or even chronic conditions such as arthritis or fibromyalgia.
Cardiovascular Benefits
Improve your cardiovascular health each time you sauna. The heat creates a gentle cardiovascular workout that increases your heart rate. Doing so helps lower blood pressure, create changes in circulating lipid profiles, and improve stiff arteries. It also increases cardiovascular function by improving endothelium-dependent dilatation and modulation of the autonomic nervous system. Other infrared sauna benefits, such as weight loss, better sleep, increased energy, and decreased stress, also have a positive flow-on effect for heart health.
Post-Workout Recovery
Alleviate post-workout muscle ache and speed up your recovery with an infrared sauna. It's a multi-faceted effect. Improved blood circulation can help move lactic acid through and out of the muscles, speeding up the repair process. It also promotes weight loss in people with excess weight, making each workout easier as you become healthier. Additionally, the positive effects on blood pressure, combined with exercise, help your body function optimally. Increased cardiovascular health can also help you work harder for longer and achieve fitness goals sooner. Plus, the gentle heat warms up the muscles for ideal stretching. Finally, activated Cytochrome C Oxidase and increased ATP production can boost your energy levels, getting you set up and ready for your next sweat session. If you want even more benefits after your sauna, take a cold shower after to activate cold shock proteins – it also just feels invigorating!
Help Chronic Fatigue
Chronic fatigue can be a debilitating condition. However, regular infrared sauna use can help manage symptoms and improve overall wellbeing. To start, flushing out heavy metals and toxins through sweat can decrease internal inflammation. The heat also increases white blood cell production and helps boost the immune system, which is often run down in people with chronic fatigue. Next, activated Cytochrome C Oxidase and increased ATP production will help give your energy levels a boost. Plus, the benefits of improved sleep and reduced stress will assist your body to regenerate with rest and rebalance the stress hormones that can trigger adrenal issues.
Relaxation
Another excellent benefit of infrared sauna use is relaxation. The time you spend in the sauna is the perfect time to switch off and shift away from the hustle and bustle of your day. It's ideal for meditation or reflection and gives you the opportunity to connect your mind, body, and spirit. The gentle heat that warms your body will also allow you to release built-up tension and physically relax your body. Plus, you'll sweat out all the toxins from the day, and it activates the parasympathetic nervous system. Taking time to focus on relaxation each day is also an excellent way to reduce your stress levels and improve your mental health.
Better Sleep
Quality sleep is essential for good health and happiness, and regular sauna use is ideal for achieving that. Not only will it reduce stress levels, so you're not lying awake ruminating over the day's events, but it also activates the parasympathetic nervous system. This will put you in a more relaxed state, ready for bed. Switching nightly television or phone scrolling for a sauna session also helps you switch off and quieten a busy mind. Many infrared saunas, including the Found—Space ones, have color light therapy that helps wind down your energy. Finally, take your sauna session to another level by utilizing sleep enhancers such as lavender essential oil, herbal tea, guided meditation, calming music, or salt lamp lighting to your nighttime routine.
FAQs
What is the healthiest sauna to buy?
All saunas provide a range of positive health benefits; however, infrared saunas are particularly good. They heat the body rather than the air so that you can enjoy much lower, more comfortable temperatures for even longer sessions. The gentle heat also penetrates the muscles and body further, especially when using near-infrared light. The benefits include improved circulation, better skin, reduced pain, weight management, lower stress, better sleep, and enhanced muscle recovery. 
What should I look for when buying an infrared sauna?
There are a few things to consider when buying an infrared sauna. One of the most obvious is size. Most need to be installed on a flat, hard surface and need room for assembly. As such, you'll need to consider how much space you have versus the unit size you want. You'll also need to decide if you want an indoor or outdoor compatible unit, as construction will vary between them. You'll also need to think about what kind you'd like – whether something basic and economic will suffice or if you want all the bells and whistles for optimum output. This also covers whether you want far-infrared or near-infrared (or the full spectrum). Finally, the cost will also be a factor for most, but remember that you'll get what you pay for in terms of the correlation between price and quality. 
How many times a week should you use an infrared sauna?
Ideally, you should use your sauna three to four times a week, with 30-45 minutes per session at 45-55 degrees Celsius. Once it becomes a habit and you get used to it, feel free to incorporate it into your daily health and wellbeing routine. 
Can you bring your phone in an infrared sauna?
It's preferable not to bring your phone into an infrared sauna, as it's likely to get damaged by the heat (the maximum operating temperature of most phones is 45 degrees celsius). Found—Space saunas all have Bluetooth connectivity so that you can listen to music, meditation, or a podcast through the sound system. Plus, the Smart Saunas have an interactive display you can use to set things up. One of the great things about a sauna is the chance to disconnect and enjoy some quiet time, so use the opportunity to put your phone down and switch off for a little while!
Where can the infrared sauna be placed?
Your infrared sauna needs to be placed on a hard, flat surface. The technicians will need space around it for assembly, but most can be pushed into a smaller space or against a wall once assembled. There also needs to be 25 cm above the unit. The Found–Space saunas do need access to a 240V powerpoint, but because it's infrared, there's no need for any other kind of special wiring, plumbing, or ventilation. Some designs are made specifically for the outdoors, while others are intended for indoor use only and are therefore great for a home gym, spare room, or garage. 
Are infrared saunas expensive to run?
As with any electrical appliance, infrared saunas do cost money to run. However, the operational costs are cheaper than a traditional sauna. Factors that will contribute to the cost include how often and how long you use it, what electricity prices are like in your area, when you use it (peak/off-peak), and the size of the unit. You can estimate this by multiplying the cost per kilowatt-hour (on your power bill) by the sauna's kilowatt rating and time used. Finally, maintenance costs for an infrared sauna are relatively low too. All you need is to wipe up excess sweat, occasionally apply a natural oil sealer to the wooden interiors, and service it when recommended.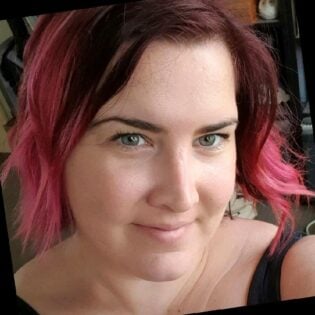 Alexandra Linde is an experienced writer holding a bachelor's degree in Journalism. She is the owner of Alexandra McKiterick Creative and has expertise in travel, fashion, fitness and lifestyle. Alex has previously written for Flightcenter, Travello, and Backpacker Deals.
SUBSCRIBE TO OUR NEWSLETTER
Subscribe to our mailing list and get interesting stuff and updates to your email inbox.