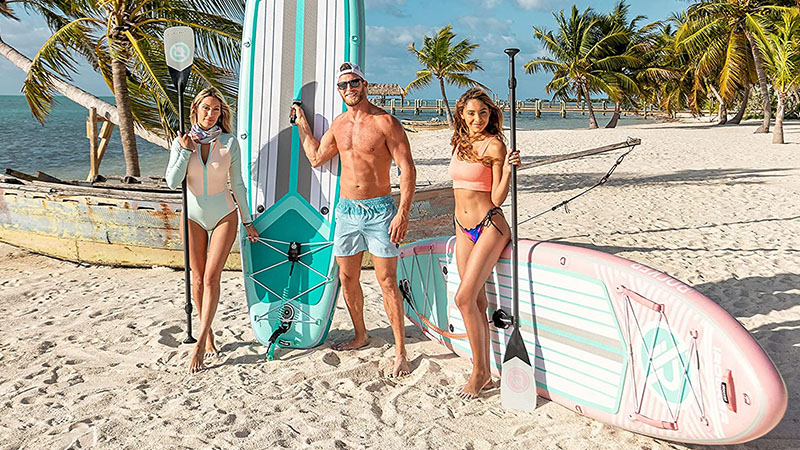 Stand-up paddle boarding (SUP) is fast becoming one of the most popular water sports. It's accessible for all ages and fitness levels, can be done on most bodies of water, and is both a great workout and the perfect way to unwind and relax. Plus, you can do other activities on your board, such as yoga, fishing, or even just sunbathing. It's the perfect escape into nature to reset your mind, body, and soul. If you're thinking about buying yourself a SUP, there's a lot of information and options around. We've rounded up some of the best paddle boards and broken all the technical features down into a buying guide to help you make the best decision!
Best Inflatable Stand Up Paddle Boards
1. Roc Inflatable Stand Up Paddle Board
Take to the water with ease on this Roc Inflatable Stand Up Paddle Board. It's a brilliant all-rounder and ideal for beginners. It measures ten feet by 32 inches wide, providing excellent stability and smooth glide through the water. Construction features include reinforced drop stitch fabric, UV-resistant protective coating, triple sidewalls, and a dual-layered deck pad with plenty of grip for a comfortable ride. Other convenient details include a rear D-ring to clip your leash and six-point bungee cords for securing belongings. You also get a complete accessories kit that consists of a high-capacity hand pump, detachable center fin, safety leash, and a convenient travel backpack for easy transportation. Best of all, it comes in a variety of different colors such as black, hot pink, bright yellow, lime green, and vibrant blue.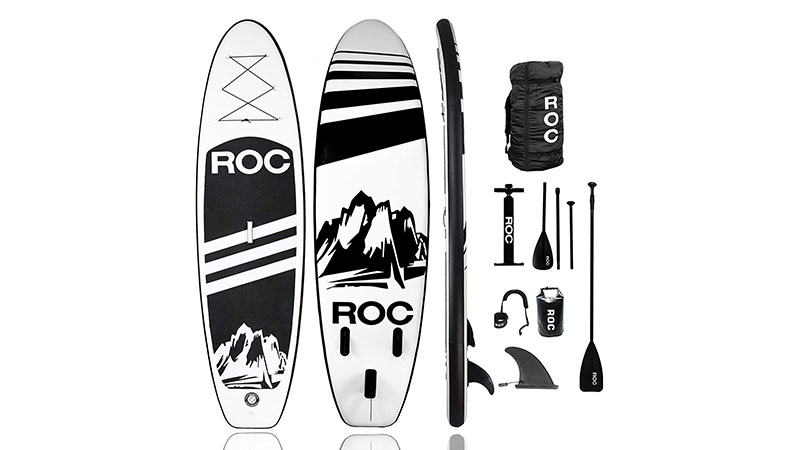 2. Bluefin Cruise SUP Package Stand Up Inflatable Paddle Board
Paddle board anywhere with this inflatable SUP from Bluefin that comes with a convenient backpack to travel easier. The package also includes a dual-action pump, leash, adjustable fiberglass shaft paddle, repair kit, and a GoPro mount. Plus, it has a kayak conversion kit that lets you switch from standing to a comfortable seated position. The board itself uses Exo Surface Laminate Technology for UV-proofed decks, reinforced composite drop stitch, and heat-welded double side rails for the perfect glide. Stand comfortably on the Croco-Diamond deck pad with a kick pad, and enjoy the convenience of multiple D-rings. Lastly, the three-fin thruster design has a removable smart lock center fin to help you customize the experience.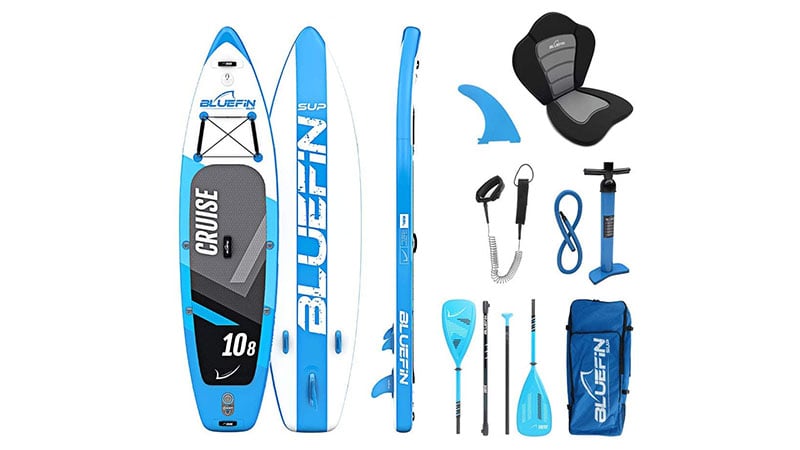 3. THURSO SURF Expedition Touring Inflatable Stand Up Paddle Board
Fulfill your need for speed with this Expedition Touring Inflatable Stand Up Paddle Board from THURSO SURF. Experience minimal drag thanks to the long, narrow shape with a sharp nose and tapered tail. Plenty of storage bungees let you load up for an expedition and spend hours or even days out and about exploring. This design is also exceptionally tough and durable. It features double-layer construction with reinforced sides and seams yet is still incredibly lightweight. Plus, the set comes with an adjustable carbon shaft paddle that weighs just two pounds. You also get three removable fins so that you can customize your ride to your destination and conditions. Lastly, it comes with a coiled leash and dual-action pump, so you can fill and go even faster.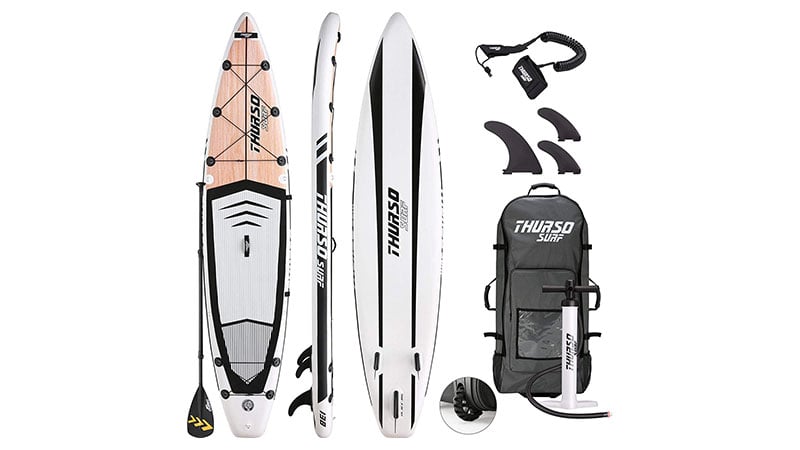 4. THURSO SURF Waterwalker Inflatable Stand Up Paddle Board
Start your paddle boarding journey with a simple setup and excellent all-rounder board. This Waterwalker design from THURSO SURF is perfect. You get a ten-foot board that boasts both incredible stability and excellent tracking. It uses double-layer construction and reinforced sides that make it both lightweight and durable, so you'll be paddling for years. Next, customize the fins to fit the conditions, with easily removable units that just slide in and clip for effortless installation. Then, the three-piece carbons shaft paddle is simple to adjust and suits most heights. Plus, there are 15 D-rings and two sections of bungee tie-downs to carry plenty of gear. Pack some water, a picnic lunch, and snorkel gear to make it a full day of fun and adventure.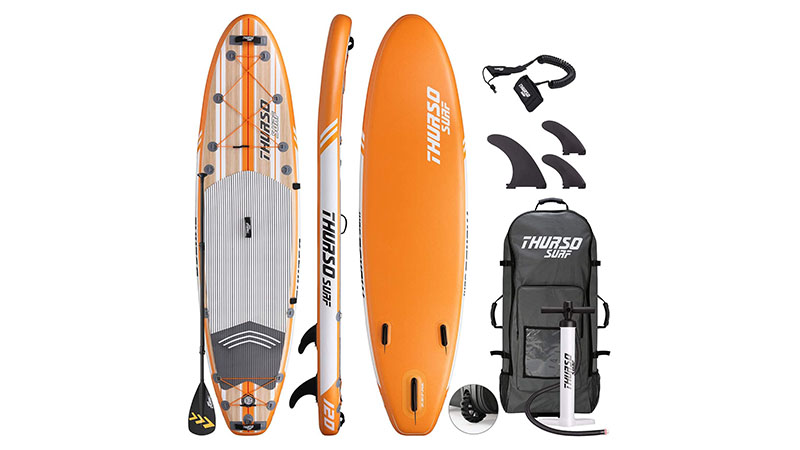 5. TOWER Inflatable 10'4" Stand Up Paddle Board
No matter your skill or experience, you'll enjoy a brilliant day on the water with this Tower inflatable SUP. It performs like a hard board, without the risk of dents and dings. The high-grade, rugged PVC and drop stitch technology provide rigid results that won't buckle under pressure, even for a tandem paddle. The diamond-grooved deck pad is comfortable and grippy to protect your feet and stop you from slipping off. You also won't be slipping when you carry the board, as there are handles for when it's both inflated and deflated. Additional features in the package include a three-piece fiberglass paddle, a high-pressure pump for speedy set-up, and a removable center fin, which provides excellent overall speed and agility.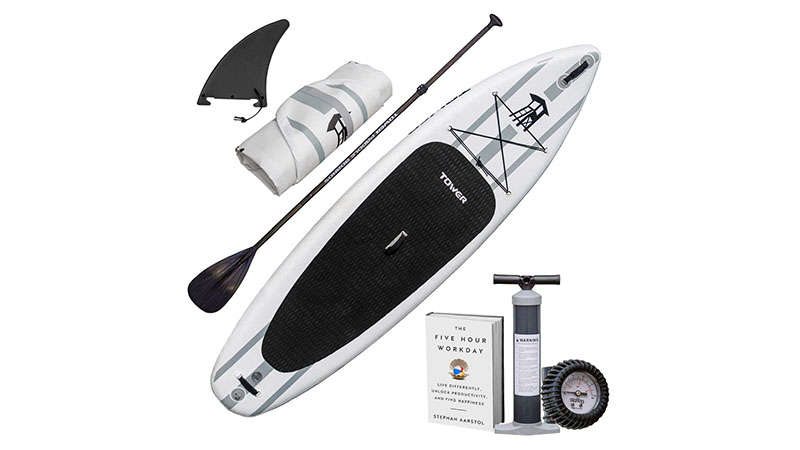 6. iROCKER Inflatable Sport Stand Up Paddle Board 11′
Take your pick of stylish colors with this inflatable paddle board from iROCKER. The 11-foot sport design is perfect for hitting high speeds on flat water, although experienced boarders can tackle small surf as well. It's exceptionally rigid thanks to triple-layer construction, high-density drop stitch, and dual fusion heat-welded seams. Yet, at the same time, it's also very light and easily portable with a choice of carrying handles. Plus, there's a premium wheeled bag for transporting the rolled board to and from the water. The set also comes with three removable fins, a coiled leash, a three-part adjustable carbon paddle, and a dual-chamber hand pump. Other board features include four action mounts for securing valuables, plus four additional D-rings and bungee cord tie-downs. Pack everything you need for a long paddle and quality time spent outdoors.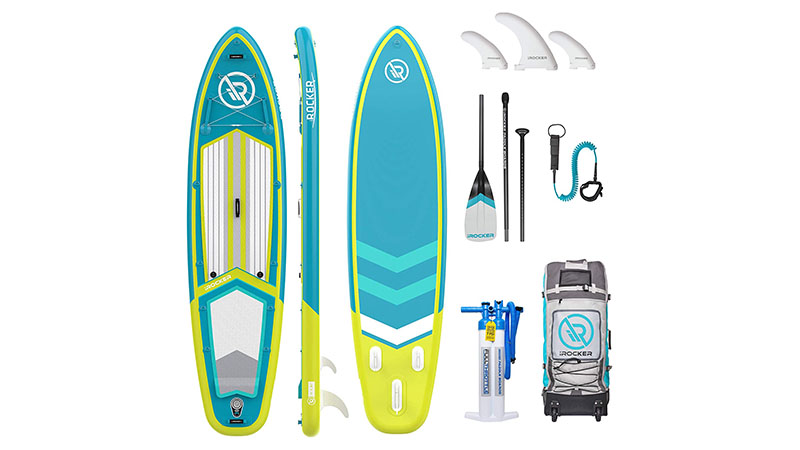 7. Tower Xplorer Inflatable 14′ Stand Up Paddle Board
Tour your local waterways on this Xplorer paddle board from Tower. The large, 14-foot design is made for both speed and distance, so you can cover plenty of rivers or canals in a day. Plus, it's extra thick at eight inches, with excellent rigidity. That makes it perfect for larger riders or tandem journeys. Despite the large size, you can pump it up in no time with the included high-pressure pump. Then, once you're done for the day, simply deflate it and roll it up like a sleeping bag. It makes transportation and storage a breeze. Finally, the set also includes a three-piece aluminum paddle, to propel you with ease.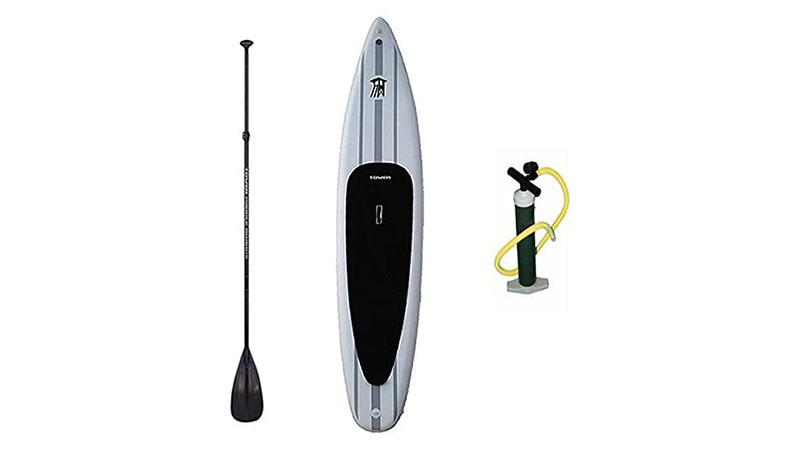 8. iROCKER All-Around Inflatable Stand Up Paddle Board 10ft
Beginners and advanced riders will love this all-around SUP from iROCKER. It's ten feet long by 32 inches wide, so it's easy to maneuver, is incredibly stable, and still lets you track along at a reasonable speed. The inclusive set consists of a lightweight carbon paddle that won't fatigue your arms, a dual chamber hand pump for fast inflation, and an ankle leash, so you don't lose your board. Three removable fins make it easy to adapt to the conditions, while transportation couldn't be simpler with the wheeled travel bag. If you're planning a big day on the water, there's plenty of storage room with four action mounts, four D-rings, and bungee straps. Finally, you can choose your favorite color from blue, pink, or teal.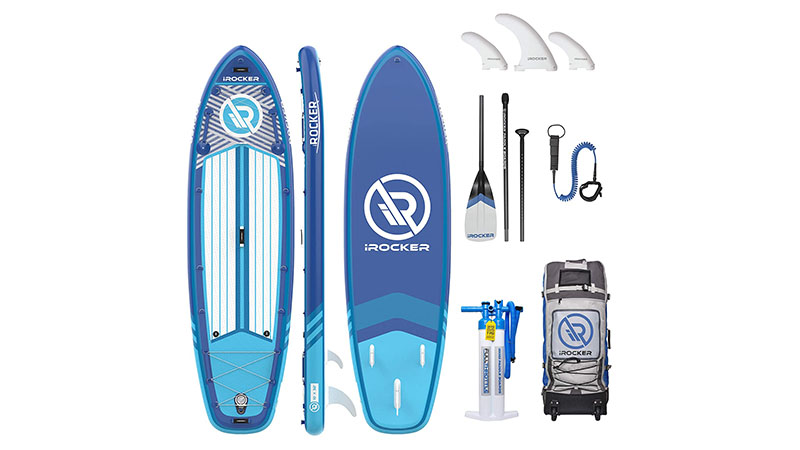 9. iROCKER All-Around Inflatable Stand Up Paddle Board 11ft
Enjoy the confidence that riding this wide, 11-foot will give you. It's perfect for beginners thanks to exceptional stability but also suits experienced but casual boarders too. Durability and rigidity are essential in this design. It uses a high-density drop stitch internal core, triple layers, and dual-fusion heat-welded seams for excellent pressure retention. Store anything you need, such as snacks, drinks, snorkel gear, or anything else in the bungee cord section. Alternatively, there are action mounts for fishing rod holders, GoPros, or other specialist equipment. Your hands will appreciate the lightweight carbon paddle, which is easily adjustable and comes in three separate pieces for better storage. You'll paddle for hours without fatiguing. Final inclusions in the comprehensive set include an ankle leash, three removable fins, dual-chamber pump, and rolling back for transport and storage.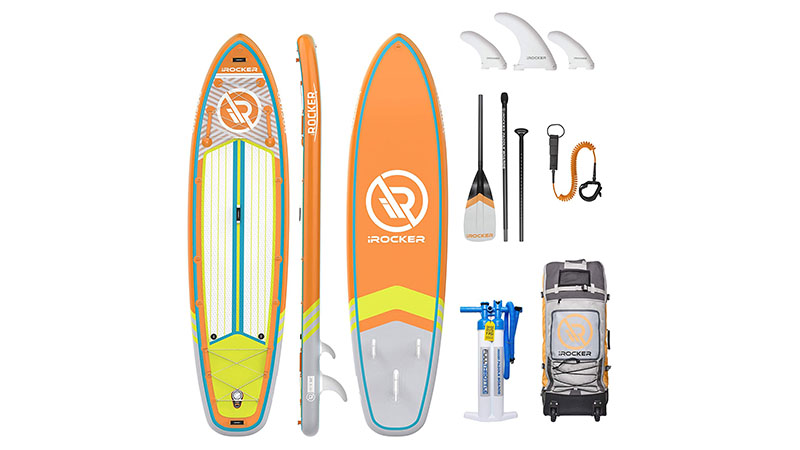 10. DRIFT 10'8″ Inflatable Stand Up Paddle Board
Take your child or the dog out on your next aquatic adventure with this paddle board from DRIFT. It's nearly 11-feet long and 33 inches wide, so there's plenty of space, and it's exceptionally stable. The performance shape also means fast, fun paddling. It's a complete kit that includes a hand pump, removable center fin, leash, repair kit, and three-piece adjustable paddle. Best of all, it all fits neatly into the travel backpack, so you can get easily from the car to the water or even take a hike to find the perfect, serene fishing spot. AeroUltra technology means the board only weighs around 20 pounds. Other features include a padded EVA deck pad, bungee straps, grab handles, and the signature Entry Rocker shape that keeps it upright.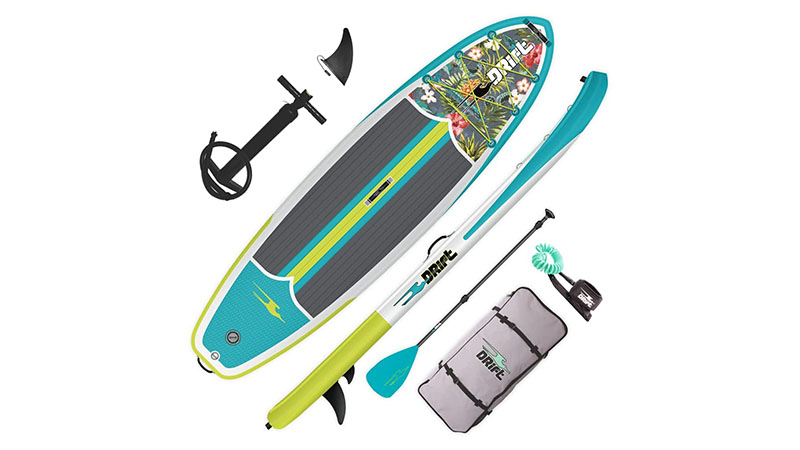 11. iROCKER Cruiser Inflatable Stand Up Paddle Board 10'6″
Stay chill with this Cruiser from iROCKER. You'll appreciate the smooth tracking that comes with the wide body and tail. It also gives excellent stability and is ideal for all water conditions and skill levels, especially novices. Construction features include dual fusion heat-welded seams to withstand the pressure, maximum density drop stitching through the core, and triple layers for extra durability. Carrying it is simple via the front, center, or rear handles. Then there's also plenty of cargo room with bungee cords front and back, and a total of 20 D-rings plus two inbuilt mounts. You'll also receive an ankle leash, lightweight carbon paddle, dual-chamber hand pump, and three removable fins. All of it, including the rolled board, fits neatly into the carry bag with wheels for portability.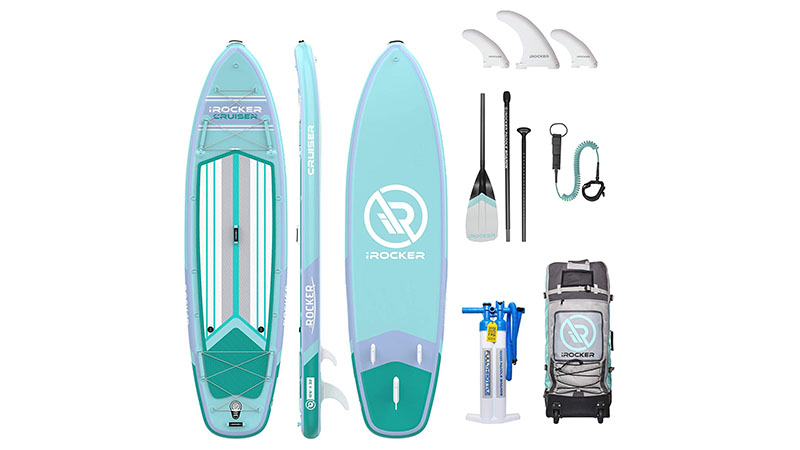 12. Aqua Plus 10'6″Inflatable SUP
Find your flow with the Aqua Plus 10'6″ Inflatable SUP. The comprehensive kit contains everything you need to hit the water and get paddling. Of course, you get the inflatable paddle board, plus an adjustable paddle, detachable fin, double-action hand pump, ankle leash, shoulder strap, travel backpack, and waterproof cell-phone pouch so you can take pics for the 'gram. The rigid design feels like a hard board but is made from ultra-light PVC drop-stitch fabric. Enjoy a comfortable stance with a five-millimeter deck pad with diamond-groove traction to prevent slippage. There's also cargo room with a four-point bungee section and 11 steel D-rings in total – plenty of space for securing your kit. It's the ideal choice for a relaxed afternoon on the water.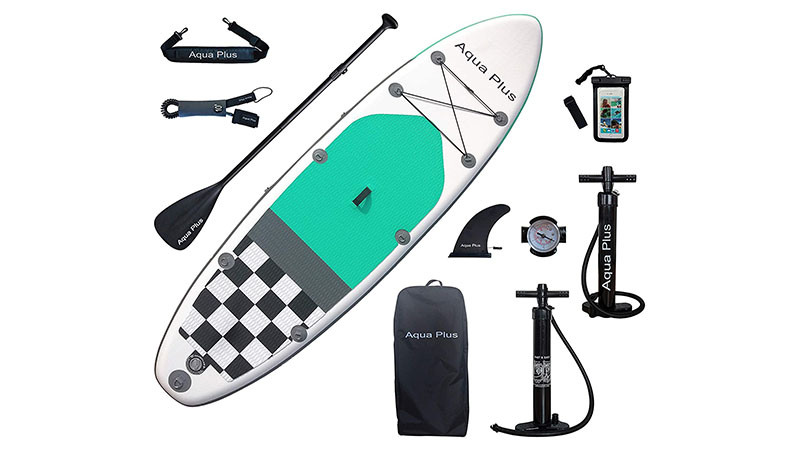 13. FunWater Inflatable 10'6″ Ultra-Light SUP
This ultra-light FunWater inflatable SUP weighs in at less than 20 pounds yet can still carry 330 pounds of men, women, kids, or dogs. It inflates and deflates in just five minutes with the included high-pressure pump and packs easily into the carry bag. Apart from the bag and pump, the set comes with three removable fins, a coil leash, a waterproof phone pouch, and an adjustable paddle. You can also make use of the bungee cargo area, D-rings, grab handles, and padded EVA deck pad to provide high levels of comfort, even on long rides. Throw it in the car and head to your nearest lake, river, or beach for a fun and exciting water adventure.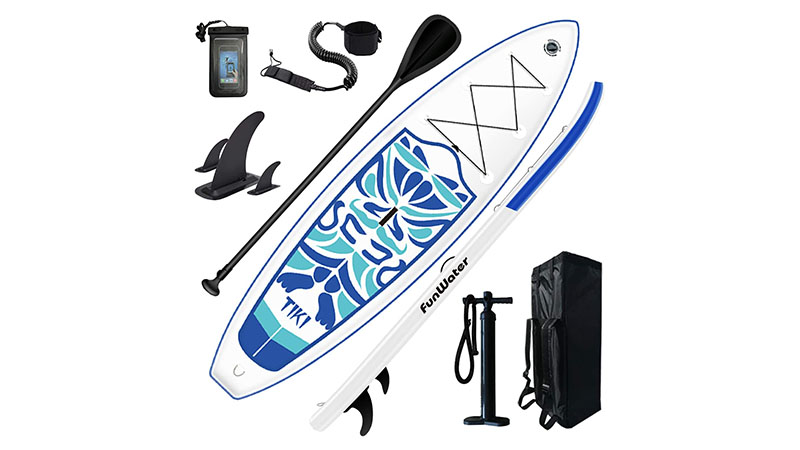 14. BOTE Flood Aero Inflatable Stand Up Paddle Board
Paddle boarding is a fun, family-friendly activity and a brilliant way to spend time in nature, soaking up the sun and relaxing on the water. The Flood Aero inflatable paddle board from BOTE makes it even easier to enjoy your day. It uses the extremely tough AeroBOTE inflatable technology with composite drop stitch, double layer composite exteriors, heat pressed seam and rail tape. The result is a super durable, lightweight, compact board that lives up to the most demanding adventures. It also boasts a BVA foam deck pad for foot cushioning, three grab handles for easy transport, front and rear bungees, plus a flat bottom for stability, and an entry rocker to shed water. Other inclusions in the kit include a rolling bad, adjustable paddle, removable center fin, hand pump, repair kit, and RAC receivers.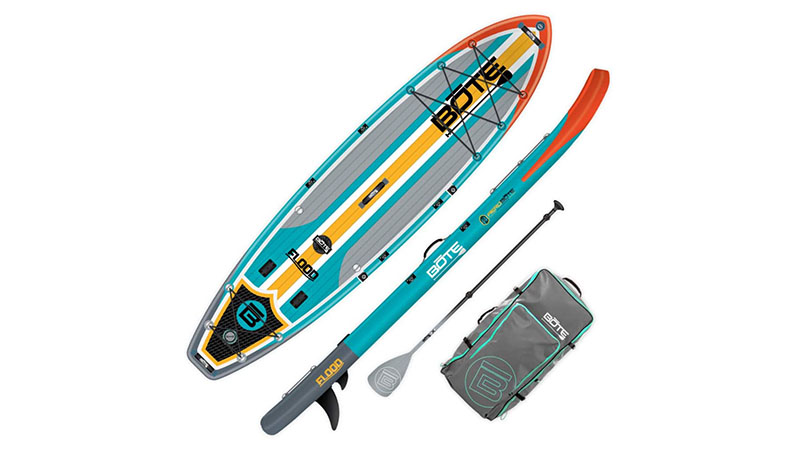 15. DAMA Inflatable Stand Up Paddle Board
Get out and explore on the DAMA inflatable stand-up paddle board. It comes with all kinds of fantastic features to make life easier and increase your enjoyment on the water. It starts with a camera mount so you can film your adventures on a GoPro or camera. Then, there are also double handles, a shoulder strap, and a bag for easy transport. Triple fins ensure a steady, smooth ride, while the 32-inch width is very stable. A lightweight, floating paddle means there's no need to panic if you drop it, and it comes with a leash, so if you fall off, you won't lose the board. Other accessories that come in the pack include a hand pump, repair kit, removable fin, waterproof phone case, and a waterproof ocean pack for belongings like keys, drinks, and snacks.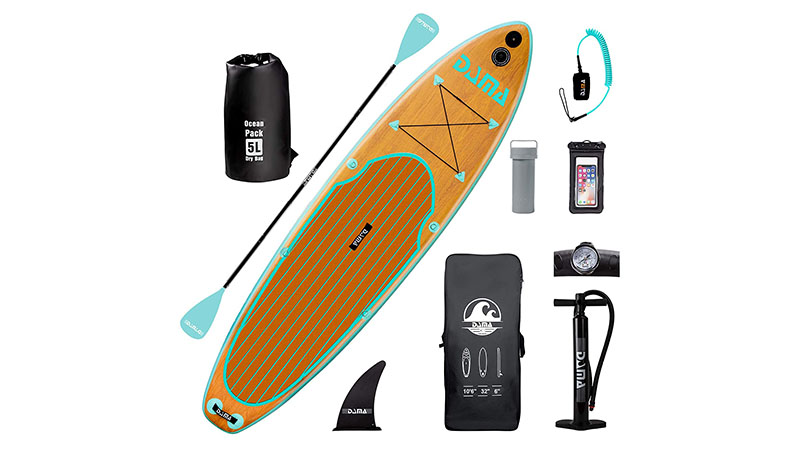 16. SereneLife Inflatable Stand Up Paddle Board
It really is a serene life on the water with this paddle board from SereneLife. It weighs in at less than 20 pounds and rolls up for hassle-free storage and transport. Carry it effortlessly using the grab handles, and keep any items secure with the bungee storage or D-rings. Three bottom fins provide excellent speed, steering, and maneuverability, while the folding paddle is adjustable for the perfect length. Double side walls provide extra durability, and UV-resistant coating prevents sun damage. It also has a padded, non-slip EVA deck pad to provide grip and cushioning and avoid foot and leg fatigue. Finally, the rest of the package includes a hand pump with a pressure gauge, repair kit, safety leash, and a storage page.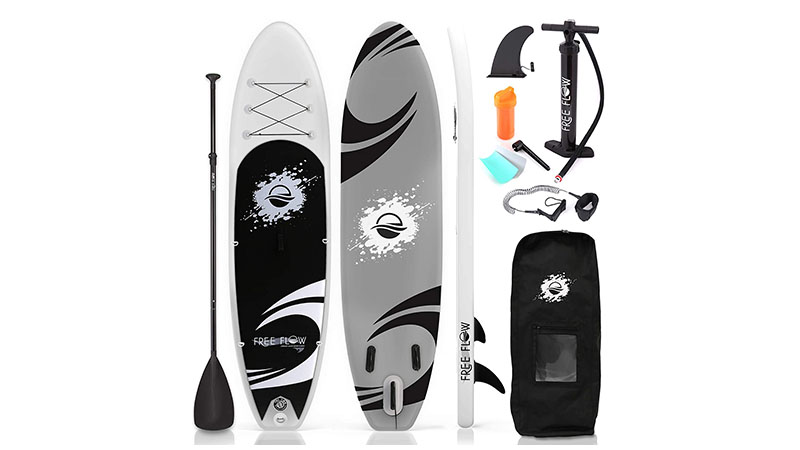 17. MaxKare Stand Up Paddle Board
Grab a friend and head out on the high seas for a day of adventure. This large ten-foot paddle board can carry up to 330 pounds, so it's perfect for a tandem ride. It's also very rigid, ultra-light, and boasts brilliant stability. The kit comes with everything you need, including a dual-action pump for fast inflation, safety leash in case you fall off, adjustable paddle, backpack, removable center fin, and a repair kit. On-board details include a grab handle, bungee storage, non-slip EVA deck pad, and front and rear stainless steel D-rings. The shape makes it ideal for smooth gliding on lakes, rivers, calm seas, and gentle waves —paddle, fish, do yoga, or sunbake to your delight!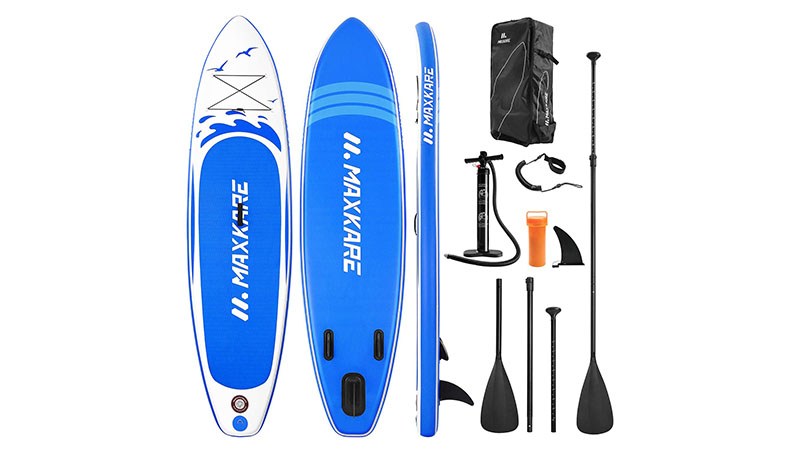 18. Cooyes Inflatable Stand Up Paddle Board 10'6″
Embrace the outdoor life and take up paddle boarding. It's an excellent sport for all fitness levels, and boards like this one from Cooyes make it easy to get into. This inflatable design makes storage and transport effortless, while the broad width and triple fins are super stable and brilliant for beginners. It's the perfect all-rounder. Take everything you need for a day on the bay with bungee cords to secure your items. Other features include a padded foot deck for hours of comfortable standing, although there's nothing wrong with taking a break for a relaxing lie-down! You'll also get an adjustable aluminum paddle, ankle leash, waterproof phone case, repair kit, and dual-action hand pump.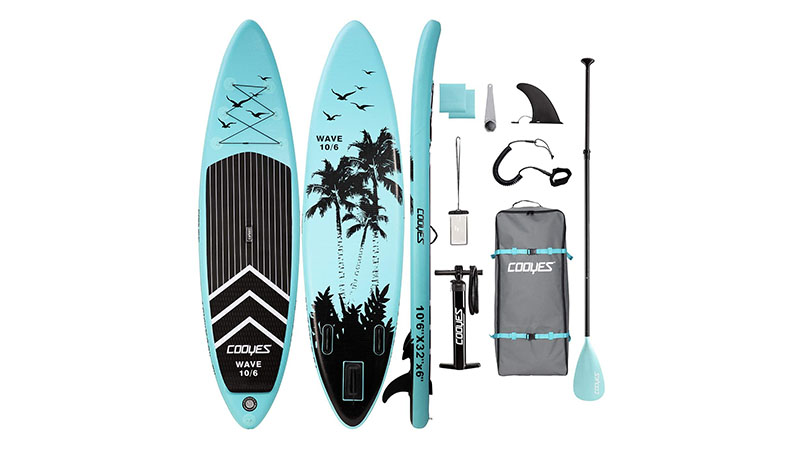 19. awesafe Inflatable Stand Up Paddle Board
Excellent width the whole way down on this awesafe inflatable stand-up paddle board makes it fantastic for stability. It's a good all-rounder for all levels of skill, from fresh newbie to very experienced. You can also take it on all kinds of water terrain, including lakes, rivers, and the ocean. At the same time, it also suits activities such as touring, yoga, fishing, snorkeling, or just casual paddling. It's the perfect recreational unit. The construction features a drop-stitch core, high-grade PVC, an air-tight third layer, UV protection, and a comfortable deck pad that ensures you won't go slipping and sliding. Additional features in the package include a safety leash, adjustable alloy paddle, manual air pump, waterproof bag to take on your adventure, detachable fin, and of course, a handy pouch for effortless transport and storage.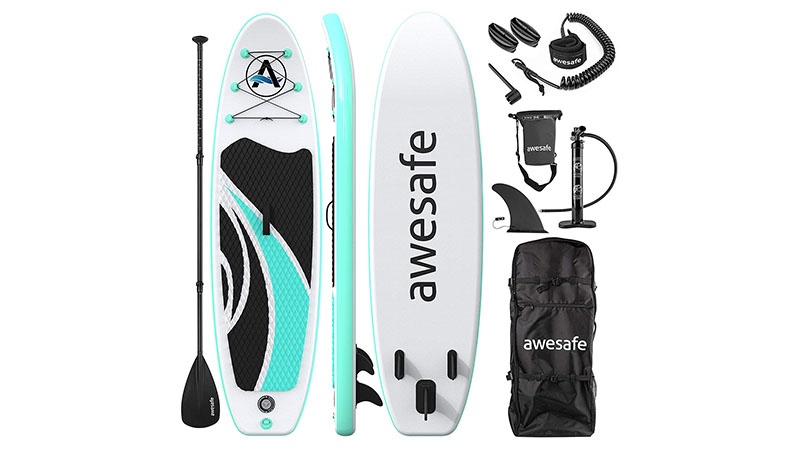 20. Runwave Inflatable Stand Up Paddle Board 11′
There are so many reasons the Runwave Inflatable Stand Up Paddle Board is an excellent investment for new riders. Firstly, at 11 feet long with a weight capacity of 350 pounds, it's great for tandem days on the water. The 33-inch width aids stability and gives a smooth glide. It's also made from high-quality PVC and the toughest drop stitching, which is exceptionally durable and hard-wearing, even if you hit rocks or sandbanks. Next, a non-slip deck pad keeps you comfortable and secure, while safety D-rings and bungee netting keeps your belongings safe. Best of all, this package comes with all of the essentials. This includes a high-pressure pump, removable fin, folding paddle, a safety leash, and a storage bag. It's all you need for a basic setup to get on the water and go!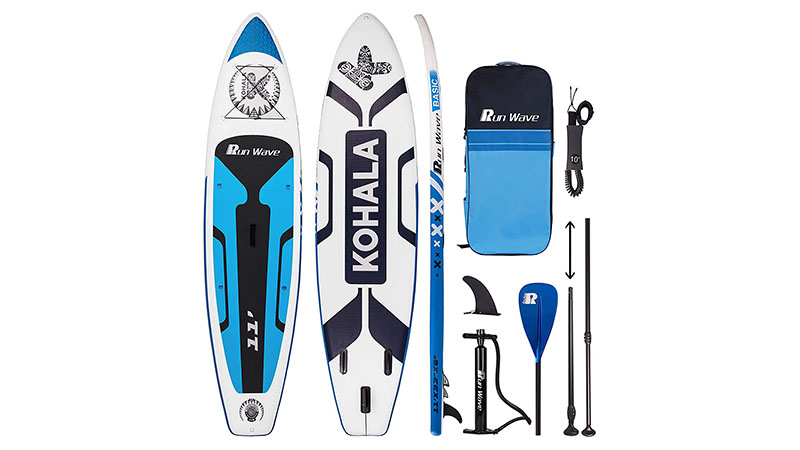 21. FEATH-R-LITE Inflatable 10′ Ultra-Light SUP
This paddle board really is light as a feather, weighing just 16.7 pounds. It comes with a complete accessory set that includes three removable fins, a safety leash, adjustable aluminum paddle, a high-pressure pump, a waterproof phone pouch, and a handy storage and transport backpack. Features on the actual board include four-point bungee storage, a central grab handle, D-rings, and a soft, padded EVA deck pad for cushioned foot comfort. It's also constructed with an extra layer of PVC on the board rails for added durability. Plus, it's quick to pump up, so you can get on the water, and is just as quick to deflate, so you can get home and rest after a big paddling day.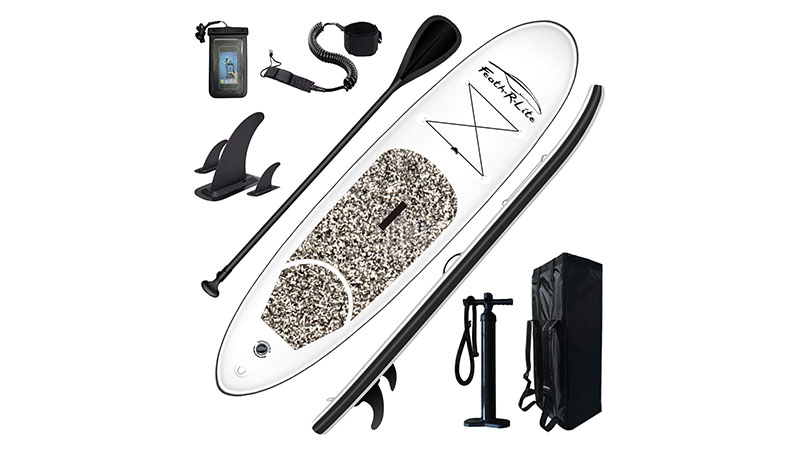 22. FunWater Inflatable Stand Up Paddle Board 11′
Paddle, fish, sunbathe, or explore – it's all possible on this 11-foot inflatable SUP from FunWater. The inclusive kit sets you up for success and fun, with inclusions like a ten-liter dry bag, coiled safety leash, cushioned deck pad, bungee storage, and D-rings. The three removable fins ensure perfect agility, steering, and stability, while the adjustable paddle means anyone of any height can use it comfortably. You'll have a great day out on the water. It also takes just five minutes to both inflate and deflate the unit, which then rolls up for simple storage in the backpack.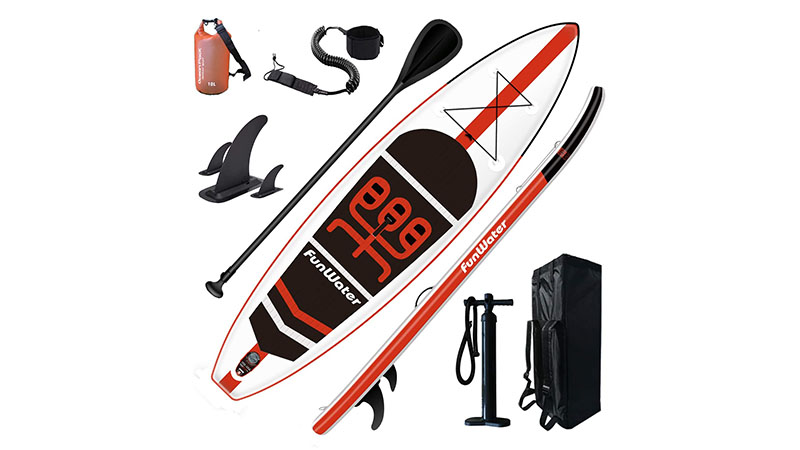 23. YASKA 10.6ft Allround Inflatable Stand Up Paddle Board
Grab your board and head to the lake or beach for a beautiful day paddling and relaxing on the water. This 10.6 foot SUP is perfect for cruising, with plenty of stability and comfort, combined with fast tracking and a smooth glide. It's made with a double player PVC, drop-stitch interior, and cushioned deck pad that prevents your feet from slipping while simultaneously providing comfort. Make use of the grab handle for easy carrying to the water's edge while the bungee system holds your bag in place. There is a rear D-ring to attach the included ankle leash for extra safety. Plus, the single fin provides unrivaled stability and detaches for better storage.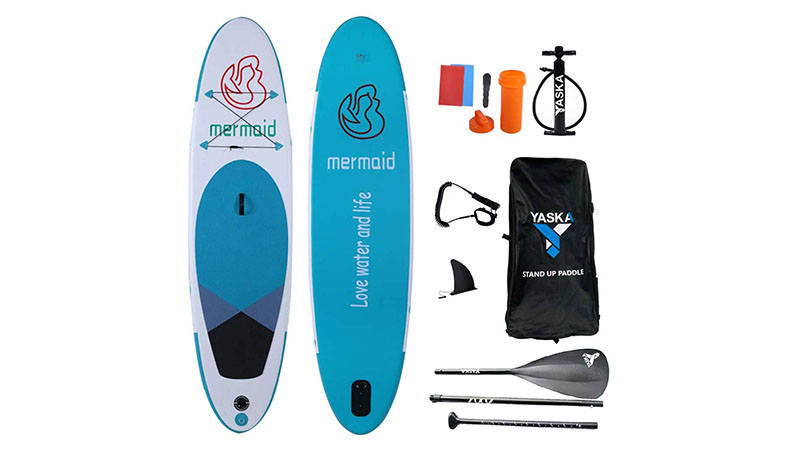 24. Bestway Hydro-Force Aqua Journey Inflatable Stand Up Paddle Board
Boost your confidence with the Bestway Hydro-Force Aqua Journey Inflatable Stand Up Paddle Board. It's a good style for beginners, with excellent stability, a smooth ride, and low weight. The set comes with everything you need, including a convenient carry bag, hand pump, adjustable aluminum paddle, safety leash, bungee cord tie-downs, and three steering fins. It inflates and deflates quickly, so you're not waiting forever in anticipation of hitting the water. The interior is made with the brand's extremely resistant TriTech and drop stitch materials. As such, it's thicker and more stable, and therefore ideal for adventures in the ocean, lake, or rivers – however, you like to relax!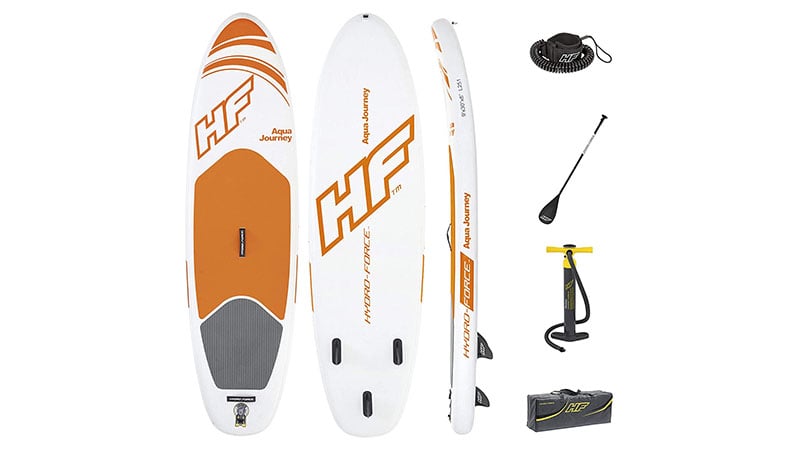 25. Soopotay Inflatable SUP Stand Up Paddle Board
Work your core, legs, and arms with a scenic adventure on your new Soopotay Inflatable SUP. It's 32 inches wide, offering elevated levels of stability, which is particularly useful if you're new to the sport. The shape and size also make it a great all-rounder for small waves, calm lakes, and gentle rivers. You'll benefit from a three-fin system to provide excellent tracking and balance while the rocker cuts right through any waves. Rigid yet light construction comes as a result of single-layer PVC outers with high-density drop stitch inners. Best of all, it has all the essential accessories. That includes a coil leash, backpack for transport, hand pump for inflation, paddle, and a bonus waterproof phone case.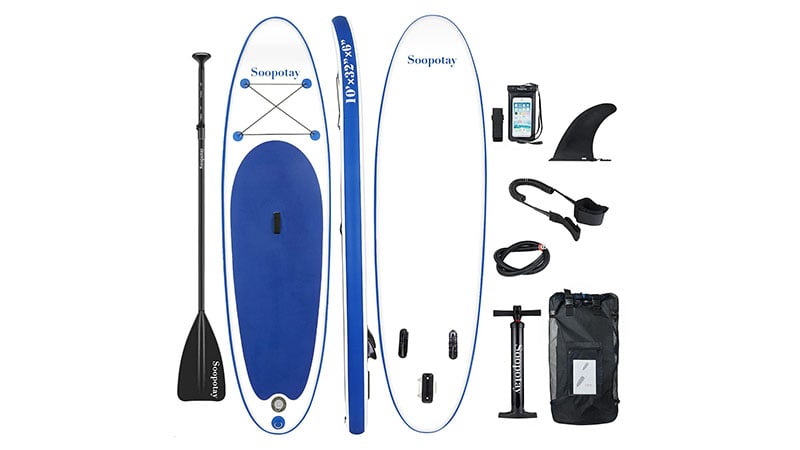 How to Choose a Paddle Board
With paddle boarding becoming more and more popular, many people are looking to buy their own boards. However, there is almost unlimited information and options available, so it can feel a bit overwhelming, especially if you're new to the sport. There are a lot of factors to consider, as outlined below. Before you start, it can be good to think about a few questions. Where will you be paddling — lake, river, ocean? How much storage space do you have? What is your budget? What is your experience level? How long will your paddle boarding trips be? Answering these will help guide what you choose and what factors are most important.
Board Categories
Paddle boards come in a variety of different categories. What you choose will depend on how experienced you are, where you go, and how you want to board. New boarders are best off opting for an all-around style, which is a great introduction and can do most activities well enough until you work out your preference. An ultra-stable SUP is also great for beginners as they're harder to fall off and will help you increase your confidence, core strength, and stability. However, if you're more experienced and have a need for speed, then a sport or performance board is ideal. There are also specific styles for surfing, yoga, whitewater boarding, group paddles, and kids.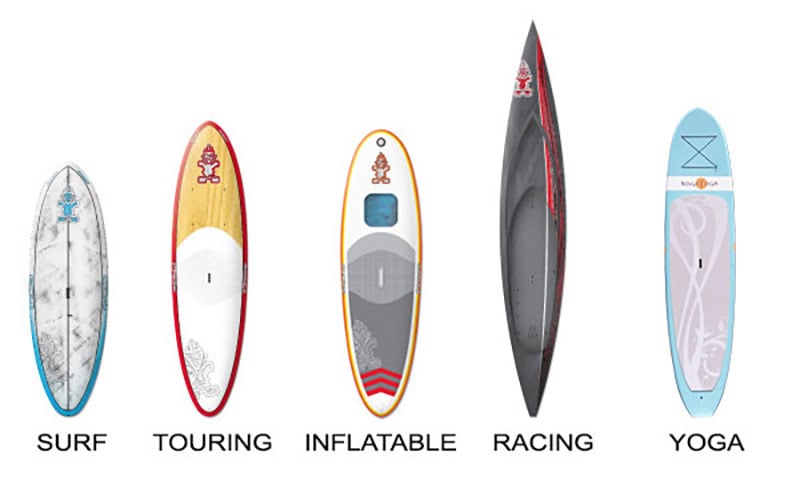 Board Size and Shape
You need to select the right board and shape for your needs. All-rounder boards are generally larger at ten to 11 feet, surf styles are shorter, sitting around seven feet long, and touring or racing styles are very long and narrow. Generally, the longer the board, the better glide, while narrowness improves your speed. If you want more stability, opt for a wider board with a broad tail. However, if you're hitting the waves, shorter with a narrow tail will give you the best maneuverability for tricks and turns. You also need to choose the right style for your weight. Thinner boards can feel more stable; however, if you're heavier, opt for a thicker board (five or six inches) to support you better.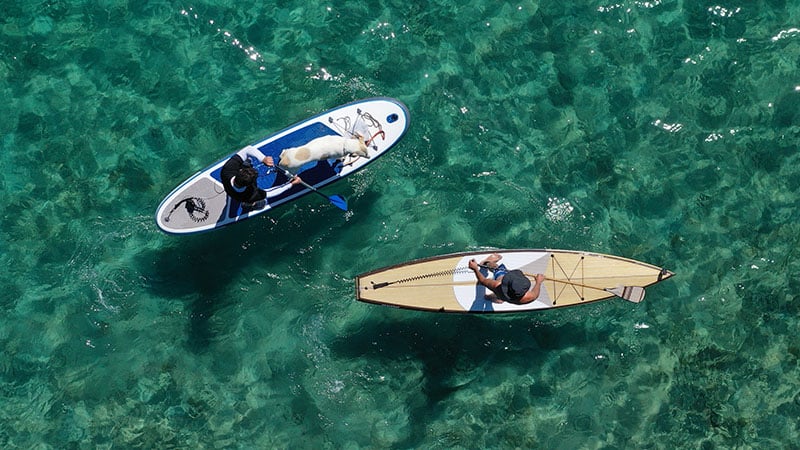 Materials and Construction
There are two main styles of paddle boards – hard or inflatable. Hard types are generally made with a lightweight foam core covered with fiberglass, carbon fiber, or epoxy. Meanwhile, inflatable styles use drop-stitching technology and PVC, with either single, dual, or fusion layers. Both categories have pros and cons. Hard boards offer greater stability and performance and are good in the surf, but you need space to store them safely. Inflatable SUPs are ideal for more gentle paddling, are brilliant for traveling, and store easily. You do, however, need to pump them up each time. Whichever you choose, you need to ensure you're buying from a reputable brand that hasn't cut corners on the quality of materials or construction methods, as your board is less likely to last as long.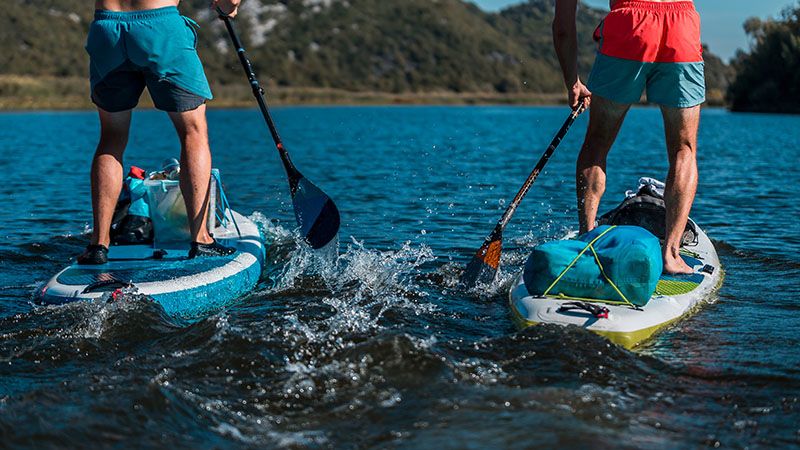 Deck Pad and Rigging
The deck pad is the area where your feet connect to the board. It's made from non-slip, padded material such as EVA foam and is important for preventing foot fatigue and improving the overall comfort of a paddle session. The more comfortable you are, the longer you'll spend on the water enjoying the outdoors. Some higher-end designs will also come with footwells, a raised back edge, or an arch bar to help with surf maneuverability. Many styles also have rigging such as D-rings and bungee tie-downs to secure extra bags or equipment. A good basic setup is a centered D-ring at the front and back to attach your leash. Plus, four or six-point criss-cross bungee straps to hold bags, coolers, or snorkeling gear. You want to avoid getting too weighed down or gear getting in your way, so opt for minimalism where you can.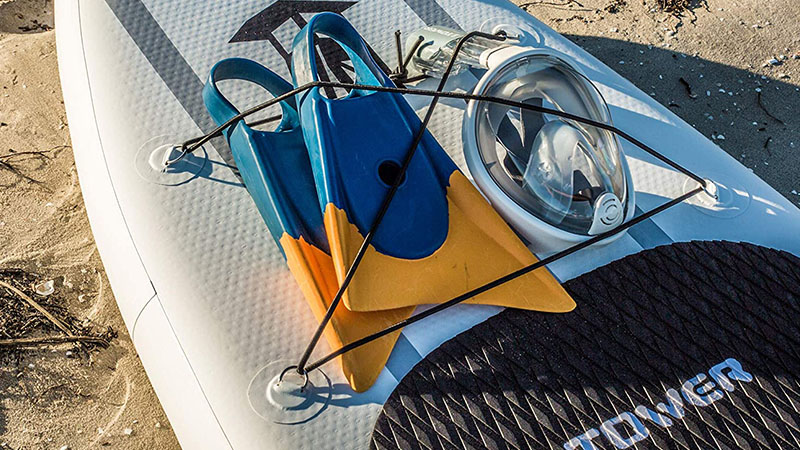 Fin System
The fin system provides stability and directional control. Fins come in different depths, base widths, and rake (how far back the fin sweeps). Deeper fins are good for stability and greater hold but created drag and limit how shallow you can venture. A wide base will also provide greater stability, while the more rake, the less pivot you'll have. You'll also have the choice between configurable or permanent fins.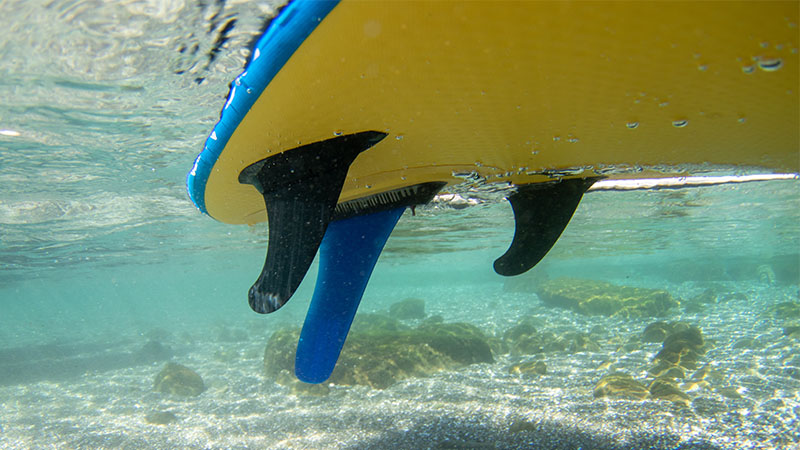 Configurable Fin
Enjoy greater flexibility with configurable fins on your paddle board. These snap into fixed fin boxes and allow you to vary the number and styles of fins for the conditions or activities on the day. Doing so can increase your performance, adjust your agility, improve your speed, and tailor your board for shallow or deeper waters. They can sometimes be harder to find in the market and are more expensive, but if you're a serious rider, it's worth the investment.
Permanent Fin
Permanent fins are simple, easy, and ideal for both beginners and casual boarders. You don't have to think or worry about changing anything, just jump on and go. The most common layout for permanent fins is three equally sized and spaced ones. However, you can get a single fin style or a triple fin layout with a large central fin and two smaller side ones for agility and stability.
Paddle
The paddle is the other major component of stand-up paddle boarding. Choosing the right style will improve your comfort, effectiveness, and enjoyment. You'll need to consider the blade, handle, and shaft design, plus materials, and overall weight (heavy paddles will tire you out quicker). The handle gets the most action, so look for one that's smooth with no rough edges to cause blisters. When it comes to the shaft, go for a lightweight yet rigid, strong, and durable material with the ability to adjust the length. The best options are fiberglass or carbon fiber. Finally, the blade is perhaps the most critical element. It should be strong, can take a beating, and isn't too heavy. Plastic is a great, cost-effective option but can be weightier, while carbon fiber is an excellent, premium choice. An 85-95 square-inch blade is the best size for most paddlers.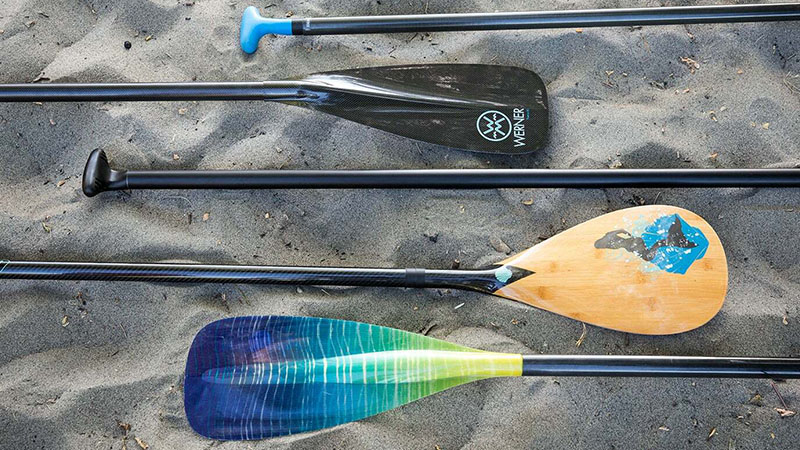 Pump/Inflator
If you've chosen to buy an inflatable paddleboard, then you're going to need a pump to inflate it. Most will come with one already, but it may not be the most fantastic model or design. A basic manual pump adds air as your push down on the handle, but not when you pull up. A better option is a dual-action pump. It adds air on both the push and pull motions, cutting your blow-up time in half. Double cylinders are also available and can be quicker, though they are bulkier and heavier to cart around. If all that sounds like a bit too much effort, you can get an electric inflator that plugs into the lighter socket in your car or to a specially designed portable power source. It takes all the hard work out of pumping up your SUP and has you on the water much quicker!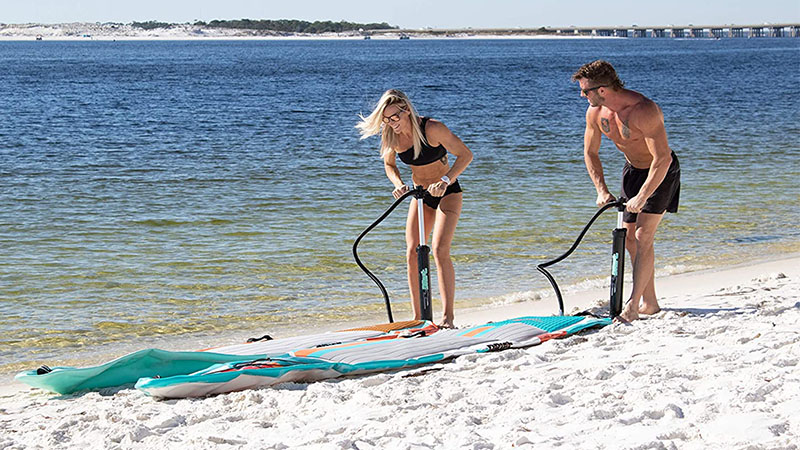 Personal Floatation Device (PFD)
It may not be the more glamourous accessory, but a personal floatation device can be life-saving. Even if you're a strong swimmer, it's still advisable to wear one as a safety precaution because all kinds of water sports carry inherent risk, especially around other craft. The two most common varieties are life vests and inflatable belts. Life vests are a classic option and the safest, especially in rough water, for children, beginners, and weak swimmers. However, some boarders find they inhibit movement of the upper body while paddling. The belt is another, much more discreet option. You pull a string, which causes a small CO2 canister to inflate the bladder held within the belt.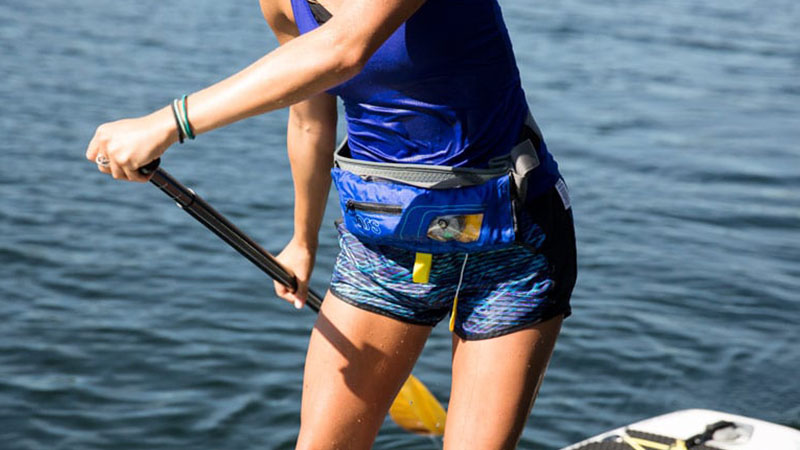 SUP Leash
Even the most experienced boarders can fall off occasionally. To prevent you from becoming separated from your board, a leash is an essential accessory. One end attaches to your board (using a D-ring), and the other velcros around your ankle. The most significant variation in style is the cord. You can get coiled ones (like old-school phone cords), straight ones, or combinations. Generally, coiled is best for flat water, so it doesn't drag, while straight is better for surfing, so your board doesn't hit you like a boomerang. If you're going white water or river paddling where there are hazards, you need a specialist breakaway leash that you can release to prevent drowning if the line becomes snagged.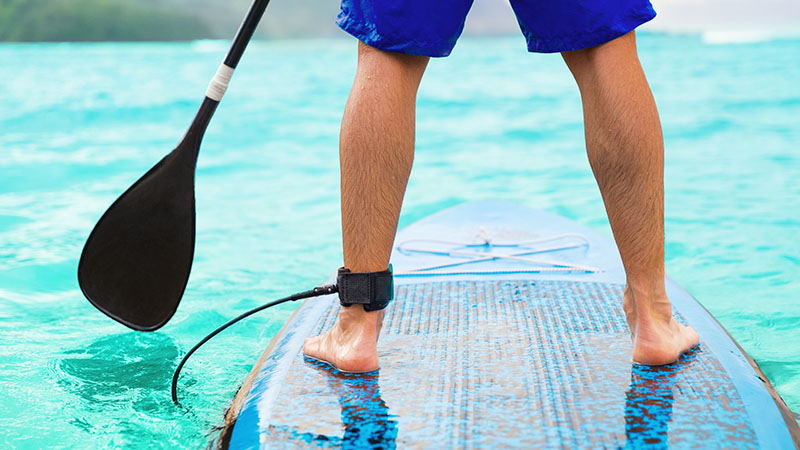 FAQs
What are the best paddle boards?
The best paddle board is one you'll use, and that will meet your needs. Inflatable boards are great because they don't require a lot of space for storage and are easy to transport. Look for styles such as BOTE Flood Aero Inflatable Stand Up Paddle Board, THURSO SURF Waterwalker Inflatable Stand Up Paddle Board, and iROCKER All-Around Inflatable Stand Up Paddle Board 11ft.
What is the best paddle board for a beginner?
The best board for a beginner will be wider (around 32 inches) and about ten to 11 feet long. These are generally referred to as all-rounders and give you excellent stability with good maneuverability. A style that has a broader tail is also suitable for beginners, though it will have less agility. Look at options like the iROCKER Cruiser Inflatable Stand Up Paddle Board 10'6". It's also best to start your paddle boarding journey on flat calm waters like a lake or river to build up your strength, skill, and stamina.
What is the average cost of a paddle board?
Inflatable paddle boards tend to be less expensive, with prices ranging from $300 to $900, while hard boards are pricier, starting at $500 to $1200.
Are inflatable Paddle Boards Worth The Money?
There are pros and cons to both hard and inflatable paddle boards. Inflatable styles are easier to store, generally cheaper, lighter, durable, and more comfortable (especially if you fall). However, the biggest downside is that you need to pump them up; if you find that too much work, you can invest in an electric pump that makes life much easier.
What should I look for When Buying a Paddle Board?
There's a lot to consider when buying a paddle board. You'll need to look at the category, size, shape, materials, rigging, fin system, paddle, pump, leash, and personal floatation devices. Ask yourself how and where you'll use it, what your current skill level is, and what your budget is. Once you have this information, you'll be able to narrow down the options. Brand new beginners should look at something like a 10-foot inflatable SUP with a width of at least 32 inches, three fins, and a dual-action pump. It's a great all-around option that will help you get started.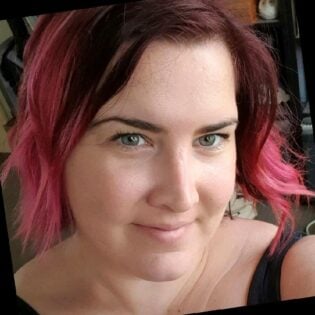 Alexandra Linde is an experienced writer holding a bachelor's degree in Journalism. She is the owner of Alexandra McKiterick Creative and has expertise in travel, fashion, fitness and lifestyle. Alex has previously written for Flightcenter, Travello, and Backpacker Deals.
SUBSCRIBE TO OUR NEWSLETTER
Subscribe to our mailing list and get interesting stuff and updates to your email inbox.