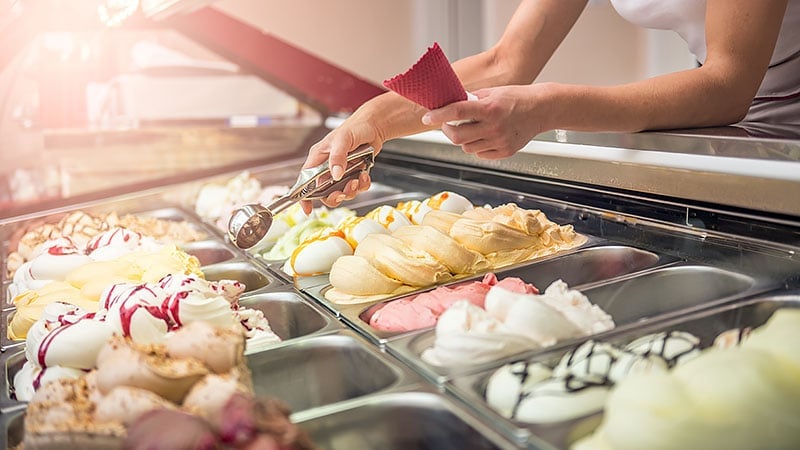 Ice cream is the real MVP of food. Even when it's bad, it's good, and let's be real, it's very rarely bad. Young, old or in-between. Rain, hail or shine. Soft serve, gelato or sorbet, ice cream is always a good idea. Here in Melbourne, we're undoubtedly spoilt for choice when it comes to the enormous amount of artisan ice cream options available to us. However, you should not be expected to waste valuable ice cream eating time trying to figure out where to go. Deciding on a flavour, cup or cone and how many scopes should be the hardest decisions that you have to make. To help you narrow down your choice, we've put together a list of the best ice cream and gelato shops in Melbourne.
1. N2 Extreme Gelato
Getting to watch the expert gelaticians at N2 Extreme is almost as good as the ice cream itself. The selection of unusual flavours is made to order using liquid nitrogen. The nitrogen freezes at such a fast rate that it prevents the formation of ice crystals, therefore creating creamy smooth gelato in under two minutes. The exotic flavours change on a weekly basis but have included the likes of lemon meringue pie garnished with crumbled shortbread, French earl grey dulce de leche and buttered popcorn.
Website: www.n2extremegelato.com.au
Location: 329 Brunswick St, Fitzroy, Melbourne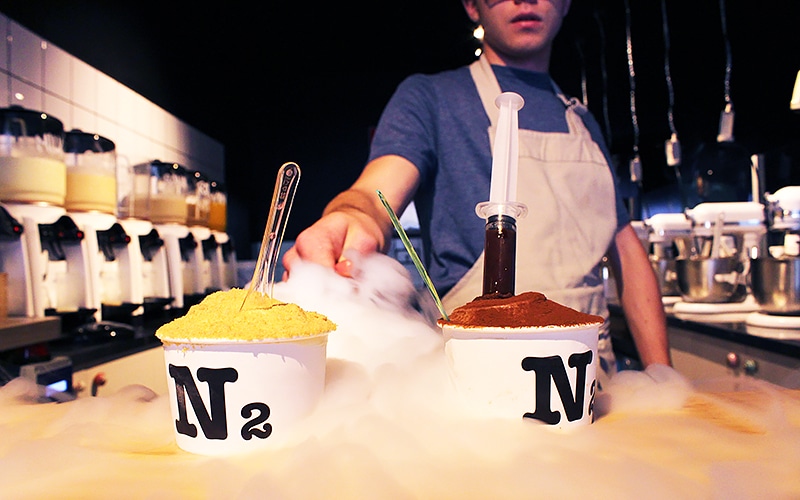 2. Gelato Messina
One of Sydney's coolest exports, Gelato Messina opened the doors to its first Melbourne location in 2013. Now with locations in Windsor and Richmond, Gelato Messina is known for its extensive range of ice cream and gelato made fresh and full of flavour. Wait times can be pretty long, even on cold days, with lines being known to stretch all the way around the corner. But rest assured, the rich range of icy delights is well worth the wait. Try the apple pie ice cream with home-baked cinnamon, coffee ice cream, salted caramel, pear and rhubarb, classic chocolate or any of the other 40 flavours on offer. Gelato Messina also serves up rotating seasonal flavours and a selection of other delicious dessert options.
Website: www.gelatomessina.com
Multiple Locations: Check Website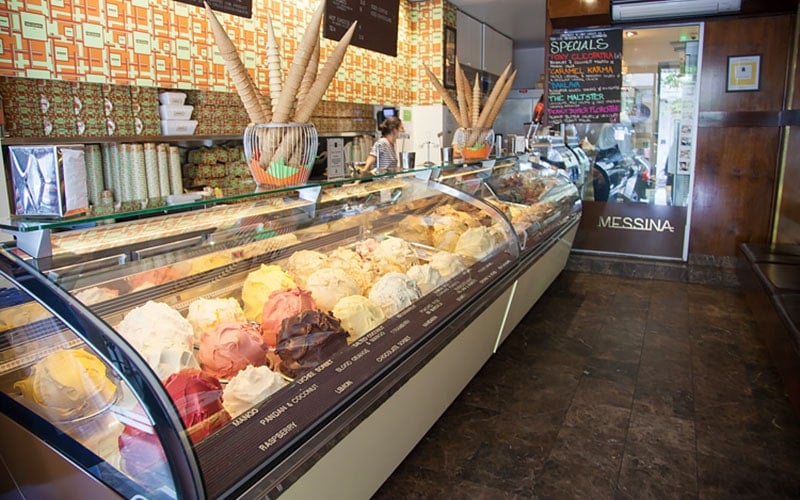 3. Pidapipó Gelateria
After eating and working her way around Italy, Lisa Valmorbida blessed us with her gelateria pop-up store in 2013. After overwhelming success, Pidapipo now has two locations on two of Melbourne's most renowned streets. But, don't expect the typical colourful display of gelato you've come to know from other ice creameries. Pidapipo does things a little differently. The Chapel and Lygon street gelaterias use traditional Italian pozzetti fridges to keep the gelato hidden away. Doing so ensures that it is stored at the perfect temperature and tastes its best. Some of the twelve flavours on offer are pistachio, rose, coconut, ricotta and fig, and Nutella swirl.
Website: www.pidapipo.com
Multiple Locations: See website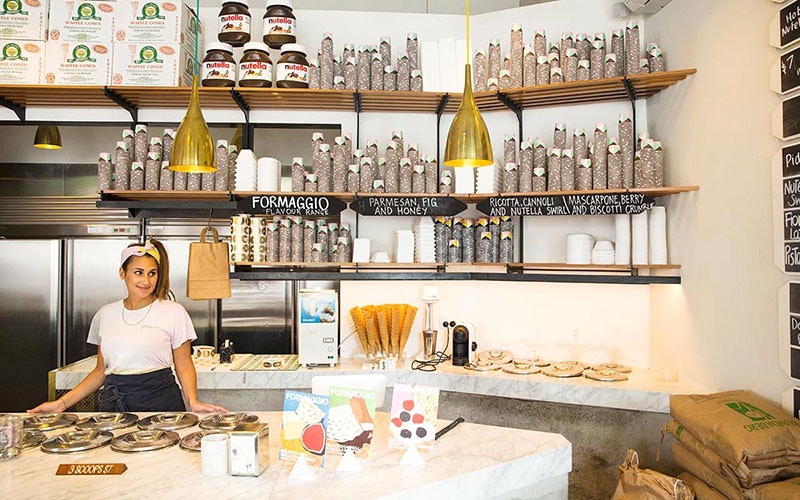 4. Glacé
MasterChef alum, Christy Tania's first solo venture Glacé, offers a seriously dreamy selection of artisan treats. From frozen s'mores on sticks to gelato cakes and even ice cream push pops, Glacé's range of frozen goodies are truly unique. Inspired by The Beatles' Yellow Submarine, the funky space has 20 permanent flavours of ice cream as well as two rotating flavours. The playful submarine interior is complete with portholes, pressure gauges, and airlock doors. Chose from traditional milk chocolate with roasted hazelnuts or if you're feeling a little more adventurous, why not go for a coffee caramel with cinnamon and orange?
Website: www.glacefrozen.com
Location: 1A Peel Street, Windsor, Melbourne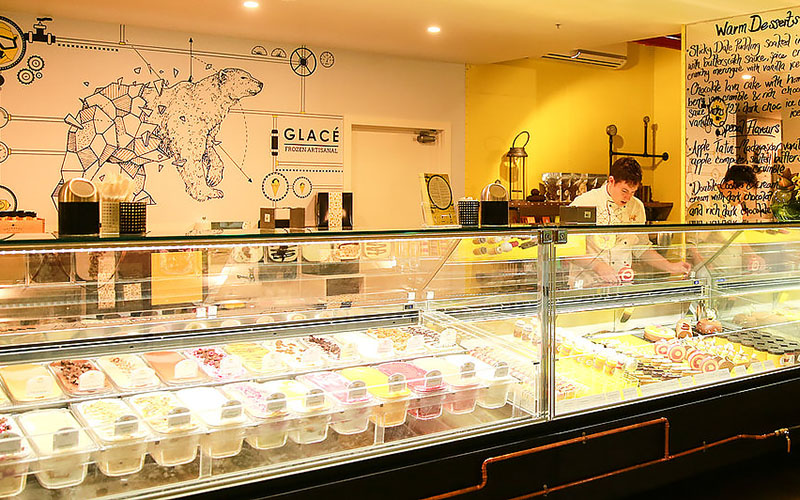 5. Aqua S
Sea salt soft serve may have originated in Japan, but Aqua S brought it south in 2016. The super creamy soft serve comes in the signature sea salt flavour in a dreamy aqua blue, as well as two other varieties which are rotated fortnightly. Past tastes have included lemon cheesecake, pandan and English breakfast. You can also choose from a vast array of extravagant toppings such as popping candy, fairy floss and grilled marshmallows.
Website: www.aquas.co
Location: 16 Red Cape Lane, Melbourne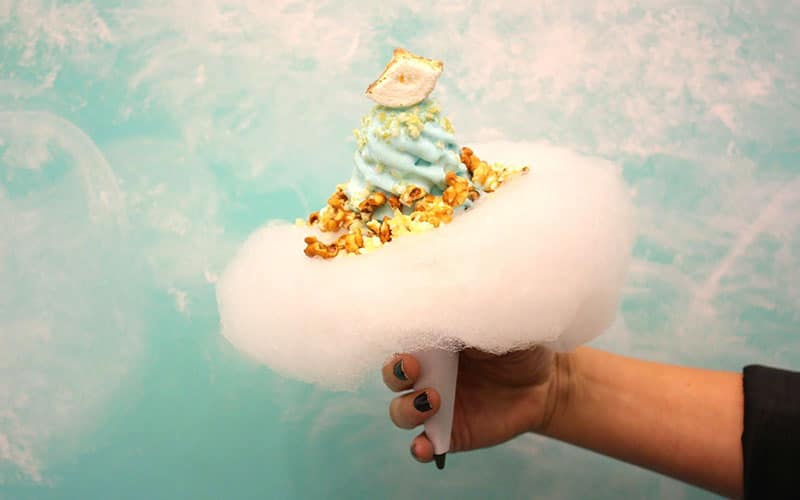 6. Piccolina Gelateria
Gelato and a show. Watch the expert chefs at Piccolina Gelateria prepare your delicious dessert from the long bar which runs alongside the kitchen. Head chef Sandra Foti and her team make traditional gelato using all-natural ingredients according to secret family recipes. Offerings include 20 regular flavours and four types of granita as well as four weekly specials. You can also choose to top your gelato with decadent liquid chocolate which is churned on-site.
Website: www.piccolinagelateria.com.au
Multiple Locations: See website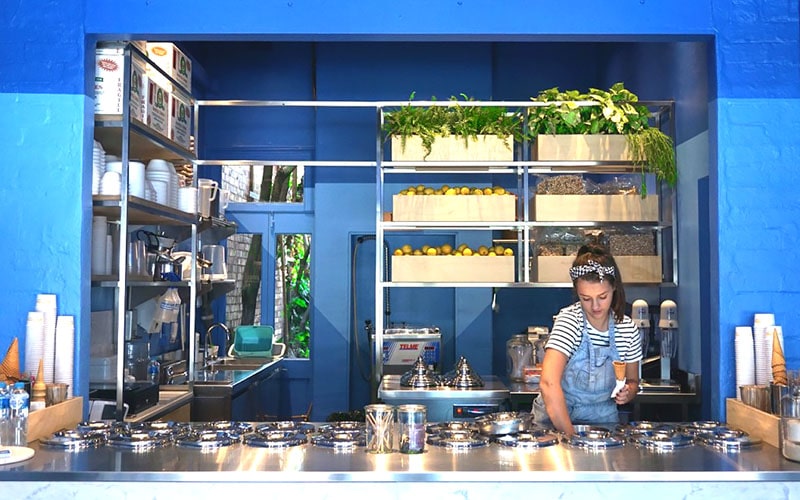 7. Billy van Creamy
We all know nothing screams summer like ice cream, right? Well, how about ice cream from a good old fashion ice cream truck? The best part is you don't have to wait for the siren to scoop these tasty treats. Billy van Creamy has a permanent store at Best Street in Fitzroy North. The pop-up style shop seats 30 people and is decked out in pastel pinks with a fun ice cream mural. All gelato is handmade, containing all natural ingredients such as organic milk, vanilla beans and crunchy nuts. Choose from their ever-changing selection of flavours including apricot sorbet, blueberry yoghurt swirl and lemon salted caramel. The van is also available for private functions.
Website: www.billyvancreamy.com.au
Location: 27/29 Best St, Fitzroy North, Melbourne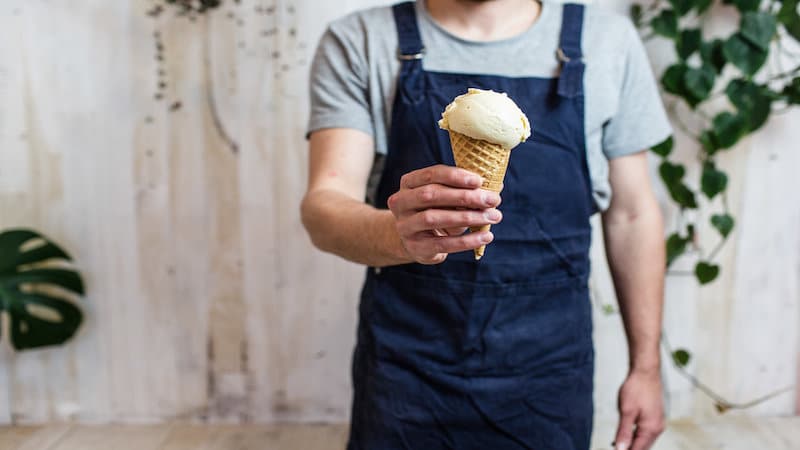 8. Zero Gradi
After spending two years travelling Naples and mastering traditional gelato-making techniques, pizza chef Johnny Di Francesco gifted Melbourne Zero Gradi. Next door to his original pizza place on Lygon Street lies this delicious gelateria offering 18 flavours. Perfect for post-pizza eats, flavours include classic Neapolitan tastes such as chocolate, lemon, salted caramel and pistachio, however, the selection changes weekly. There are also Nutella and chocolate taps so you can top your gelato with a little something extra. On top of all that, Zero Gradi also offers a range of shared desserts, cakes, coffee and shakes.
Website: www.instagram.com
Location: 93-97 Lygon St, Brunswick East, Melbourne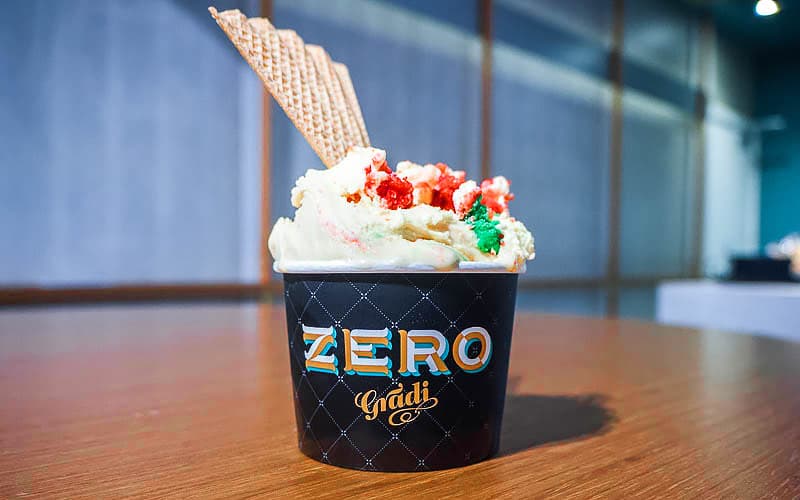 9. 7Apples
7Apples has been serving up its particular innovative flavours since summer 2001. Among its lineup of tasty classics such as strawberry and French vanilla sits a selection of cutting-edge tastes, such as Red Bull, pinot noir and honey, and fig. Together with the vast variety of classic and creative flavours, you can expect a high quality and consistent product. 7Apples thick, creamy and sweet treats will keep you coming back time and time again. For extra cool points, owner Mark Mariotti named 7Apples after a nightclub in Tuscany.
Website: www.7applesgelato.com
Location: 75 Acland St, St Kilda, Melbourne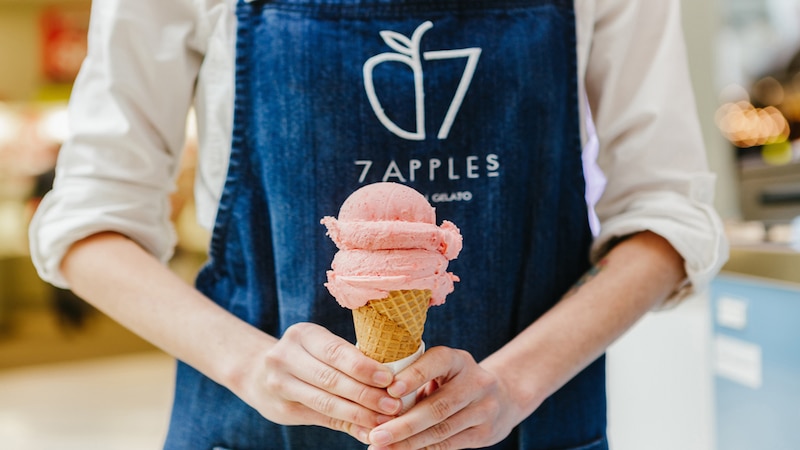 10. Sundae School
Serving up American-style ice cream, Sundae School offers creamy custard-based ice cream with chunky ingredients folded through. The revamped vintage milk bar houses ten rotating ice cream flavours such as strawberry and black pepper sherbet, apple pie, bacon, banana and brown butter, and real bubblegum. You can also choose from a selection of dreamy house-made syrups and crunchy textures, as well as snack on ice cream sandwiches and malted milkshakes with homemade soft serve.
Website: Facebook Page
Location: 261 Hawthorn Rd, Caulfield North, Melbourne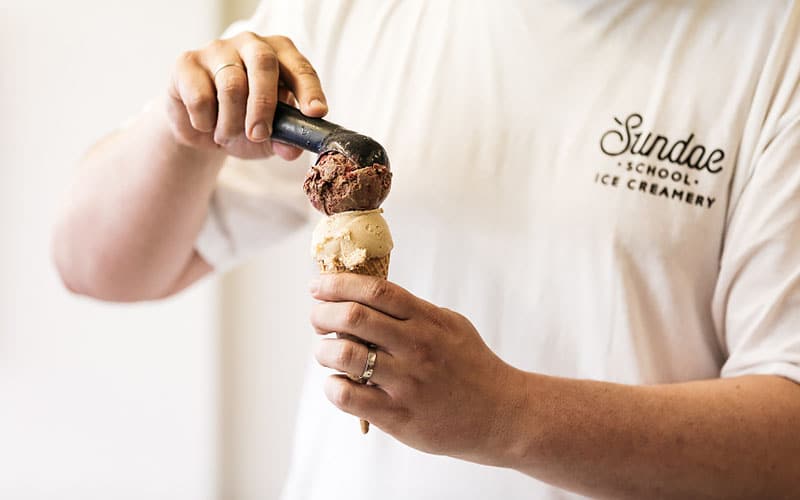 11. Gelateria Primavera
Widely recognised as one of the best artisan gelaterias in Melbourne, Gelateria Primavera's reputation indeed precedes it. Located out the front of Spring Street Grocer, its fluorescent shop front will lure you in, while its prime selection of gelato will keep you coming back. The gelato is made daily using the highest quality ingredients and is kept fresh in old-school pozzetti cabinets, ensuring that the taste is top notch. The rotating selection of milk-based gelato and dairy-free sorbets includes something for lovers of classic gelato, as well as those with a penchant for adventure. Try the traditional fior di latte, pistachio or lemon sorbet, or a creative concoction such as peach and basil sorbet, salted caramel laced with chilli or the watermelon and fresh mint.
Website: www.springstreetgrocer.com.au
Location: 157 Spring St, Melbourne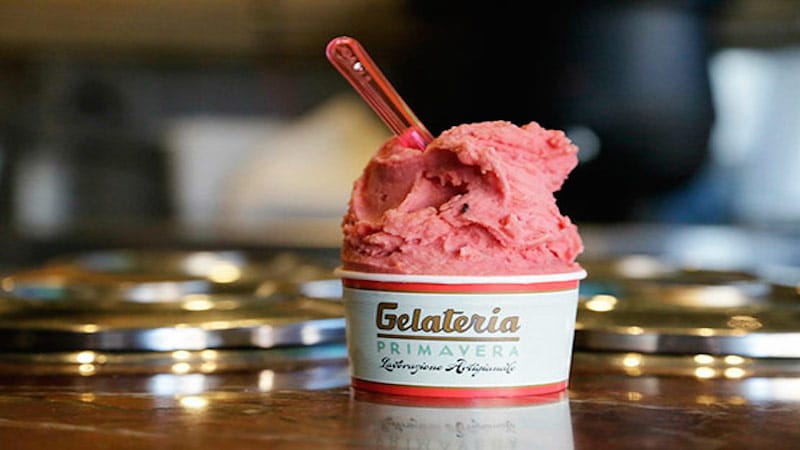 12. Meno Zero
Meno Zero comes to us from the owners of Six Slices and Zero95, Anthony Biviano and Francesco Crifo, as well as Denise Papale, who is formerly of Brunetti's. The group felt like pizza and gelato made the perfect pair, and therefore, Meno Zero was born. The super cute candy pink and aqua store plays host to classic and inventive flavours of gelato. Pistachio, stracciatella, hazelnut and bacio are among the creamy selections while vegan-friendly flavours like mango, pear and ginger, mixed berry, and passionfruit are also available. However, if you're fiending for something more adventurous, check out the glass cabinet, which contains pizza Caprese gelato (made with tomato, mozzarella and basil), the sette veli (made with several types of chocolate), and the torta sette veli (inspired by a traditional birthday cake from Sicily). There is also a variety of semifreddo cakes as well as crepes and milkshakes.
Website: www.menozero.com.au
Location: 914a Doncaster Road, Doncaster East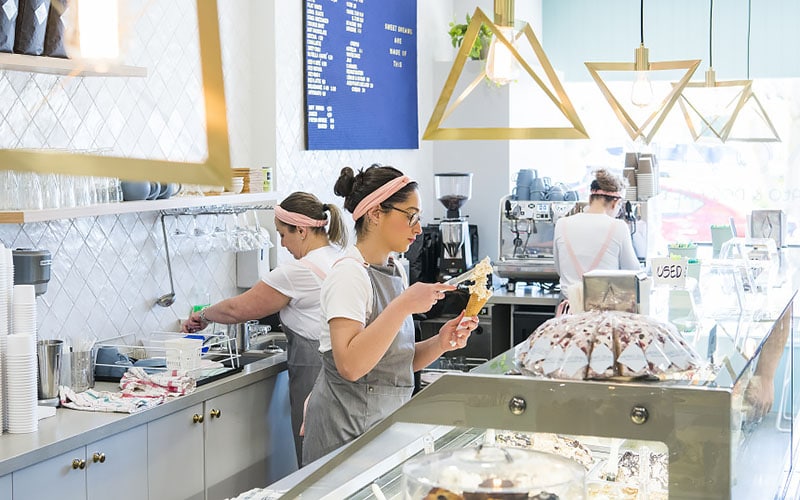 13. Miinot Gelato
Miinot Gelato is a family gelateria creating natural desserts without compromising taste. While it offers only one bench style seat, you can still grab one of their flavours on the go. Expect flavour-filled gelato made with an all-fruit base. There are zero pre-mixed pastes used when creating this decadent gelato, except for the kids' bubblegum that is. You can choose from a selection of rotating flavours, including four or five vegan-friendly options, such as lemon, forest berries, mango, and strawberry and pear. You can also treat yourself to a fancier flavour like Nonno, which blends mascarpone with sultanas soaked in Pedro Ximenez sherry.
Website: www.miinotgelato.com
Location: 71 Melville Road, Pascoe Vale South, Melbourne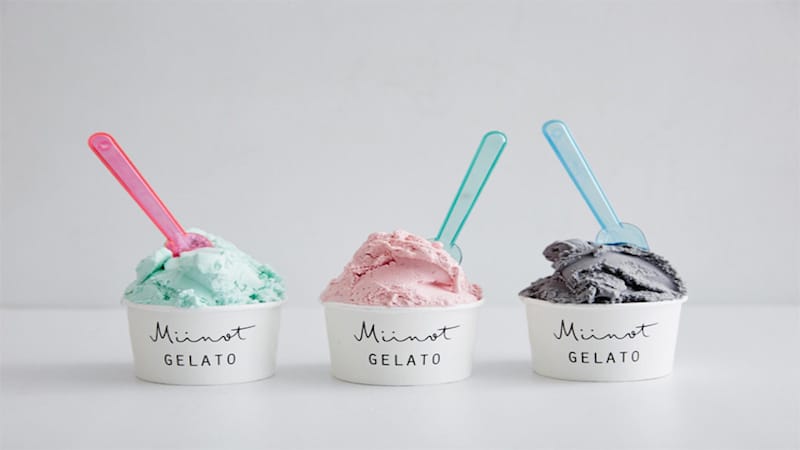 14. Cuppa Turca
Cuppa Turca is a Turkish ice cream cafe in Northcote which brings us Dondurma. There's no need to worry if you haven't heard of Dondurma, you're probably not alone. It is a unique type of Turkish ice cream which is stretchy, chewy and more resilient to heat than traditional options. However, Cuppa Turca owner, Harun Yalcin was Unable to bring the classic ingredients to make Dondurma to Australia. Because of this, he had to create his own secret recipe, which replicates the original. Following his success, he now has a 35-seat space full of natural flavours with plenty of vegan and coconut options. Indulge in the traditional mastic, a resinous sap with a slight pine flavour, pistachio, halva or the feta and cantaloupe. You can either go with a cone, have your ice cream between two wafers or sandwiched between baklava.
Website: Facebook Page
Location: 244 High St, Northcote, Melbourne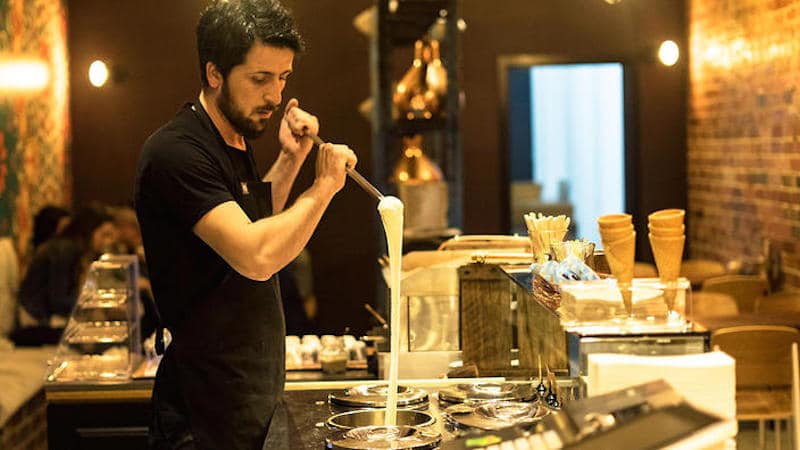 15. Il Melograno
Il Melograno specialises in creative fusions as well as staying true to traditional Italian flavours. It was dreamed up by Carl Fodera, following his return to Melbourne after spending ten years in Italy, and third generation gelato maker Marco Enea. Featuring a rotation of seasonal flavours, the store's creations boast no preservatives or artificial flavourings. As well as old favourites, such as hazelnut and lemon sorbet, you can also choose from more decadent options. Experience rosemary, pear and elderflower, and Iranian pistachio gelato, all made fresh on site. Il Melograno also doubles as a cafe, offering Italian-inspired breakfasts and lunches until 3 pm.
Website: Facebook Page
Location: 76 High Street, Northcote, Melbourne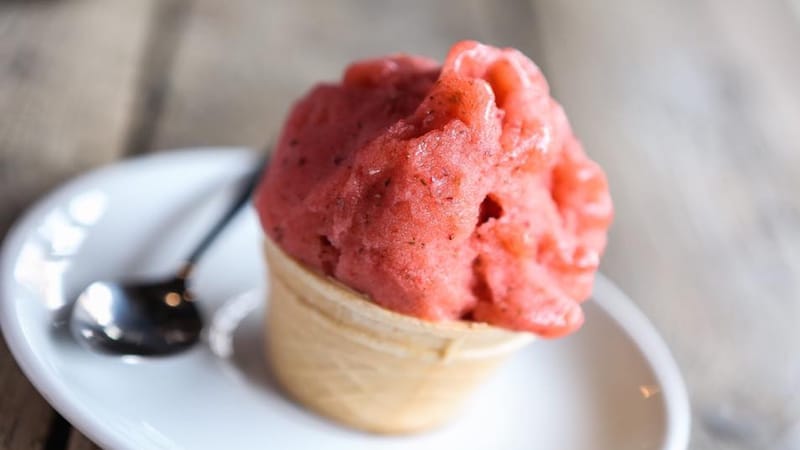 SUBSCRIBE TO OUR NEWSLETTER
Subscribe to our mailing list and get interesting stuff and updates to your email inbox.