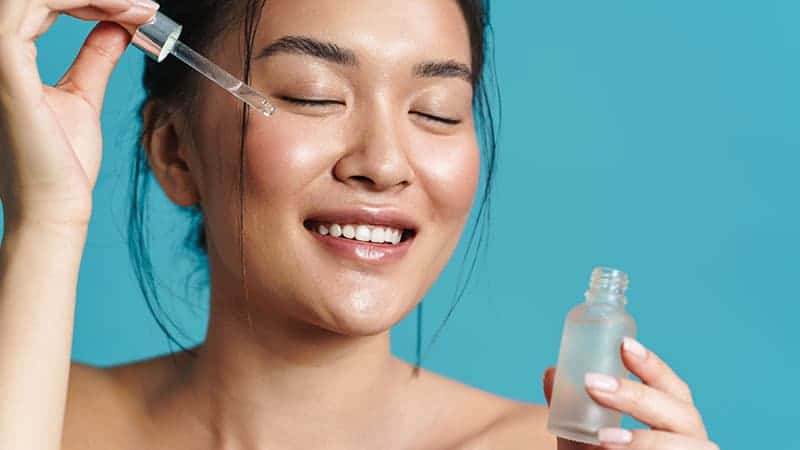 If you want to level up your skincare regime with extra hydration, then look no further than hyaluronic acid (HA). This superhero ingredient is in huge demand. It pops up in various skin care products, from serums and moisturizers to tanning lotion and sheet masks. As a powerful humectant, it draws moisture to the skin for a plumped-up dewy look that also minimizes the signs of aging. Plus, it's excellent for all skin types and is easy to use so that everyone can have youthful, glowy skin.
What is Hyaluronic Acid?
Hyaluronic acid might sound a bit scary, but it's actually a naturally occurring sugar molecule found in the body. This powerful humectant draws water to the skin's surface, binding it to collagen molecules for better hydration and a more dewy appearance. Your body's natural stuff can hold a thousand times its weight in water and is produced with cellular turnover. You can increase the amount your body makes through chemical exfoliation and daily gua sha massage. A diet rich in leafy greens, root vegetables, citrus, soy-based foods, and bone broth can also boost your natural levels. Meanwhile, the hyaluronic acid found in serums and moisturizer is often lab-grown and can be produced in different molecular weights for varying levels of skin penetration. It's an excellent supplement to your natural stores for a fresh-faced look.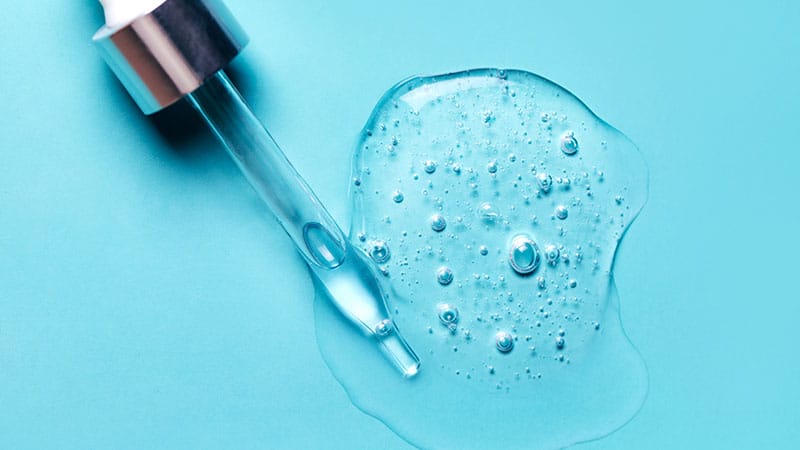 What are the Benefits of Hyaluronic Acid?
There are many great benefits to using hyaluronic acid; however, its most loved property is its water attraction and retention ability. By drawing and binding moisture to the surface of the skin, it results in a plumper, dewier, and firmer appearance. It can also reduce the signs of aging, such as fine lines and wrinkles by filling out the skin in these areas. Plus, by being so great for hydration, it's perfect if you have dry skin, giving you smoother texture and more clarity, as the body produces less oil to compensate for the dryness. Finally, it can also help enhance the skin's barrier, which can be harmed by environmental aggressors such as UV damage and free radicals.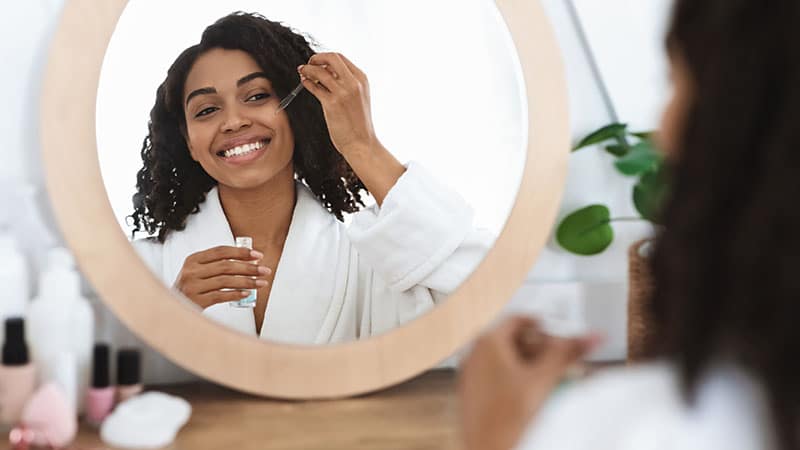 Is it OK to Use Hyaluronic Acid Every Day?
In general, topical hyaluronic acid is non-irritating, and there are very few side effects. However, like any skincare product, some people might experience redness or inflammation, and if this occurs, discontinue use immediately. The other thing to keep in mind is that hyaluronic acid is also a powerful humectant, meaning it attracts and retains moisture. However, if you overuse it or don't use a moisturizer in addition to the HA, it can pull this from deeper within the skin, causing dehydration, so make sure you follow up with your day or night cream. Finally, when adding hyaluronic to your skincare regime, start slow with once a day, and try to avoid overuse by not having it as an ingredient in every product you use.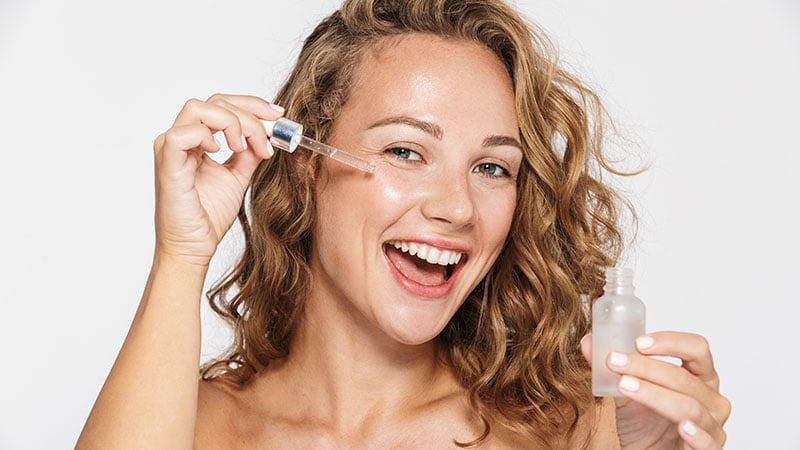 Who Should Use Hyaluronic Acid?
One of the greatest things about hyaluronic acid is that it suits all skin types, even if you're prone to sensitivity. However, it's particularly ideal for mature skin, because just like collagen, as you age, the body produces less hyaluronic acid naturally. Topically applying it will help bring back some of the plumpness and youthful glow. Additionally, it's excellent for dry skin, thanks to the hydration benefits. The lightweight feel is also ideal for oily and combination skin, as it doesn't feel heavy or greasy on. Best of all, because it doesn't interact negatively with other skincare and beauty products, it's easy to incorporate into both simple or complex beauty routines without needing to reschedule every lotion or potion application.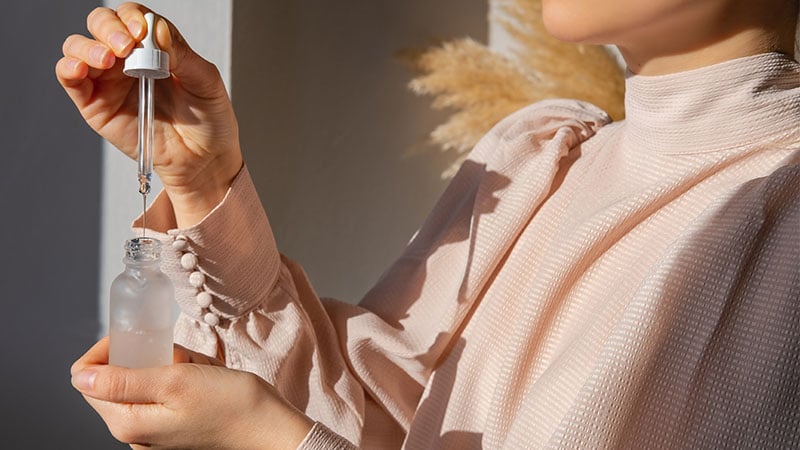 What's the Best Format for Hyaluronic Acid?
There are many formats in which you can get hyaluronic acid. What you choose will come down to personal preference. One of the most common forms is as a serum. In these formulas, hyaluronic acid is the hero. It does add an extra step in the morning or evening, applying it to clean, damp skin and locking it in by following with a moisturizer; however, it's one of the best ways to boost hydration. The other main style is as an ingredient in moisturizers, supporting the other nourishing and hydrating components. This is ideal if you don't want to add an extra step to your skincare regime. You can also find hyaluronic acid in neck creams, eye creams, sheet masks, CC creams, and even self-tanning lotions. Finally, it can also come as an oral supplement and injectable.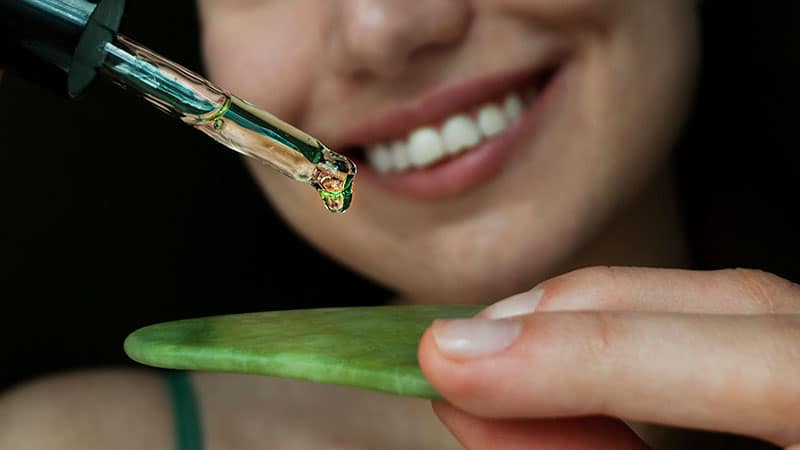 When Should I Use Hyaluronic Acid in My Skincare Routine?
Hyaluronic acid is great because it plays really well with others, which means it's very flexible in terms of where it fits in your skincare routine. It doesn't interact negatively and won't negate the effects of other products. If you're using it as a serum, you can apply it morning or night (or even both) to slightly damp skin and use a quality moisturizer over the top to lock in the hydration. However, if it's an ingredient in another type of product, such as a moisturizer, eye cream, neck cream, or sheet mask, then simply use it as usual.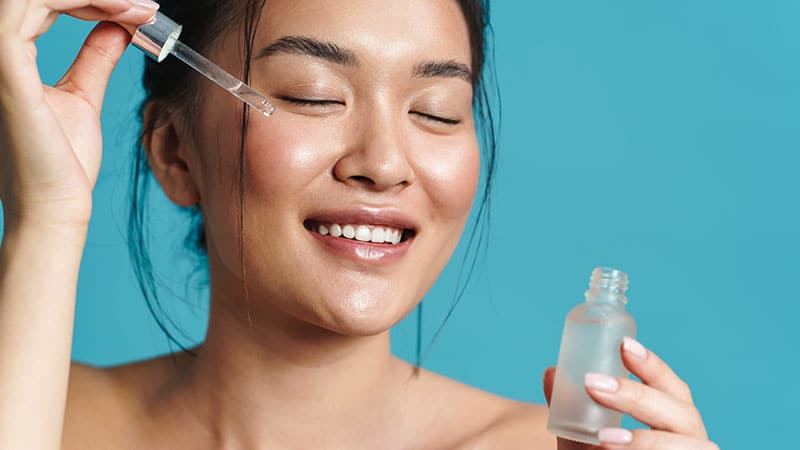 What About Injectable Hyaluronic Acid?
In addition to topical serums, you can also have hyaluronic acid injected by a dermatologist, similar to other fillers. It comes as a gel-like substance and attracts water to the injection area, improving plumpness and reducing the signs of aging. There are only a couple of approved brands, such as JUVÉDERM and Restylane, and you should only have the procedure done by a dermatologist. Similar to serums, there are very few side effects, with bruising or swelling from the needle the most common. On the rare occasion, it might be injected into a blood vessel or too superficially; however, it is also reversible, using the enzyme hyaluronidase, which dissolves the filler.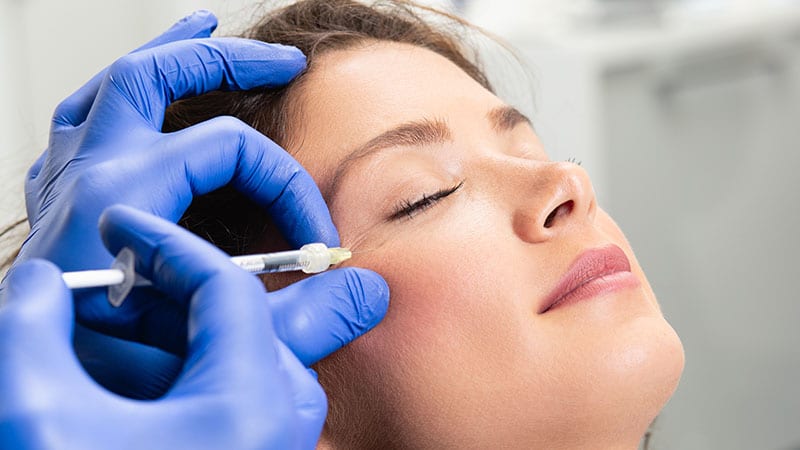 Best Hyaluronic Acids Serums in 2021
1. SkinCeuticals Hyaluronic Acid Intensifier
Give yourself a fresh-faced feel with Hyaluronic Acid Intensifier from SkinCeuticals. It contains 1.3 percent hyaluronic acid, along with licorice root and purple rice extract, and Proxylane™. Together, they provide long-lasting hydration that amplifies the skin's hyaluronic acid levels by up to 30 percent. The result is improved skin texture, elasticity, and plumpness, plus minimized fine lines and wrinkles. The gel-like consistency is easy to apply both morning and night, leaving you with a smooth canvas for your makeup.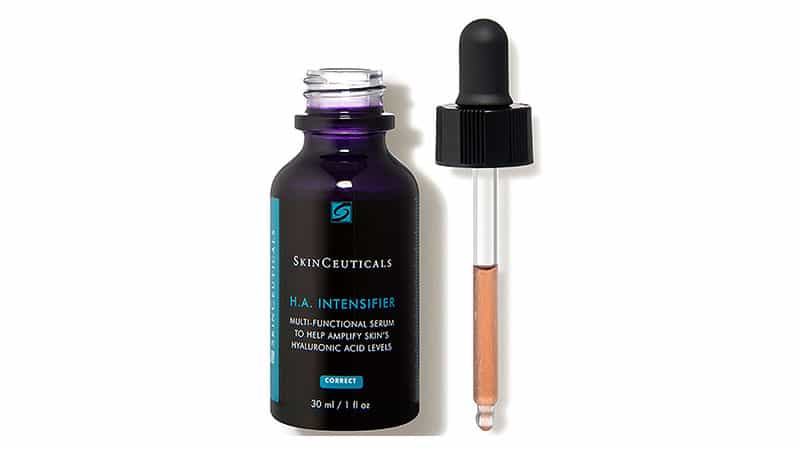 2. Paula's Choice Hyaluronic Acid Booster
All skin types can use Paula's Choice Hyaluronic Acid Booster. This potent formula replenishes moisture and revives dull, dry skin for a bright, youthful appearance. In addition to skin-plumping hyaluronic acid, ceramides help repair the skin's barrier, protecting your skin from further damage. You'll also find Pro-Vitamin B5, which provides smoother texture and even more plumping, filling out fine lines and wrinkles. Plus, all you need is two to three drops spread over your face, followed by an SPF 30 moisturizer.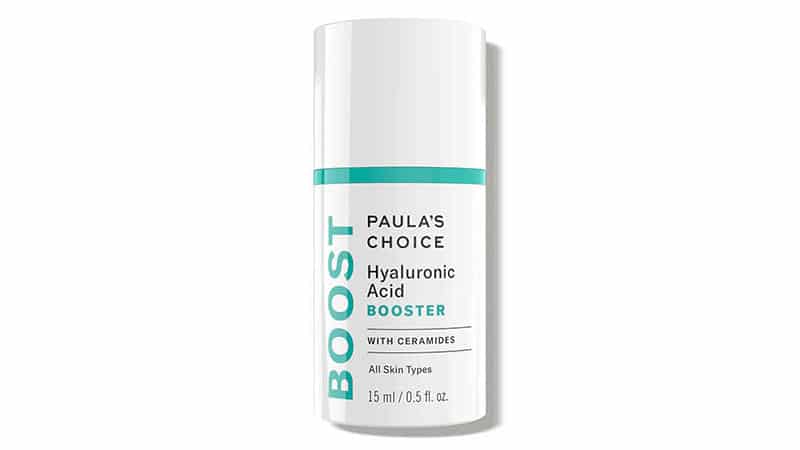 3. Vichy Mineral 89 Daily Skin Booster Serum and Moisturizer
Start and end your day with Vichy Mineral 89 Daily Skin Booster Serum and Moisturizer. Simply apply two drops to clean skin, spreading in a gentle outward movement. The great thing about this formula is that you can use it as a stand-alone product or follow up with another moisturizer. It contains Vichy Volcanic water from French volcanos, enriched with natural minerals, plus natural origin hyaluronic acid for increased moisture and an incredible plumping effect. Enjoy protection from environmental aggressors and 24-hour hydration for a fresh and bright appearance.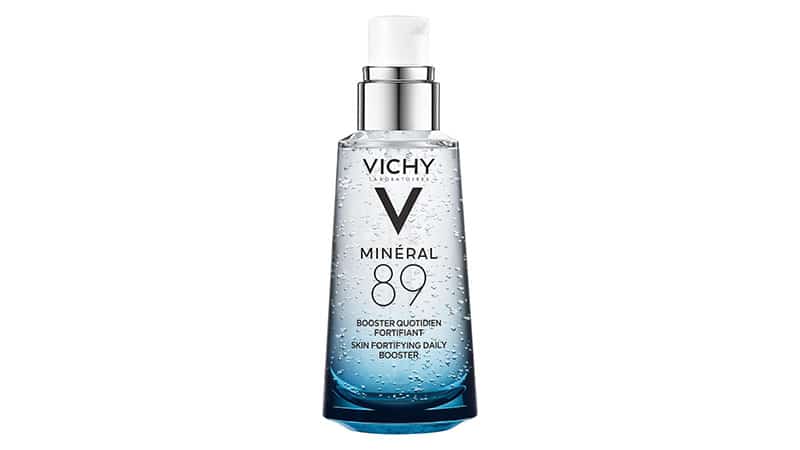 4. SkinMedica HA5 Rejuvenating Hydrator
SkinMedica HA5 Rejuvenating Hydrator boasts five different hydrators for the ultimate in facial moisturization. You'll enjoy instant smoothing and a reduction in the appearance of fine lines and wrinkles, not to mention a radiant glow. The Time Release HA is a SkinMedica® proprietary ingredient for gradual hyaluronic acid release, while a unique peptide complex rejuvenates the skin. Vitamin E also minimizes early signs of aging and protects your skin barrier from further free-radical damage. Finally, it's oil and fragrance-free, so it's suitable for all skin types.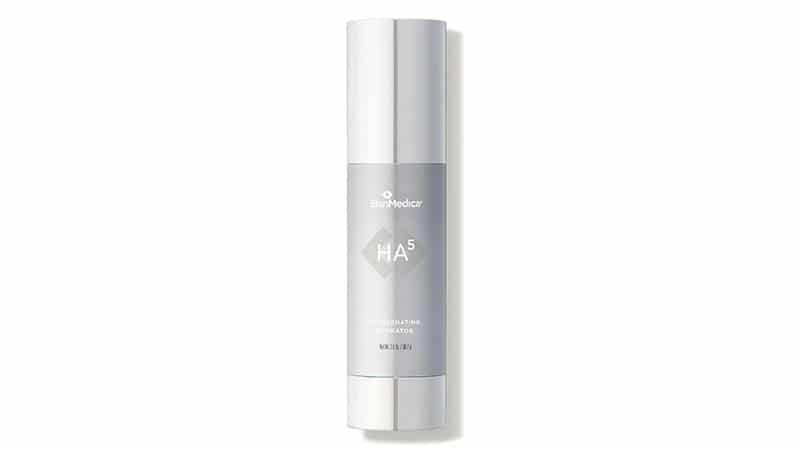 5. Dr. Dennis Gross Hyaluronic Marine Hydration Booster
This super-hydrating serum from the dermatologist-founded brand, Dr. Dennis Gross, easily plumps, moisturizes, and protects the skin. Not only does it contain hyaluronic acid, but it also boasts marine algae from the waters of Okinawa in Japan, which improves the skin's elasticity thanks to amino acids and B vitamins. Meanwhile, watermelon extract fights free radical damage. You can use this both morning and evening, applying a few drops straight to your skin or by mixing it in with a moisturizer or foundation.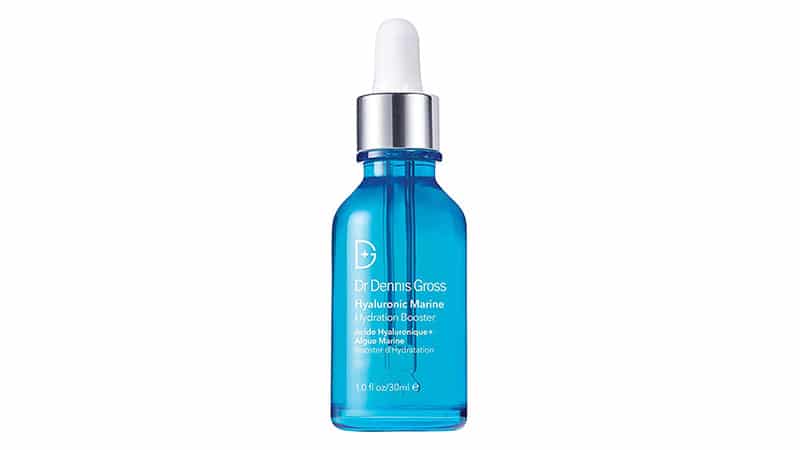 6. The Ordinary Hyaluronic Acid 2% + B5
The oil-free formula and lightweight of The Ordinary Hyaluronic Acid 2% + B5 means it's excellent for all skin types, including oily skin. It also contains multiple molecular weights, allowing it to absorb to different levels. Additionally, vitamin B5 boosts surface hydration even further for a smoother finish. It's an easy favorite in the range and a must-have for any beauty cabinet. However, perhaps the best selling point for The Ordinary's HA is its very reasonable price point, setting you back less than $15! It's a bargain compared to some of the leading brands charging over $100 a bottle.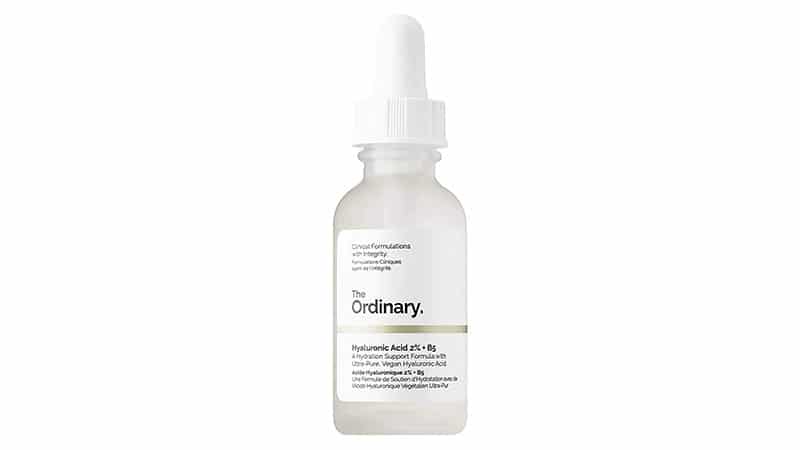 7. CeraVe Hyaluronic Acid Serum
CeraVe has a cult following for its well-priced products and simple approach to skincare. The Hydrating Hyaluronic Acid Serum is packed full of powerful hydrating ingredients, including, of course, hyaluronic acid. In addition, you'll find three essential ceramides to restore the skin's barrier from environmental damage and vitamin B5 for its soothing properties. Plus, the patented MVE technology keeps your skin hydrated for longer — up to 24 hours. Developed by dermatologists, its fragrance and paraben-free and non-comedogenic. You can use this daily by itself or in tandem with a good moisturizer.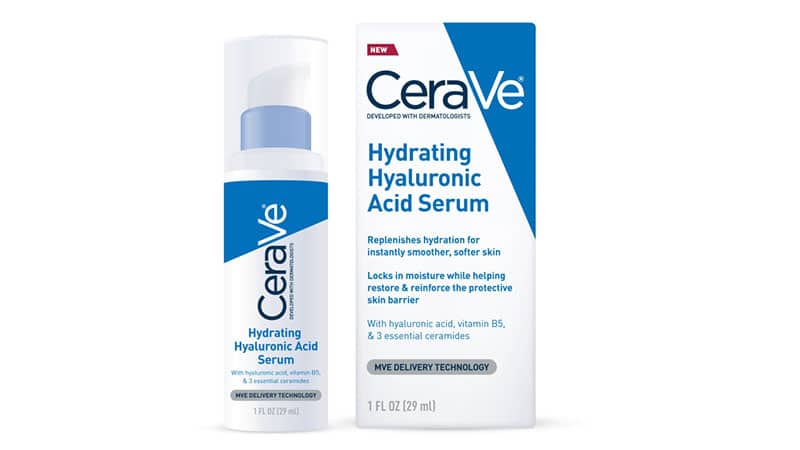 8. Cosmedica Skincare Pure Hyaluronic Acid Serum
Enjoy plump, well-hydrated skin thanks to the Pure Hyaluronic Acid Serum from Cosmedica Skincare. It combats dryness and rejuvenates for a youthful glow while minimizing the appearance of fine lines and wrinkles. The simple formula only contains three ingredients – distilled water, hyaluronic acid, and benzyl alcohol-DHA. As such, it's less likely to cause irritation than other serums, and it also keeps the cost very low, at around $15! Plus, if you love the results and enjoy the product, you can get it in a large eight fluid ounce pump pack as well, so you'll never run low.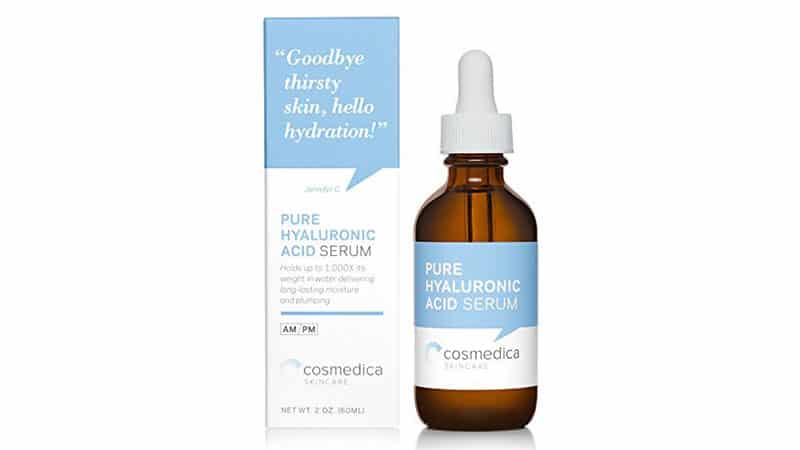 9. La Roche-Posay Hyalu B5 Pure Hyaluronic Acid Serum
There are two kinds of hyaluronic acid in the La Roche-Posay Serum – one is a high molecular weight and the other a low molecular weight. Together they create a moisture barrier on the skin while absorbing deeper to re-plump and hydrate. Plus, there's also vitamin B to improve the suppleness and bounce. Apply the light serum morning and night, followed by your favorite moisturizer. It absorbs quickly and leaves a fresh non-greasy finish, so you can apply the rest of your makeup with ease.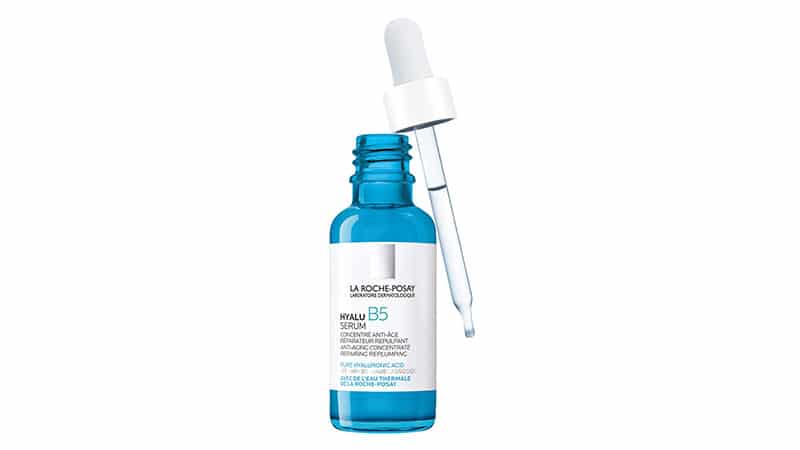 10. Glow Recipe Plum Plump Serum
Not only does the Plum Plump Hyaluronic Serum come in a cute bottle, but it also provides intense, juicy hydration. Within the gel-like liquid, you'll find five different weights of hyaluronic acid for varied layers of hydration, plus three kinds of antioxidant-rich plums. Kakadu, Illawarra, and Burdekin plums hydrate nourish, and rejuvenate thanks to high levels of vitamin C, anthocyanins, and minerals such as zinc and calcium. It also contains plant-based collagen and vitamin B for an extra healthy skin barrier. Apply a couple of pumps morning and night, with a Vitamin C serum after as well as a moisturizer.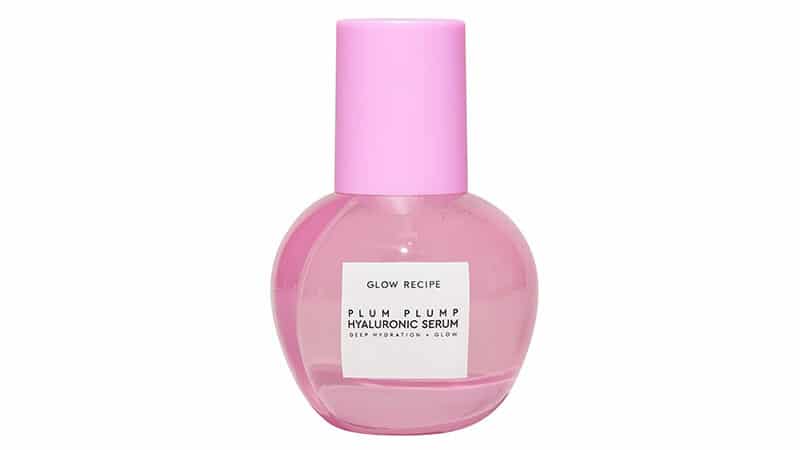 FAQs
Is hyaluronic acid good for acne?
Hyaluronic acid won't really clear acne, but it still has benefits for acne-prone skin. The extra hydration helps flush dead skin cells out of your pores, which can cause some acne. It can also help restore the skin's barrier after damage and reduce inflammation.
Can you use hyaluronic acid with retinol?
Absolutely — hyaluronic acid and retinol have a great relationship and work well together. Retinol can be quite harsh sometimes, causing dryness and irritation. As such, the extra hydration and soothing properties of HA can help balance out the adverse side effects of retinol.
Can I use hyaluronic acid with vitamin c?
Definitely! Hyaluronic acid and Vitamin C are a great combination because they complement each other, providing hydration, protection, and repair, resulting in brighter, glowing skin. It also doesn't matter which order you apply them to. If you're using serums, apply the lightest first, and if you're using a serum and cream combination, do the cream second.
Can you use niacinamide with hyaluronic acid?
Yes, you can use niacinamide with hyaluronic acid! They're both water-based treatments, so they pair well together. Combined, you'll enjoy increased hydration, a stronger skin barrier, and a smooth, youthful glow. It's best to apply the HA first for its water-binding properties, followed by the niacinamide.
SUBSCRIBE TO OUR NEWSLETTER
Subscribe to our mailing list and get interesting stuff and updates to your email inbox.