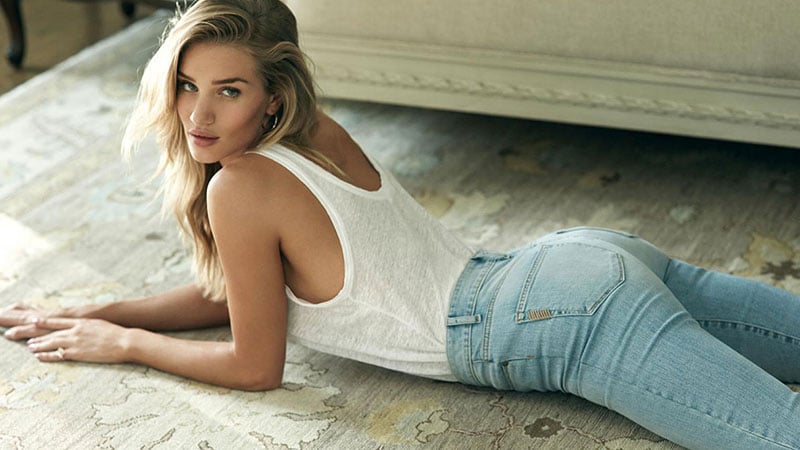 Jeans are such a staple item that we sometimes forget just how fashionable they can be. Although they work perfectly on lazy days with a T-shirt and sneakers, they can also create a seriously stylish look with just a little bit of effort. So, if you're ready to unlock the full fashion potential of your favourite denim designs, look no further than the world's top celebrities for inspiration. These chic ladies are always in the spotlight and know how to make the most out of a simple pair of skinnies or boyfriends. Follow their lead, and you'll be wearing this casual closet staple like a complete star in no time.
Skinny Jeans
Celebrities love their skinny jeans, and we do too. These leg-lengthening pants are perfect for creating a chic, casual look that's both relaxed and polished. To rock the style like your favourite celebs, stick to a clean and neat aesthetic. A simple pair of indigo skinnies partnered with a fitted, striped t-shirt and a structured blazer can create a sharp and stylish look. Then, just finish off the look with leather booties.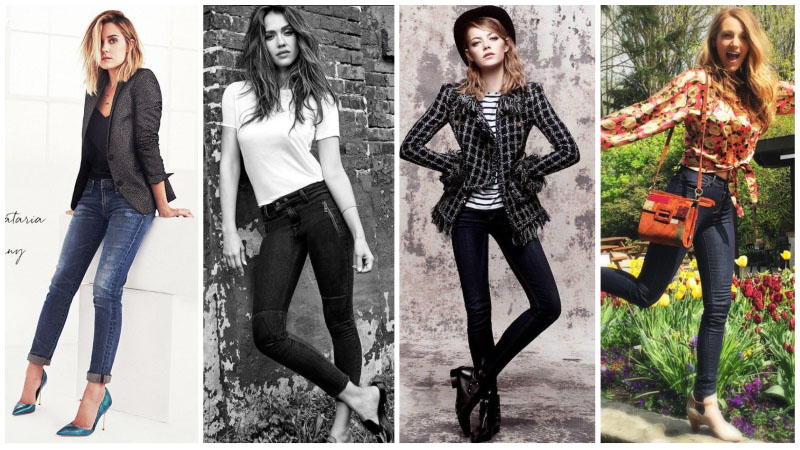 SHOP THE LOOK
Boyfriend Jeans
Boyfriend jeans may be baggy and loose, but they can create a surprisingly chic appearance. Just ask Blake Lively or Jessica Alba. To nail the stylish look that these actresses project while wearing their boyfriend jeans, you should aim for an aesthetic that's laid-back yet elegant. Start by choosing a pair of blue boyfriend jeans that are cropped or cuffed. Doing so will help balance out the appearance of these wide pants. Then, complete your look with pieces that are polished but not overly dressy. A white button-up shirt, trench coat, and backless loafers make the perfect options.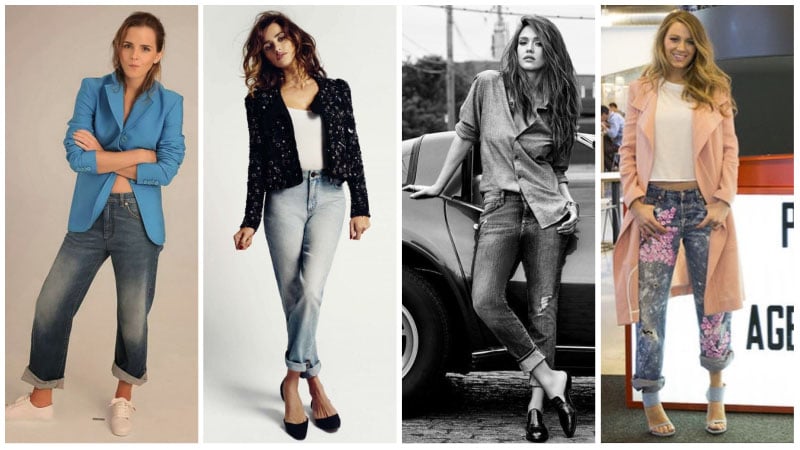 SHOP THE LOOK
Cropped Jeans
If you want a denim look that's on-trend and cool, try channelling Gigi Hadid and Gisele Bundchen with cropped jeans. The style is perfect for lengthening the appearance of legs and creating a standout casual look. All you need to do to rock these jeans like a star is keep your silhouette slim and streamline. You can do this by partnering a pair with high heeled sandals, a crop top, and a fitted denim jacket. Just make sure that the denim jacket either matches your jeans or is a few shades darker.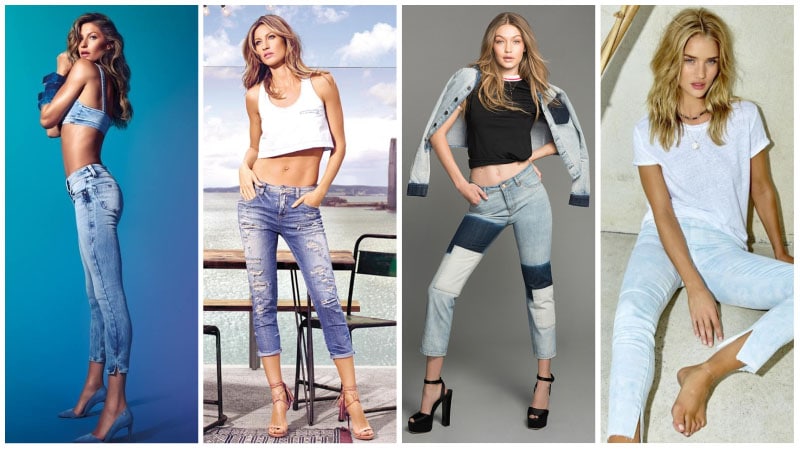 SHOP THE LOOK
Straight-Leg Jeans
Straight-leg jeans may not be as sleek as skinnies or as edgy as boyfriends, but they can create a super stylish look. All you need to do is look to your favourite A-list actresses and models for inspiration on how to wear the style. Start by partnering your straight-leg jeans with pumps, mid-heel sandals or booties. The extra height will keep legs looking long and stop the cut from making them appear wider than they are. Then, add a chic top and jacket, such as a delicate camisole and an on-trend bomber jacket, to make your outfit fashion-forward and fabulous.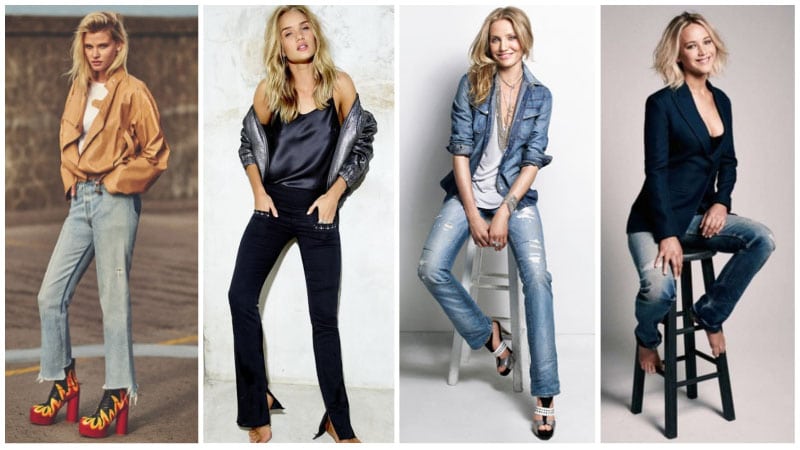 SHOP THE LOOK
Flared Jeans
You don't have to be as famous as Selena Gomez to rock a pair of flared jeans just as well. Instead, you just need to know what to wear with them. While these jeans may instantly make you think of '70s fashion, flares can create a surprisingly sophisticated and contemporary appearance. To nail the look in 2017, just remember to keep your silhouette long and slim. A pair of plain pumps and a lightweight blouse will complete your look in style. You can also wear chic jewellery, such as layered necklaces, to add an extra stylish touch.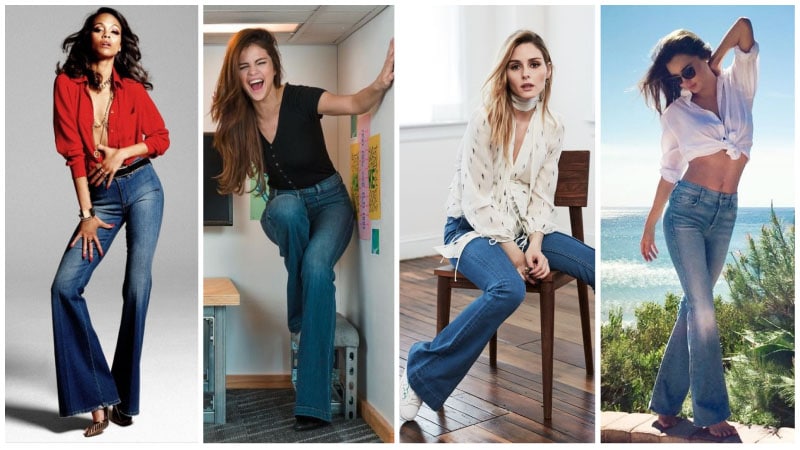 SHOP THE LOOK
High-Waisted Jeans
If you want to highlight your killer curves like Khloe Kardashian, then a pair of high-waisted jeans are essential. To rock the look in a celebrity-approved manner, just choose a skinny style in black or dark blue. Doing so will offer the most flattering appearance and look seriously stylish. To enhance the hourglass silhouette created by your denim, you can pair your jeans with a fitted bodysuit. Doing so will further define your waist and curves for a sexy appearance. For a fierce finish, add a cropped leather jacket and high-heeled, lace-up boots.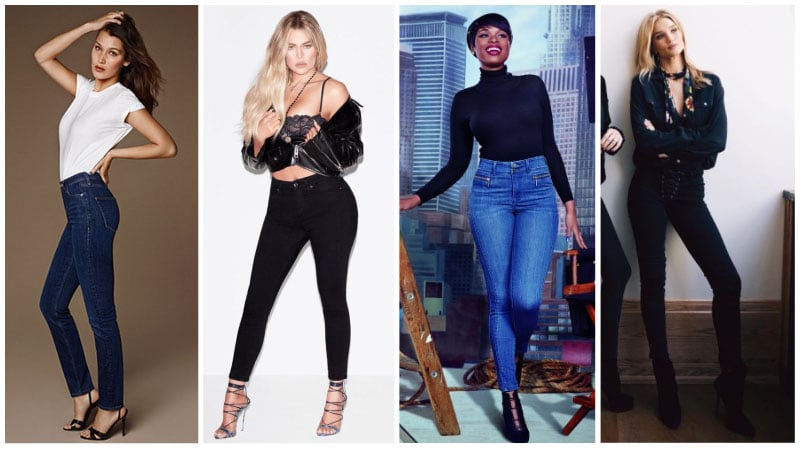 SHOP THE LOOK
Low-Rise Jeans
For ladies who love low-rise jeans, you should look to Lauren Conrad and Rosie Huntington-Whitely for style inspiration. These chic celebs know how to rock these jeans in a fashionable way. To channel their style, all you need to do is make your top half the focus of your outfit. You can do so by choosing a patterned or uniquely coloured top or jacket. Also, if your low-rise jeans are skinny, try opting for a looser silhouette on top for balance. To complete your outfit, keep things casual and feminine with strappy, block heels.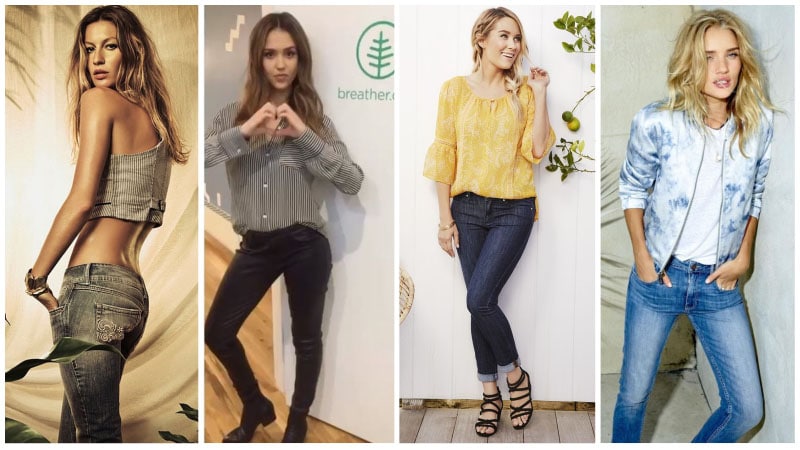 SHOP THE LOOK
Black Jeans
When winter rolls around, follow the lead of stylish celebrities, such as Nicole Ritchie, and swap your blue jeans for black. The dark hue is perfect for cold weather and can easily suit both casual and more dressed-up looks. To rock black jeans during the evening, partner a skinny pair with some high heels and a statement top. If you want to wear black jeans during the day, try a long-sleeved top and a suede biker jacket or coat instead. To break up the black hue, simply add other rich tones, such as navy, forest green or burgundy.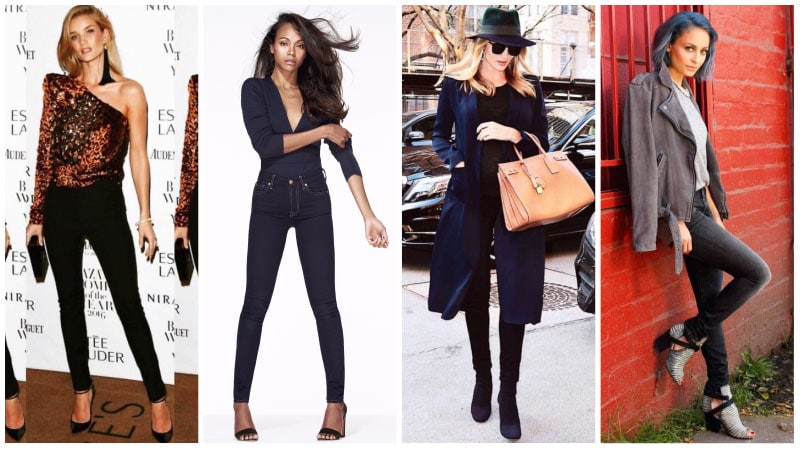 SHOP THE LOOK
White Jeans
While black jeans are ideal for winter, white jeans are perfect for summer. To rock the style, start by selecting your favourite cut. Skinny, cropped, and boyfriend shapes all make particularly great options. Once you have your favourite pair, channel the A-list and partner your white jeans with more white and other soft hues. Aim for a relaxed and carefree look that appears perfect with a beach backdrop. When the sun goes down, simply throw on an oversized beige knit for a relaxed and cosy finish.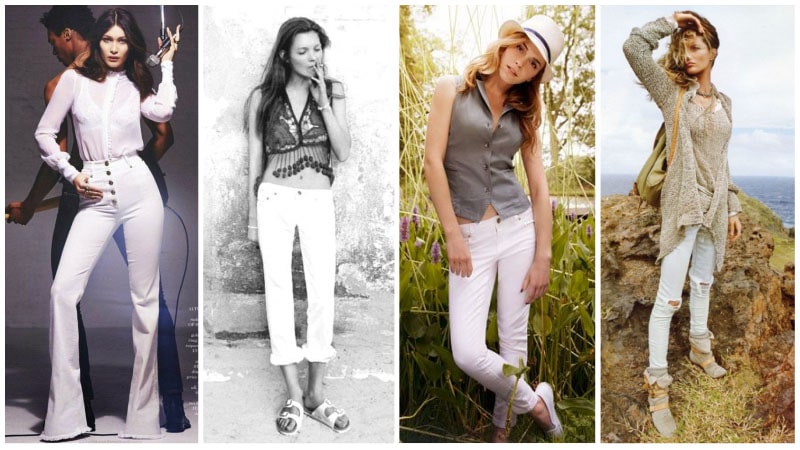 SHOP THE LOOK
Ripped Jeans
Need a Sunday outfit that's as chilled as you feel? Look no further than a pair of ripped jeans. This cool and casual denim style is the perfect option for relaxed weekend looks. To wear these jeans in a way that appears more chic and feminine than edgy and eye-catching, choose a pair that is blue with minimal rips. Then, look to your favourite stars, such as Rachel Bilson, for inspiration. A feminine flowing tank top, comfortable grey sweater, and brown suede boots will instantly create a fashionable ensemble.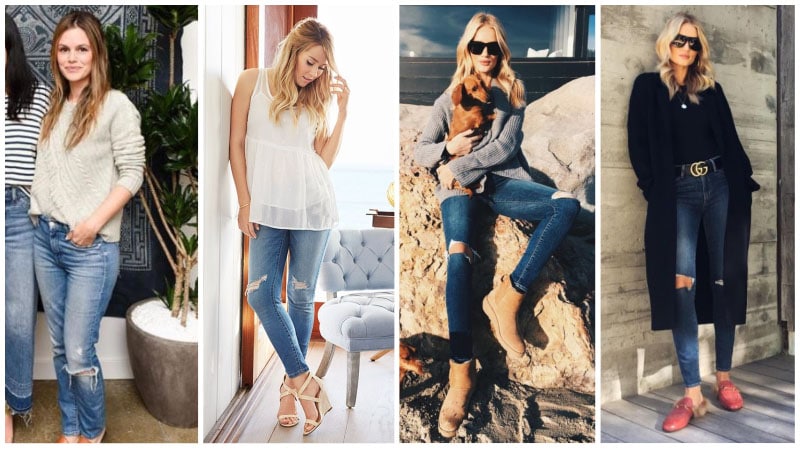 SHOP THE LOOK
SUBSCRIBE TO OUR NEWSLETTER
Subscribe to our mailing list and get interesting stuff and updates to your email inbox.