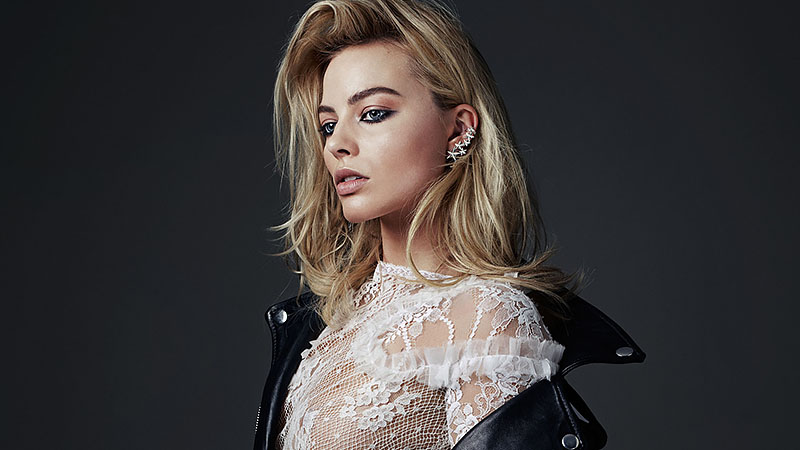 Margot Robbie has come a long way since her days playing Donna Freedman on Australian soap opera, Neighbours. She's moved to Hollywood, transitioned to the big screen and made a name for herself as a talented actress starring in films such as The Wolf of Wall Street, Focus, The Legend of Tarzan and Suicide Squad. Just as her career has evolved to become perpetually more impressive, so too has her style. Despite being a natural beauty who could look good in almost anything, Margot has worked to define her sense of style into a perfect representation of her personality. Equal parts chic, sophisticated, relaxed and feminine, Margot's unique look can certainly teach us all a thing or two about balanced fashion.
Margot Robbie Red Carpet Style
Perfectly polished yet totally approachable, Margot's red carpet style is not an easy one to pull off. The actress chooses classic designs that are glamorous and chic yet simultaneously comfortable and relaxed to create her look. Not one for vibrant hues, Margot prefers traditional colours, such as white and black, and the odd jewel tone. When it comes to silhouettes and shapes, she opts for classically feminine designs that are fitted at the bust and waist, and that glide smoothly over thighs. Then, to complete her red carpet look, she adds the wow factor in the form of cut-outs, striking designs and unique fabrics.
Backless Dresses
Margot's classic style calls for elegant and sophisticated gowns, meaning that daring, over-the-top, dresses are out. Instead, Margot keeps her red carpet looks modern and fashion-forward with standout design details. One of her favourite ways to do this is to choose a backless dress. Utterly sophisticated at the front and unexpectedly sexy at the back, these gowns are perfect for creating a look that'll let you stand out while staying appropriate. Just make sure to pick the right undergarments when getting dressed. One stray strap is all it takes to ruin this gorgeous look.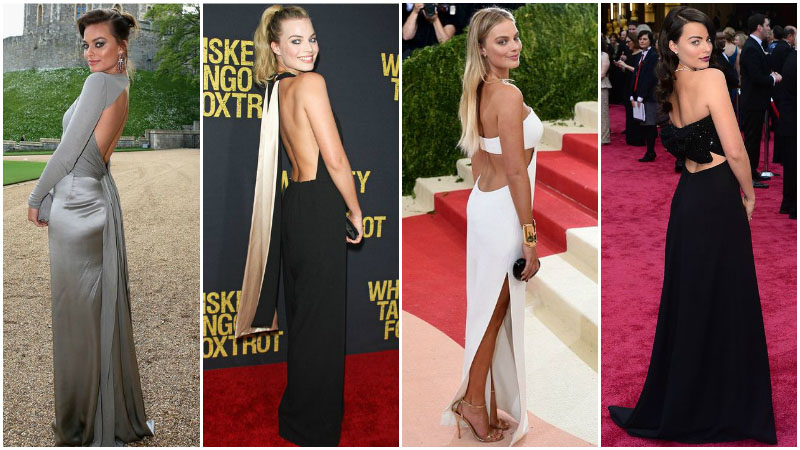 SHOP THE LOOK
Monochrome
Margot Robbie is a huge fan of wearing black and white. While she looks incredible in either of the shades, we particularly love when she wears them together in a striking monochrome look. Classic and simple yet bold and eye-catching, Margot's monochromatic outfits make the perfect red carpet statement. Her trick to making this look chic and polished is to avoid busy patterns or designs and keeping it simple and straightforward. Try a monochromatic look at your next black tie function to inject a bit of Margot Robbie elegance into your night.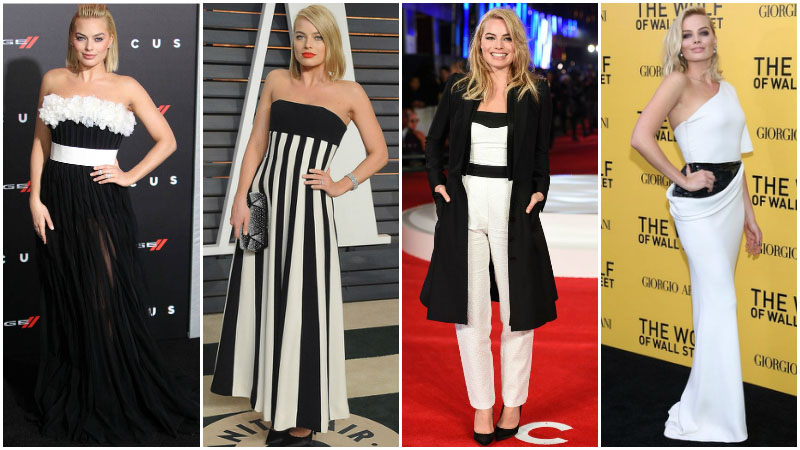 SHOP THE LOOK
Sequins
Red carpet events call for glamour, and nothing says glamour better than sequins. When she's in need of some extra wow factor, Margot turns straight to the sparkle of sequins for help. Whether she's wearing her much-loved, black, or branching out into glittering golds and jewelled jades, Margot dazzles in sequins. Strictly reserved for evening events only, sequins are a great, statement-making style option. Choose a sequined dress in a classic silhouette for your next special event and keep accessories minimal. Then, sip on champagne all night long as you continue to feel like the most glamorous woman in the room.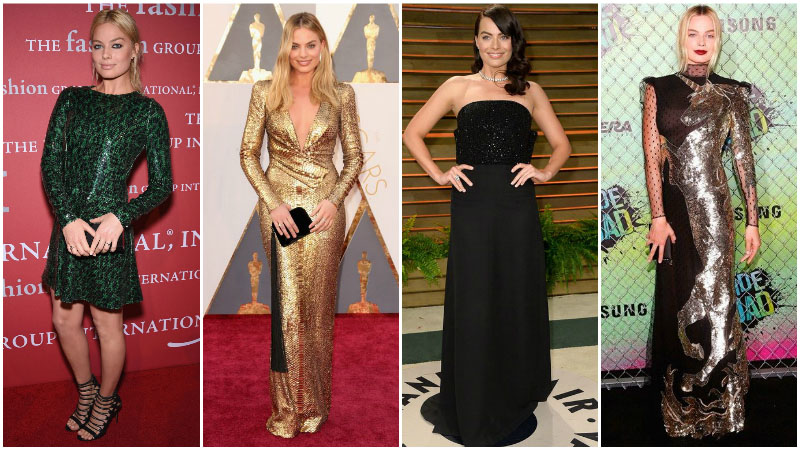 SHOP THE LOOK
Lace
Margot's red carpet style is distinctively feminine. She may not wear a lot of pink or ruffles, but the 26-year-old undoubtedly enjoys feminine silhouettes and fabrics. Lace is a fabric that her well-developed style embraces. Delicate, lovely and quite ladylike, white lace is Margot's go-to look when she wants a beautiful and soft style. Black lace, on the other hand, is Margot's choice for looks that are sexy and daring. Follow Margot's rule and wear white lace with sweet styles and flowing designs, while keeping black lace reserved for structured dresses and sophisticated jumpsuits.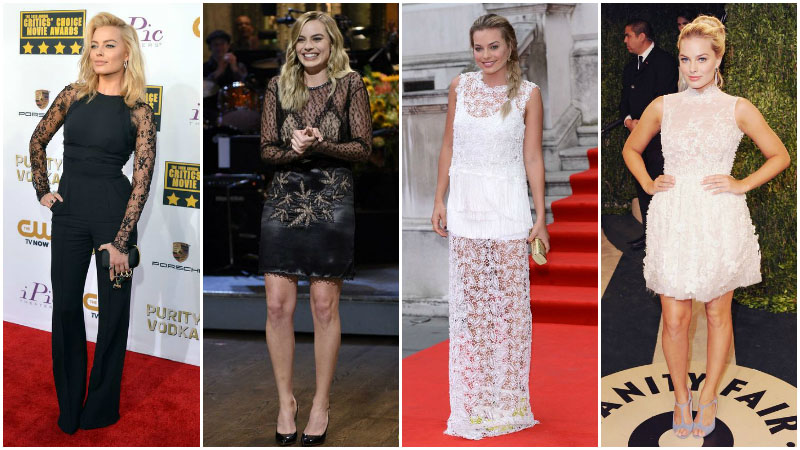 SHOP THE LOOK
Margot Robbie Street Style
Like her red carpet style, Margot's street style is also feminine and sophisticated, though naturally more relaxed. Whether she's wearing a dress with heels or jeans with sneakers, Margot looks polished and stylish every day. Keeping to her signature style, the actress loves to wear minimal, colour palettes and feminine designs when hitting the streets. Unlike her classic red carpet look, however, Margot is more open to embracing trends in her regular, day-to-day dressing.
Off-the-Shoulder Sleeves
One significant trend from 2016 that Margot's invested in is off-the-shoulder (or cold shoulder) sleeves. Found on dresses, tops, bodysuits, and even some jumpers, off-the-shoulder sleeves are currently incredibly popular amongst the style set. Margot, like a true fashionista, has embraced the trend, wearing the look regularly. Not only are off-the-shoulder sleeves currently trending, but they also work well with Margot's overall style due to their feminine design and sophisticated yet sexy appeal.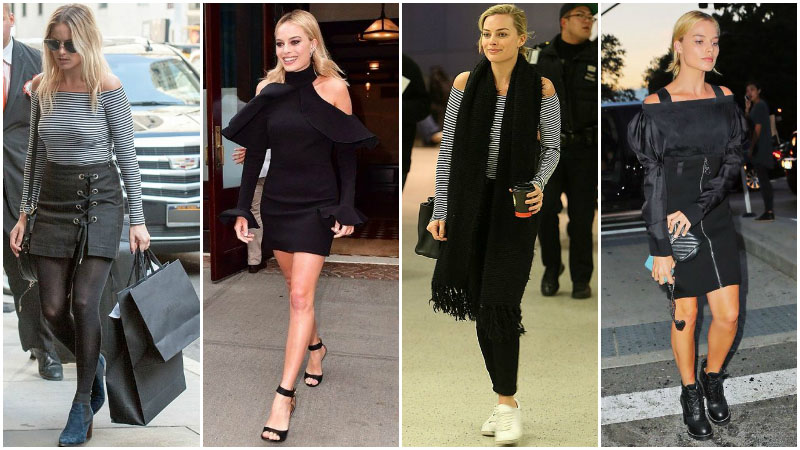 SHOP THE LOOK
Monochrome
Margot Robbie knows her style, and she's sticking to it. Just like she's a fan of monochromatic designs for the red carpet, she's also a fan of black and white designs for the streets While her evening monochromatic style features bold, graphic designs with large blocks of colour, her daytime monochromatic look is different. To emulate this Margot Robbie look, choose black and white patterned and block colour pieces to mix and match. Also feel free to embrace different shades of black and white such as grey, off-white and cream, to soften the look.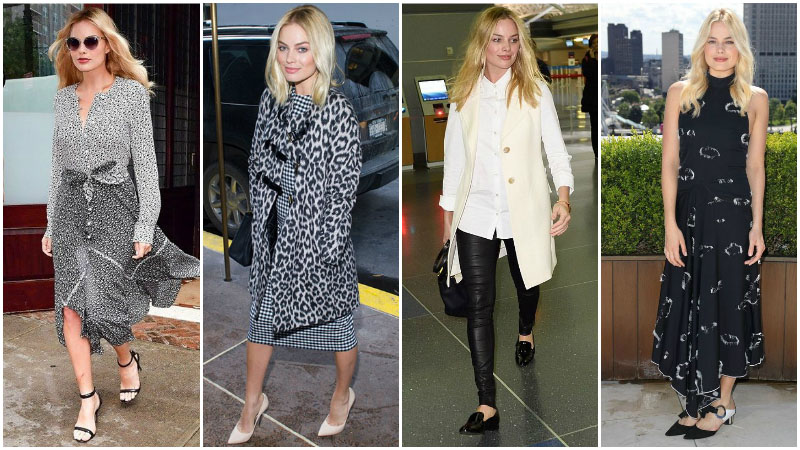 SHOP THE LOOK
Little Red Bags
While Margot clearly loves to wear neutral outfits in black and white, she's able to recognise when a look calls for a splash of colour. Although she could wear shoes in a bold hue or add a vibrant statement necklace, Margot chooses to use her handbag to add the dose of colour her outfit needs. A little red bag is her precise choice, and it looks great against her monochromatic look. Bold, yet classic and feminine, the addition of a simple red bag is the perfect finishing touch to Margot's street style.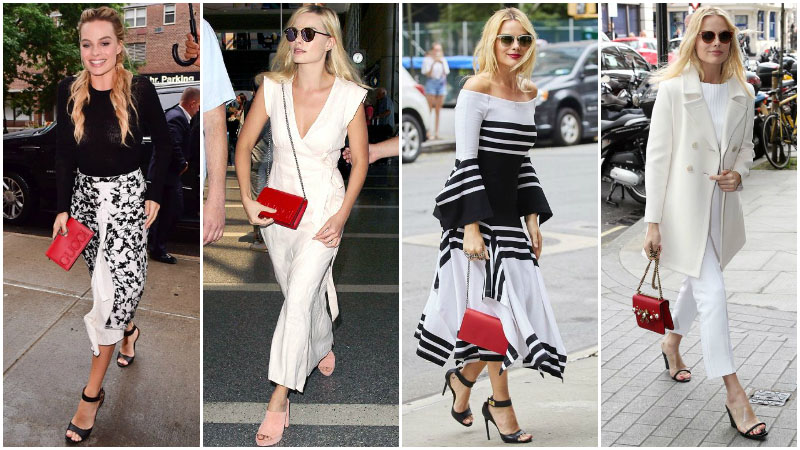 SHOP THE LOOK
Bohemian Touches
Margot's relaxed and feminine style also includes the addition of bohemian touches, be it a patterned maxi skirt, flowing kimono, collarless blouse or casual jumpsuit. Perfect for reinforcing Margot's Aussie beach babe looks, these simple boho touches are a great addition to her wardrobe. Although the styles aren't quite as polished as many of her other looks, these laidback pieces are perfect for when Margot needs a casual and comfortable outfit that also looks chic.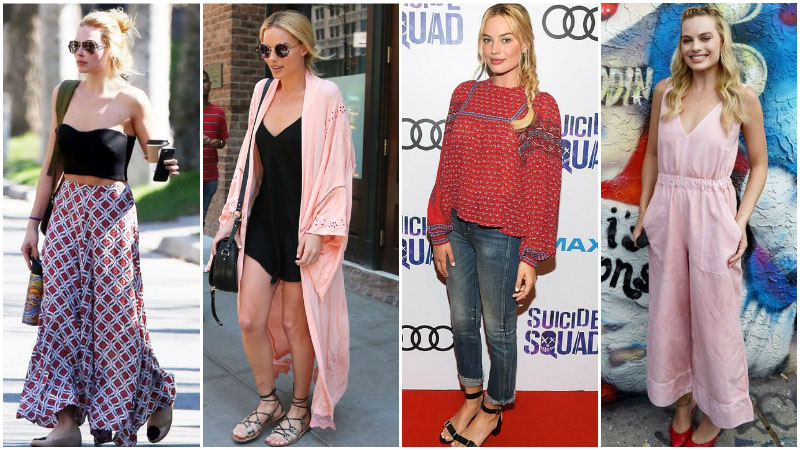 SHOP THE LOOK
Cuffed Jeans and White Sneakers
Everyone needs a go-to, lazy girl outfit, particularly if you're catching planes as much as Margot Robbie. For most of us, that outfit consists of jeans and a comfy top, and for Margot, it's no different. While you may be choosing to wear jeans because of their comfort and practicality, you can still look stylish with a couple of easy outfit tweaks. If you're not sure how to do so, let Margot be your guide. Simply add a pair of fresh white sneakers and roll up the bottom of your jeans, and you'll look instantly cooler.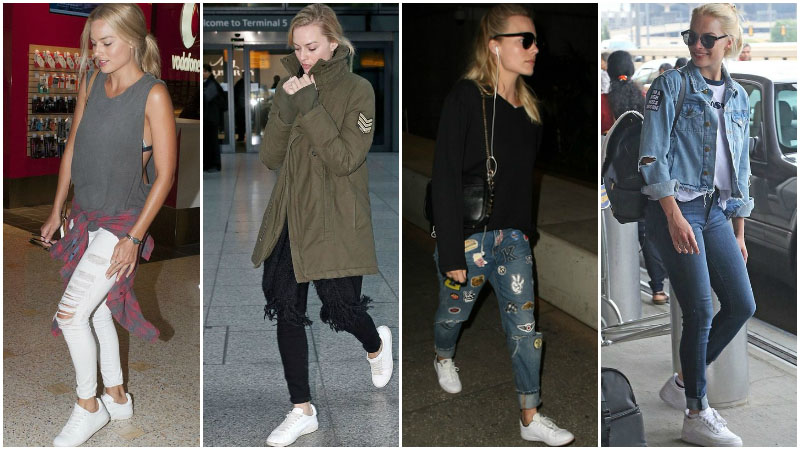 SHOP THE LOOK
Margot Robbie Hair
Now that you know how to nail Margot's signature style secrets, complete your look by trying out her signature hairstyle. Bonus points if you're also blonde!
Blonde Beach Waves
Despite trying different hair colours and styles, Margot always comes back to her signature blonde beach waves. Relaxed yet chic, (just like her fashion sense) this hairstyle completes Margot's style perfectly. To recreate her wavy locks apply sea salt spray or texturizing lotion to damp, towel-dried hair. Then, blow dry until hair it mostly dry, scrunching with hands as you go. Twist hair into a loose braid before leaving to air dry completely. Finish by defining waves with a curling wand if needed.
SHOP THE LOOK
SUBSCRIBE TO OUR NEWSLETTER
Subscribe to our mailing list and get interesting stuff and updates to your email inbox.