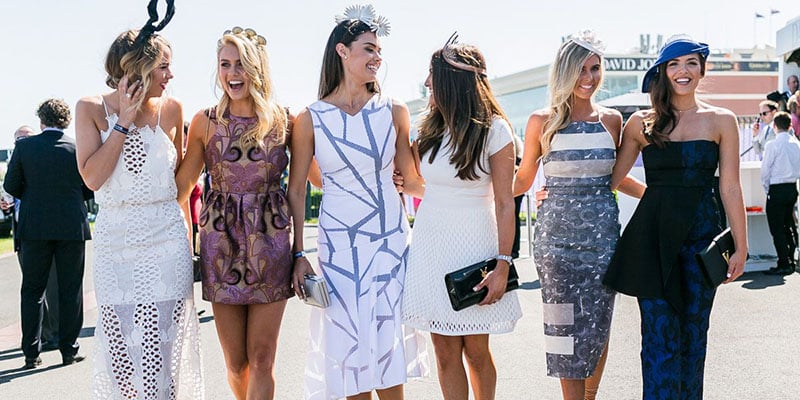 If you've found yourself whiling away the winter months and realising that Spring Racing Carnival season is knocking on the door leaving you completely unprepared, we have you covered with this simple how-to guide to picking the perfect Spring Racing Carnival outfit.
Know The Rules
Some say the rules of fashion are that there are no rules. However, picking the perfect Spring Racing Carnival dress means that you should wear an appropriate outfit for the event you are attending. The beauty of Spring Racing Carnival is that the fashion on the field is steeped in tradition and is a ritual that should definitely be experienced by any fashion lover.
Traditionally Derby Day is a black and white affair so if you are Ms Monochrome then this is the day for you. Oaks Day is all about the ladies so use this day as a chance to celebrate femininity and allow yourself to explore pretty pastels and soft feminine touches like lace and frills. If the Melbourne Cup is a race that stops the nation then why not have an outfit that does the same? Take the opportunity to make a statement with your fashion choice but remember race day etiquette. Your hemline generally should be slightly above or below the knee and no crop tops should be worn for all racing events.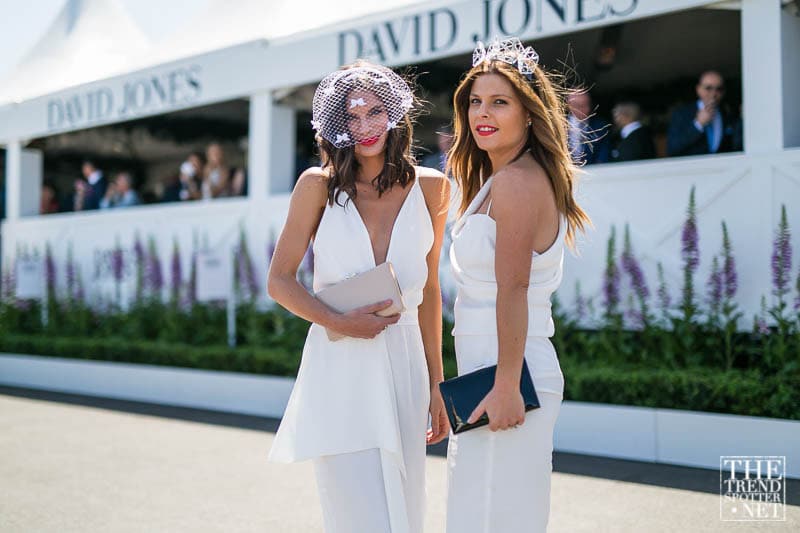 Check The Weather
Although it's warming up, spring weather can be predictably unpredictable so there's a good chance that it might rain. Make sure you choose a dress that is appropriate for the weather. There's no wet t-shirt competition, so if there's a chance of rain then steer clear of the white chiffon. Tailored fabrics work well and transcend season so if in doubt, play it safe. Don't forget to bring a matching jacket like a cropped bolero or a cape.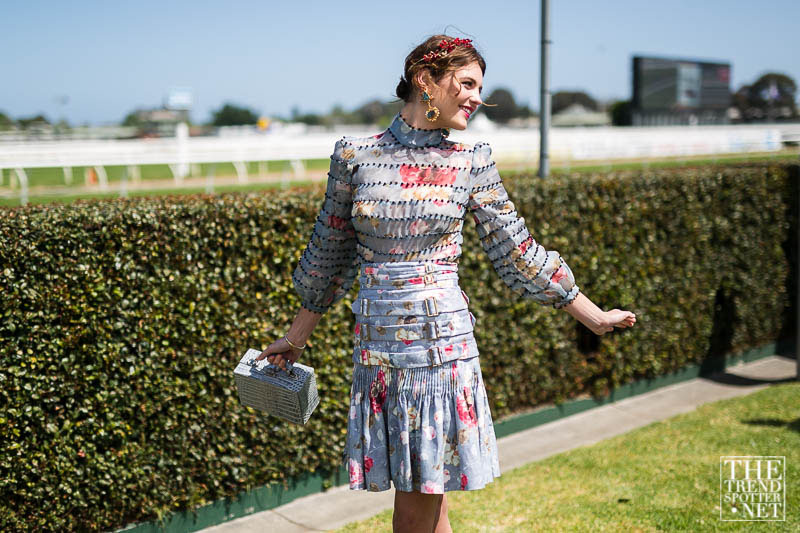 What's Your Style?
Once you've decided on the event, work out what statement you want to make and choose your dress accordingly. When the stakes are high, always bet on what you know and who knows you better than yourself? Your choice of dress style is a representation of who you are. Remember that the races are a chance to be glamorous and an opportunity to take part in the "Sport of Kings" so try to embody the essence of Spring Racing Carnival by capturing your inner princess.
If you are normally a jeans and a t-shirt girl or prefer pants and a shirt, then opt for a dress in a light cotton blend. A mid length dress with an A-line skirt is ideal as it is easy to wear which adds to your comfort factor and provides a sophisticated and simple silhouette. If you prefer studs and leather (depending on your body shape) try a bodycon dress that sits on the knee. It's sexy and daring but by lowering the hemline, you maintain elegance and ensure you uphold race day etiquette. And if vintage tea parties are normally your "thing" then rejoice because you get to play dress up for the day. Extend upon your natural style and add a touch of drama by exploring lace or floral patterns.
Body Shape
Ensure you choose a dress shape that flatters your body shape. Use the below guide to help decide what style is best for you.

Apple Body Shape
Characteristics: Rounder tummy and hips.
The idea is to take focus away from the stomach area or to disguise it as best you can. Create visual balance by embellishing above the bust line and below the hip line. Keep the hemline below the knee and ensure the skirt is not gathered or tiered but rather drops straight down.  A structured pencil skirt can work well but make sure they stop below the knee. And if you are taking a jacket, make sure it extends past your waistline.
Get The Look
Pear Body Shape
Characteristics: Bottom half larger than the top half. 
Draw attention to your waist by adding a thin belt and highlight your top half by adding some sparkle to the neckline. An embellished necklace and v-neck will add balance. Soft flowing fabrics work best as they gently caress your curves rather than accentuate the areas you'd like to conceal and try to ensure your hemline continues past the knee.
Get The Look
Inverted Triangle Body Shape
Characteristics: Wider shoulders and narrow waist.
Strapless A-line dresses will help create the illusion of a wider bottom half. Pair it with a printed fabric skirt that will assist in drawing attention away from the top half of the body. Keep the top half plain and avoid anything that has a halter-neck top and fits too snug around your hips.
Get The Look
Hourglass Body Shape
Characteristics: Well defined waistline, fuller hips and bust.
If you're lucky enough to have an hourglass figure than embrace the curves and wear a well-fitted dress that emphasises your proportions. Draw the attention to the centre of your outfit by lowering your neckline and avoid pleats or highwaisted pants as this adds volume in areas you are seeking to disguise. Look for bodycon dresses or choose a classic 50's inspired look.
Get The Look
Rectangle Body Shape
Characteristics: Shoulders and waist similarly proportioned.
The idea is to create subtle curves and much like the pear, increase definition to the waist area. This can be done through the use of unstructured jackets that gently shape the waist or by keeping your silhouette uncluttered. 3/4 length sleeves and a halter neck works well for this body shape. A tucked in blouse or shift dress gathered at the waist will also give you the illusion of a defined waistline.
Get The Look
Millinery
Historically, race days were a chance for the upper class to display their wealth through couture and fashion. Both men and ladies wore hats to showcase their position in society and it allowed them to explore their individual style.
If you are a traditionalist then look at hats that compliment your outfit. A simple yet elegant hat will work well with a dress in bold colours and patterns. If hats are not your thing, than opt for the minimal or a statement headpiece. Alternatively, make your millinerry the focus of your outfit and be creative with something a little different. Play with styles and material. Think Elie Saab, Valentino, Zuhair Murad and Schiaparelli's Couture 2015 shows and try a tiara or combine a metal headband with a Grecian style gown.
Get The Look
SUBSCRIBE TO OUR NEWSLETTER
Subscribe to our mailing list and get interesting stuff and updates to your email inbox.