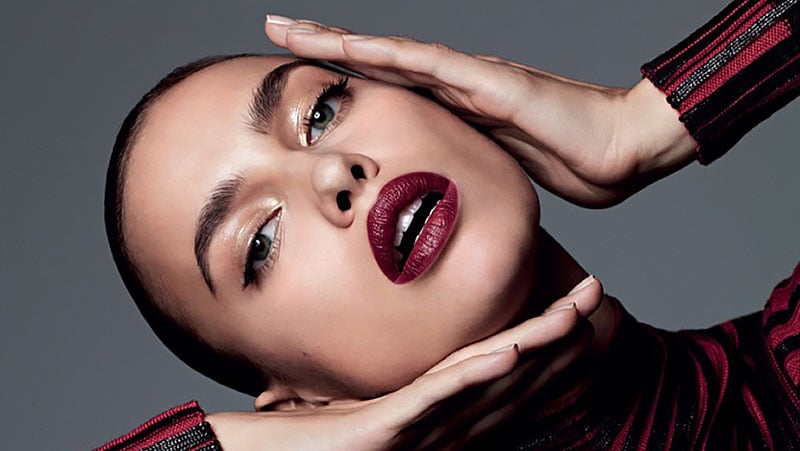 Everything old is new again. '90s clothing has made a full-fledged return to our wardrobes and now the classic '90s makeup trends are vying for another run at our cosmetics bags. The color extravaganza of blue eye shadow, burgundy lipstick, and the unforgettable glitter have all crept back into beauty looks from the runway to the street. Toned down and injected with added sophistication, these makeup trends are modernized to fit right into this new era. Banishing the minimal, barely-there makeup trends of previous seasons, this '90s revival puts the fun back into creating a whole look. Beauty has become bold once again and is ready to make people sit up and notice. Grunge eyeliner returns with an attitude-filled update to the smokey eye while even the humble French manicure sees a return to power in a new way. Embrace the '90s and be daring with your makeup once again.
90's Blue Eyeshadow
The frosted blue eyeshadow which was worn by everyone in the '90s maybe a trend that you would rather forget. Looking back at old photos it does indeed seem to be one better left in the past, doesn't it? Well maybe not. With the right update, the beauty industry has flawlessly brought back this once cringe-worthy trend. The modern take leaves some of the ice in the past and instead opts for richer hues of the color, particularly in jewel tones. Bright cyan, sparkled navy, and cerulean have all appeared on recent runways, creating intense and unforgettable eyes. More precisely applied to the eyelids, the blue eyeshadow update avoids that raw '90s feel and turns it into a polished 2016 look. Spotted on the Spring runways of Marc Jacobs, 3.1 Phillip Lim, Boss, and more, blue eyeshadow has caught everyone's attention. A few designer labels have already even given a twist to the trend with bold, blue lashes.
TOP PICKS
90's Glitter
Remember that explosion of glitter on the '90s makeup scene? It's hard to forget the sparkle and shine that covered everything from eyelids and lips to hair and nails. And what about that incredibly fun product that was body glitter? Well if you've been missing this lighter more playful side of makeup then you're in luck because glitter is back. This trend returns in 2016, concentrated mainly on the eyelids of models. Given a new make-under, glitter is now more sophisticated than ever. Gently applied with a careful hand, glitter creates a sprinkling of shimmer to make eyes pop. Paired with minimal makeup, these models look like they may have accidentally fallen face-first into the craft box but have emerged fabulous nonetheless. Try this trend for yourself on a night out with the girls.
TOP PICKS
90's Burgundy Lipstick
Look back on any photos from the '90s and you're bound to spot someone sporting a burgundy lipstick. The dark berry hue with a slight tint of brown was without a doubt the most popular lip color of the decade. It was worn by countless '90s celebrities and dramatically finished off many otherwise completely natural looks. Today, burgundy lips are back. The rich hue can be spotted on runways and red carpets alike in 2016. The updated version appears with either a gloss finish, such as at Dior or a stain finish, like at Armani, rather than the traditional '90s matte look. It is also worn with a more glamorous look than a natural one. Perfect for adding a vampish touch to your wardrobe, this color is made for colder weather. We recommend teaming this trend with flawless foundation, light brown shadow, and lashings of black mascara, for a sultry and modern take on this classic.
TOP PICKS
90's French Manicure
The quintessential '90s manicure had to be the French tip. With a nude or pale pink base and a crescent of white on the ends, this trend simply enhanced the natural look of your nails. Playing on the minimalist styling of the '90s, it was simple yet sophisticated. But what was once simple and sophisticated now feels out of date and old-fashioned. Today the French manicure is back, but not as you knew it. Today's update turns this trend on its head. With lighter base colors and darker colors on the crescent, the new French tip has been reversed to up its style cred. Not so natural looking anymore, this update turns a classic into something creative. Whether it's green tips at Monique Lhuillier or black at Carmen Marc Valvo and Francesca Liberatore, the French manicure is bolder and more colorful than ever.
TOP PICKS
90's Grunge Eyeliner
It's time to get your kohl pencil and smudge brush out because grunge eyeliner is back. The heavy-handed trend has made its way from the '90s to 2016 and brought with it a whole lot of attitude. Messy, thick, and carrying that slept-in look, the modern grunge eyeliner is like the smokey eye's rebellious sibling. Whether you prefer a complete raccoon look, such as Marc Jacobs, or something a little more subtle, like Elie Saab, this trend is so easy to create. Completely line both eyes with a kohl pencil, including waterlines. Then use your pencil to draw a diagonal hash symbol above each eye. Use your smudging brush to completely blend the liner, flicking it up and out to create the wing, and making sure to get both under the eye and in the corner. Add black eyeshadow over the top to fill any gaps and add further staying power. Finish off with two coats of black mascara. You could even add some glitter, such as was shown at the Chanel Metiers d'Art show, to double down on your '90s trends.
TOP PICKS
FAQs
What was makeup like in the 90s?
There are many great makeup looks from the 90s that we still want to recreate today and others that we would rather forget. Grunge eyeliner on the bottom and upper lash lines were popular, creating a messy yet edgy look. Other popular trends were burgundy lipstick, frosted blue eyeshadow, and glitter everywhere. Glitter was a big trend for both hair and nails as well as eyelids and lips.
What color lipstick did they wear in the 90s?
Burgundy was the lipstick color of choice in the 90s. The rich berry hue can create a very dramatic effect, especially when worn by lighter skin tones. Dark lip shades were popular and were an effortless way to make a statement.
How do you do 90s lips?
The 90s was all about dark lip colors, including burgundy and browns. Another popular trend was the heavy use of lip liner, which overlined the lips using brown or dark red liner. The look was completed with a gloss.
Is 90's makeup still in style?
Some of the makeup styles from the 90s remain popular today and have reemerged on the runways. Among the easiest beauty trends to replicate now include the defined black liner, dark lips, including burgundy and brown shades, and a blue eyeshadow palette. The 90s were all about bold looks, and if that's what you're interested in, feel free to copy as many as you want as many of these trends have been modernized to suit the current times.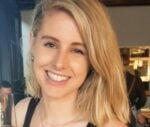 Taylah Brewer holds a bachelor's degree in fashion and business and is a skilled writer with several years of experience in the world of online content creation and copywriting. She is passionate about fashion, beauty, and all things lifestyle-related and has been writing for The Trend Spotter since 2016. She currently works as the Head of Digital & Ecommerce at White & Co.
SUBSCRIBE TO OUR NEWSLETTER
Subscribe to our mailing list and get interesting stuff and updates to your email inbox.