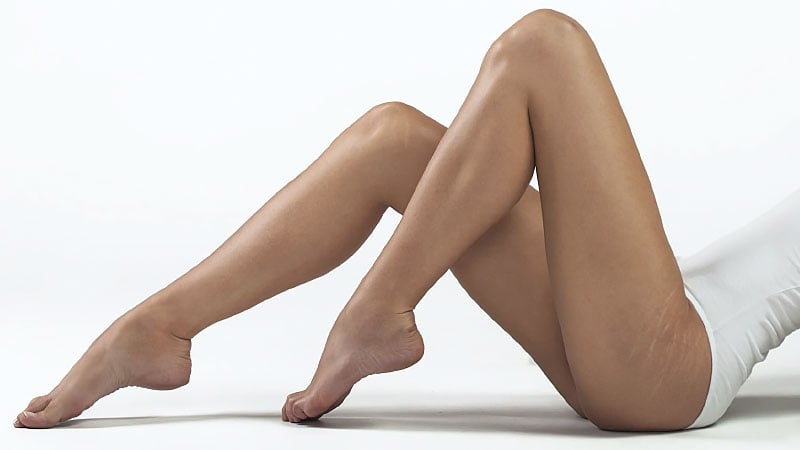 While stretch marks are a perfectly natural part of life, they can leave you feeling self-conscious. This is especially true because they often occur during rapid changes in your body, such as puberty, weight gain, or pregnancy, which can already have you feeling out of sorts. Most of the time, stretch marks are here to stay, but some natural remedies can help fade them faster and lessen their appearance. If they continue to bother you and affect your self-esteem, you can also take professional measures. Read on to find out the best tips and tricks to fade and get rid of stretch marks.
What Causes Stretch Marks?
Stretch marks, or striae, occur when your skin changes rapidly, such as with weight gain, puberty, or pregnancy. They show up in the form of long, rippled lines on the skin that are generally dark pink or purple in color when they first occur. Over time, they fade to almost translucent. Both men and women can get stretch marks, and the most common places they'll appear are the hips, butt, thighs, stomach, and breasts. Men who lift weights can also get them around the shoulders and chest. Stretch marks are not an indication of poor health; they are a natural part of life and can occur in anyone, no matter their size or shape. Unfortunately, it is challenging to get rid of them completely, but you can do things to help them fade faster and minimize their appearance.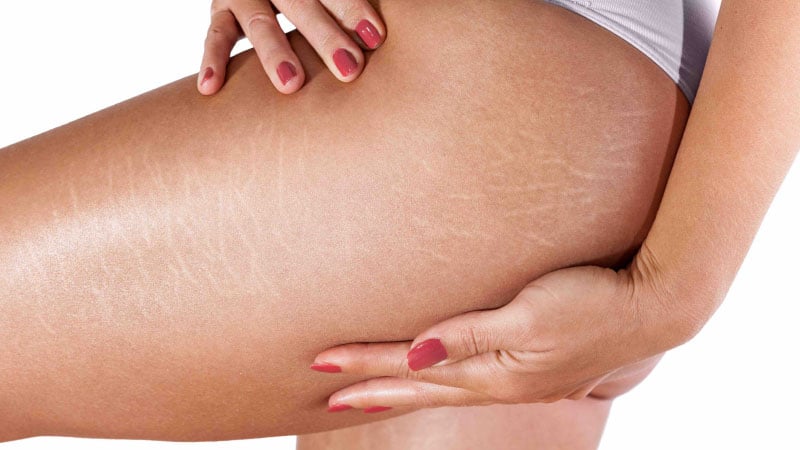 How to Get Rid of Stretch Marks
Vitamin A
Vitamin A, or retinoids, is a blessing when it comes to anti-aging because it increases the body's production of collagen, improving hydration and elasticity. It can also have a positive effect on stretch marks. A 1996 study published in JAMA Dermatology showed that topical tretinoin, or retinoic acid, reduced the appearance of new stretch marks. As such, the daily application of a topical vitamin A cream can have a brilliant effect. Just be cautious when first incorporating it into your routine, as retinoids are very potent and can be irritating to sensitive skin. Alternatively, taking a supplement or increasing your consumption of vitamin A-rich foods, such as liver, sweet potato, and carrot, can improve your skin's condition from within.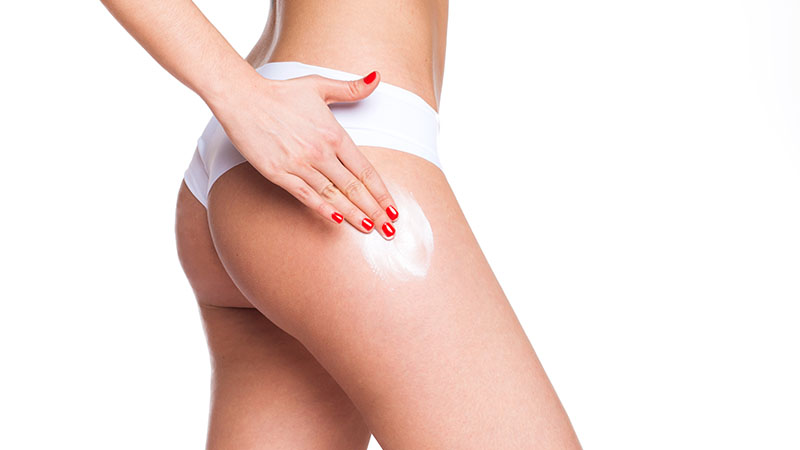 Hyaluronic Acid
Hyaluronic acid occurs naturally in the body and is brilliant for hydration in the skin and cell regeneration. It draws moisture into the epidermis, locking it in place, which helps plump up the texture. It can also stimulate collagen production, which is the protein that enables the skin to keep its shape and look radiant. Plus, it aids in wound healing, speeding up the process. Adding extra to your diet or skincare routine can help get rid of stretch marks by reducing their appearance. You can get hyaluronic acid as both a supplement or a topical treatment. If you choose to use a topical serum or lotion, apply it twice daily, followed by a quality moisturizer.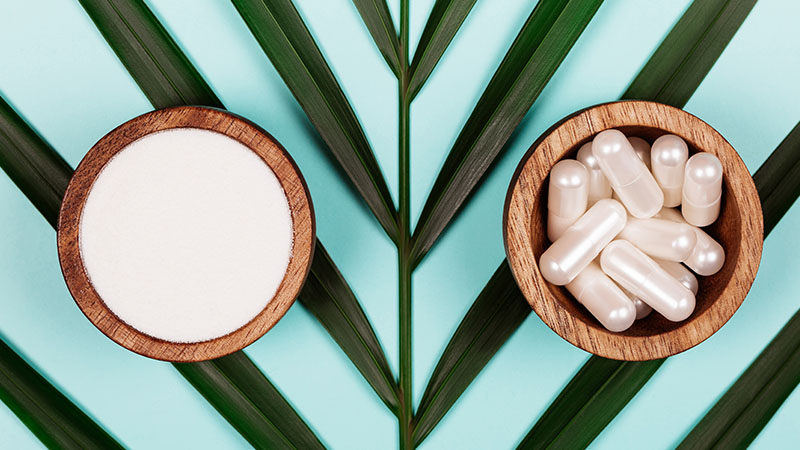 Sugar
An at-home sugar scrub is an excellent DIY method for exfoliating and renewing overall skin tone. Mix one cup of sugar, a quarter cup of oil such as coconut or almond, and the juice of half a lemon. You want the consistency to be like wet sand. Then, two or three times a week, massage the scrub into the stretch mark affected areas for five to ten minutes and rinse off. The oil acts as a softener and moisturizer, while the sugar sloughs away dead skin cells, and the zesty lemon smells refreshing and can help lighten the dark lines. Once you're dry, finish with a nourishing moisturizer that contains vitamin E and hyaluronic acid. Of course, you can also use this indulgent scrub all over the rest of your body for a fresh, invigorated feeling everywhere!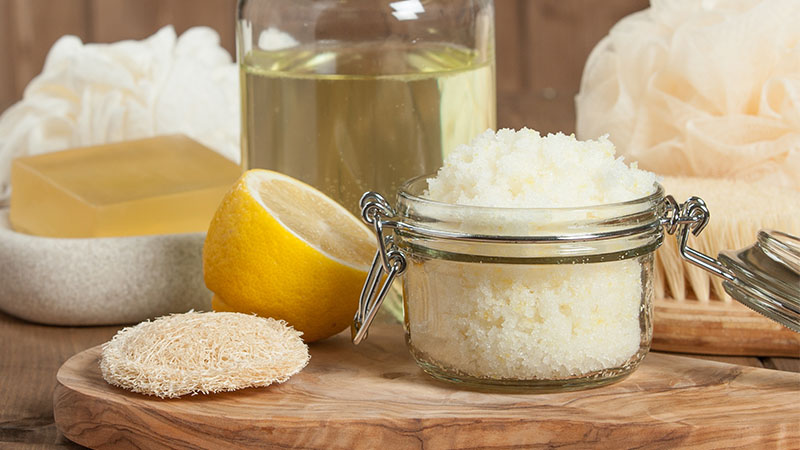 Coconut Oil
Coconut oil is another great home-remedy option to get rid of stretch marks. Choose pure, virgin coconut oil, not a refined one, and rub it into your stomach, thighs, breasts, or hips — wherever you have stretch marks. Do this daily for at least 12 weeks. The coconut oil will not only hydrate your skin; it's also been shown to improve wound healing. It also works well as a preventative measure, so if you're expecting, going through puberty, or are weight training, then doing this daily can also help prevent the scarring from occurring in the first place.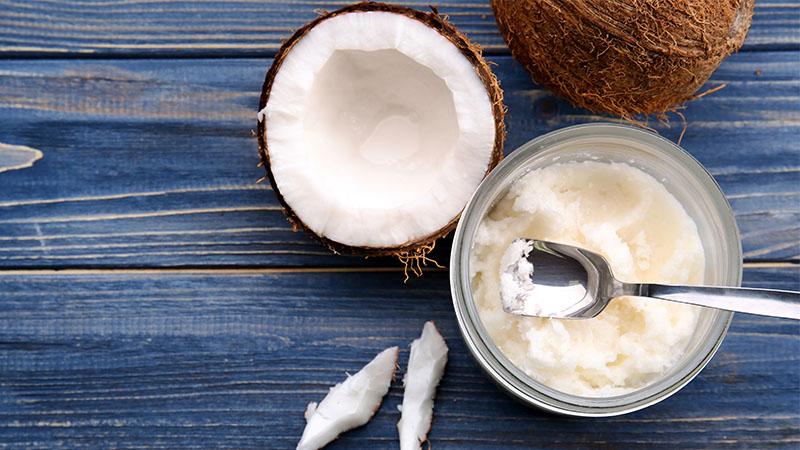 Aloe Vera
Everybody knows that aloe vera has some pretty serious healing properties. It's also great for adding hydration and moisture to your skin. To get rid of stretch marks, the best results will come from using fresh aloe vera, extracting its gooey interior, rubbing it over the area, and letting it dry. However, if you're not good at keeping plants alive or want a slightly less messy option, you can use an aloe vera gel from a beauty store or pharmacy. Just make sure to check that it's pure aloe vera and doesn't have water or alcohol as the main ingredient.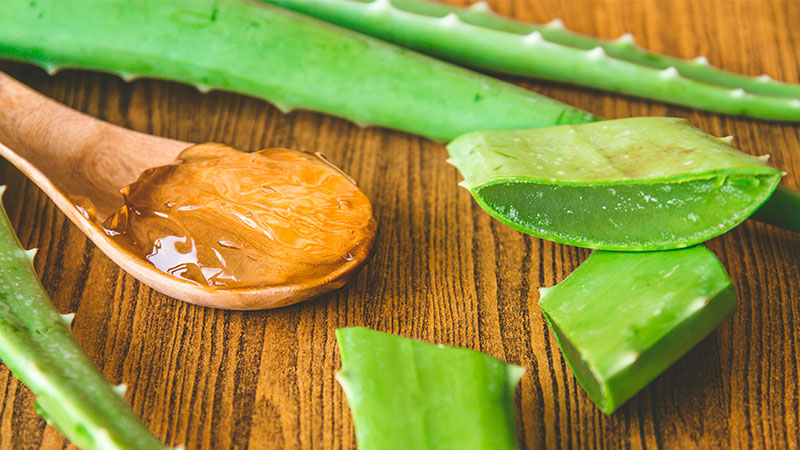 Lemon Juice
The citric acid found in lemons can help lighten the redness of fresh stretch marks, so it's not as noticeable. You can either soak a cotton pad in fresh lemon juice and rub it over the area or simply rub a fresh cut lemon onto your skin. Let it dry for about ten minutes before rinsing off. Alternatively, add some lemon juice to a sugar scrub for a two-in-one benefit.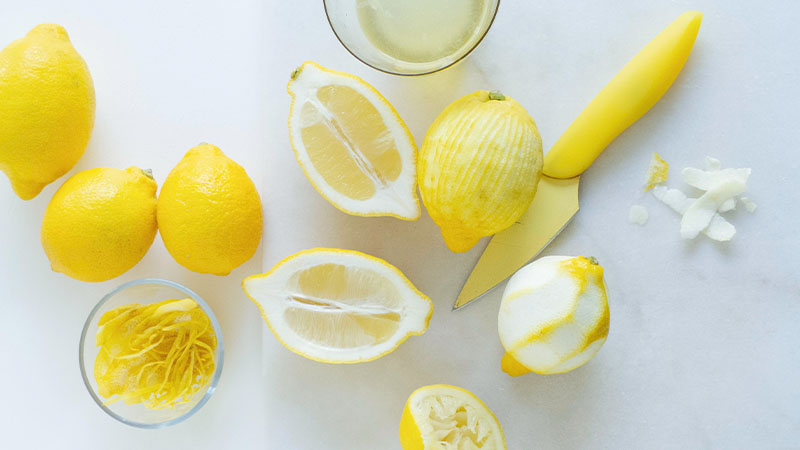 Egg Whites
Making a mask out of egg whites may seem like an odd option, but it can help tighten stretch marks. Egg whites are full of amino acids and protein, as well as collagen, which can improve the elasticity and firmness of the skin. All you need to do is separate two eggs and lightly whisk the whites until fluffy. Then, use either a clean makeup brush to apply it to the skin or massage it in with your hands. Massaging will have the added benefit of boosting blood circulation in the area, which can promote healing. Let it dry, then rinse off with warm water and moisturize well.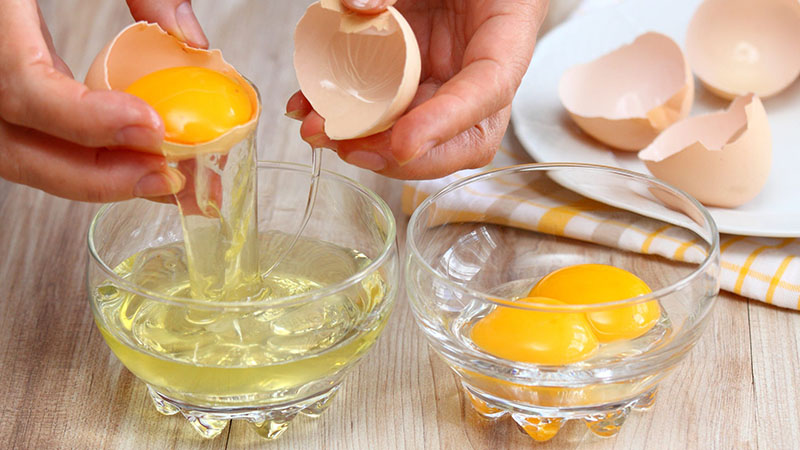 Eat the Right Foods
External health and beauty start on the inside. Eating the right foods can help prevent stretch marks and reduce the appearance of new and existing ones. Choosing a diet that is high in vitamin A, C, and E, as well as zinc and silica, is the best option. These nutrients can help build collagen, which is what gives skin its elasticity. Include lean protein such as salmon, beans, chicken, and lentils, as well as green cruciferous vegetables, carrot, garlic, beets, and bell peppers. When it comes to fruit, berries are packed full of vitamins and antioxidants, as is citrus such as lemons, oranges, and grapefruits. Next, increase your water consumption, so you're hydrated from within. Finally, reduce your sugar consumption, as it can damage collagen proteins and affect the production of more, which will make getting rid of stretch marks harder and can even age you.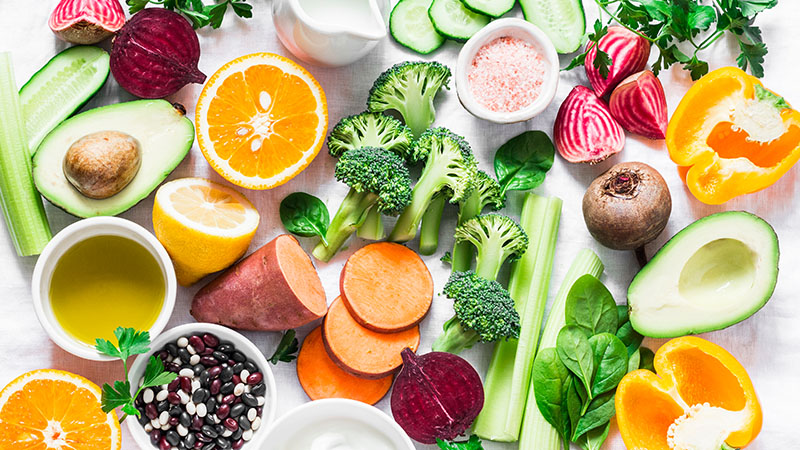 Exercise
Get the blood pumping and heart rate up with exercises that can also help get rid of stretch marks. Any kind of movement that gets the blood circulating is excellent for moving antioxidants around the body and stimulating collagen growth. Strength training moves can also help tone up areas where you have stretch marks with can make them less noticeable. Try plank twists, hip circles on all fours, and single-leg glute bridges. Alternatively, yoga, swimming, and walking are also excellent, gentle cardio options. Of course, if your stretch marks are weight-related, regular exercise can also help you maintain a healthy size.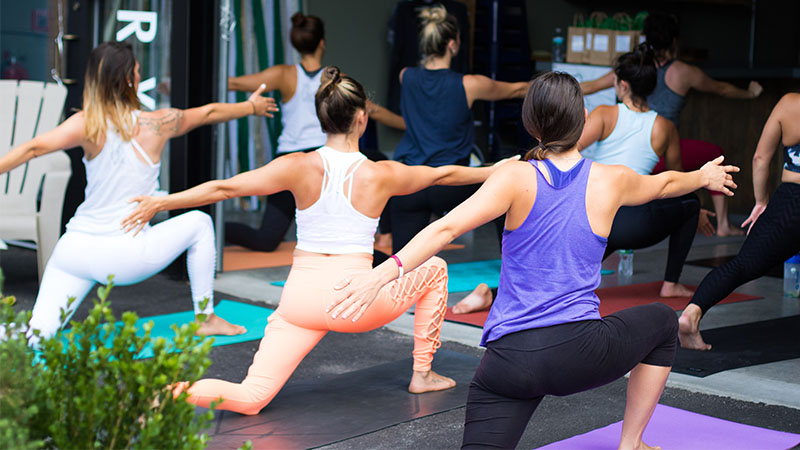 Professional Procedures
If natural remedies aren't helping you get rid of stretch marks, there are professional procedures available. Many of these can be more invasive and expensive than at-home options; however, they can be a great choice if your stretch marks are drastically affecting your self-esteem and body image. Microdermabrasion is one of the most common treatments and is an exfoliating technique often used on the face. Different types of laser therapy can also reduce the appearance of red stretch marks and smooth out faded ones. Alternatively, skin needling uses fine needles to penetrate the epidermis, thereby stimulating blood flow and collagen production to heal. Doing this can reverse scarring and smooth out stretch marks. Finally, more intense surgical procedures such as tummy tucks are also an option; however, they can be expensive and quite painful.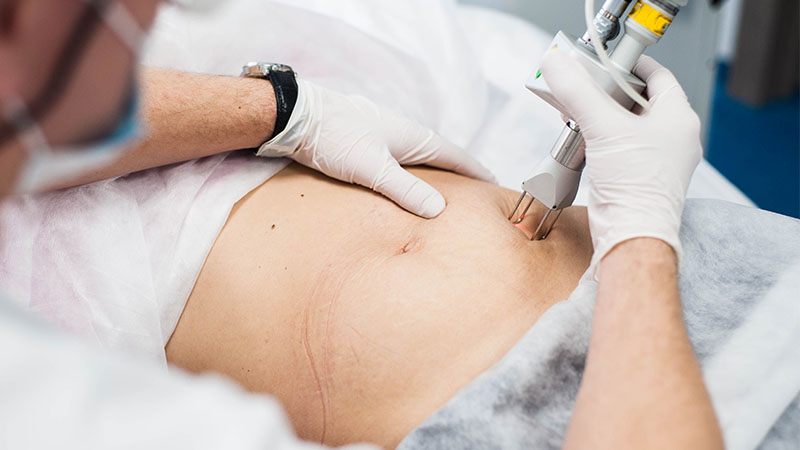 Preventing Pregnancy Stretch Marks
Stretch marks are incredibly common and natural during pregnancy. Mainly because you're growing a whole human (or more than one) inside you. It's also partly because the hormones that soften your ligaments and bones to widen the birth canal also soften your skin, making it more prone to the 'tearing' effect. There are a few ways to combat stretch marks during pregnancy. The first is moisturizing your belly multiple times a day with thick, nourishing cream. This will also help alleviate itchiness and discomfort. Next, you want to focus on diet. Fruits and vegetables high in vitamin C and A are great, so opt for carrots, sweet potatoes, bell peppers, citrus, and berries. Finally, weight gain is an inevitable and expected effect of falling pregnant, but if you're able to slowly gain the weight, that will reduce the chance of stretch marks on your hips, butt, and thighs.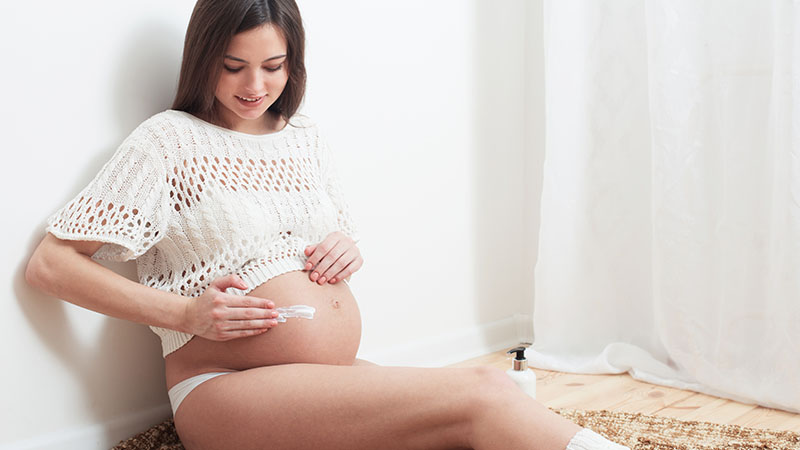 FAQs
What are stretch marks?
Stretch marks are long, rippled lines on the skin that are generally dark pink or purple when they first occur but fade to almost translucent over time. Also know as striae, they happen when your skin changes rapidly, such as with weight gain, puberty, or pregnancy. It can occur in both men and women and most commonly appear on the hips, butt, thighs, stomach, and breasts.
How do I permanently get rid of stretch marks?
The best way to permanently get rid of stretch marks is with professional procedures. These can include microdermabrasion, skin needling, and laser therapy. More invasive options such as tummy tucks and plastic surgery can also do the job but can leave other scars instead.
Do stretch marks go away if you lose weight?
Stretch marks don't really go away with weight loss, but they may become less noticeable as the skin is not as stretched. Additionally, toning up areas that have stretch marks can also help reduce their appearance. Of course, if your stretch marks are caused by weight gain, shedding the excess pounds can prevent the development of even more damage to the skin.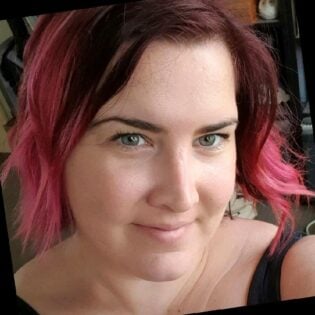 Alexandra Linde is an experienced writer holding a bachelor's degree in Journalism. She is the owner of Alexandra McKiterick Creative and has expertise in travel, fashion, fitness and lifestyle. Alex has previously written for Flightcenter, Travello, and Backpacker Deals.
SUBSCRIBE TO OUR NEWSLETTER
Subscribe to our mailing list and get interesting stuff and updates to your email inbox.