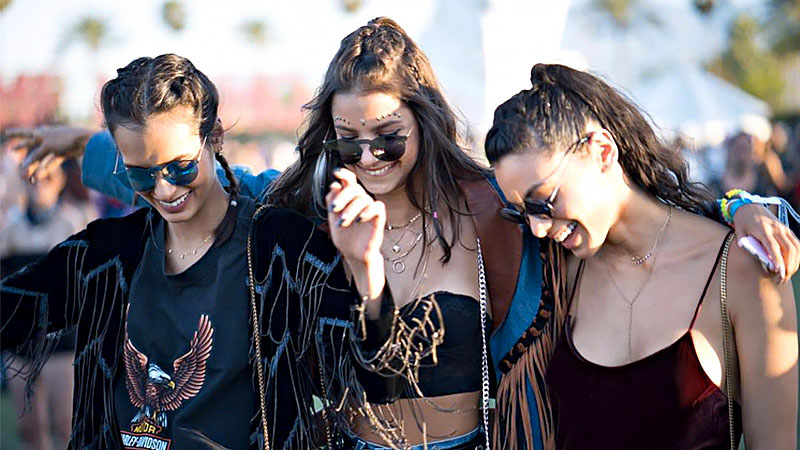 Romantic, feminine, and trendy, braids are some of the hottest hairstyles to try this season. If you want to learn how to master the modern braid like celebrity stars seen at Coachella 2016 we are here to help you.
RELATED: 30 Best Braided Hairstyles for Women
Coachella Celebrity-Approved Braids
The first week of California 2016 festival brought us an enormous amount of hair, makeup, and style inspiration with celebrities wearing tribal prints and chunky belts, face jewels, and braided hair. Messy or neat braided hairstyles replace flower crowns and other headpieces. Celebrities like Kylie Jenner, Devon Windsor, and Chiara Ferragni rocked gorgeous French braids while Alessandra Ambrosio wore her hair down with a single classic three-strand braid.
The Katniss Braid
One of the most popular braids at the moment is the Katniss Everdeen Arena Hunger Games braid. Hairstylist Kaley Melissa has a tutorial filled with helpful tips on how to create the look at home.
1. First off you want to create some curly or wavy texture in your hair – if you aren't blessed with naturally curly hair, you can recreate the look with a small curling iron.
2. Grab a selection of hair that is about an inch or two from the hairline and start twisting it, before beginning to create your Dutch braid.
3. Once you've completed your braid and are back to the front, you'll want to do some more twisting. Start right next to your part and twist the hair away from your face so that you slowly include all the hair except for a small piece next to your face which you will work into the braid last.
Side Dutch Braid
If you're after a different take on the same braid, then Kayleigh Noelle offers a great tutorial on how to create a Side Dutch braid. The look starts at the side of the head and goes diagonally downwards to the back of the head, finishing up in the front.
Noelle reminded us that you want your hair to be rough and textured so it holds better – so it helps if your hair is not sleekly straightened or squeaky clean. She also suggests using hairspray to make the hair rougher.
Modern Braid
If you're looking for a braid that's relatively easy to create but will be perfect for both formal and casual settings, then pay attention to The Zoe Report's tutorial.
1. The first step is to pull your hair into a high ponytail, making sure that there are no stray pieces and the part is very neat.
2. Pull the bottom into a smooth low ponytail and secure it, then unclip the top section and begin the braid with the first ponytail.
3. Once you have completed the first ponytail work in the second one and secure it with a simple elastic band.
4. Then finish off the look by loosening the ends of the braid and securing the top and bottom braids with a bobby pin and smoothing the hair down with ample use of hair spray. The look is super easy to create even for beginners, and it's effortlessly chic.
Braided Updo
If you love modern braids but want to try something a little different you can learn how to create a braided updo thanks to YouTube hairstylist Hair and Makeup by Steph.
1. If you have wavy hair, Steph recommends starting by placing a headband all the way around your head, then dividing your hair below the headband into three sections: left, right, and back.
2. Put the back section into a low ponytail which ties at the bottom of your hair, then roll the ponytail up into the headband and secure it with bobby pins.
3. Next, take one side of the hair and loosely twist it, allowing it to cover the top of the back section of hair.
4. As for the other side, begin braiding a small strand of hair closest to your hairline, working the rest of the hair on the side into the braid as you go along. When the braid is complete, loosen it and wrap it around the back.
Quick & Easy Braids
Lastly, if you're looking to create braids that are pretty simple and perfect for an everyday look, then you need to check out vlogger Roxxsaurus' video featuring a braid with a high ponytail which she creates using two rope twists wrapped around each other.
The second hairstyle is a transformation of the first, as she wraps the rope twists into a little top bun – which looks incredibly stylish, but probably works best for people with fine hair.
The third look is very seventies, and we love it. She starts by taking the front sections of her hair and backcombing them to create volume. She then braids a piece of hair from one side of the head and wraps it around the front of her head, concealing it underneath the middle part of her head and keeping it place with bobby pins.
The fourth hairstyle starts off with a side parting followed by the side French braid. Once you get to the area at the back of your ear, secure your braid with a hair tie. Then twist the hair in this section into a bun and secure it either with bobby pins or with a hair tie. Take a remaining hair on the opposite side and twist it around the bun securing it with bobby pins. Et Voilà, now you are a master of modern braids!
SUBSCRIBE TO OUR NEWSLETTER
Subscribe to our mailing list and get interesting stuff and updates to your email inbox.