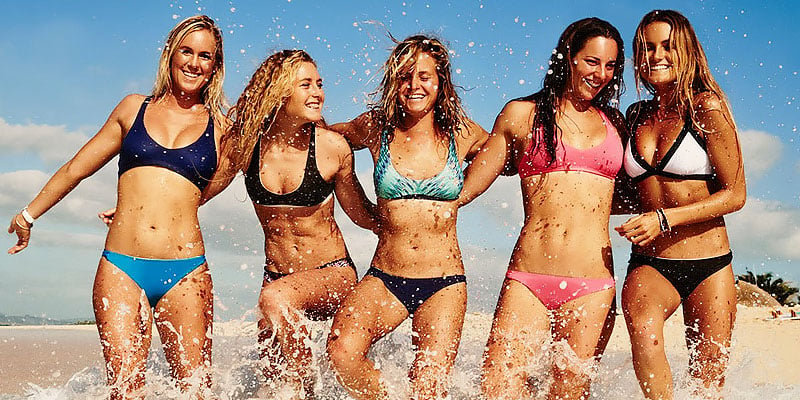 Most, if not all of us, are guilty of impulse swimwear buys. Perhaps you spotted the most adorable triangle two-piece on Jessica Alba and just went for it. Whatever your cosy crime, consider it fixable.
Swimsuit shopping shouldn't leave you feeling frumpy or flat. Many of us positively dread bikini season and the mandatory seasonal swimwear shop. But despite what you may think, there is quite literally a style to suit everyone, no matter what you're working with. Whether the goal is to elongate your legs, give the illusion of shape or boost your ample assets, the trick is simple – get to know what best suits your body shape. On that note, take heed of these simple style rules that'll not only leave you looking and feeling bikini ready, but ultimately looking and feeling your best.
Related: The Best Self Tanners for Every Skin Tone
Triangle Swimsuit
That old adage that triangle and bandeau bikinis should only be worn by B-cups and below is best forgotten. We've all got different style objectives when it comes to swimsuits and it isn't always necessarily about the lady lumps. If you're on the curvier end of the spectrum with ample assets, consider a triangle cut with full coverage and built in shapewear. If you are petite, athletic and beneath a B-cup, opt for a smaller cut triangle in a print or pattern, to further boost the illusion of shape. Avoid spillage by opting for a thicker cut triangle in neoprene or crochet.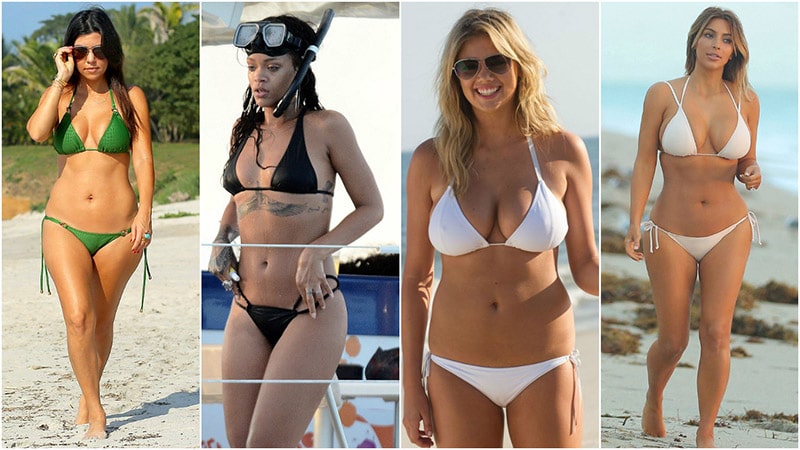 Halter Top Swimsuit
If the idea of a skinny halter neck bikini makes you anxious, consider a fuller strap for added support. For curvier, fuller figures, the low-cut halter bikini will provide ample support and structure. For the more athletic build, a high-neck halter bikini will showcase your shoulders and create the illusion of sinuous curves. If you're conscious of your love handles, opt for a higher cut bikini bottom that rises above the hips and draws your waist in, for a cinched silhouette.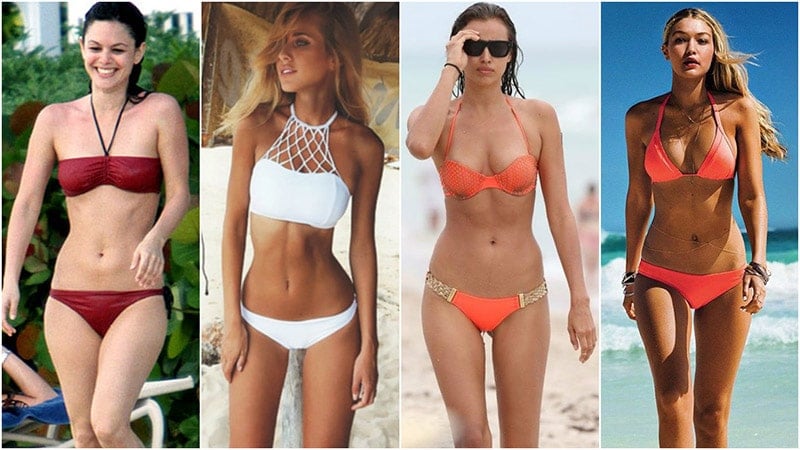 Crochet Swimsuit
Crochet is back with a vengeance this summer. That 70's staple we couldn't get enough of last season is still as hot as ever and looks most at home on the beach. Don't be afraid to mix it up this summer with crochet must-haves, from full one-pieces to tasseled halters in cream and peach, crochet is universally flattering and wildly on trend. Be sure to hand wash your bikini pieces separately with a squirt of organic shampoo. Sand, tanning oil and sea salt can lead to discolouration, particularly on white, cream or neutral-coloured swimmers.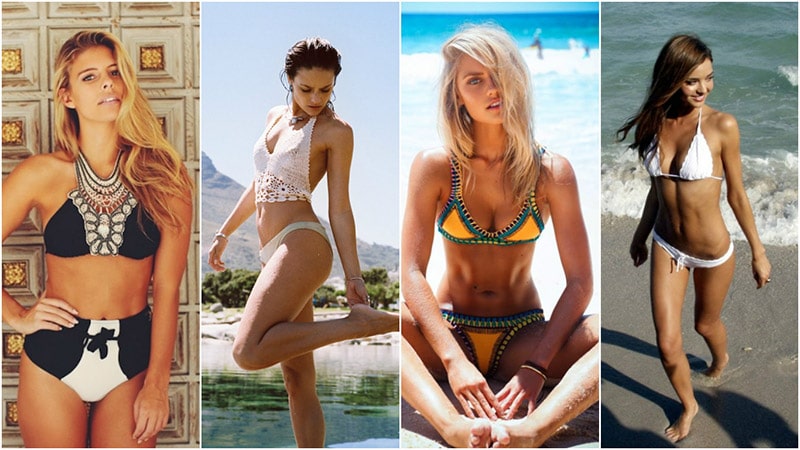 Bandeau Swimsuit
The bandeau is the answer to avoiding those niggly uneven tan-lines. If you've got a smaller bust and a more athletic shape, the bandeau bikini will flatter the curves you do have and emphasise your sinuous lines. If you're trying to draw attention away from broad shoulders, the bandeau will help showcase your decolletage. Opt for a nautical stripe, tomato red or crisp white to make the ultimate summer statement.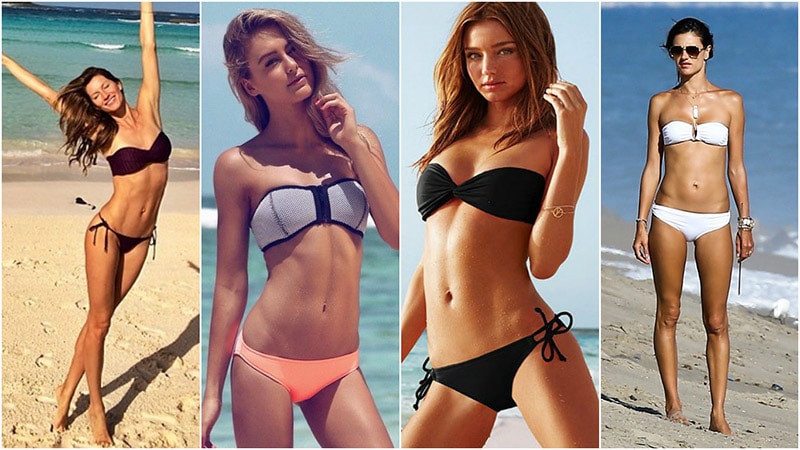 Retro Swimsuit
Your approach to a swimsuit doesn't need to veer too far from your personal style. Opt for a vintage, high waisted cut or a 50s inspired balconette, in keeping with your aesthetic and channeling the original bikini bombshells. High waisted bikini bottoms conceal all the lumps and bumps we'd rather not showcase and provide the illusion of longer legs. If you've got a longer torso, smaller waist and shorter legs, a high-waisted bikini will break up your mid-section and emphasise your hourglass shape. Va-va-voom…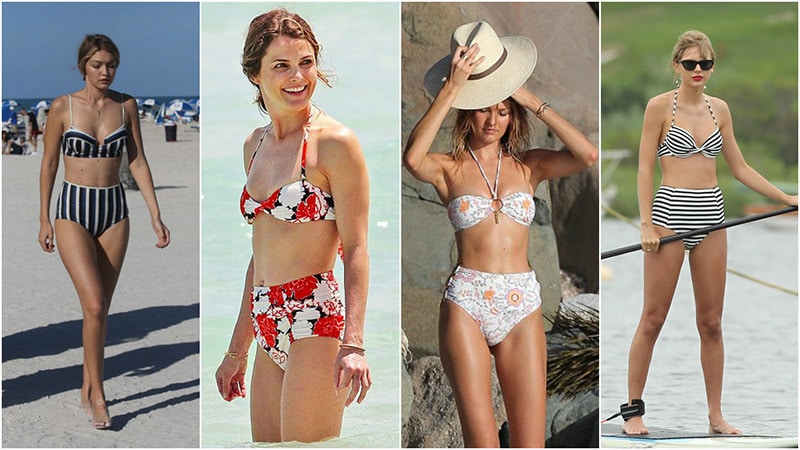 One Piece Swimsuit
The one piece is the swimsuit staple of the season, so don't be afraid to try it on. If you have an athletic built, opt for a laced halter one-piece with a higher cut, in a leopard print or paisley. If you're curvier with fuller thighs, try a high-cut one-piece with a scoop neck and low back (think Khloe Kardashian). Opt for a bold red or monochrome, for retro appeal. The higher cut will provide the illusion of length through the legs and it will elongate your body.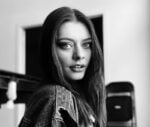 Alexandra Feiam is an experienced fashion writer who holds a degree in journalism. She has an impressive portfolio and expertise working as the Editor at Power Retail and Commercial Content Editor at Newscorp. Ally has been writing for The TrendSpotter since 2018, and her work has been featured in notable publications such as The Herald Sun, Arirang TV South Korea, Kidspot, The House of Wellness, and The Daily Telegraph.
SUBSCRIBE TO OUR NEWSLETTER
Subscribe to our mailing list and get interesting stuff and updates to your email inbox.