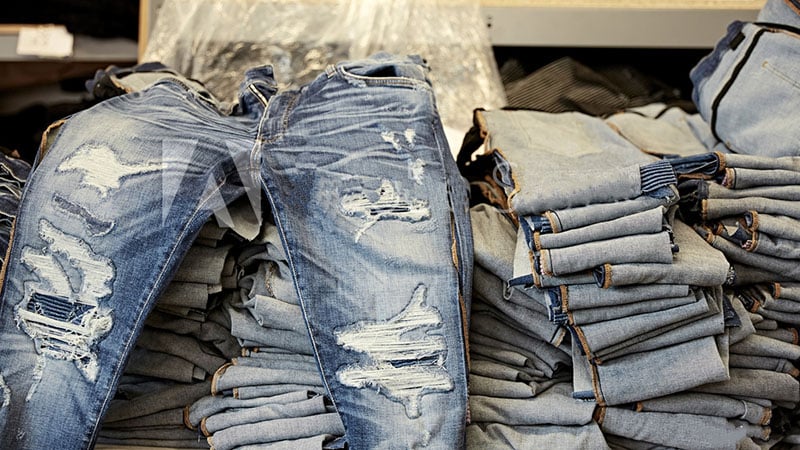 Denim jeans are versatile and classic. They go with simply everything and present a savvy choice for nearly any occasion. This summer, it's all about the effortless cool of distressed denim. But, if finding the perfect fitting pair wasn't hard enough on its own, finding one that's also pre-distressed is an even tougher task and may burn a significant hole in your pocket. So, to keep your stress levels at bay and spare you yet another disappointing trip to the shops, we have assembled an easy ten-step guide on how to distress a pair of jeans on your own time.
Tools You Will Need
There are a few things you will need to distress a pair of jeans at home. Most of which you might already have in your household staple. The entire process requires the following items: a pair of old denim jeans, gardening gloves, a pen, a box cutter, a magazine or cardboard, scissors, a one-way razor, and access to a washing machine and dryer. You should be able to purchase anything missing from your local chemist or DIY store.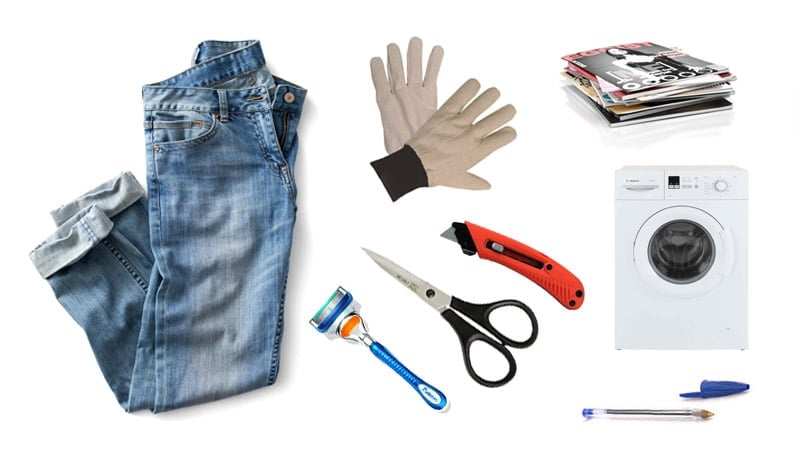 How to Distress Jeans?
# Step 1
Search the widths of your clothing repertoire for a suitable pair of denim jeans. If this is your first time DIYing, perhaps don't go straight for your favorite ones, but try yourself on a less loved pair. Should you have difficulties deciding which pair to sacrifice, you could also check any second-hand shop to purchase one.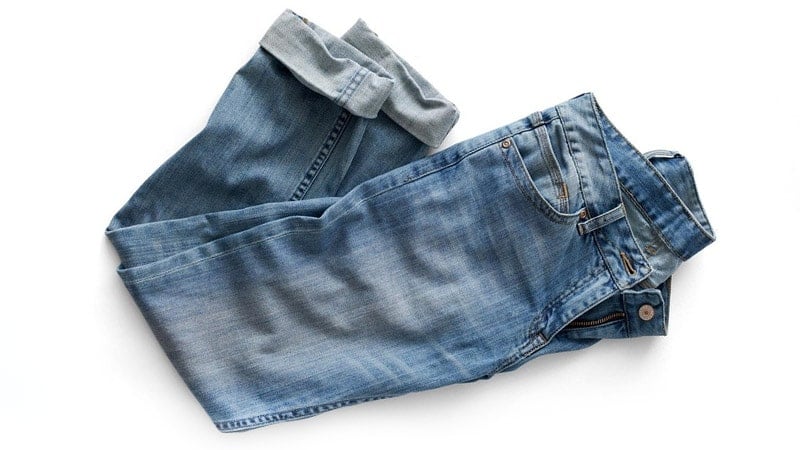 # Step 2
Get your jeans on! No, literally. Put them on. Doing so will help you determine the areas you would like to distress. To maintain a somewhat natural look, you want to target spots that tend to wear out first overtime. On denim jeans, this usually concerns the knees, thighs, seams, and hems. Once you have decided where you want to place your cuts, you can use a pen to mark the area with a few lines.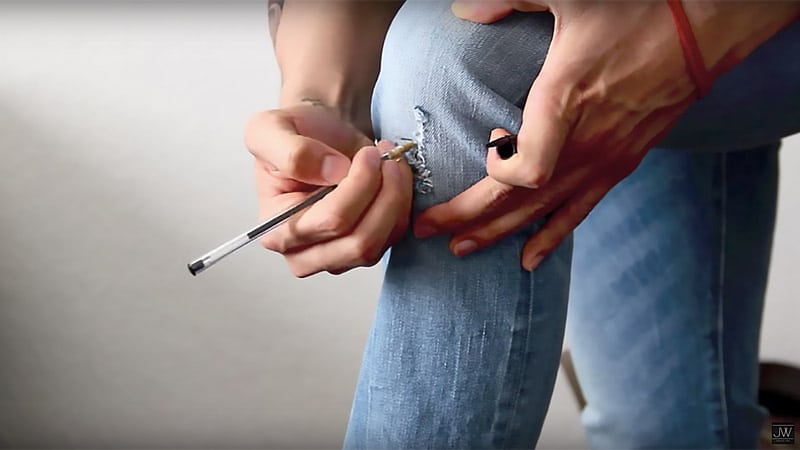 # Step 3
Put a magazine or piece of cardboard inside the pant leg you are going to treat. This way, you'll not only avoid accidentally cutting through both fabric layers, but you'll also help maintain an even surface during the process.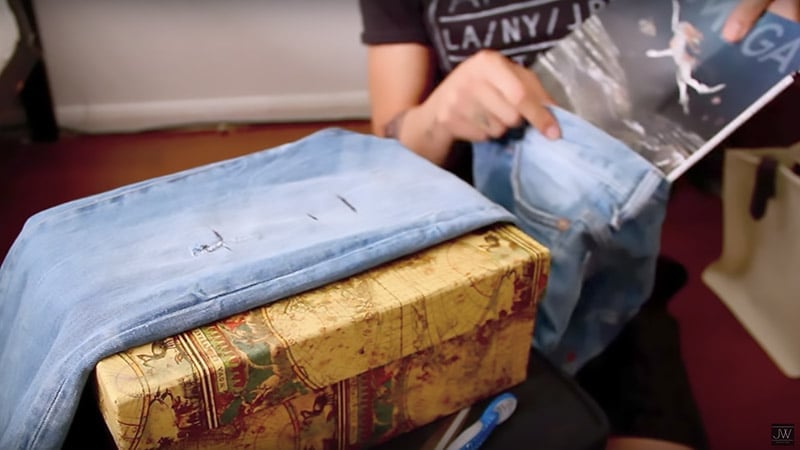 # Step 4
Safety first! If you're working with an individual blade, you should wear gloves to minimize any potential danger. Gardening gloves present a good option, as they are made from strong material.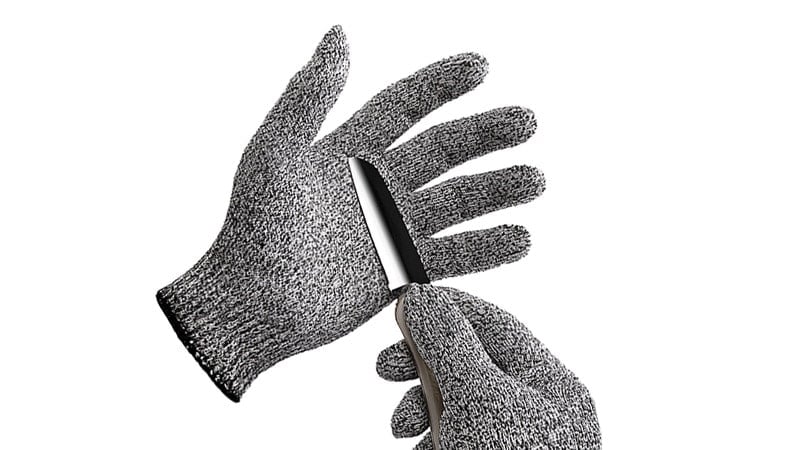 # Step 5
Take your cutter and gently start slitting your jeans. Begin at the bottom line you have drawn earlier, all the way to the top line, leaving approximately half an inch in-between each slit. Now you can get creative. The slits can be as short and or long as you like, just make sure not to cut through a seam, as your pants may start unraveling.
# Step 6
Once you have created enough slits, it's time to add some more detail. Use your blade to lightly scrape along the top of your front and back pockets. Be mindful not to cut all the way through the fabric. All you want to achieve is a 'roughed up' look.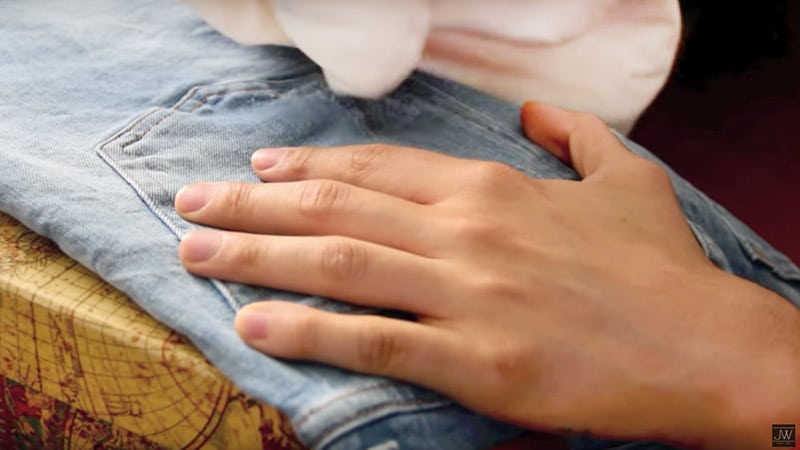 # Step 7
To intensify this effect further, you can use a pair of scissors to trim parts of the top seams around the waistline, pockets, and bottom hemline.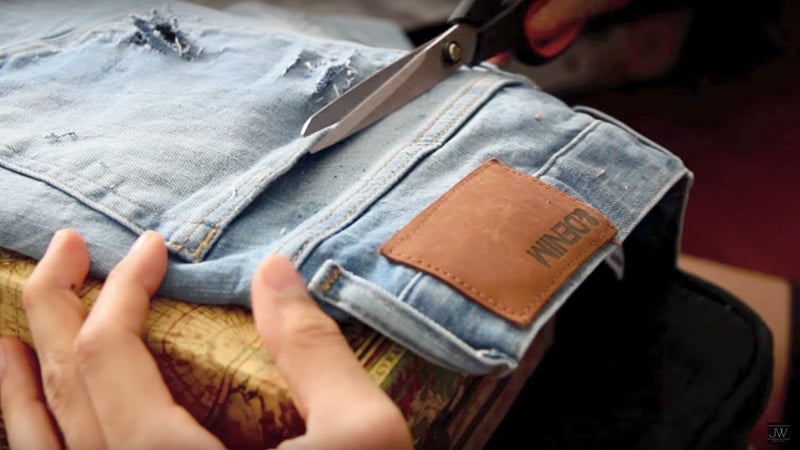 # Step 8
To add the finishing touch, use a one-way razor to shave bits of cotton off the edges and pockets around the waistline. Doing so will lighten the color and gently distress the fabric in those spots. Be careful not to shave off too much in more delicate places, as the denim may tear away once you put it on.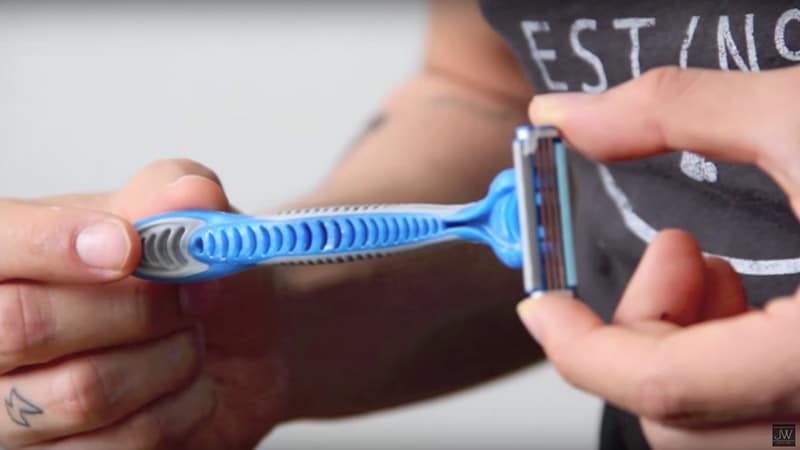 # Step 9
Time to give them a good clean. To add a natural-looking frizz to the edges of the areas you just prepped, put your jeans into the washing machine, followed by a session in the dryer. Repeat this process one more time and voila – your masterpiece is done!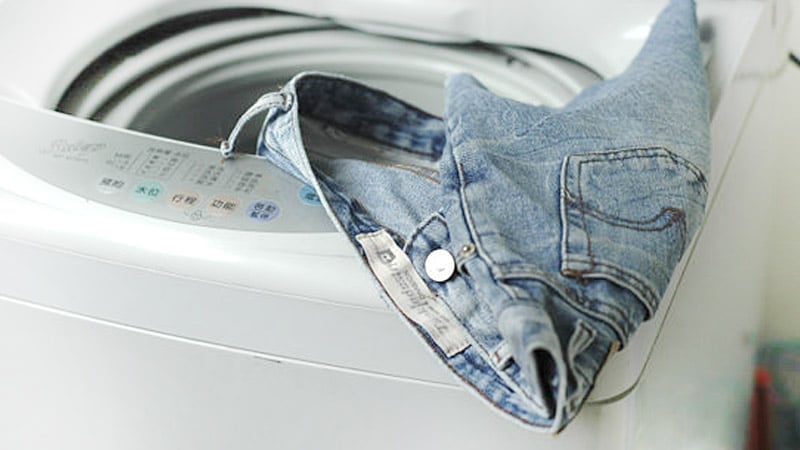 # Step 10
Show off your jeans to your friends. This look is easily dressed up with a white shirt with a blazer, light coat, or leather jacket. Alternatively, dress the look down with a t-shirt and a pair of white sneakers. Most importantly, make it entirely your own.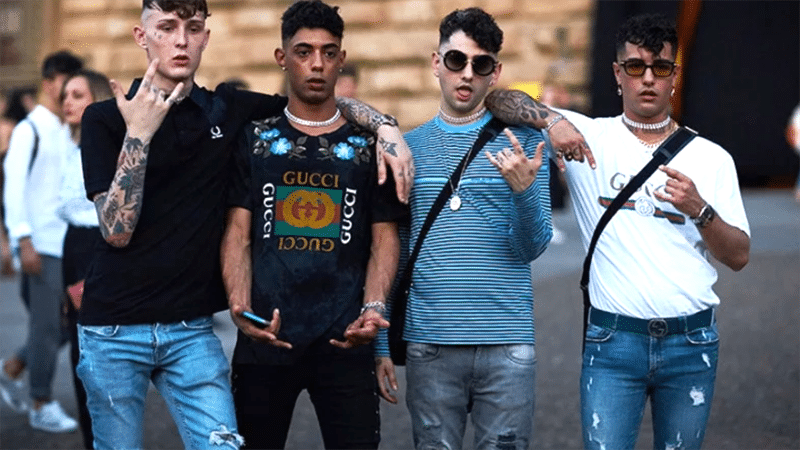 How to Distress Your Denim
FAQs
What is the distressed jeans trend?
This season's go-to trend is not distinguished by one particular shape, but rather by the number of holes in your pants. Yes, you read that right. Trademarks of this 'distressed' look are irregular, often faded color, and strategically placed slits across the front leg region and pockets. Thus, miming the used appearance worn denim typically develops over time. The first pair of distressed denim reportedly appeared in 1965 in a boutique in New York's East Village. The trousers were washed to make the fabric look worn, then decorated and sold for a whopping US$200 (AU$250). And just like that, the 'used' look was born. While color washes and shapes continue to vary each season, it's safe to say that the popularity of this style never really seems to fade. So, if you've been struggling to find a perfect pair of your own, perhaps consider creating a unique version yourself.
How do you distress jeans easily?
Start by putting on the jeans you want to distress and use a pen to mark your focus areas, choosing places that would naturally wear first. Take them back off, and place them on a flat surface, with an old magazine tucked down the leg. Take a box cutter and cut slits in the areas you've marked, varying the length, but leaving at least half an inch between cuts. Use the same blade to gently scrape small holes in the pockets, or use a one-way razor to shave a thin layer of fabric off the pocket edges and around the waistband. Finish by washing and tumble drying them twice.
How do you distress jeans with scissors?
You can distress jeans with scissors by cutting slits across high-wear areas such as the knees. You can also add a more worn-in look by carefully trimming off parts of the top seams of your pockets and waistband, and bottom of the hemline. Finish with a couple of rounds through the washing machine and tumble dryer.
How do you distress the bottom of jeans?
You can use a pair of scissors to carefully trim off small sections of the bottom hem of your jeans. Alternatively, take a one-way razor and shave areas around the bottom hem for a less dramatic effect.
How do you make jeans look old?
Apart from years of wear, you can make your jeans look older by carefully distressing them. Do this by cutting slits across high-wear sections such as the knees. You can also trim or shave with a razor around the edges of the pockets, waistband, and hemline. Just make sure to be careful and start with a less-is-more approach, as the jeans will continue to naturally wear over time.
SUBSCRIBE TO OUR NEWSLETTER
Subscribe to our mailing list and get interesting stuff and updates to your email inbox.