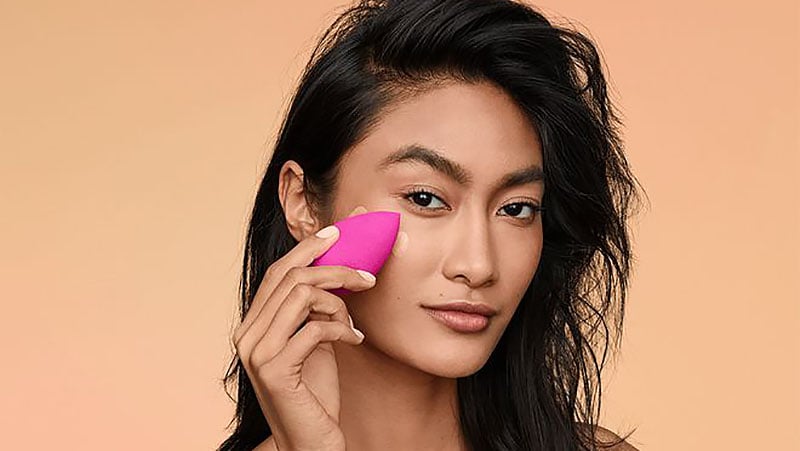 The humble makeup sponge is one of the most essential tools in a cosmetic collection. When used correctly, they can create a flawless finish that looks like airbrushing. However, it's also necessary to take proper care of them, as they tend to get dirty quite fast. When not in use, they can acquire tonnes of bacteria, as well as makeup, and even result in mold. So, to avoid this, here's how you can clean your makeup sponges the right way.
How Often Shall I Clean My Makeup Sponge?
To keep your skin feeling fresh and healthy, it's best to clean it quite regularly. The sponge soaks up a lot of product, and since it is placed in the water before you use it, bacteria can also grow within. To avoid this, it's recommended that you give it a deep wash once a week. There are many ways you can do this, but make sure that it's completed at least four times a month – no one wants to put old foundation and germs on their skin.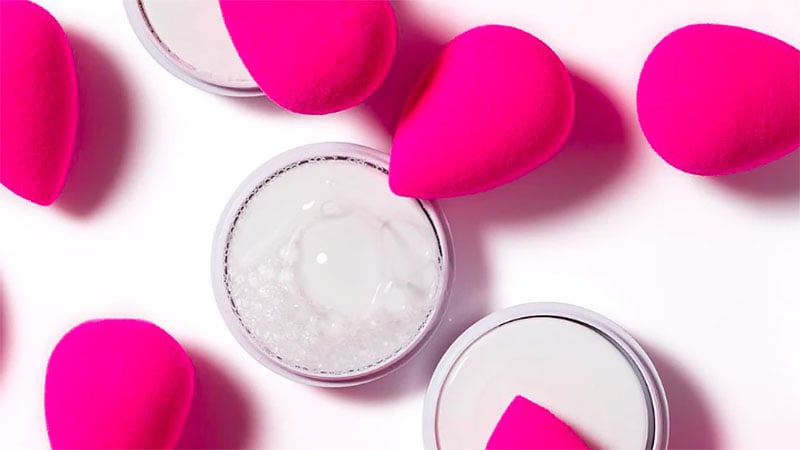 How to Clean Makeup Sponges
Use Soap or Cleanser
One of the fastest and cheapest ways to wash your makeup sponge is with standard soap or a cleanser. There's a myriad of products that you can use to get your cosmetic tool nice and clean.
1. Soak your sponge in warm water – it will expand so the soap can clean out every spot.
2. Using small, circular motions, rub the dirty sponge in the palm of your hand, and watch the excess makeup come out.
3. Complete this step until it's thoroughly clean from makeup.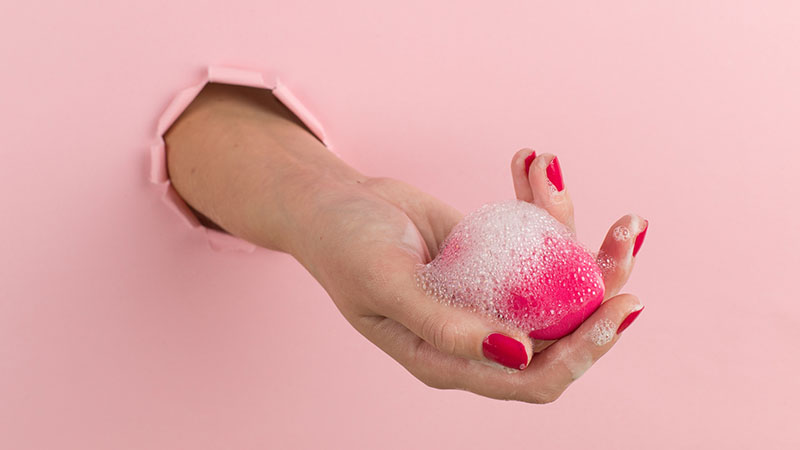 Soak the Makeup Sponge
Another time-saving and straightforward way to clean your makeup sponge is by soaking it in warm water. It is a great step if the regular washing you complete doesn't remove the dirt entirely. Ideally, this works best with warm, soapy water, and you'll want to keep it in the liquid for more than 30 minutes. This will work to actively remove the foundation and excess product that gets clogged within the makeup tool. After 30 minutes, dry it out using a towel, and make sure it's free from moisture before using it again.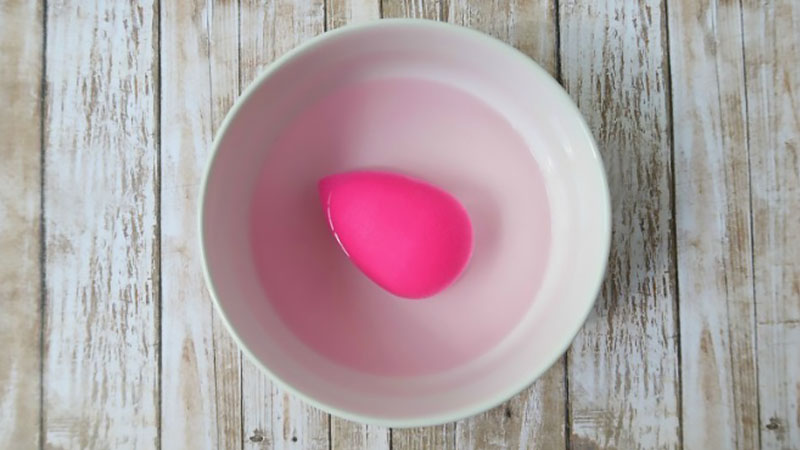 Clean Makeup Sponge in a Microwave
It is an interesting method to clean your makeup sponges, as it has to be done correctly for it to work. If you don't follow these steps, you may end up ruining the item.
1. Soak it in a cup of warm, soapy water and make sure it's starting to clean.
2. Squeeze it, so it's fully saturated, and put it back into the liquid.
3. Put the cup into a microwave for one minute.
4. Wait five minutes for the water to cool – This is an essential step, so make sure to be patient and let the heat die down a bit.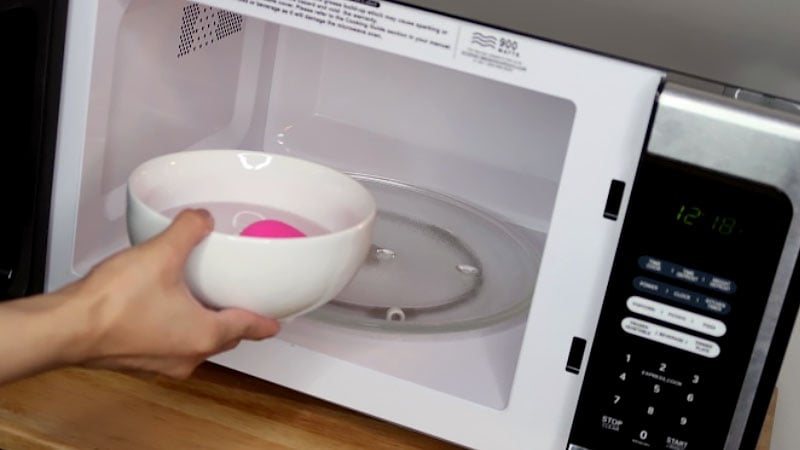 Use Olive Oil & Dishwashing Detergent
If you're looking for an antimicrobial, antibacterial, and antiviral way to clean your makeup sponge, you can't go past olive oil and dishwashing detergent. As an excellent alternative to traditional cleansers, this acts as a fast and easy solution for getting your cosmetic tools fresh.
1. Combine warm water, oil, and baby shampoo or dishwashing detergent.
2. Dip the sponge into the formula, then run it under a hot tap and squeeze out excess product.
3. To get all of the oil out, squeeze the makeup sponge three times and give it a rinse with a facial cleanser. It helps remove anything left inside the tool.
Use a Cleaning Solution
Get your makeup sponge sparkling again with the help of a cleaning solution. Whether this is a branded product or micellar water, you can achieve amazing results with this option. Just like other liquids, this is a great way to keep your beauty tool free from germs and bacteria.
1. Add the cleaning solution to warm water, ensuring it has plenty of bubbles.
2. Soak the makeup sponge in the water, and squeeze it to expand it to its fullest size. It ensures you clean the entire sponge.
3. Rub the sponge across your hand or a cleaning tray to remove the product from inside. Squeeze it and repeat the process until thoroughly washed.
4. Dry the sponge with a clean towel and let it sit. Avoid using it while it's still wet.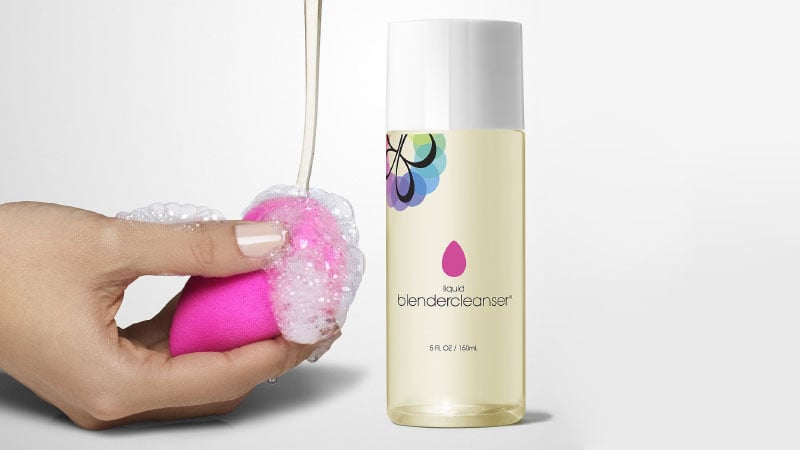 The Best Makeup Sponges
It's essential to wash your makeup sponge regularly, but after three months of use, it's also a good idea to replace it. Different types of sponges suit various applications – if you prefer liquid foundation, opt for a microfibre blender that doesn't soak up too much product. If you prefer to use powder, avoid getting the item too wet before use. For those who apply concealer on the outer corner of your mouth or under the yes, it's best to buy a smaller version of the original blender. If you're still unsure, here are a few of the best options.
FAQs
When should I throw out my makeup sponge?
You should give your makeup sponges a deep clean every week and a thorough health check once a month. You'll know it's time to throw your makeup sponge out if it has stubborn stains that won't come out with washing or if it's nicked, torn, or disintegrating. Keeping it when it's in such a rough condition won't do a good job with your makeup, and you risk spreading bacteria all over your face.
Is it better to use a brush or sponge for foundation?
Each foundation application method has different pros and cons. A sponge creates easy, flawless blending and works best with lighter, liquid formulas. They also need regular washing and aren't quite as hygienic. Alternatively, brushes come in a variety of shapes and sizes for simple tailoring and give a professional finish. However, it's more challenging to get a seamless blend, especially with liquid foundations. They are better suited for power foundation than sponges.
How long does a makeup sponge last?
Depending on how well you look after it and how good a quality it is, a makeup sponge will last three to six months.
Are makeup sponges reusable?
Yes, makeup sponges are designed to be reusable but should be washed regularly and looked after well. If you don't, they become a breeding ground for bacteria, and you risk skin infection.
Is it OK to apply foundation with fingers?
It is ok to apply liquid foundation with your fingers, and it gets the product deeper into your pores. However, you might not get the same smooth finish as you would using a sponge or brush. You also want to be careful that you're not pulling too hard on the skin as you do, especially around the eyes, as this can cause wrinkles. Finally, if you apply it with your fingers, just make sure you thoroughly wash your hands before beginning.
SUBSCRIBE TO OUR NEWSLETTER
Subscribe to our mailing list and get interesting stuff and updates to your email inbox.