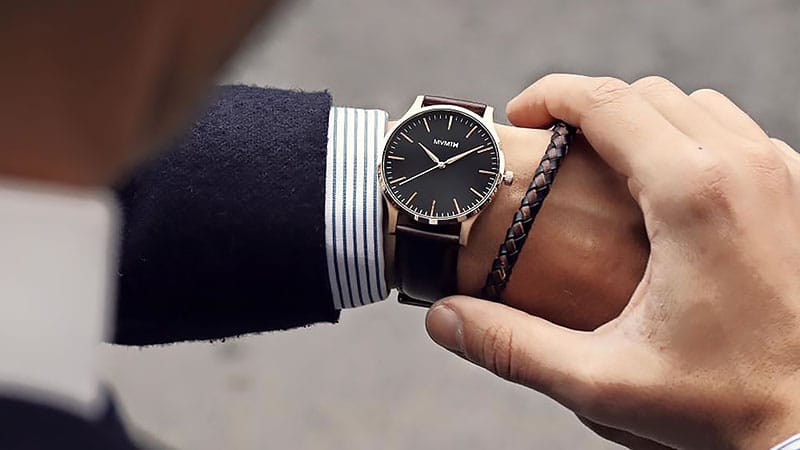 When it comes to choosing a watch, it's important to note that one size does not fit all. As such, when you're shopping for a timepiece, you need to know how to select a watch that's right for your wrist. While there are no set rules or calculations for the perfect size or shape for your frame, there are tips that you can follow to help ensure that you end up with a balanced and proportionate piece. For starters, your watch should feel comfortable on your wrist and be tight enough not to slide around but loose enough not to dig into your skin. Then, there are other factors to consider, such as the case size, band width, and design. It may all sound a bit complicated but finding the perfect watch for your wrist size is easier than you'd think, and we can show you how to go about it.
What is My Wrist Size?
Before you can find the right watch for your wrist, you need first to know your wrist size. Whether your wrist is very thin, slender, medium, or thick will impact which timepieces look best on you. As such, deciphering which of these categories you fall into is an integral part of choosing the right watch for your wrist. Once you know your wrist size, you'll then be able to pick a perfect timepiece that looks great and feels comfortable. Knowing your size will also be incredibly helpful if you like to shop online as you'll be able to purchase a style that fits right without trying it on. It may also help you narrow down your choice of designs. For example, if your wrist is thin, you may want to choose a sophisticated dress watch. Whereas, if your wrist is thick, a sports watch may make a more flattering choice.
How to Measure Your Wrist
Take a flexible measuring tape or strip of paper.
Wrap it around your arm so that it's where your watch band would usually sit, which should be just below the wrist bone.
If you are using a strip of paper, take a pen and mark the point where the end meets itself.
Unwrap the paper and lay it flat next to a ruler, noting the measurement.
If your wrist is 14-16cm, it is very thin. 16-17cm is a slender wrist. 17cm-18cm is a medium wrist and above 18cm is a thick wrist.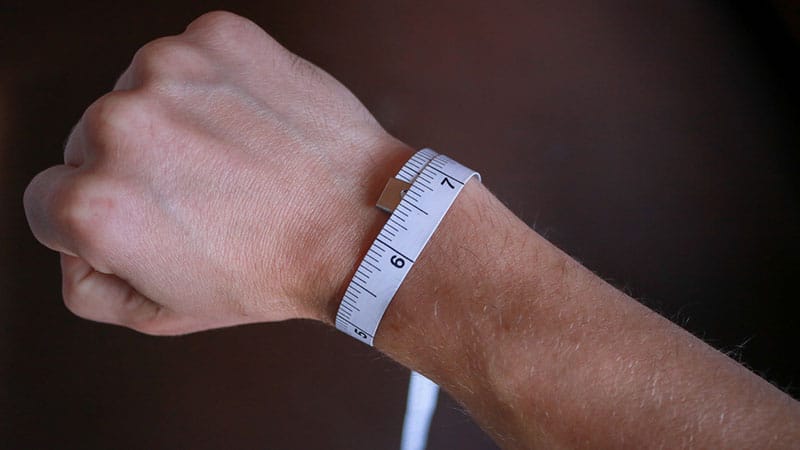 Things to Consider When Looking for the Right Watch
When you're shopping for the perfect watch for your wrist, you must think about the key elements. The case diameter, case thickness, band width, band material, and watch details are all essential features that you should utilize to find the right timepiece.
Watch Case Diameter
As it commands the most attention, the case diameter is an important consideration when purchasing a new watch. In general, men's watch diameters range from 38mm to 46mm. Anything outside this range tends to appear too small or large. To find your perfect size within the range, use your wrist measurement. If your wrist is between 14cm – 18cm, select a small or medium watch with a diameter of 38mm, 40mm, or 42mm. If your wrist is 18cm and above, choose a larger case, such as one that is 44-46mm.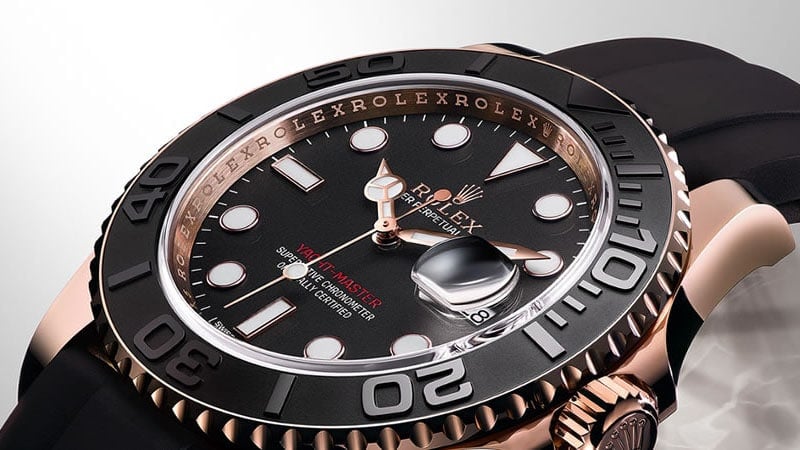 Watch Case Thickness
Your next consideration should be the case thickness. As a general rule, the case depth should be proportional to the case diameter. As such, the thickness should increase in size as the diameter does. By sticking to this rule, you'll be able to select a watch that's the most flattering thickness for your wrist, so long as the diameter is right for you. Typically, a watch that is 38mm to 42mm in diameter will feature a 7mm thickness. Those that are 44mm and above will be around 9mm thick or more.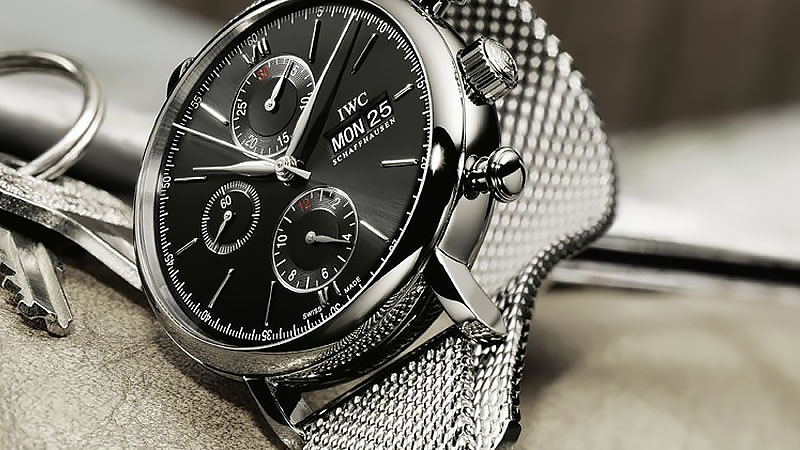 Watch Band Width
When it comes to the band, most well-proportioned watches feature a width that is half of the case diameter. Therefore, if your watch features a 42mm case, it should have a 21mm band width. Of course, this is just a guide, and many men prefer a wider or narrower band depending on their tastes.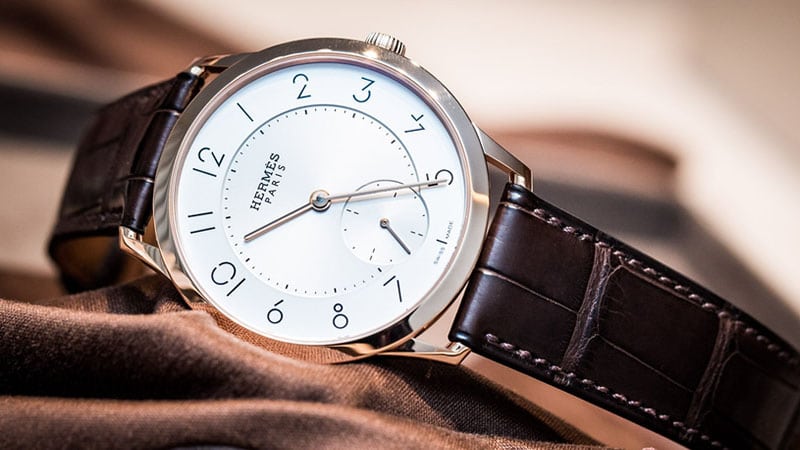 Watch Band Material
To pick the perfect watch for your wrist, the material of the band is just as important as the width. As metal bands appear heavier and thicker than those that are leather or material, they appear best on larger wrists. However, this can also be a matter of personal preference, and it can be possible to find thin metal bands, such as Milanese styles.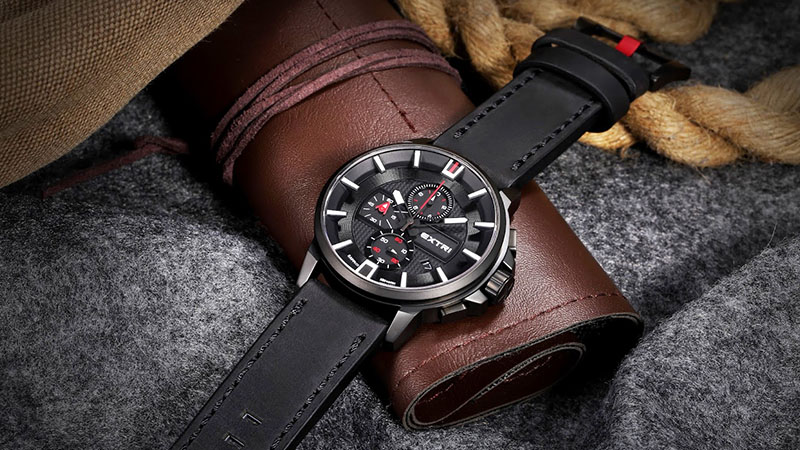 Watch Details
Details, including markers, hands, subdials, and crowns, should also be taken into account when investing in a new watch. The size of these elements and how prominent they are can easily affect how large a timepiece appears to be. As such, gents with slim wrists and smaller watches tend to suit minimal features best while those with larger frames and styles look best with more dominant features.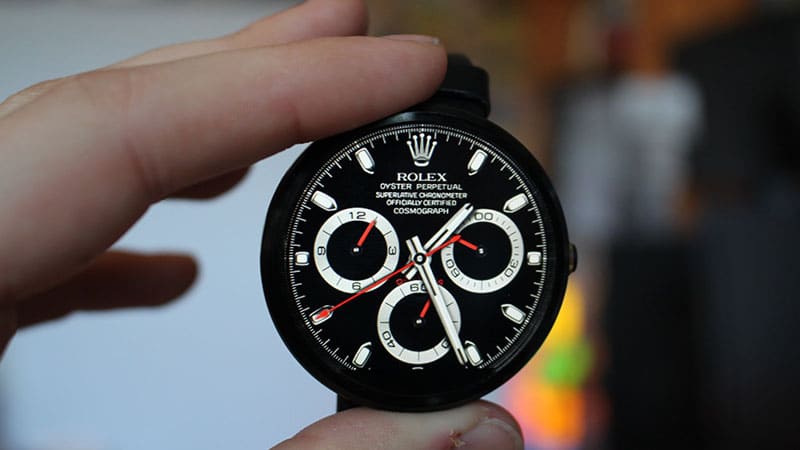 Choosing the Right Watch for Your Wrist size
Once you've determined the size of your wrist and key elements, you'll be able to find the perfect timepiece to flatter your frame. All you need to do is follow this guide, and you'll soon be the proud owner of a new wristwatch that appears proportional and stylish on your arm.
Very Thin Wrists
If you have a skinny wrist, it's essential to keep proportions in mind while shopping for a watch. Start by evaluating different timepieces as you try them on and assessing how each one sits on your wrist and appears. Then, try to avoid anything too big and bulky as it will overwhelm your thin wrist and likely look awkward. Also, keep in mind that anything large will have problems sitting neatly under a slim shirt cuff, so stick to small and slender designs. Typically, a 38mm watch will offer the perfect fit for gents with very thin wrists. Although this diameter may sound small when compared to other men's watches, it will provide you with a balanced appearance. Just ensure that you pick a suitable design, such as a sophisticated dress watch to compliment your wrist size.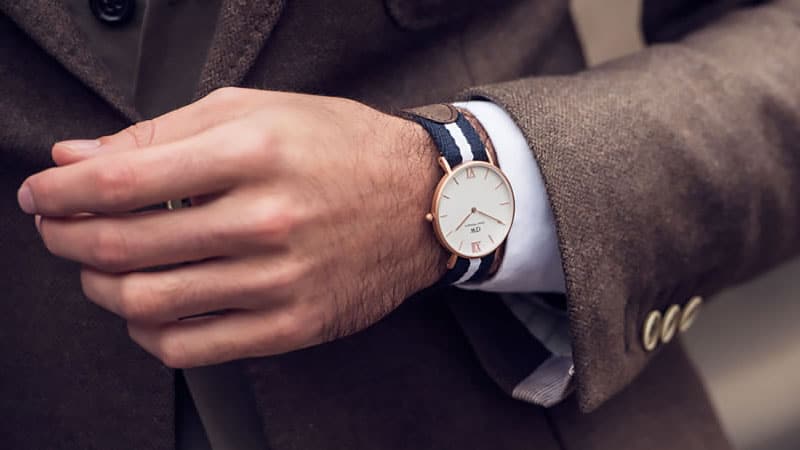 Slender Wrists
If you have a wrist that's slender but not small, it's best to choose a watch that is slim and sophisticated without appearing dainty. To achieve this combination, try selecting a timepiece that boasts a thin case with an average diameter. A design that's 40mm will be ideal for slender wrists and sit comfortably. As for the thickness of the case, ensure that you keep it at or below 8mm. Anything larger than 8mm may stick out too far from your wrist and appear bulky and overwhelming. Also, keep the overall design of the watch in mind when shopping. Slim timepieces, which are ideal for slender wrists, tend to look best with slim bracelets. As such, a leather strap or Milanese bracelet will likely be your best choice. A minimal dial that is free from clutter will also look best on slender wrists due to its uncomplicated appearance.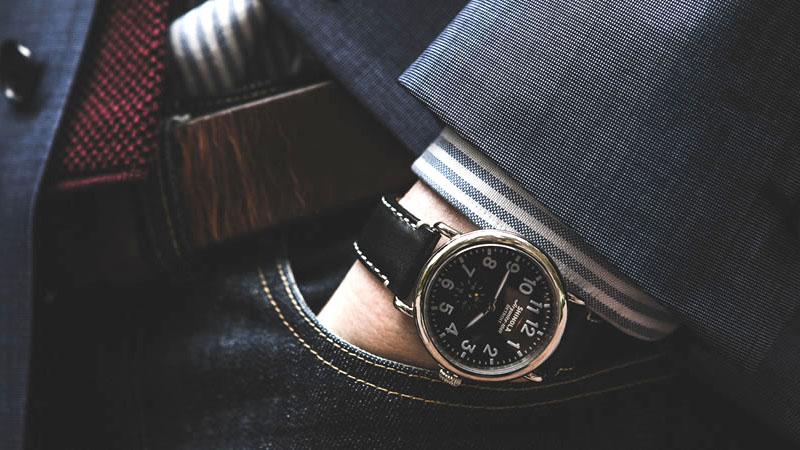 Medium Wrists
Gents with medium-sized wrists should consider themselves lucky. As their frame falls in the middle of the spectrum, there are plenty of watches that can suit their structure. That being said, specific designs will naturally look better than others. So, if you have a medium wrist, try avoiding timepieces that are either overly large or quite small. A watch that falls in the middle, such as one with a diameter of 42mm, will suit your wrist best and provide a flattering appearance. Although the size may somewhat restrict your choice, you should feel free to experiment with different designs. A medium wrist has the potential to pull off a range of bracelet and face styles, so choose those that appeal to you. Whether you like a chunky watch with a metal clasp bracelet or a slimmer style with a leather strap, the choice is yours.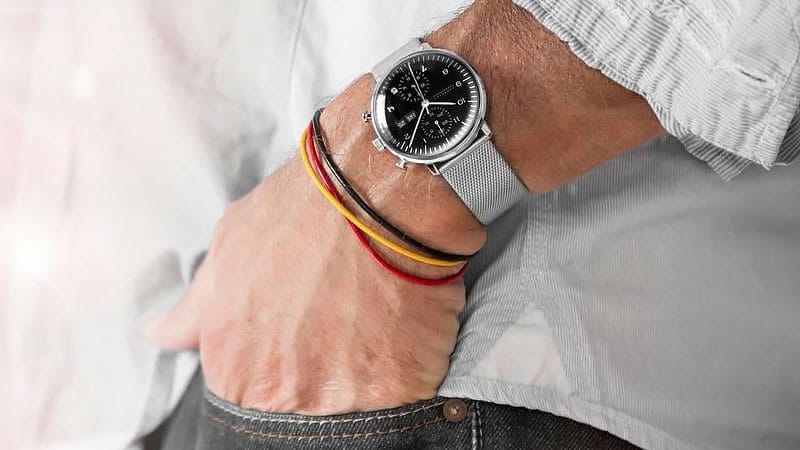 Thick Wrists
A thick wrist calls for a large watch, but don't get too carried away. Finding a timepiece that suits your frame doesn't mean just selecting the chunkiest one on the market. Instead, aim to balance size with style. Start by choosing a timepiece with a 44-46mm case or slightly larger. Doing so will ensure that the watch is proportionate to your wrist and doesn't appear excessively small or large. Then, select the style that you like. Sports watches often look good on thick wrists, but don't rule out other designs. Just make sure that the timepiece you choose is suitably thick and an appropriate style. In particular, be mindful of the face. A minimal dial can appear sparse and empty when partnered with a large case, but one with more functions and a few sub-dials looks perfect.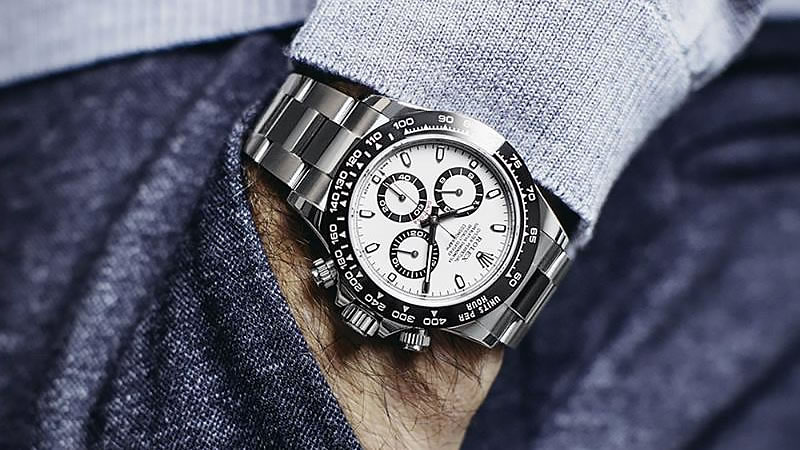 How to Choose a Watch for Your Wrist Size
If you have a thin or slender wrist, pick a watch with a small case and a slim band.
If you have a thick wrist, select a watch with a large case and a broad band.
Thin bands and bracelets, such as Milanese and leather styles, suit slender wrists best while thicker metal clasp styles look good on larger frames.
Choose a watch with a minimal design if you have a small wrist or one with a busier face and more functions if your wrist is large.
Remember, when it comes to case thickness, 6-8mm is ideal for thin wrists, 8-12mm is suitable for medium wrists, and 14-18mm will appear best on thick wrists.
FAQs
What is a good size for a men's watch?
The best size for a men's watch will be the one that suits your wrists and general frame. Generally, the thicker your wrists, the bigger (in both thickness and case size) you'll want the watch to be. Most case sizes for men's watches range from 38mm-46mm, while case thickness can vary from 6mm-18mm. Of course, the style of the watch should still be considered. For example, dress watches should generally be smaller and slimmer than your everyday watch.
Is a 40mm watch too small for a man?
A 40mm watch is on the smaller end of the case range size for men. As such, they look best on men with thin, slender, or medium wrists that measure 14cm-18cm.
What size Apple Watch for men?
The latest Apple Watches (Series 4, 5, 6, and SE) come in both a 40mm and 44mm case. If you have a wrist circumference of less than 18 cm, the 40mm is probably a better choice, while for gents with thicker wrists above 18cm, opt for the larger 44mm case.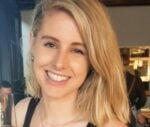 Taylah Brewer holds a bachelor's degree in fashion and business and is a skilled writer with several years of experience in the world of online content creation and copywriting. She is passionate about fashion, beauty, and all things lifestyle-related and has been writing for The Trend Spotter since 2016. She currently works as the Head of Digital & Ecommerce at White & Co.
SUBSCRIBE TO OUR NEWSLETTER
Subscribe to our mailing list and get interesting stuff and updates to your email inbox.