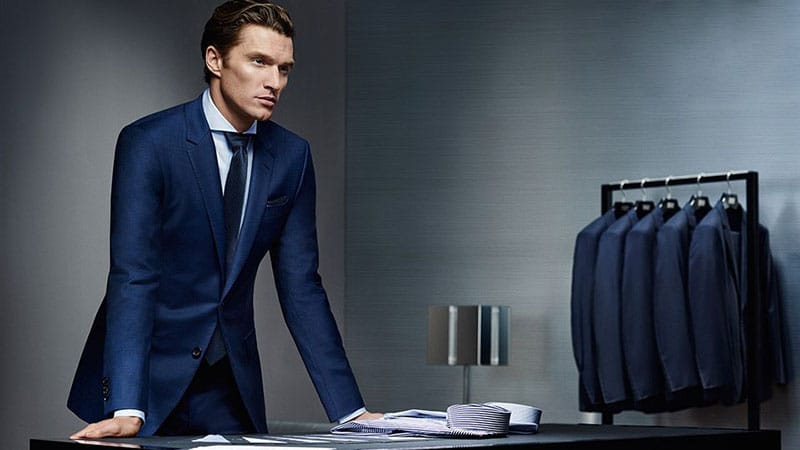 Are you looking to purchase a suit but not sure where to start? With all the different patterns, color combinations, textures, and weights, it is hard to determine which suit will serve you best. We have put together a guide to help you get the balance of classic pieces and trendy statements just right.
Know Why You're Buying a Suit
Before you even start looking for a suit, you need to understand as much as you can about what you are buying. Will this be a suit you wear to work? Or is it for a special occasion? Do you want a classic suit with a contrasting jacket and pant combination? Are you looking to make a statement or want to keep it simple? Buying a suit is a daunting process, so have a firm idea of what you want, and you will come out with your ideal suit.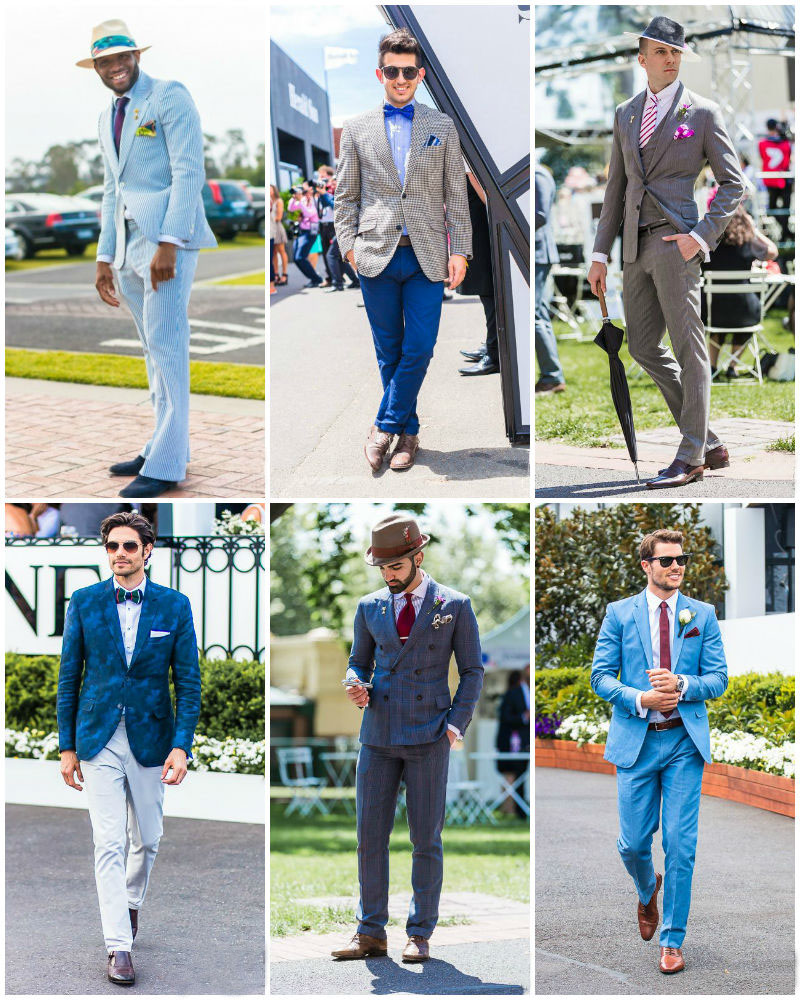 Know Your Size
The most crucial element of any suit is the fit. Follow these eight golden rules to make sure you are spot on!
The shoulder pads should never go past your actual shoulder.

Your navel should never fall below the top button of a two-button suit or the middle button of a three-button suit.

With your arms at your side, your knuckles should be even with the bottom of your jacket and your fingers have enough room to cup the underside of your jacket.

Jacket sleeves should end where the bottom of your thumbs meets your wrist but don't worry if the suit does not fit perfectly everywhere else this can be adjusted by a tailor.

Your suit jacket should be streamlined. Your shirt collar must meet the lapels of your jacket – you want the line of your coat's neck to lead into your shirt.

You should only be able to slide a flat hand in between your jacket and your chest – any more than this, and your jacket is too big.

Try on the whole suit – if the pants do not fit correctly, chances are the jacket isn't right either.

You can tell immediately if a suit is right by the shoulders— a tailor can alter most things, but if the shoulders aren't right, there is nothing he/she can do.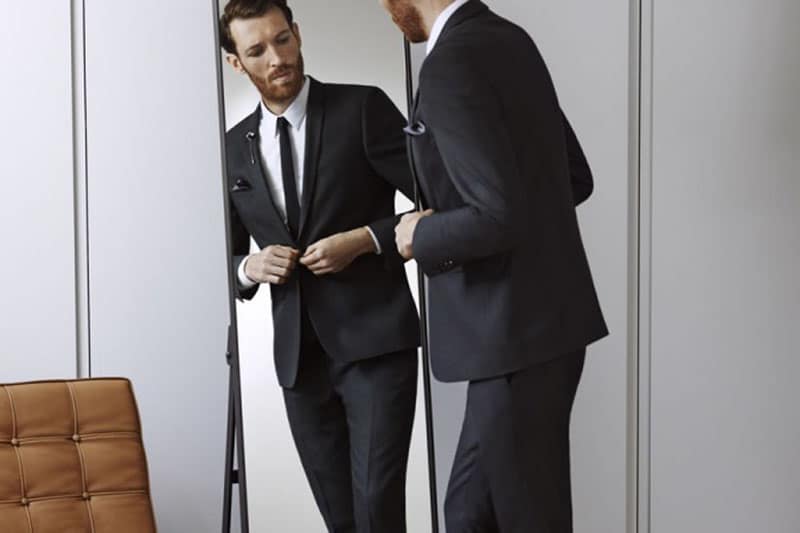 Choosing Suit Colours
If you are buying your first suit, it is best to start with something classic. Start with solid colour suits in navy or grey tones which are more versatile than an all-black number, and then you can begin to build up with textures and patterns.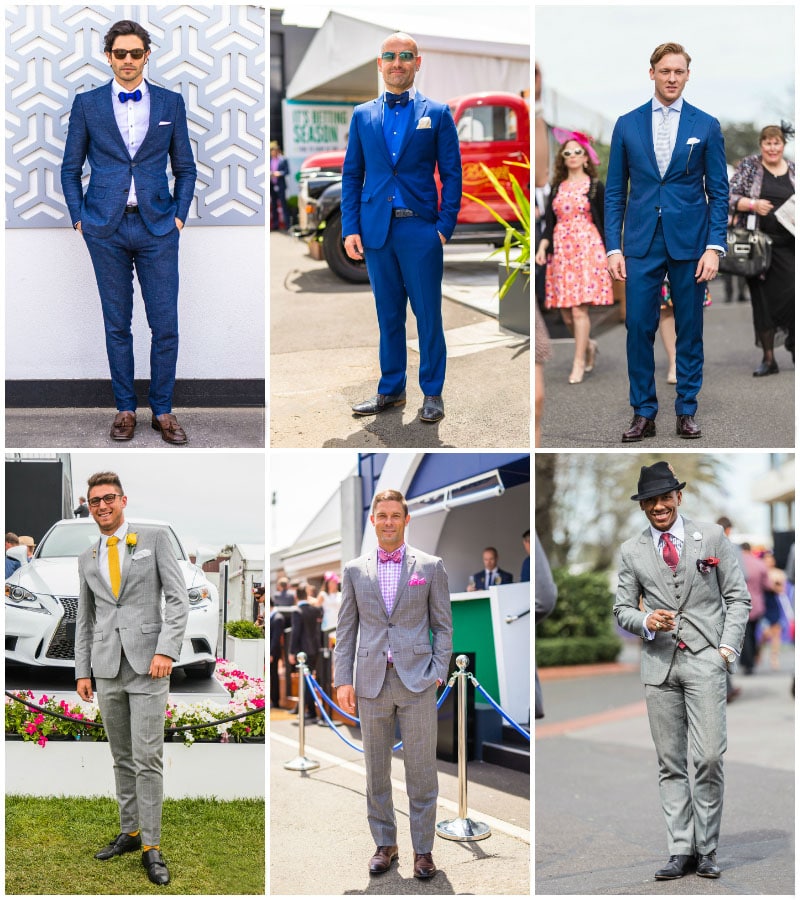 Choosing Suit Fabrics
Serge
Otherwise known as the classic twill Serge is a durable military grade fabric that is often used for classic suits. It is a high-quality woollen material, often rich in colour, and finished off so that the fibres are prominent giving it a clear and polished finish. By starting your collection off with a serge fabric in a dark navy or other solid colour you will have a classic yet versatile base for your wardrobe.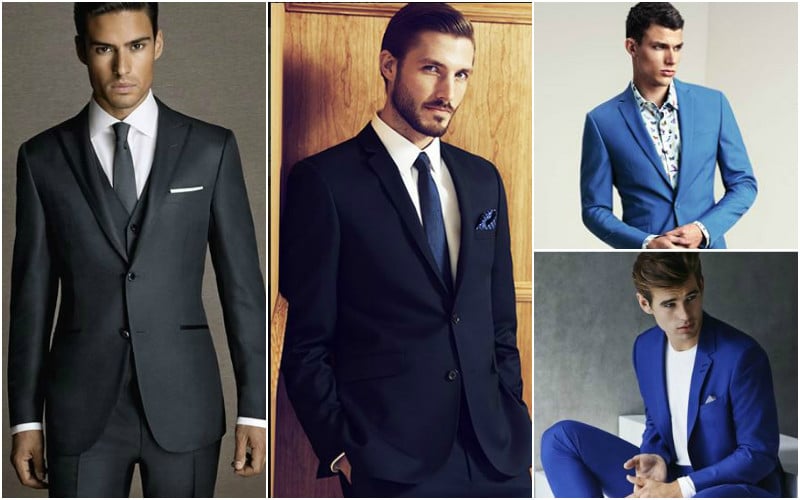 Birdseye & Herringbone
Both textures are conservative but add depth to your overall look. Birdseye is known for its tiny dot pattern whilst herringbone is distinguished by a zigzag pattern woven into the fabric uses two colours. Both options bring an eye-catching difference to a solid coloured suit.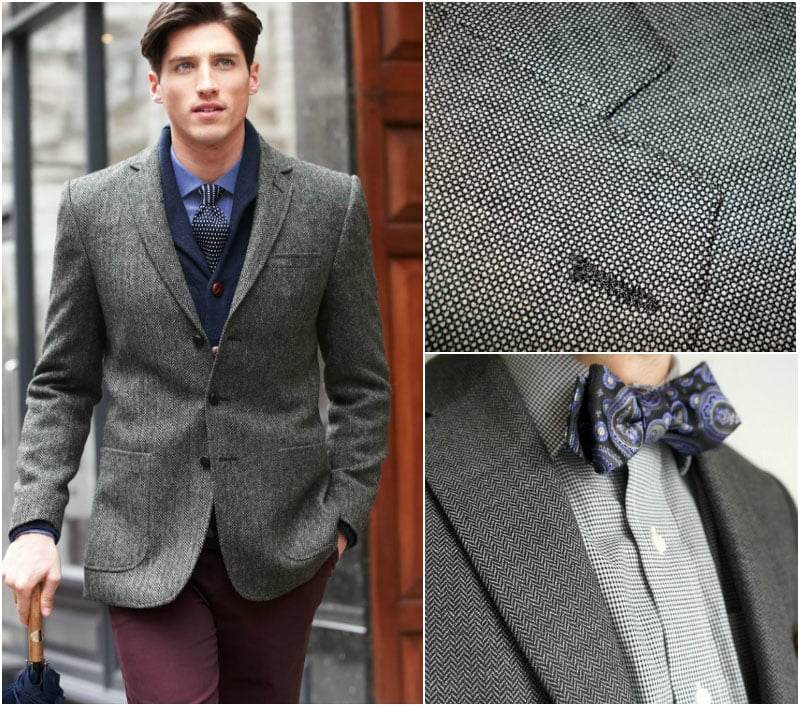 Choosing Suit Patterns
Stripes
Pin, chalk or cable? All these stripes have subtle differences and will change the overall look of your suit. Pinstripes refer to very thin single stripes woven into the fabric of a suit. They are generally used on worsted wool. Chalk and rope stripes are a series of threads, wider than a pinstripe, often resembling a rope. Stripes can sometimes be an imposing look. Make sure you mix up the look with a shirt, for example, a small gingham print that will break the wall of stripes. Lighter hues of grey and blue with a stripe are a good option as they steer away from looking too much like a retro Wall Street banker.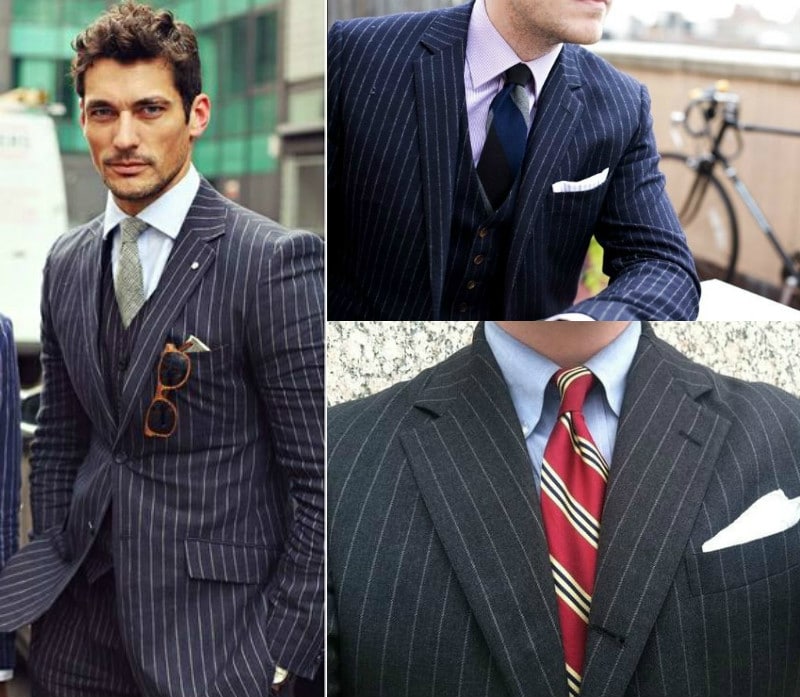 Checks
Checkered suits should be the last addition to your wardrobe. Although they can add flair to your collection, they are less versatile and formal than the other options mentioned. Glen checks or plaid checks are the traditional checks you will find on most suits. They work well with lighter shades of grey or blue, often with a complementing colour used for the pattern. Like stripes, checkered suits can often be overwhelming. Pair your suit with a solid shirt and tie combination, or if you want to opt for a print, try a smaller check in a colour already used on the suit.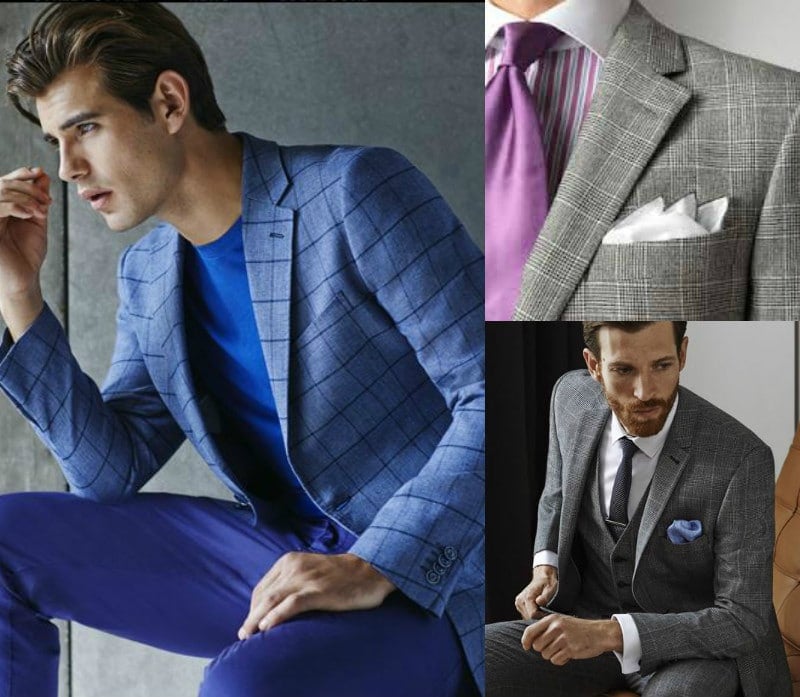 Completing Your Outfit
Here are our tips for putting the final spit and polish on your look.
Thin lapels are modern; leave the wider ones to Don Draper. However, if you want a classic fit that will never go out of style, opt for a lapel that is halfway between the middle of the chest and your shoulder.
Look for texture within a tie – whether it is knitted, woven or matte, it will add an extra element to your look and break up the monotony of your shirt and suit. They are also easier to wear.
Vents – center vents are classic, but double vents are suaver.
Accessories – to pull together your outfit, add final touches like a pocket square, flower lapel pin, or tie pin.
Shoes – as a general rule of thumb, black shoes work well with black, black, grey, light grey, or navy suits. Brown shoes match a brown suit, light grey or navy. Always make sure your belt matches your shoes!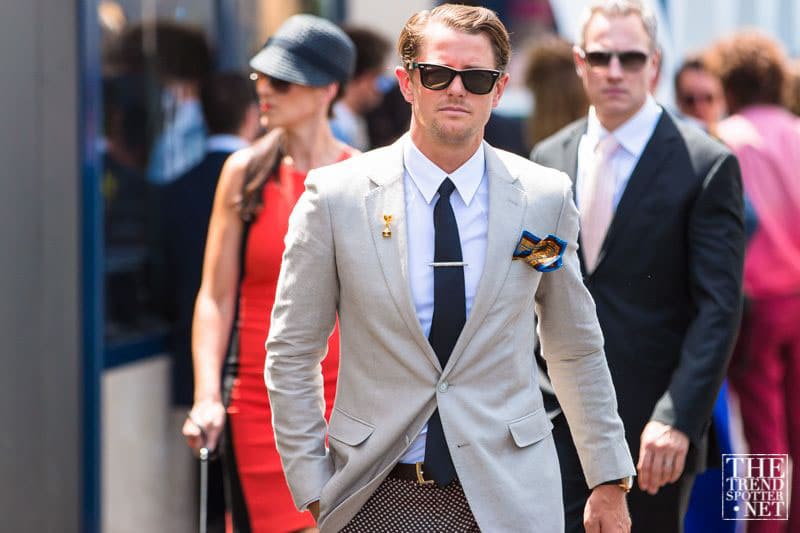 SUBSCRIBE TO OUR NEWSLETTER
Subscribe to our mailing list and get interesting stuff and updates to your email inbox.