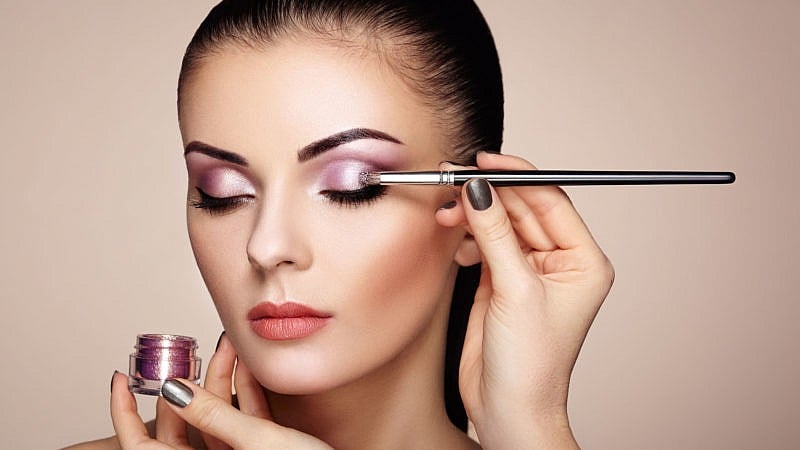 Have you ever seen an eye makeup look that you've dreamed of recreating? You don't have to be a makeup artist to apply eyeshadows, but there is some professional advice you should take into consideration before you start. We've gathered the best tips and tricks for eye makeup application for all eye shapes, colours or skin tones. Get your camera ready; you're going to be taking selfies after this!
How to Apply Eyeshadow for Beginners
For those who are just beginning with eye makeup, simplicity is the key. Always start with a primer; this ensures that your colours pop and stay on your lids all day. Pick four neutral tones, one hue lighter than your skin tone, a matte mid-colour, a shade that is 2-3 times darker than your skin tone and a highlight. Grab yourself a small and medium blending brush, and begin by creating a base colour across the entire eye using the lightest eyeshadow. From there, grab the mid-matte tone and start blending in the crease. Using the darkest tones, lightly create a "V" on the outer corner of your eyelid, contouring the shape. Apply mascara and voila! This is a relaxed, delicate look for beginners that is beautiful on all skin tones.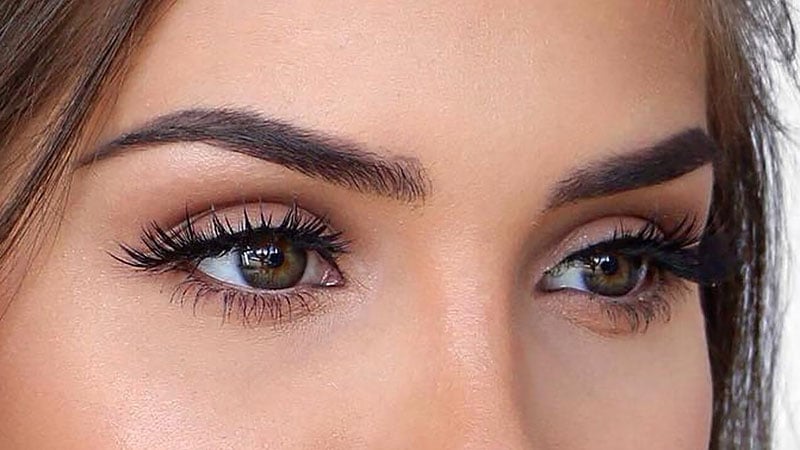 What You Would Need
To get started with any eyeshadow look, you need the following items.
Moisturiser
Eyelid primer
Eye cream
Eyeshadow colours (in a palette or individuals)
Liquid or pencil eyeliner
Kohl liner
Eyeshadow brushes
Mascara
Moisturisers and creams are optional but are a great way to keep your eyes looking and feeling bright and sparkling. If you wish, you can also use false eyelashes to add extra emphasis to your overall look. This is up to you; if you're starting out you may wish to leave this step until you've gained some extra practice.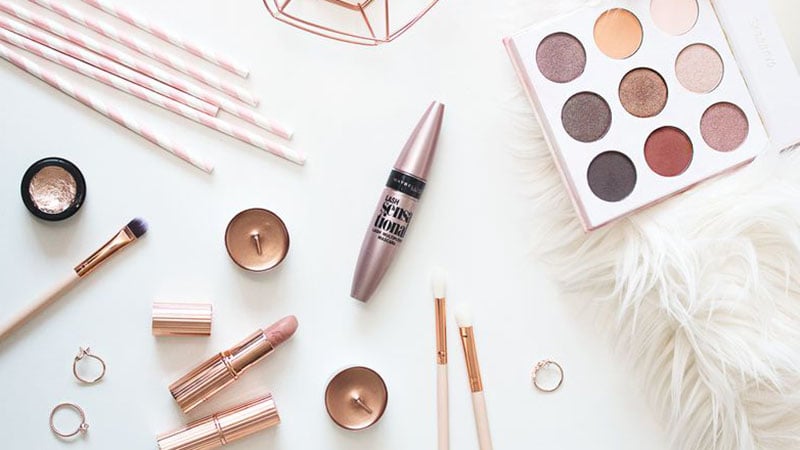 Types of Brushes
There isn't one brush that does every job for you, so you have to make sure you're using the right ones for specific tasks.
Flat Brush: This is perfect for applying the base colour to the lid.
Pencil Brush: This is the best brush for applying colour to the lower lash line.
Stiff Dome Brush: These are best suited for blending out colours and creating flawless transitions between tones.
Fluffy Dome Brush: This is created solely for blending. They come in different sizes and are made to create a seamless eyeshadow look.
Eyeliner Brush: These are best suited to applying wet liner to the lash line of your upper eyelid.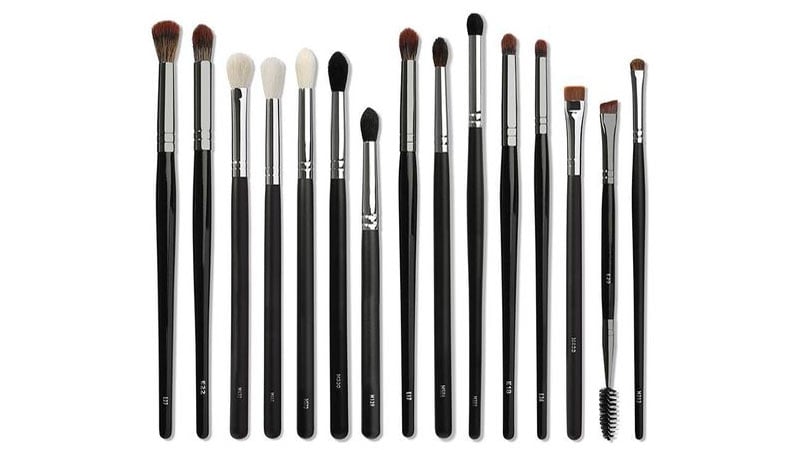 Do you Apply Eyeshadow Before False Eyelashes?
False lashes are a skill that can be tricky to master, but once you have, you can create a polished and beautiful look. When doing your makeup, it's best to apply your false lashes after the eyeshadow and eyeliner. This is so you don't run the risk of getting eyeshadow fallout on the lashes, and you don't have to reapply mascara and liner once you've finished.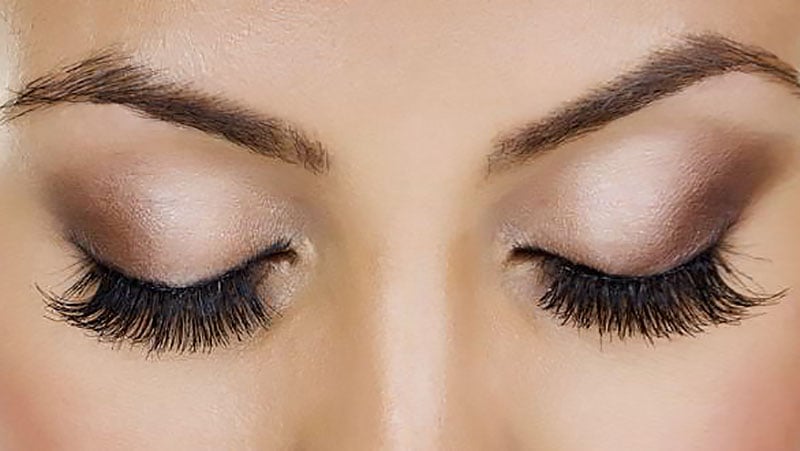 How to Apply Eyeshadow to Hooded Eyes
For those with hooded eyes, you can create a beautiful eyeshadow look easily. Different lids require different application methods, and with this shape, it's no exception. It's best to apply shadow with your eyes open and create a new crease that you want, rather than where your natural folds are. Blend the shadow towards the browbone. Using a darker shade, line your eyes and wing it out; elongate it out past your natural crease. Add mascara and false lashes to complete the look; you'll be turning heads everywhere you go!
How to Apply Glitter Eyeshadow
Glitter eyeshadow is the easiest way to transform your makeup into something sexy and sparkly. Begin with a dark matte shade in the outer V of your eyelid, using large sweeping motions to blur the colour out. You can use one or two hues, but be sure to blend them out, so there is a seamless finish to the shades. For an easy shimmer application, find a sparkly liquid eyeshadow and swipe the glimmer over the top of your lid. If you wish, you can draw a cat eye and apply false lashes for a dramatic finish.
How to Apply Cream Eyeshadow
Cream eyeshadow is a perfect product for beginners or if you're in a rush. They come in many forms, such as doe foot applicators or in round jars. Begin by priming your eyelid, and sweeping a small amount of cream in the centre. Using sweeping and patting motions, use your finger to spread the colour evenly across the lid. Once it has dried, you can use a mid-tone to slowly transition the cream into a powder, working your way up to the brow bone. Using a darker shade, contour the crease and brighten the inner corner of your eyes with a highlight. Finish the look with eyeliner and mascara, and you will sparkle like diamonds.
How to Apply Smokey Eyeshadow
Smokey eyes are an essential night-out look to master. Focus your application on the lash line and the crease; using three shades, a dark contour colour, mid-tone and highlight. Set the base with a light shade, making it easier for the powders to sit on the lid. Apply the mid-tone in the crease in upward motions towards the browbone, deepening the outer corner. With your eyes open, use your nose and brow to create an imaginary line on the outer side, sweeping the mid-tone colour across the entire lid. With a flat, stiff brush, dab the dark shade to the upper lash line, making it a little higher in the centre; if you're a beginner, don't be afraid to use a liner pencil instead. Using a fluffy brush, blend the black upwards to the middle shade, blending the colours out so it looks like smoke. Finish by applying eyeliner to the lashline, and put on some false lashes to exaggerate the smokey eye.
How to Apply Natural Eyeshadow
For a makeup look that is perfect for the office or everyday use, natural eyeshadow is the way to go. Using only one or two shades, you can create a soft and earthy-tone eye makeup style that is subtle. Using a middle shade, gently sweep it to the crease of your eye, building up the colour every so lightly to warm up the entire area. You have the option to add a deeper tone to the crease. Lighten the brow bone and the inner corner with a highlight, and finish with mascara. If you wish, you can apply eyeliner to your tight line and false eyelashes for a super dramatic look.
How to Apply Eyeshadow for Brown and Hazel Eyes
Create an entrancing makeup look specifically for brown and hazel eyes. Using colours such as blues and greys will highlight the cool undertones in your irises. Colours such as gold and earth tones bring out the golden lights. Using middle shades, create a deep crease and sweep the muted colours out to the brow bone. Apply gold glitter to the centre of your eyelid to make your eyes sparkle; black or brown liner and lashes will add drama and deepen the brown of your beautiful peepers.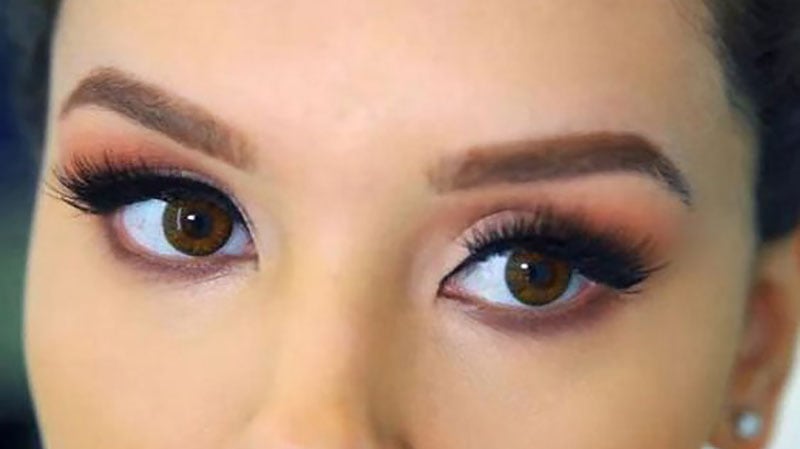 How to Apply Eyeshadow for Blue Eyes
Eyes as blue as the ocean need colours to help them pop. To make your sky peepers stand out, opt for warm tones such as orange, pinks and reds. To start, grab three shades, a highlight, soft orange and deep terracotta. Start applying the mid-tone orange into the crease, working your way across the centre of the eyelid. With the darker shade, create a V shape on the outer lid, working your way into the centre. Brighten your brow bone and inner corner with highlight; the light colour can also sit on the lid. Add winged eyeliner and mascara to tie the whole look together. If you're feeling a bit fancy, you can apply some gold glitter where the light shades are, giving your eyes some sparkle!
How to Apply Eyeshadow for Grey Eyes
For those with grey irises, look no further than neutral tones to make your eyes sparkle. For a simple look, all you need is ash or charcoal coloured liner pencil, a piece of paper and blending brush. Line your eyes, leaving a small wing at the tip of your eyelid. Place the paper along the wing and with the blending brush, gently buff out the edges so it looks soft and subtle. Using colours other than black for eyeliner can enhance your eye colour and offer a delicate twist to your makeup look.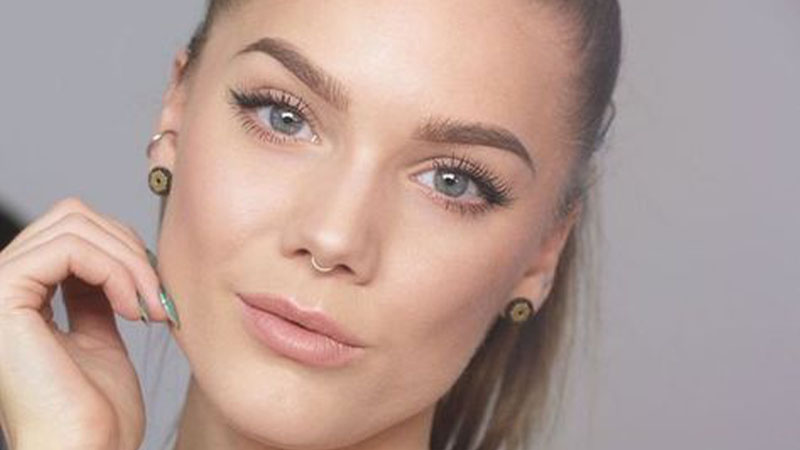 How to Apply Eyeshadow for Green Eyes
Make those green eyes look brighter than ever with the help of pinks, purples and light blues. Start with four shades: a highlight, wine red, soft pink and a charcoal grey. Starting with the soft pink, dust the centre of your eyelid, gradually building up the colour on the outer corner. Following with the wine shade, lightly deepen the crease and outer V using a large fluffy brush in sweeping motions. You can also use a flat brush to apply some eyeshadow on the lower lashline, creating unity. With the charcoal grey and flat brush, softly line your eyes and blend the dark colour out slightly at a wing. Complete the look by brightening your browbone and inner corners. If you wish, you can add liquid liner and false lashes; your eyes will pop either way with this winning colour combo!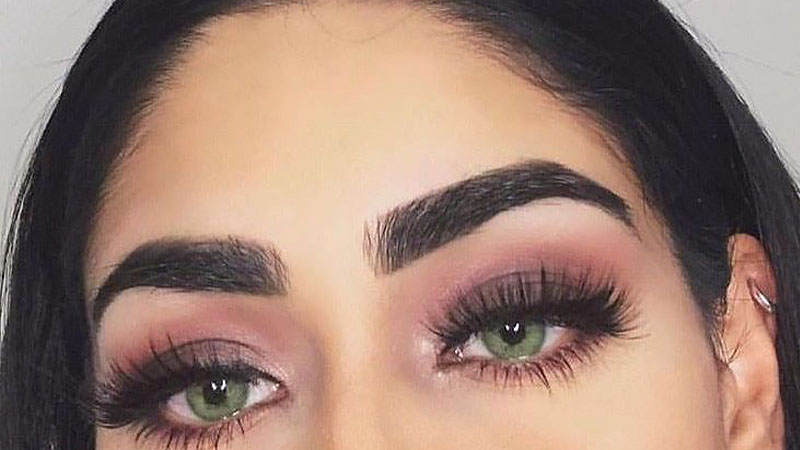 How to Apply Eyeshadow for Dark Skin
Unleash your inner royalty with these beautiful jewel tones. Ideal for darker skin tones, royal shades such as emerald green, ruby red and purple make eyes pop and accentuate beautiful dark skin. You'll need three or four shades to complete this look: a highlight such as gold or yellow, one or two shades and a deep colour such as black or brown. Using the contour shade, lightly apply to your crease and lash line, adding depth to your eyelid. Begin blending across the space of your lid, focusing the brighter tones in the centre. Pop some highlight on the inner corners and along your brow bone. Feel free to add false lashes or winged eyeliner. You can even spice it up by adding a coloured eyeliner, such as purple, emerald green or gold; you'll be the Queen of any room you walk into!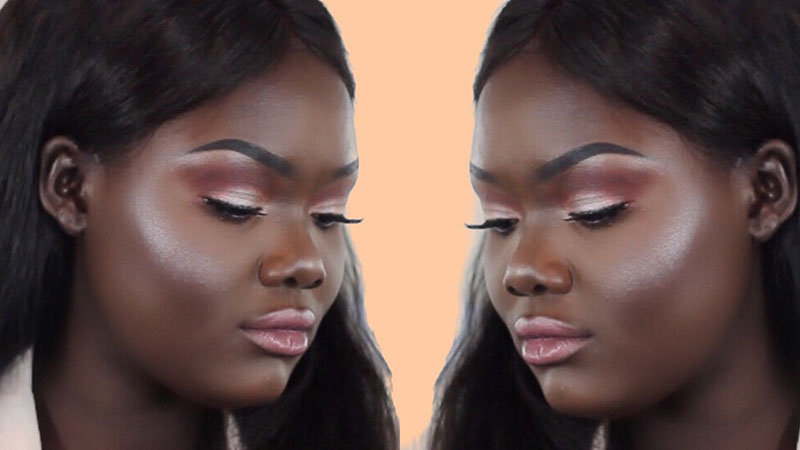 How to Apply Eyeshadow Steps
Prime your lids – this helps create a blank canvas for your eyeshadow, intensifies the colour and helps it stay on all night.
Using a flat, fluffy brush, sweep a neutral shade over your eyelids.
Build the neutral shade into the crease – this deepens the socket and opens your eyes up.
Blend a darker colour into the crease and outer V of your eyelid. Blend the mid-tone and darker shade together, so they're seamless.
Apply a highlight shade to the browbone and inner corners
Sweep liquid eyeliner over the lashline, apply mascara and false lashes are optional.
SUBSCRIBE TO OUR NEWSLETTER
Subscribe to our mailing list and get interesting stuff and updates to your email inbox.