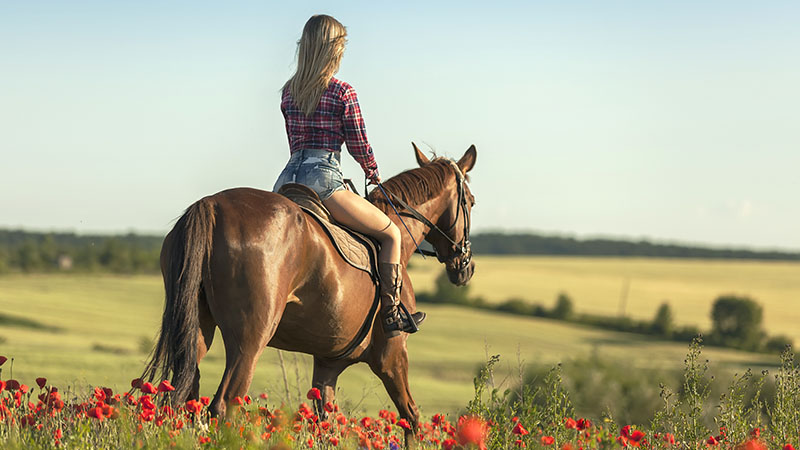 Riding on horseback is a great way to travel. Being in the outdoors exposed to scenery at this height gives you a whole different perspective on your surroundings. The culture and tradition of riding horses has existed for many years, and there are lots of great riding destinations all around Sydney. If you are looking for the ideal locations for horse riding, this will be your go-to guide.
1. Sydney Horse Riding Centre
Situated in picturesque Badgery's Creek – just a 45-minute drive from Sydney's CBD, the Sydney Horse Riding Centre offers horse riding for all levels of experience and ages. It is located on pristine grounds, set on 200 acres of beautiful riding trails with access to an additional 500 acres of land to explore for extended rides! Their team of expert staff hold years of experience and safety. Sydney Horse Riding Centre offers various services including riding lessons, corporate days, tour groups, pony parties, and horses for wedding photography and photo shoots.
VISIT: Sydney Horse Riding Centre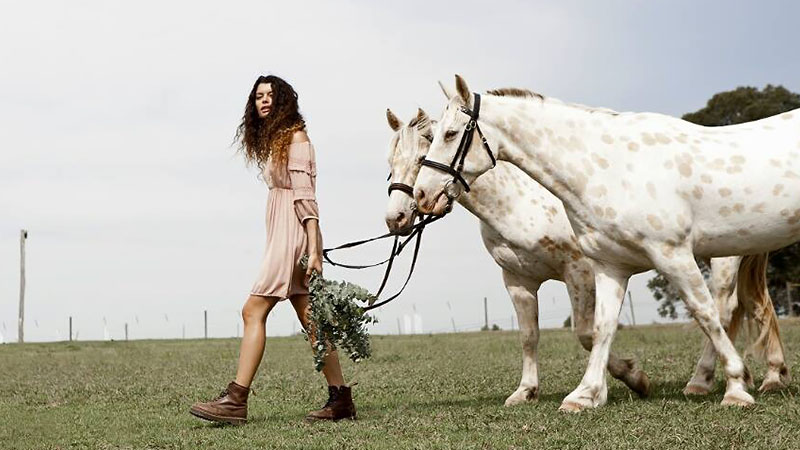 3. Papillon Riding Stables
Situated less than 5kms from Sydney's CBD, the Papillon Riding Stables offer dressage lessons for all ages and riding levels, from total beginners up to experienced riders. They run guided rides in Centennial Park, right in the heart of Sydney, as well as a variety of activities for kids. The centre also provides onsite veterinary service, blacksmith (farrier), and feed stalls. After a unique gift for your loved one? The Papillon Stables offer gift vouchers for all of their ride options.
VISIT: Papillon Riding Stables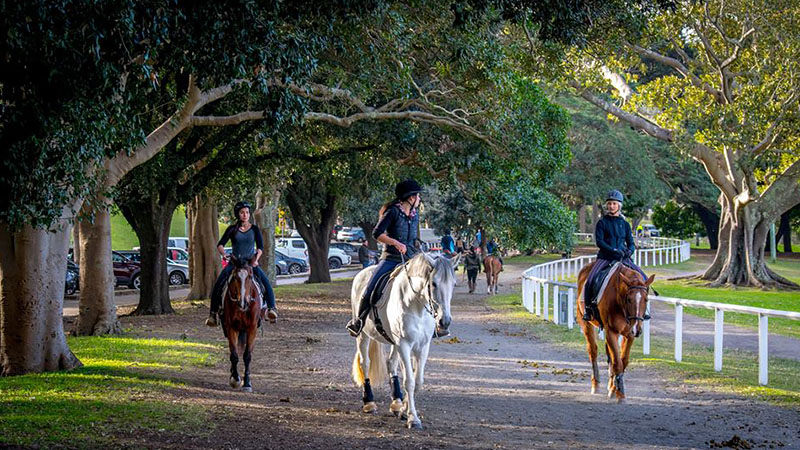 3. Sydney Hills Horse Riding Centre
With more than 25 years experience in owning and running riding centres, the Sydney Hills Horse Riding Centre is located in the picturesque Sydney Hills area of Dural, just 35 minutes drive from the CBD. They offer a variety of services including group and private lessons, school holiday camps, a junior riding club and pony parties. The centre features two separate riding areas, a brand new dressage arena, showjumping and games areas. At the Sydney Hills Horse Riding Centre, the focus is on riders feeling safe and comfortable yet still increasing confidence and abilities. They have beautiful well-trained horses and ponies for all levels and ages, providing a comprehensive learning and riding experience.
VISIT: Sydney Hills Horse Riding Centre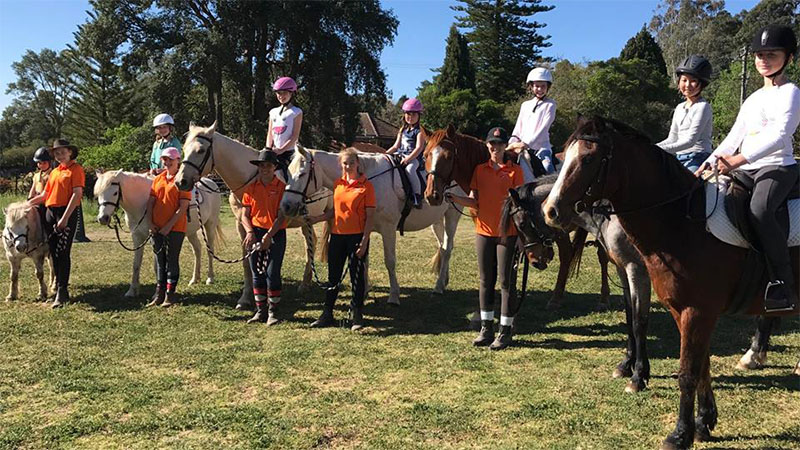 4. Scenic NSW Horse Riding Centre
Scenic NSW Horse Riding Centre offers an incredible horse riding experience set amongst the bushlands of Denham Court. Located only 45 minutes from the CBD, their sprawling 360-hectare farm gives guests access to the truly unique riding experience. The company offers beginner rides that will take you on an hour-long walk along one of many trails on the property. Or, if you have a little more experience you could try the advanced trail ride. Horse riding lessons for both experienced and inexperienced riders are also available. Also, the company holds day camps during the school holidays, where children will learn feeding, grooming, saddling and riding skills. Horse management classes are also available to help you learn about horses from the ground up.
VISIT: Scenic NSW Horse Riding Centre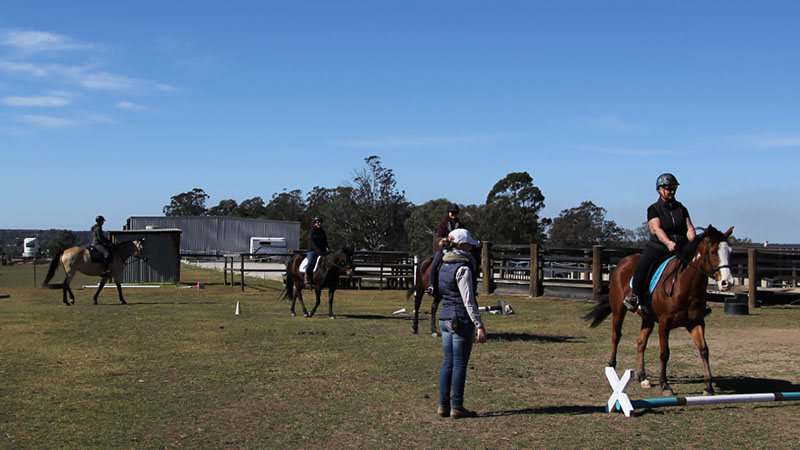 5. Terrey Hills Riding School
Terrey Hills Riding School is located in the peaceful semi-rural surrounds of the Terrey Hills/Duffys Forest area, just 40 minutes from the CBD. Offering both lessons and holiday programs, Terrey Hills Riding School caters to all experience levels in an encouraging and positive environment. The company offers an experience where you not only learn riding skills, but also spend the time getting to know horses by grooming, saddling, and handling them. Terrey Hills specialises in novice adult/ladies group, and after school children's groups (from age 9+). General riding instruction, dressage, show jumping lessons and trail rides are also available.
VISIT: Terrey Hills Riding School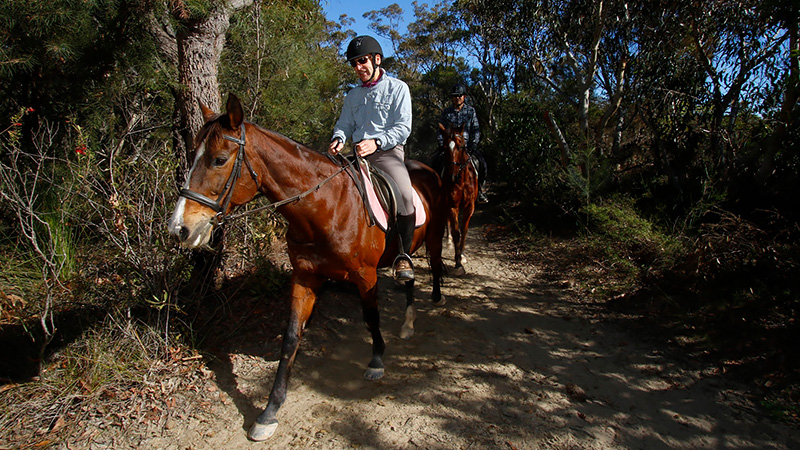 6. Centennial Parklands Equestrian Centre
A visit to Sydney would not be complete without a horse ride in the stunning Centennial Parklands. It is one of the few parks globally to offer inner-city horse riding. The Centennial Parklands is situated just minutes from the CBD and is one of the world's best urban equestrian assets. It allows the residents of Sydney and their tourists to enjoy an equestrian experience like no other. The centre provides accommodation for 197 horses consisting of privately owned horses and riding school horses. Equine facilities include a covered lunge yard, three arenas (two roofed arenas), stables (both inside pavilions and outdoors), sand rolls, wash bay facilities and on-site float parking.
VISIT: Centennial Parklands Equestrian Centre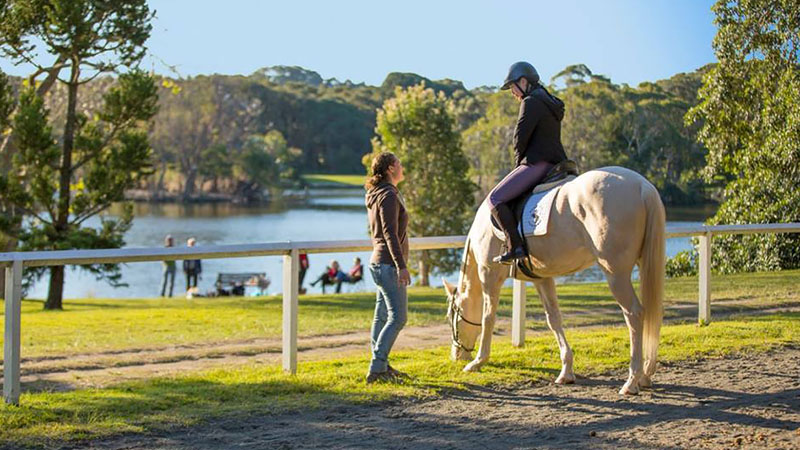 7. Hidden Valley
Located just one hour north of Sydney, twenty minutes from Hornsby, Hidden Valley offers horse agistment and horse riding, as well as family-friendly farm-stay accommodation. Nestled in the valley of the Ourimbah state forest, their facilities are ideal for cross country horse riding, trail rides and pony leads for the real beginners. Hidden Valley has a company herd of horses for the use of guests as well as 320 acres of wonderful farmland. But if horse riding isn't your thing, don't worry. Hidden Valley certainly has something for everyone. Book a cabin today, escape to a secluded spot and discover a family-focused farm. Enjoy the best of both worlds: the coast and the country.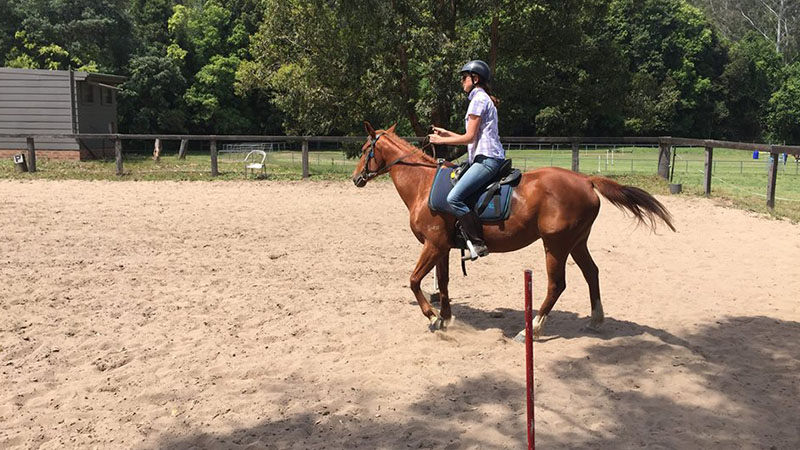 8. Sahara Trails Horse Riding
Sahara Trails Horse Riding, located in Port Stephens, offers a little something for everyone. They provide horse riding experiences for the whole family, from the absolute beginner to the most experienced rider, since 1988. Come and indulge in one of their scenic guided trails and experience the peace and tranquillity of the beautiful surrounds. Port Stephens makes for a wonderful holiday destination, with so many places to stay, eat and play. With over 35 years of local knowledge, Sahara Trails can help you to not only enjoy your horse riding experience but also Port Stephens as a destination.
VISIT: Sahara Trails Horse Riding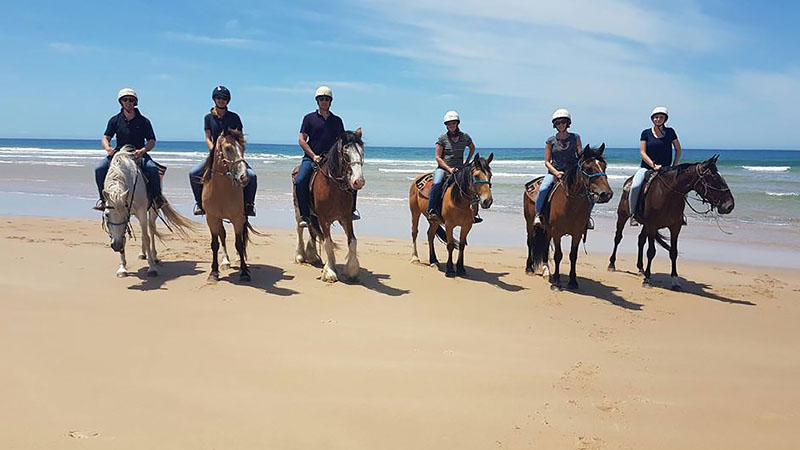 9. Yarrabin Holiday Ranch
Yarrabin is one of Australia's most commended trail riding destinations. Horse riding has been the backbone of their business since 1963 and will remain so. If you are the type of person who enjoys getting away from it all – out of the city and back to nature, tranquillity and peace, and fresh country air – then Yarrabin is your kind of place. The ranch has a variety of forest trails and open paddocks in over 1000 hectares. Above all, Yarrabin is home to over 20 beautiful horses to suit all levels of riders.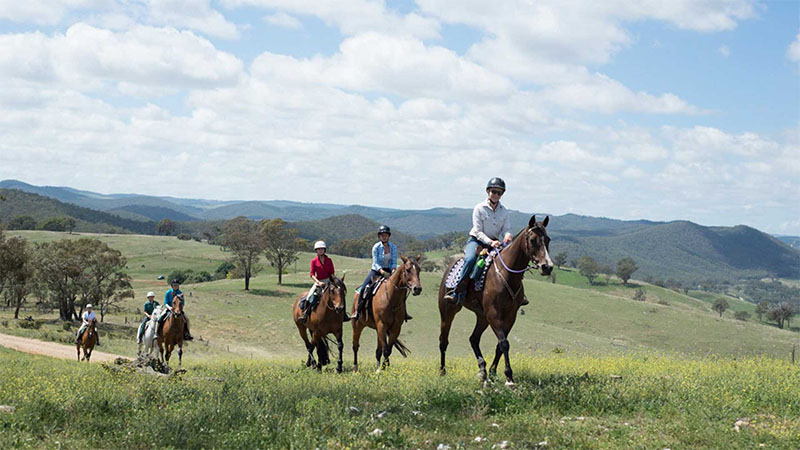 10. Kangaroo Valley Horse Riding
Kangaroo Valley Horse Riding offers a lovely experience to those who want to go horse riding in the Southern Highlands. Their horses are alert, well-trained and extremely responsive, making them the perfect animals for both experienced and beginner riders. Their property is home to some of the most beautiful landscapes the area has to offer, from rainforests to mountains. As you ride, you'll be treated to panoramic views out into Moreton National Park and over the Kangaroo River. Plus, with great accommodation on offer, you can stay a little longer and enjoy the spectacular Kangaroo Valley views. With the national park at your doorstep, you can watch the abundant wildlife, enjoy the stunning scenery or go hiking. The Southern Highlands and South Coast are stunning regions and certainly a must-visit for those who love the outdoors.
VISIT: Kangaroo Valley Horse Riding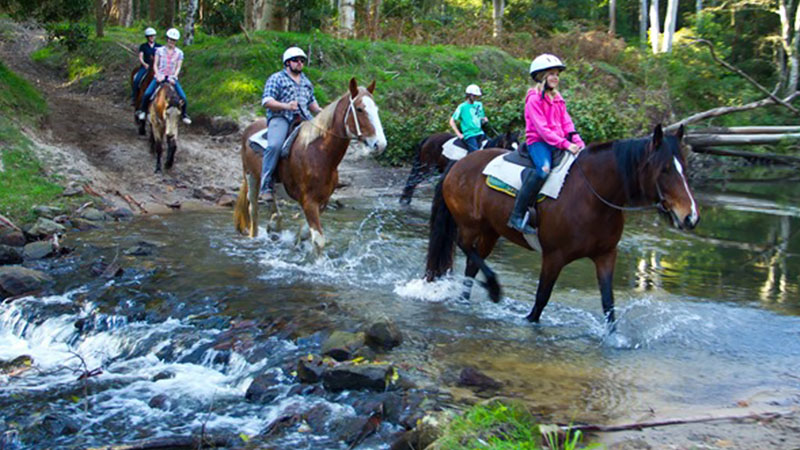 SUBSCRIBE TO OUR NEWSLETTER
Subscribe to our mailing list and get interesting stuff and updates to your email inbox.