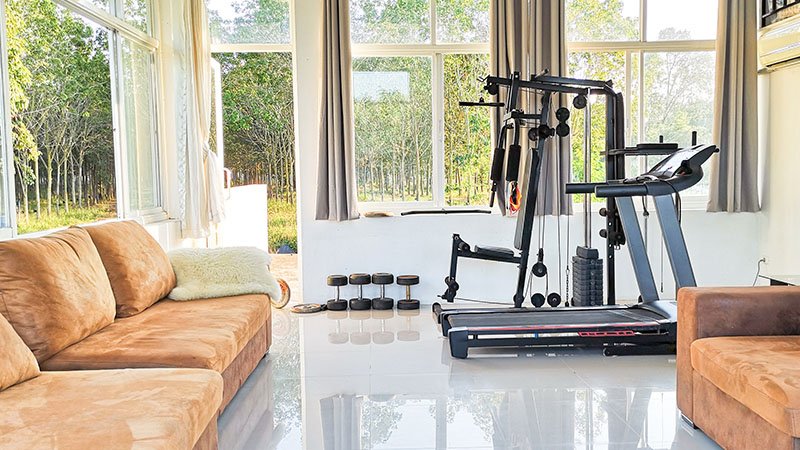 A home gym is an excellent alternative to a membership at a commercial gym. While it can be an investment up front, you'll save money over time on fees. Plus, you can workout whenever you like, in whatever you want, and blast any beats you desire. You also don't have to wait while someone else finishes at a station, and you can customize your equipment to help you reach your fitness and health goals. It's not all about giant machines and big weights; you can still achieve results with simple equipment and limited space – you just need to be smart and clear about your objectives.
Best Home Gym Equipment
A good home gym will have various equipment that meets the requirements of your workout and fitness goals. However, it's not all just about big machines and heavy weights. There's a variety of innovative and creative equipment that can help you. Plus, there are other items for storage, comfort, and hydration that might not immediately come to mind. Keep reading for our suggestions to make your home gym setup complete.
1. FLYBIRD Adjustable Weight Bench
An adjustable weight bench is an excellent addition to any home gym. It hugely increases the range and kinds of exercises you can do, giving you the flexibility to work out more effectively and efficiently with dumbbell, body weight, and even barbell exercises. This design from Flybird is strong and sturdy, using thickened steel pipe for the frame and boasting a 700-pound weight capacity. Choose between seven backrest positions, including inclined, flat, and declined, plus three seat positions that help maintain comfort and correct form. You'll also be able to smash out a long workout without fatigue, thanks to the two-inch-thick foam padding, covered in durable, wear-resistant leather. Another advantage of this design is that it folds up, saving 80 percent space, which is excellent if you only have limited room or need to store it away between sweat sessions.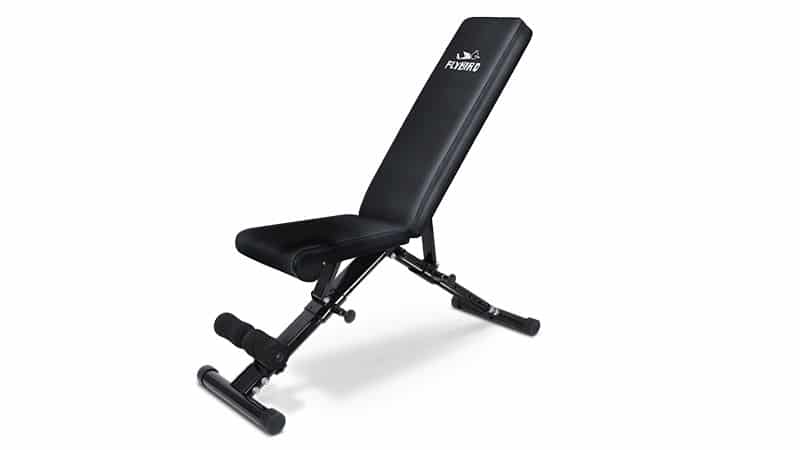 2. Whatafit Resistance Bands Set
The different colors in this resistance band set from Whatafit make it easy to choose the correct resistance for your workout. They include ten, 20, 30, 40, and 50-pound options, which can be stacked together for even higher numbers. The set also comes with a door anchor, two cushioned non-slip handles, two ankles straps, and a convenient carry bag. It's an excellent tool for a home gym because they're compact yet extremely useful. You can work your arms, chest, shoulders, legs, and back. Plus, adding them into exercises like dumbbell curves increases the resistance through the whole movement, giving you better, faster results. Made with natural latex, they're strong, wear-resistant, and provide great elasticity.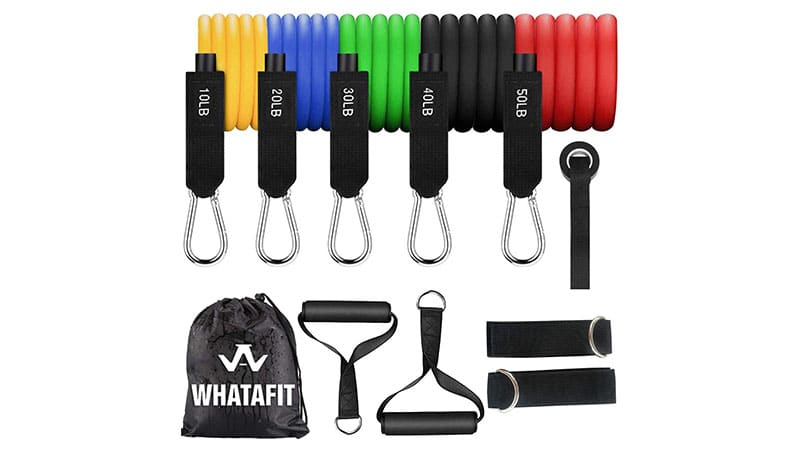 3. J JACKCUBE DESIGN Gym Storage Rack Organizer
Smart storage is an integral part of a home gym. You'll often have somewhat limited space, so you need to keep your equipment tidy and out of the way when not in use. This storage rack is the perfect solution. It's a multifunction space with the ability to hang, sit, and prop items up. It uses nine heavy-duty metal prongs with upward angled ends to prevent your gear from slipping off. They're spaced wide enough apart for even the bulkiest of ropes or chains. Meanwhile, the upper shelf is solid wood and is perfect for propping up a tablet for follow-along workouts, a water bottle, or even a Bluetooth speaker to get the beats pumping. Installation is simple, with wall mount hardware and instructions are included.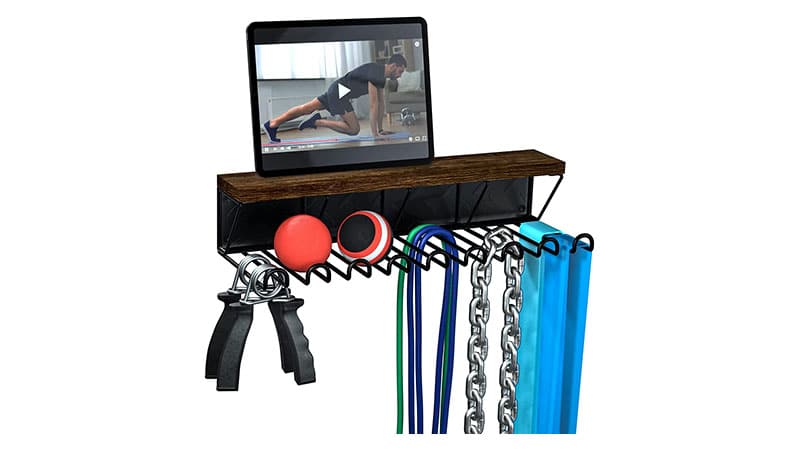 4. NordicTrack T Series 6.5 Si Treadmill
Get some miles up on your new running shoes by adding a treadmill to your home gym. Whether you choose to walk or run, it's a great asset for both cardio and recovery. It's also a safe and comfortable alternative to running outside when it's cold, wet, snowy, or dark. NordicTrack is a great brand with a reputation for high-quality performance and innovative technology. This model has 20 built-in workouts, designed by a personal trainer if you need some simple direction. Otherwise, it has real-time performance tracking to keep you motivated through your own training. Choose speeds up to ten miles per hour and an incline up to 10 percent. The FlexSelect Cushioning reduces the impact of every foot strike; however, you can also turn it off to better simulate road running. Lastly, if you need to save a bit of space, the platform folds up for compact storage.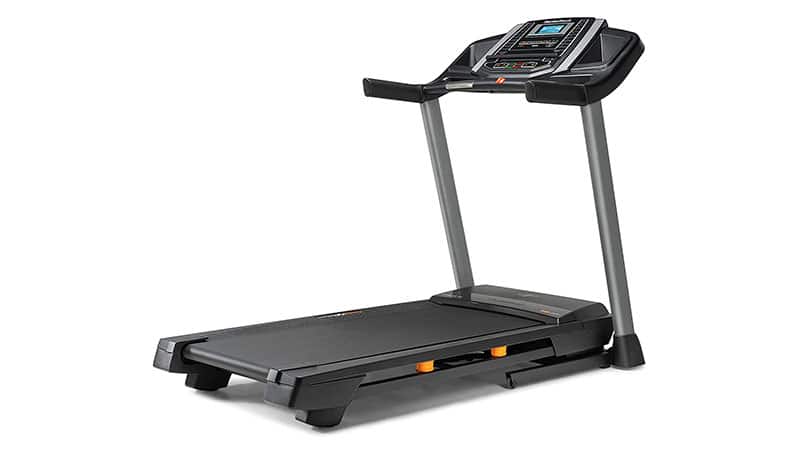 5. Hydragun
Hydragun is a product that sets itself apart from the rest and is used by athletes and professionals, including Olympians Bronte Campbell and Lydia Williams. So, what exactly is Hydragun? It markets itself as the quietest massage gun, helps individuals reach their peak performance, and optimizes the recovery experience. Machine gun technology is relatively new, but the device has been able to fill a gap in the market. It can help relieve muscle tension, offer various setting speeds, and is simple and easy to use. Hydragun has been reviewed by experts, has an impressive customer satisfaction rate, and has been featured in world-class publications. Their goal is to have the product in 1 million households by 2023.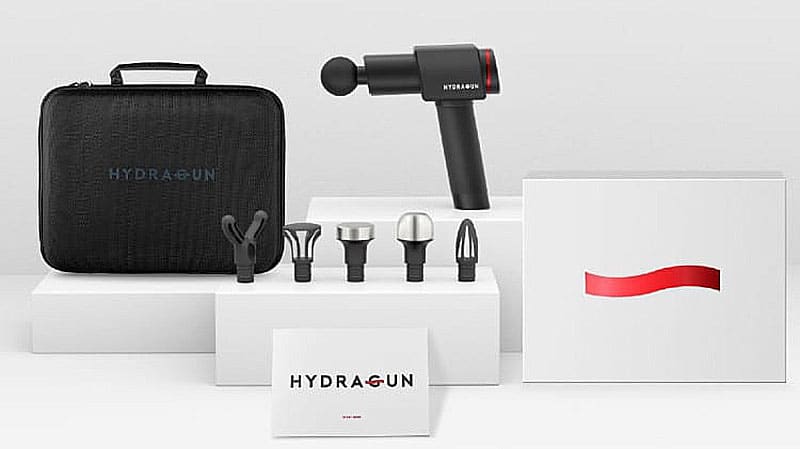 6. CEAYUN Pull up Bar for Doorway
Work your lats, traps, delts, abs, and biceps with this doorway pullup bar. The heavy-duty steel construction supports weights up to 440 pounds and fits standard doorways between 24 and 32 inches wide. There's no drilling required for installation; instead, it uses leverage to stay securely in place. The upper bar rests on one side of the door frame, while the horizontal handle anchors against the other side, with foam padding preventing damage. As such, it's installed and removed in just seconds. The are multiple handles, all with non-slip foam grips. This allows you to perform different moves to target all areas of your upper body while reducing hand fatigue.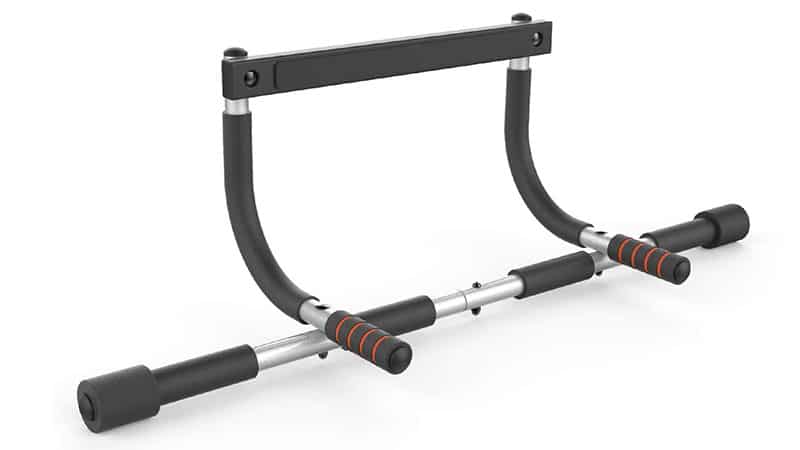 7. BalanceFrom Puzzle Exercise Mat with EVA Foam Interlocking Tiles
Protect both yourself and the floor of your home gym with these one-inch-thick EVA foam interlocking tiles from BalanceFrom. They serve two purposes. The first is to cushion your feet, elbows, knees, back, and hands while doing floor-based exercises or yoga. They're slip and moisture-resistant, reducing the chance of sweat-related accidents, and are easily cleaned to keep your space hygienic and smelling good. The second purpose is also to protect your floor, giving you a place to rest heavy equipment and avoid cracking tiles. The interlocking design clicks together easily, holds its shape, and makes it simple to fit into your desired area. It arrives with six tiles and 12 end borders, giving you coverage for 24 square feet.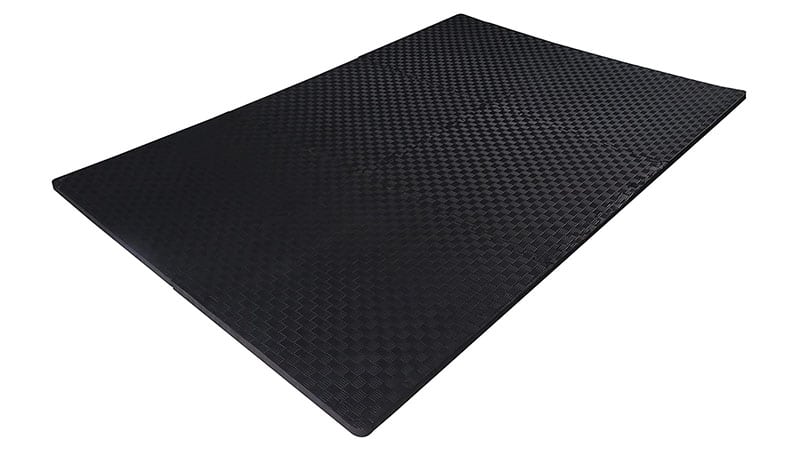 8. TRX GO Suspension Trainer System
Hit your fitness goals no matter where you are with the TRX GO Suspension Trainer System. This compact system is ideal for the home gym or traveling and can be set up easily in less than a minute. The pack comes with suspension straps, two anchoring solutions, a mesh travel bag, and access to two online workouts. Master the seven foundational moves — push, pull, plank, squat, lunch, hinge, and rotate — and create your own perfect routine. You'll be able to build muscle, burn fat, and increase your endurance.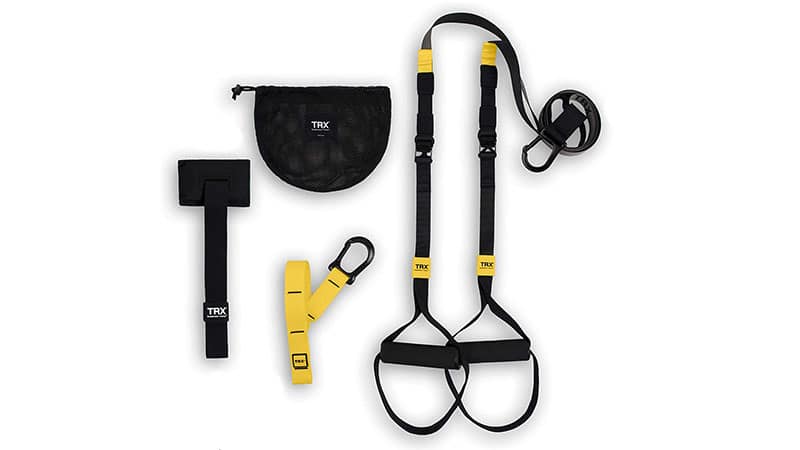 9. Wallniture Guru Wall Mount
Keep your yoga mat out of the way with this Wallniture Guru Wall Mount. It's a practical and stylish storage solution for your home gym. There are three levels of large hooks, measuring just over seven inches long, with seven inches of height between each one. This provides the perfect amount of space for bulky items like foam rollers and exercise mats while still keeping them within easy reach. Additionally, along the bottom are three smaller hooks ideal for hanging things like resistance bands or even a towel. The unit is easy to install, coming with wall-mounting hardware and instructions that are easy to follow.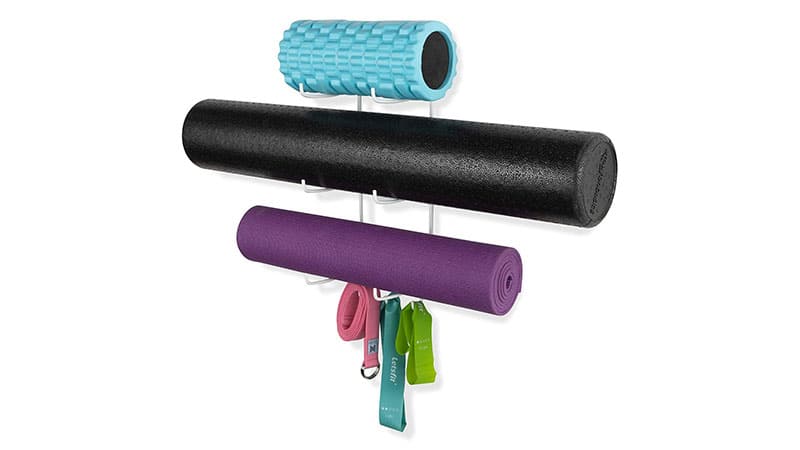 10. Fusion Motion Portable Gym with 8 Accessories
Fusion Motion's Portable Gym is a great innovation for your home gym. It's handy if you have a small space or even no space to permanently dedicate to working out. The system comes with a two-part main base that supports up to 290 pounds. Attach the various accessories to it for different exercises. These accessories come with the pack and include four tension elastics, a door anchor, two dynamic pulses, two dynamic handles, a fusion bar, two static handles, and a core wheel. They lock securely into the base for a safe and effective workout. Once you're done, pack them all away into the tote bag, and fold up the base for easy and convenient storage, entirely out of the way. This system lets you do a full-body workout with a printed guide that demonstrates over 200 moves.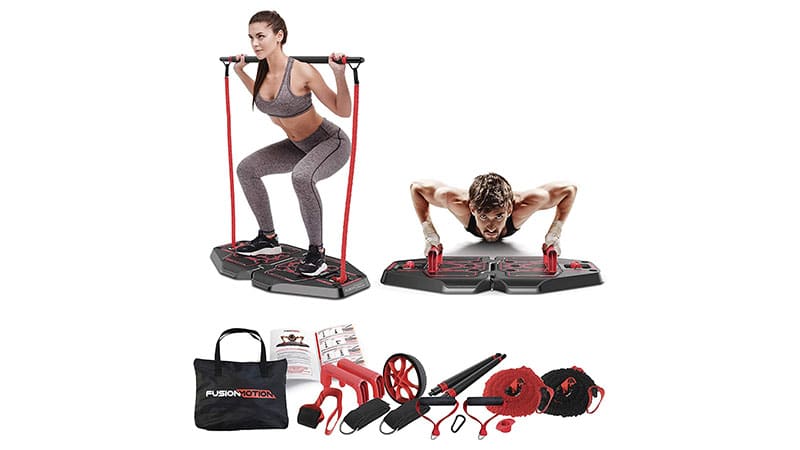 11. Ab Roller Wheel
Feel the burn through your core with the Ab Roller Wheel. It features stainless steel handles covered in EVA rubber that can handle up to 440 pounds of weight, with the smooth-rolling movement of the wide TPR-covered non-slip wheel. This means it's easy to use but also quiet and won't disturb your neighbors when you have a home gym. Plus, it won't damage or mark the floor. The pack comes with a knee pad to prevent pain and fatigue during your workout. You'll be able to build strength and stamina not just in your core but also through your arms, chest, and back.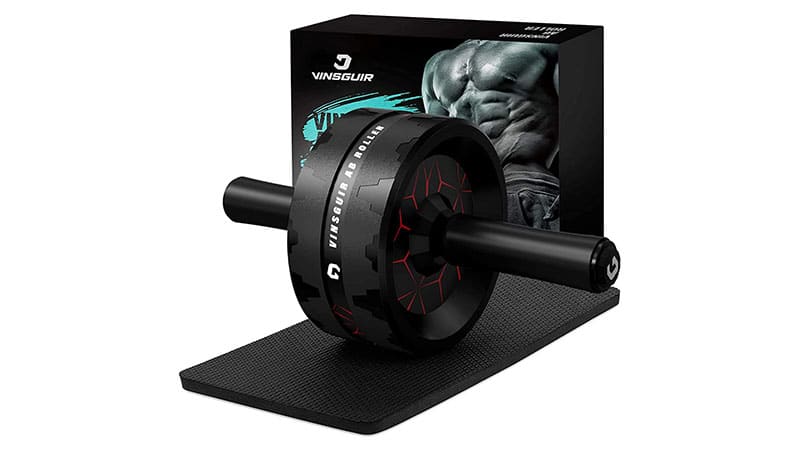 12. Iron Lab Olympic Barbell Collar
Stay safe while you lift with these Olympic barbell collars. They use high-strength nylon and high-pressure grip to stop the weight plates from moving or sliding along the bar as you work out. They're also an excellent alternative to difficult-to-use spring collars and are super easy to operate. Slide them along the bar until they sit flush against the plate, and push the locking mechanism into place. It's so simple you can do it one-handed. You'll save time and energy changing plates between your different sets.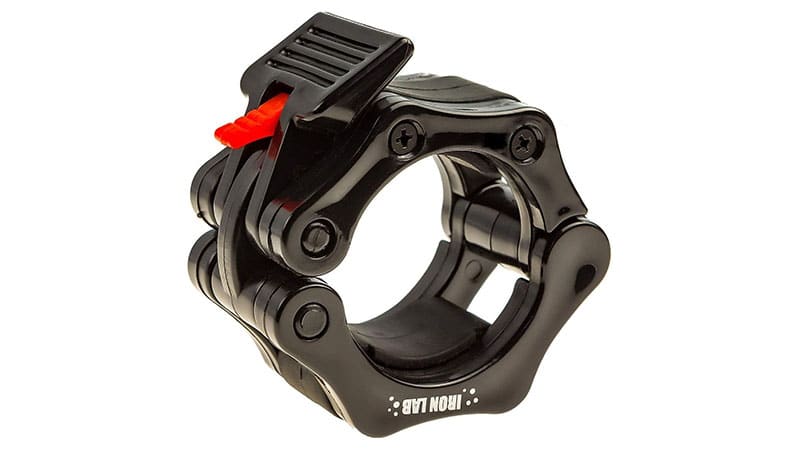 13. Ventilated Weight Lifting Gloves
Adding weight lifting gloves to your home gym equipment is a brilliant idea, particularly if you lift big. Gloves provide many benefits, including protecting your hands from callouses and tearing, improving grip, providing cushioning, and reducing your risk of dropping heavy dumbbells or barbells. This design uses silicon printed neoprene with extra grip on the palm for improved hold. They're easy to put on and remove, thanks to velcro wrist bands, which also provide support. Meanwhile, the breathable mesh on the back and ventilation on the fingers keep your hands cool and dry. Best of all, you can choose from a range of sizes and colors, so if you share your home gym, you'll know who's are who's.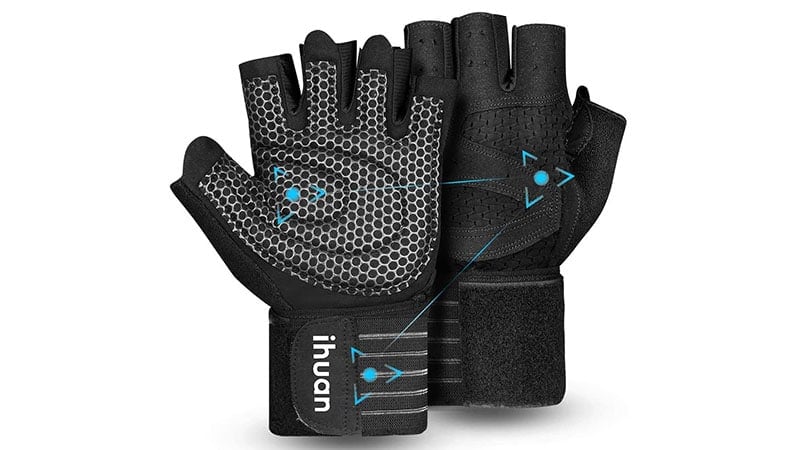 14. EVERSTRONG T Bar Row
The EVERSTRONG T Bar Row is a piece of simple but effective equipment that takes your home gym to another level. There's no drilling required, and you can set it up anywhere. All you need is two 45-pound plates (not included). Then the unit simply slides into the center, your two-inch Olympic bar sits into the tube, and you secure it in place with the knob. Once you're set up, you can do all kinds of exercises like bent-over rows, shoulder presses, one-arm rows, and one-arm floor presses. The head rotates 360 degrees while also moving over a 180-degree axis, from horizontal to vertical. Increase your resistance by adding extra weight plates to the upper end, securing them with a good collar. Best of all, because the set-up is so easy, it also makes taking it apart a breeze if you need to reclaim the space.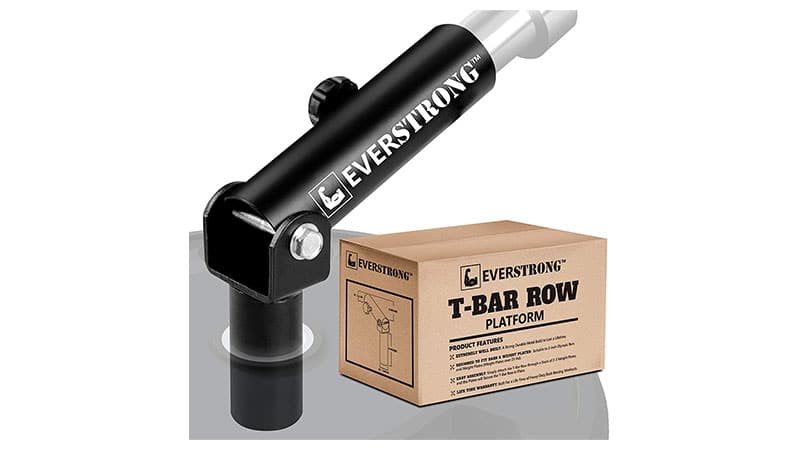 15. Marcy Adjustable Olympic Weight Bench with Leg Developer and Squat Rack
If you're serious about lifting and have a larger space for your home gym, then investing in an Olympic weight bench can be a brilliant idea. This model from Marcy is multi-functional and perfect for a full-body workout. It comes with an adjustable bench that has six recline positions covering inclined, flat, and decline. Then, there's also an adjustable curl pad for bicep or preacher curls, plus a leg developer for leg curls and extensions. Finally, it also has a separate squat rack that you can use for squats and lunges or in conjunction with the bench for presses. The frame has bonus plate storage to help keep weights tidy when not in use. However, you will need to ensure you have Olympic-sized bars, as the frame is larger than standard gym barbells.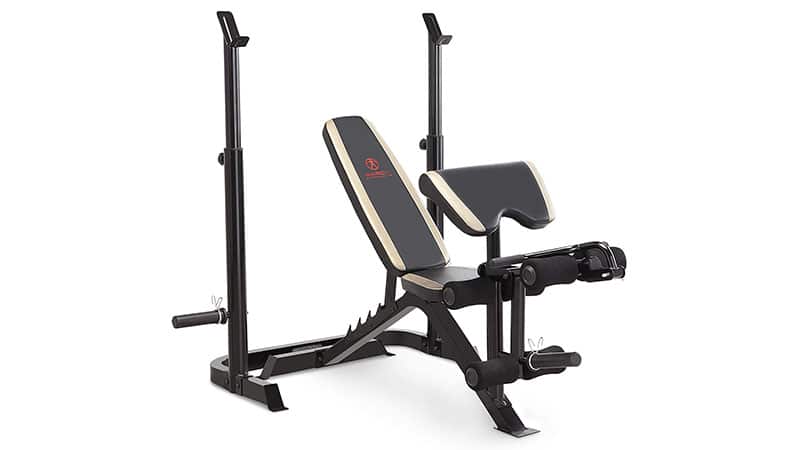 16. Battle Rope with Foldable Poster and Anchor KIT
Get into the best shape of your life with battle ropes. Ideally, these are suited for a bigger home gym, as they come in 30, 40, or 50-feet lengths. The set includes an anchor point kit, a protective sleeve to prevent wear on the rope, and a battle rope training card with workouts and exercises to train your whole body. Incorporating a session regularly into your fitness routine will build strength, improve grip, developed your upper body and core, and increase your stability. It's an intense workout, but it suitable for all fitness levels.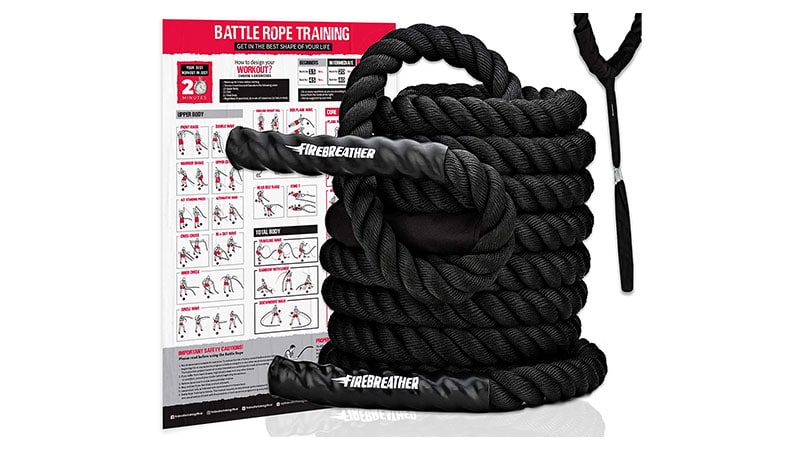 17. Theragun G3PRO Percussive Therapy Device
Everyone knows sore muscles are par for the course after an intense workout; after all, you can't build mass without hypertrophy. However, on days when you can barely drag your achy body out of bed, you can help your recovery with a massage gun. The Theragun G3PRO Percussive Therapy Device is calibrated to deliver deep muscle treatment to help you warm up, enhance performance, and accelerate recovery. All it needs is 30 seconds for each muscle group. The machine boasts a powerful (but quiet) Japanese motor, two speeds, swappable lithium-ion batteries, and an ergonomic handle. Plus, the arm rotates over 90 degrees, with four positions to make accessing all parts of your body simple. Finally, choose from six different attachments, depending on what needs attention.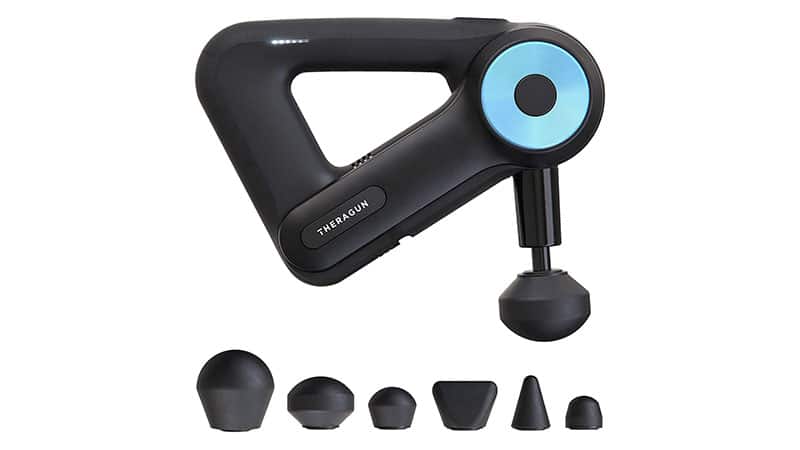 18. Bowflex SelectTech 552 One Adjustable Dumbbell
Adjustable dumbbells are a great space-saving option for a home gym without sacrificing flexibility. They vary in design and weight capacity, so it's easy to find one that suits your needs. This option from Bowflex has 15 weight settings that range from as light as five pounds to as heavy as 52.5 pounds. Simply adjust to your desired level by turning the knob on the end. The locking system keeps things secure and in place so you can lift, press, or curl with confidence. At the end of your workout, place them back in their storage unit, and tuck them in the corner, out of the way.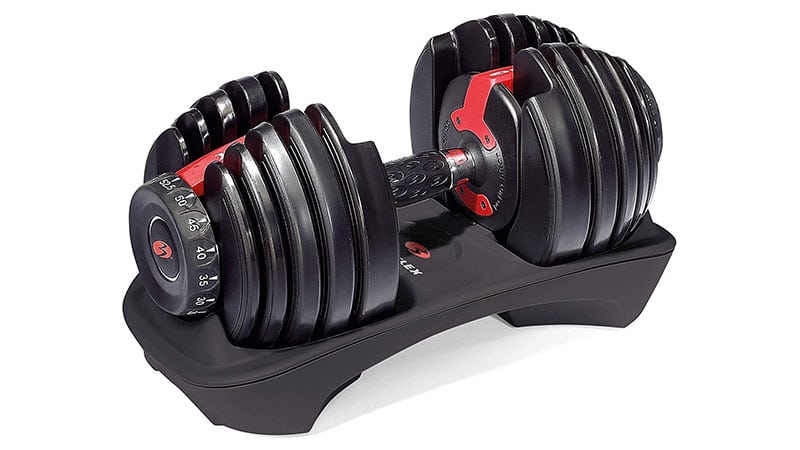 19. Olympic Barbell Bar 7-Foot Weight Bar
An Olympic barbell bar is an excellent investment if you're keen on lifting heavy or have an Olympic weight bench. This particular design is seven feet long, with a 190,000 PSI high tensile strength shaft and 700-pound weight capacity. The knurled handles provided excellent grip so you can lift safely. While the bar itself weighs just over 39 pounds, you can, of course, add extra plates using the two-inch Olympic kind (sold separately). The bar does come with two spring collars, but you can always switch them out for something easier to use, like the Iron Lab Olympic Barbell Collar. It's the perfect addition to a home gym for deadlifts, bench presses, and barbell rows.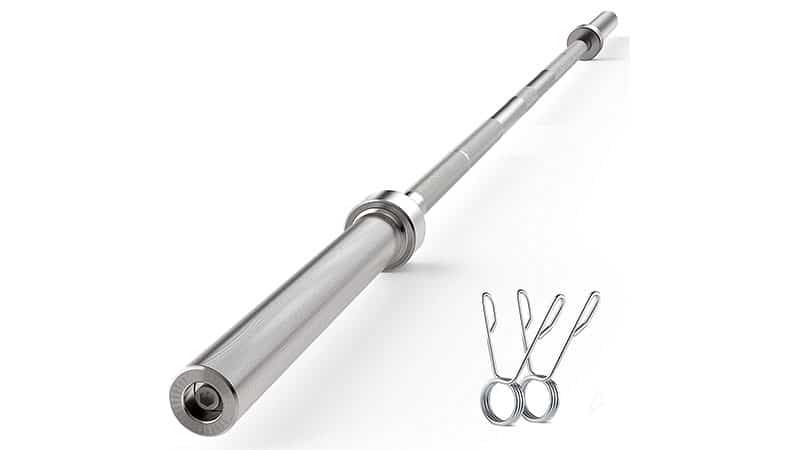 20. Protocol Punching Bag with Stand
Boxing is a great, full-body workout that improves your strength, cardio, and coordination. This punching bag with a stand is an excellent inclusion for a home gym, especially if you don't have a sparring partner. The kit comes with an inflatable punching ball, pump, padded boxing gloves, a sturdy base, and an adjustable stand that can sit between 48 and 58 inches high. It's great for beginners and will tone your upper body while giving you an excellent aerobic workout. To install it, simply fill the base with sand or water, and set it in place, attaching the punching ball to the top before inflating. It doesn't take up much floor space and can be moved to a corner after your session.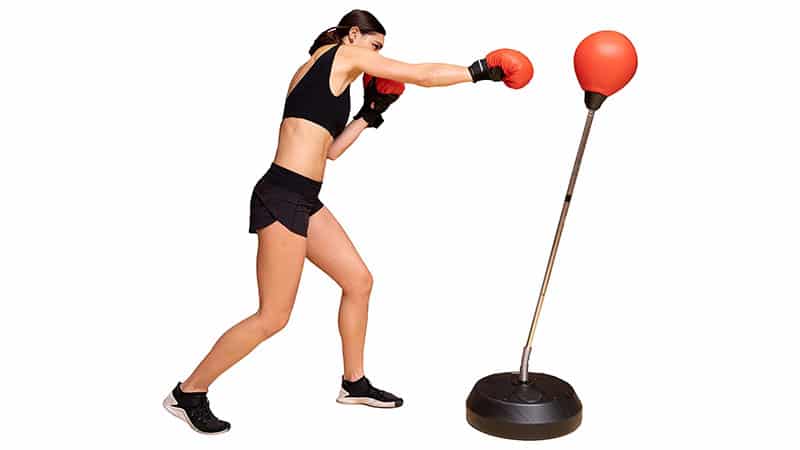 21. Everlast 70-Pound MMA Heavy-Bag Kit
If you're a more experienced boxer, this Everlast 70-Pound MMA Heavy-Bag Kit is an excellent buy. It's made from a rugged poly canvas material and is filled with a special blend of fibers that provides resilient shock absorbency. The set also comes with heavy bag gloves plus 108-inch hand wraps to protect your skin and hands from impact damage. The chain allows you to adjust the height, so it suits people of any size. You'll be able to tone and strengthen your upper body, improve your cardio fitness, and punch out any frustrations all at the same time.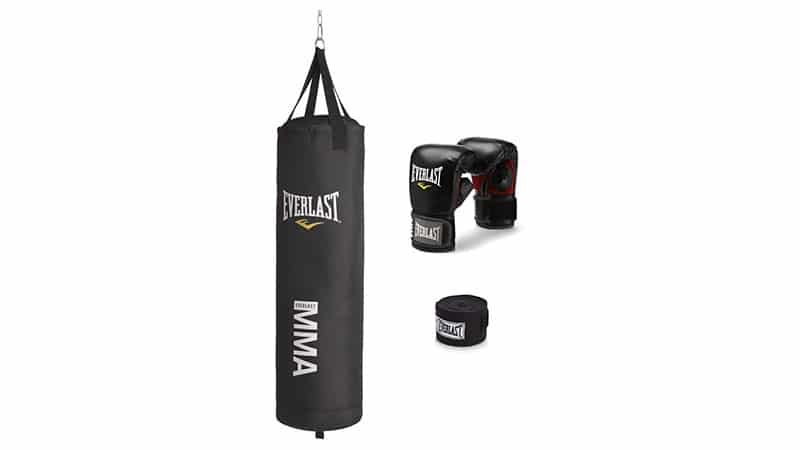 22. EAST MOUNT Twister Arm Exerciser
Get ripped arm and chest muscles using the EAST MOUNT Twister Arm Exerciser. While it looks like a torture device (and some might argue it is one), it's brilliant for training the upper body. The central unit contains a hydraulic power system that can adjust from 22 to 440 pounds of resistance with the simple twist of a knob. Meanwhile, the handles are covered with soft PU rubber for better grip, while the triangular frame uses high-density double carbon steel. It's strong, sturdy, and safe to use. To store it, close the handles, buckling them together at the bottom to maintain the compact shape.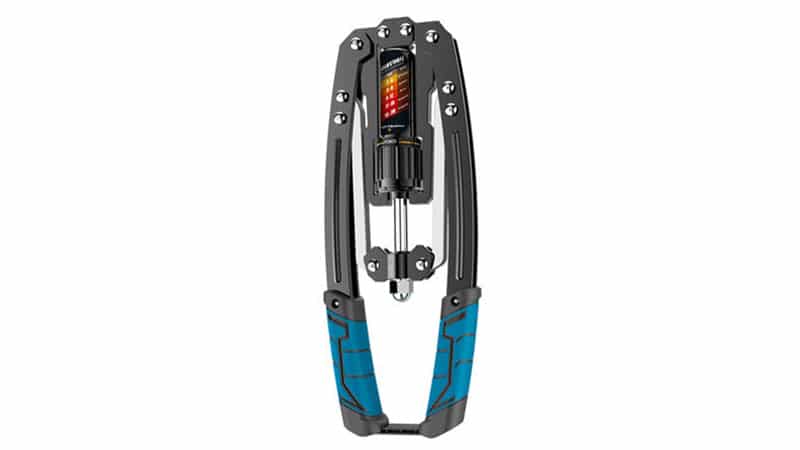 23. Trideer Extra Thick Yoga Ball
An exercise ball is always a great addition to a home gym or even a home office. This design from Trideer is made with extra thick honeycomb rubber, making it burst-resistant and heavy-duty. It supports up to a massive 2200 pounds, which is about the same weight as an adult wild yak. If it does happen to puncture, the ball deflates slowly, rather than popping like a balloon, which is much safer if you happen to be sitting on it at the time. It comes in five different sizes and six color options. Use it for exercises like jackknives, hamstring curls, or crunches, or gently bounce on it while contemplating life. It also makes an ergonomic alternative to a desk chair and can be a comfortable option for pregnant women to sit and exercise (and even use during labor!).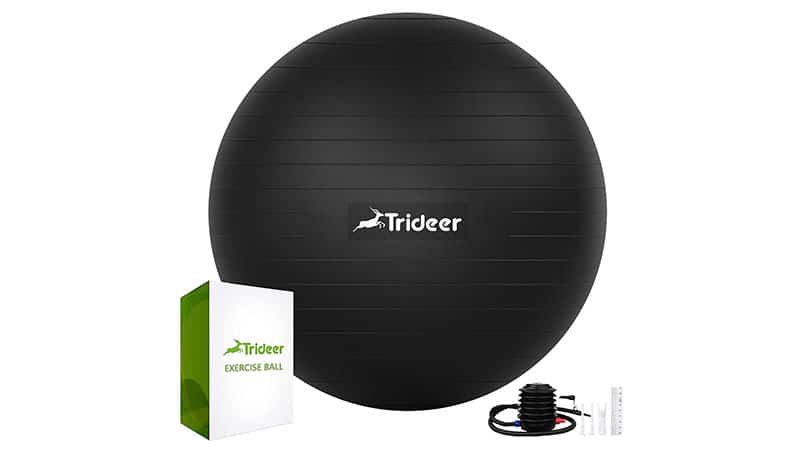 24. BalanceFrom GoYoga All-Purpose Yoga Mat
Regardless if you do yoga or not, an all-purpose yoga mat is a must-have for a home gym. It serves many purposes. Primarily it's designed to keep your knees, hands, spine, hips, and feet comfortable and supported during floor-based exercises, reducing fatigue and discomfort. This design from BalanceFrom is half an inch thick, providing plenty of padding. It also assists in reducing hand slippage, especially when you're drenched in sweat. Plus, the surface is easy to clean and moisture resistant so that you can wipe it down after your workout. Lastly, it keeps you off a potentially dirty floor, making things a bit more hygienic. Keep it rolled up with adjustable velcro straps, and store it in a wall-mounted rack, so it stays clean and out of the way.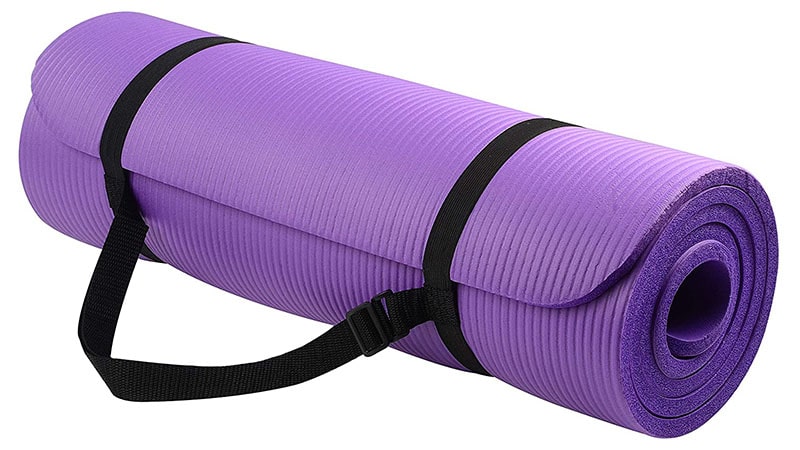 25. Yes4All Vinyl Coated Kettlebells
Kettlebells are an excellent alternative to dumbbells. They're versatile, easy to use, and offer a full-body workout. Try classic moves like kettlebell swings, goblet squats, or one-arm floor presses. This option from Yes4All is great for a home gym, coming in various weights from 5 pounds to 50 pounds. Buy a few different sizes and pad out your free weight collection. They're made with cast iron, so they're strong and durable and are covered in vinyl to help protect the floor and reduce noise. The wide smooth handle is comfortable to grip, while the flat base ensures no movement once you set the kettlebell down.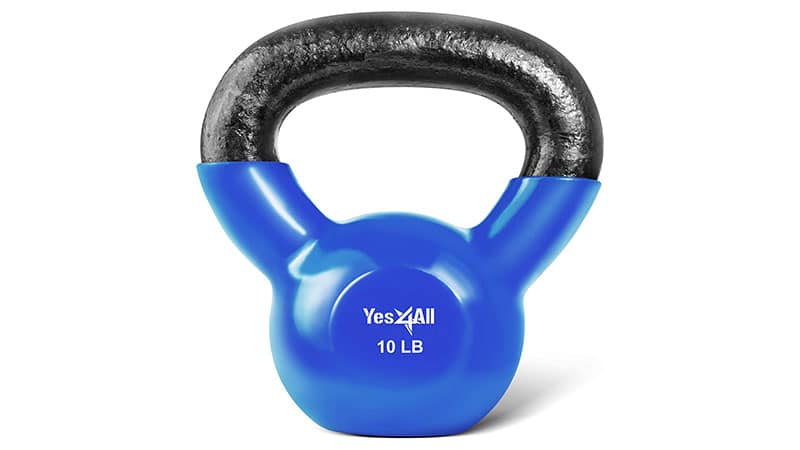 26. GoxRunx Skipping Rope
Kids in the playground make jump rope look so easy; however, it's really a very intense workout. Skipping is a great way to improve your cardiovascular fitness, increase your balance and coordination, build overall body strength, and boost your stamina. Plus, they're an easy, inexpensive addition to a home gym. This opinion from GoxRunx uses a braided steel core covered in PVC for long life without breaking. Anti-dust ball bearings ensure fast and smooth movement, while the handles use a soft, spongey EVA memory foam for comfort and sweat absorption. Best of all, it comes as a two-pack and can be adjusted for different heights, so if you have more than one person in your home gym, you can both claim a rope.
27. Hydro Flask Water Bottle
Adequate hydration is one of the most important things you can do for your health. It keeps your joints lubricated, helps your organs function properly, regulates temperature, and delivers nutrients to your cells. When you're engaged in an epic workout, you lose water through sweat, so it's essential to replenish your levels. That's why a water bottle might be one of the most important pieces of equipment in your home gym. A hydro flask is a great choice. It uses stainless steel and BPA-free plastic, so it always tastes fresh. Plus, it keeps your chilled water cold for up to 24 hours, is leak-proof, and dishwasher safe. The exterior is powder-coated, preventing slipping even with the sweatiest hands. Lastly, it also comes in various fantastic colors, from classic black to watermelon pink or sunflower yellow.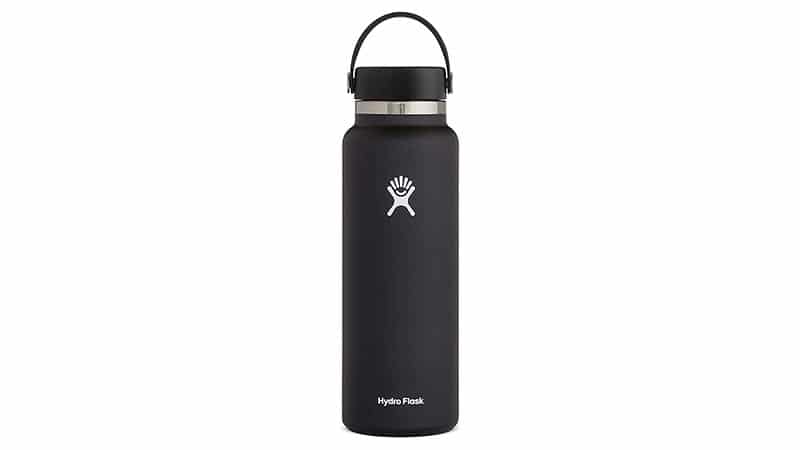 28. Etekcity Scales for Body Weight
If your health and fitness journey includes weight loss, then a set of scales can be a helpful tool. This digital scale from Etekcity is easy to use and gives you more than just your weight. It has 13 measurements, including body fat percentage, muscle mass, bone mass, BMI, and BMR. It connects via Bluetooth to your smartphone, allowing easier data tracking, syncing to various fitness apps. The unit itself is made with tempered glass and has anti-skid padding for safety. Plus, you can set up different user profiles, so everyone in the house can keep track of their progress. Just remember not to get too preoccupied with the number on the scale, as it doesn't tell the full health story. Instead, try to celebrate other non-scale victories as part of your journey as well.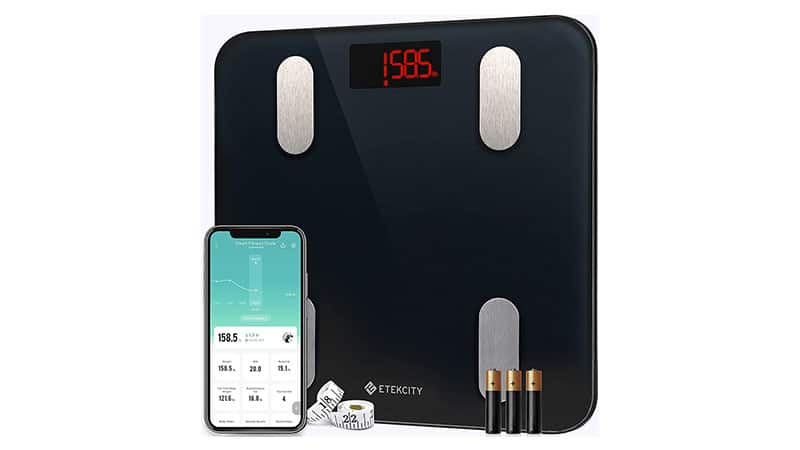 29. RitFit Weight Lifting Belt
The two primary purposes of a weight lifting belt are to support your lower back and prevent hyperextension. As such, if you're performing massive lifts that put a lot of pressure on your body, it's an excellent investment. This option for RitFit is ergonomically designed with a six-inch-wide foam core, softbound edges. It closes with velcro and a low-profile torque ring for the perfect, snug fit and comes in a variety of sizes to suit all frames. Plus, when it gets super sweaty and maybe a little musty, you can hand-wash it and leave it to air dry.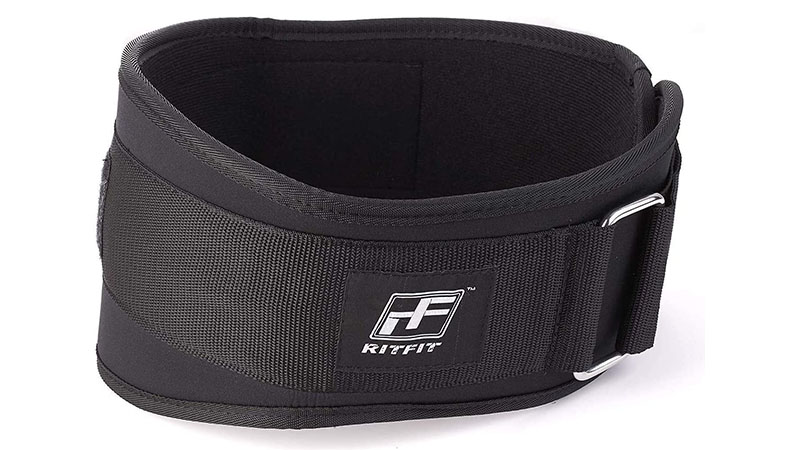 30. Adurance Weighted Vest
Add an extra challenge to your workout with a weight vest. They're a great way to build endurance, elevate your heart rate, and make you stronger and faster. This design from Adurance comes in four options, including 6, 10, 14, and 18 pounds. The weight is evenly distributed across your chest, back, and shoulders to allow you to maintain proper form and posture without risking injury. While it's perfect for use in your home gym, you can also wear it out running, tucking your phone and keys into the rear mesh storage pocket. Alternatively, you can also add extra weights in there for really engaging beast mode.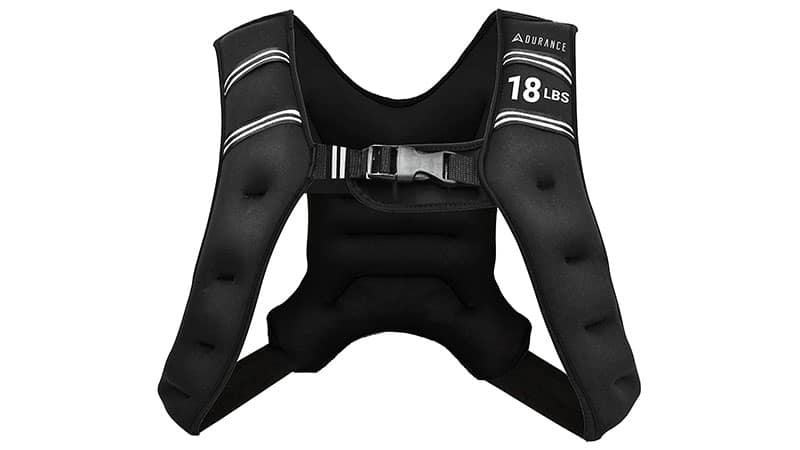 How to Set Up a Home Gym
Before you head to Amazon or your local sports store, there are a few things to consider when setting up your home gym. This will allow you to plan adequately and get the most out of your new setup, letting you kick those fitness and health goals faster. There are obvious considerations like space and budget. However other factors include who will use it; if you have any health issues; what kind of exercises you want to do; if you need to keep the noise down; what quality of equipment you want, and how you want it to look.
Who'll be using the home gym?
One of the first things to ask yourself is who will be using the home gym? If everyone in the household will, you'll need to consider everyone's needs and fitness goals when planning the space out and buying equipment. You'll also need to look at adjustable items that will fit both the tallest and smallest members. Additionally, if you're going to be exercising simultaneously, you'll need to ensure everyone has something to do, so multiple stations are ideal.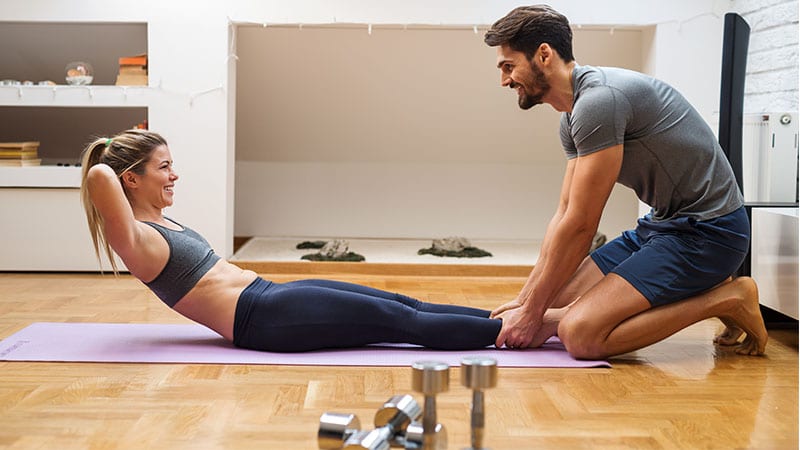 Range of Movement
You'll also need to decide what kind of workouts you'll be doing and the corresponding weights and resistance you'll need. For example, if you're looking for general all-over strength training, you'll require equipment to work all the major muscle groups, including back, legs, core, and arms, in which case, free weights or cable pulleys are great. However, if you prefer bodyweight exercises like pilates or yoga, you'll want to look for yoga mats and blocks or a pilates reformer. Finally, if you're training at an elite level or to be competition-ready, you'll need serious equipment like an Olympic weight bench and squat rack, big weights, or other specialist machines.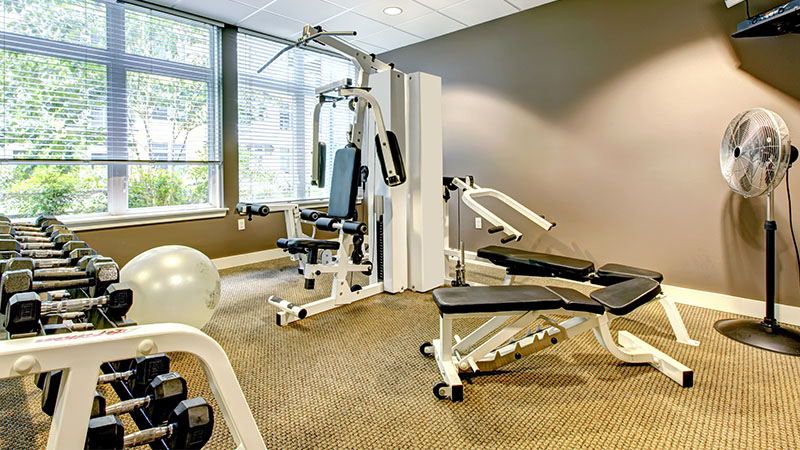 Quality
Setting up a home gym is a long-term investment. As such, it's a good idea to invest your money wisely and buy better quality equipment that will not only last but will make your workouts enjoyable and effective. While you don't necessarily need commercial gym-grade machines, avoid cutting corners. Cheap equipment may not be able to perform as well, is more likely to break faster, and can be frustrating to use if it's not smooth and easy. Ideally, the quality will also reflect your dedication. If you're committed to working out five days a week with heavy use, then quality becomes even more important.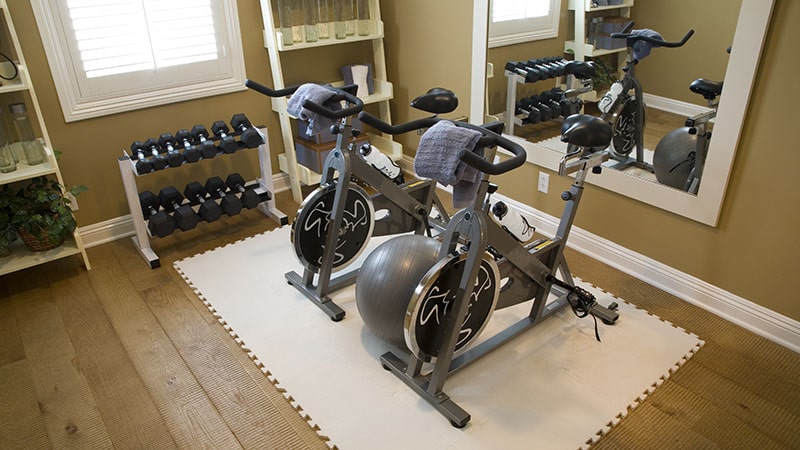 Health & Special Requirements
Before you start any new fitness regime, you should speak to your general care practitioner. It's good to get a check-up to make sure you don't have any underlying health issues that could cause problems or impact your ability to exercise. If you do have physical limitations, it might be practical to speak to a personal trainer or physiotherapist to get professional advice on equipment and exercises that suit you the best.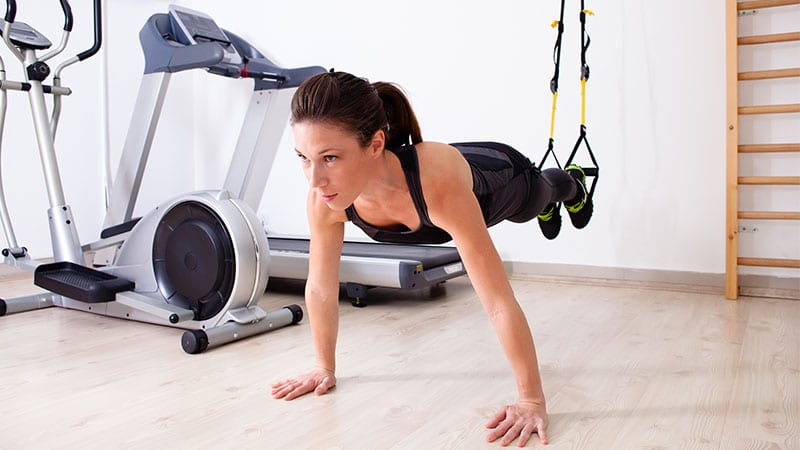 Space
Space is one of the most significant factors when designing a home gym. You'll need to measure the floor and ceiling height before buying any equipment to make sure it fits. You'll also need to leave enough room around each item so you can move about without injuring yourself or damaging things. If you only have a limited amount of space, you'll need to opt for a more compact design, wall-mounted equipment, multifunctional machines, or items that fold up out of the way. However, if you have plenty of room, something with multiple stations and workout spaces is excellent. It'll also allow you the freedom to expand as you explore new options and redefine your fitness goals.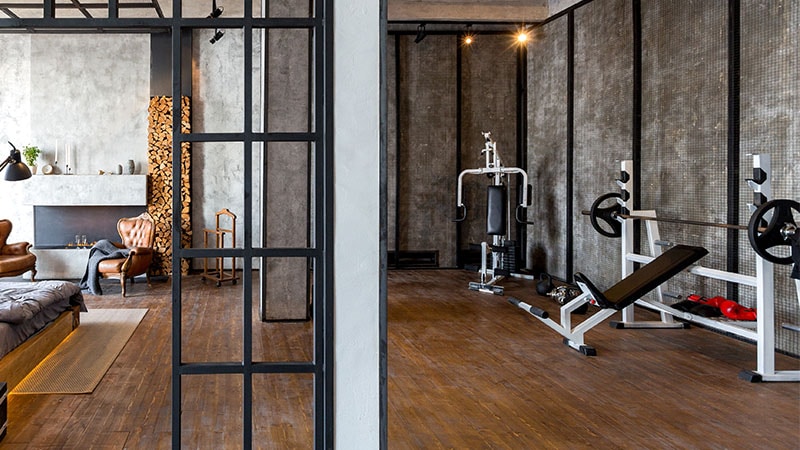 Noise & Flooring
If you have dedicated space for your home gym, it's worth looking at rubber matting for the floor. This will protect your tiles and carpet from damage and is easy to clean and sanitize when you get sweaty. Plus, it will reduce noise that can impact other members of your household or even neighbors if you live in an apartment. Thick, dense, high-quality EVA foam or rubber is the best choice.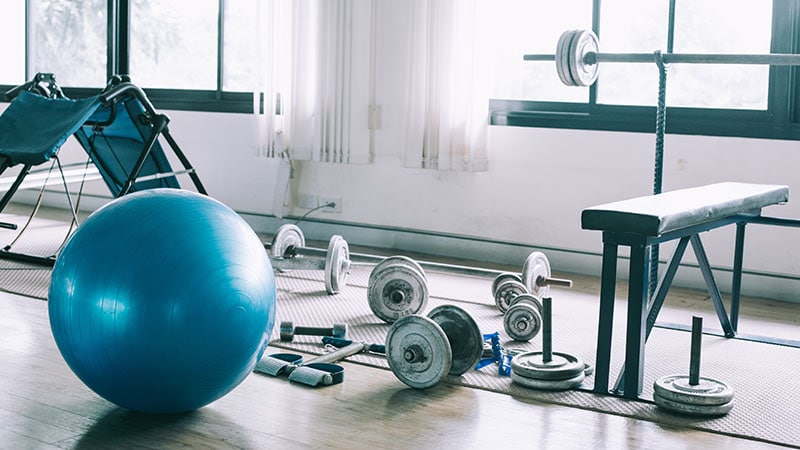 Aesthetics
It may seem frivolous, but how your home gym looks can be important. It can impact your desire to use it, as an unsightly, untidy space can create avoidance issues. If your gym equipment is out in the open, it can be important for some people to have it match the aesthetic and decor of the rest of the house. However, if it's tucked away in a separate room, out of sight, that might be less essential. A lot of gym equipment has a modern feel; however, some brands like Nohrd offer items with hardwood timber finishes for a more rustic vibe.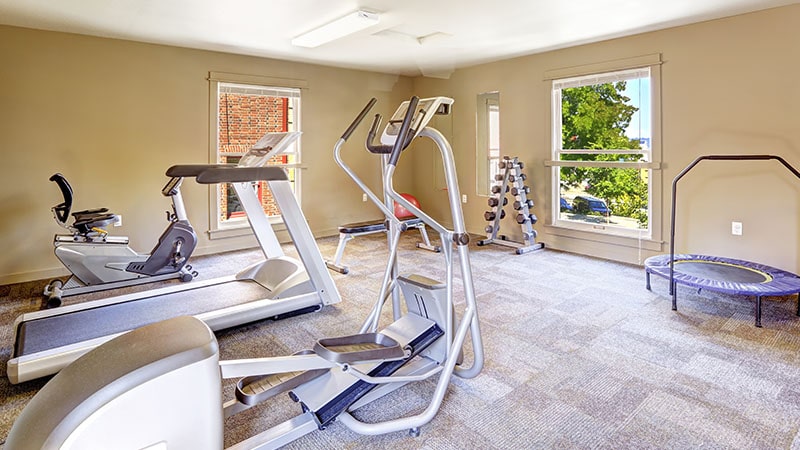 Budget
Similar to space, budget is another significant consideration for your home gym. While it can be tempting to buy cheap equipment, it may be a false economy if it breaks quickly or you simply don't use it because it doesn't feel nice. If you have a limited budget, it's worth starting simple and adding pieces over time as you save up. Look at your fitness goals, decide what the bare minimum is to get you there, and start with that. You might not need all the fancy machinery straight up and instead be fine commencing your journey with some free weights, resistance bands, and a weight bench. There are plenty of resources and videos online that provide workouts with minimal or no equipment at all that you can access for guidance. Plus, don't forget you'll be saving money by not paying gym membership fees!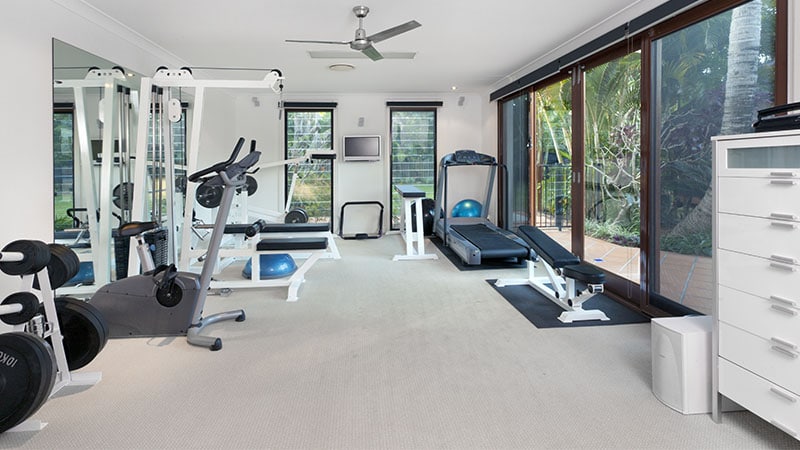 Home Gym Equipment FAQs
What do I need to start a home gym?
What you need to start a home gym will depend on a few factors, including your fitness goals, available space, budget, users, and health. Decide on your goals and what you need to get there. If in doubt, start small and simple, adding on as you work out more, deciding what you like and what works for you.
Are home workouts effective?
Home workouts can be just as effective as commercial gym workouts. You don't need a lot of equipment to burn calories and build strength; however, it can help push your limits. Of course, like any kind of exercise, you won't get results without consistency.
How much should I spend on home gym equipment?
How much you spend on a home gym will depend on your budget. An average figure is around $2000, but you can pay as little as a few hundred or up to tens of thousands. If you don't have a lot of cash to splash, start simple and add on over time. Try not to skimp on quality, as it can end up being a false economy if it breaks or you don't like using it.
How do you dress for a home gym?
You can dress however you like for the home gym! There are no dress codes, and you should wear whatever you feel most comfortable in. Of course, if you're working out in an open garage or with big windows the neighbors can see in, it's probably advisable to at least wear pants; otherwise, they'll end up with a free show!
SUBSCRIBE TO OUR NEWSLETTER
Subscribe to our mailing list and get interesting stuff and updates to your email inbox.