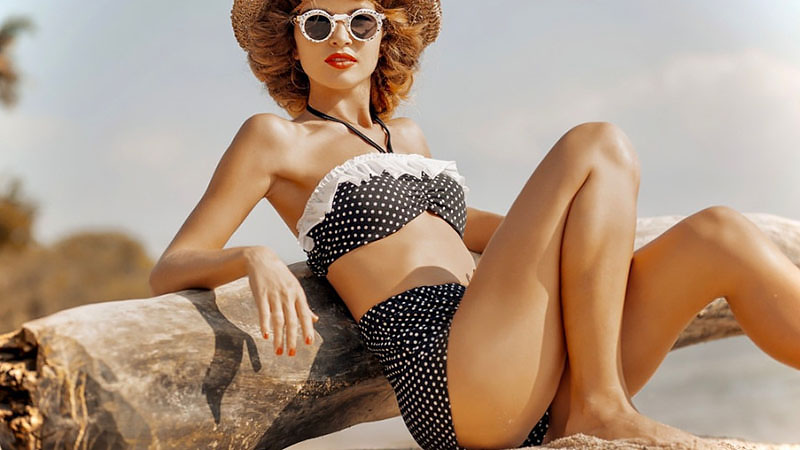 Hide your belly button and look cute as pie in these high waisted bathing suits. From lounging by the pool to soaking up the rays on the beach, you can't go wrong with a stunning set of bathers. So, if you're heading on vacation, or you need to update your summer wardrobe, this style guide is for you.
High Waisted Bathing Suits
Two Piece Swimsuits
Cute, flirty, and practical, two-piece swimsuits are essential for any holiday. Whether you prefer stripes, block colors or you love a bold pattern, these bathers are a flattering choice for any body type. Choose a neckline that you like and let the rest follow. You're going to have all eyes on you as you hit the waves in this beauty!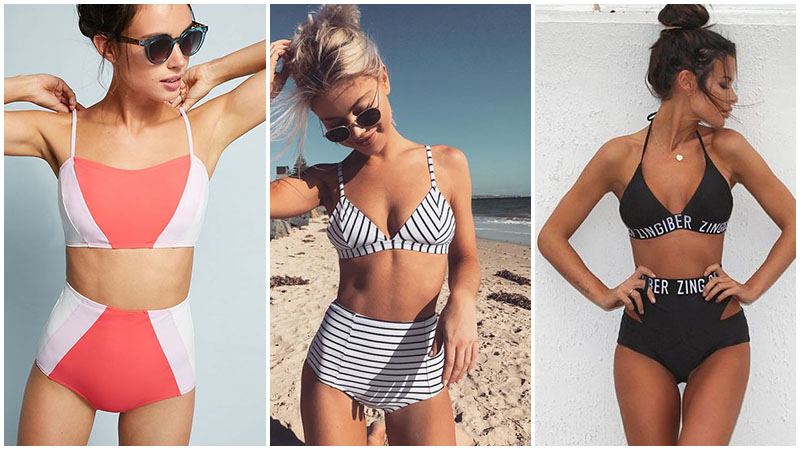 Get the Look
Bathing Suit Bottoms
Bottoms up! Sometimes, a pair of high-waisted bathing suit bottoms are all you need to complete a cute swimming ensemble. Mix and match your favorite bather tops for a fresh and exciting look, or keep it casual by pairing them with a cropped shirt for a laid-back and effortless vibe. There are so many styles that you can choose from, so have some fun while you're at it!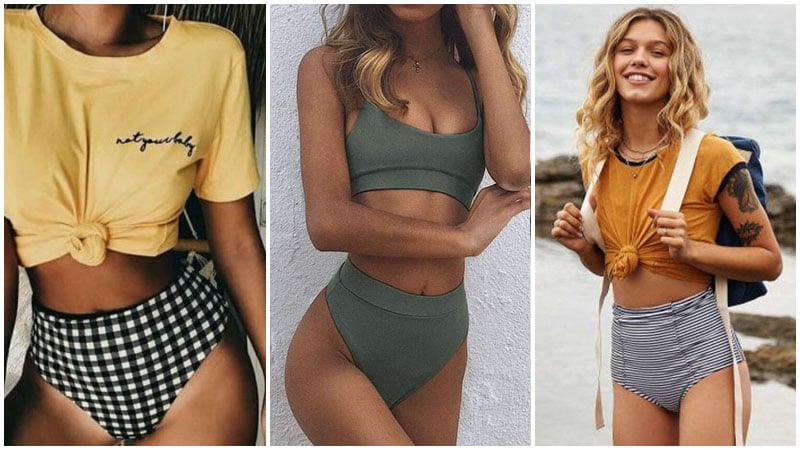 Get the Look
Swimsuit Shorts
Not all high-waisted bathers have to show a lot of skin. Swimsuit shorts not only feel comfortable, but they also look super cute. From retro aesthetics to something surfer-inspired, these adorable bottoms are sure to make a splash!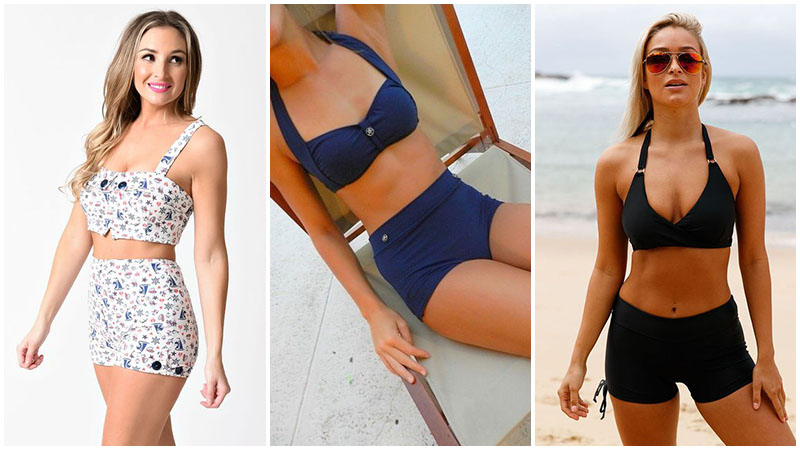 Get the Look
Vintage Retro Swimsuits
Bikinis date back to Ancient Rome, but they made waves in the 1940s. From Marilyn-inspired two pieces to something that looks like it's straight out of the '60s, vintage retro high waisted swimsuits are playful and gorgeous. Opt for a classic ruby red swimsuit or something with a belt to cinch your waist in. Either way, you'll be the grooviest chick on the sand!
Get the Look
Sexy High Waisted Swimsuits
Show off your beautiful body in some sexy high waisted swimsuits. From high-cut bottoms to plunging necklines, these bathers are sure to capture attention. Be daring and bold in an all-black ensemble, or make real waves in a patterned piece. Remember, sexiness is all about attitude and confidence, so rock what you've got and watch the compliments fly in!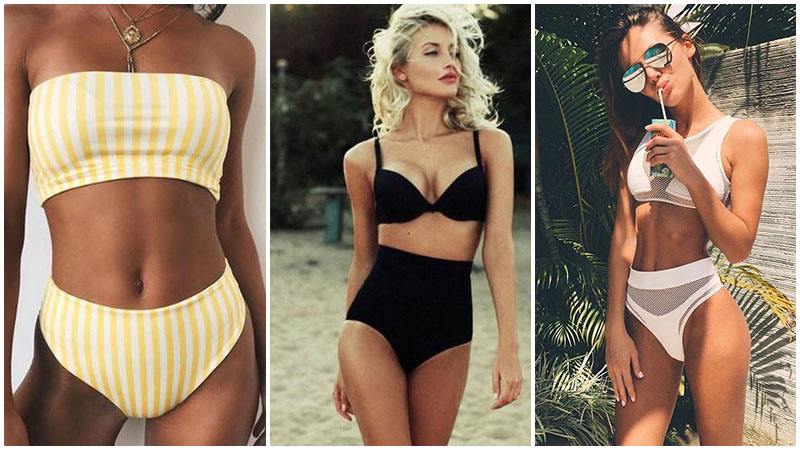 Get the Look
Crop Top Swimsuits
Expose a little bit of belly in adorable crop top high waisted swimsuits. Whether you're heading to the seaside or out to lunch, these cropped bathers look amazing in and out of the water. Opt for high necklines or something with long sleeves for the ultimate beach bum aesthetic, and you'll rule the pool!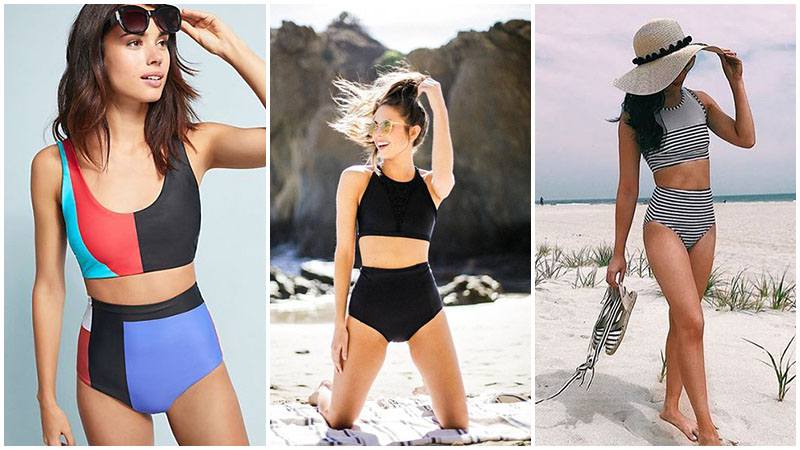 Get the Look
Black Swimsuits
You can't go wrong with a pair of classic black high waisted swimsuits. They're super flattering, cute, and timeless, and once you own some, you'll want to have more. Mix and match the block shade with bright accessories, or switch things up with a bold pattern and you'll have yourself a set of bathers that you'll wear forever.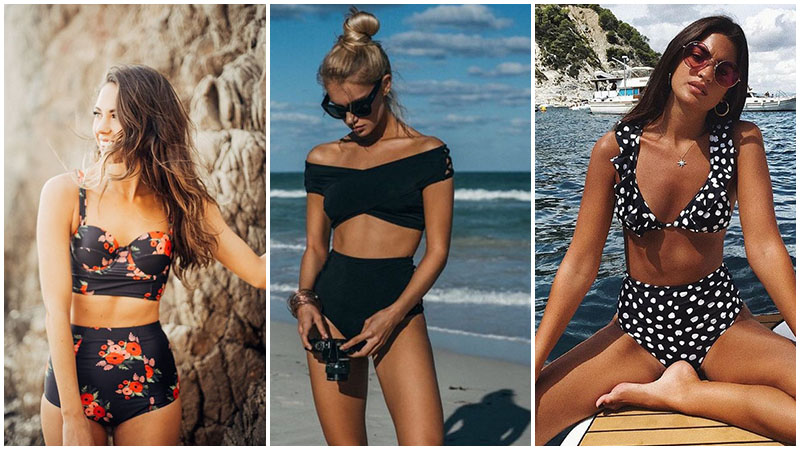 Get the Look
White Swimsuits
Reflect the golden sun in stunning white high waisted swimsuits. Not only does the pale shade make your tan pop, but they also match everything! Plain or patterned, these bathers are the perfect way to show off your killer body and be ready for a day in the sun!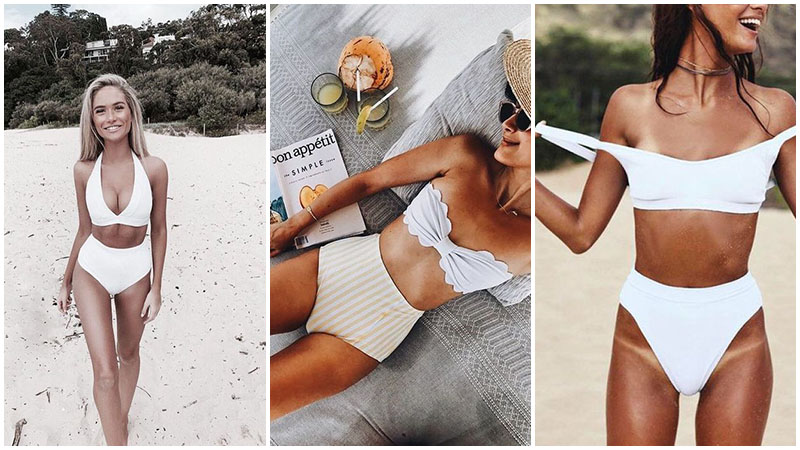 Get the Look
Red Swimsuits
Are you red-y to make a statement? Cherry-colored bathers are the best way to make a splash in the water and create a stir on Insta. From gingham patterns to something bold, these are an easy and flattering option for anyone. A sexy set of red high waisted swimsuit is a great excuse to hit the waves!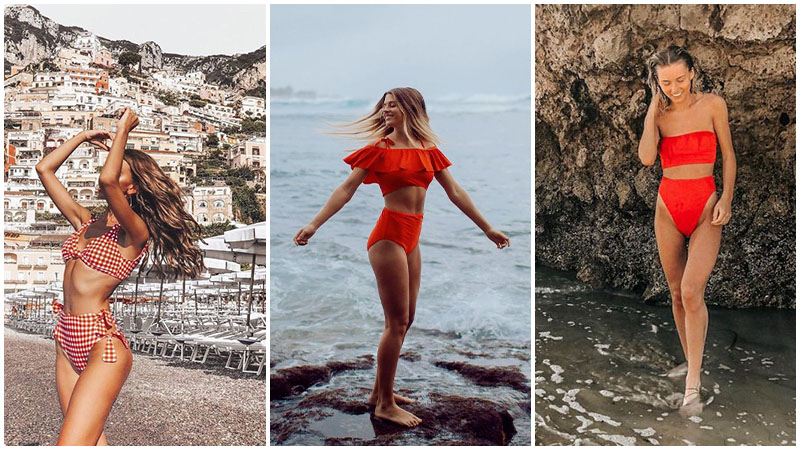 Get the Look
Yellow Swimsuits
Shine bright like the sun with some yellow high waisted swimsuits. They're incredibly flattering for darker skin tones, and look beautiful with a pair of denim shorts or a flippy skirt. From bright yellow to muted tones, you can't go wrong with these zesty suits!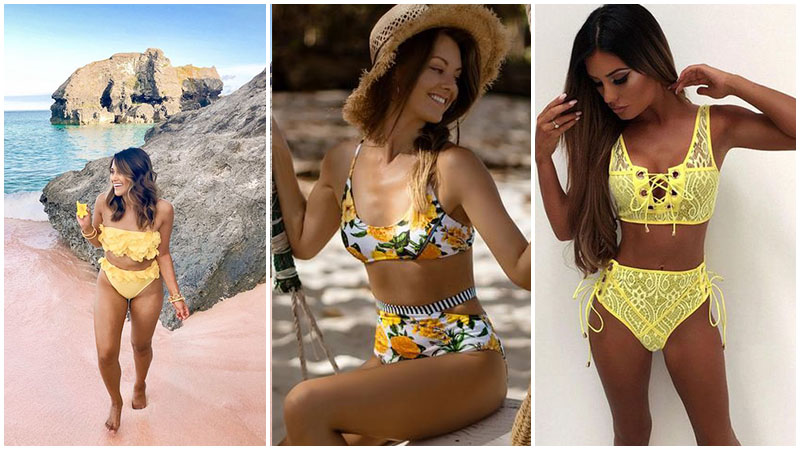 Get the Look
Floral Swimsuits
Keep it flirty and fun with floral high waisted bathers. The flower motifs are an easy way to bring spring to the beach and are a cute way to express yourself. From lovely lavender to delicate daisies, you can bring blossoming beauty with you everywhere you go!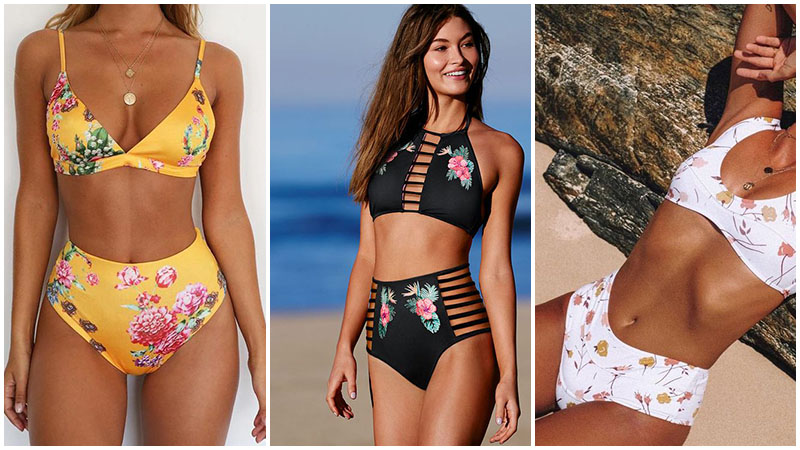 Get the Look
Halter Swimsuits
Tie up any loose ends with a high waisted halter neck swimsuit. Modeled after a classic bikini, these bathers are the perfect blend of funky and high fashion. Mix and match the tops and bottoms for a fresh aesthetic, or keep it symbiotic with a twin set. This neckline is a great way to show off your shoulders and keep it sexy all at once.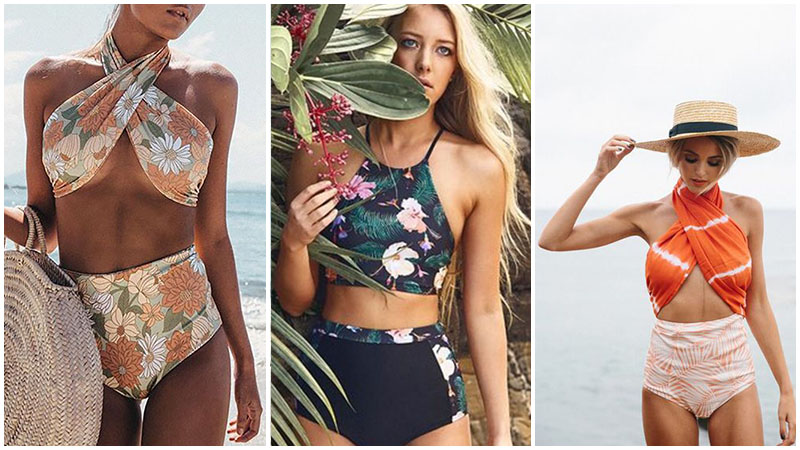 Get the Look
Peplum Swimsuits
Put a girly twist on the classic bikini with a peplum. The flattering and flirty frills will add an extra ruffle to your hips without making it frumpy. If you want something subtle, look for a small trim on the side, or go all out with a skirt for the full effect. With bathers this cute, you'll be twirling around all day!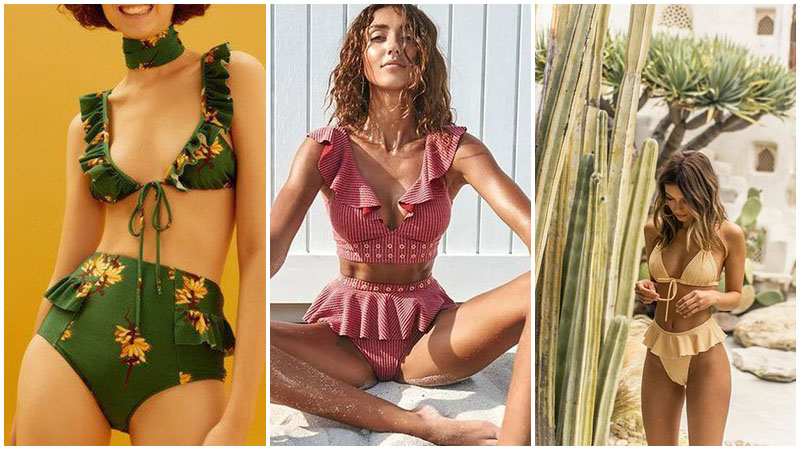 Get the Look
Long Sleeve High Waisted Swimsuits
Don't let the harsh rays of the sun hurt your arms thanks to some long sleeved high waisted swimsuits. The fully covered arms are a great contrast to the high waisted bottoms and are sure to make a splash! From rash tops to matching twin sets, these are a stylish way to be sun-safe!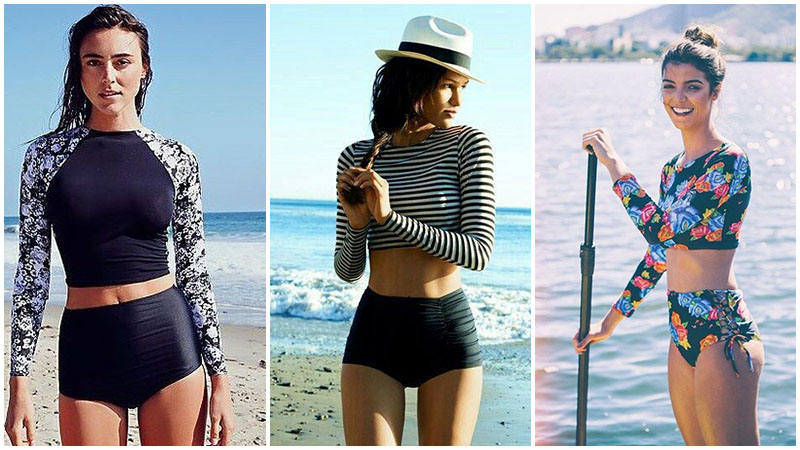 Get the Look
High Neck Swimsuits
Accentuate your shoulders with a pair of high neck bathers. When combined with a high-waisted bikini, you're going to look a peach. Flatter your bum with something block colored on the bottom and a pattern on top or replicate a retro twinset by doubling up on bold designs, and watch the world look your way!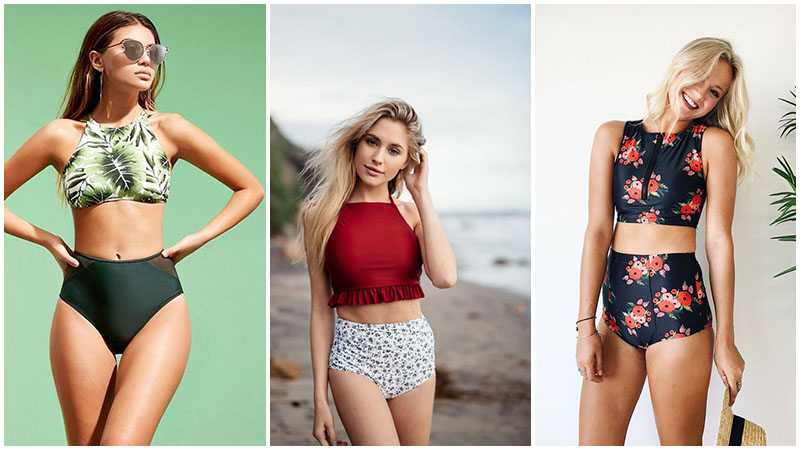 Get the Look
Tummy Control Swimsuits
Showcase your tummy and look fabulous all at once with these control bikini bottoms. Ruching is a subtle, yet flattering way to keep your stomach looking flat and toned, and is a stunning design to rock. Pair it with a traditional top, and you're never going to leave the beach!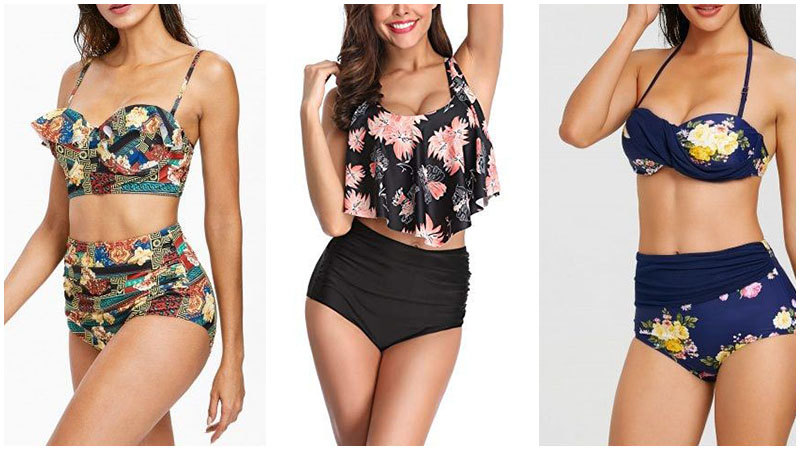 Get the Look
Plus Size Swimsuits
Showcase off your heavenly curves in a plus-sized high waisted swimsuit. These swimsuits will cinch your waist and accentuate your figure, and solid color combinations are the perfect way to make a stylish statement. For those with a larger bust, halter and high necklines are a beautiful way to put some skin on display in a sexy way. You were born with a fantastic body, why not show it off?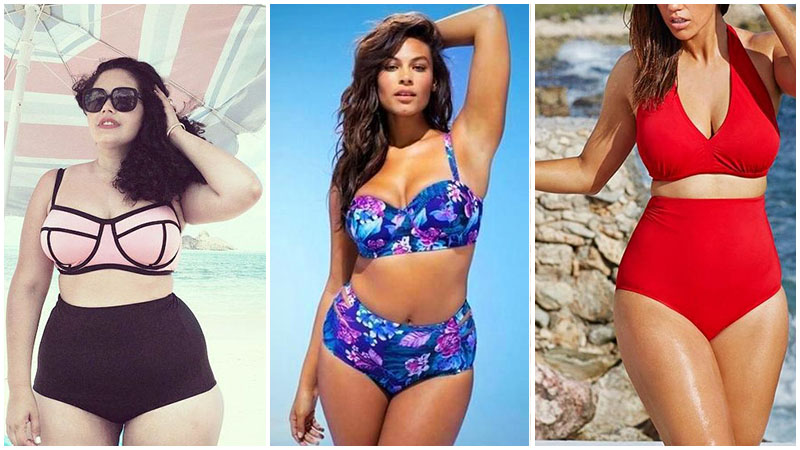 Get the Look