Heralded as one of this era's 'supermodels', Heidi has surpassed many counterparts of her league in maintaining relevance and proving she still holds currency when it comes to her appeal with Generation X and Y. Heidi's enigmatic allure to the masses has been propelled through her strategic career decisions veering from more conventional modeling roles where she first shot to fame in Sports Illustrated and Victoria's Secret to becoming an executive producer and host of Project Runway which saw her win an Emmy for her role as Outstanding Host.
We were fortunate enough to lock down an interview with this mogul on a recent visit to Australia to launch her second collection for Heidi Klum Intimates. We sat down with Heidi to discover her secret to maintaining balance, where she draws inspiration from, and her tips on picking the perfect piece of lingerie for your other half this Valentine's Day.
Heidi welcome to Australia. We are so excited to view your new collection and for Myer to house the range. Please tell us the first three words that come to mind when we say 'Australia.'
The great people in Australia; everyone is a lot of fun here and very welcoming, and always super nice every time I get here. I love the great food and the beautiful country.
What piece of business advice could you give to another aspiring business woman working to achieve your level of success?
I think you have to find a job that you really love doing. There's nothing worse than going to work, and you hate what you do. If you love your job, you want to be the best at it, and then you find a way to achieve that somehow.
You are tremendously busy, what are your top tips for finding balance?
Yeah, that I haven't figured out yet (laughs). For me, as crazy as it sounds, family time is relaxing but then at the same time, work is more relaxing than home sometimes, so it's kind of like a juggle of it all. I don't need to be pampered, I don't do massages, and I don't need spas and things like that. Many people feel like they have to go to a spa or do meditation, and I don't need to do that. I would rather be at home with my family, which is more relaxing.
What are some of your favourite corners of the world, that have inspired you and your latest collection with Heidi Klum Intimates?
My favourite places are far away from our Western way of living. That would be India, Africa, and Mongolia; the raw and untouched countries are my favourite places worldwide. I also traveled to India and Haiti and planned to visit Cambodia with the children's charity UNICEF. I also travel a lot for work and draw inspiration from every place I visit. The latest Spring/Summer 2016 collection is inspired by the journeys to the USA, the Rocky Mountains of Aspen, and the streets of New York City.
What music motivates, inspires, and moves you when you are in the creative headspace?
I'm often not allowed to listen to music because I film a lot on television. During the filming, models walk the runway in silence, and the music is added in the post-production. When I am on my way to work, I put the music on the loudest volume; my speakers are pumping out on the sides. I also love organising dance parties at home. I dance around the house when no one is watching, too, Hip Hop style is my favourite!
Do you feel inspired by the constant design innovation exhibited by the contestants of Project Runway? How does this influence your personal design process with Heidi Klum Intimates?
A lot of the participating young designers are so creative. I feel that there is a lot of inspiration to draw from the young designers rather than just the well-established names in the industry; they always have a fresh new outlook. I have learned to think outside the box and see things in a new light, and this helps the creative process for Heidi Klum Intimates range.
Valentine's Day is just around the corner and it is the perfect time to invest in or receive a new piece of lingerie. What advice would you give to the men out there looking to purchase lingerie for their partner?
You don't want to buy something for your girl that she would absolutely not wear, so you have to be a little bit cautious, but at the same time, you also want something for yourself. I think it's good to look through the drawers and see what size she's wearing, if you don't already know, and push the envelope a little bit. At the end of the day, she has to feel comfortable and confident enough to wear it. If someone is a full-bottom panty and a sports bra kind of a girl, maybe your best bet is not necessarily the garter belt and the stockings, but instead a beautiful push-up lace bra. It is about knowing your partner and experimenting a little bit.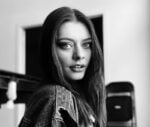 Alexandra Feiam is an experienced fashion writer who holds a degree in journalism. She has an impressive portfolio and expertise working as the Editor at Power Retail and Commercial Content Editor at Newscorp. Ally has been writing for The TrendSpotter since 2018, and her work has been featured in notable publications such as The Herald Sun, Arirang TV South Korea, Kidspot, The House of Wellness, and The Daily Telegraph.
SUBSCRIBE TO OUR NEWSLETTER
Subscribe to our mailing list and get interesting stuff and updates to your email inbox.