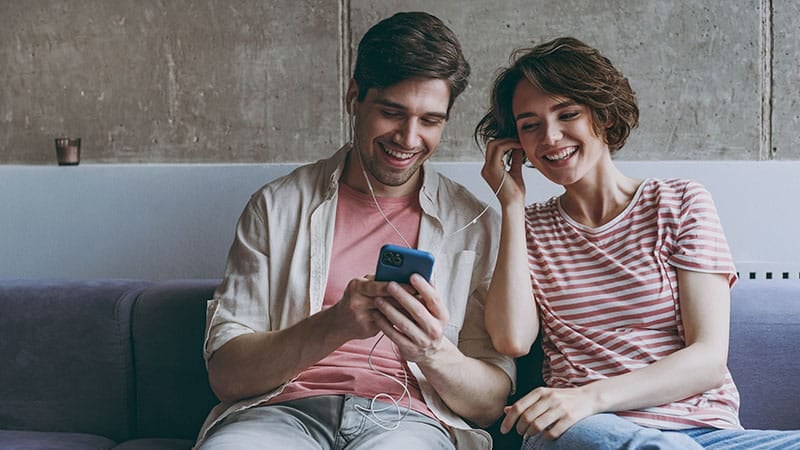 If you love music and want to test your knowledge or impress your friends with how quickly you can guess songs, then there is no better game for you than Heardle. It became an instant success, and it is a puzzle game that is similar to Wordle, but instead of focusing on words, it is all about music. Playing it is easy and fun, but it can also be frustrating when you know you've heard the song before, but the title escapes you. If you have some time and are looking for something new to entertain yourself with but also learn more about songs in general, then definitely give it a shot. Keep reading to learn everything you need about the Heardle game.
What is Heardle?
If you are a passionate music lover and want to test your knowledge, look no further than Heardle. The viral game was acquired by Spotify and will give listeners a clip of music for them to hear. It is then up to you to guess who the artist is. It might sound easy, and if you listen to many different genres and know your stuff, perhaps you will ace the game, but for the rest of us, it can be a fun challenge and a great way to boast about your skills with your friends.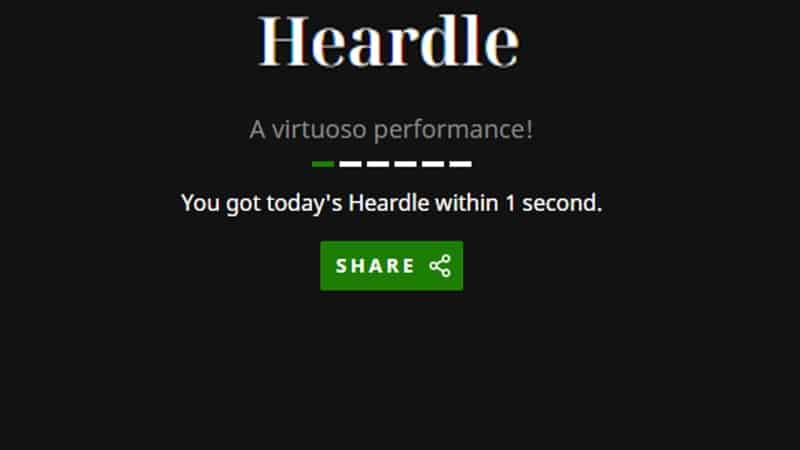 How to Play Heardle
Heardle is an innovative and fun game that is super easy to use. Players will guess a song with the hopes of being successful. The clip lasts 16 seconds and is broken into different sections. So, you may get it after the first segment. Or you may have to wait to guess after you hear more of the song. Obviously, the faster you get it, the more impressive it is, and players can share their bragging rights with friends by posting their results on social media (we all know you want to do this if you get it right on the first go)!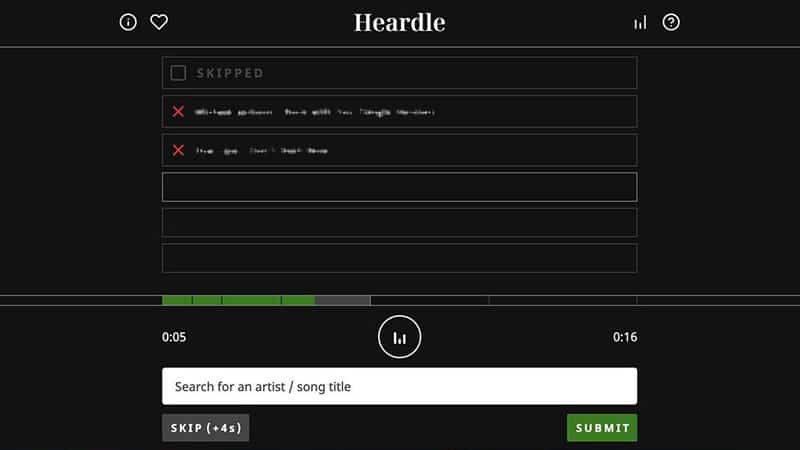 Heardle Rules
Are you interested in playing Heardle? Then you will need to know a few rules before getting started. The game is simple to follow, making it appealing to players of most ages.
Start to play the game. You will be able to play the first segment of the song. If you think you know what it is, then you can guess.
If you are unsure what the song is and have not typed anything into the search section, or if you have, but it is incorrect, you can push skip. This will let you hear more of the song.
The song will play in five segments split into two seconds, four seconds, seven seconds, 11 seconds, and the entire clip, 16 seconds. You can continue to guess.
You only get six guesses, and if you have not got it correct by the end of these guesses, you fail and have to wait until the next day for a new opportunity.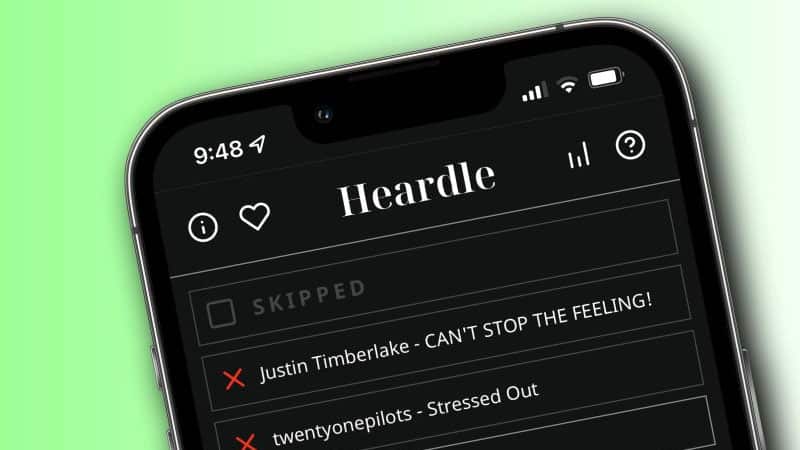 What Do the Colours Mean at the End of the Game?
Heardle is incredibly easy to use, and different actions are marked with colors. Red means that you have chosen the incorrect answer, while green indicates it is correct. You will see a grey square if you decide to skip it because you need to hear it again.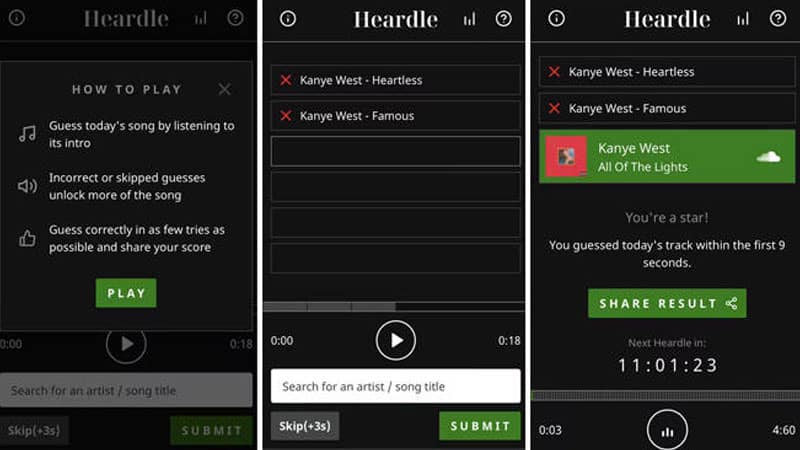 How to Download the Heardle App
The downside to Heardle is that you cannot download it worldwide after Spotify acquired it. It was initially only available to individuals in Canada, Australia, New Zealand, Ireland, the United Kingdom, and the United States. If you live in one of these countries, downloading is simple through spotify.com/heardle. If not, you will need to wait until they expand, and you will be met with this message: "Heardle isn't available in your location, but we're working to bring Heardle to more places in the future. In the meantime, you can listen to millions of songs on Spotify."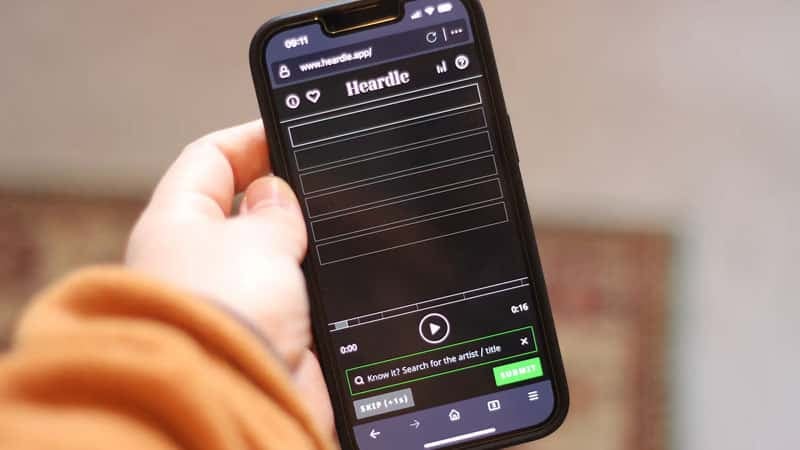 History of Heardle
Heardle is not a new concept and is a puzzle game, the difference being that it focuses on music instead of words. What makes it fun and challenging is that you can only listen to a maximum of 16 seconds of the clip, which can make guessing the track all the more difficult. You get six guesses before failing the puzzle, and you will have to wait until the next day to try again with a new song. As for who created it? The creator was initially reluctant to come forward. However, Yahoo! Sports reports that it was created by Glenn Angelo, who is the founder and director of London-based digital design firm Studio Omakase.
Spotify Buys Heardle
With the success of Heardle, it was likely only a matter of time before a larger company acquired it, which happened when Spotify purchased the game in July 2022. It is unclear how much the Swedish audio streaming and media services company paid for it. Speaking of their decision, Jeremy Erlich, Spotify's global head of music, said, "We are always looking for innovative and playful ways to enhance music discovery and help artists reach new fans. Heardle has proven to be a really fun way to connect millions of fans with songs they know and love and with new songs".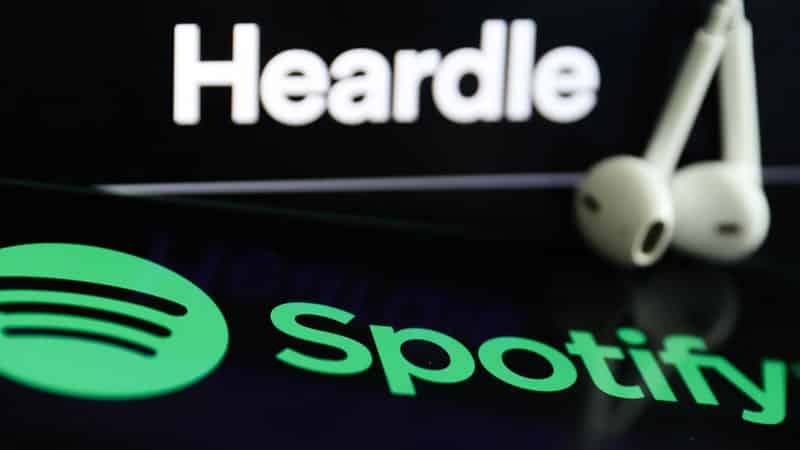 Popular Herdle Music
Those who have been following Heardle closely have made a note of some of their most popular songs, and this includes artists like One Direction, Harry Styles, Kanye West, and Ariana Grande. Heardle features some of the most popular tracks of recent years, so if you have been keeping up with the times, you can likely guess the answer most days. Find out what genres and artists pop up regularly in the list below…
One Direction Heardle
One Direction was one of the biggest boy bands in the world and still has an impressive fan following. Their songs are incredibly catchy and have been played worldwide, so, unsurprisingly, you would hear their tracks.
Harry Styles Heardle
Harry Styles rose to fame thanks to One Direction, but he has earned critical acclaim all on his own for his impressive songs, which appeal to all ages. Despite being a massive fan, you may still find the intro challenging unless you have listened to his songs hundreds of times.
Heardle 60s
If you love the 60s, listen to the track below and try your luck by figuring out which artist it could be. Hint, they are often referred to as one of the ultimate girl groups of the 1960s.
Heardle 70s
Do you like Godley and Creme? Or maybe you have never heard of this English rock duo from the 70s? Give the link below a listen to see if you can figure out which one of their tracks this is.
80s Heardle
There is no denying that the 80s was one of the most impressive decades when it comes to music, and British-American supergroup The Traveling Wilburys had no shortage of talent. It included members Tom Petty, Bob Dylan, George Harrison, Roy Orbison, and Jeff Lynne. But can you guess the song below?
2000s Heardle
The 2000s brought us some of the world's biggest groups and superstars, and it is a decade we must acknowledge because of its massive influence on the music industry. Do you want to listen to this band All Your Life, or what?!
Kanye West Heardle
Kanye West may be a controversial figure, but his music remains popular. He is one of the most celebrated rappers in the world and is not afraid to push the barrier of what makes good music. Would you like to propose a toast? Last Call, anyone?
Pokemon Heardle
Pokemon is one of the most popular video game franchises in the world and is widely recognized by fans across the globe. But have you ever stopped to think about the music associated with the games? Only super fans will get this one!
Ariana Grande Heardle
If you are a big fan of Ariana Grande, you will probably ace every time her songs are selected. She has an impressive selection to choose from, too, with mega-hits like "7 Rings," "Bang Bang," and "positions."
Billie Eilish Heardle
Billie Eilish became a singing sensation from a young age and collaborated with some of the world's most talented artists. Her music is distinct, and she has a specific style, which may make it easier to recognize when a track is hers. Think you can figure it out? Listen below.
Heardle Game
Is Heardle only once a day?
Yes, you can only play Heardle once a day. You can listen to a new clip with a different artist every day. The rules are the same daily, giving you six guesses to see if you get the answer correct or if you need to wait for the puzzle to reset the following day.
What are the rules of Heardle?
The rules of Heardle are simple, making them so popular. You are given an artist at random every day (they are chosen from a large pool of musicians). The clip is broken up into five segments and split into two seconds, four seconds, seven seconds, 11 seconds, and the entire clip, 16 seconds. You can guess after the first segment, or you may need to listen to more of the song. You get six guesses before you either pass or fail the daily puzzle.
Is there a Heardle Unlimited?
It has been reported that you can play Heardle Unlimited on SongTrivia2.
Is Heardle linked to Wordle?
The premise of the two games is very similar, the difference being Wordle is focused on words, whereas Heardle is a music game.
SUBSCRIBE TO OUR NEWSLETTER
Subscribe to our mailing list and get interesting stuff and updates to your email inbox.