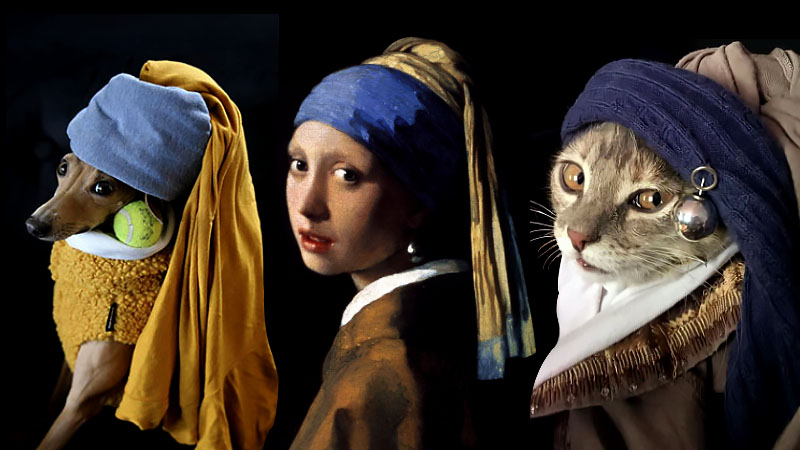 People are recreating famous artworks at home, Princess Sofia of Sweden assists nurses, and Earth Day celebrates its 50th anniversary. Find these stories and more as we uncover the happy news of the week.
1. People Recreate Famous Artworks
People around the world are recreating famous artworks in their own home in a new challenge by the J. Paul Getty Museum. They are using bedsheets, lampshades, and everything around the house to channel their inner artist, with some fantastic results. Famous pieces include The Birth of Venus by Sandro Botticelli, A Greek Ode by Alfred Elmore, and many others.
They are using items in their everyday lives, while pets and kids are participating to create stunning masterpieces. "In a time when we are seeing so much in the news and media that scares our students and adults alike, what better way than to go back to your childhood and play pretend — and be someone else for a few minutes?" said Holly Bess Kincaid, an art teacher who initiated a similar challenge.
2. Princess Sofia of Sweden Volunteers As Medical Assistant
Princess Sofia of Sweden is assisting those in need by volunteering as a medical assistant in a hospital. The royal completed intense training to help on the front line at the Sophiahemmet Hospital, where she is also an honorary chair member. The Princess will be assisting nurses and doctors with housekeeping tasks, which includes disinfecting medical equipment, washing dishes, and cleaning. "In the crisis, we find ourselves in, the Princess wants to get involved and make a contribution as a voluntary worker to relieve the large workload of health care professionals," the Swedish Royal family said in a statement.
3. 50th Anniversary of Earth Day
The planet has undergone serious changes as the world celebrates the 50th anniversary of Earth Day. While the world celebrated the event online, the globe saw significant shifts in the damage that was apparent a year ago. In China, there has been a sharp downturn in air pollution, wild animals are returning to the canals in Italy, and the sky is so clear that you can see the Himalayan Mountains in Italy. With restricted travel, work, and industry, it's estimated that the planet can lower its global emissions by 5%. "It's a serious wake-up call," said Ecologist, Thomas Lovejoy.
4. Fashion Photographers Use FaceTime For Campaigns
Jacquemus is the first fashion brand to use FaceTime for its new campaign, 'Jacquemus at home.' The shots feature Bella Hadid and Barbie Ferreira in their homes, using an iPhone camera, shot by Pierre-Ange Carlotti. The at-home photo shoot is the first of its kind and showcases the creativity that fashion brands have even when in isolation. The shots were taken amongst crisp white walls and featured the Jacquemus Spring-Summer collection, under the supervision of Simon Porte Jacquemus.
5. John Krasinski Hosts a Virtual Prom
John Krasinski has hosted a virtual prom for the Class of 2020 who couldn't attend their own. With star-studded guests, such as Billie Eilish and Chance the Rapper, the live-streamed event was 'for every kid in the world' on his show, Some Good News. Starring as a DJ, Krasinski invited stars from The Office, the Jonas Brothers, and other celebrities to sing, dance, and dress up for their 'prom.' "Since we never went to prom, and because we want to share this experience with everyone staying safe at home, we could potentially do one of our own songs… if that's alright," said Nick Jonas.

6. Swiss Alps Lit to Honor Nations Around the World
The Swiss-Italian border is honoring every nation going through tough times on the Matterhorn ranges. Across the mountains, there were projected words of hope, praise, and celebrations of flags from across the world. "Since almost a month, we're illuminating every night the Matterhorn with different symbols, to give the people hope and show our solidarity to the world," said Daniel Luggen, the Director of Tourism at Zermatt-Matterhorn. The projection aims to "say thank you to all these people working hard during this crisis," explained Luggen.

7. BBC Bitesize Hosts Online Classes for Kids
The BBC is hosting online courses for kids on its Bitesize support platform. These classes aim to help children with their homework and assignments with quizzes and step-by-step lessons. The daily lessons last for 14 weeks and are ideal for kids aged 5 to 14. BBC Bitesize features special guests, including Sir David Attenborough, who will teach the understanding of the world, footballer Sergio Aguero, who will teach Spanish and actor Dannye Eyer, who will explain the history of King Henry VIII. "We're proud that the BBC can bring together so many people to offer such a wide-ranging package of support to help children and parents right across the UK at such a challenging time," explained Alice Webb, Director of BBC Children's & Education Department.
SUBSCRIBE TO OUR NEWSLETTER
Subscribe to our mailing list and get interesting stuff and updates to your email inbox.