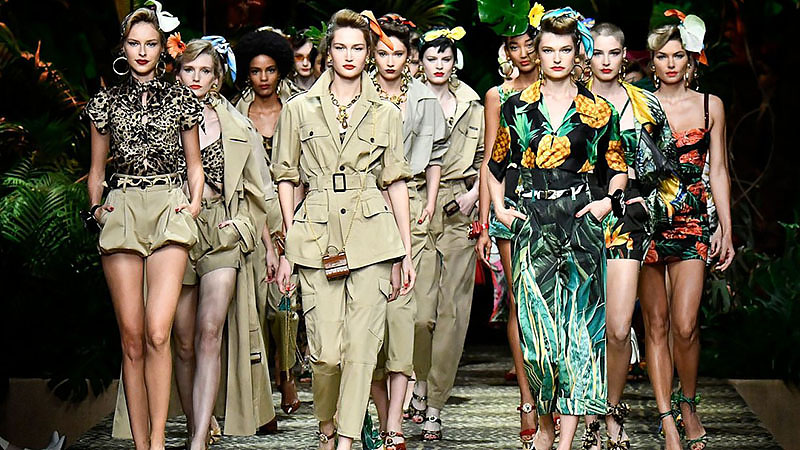 Fashion Week is going digital, celebrities are reading Harry Potter to fans, and people around the world celebrate Mother's Day virtually. Find these stories and more as we uncover the happy news stories of the week.
1. Fashion Week is Going Digital
Fashion Week is still taking place despite social distancing, thanks to live streaming. London, Paris, and Milan are taking S/S shows and making them digital. Fédération de la Haute Couture et de la Mode announced it would host Paris Fashion Week from July 9 to 13, sitting one week before Milan Fashion Week, with Camera Della Moda. London Fashion Week will kick off the season from June 12 to 14. While London and Milan will combine men's and women's garments, Paris will stick solely to menswear and video content. "Additional content will be included in an editorialized section of the platform," said a statement for Paris Fashion Week.
2. Louis Vuitton Hires Artist to Lift Spirits Around Paris
Louis Vuitton has hired Luckylefthand to paint facades of Paris to help lift spirits. The headquarters of the French designer sits opposite Pont Neuf Bridge in Paris and is now home to a colorful mural across its wall. The inspiration for the piece came from the Founder of the label, Gaston-Louis Vuitton, who said, "Let's make the street a happy place" in the '20s. The French artist who painted the mural, Steven Burke, took his artistic inspiration from the psychedelic movement in the '60s.
The walls of the building feature bright shades and shapes, with the hopes of evoking a 'summer holiday.' "I wanted to create this wall painting to offer Parisians a colorful stroll past the 14 windows, evoking a summer holiday while still representing the temporary period we are going through," said Burke. "The hands placed a meter and a half apart is a nod to what we're currently experiencing. I hope this wall painting's bright, saturated colors and rainbows made of big, curved lines will bring the positive energy we all need right now."
3. YouTube Launches Virtual Graduation Day
YouTube is launching a virtual graduation day for the Class of 2020, named 'Dear Class of 2020'. The event will take place on June 6, for students who are unable to attend physical celebrations. The ceremony will be hosted by former President of the United States, Barack Obama, and former First Lady, Michelle Obama. There will be guest appearances by Lady Gaga, Alicia Keys, and many others – the virtual after-party will be hosted by K-Pop band BTS.
4. Virtual Ways to Celebrate Mother's Day
Nations around the world are celebrating Mother's Day while in quarantine. Google has launched a virtual 'homemade' card to send to user's moms after a surge in searches for 'Homemade Mother's Day card.' Families are choosing to spend the day by connecting with their mother via FaceTime. They're hosting a virtual happy hour, picnics, and watching films together – Tan France will host a virtual brunch with KitchenAid for the big day. Museums and galleries are holding digital tours, including the Palace of Versailles and Museo Frida Kahlo, using Google Arts & Culture.
5. Celebrities Read Harry Potter Books for Fans Online
Celebrities are reading Harry Potter books for fans online, featuring Daniel Radcliffe and David Beckham. Stars will read chapters of the first installment of the best-selling series, Harry Potter and the Philosopher's Stone. The videos will be streamed weekly on the Harry Potter from Home website, and can also be streamed on Spotify. All 17 chapters will be narrated by a different celebrity and will run every week until mid-June.
SUBSCRIBE TO OUR NEWSLETTER
Subscribe to our mailing list and get interesting stuff and updates to your email inbox.