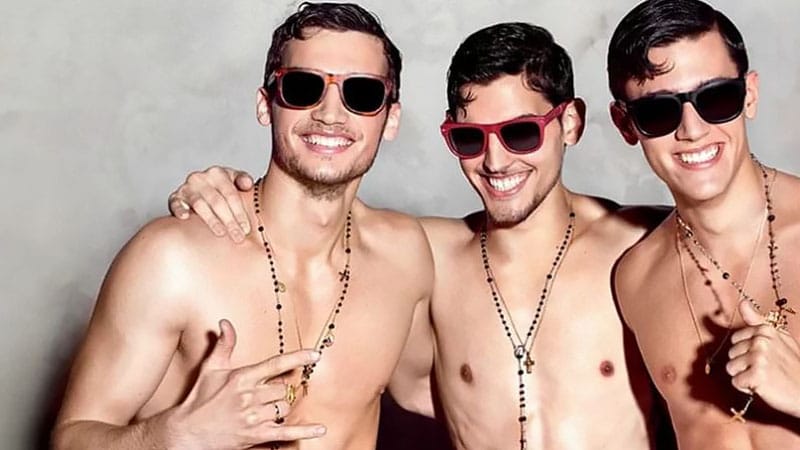 Sick and tired of the cuts, ingrown hairs, and red bumps after shaving but don't want the hassle or pain of waxing? A hair removal cream is just what you need. Also known as depilatory creams, these powerful products can effectively remove unwanted hair quickly and easily. The creams work by using active ingredients to break down the structure of your hair so that the strands can easily be wiped away. Of course, as with any grooming product, picking the right formula is essential to achieving excellent results. As such, we've created this guide to the best hair removal creams for men so you can have smooth, fuzz-free skin without any fuss.
1. Nad's for Men Hair Removal Cream
Nad's knows a thing or two about hair removal and has cemented itself as a top player in the industry. The brand's best product for gents is the Nad's for Men Hair Removal Cream. This powerful cream, which is designed specifically for men, will help keep hairy chests, backs, legs, and arms under control. The formula, which works in just four minutes, is fast and efficient. However, it is also designed to be kind to skin with soothing aloe vera amongst its ingredients.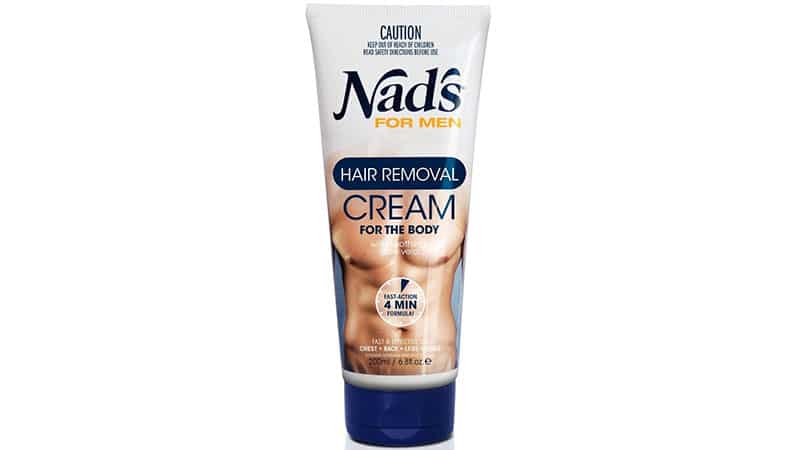 2. Nair Hair Removal Cream
Thanks to its expert products, Nair is one of the biggest names in the hair removal industry. As well as providing great products for the ladies, Nair also has a high-quality men's range to tackle those thick and coarse strands. Nair Hair Removal Cream is one such top product from the label that is specially designed for gents. This quick and easy cream, which works while you shower, is perfect for removing body hair from your chest, back, arms, and legs.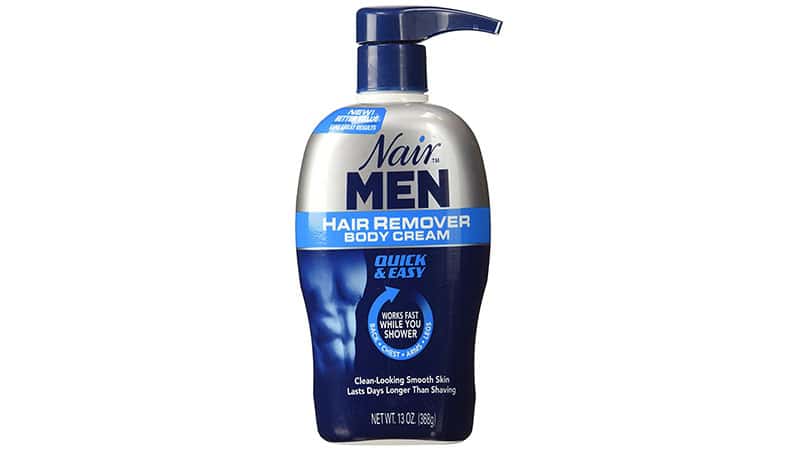 3. Nair Men Hair Remover Body Cream
Want to tackle a hairy back or furry chest without shaving? You need Nair Men Hair Remover Body Cream. This powerful hair removal product will leave you with smooth, fuzz-free skin without any shaving required. The dermatologist-tested formula also exfoliates and moisturizes your skin while removing unwanted hair. Additionally, the results are designed to last longer than shaving, meaning that you'll save time on your daily grooming routine.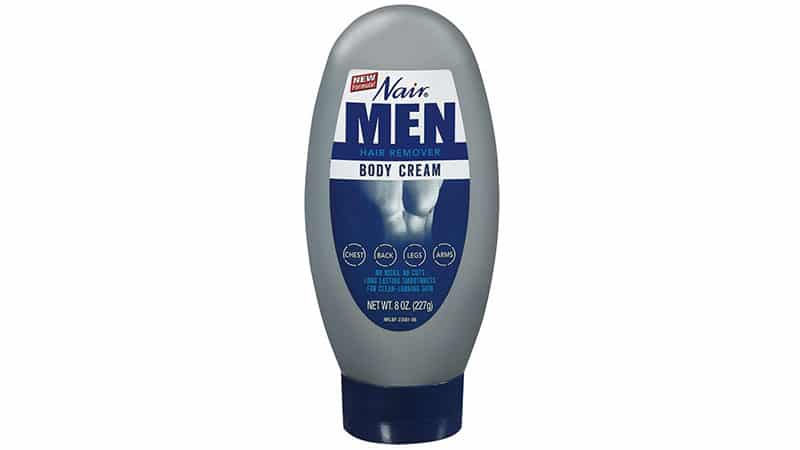 4. Moom for Men Organic Hair Remover
Moom for Men's Organic Hair Remover is 100% natural and certified organic. As such, it's a safe and effective way to remove unwanted hair. Although the product is specifically designed to tackle male body hair, it's still gentle enough to be used by sensitive skin types. So, if you find that other depilatory creams are too harsh on your skin, Moom for Men may be the ideal alternative for you.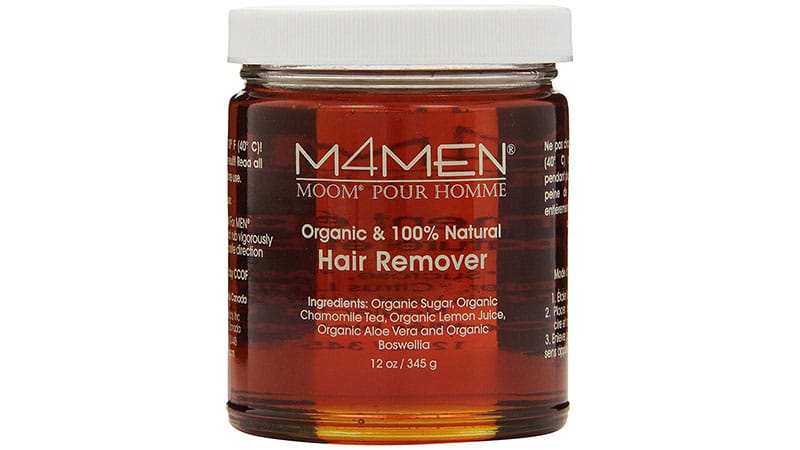 5. Veet for Men Hair Removal Gel Creme
If you're in need of serious hair removal on your chest, back, or legs, then Veet for Men Hair Removal Gel Creme is for you. This potent product is specially formulated to tackle thick and coarse hair fast and efficiently. Of course, as this cream is powerful, caution is recommended. Be sure to avoid using this product in sensitive areas and always stick to the recommended maximum application time of six minutes.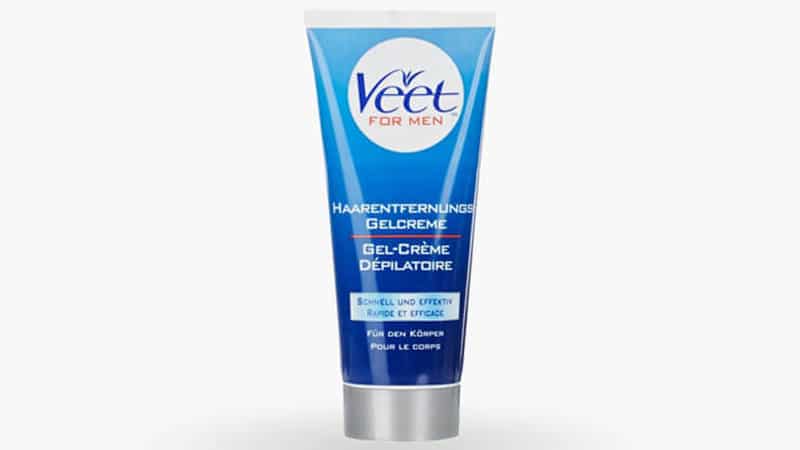 6. Nair Men's Hair Removal Spray
It may not technically be a hair removal cream, but Nair Men's Hair Removal Spray works similarly and can be just as effective. The dermatologist-tested spray is perfect for simply removing vast areas of hair fast. So, if you're experiencing difficulties applying depilatory cream to your chest or back, this easy-application method may be a better choice. However, you may need to get a partner or friend to help with areas that are hard to reach.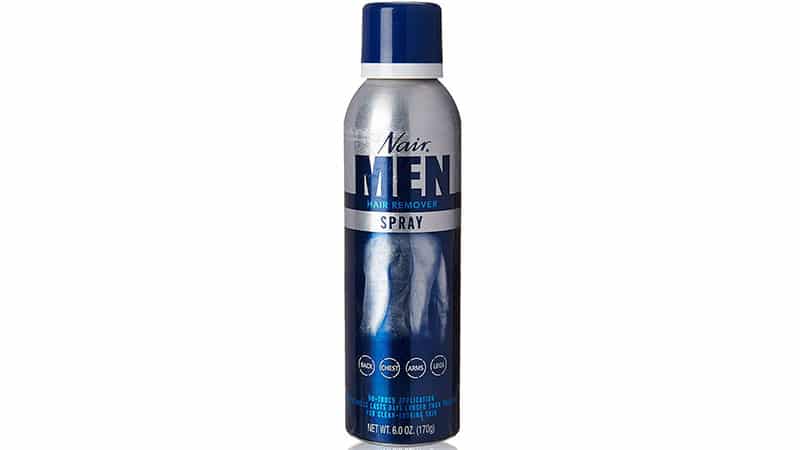 7. SoftSheen-Carson Magic Razorless Cream Shave – Bald Head
Do you pride yourself on keeping your bald head smooth and fuzz-free? If so, then you need to get SoftSheen-Carson's Magic Razorless Cream Shave. Specially created for bald heads and formulated for black men, this top cream will help keep your head free from hair without the use of a razor. Thanks to its light and fresh scent, this product will not only have your head looking great, but it'll also leave it smelling superb.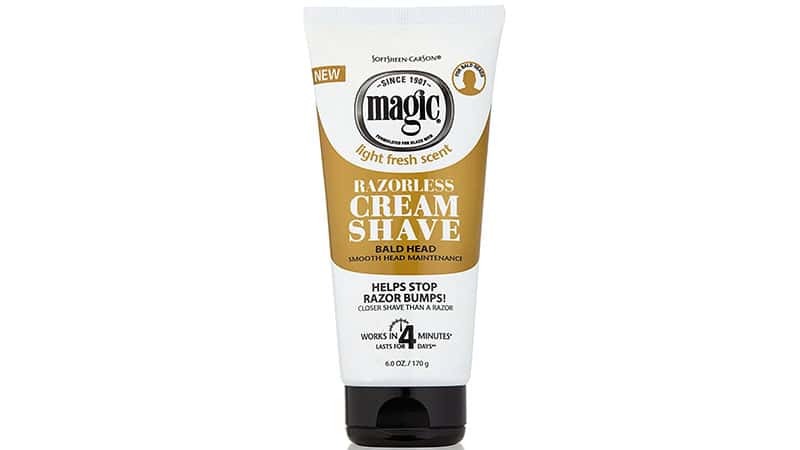 8. AFY Aivoye Depilatory Cream
You can achieve long-lasting smooth skin the smart way with AFY Aivoye's Depilatory Cream. This easy-to-use product is extremely effective at eliminating unwanted hair and delaying its regrowth. To use the cream, just apply it evenly to the desired area and leave it for approximately 3-8 minutes. Then, use a cotton towel or cotton pads and shower to wipe away the hair and remove the cream.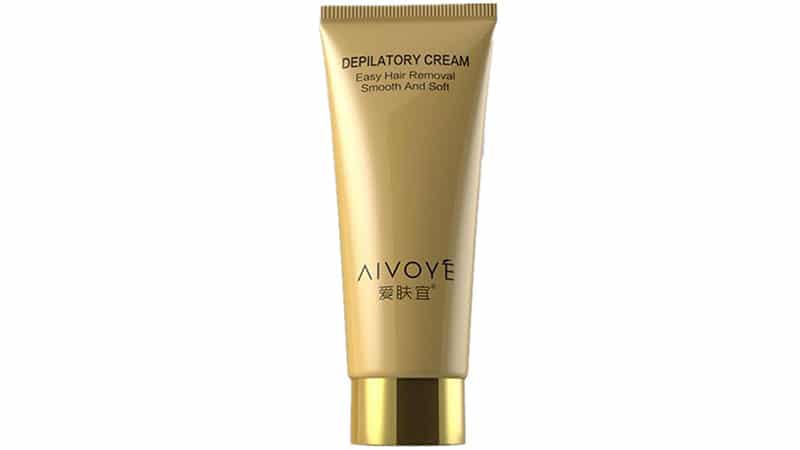 9. SoftSheen-Carson Magic Razorless Cream Shave – Regular Strength
If you're looking to remove facial hair without the use of a razor, a depilatory cream can be a good option. However, you'll need to select one that's specifically designed for use on the face, such as SoftSheen-Carson's Magic Razorless Cream Shave. This top hair remover is formulated for black men with regular beards and works in just four minutes. On top of that, it also lasts for four days and provides a closer "shave" than a razor.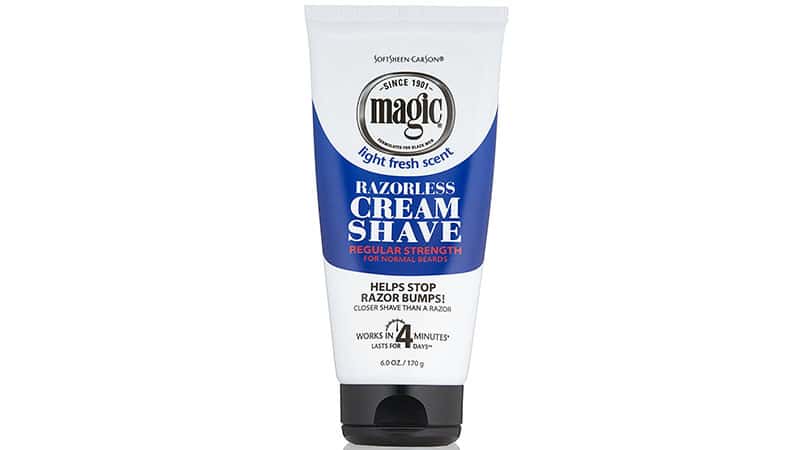 10. Lulanjina Green Tea Anti-Allergy Depilation Cream
Lulanjina's Green Tea Anti-Allergy Depilation Cream is ideal not only for adult gents but also for adult women. So, if you're looking for a product that will remove your unwanted hair without cluttering your bathroom, this is a great option. The cream is formulated to be gentle on skin and can, therefore, be used on a range of body parts, including the face. However, while the product boasts anti-allergy properties, it is recommended to do a patch test before use.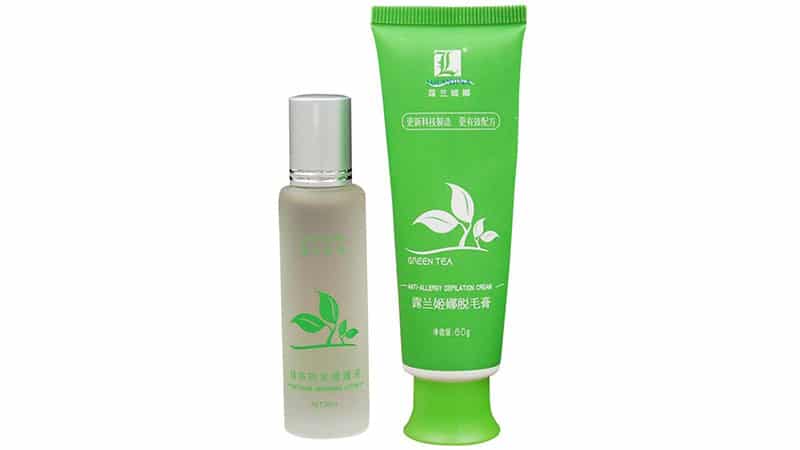 11. Kuulee Depilatory Cream
Kuulee's Depilatory Cream is designed to remove unwanted hair and reduce its regrowth while leaving silky smooth skin behind. As such, it's an excellent alternative to shaving. As well as providing longer-lasting results, using this cream will also achieve a better finish than shaving. Unlike a razor, which cuts strands off at the base and leaves a thick, blunt end, depilatory creams allow hairs to be wiped away from their follicles for a smoother result.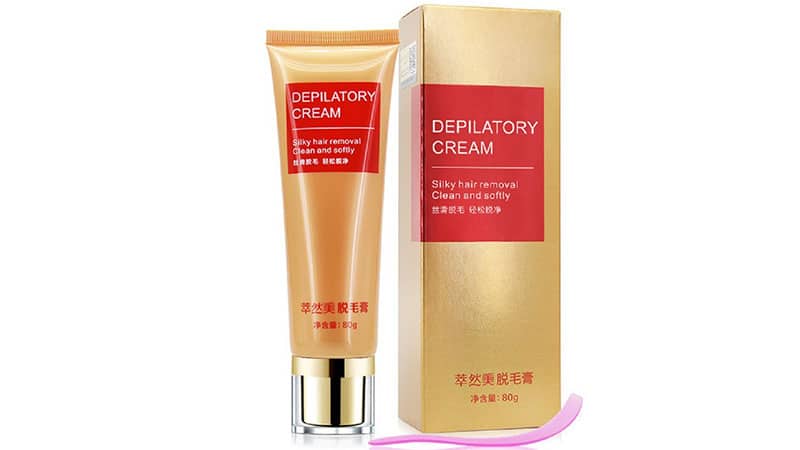 12. Stop Hair – Hair Reducing Spray
For gents who prefer a more gentle and natural method of hair removal, Stop Hair's Hair Reducing Spray can make an excellent option. The spray makes a great alternative to depilatory creams and is made from all-natural, plant-derived extracts. Unlike the other products on this list, this spray is just intended to inhibit hair growth. All you need to do is first remove your unwanted hair by shaving or waxing and then apply the Hair Reducing Spray daily to limit regrowth.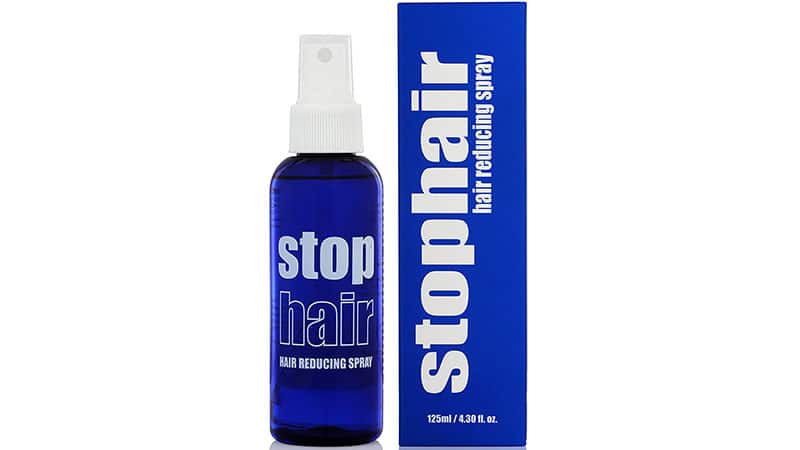 FAQs
Is hair removal cream better than shaving?
When deciding on whether it is best to use a hair removal cream or to shave, there are several things to consider; hair removal may take a bit longer, potentially be more pricey, and there are many different formulas and brands to choose from and finding the right product may be a bit of a trial and error. That said, you are also unlikely to experience ingrown hairs; you won't have razor burn or cuts.
Is hair removal cream bad?
Individuals with sensitive skin should probably avoid hair removal cream as it can irritate the skin. There are many different formulas on the market, but these creams use chemicals designed to break the hair, allowing you to wipe it away. If not used correctly and left on your skin for too long, it could result in a burn or a rash.
What are the side effects of hair removal cream?
In general, hair removal creams are considered safe. Unlike shaving, you won't have to deal with cuts or razor burns; however, people with sensitive skin may experience irritation and discomfort. The instructions for using these creams need to be followed carefully because leaving them on the skin for too long can cause unwanted side effects such as redness, rashes, and even skin peeling.
How can I remove unwanted hair permanently?
If you want to remove your unwanted hair permanently, it is best to get it laser hair removed. Other options include chemical depilation and electrolysis, which uses shortwave radio frequencies and is found to be the most effective method for permanent hair removal.
Can I use Veet on my private area?
If you want to remove pubic hair and don't want to wax or shave, you may be tempted to use a hair removal cream. Veet can be used on your bikini line but should not be used in the genital area. You need to be very careful about removing hair in such a sensitive area and take care when choosing any product.
SUBSCRIBE TO OUR NEWSLETTER
Subscribe to our mailing list and get interesting stuff and updates to your email inbox.