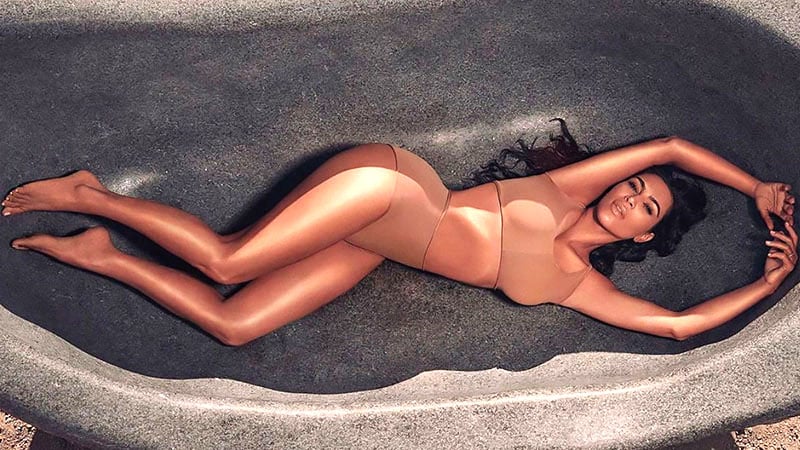 Next time you're shopping for some new knickers, bypass the barely-there options and go for a pair of granny panties. This style, ordinarily associated with grandmothers, is well and truly in fashion for everyone. These panties have had a makeover and are way more appealing thanks to lace, cutouts, and luxury fabrics. Plus, they're oh-so-comfortable. The designs embrace the female form and are often made of exceptionally soft materials. The last argument in favor of granny panties is that they're perfectly suited to many current outerwear trends, including loungewear, activewear, and high-waisted trousers and mom jeans.
1. Balmain High Waisted Briefs
Slip into something more comfortable with these beige high-waisted briefs from Balmain. The soft stretch fabric is made from viscose and polyamide, so they feel super luxurious. The shade is perfect for under light colors; however, you can choose from both black and white as well. These granny panties prove you can be stylish in every layer of clothing.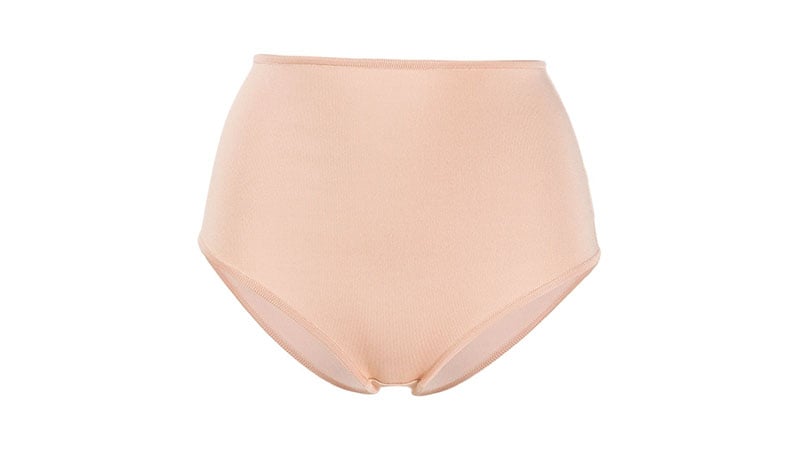 2. TC High Waist Shaping Briefs
Recreate Bridget Jones' granny panties choice with a pair of shaping briefs. These TC High Waist ones smooth out your edges and refine your shape under your favorite outfit. They feature a hidden Wonderful Panel®, which smooths and slims your tummy for a firmer figure. Plus, the Wonderful Edge® grip strips ensure they don't do the dreaded riding up or down. Best of all, because they sit just beneath your bust, they're practically invisible under clothing. Granny knickers like this are a great choice when you need a little confidence boost in looking your best.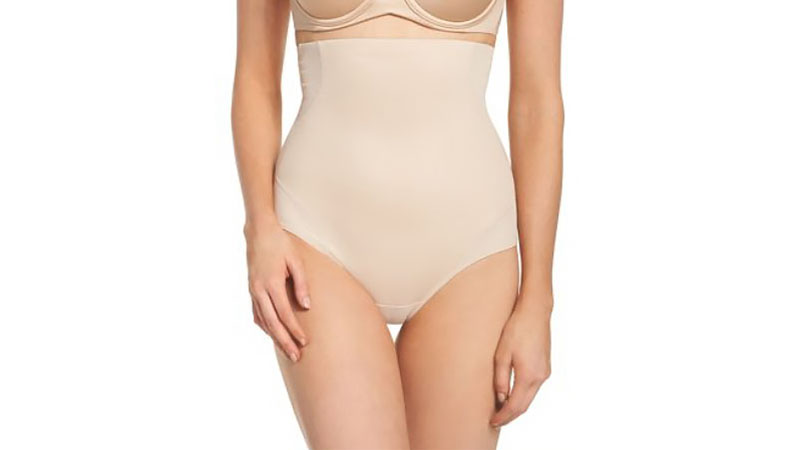 3. Natori Plush High Rise Thong
Just because you're wearing granny panties doesn't mean you don't get to be sexy at the same time. This Natori Plush High Rise Thong is the best of both worlds. It's made from soft, stretchy nylon and spandex, with a Brazilian cut to show the perfect amount of cheek. The lace trim sits comfortably along your curves and adds beautiful detail. Meanwhile, the non-slip rubber on the inner waist makes sure they don't roll down throughout the day or night.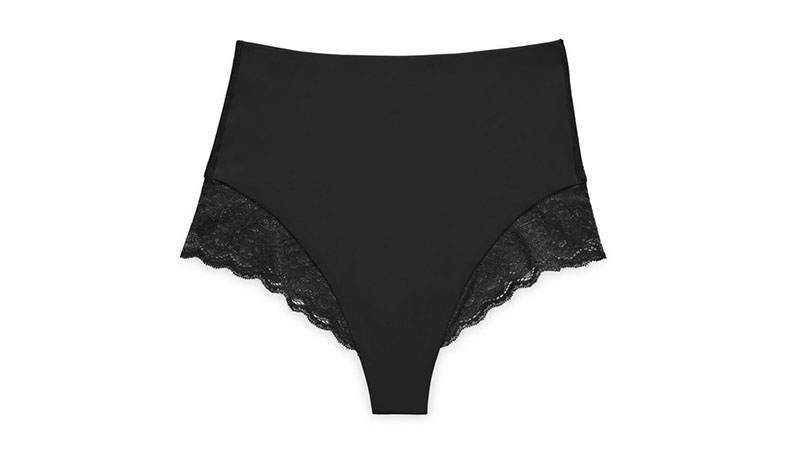 4. Olympiah Hot Pants Bikini Bottoms
Keep it simple with these hot pant bikini bottoms from the Brazilian brand Olympiah. They're an excellent choice for under your favorite high-waisted jeans or little black dress. Enjoy the comfort of a mid-rise waist with an elasticized band that features simple branding for detail. The fabric is made from polyamide, spandex, and elastane for both stretchiness and durability.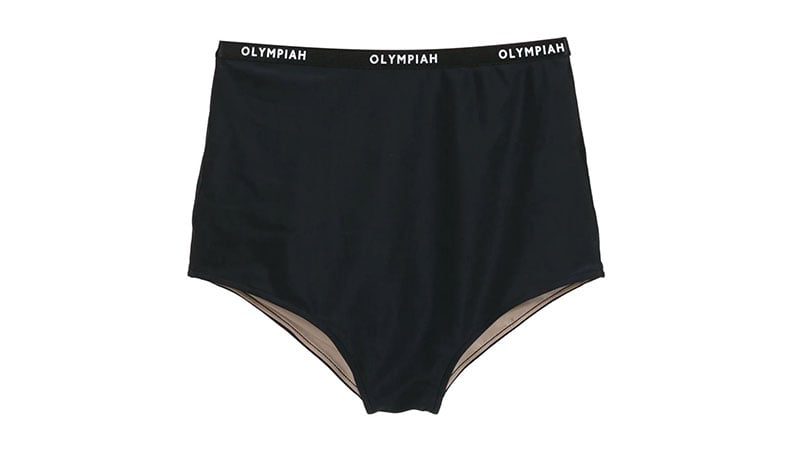 5. Kiki de Montparnasse Tiger Lily High-rise Briefs
Add some playful Parisian style to your lingerie wardrobe with this delicate pair of briefs from Kiki De Montparnasse. This New York-based brand is unapologetically confident in celebrating the female form. The lace and tulle panels combine the sweetest pastel blue with beige for a subtle and elegant look. Meanwhile, its partial lining ensures comfort while maintaining the garment's sexiness.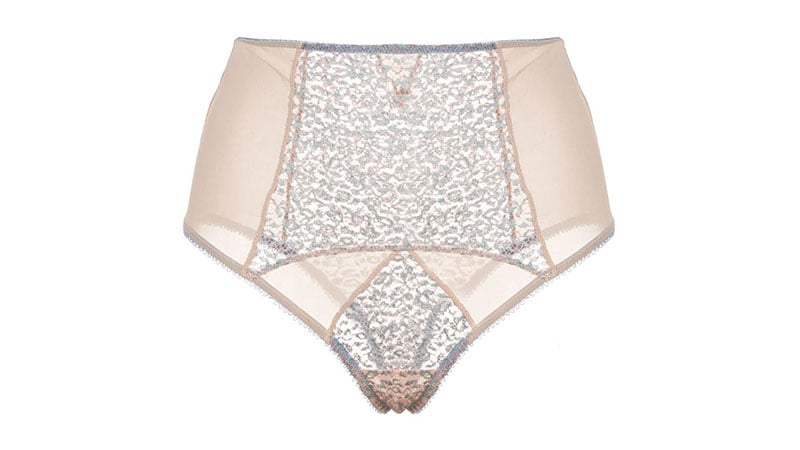 6. Marine Serre High-waisted Logo Print Briefs
If you prefer your underwear made of natural material, this pair of high-waisted briefs from Marine Serre is an excellent option. They're made from 100% breathable cotton, featuring the signature crescent moon. The ribbed construction adds to the comfort and softness of the fabric, while the paneling creates a fit that feels like a second skin.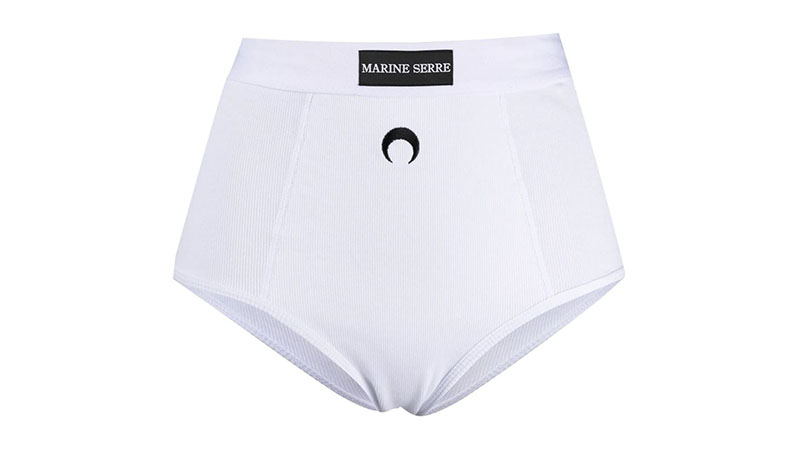 7. Fleur du Mal Lily High Waisted Thong
Fleur du Mal's Lily high waisted thong is the perfect way to treat yourself to something special. It's about as far from the traditional granny panty look as you can get. The stunning design features an intricate lace applique panel and mesh detailing. Meanwhile, the high waist is comfortable and displays the lace pattern wonderfully. Plus, the thong is the perfect way to show off your curves without showing off panty lines under your clothes.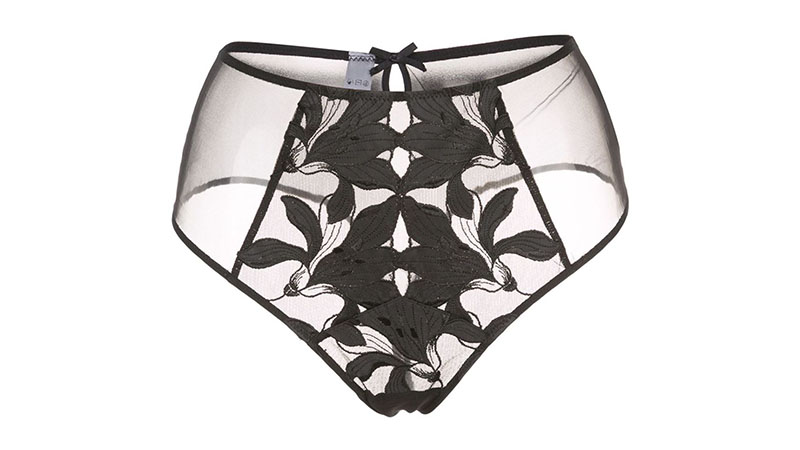 8. Dolce & Gabbana Lace-panelled Briefs
Dolce & Gabbana throw their hat into the granny panties ring with this beautiful white-lace design. It channels the seductive Sicilian glamour the brand is famous for. The fitted silhouette hugs every curve perfectly, yet the jersey fabric and elasticated waistband ensure you're just as comfy as sexy. Unique details shine through in the lace paneling and zip closure. A lovely garment like this calls for a special occasion such as your wedding day.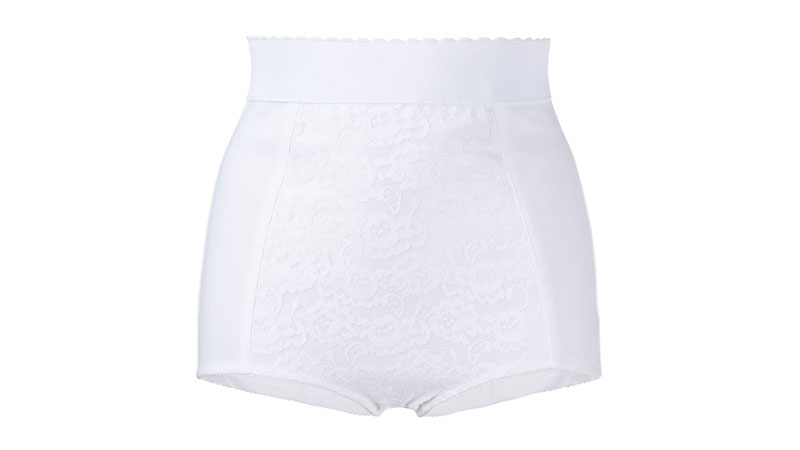 9. P.A.R.O.S.H. Ribbed Briefs
P.A.R.O.S.H. reimagines vintage styles, bringing together artisanal fabrics with contemporary design. This pretty in pink pair of granny panties is no exception. The ribbed fabric is ultra-comfortable and fits snugly to your body. You'll also be comfy thanks to the wide, elasticized waist that won't dig or pinch, as well as the full brief that perfectly hugs your cheeks.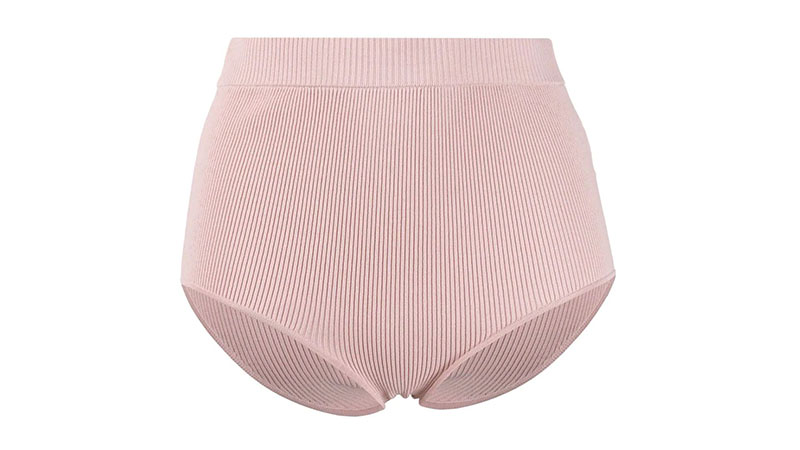 10. Fleur Du Mal High Waist Panty
Based on the philosophy of dressing up and undressing, and named after Charles Baudelaire's collection of erotic poems, Fleur Du Mal is undoubtedly an expert on sultry lingerie. Treat yourself to a pair of these silver foil silk high-waisted granny panties. The slim fit hugs your curves in all the right ways, and the clip closure holds you in. The lace also provides another level of luxury, adding intricate detail to an already beautiful undergarment.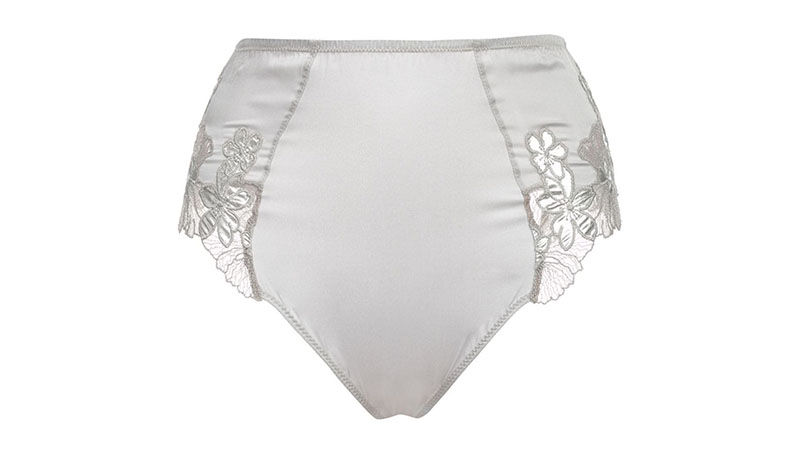 11. Only Hearts Delicious High-Cut Briefs
Go for a classic look with these Delicious high-cut briefs from American brand Only Hearts. It's a simple and retro style of granny panties, yet they're oh-so-comfortable. Made from lycra and microfibre nylon, they have a lovely stretch fit and super-soft finish. The elasticized band sits easily around your waist, while the gusset is lined for additional security and comfort.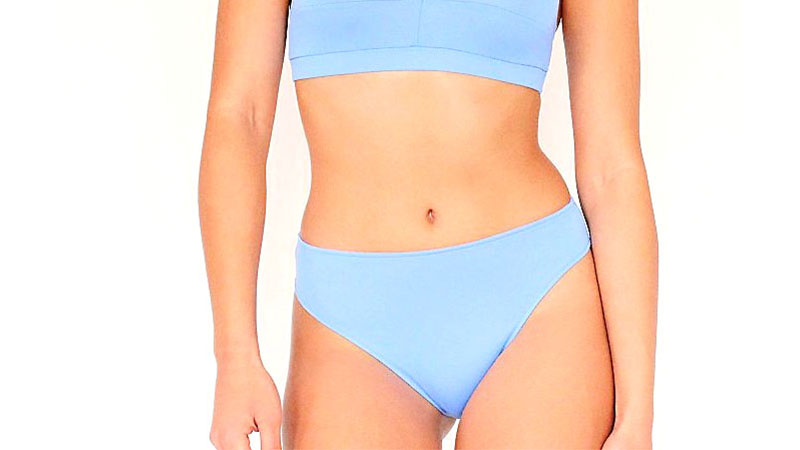 12. Kiki De Montparnasse High Waisted Panties
Indulge in a super-soft pair of jersey granny panties from Kiki De Montparnasse. These are an ideal everyday style for comfortably going about your business. It features an elastic waistband and crossover paneling at the front. Plus, black is always the best pick for looking effortlessly stylish, even if most people aren't going to see them!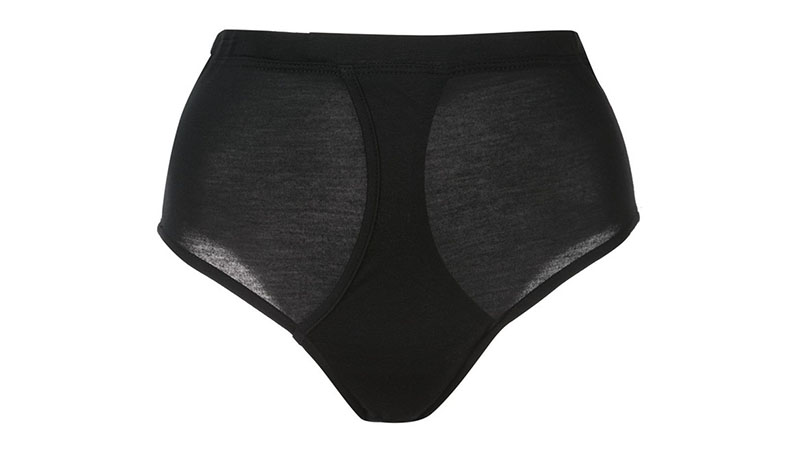 13. Eres Ganse High Waisted Briefs
French-chic shines through in these granny panties from Eres. The brand focuses on form-fitting designs that move with you and showcase exclusive fabrics and quality materials. These beautiful white lace briefs are made with a sheer construction and stretch fit. They're the perfect way to indulge in a touch of luxury with every outfit.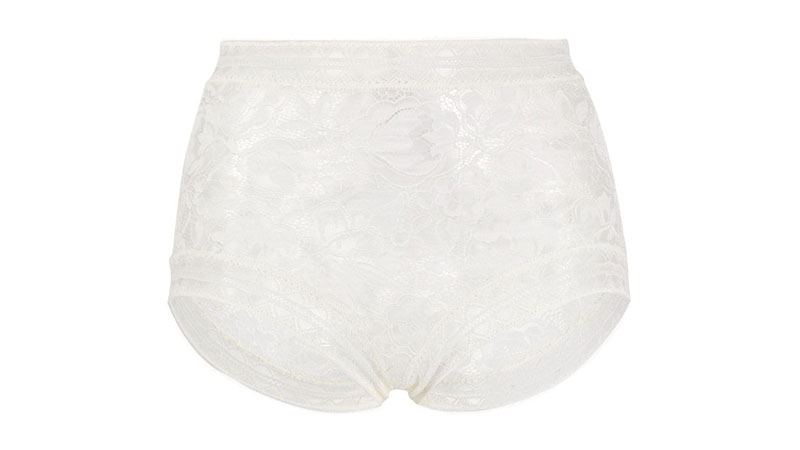 14. Calvin Klein Homehugger High Waist Hipster
Calvin Klein is famous for their underwear and for a good reason. The quality is exceptional, and the designs are comfortable and well-wearing. If you're looking for a pair of Calvin granny panties, the Homehugger high waist hipsters are a great option. The soft ribbed cotton blend sits gently against your skin, while the full gusset and full rear coverage keep you feeling secure. Plus, the wide elastic waistband won't dig in. You can also choose from baby blue or honey almond colorways.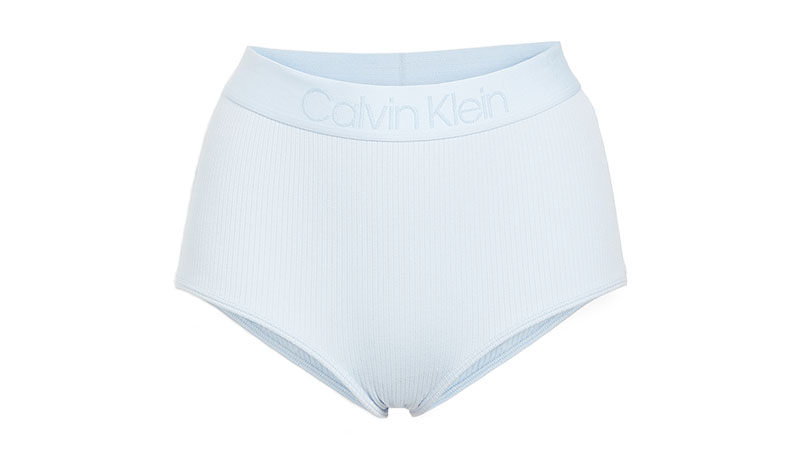 15. Wolford 3W Control High Waist Cotton Briefs
If you're looking for some quality granny panties that will flatter your figure and let you dress your best, then look no further than Austrian brand, Wolford. Their 3w control high waist cotton briefs provide light control and shaping, while still being breathable and comfy. Whether you're off to work or a special event, you'll be looking and feeling extra confident.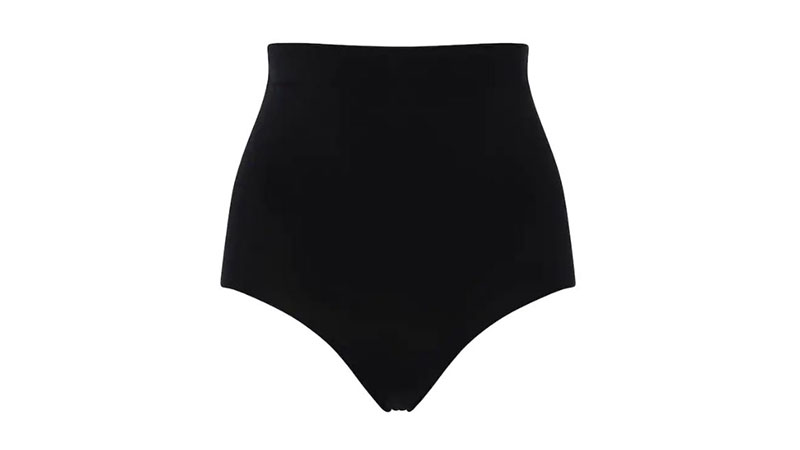 16. Velvet Sock's By Simone Wild High Waist Techno Velvet Briefs
Add a touch of luxury to your wardrobe with a pair of velvet granny panties, like these ones from Velvet Sock's By Simone Wild. The high cut, high waist, and soft fabric combine for an exceptional fit and feel. Meanwhile, cotton lining at the hem keeps you feeling cool and fresh. They exude a brilliant 70's roller rink vibe, and you can also choose from some killer retro colors, including pink, silver, mustard, and of course, classic black.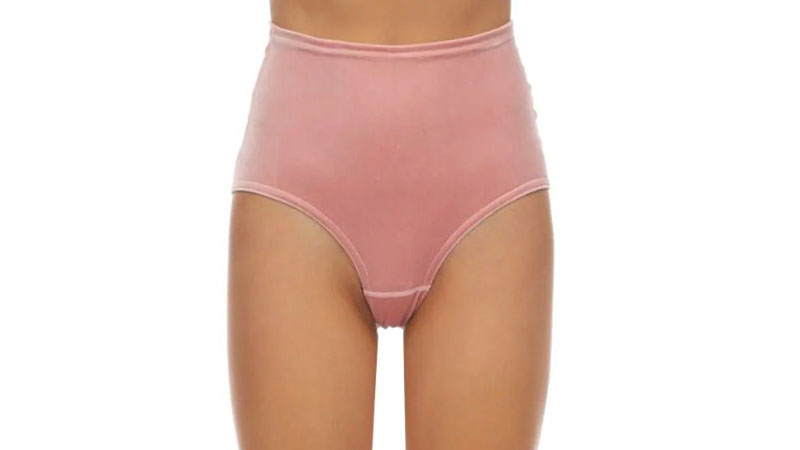 17. Zimmermann Printed High Waist Briefs
Bring some bright color into your knicker game with this playful design from Zimmerman. These high waist granny panties are just as comfortable as they are fun. It brings together Zimmerman's signature love of color and print. Polyamide and elastane make them soft and stretchy, while the shape holds everything in just right with full rear coverage and elasticized waistband.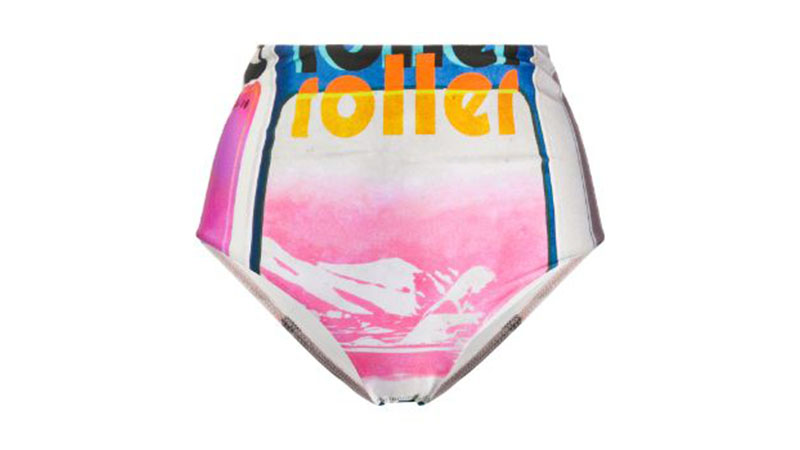 18. Else Belize High Waist Lace Briefs
Feel and look good with a pair of granny panties from Else. This Istanbul-based underwear brand is made for women by women. The company trains local ladies in the art of lingerie, giving them valuable, employable skills. The environment matters too. Sustainable lace, created with regenerated yarn and solar power, is used in production, and there's a recycling program for fabric wastes and cut-offs. When it comes to styles, the Belize high waist briefs come in soft pink with an all-over lace pattern for a sweet take on granny panties.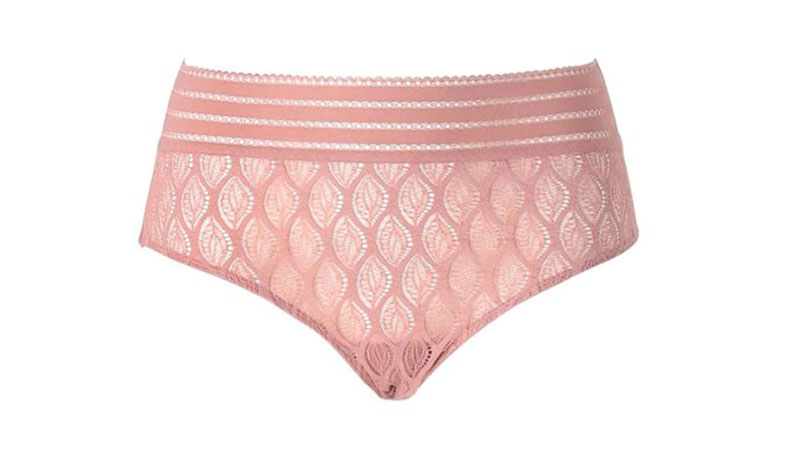 19. Aexae Boy Short Bikini Bottoms
Granny panties don't need to be relegated to the world beneath your clothes; you can also wear them proudly at the beach. A perfect example is these boy short bikini bottoms from slow-fashion swimwear house Aexae. Channeling some serious 80s and 90s vibes, this range of swimwear is ideal for the modern and stylish woman. The contrasting waistband provides simple detail while the suit is fully lined, so you don't show more than you mean to, even when wet. Lastly, nylon and Lycra® combine for a comfortable, stretchy fit that won't ride up.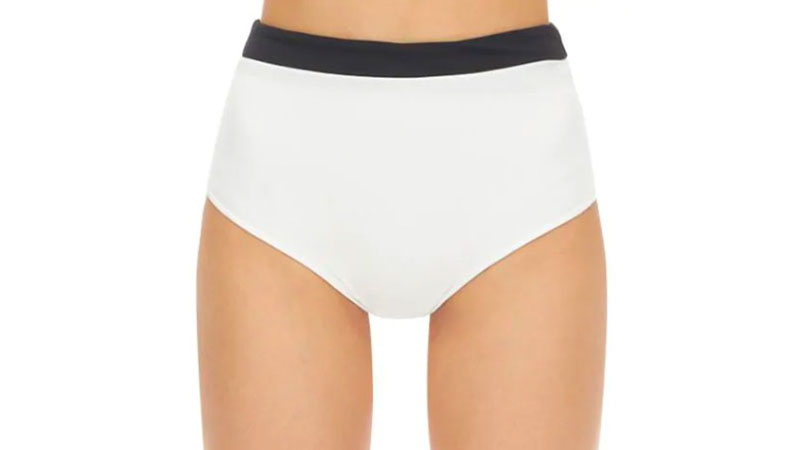 20. Chantelle Lingerie Prime Shape High Waist Briefs
The French company, Chantelle Lingerie, is an industry leader in seamless underwear. Feel confident that no lines will ruin your look, thanks to these prime shape high waist briefs. The beige suits most lighter skin tones and provides gentle shaping with a lined front panel, but soft knit back. This also makes them great for everyday wear as they're comfortable and not as restrictive as other shapewear options.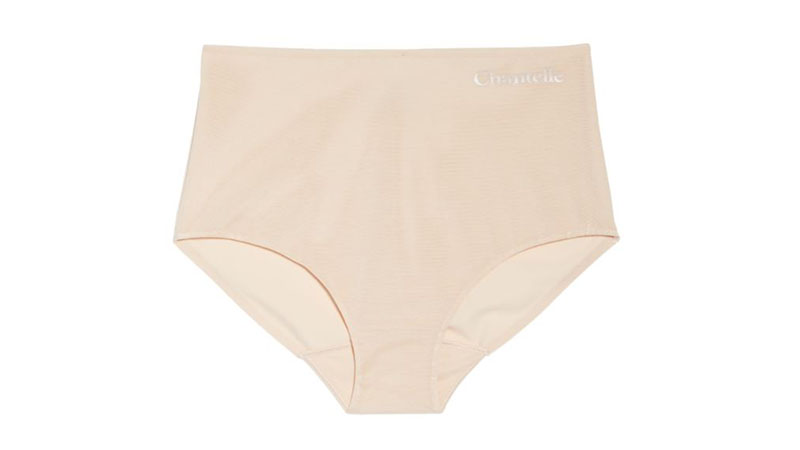 FAQs
What are Granny Panties?
Granny panties, also known as classic briefs, are a style of women's underwear that is typified by a high waist and full rear coverage. They're often associated with older generations due to the history of the design and popularity among an older demographic. While there are still many conventional granny panties around, fashion's cyclical nature means modern designs have been revolutionized. Many styles now incorporate elements from other types of underwear, such as thongs and shapewear, as well as prettier fabrics like lace and velvet.
Are Granny Panties Back in Style?
Granny panties are absolutely back in style! The style has been reinvented for a more modern take, with lace, cutouts, and unique fabrics making them increasingly appealing. Outwear fashion trends also influence underwear. The celebrity influence of superstars like Rhianna and the Kardashians runs to kickers as well as outwear. Their sold-out lines of lingerie included granny panties and shapewear, further cementing the style's popularity. Finally, a societal shift in women taking back ownership of their sexuality and bodies has seen the female cohort choosing clothes they feel comfortable in, embracing inclusivity, and redefining what is considered attractive and sexy.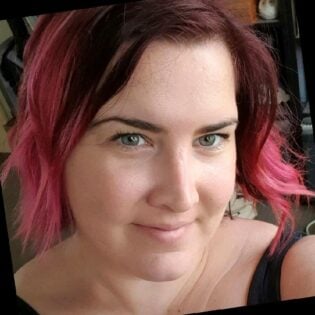 Alexandra Linde is an experienced writer holding a bachelor's degree in Journalism. She is the owner of Alexandra McKiterick Creative and has expertise in travel, fashion, fitness and lifestyle. Alex has previously written for Flightcenter, Travello, and Backpacker Deals.
SUBSCRIBE TO OUR NEWSLETTER
Subscribe to our mailing list and get interesting stuff and updates to your email inbox.