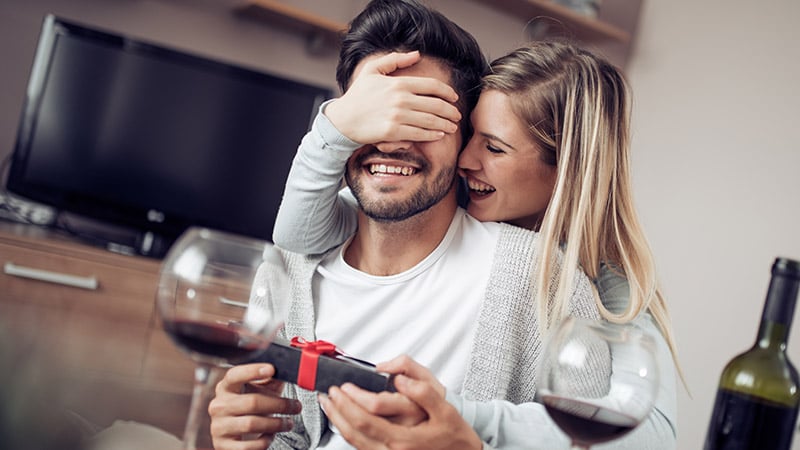 Take the pressure off shopping for the perfect present with these cute gifts for boyfriends. There are ideas to cater to a range of interests and hobbies, from board games and reading to adventures and puppies. Some will help you bond as a couple, while others let your partner take a trip down memory lane with you. Whether it's his birthday, Christmas, an anniversary, or you just feel like spoiling him; these unique and inspiring gifts are sure to be a hit.
1. Intimacy Card Deck
What better gift is there for your boyfriend than a deeper, stronger relationship? This intimacy card deck is an excellent date night idea to get to know each other better. It features 150 questions across six categories: intimacy, relationships, past, life, random, and about you. Each has a series of questions to prompt quality conversation and give you the opportunity to discuss dreams, share memories, tell secrets, and learn about each other. There are questions from lighthearted topics such as "What's your ideal romantic vacation?" to deep reflections such as "What did your past relationships teach you about love and partnerships?".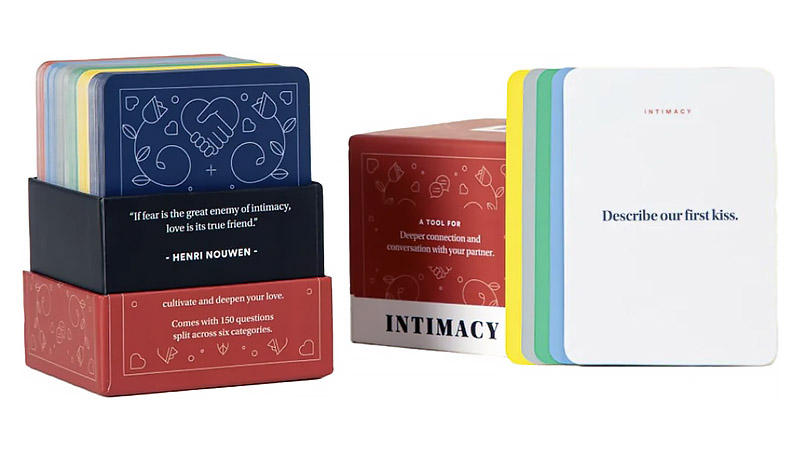 2. Create Your Own Reel Viewer
A framed photo or album is a nice enough gift idea for your boyfriend. However, you could take let him take an even better trip down memory lane by compiling your fondest snaps and memories into a retro reel viewer. These fun gadgets are a childhood favorite for many and give you the chance to customize your own gift. Add photos from your vacations together, first date, your children, family gatherings, or college days – whatever brings him the greatest joy. Then, watch his face light up as he clicks through them on his very own grown-up reel viewer.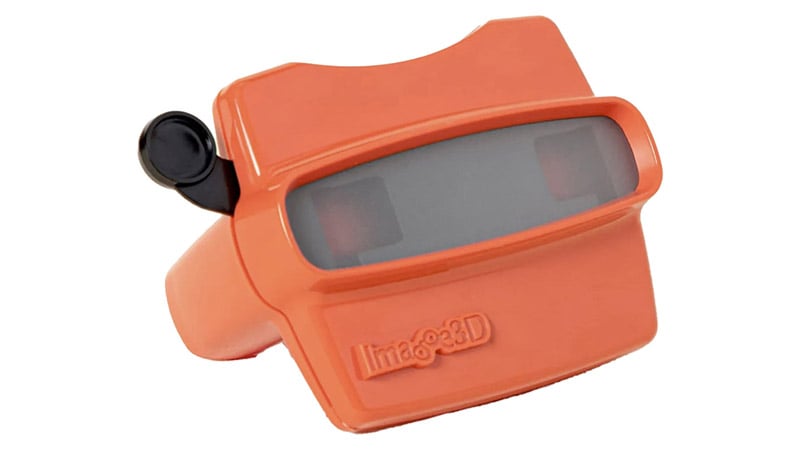 3. Mars Dust Globe
If your boyfriend is a fan of Andy Weir's novel, The Martian, then give him his own little dust globe planet. Rather than a kitsch Christmas scene with snow, this glass globe features Mars, with detailed topography of Valles Marineris and Olympus Mons on one side, with two astronauts on the other. When you give it a vigorous shake, the planet is engulfed in a vibrant rust-red dust storm. This is the perfect gift for boyfriends who are adventurers, amateur astronomers, or anyone who loves stargazing and dreaming of travel and life in the great beyond of space.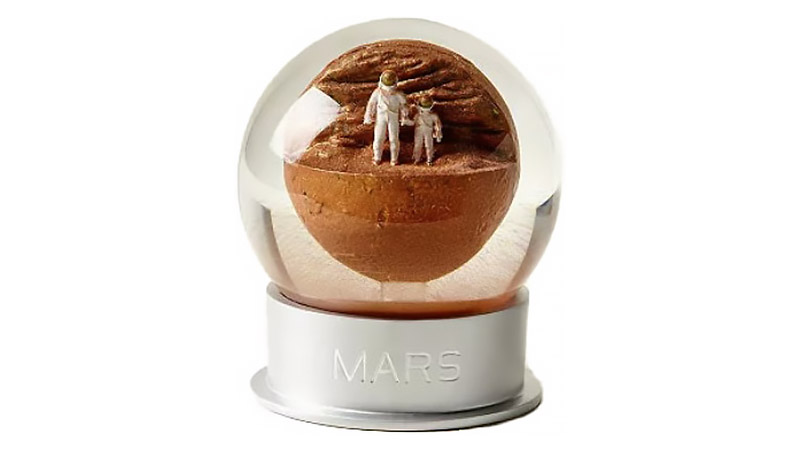 4. Nature Meditations Deck
This nature meditations deck is an excellent gift for boyfriends looking to take a moment away from their busy day. The deck features 60 cards with beautiful illustrations of natural landscapes. On the flip side, each card has mindfulness or meditation prompts from one of four categories – Nature Meditations, Walking Thoughts, Messages From the Earth, and Strengthening Affirmations. It gives the perfect opportunity to take a moment of peace and reflection, whether you're out and about in nature or sitting in an office. The compact size makes transport easy, so they're always on hand when you need to connect with Mother Nature and ground yourself in her beauty.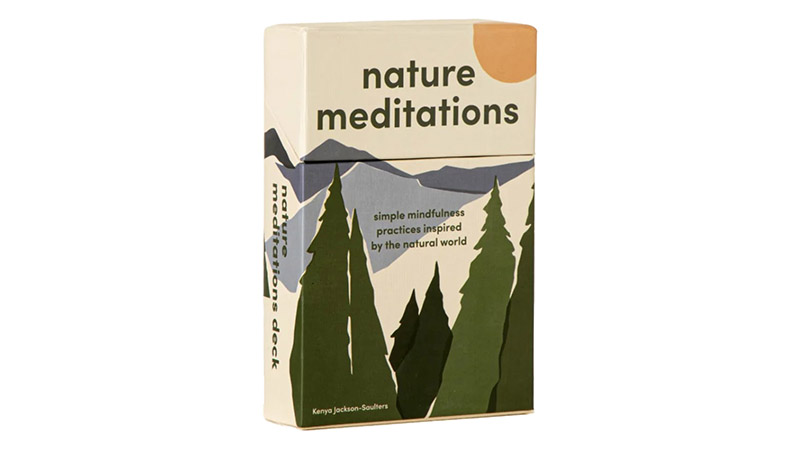 5. Taco Socks
Any day that features tacos is a great day! Socks may seem like a cliche gift for boyfriends. However, they're a practical wardrobe addition, and as these taco socks prove – they can be fun and stylish! They're sure to brighten up any business ensemble with a pop of color and fiesta-feel. Plus, they use a mix of nylon, cotton, and spandex for the perfect combination of soft, breathable, stretchy, and comfortable.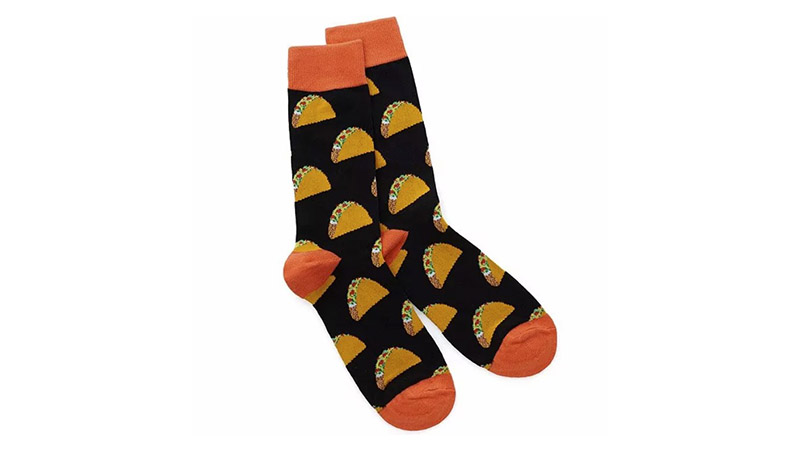 6. Personalized Retro Gamer Pint Glass
Turn your boyfriend into an 8-bit style gaming avatar with these fun retro pint glasses. Choose the name and create a likeness, with the ability to customize hairstyle, outfits, skin and hair color, and accessories. You can even give him an animal companion such as a dog, cat, rabbit, hedgehog, or even a dragon, dinosaur, or unicorn. Finally, choose three of his best character traits. Options include strength, wisdom, speed, agility, charisma, endurance, alertness, resilience, creativity, kindness, and empathy. This is the perfect gift for boyfriends who game, whether it's battling bosses, sniping the enemy, or rescuing princesses from anthropomorphic turtles.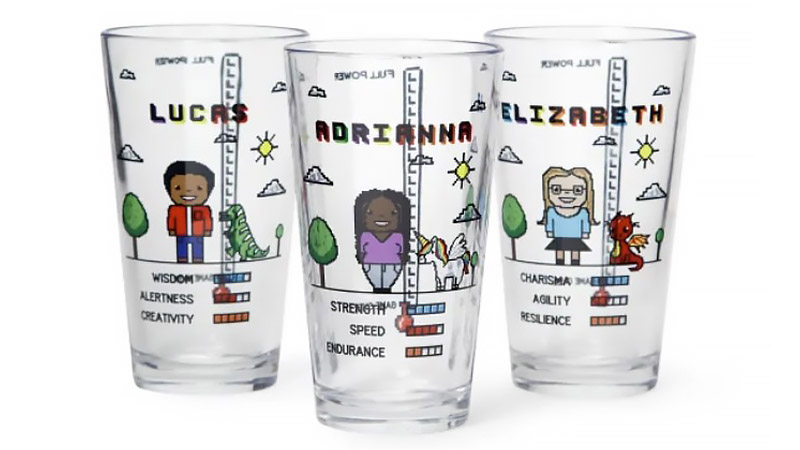 7. Lovebox Spinning Heart Messenger
Send upgraded love notes to your boo with this Lovebox Spinning Heart Messenger box. This specially designed bamboo box features a pixel heart on the front that spins until you open the lid whenever you get a message via the app. Rather than the simple beep of a text message, each sentiment you send will feel like a gift. You can also choose premium options, with the Black & White choice letting you use emojis, while with the Color & Photo variation, you can send pictures. You can also purchase additional spinners if red isn't your vibe – the three-pack contains a purple heart, a rainbow heart, and a sun. It's a thoughtful and loved-up gift for your boyfriend.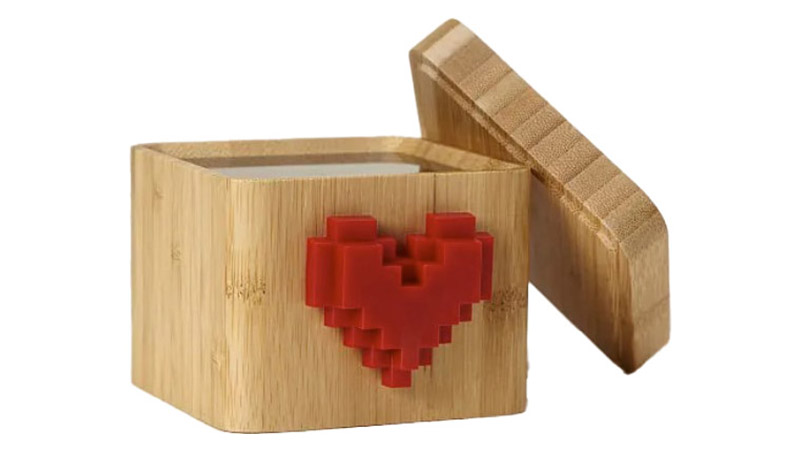 8. Dog Face Pillow
It's all about puppy love with these adorable dog face pillows. They make the perfect gift for any canine-loving boyfriend. Choose from four designs featuring the popular breeds of Bernese Mountain Dog, Boston Terrier, Golden Retriever, and Pug. Each is hook-sewn by hand with 100% wool, so it has the same fuzzy texture as your four-legged friend. They're a lovely homage to dogs that you can snuggle up to on the couch without worrying about fur and drool getting everywhere.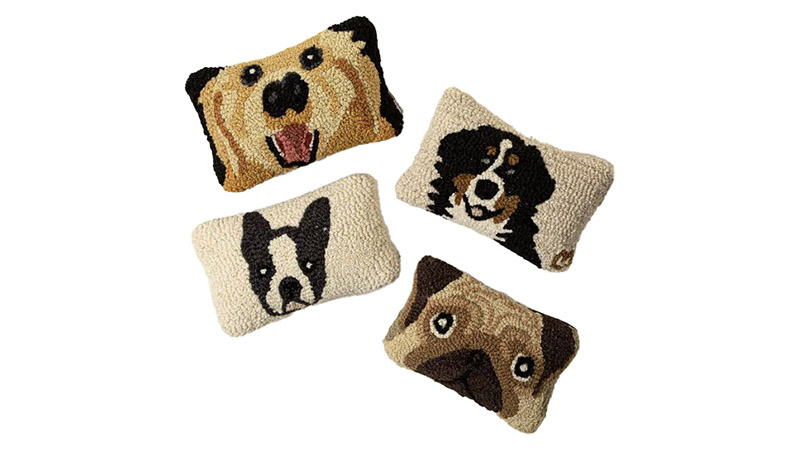 9. Cold Beer Coats
Beer-related gear makes a great gift for boyfriends who love to relax with a brew or two. These cute beer coats are a unique take on the beer koozie and a great way to keep your drink cold while also looking stylish. Made with soft nylon and insulated lining, your boyfriend will never have to worry about a room-temperature beer again. Select from four variations – black, navy, red, and olive – to best suit your man's aesthetic. The little 'arms' also make it easy to hold your drink. Transport the coat by looping a bag strap or carabiner through the arms so you've always got it on hand.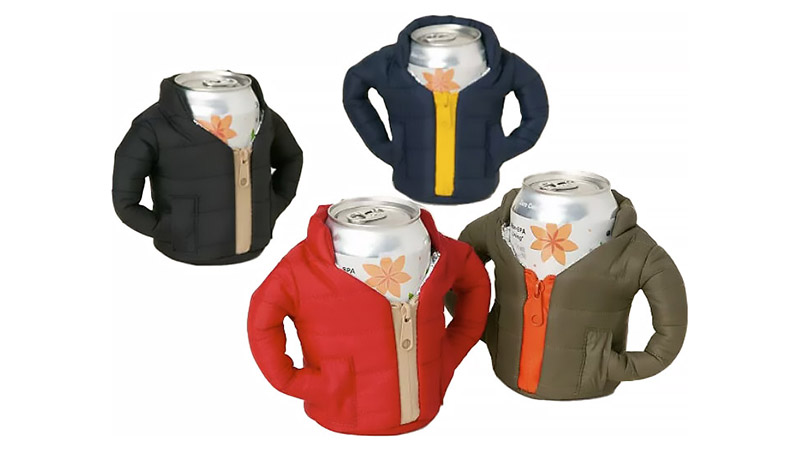 10. Stand Tall Planters
Gents with a green thumb will love these vibrant planters as a gift. They're handmade in Vietnam and feature bright colors and smiling faces, which contrast beautifully with the green foliage to be planted in them. Choose from the large size, which stands ten inches tall and is ideal for medium-size floor plants. Alternatively, the smaller six-and-a-half-inch pot is best for compact spaces. Place it on a shelf or windowsill, or brighten a workspace with a desktop plant. They're an excellent way to bring a little bit of Mother Nature indoors and soften up your space.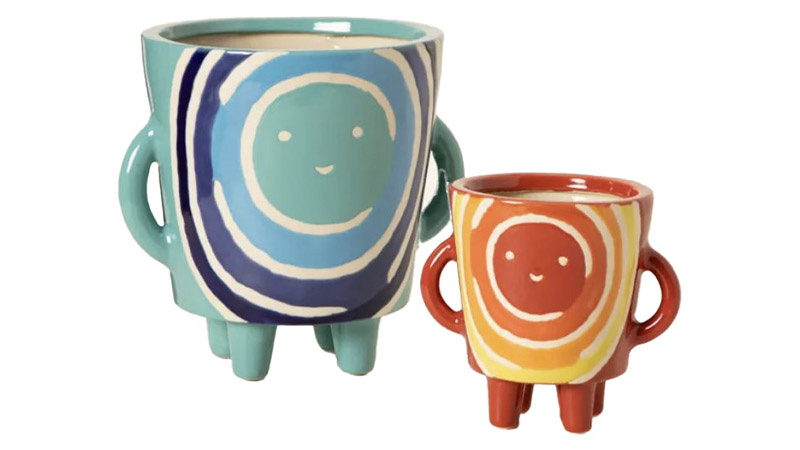 11. What to Watch Streaming Decider Dice
Most people love an evening of lounging on the couch and streaming their favorite show. However, with the plethora of options on most streaming services, sometimes choice paralysis is a very real obstacle. Do you rewatch a favorite, learn something new with a documentary, or take in the latest big-screen blockbuster? If you just can't decide, leave it up to fate with these decider dice. One dice chooses if you watch a movie or a tv show, then the next rolls for the genre. The final dice needs a double roll to tell you which row and column your selection for the evening is. Then all you need to do is grab the popcorn, and a comfy blanket, then sit back, relax and enjoy.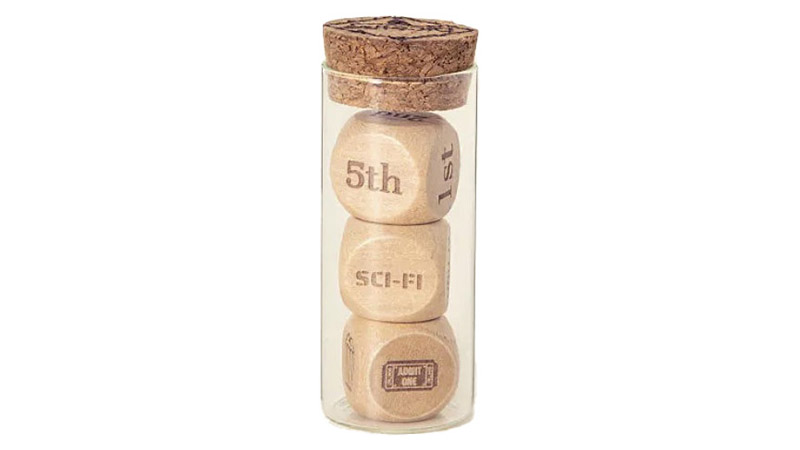 12. Stone Drink Dispenser
A stone drink dispenser is a creative gift for boyfriends who take their booze seriously. It's a novel addition to any bar set-up and is a unique way to serve your favorite spirits or wine. The main unit uses cobbled granite for a rough and rustic feel, while the tap is stainless steel with a smooth beach stone handle. The custom-made plug makes refilling the unit simple and spill-free. Finally, each dispenser is handmade from locally sourced New England stone and perfectly showcases Mother Nature's art.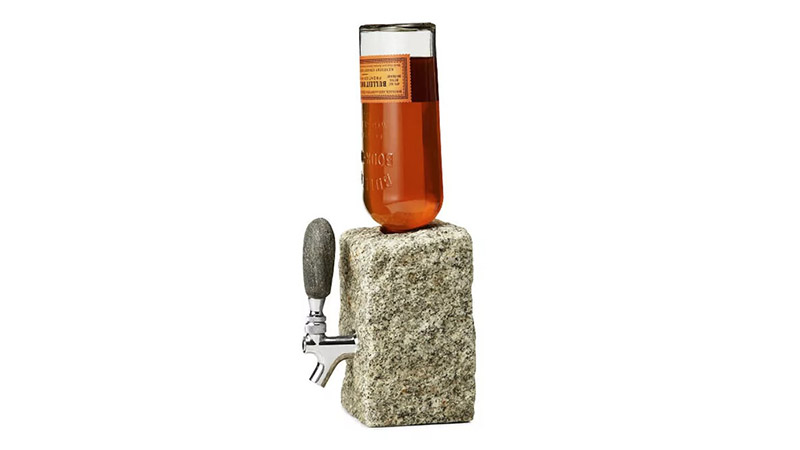 13. Owl Soup Bowl
Who (who) doesn't love a bowl of soul-warming soup? These ramen-ready owl soup bowls are a great gift for boyfriends, especially for a housewarming present. The design comes in a brown and white option, both with a set of chopsticks for slurping down noodles or dumplings. Plus, the specially designed hole and nook are great for resting your chopsticks when they're not in use. The bowl can hold 18 ounces of liquid so you can enjoy a hearty serving of pho, chowder, broth, bisque, or Laska.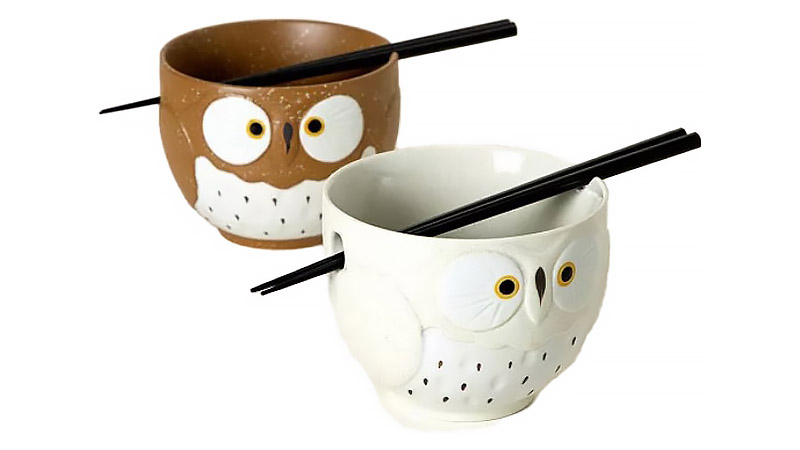 14. Dogs vs. Cats Chess Set
Settle the age-old debate of cats versus dogs with a game of chess. This adorable set features various breeds of royal felines and canines in place of the traditional chess pieces. Not only is it a fun variation of this age-old game, but it's an excellent conversation starter. Plus, it's perfect for traveling as the pieces store securely and safely in the back, and the board folds in half, closing with a latch. You'll enjoy hours of cerebral fun with your other half when giving this as a gift to your boyfriend.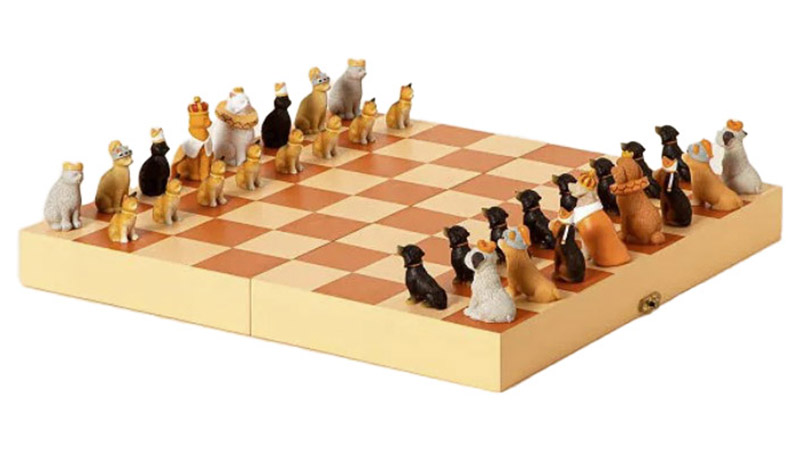 15. Horse Racing Game
Board games are always a great gift for boyfriends, as they provide endless entertainment and can last a lifetime. This horse racing game is a fun, fast-paced activity for a couple of friends or large groups. It's a game of chance that sees the speedy steeds take off down the race track with the roll of a dice. The game is handmade with the track crafted by an experienced carpenter using maple veneer wood and MDF. Aspiring jockeys of all ages will enjoy this low-fi fun and relish the chance to spend time bonding with some old-fashioned excitement.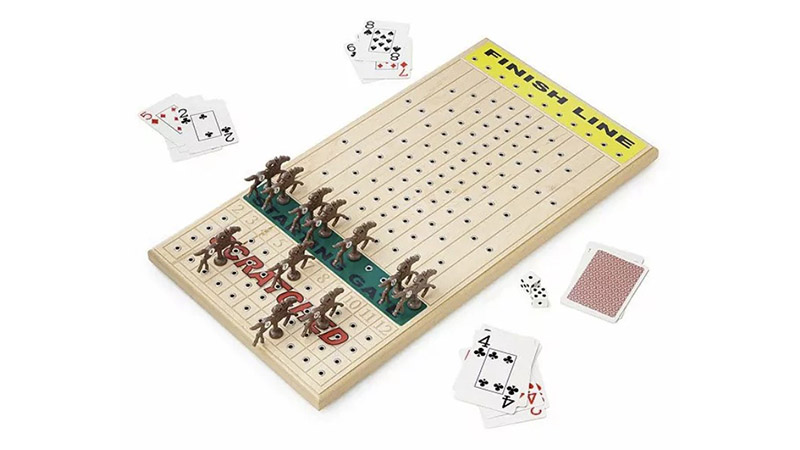 16. Golf Club Bottle Openers
Gents who usually ponder which iron is suitable for today's golf course will love these golf club bottle openers as a gift. Each is handmade and uses reclaimed golf clubs that are too old for a game but too good for landfill. Plus, they come with a certificate of authenticity. At eight inches long and hefty in weight, they're a solid addition to a bar cart or beer fridge and ideal for cracking a cold one on the 19th hole.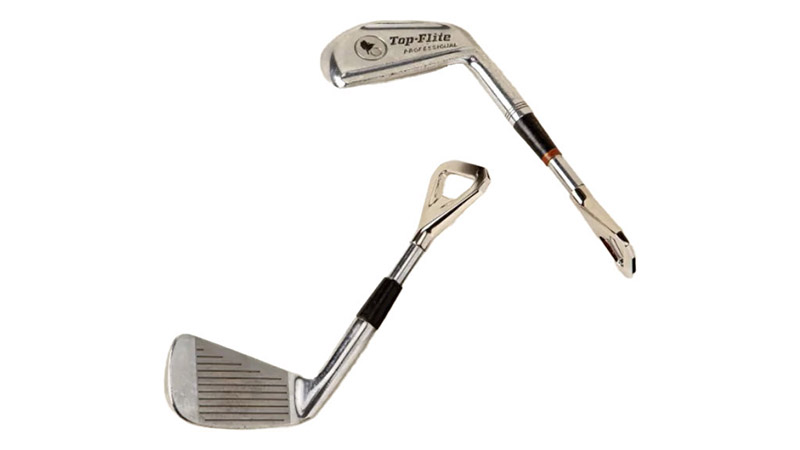 17. Swimsuit Calendar
Swap risqué for ridiculously cute when you gift your boyfriend this adorable swimsuit calendar. From the creative mind of artist Jenne Puente, it features original watercolor illustrations of animals in their beach-ready best. It has everything from a playful platypus and bootylicious bear to a string-bikini-clad capybara and cocktail-sipping lion. The vibrant colors of these happy critters will brighten up any room and keep your partner organized for all the important dates, birthdays, and special occasions.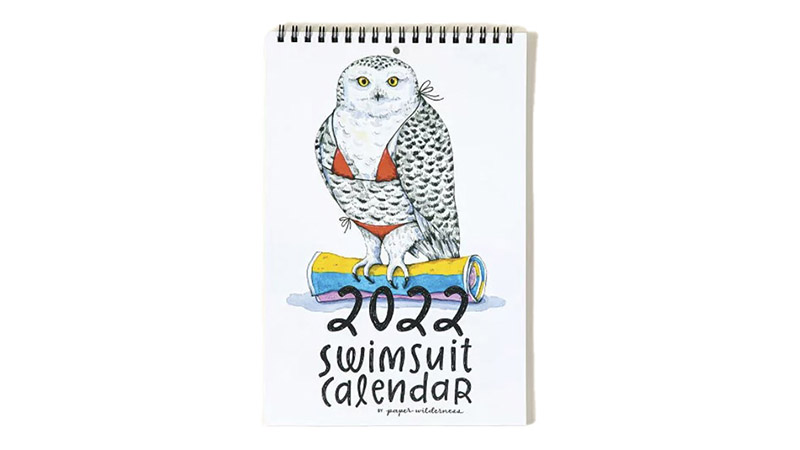 18. Stonemen Brumbies Boxer Briefs
Good underwear is the foundation of a stylish and comfortable outfit. As such, it makes a great gift for boyfriends, especially when they come with fun prints like this design from the Australian brand Stonemen. These Brumbies boxer briefs feature an image of wild brumbies galloping across the land from photographer Steve Cale. They embody the desire to escape and run free, with nothing holding you back. The underwear themselves use a perfect combination of Australian cotton and elastane for the ideal amount of stretch, plus super soft seams for added comfort. If you don't think your man will love the brumbies, other designs include a tropical beach, longboard surfing, Joshua Tree National Park, and a vintage sailboat.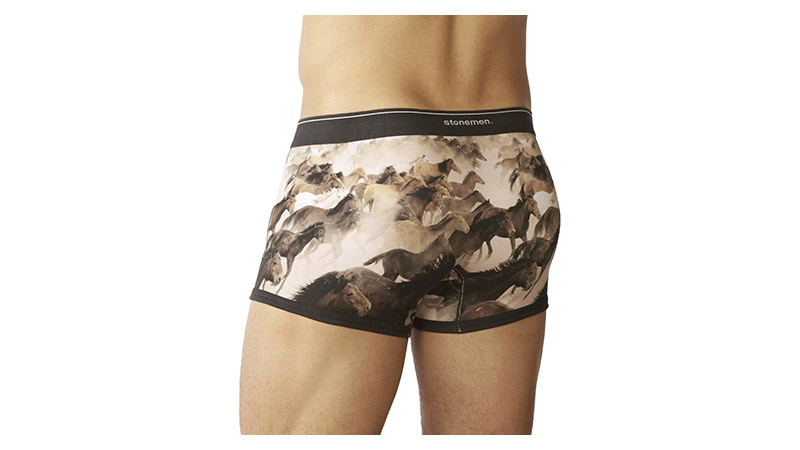 19. Men's Wishbeads Intention Bracelets
While genies might not be real, these wish-bead intention bracelets are and make a great gift for boyfriends. All you need to do is write a wish or intention for the day on a small piece of paper (a set of sheets is included), then roll it up and slide it into the secret compartment like a hidden scroll. Then, put the bracelet on and carry your wish or intention all day as a wearable reminder or manifestation of the energy you seek. The masculine design has two options. The first is black lava rock to keep you grounded or tiger's eye to inspire confidence.
20. Backpacker Saxophone
Take the power of jazz anywhere with this backpacker saxophone. Creator Ron Marr uses hollowed-out wood that's then charred and sanded to make the body of this compact saxophone. Carefully tuned holes, a copper plumbing elbow, and a signature 4C alto saxophone mouthpiece round out the simple but effective construction. It's a far cry from the 600 parts and hefty eight pounds that a traditional sax is, making it ideal for traveling. It is a fun and unique gift idea if your boyfriend is a budding musician or accomplished woodwind player.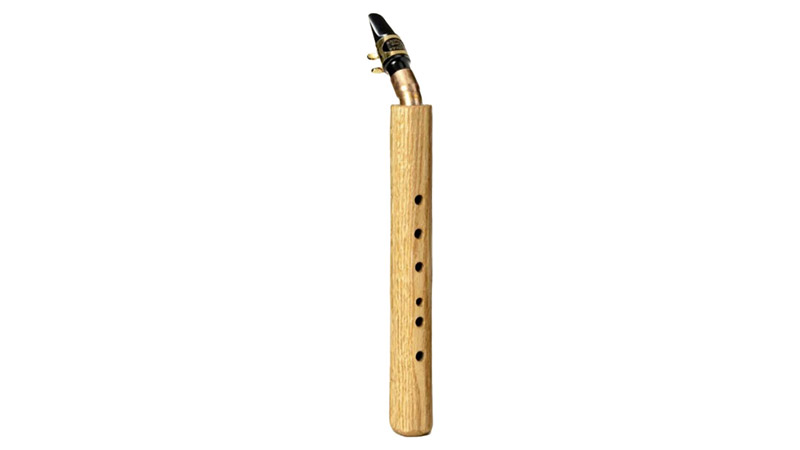 21. Date Night Wanderlust Paint by Shadow Kit
A creative date night activity is an excellent gift for your boyfriend, especially if you're stuck in a bit of a routine. This art kit for two comes with everything you need to channel your inner Monet or Van Gogh to create a stunning European landscape. Choose the quaint streets of Paris, the gorgeous blues of Santorini, or the rustic views in Amalfi. The greyscale canvases guide you on how to paint, with the choice of 24 vibrant colors and six brushes, plus helpful tips and reference images. Add in some themed music, a glass or two of your favorite vino, and you've got a romantic night in for just the two of you.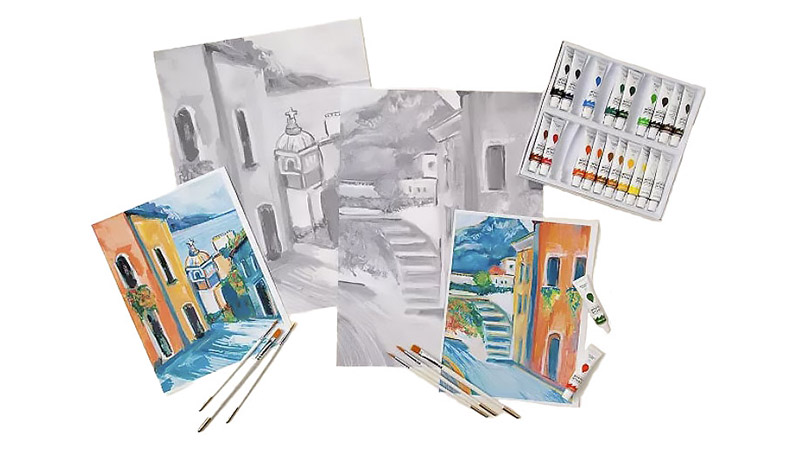 22. Dinosaur Mugs
If your boyfriend loved dinosaurs as a kid, then these handmade mugs are an adult-appropriate gift idea to tie into that childhood passion. It's a Jurassic adventure with every cup of coffee and the perfect start to the morning. Select from a diplodocus, tyrannosaurus rex, stegosaurus, triceratops, or velociraptor stamped to the side of the mug. Plus, underneath each is a surprise silhouette on the base. These mugs are dishwasher and microwave safe, which is excellent if you accidentally leave your coffee out too long and it enters the ice age.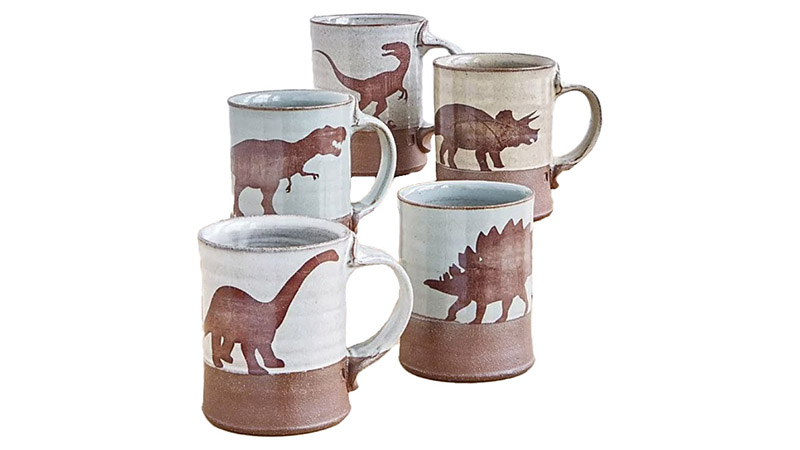 23. Custom Love Letter Cufflinks
Let your man wear your heart on his sleeve with these love letter cufflinks. Made from brass, these small but functioning envelopes each contain a mini wooden love note with "I love you" or a custom message on it. They slide in and clip close, ready to smarten up a French-cuffed button-up. Artist Joseph Cirincione makes each piece by hand in the United States, channeling his expert craftsmanship into each design. They're a sweet gift for boyfriends who regularly wear a suit or perhaps for a special occasion such as your wedding.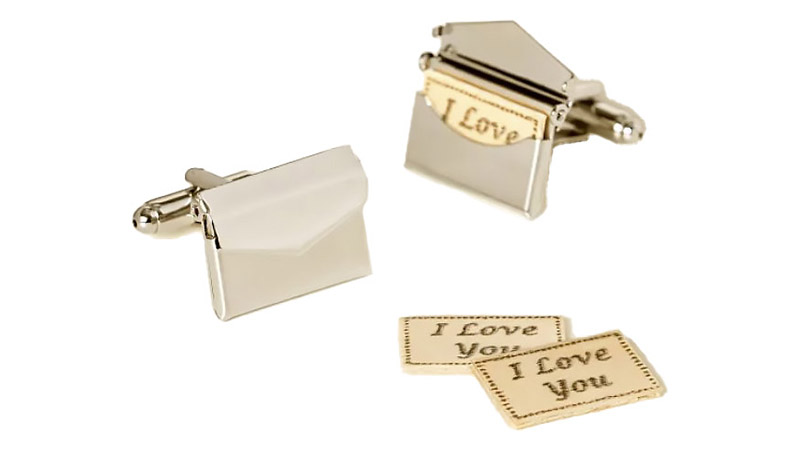 24. Musical Spoon
Canadians have long been playing the spoons, and they're a central part of traditional folk music. You'll often see them at festivals or parties, and they make an excellent gift for boyfriends who enjoy music. Woodworker Richard Cyr has been making wooden musical spoons for over 20 years and uses only beautiful Canadian maple. This means they not only sound lovely but look and feel fabulous too. The spoons are a lot of fun and a relatively easy instrument to learn for both budding and experienced musicians.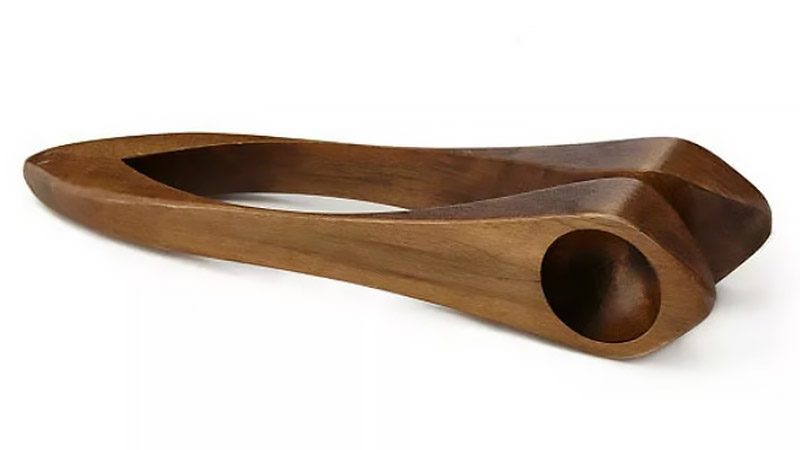 25. Adventure Passport Journal Set
As Bilbo Baggins said in The Hobbit, "I'm going on an adventure!". If your boyfriend shares this adventuring spirit, this passport journal set is an excellent gift idea. It's a twin set featuring one journal to document road trips along America's iconic highways and one to preserve memories from the more than 400 national parks in the country. Both can record up to 20 trips and have space to make notes about scenery, wildlife, and stops. There's also plenty of blank space to sketch or scrapbook mementos such as tickets or photos. Added inspiration comes in the form of bucket list suggestions and rite of passage checklists. It's a lovely way to reflect upon your travels.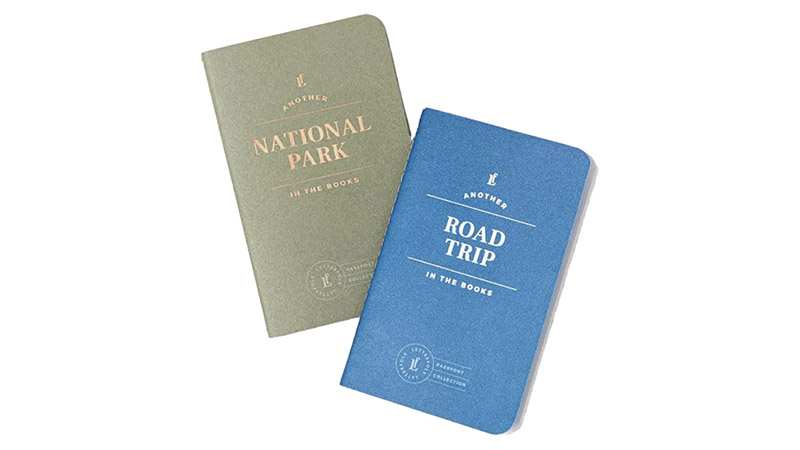 26. Whiskey Lover Playing Cards
Pair a dram of quality whiskey with a game of poker for an entertaining boys' night. This deck of playing cards makes for an inspiring gift for boyfriends who know their way around a glass of Scotch, rye, or bourbon. It features illustrations by Grace Helmer of 39 malts from around the world, such as The Hakushu, Macallan 18, and Jim Beam. Plus, there are 13 whiskey-based cocktails like the sour or the Bobby Burns. It also includes a booklet about some of the world's best distilleries.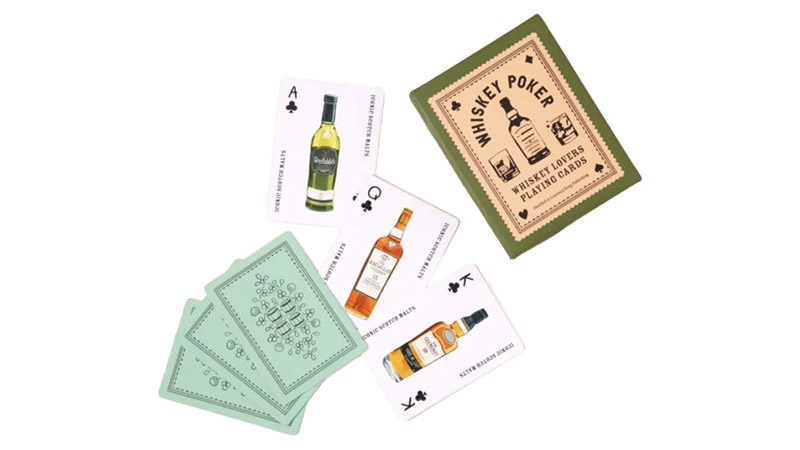 27. Chakra Couples Game
Connect with your partner on a deeper level by giving your boyfriend this chakra game as a gift. The chakras are considered windows to the soul in Eastern tantric traditions. This game, which is played one-0n-one, encourages you to look through these windows with a series of questions for each chakra. Some are intimate and a little sexy, while others are fun and lighthearted. There are 14 cards and coins that players collect as they move around the board. You win by being the first player to ask a question for every chakra and then get to choose a prize from your partner, such as a date night, back rub, or something a little more risqué!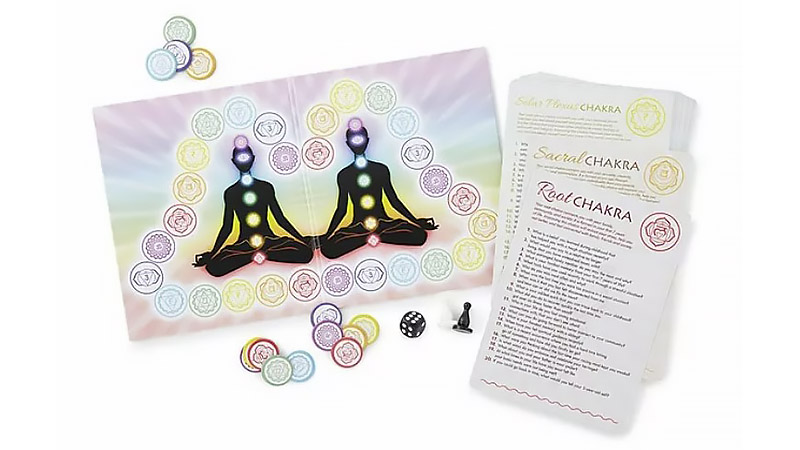 28. Mighty Mountain Bookends
These dramatic and beautiful bookends are an ideal gift for boyfriends who read without adding anything else to their "to be read" pile. Artist Steven Truong, based in Texas, laser-cuts each one by hand using cork and Baltic birch plywood. The design features mountain landscapes of soaring peaks and leafy pines, offering a touch of nature to help keep bookshelves organized and visually pleasing. You'll get to enjoy the stunning "view" in the comfort of your home, even if you're miles away from the nearest range of mountain lodge.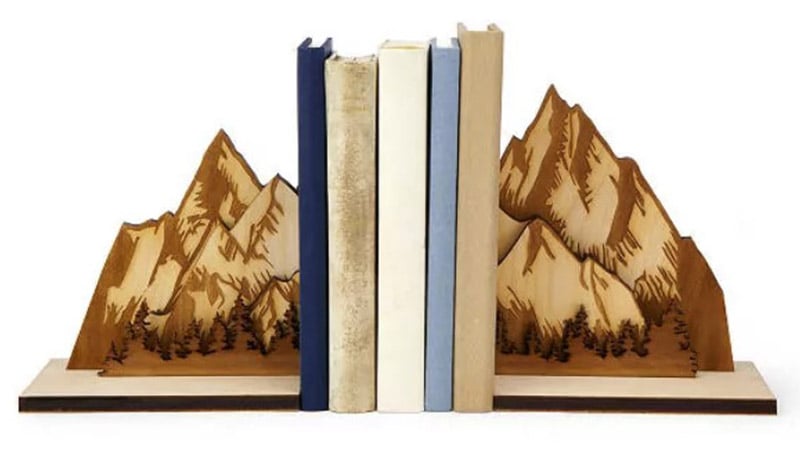 29. Musical Serving Boards
Musically inclined boyfriends will love the gift of a musical-themed serving board. It will take a cheese or charcuterie board to another level and add visual interest and a talking point to any dinner party setup. They're sure to be the host with the most when they bring this out! Each is handmade in Canada using Nova Scotian yellow birch with pewter details such as the guitar head and piano keys.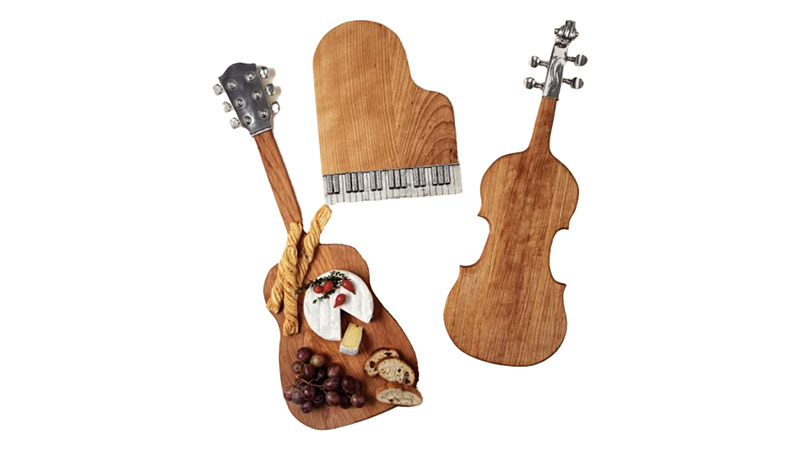 30. Whiskey Barrel Watch
Another great gift for whiskey lovers is a watch made from recycled oak whiskey barrels. This design is a mix of minimalist and rustic, featuring a simple black dial and cork-shaped crown. In between the oak are stainless steel links for durability and comfort. This is a unique work of wearable art that's an ideal gift for boyfriends who are also spirit aficionadoes.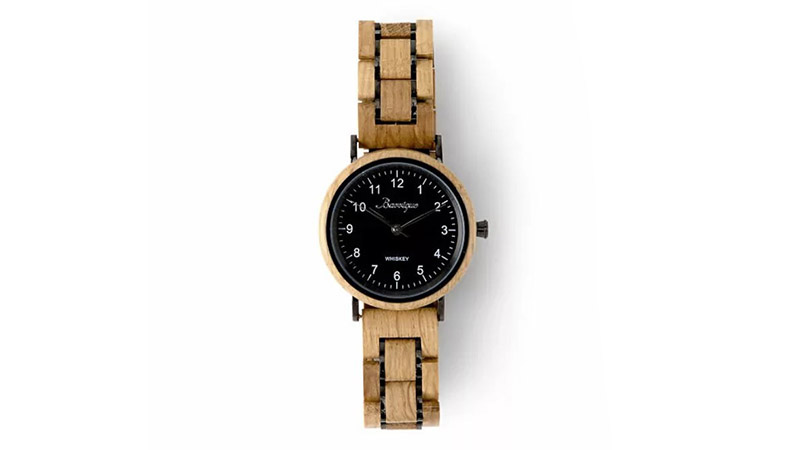 Gifts for Boyfriends FAQs
What is the best gift for a boyfriend?
The best gift for a boyfriend is one that speaks to his interests, whether music, sports, games, spirits, or reading. If you're unsure, a gift that allows you to spend time together is a safe bet. Try something like a board game, date night art, or intimacy cards to get to know each other better. 
What is the most meaningful gift for a boyfriend?
There is no one perfect meaningful gift that will apply to all boyfriends. What makes a gift meaningful is the thought and intention behind it. Get him something important to him, that caters to his interests, or that he's mentioned wanting in previous conversations. This will show that you've been paying attention and care about the things that he's passionate about. 
What can I gift my BAE?
Pay attention to your bae's hobbies or interests and gift him something relevant to that. For example, gamers might like a customized 8-bit pint glass, or readers will appreciate some stylish bookends. Gifts that lets you spend time together are also great, such as a date night paint set or chakra board game. 
What should I gift my bf on his bday?
Show your boyfriend how much you love him on his birthday with the perfect gift. It could be custom love letter cufflinks, a lovebox with a spinning heart, or a retro reel viewer with photos of your together. Other unique ideas include cats versus dogs chess set, dinosaur coffee mugs, or What to Watch Streaming Decider Dice for snuggly nights on the couch. 
SUBSCRIBE TO OUR NEWSLETTER
Subscribe to our mailing list and get interesting stuff and updates to your email inbox.