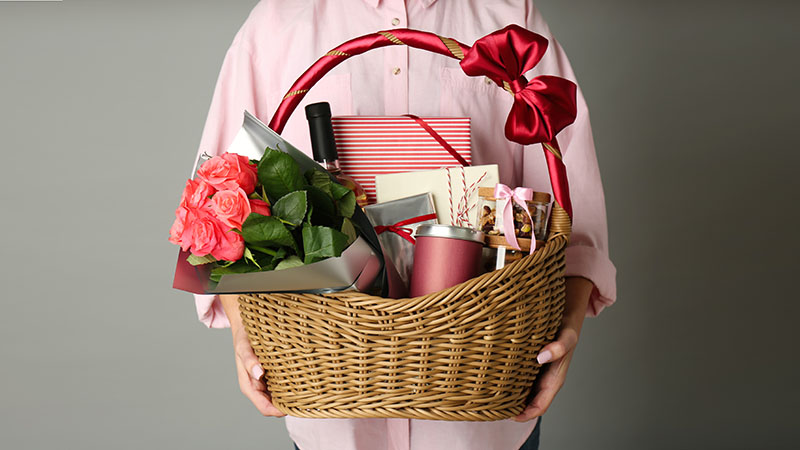 The humble gift basket is a fantastic present choice for many reasons. It provides an endless amount of goodies in a single place, but they're also fantastic for those who have no idea what they want as a present. Be it for a teacher, a Christmas gift, or something corporate, there are endless occasions that make for the perfect opportunity to give one of these. We have selected the best gift basket ideas for men and women that will bring a smile to anyone's face.
1. Birthday Gift Basket
A gift hamper is an excellent choice for the person who has everything. These baskets include delicious chocolate truffles in various flavors, Moose Munch premium chocolate-covered popcorn, and fresh fruit. What could be better than trying tasty snacks throughout the week (or day)? This comes all wrapped up in a sleek and stylish box, with a Happy Birthday printed ribbon. Whether they love sweet snacks and fruit, or you simply have no idea what else to get them, this is the perfect gift for people of all ages.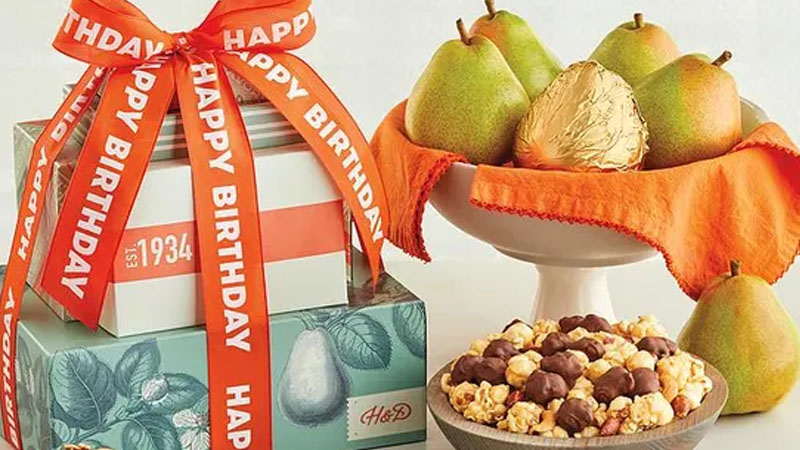 2. Sympathy Gift Box
Show someone that you are thinking of them with this beautiful sympathy gift basket. It's often a hard gift to buy for someone who has recently lost a loved one, but this hamper provides warmth and comfort to those who are doing it tough. This box contains delicious chocolates, seasonal fruits, Italian salami, Gouda cheese, and premium popcorn. There is something here for everyone, and it comes perfectly wrapped in a sympathy-specific ribbon and a beautiful olive green box. Your closest will feel appreciated and cared for, even as they go through extremely difficult times. It's a wonderful choice if you live far away from someone, or if flowers just aren't enough.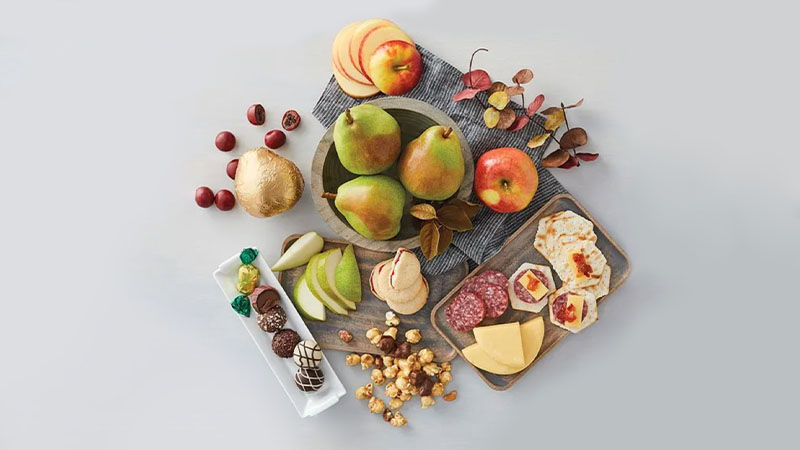 3. Get Well Gift Basket
These gift baskets are a beautiful gesture to show how much you care for them, from a short illness to something a little more serious. This hamper features a great selection of fine foods, including baklava, chocolate decadence cake, peach gummies, Thuringer sausages, Italian dry salami, and much more. Whether they prefer savory or sweet, they will enjoy this box to its fullest. Your friends will feel better as soon as they see this beautiful gift.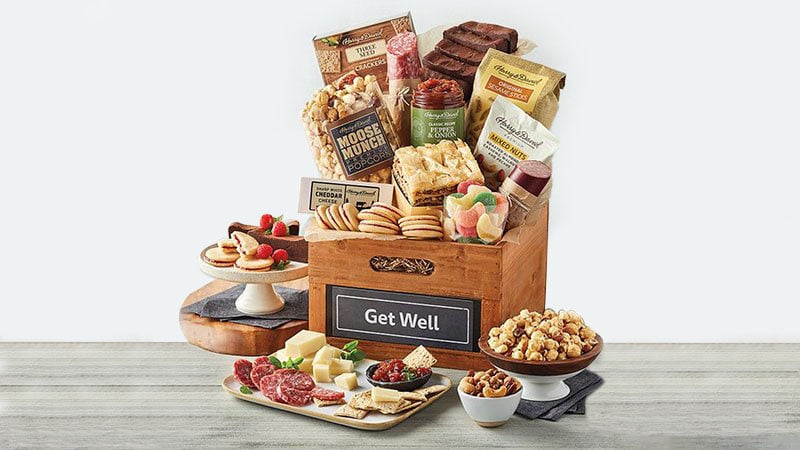 4. Wedding Gift Basket
If a couple is expecting to receive more than a heap of appliances, crockery, and essential home items, you can feel confused about their gift. That's where this great hamper comes in. Featuring a bottle of Moet & Candon champagne, a cocktail kit, a selection of cheeses, and crackers on a stunning serving board. What's more, this comes with champagne flutes and enough ingredients to make 15 cocktails. This is a great way to introduce the happy couple to lifelong happiness and joy and uniquely celebrate their nuptials.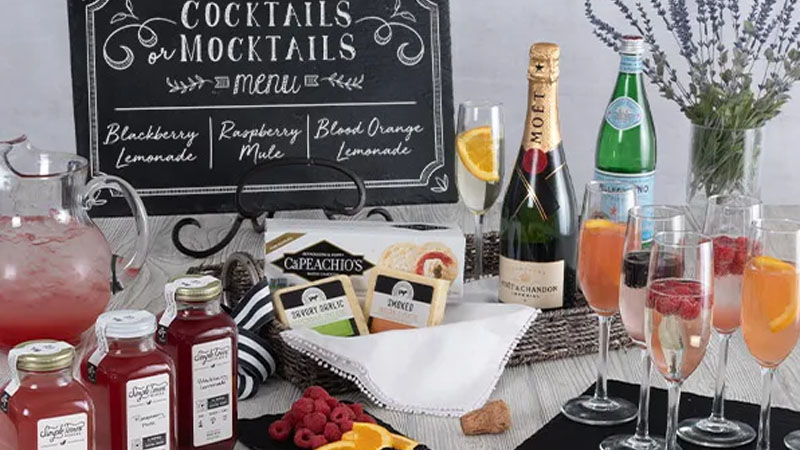 5. Housewarming Gift Basket
If you're unsure of what to get for someone for a housewarming gift, this gift basket is a perfect idea. It includes a personalized message to the receiver and also features a bath bomb, candle, plus a beautiful succulent, which is a great way to brighten a new space. You can choose what additions you'd like to feature in the box, plus the candle's scent. This is a personal and unique way to welcome someone to their new home that is sure to make them smile.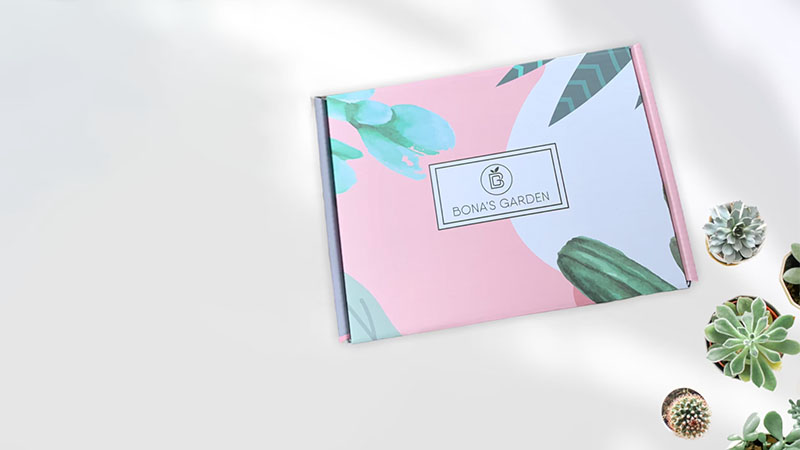 6. Mother's Day Gift Basket
Celebrate your mom and give thanks to her with this gift basket. Featuring spa-sequence gifts, including a natural body scrub that smooths and cleanses the skin. Let her relax after a long day with a luxurious soy candle, available in various scents for your choosing. What's more, she can have the best sleep of her life with an essential oil roller blend and a pillow mist. This is the ultimate gift for her if you want to show much you care.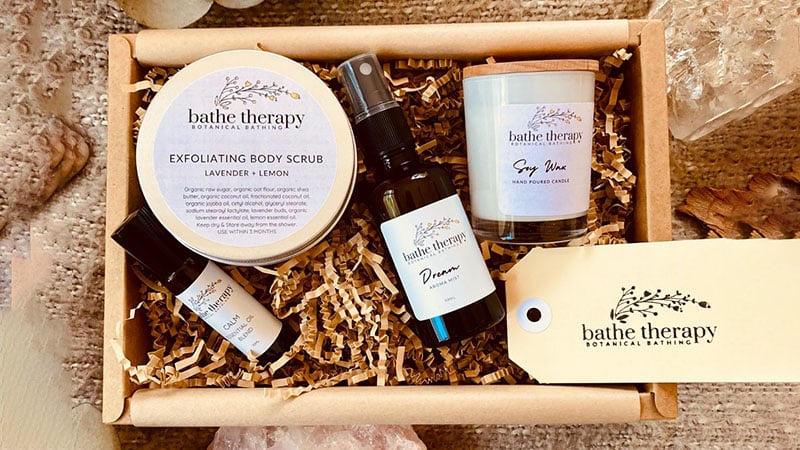 7. Fathers Day Gift Basket
Give your dad a gift he'll never forget – this hamper has it all. Filled with delicious food that he's bound to enjoy (and polish off), including milk chocolate-covered cherries, premium popcorn, delicious cheese, and a selection of seasonal fruit and dried salami. Complete with a beautiful 'Father's Day' medallion in a stunning box, it's a wonderful gift idea for anyone on their celebratory day.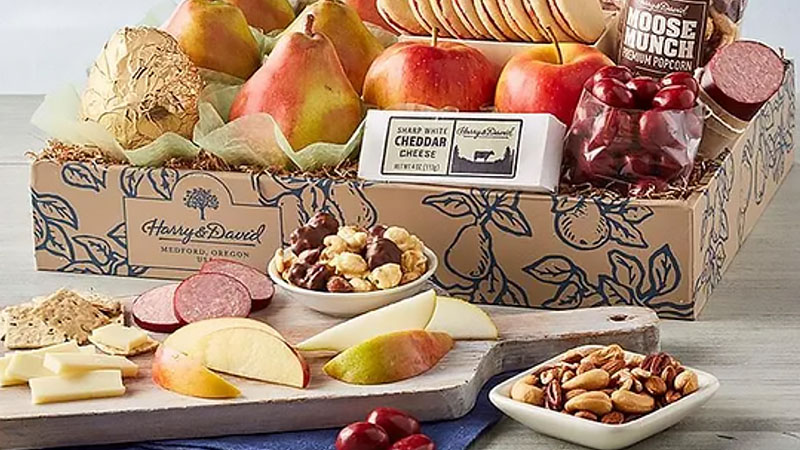 8. Dog Loss Gift Basket
Losing a family pet is one of the most heart-wrenching periods of anyone's life. So if a friend or a loved one is going through hard times after saying goodbye to their furry pal, this is the perfect sympathy gift. It comes with a delicious scented candle and a bath bomb to help them relax. The gift box also features a delicious Byron Bay cookie and a succulent, which offers the symbol of new life.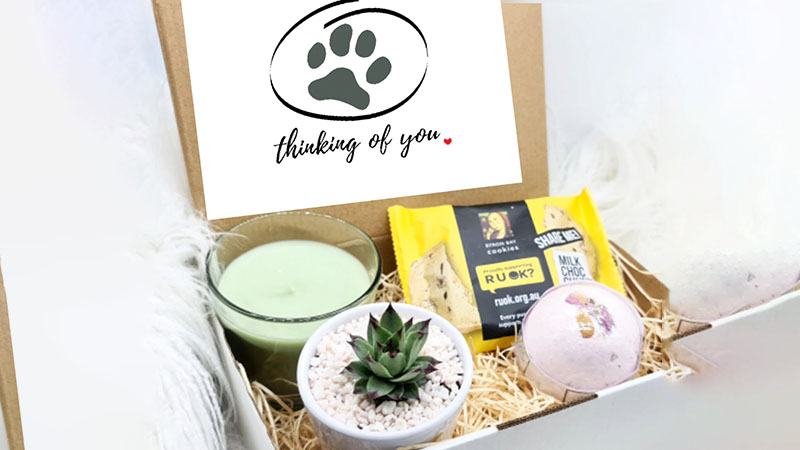 9. Easter Basket Gift
This Easter, share your love for chocolate and bunnies with this beautiful gift basket. The stunning design is crafted from natural willow from Queensland Hoop Pine Plywood, with a personalized name on the front. You can choose from three sizes, so everyone in the family can enjoy a great Easter egg hunt and do it in style. Fill it with chocolates and a stuffed rabbit for a gorgeous photoshoot, or give it to someone you love as a celebratory gift.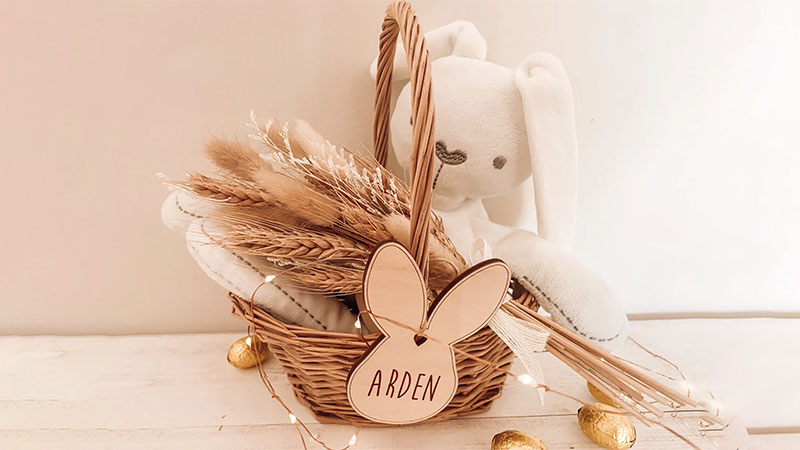 10. Sweet Tooth Gift Basket
Lovers of sweet things rejoice! This gorgeous gift basket features plenty of Floridian goodies, including fresh honey, honey cucumber soap, peppermint lip balm, coconut lime honey body butter, and a small beeswax candle. It all comes wrapped up in a cute little basket, so you can give it to a loved one for any occasion. The scent alone is sure to make them smile, but the soothing honey ingredients will help them unwind and relax after a long day. What else could they want?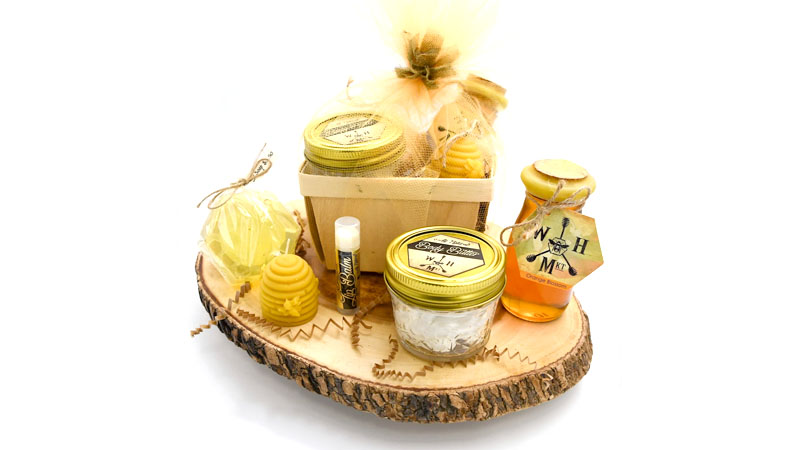 11. Best Friend Gift Basket
It's time to show your friend how much you love them with one of these hampers. Filled with goodies that they're sure to love you can give this for a birthday, Christmas, or just for fun. It's packed with products that embrace the Scandinavian philosophy of Hygge, it combines modern and comforting feelings together. You will find beeswax candles, a hand-painted Turkish ceramic mug, cozy socks, a handmade coaster, and a lavender pouch with an evil eye bead. Choose the gift card you want to add and present it to the person who means the most to you.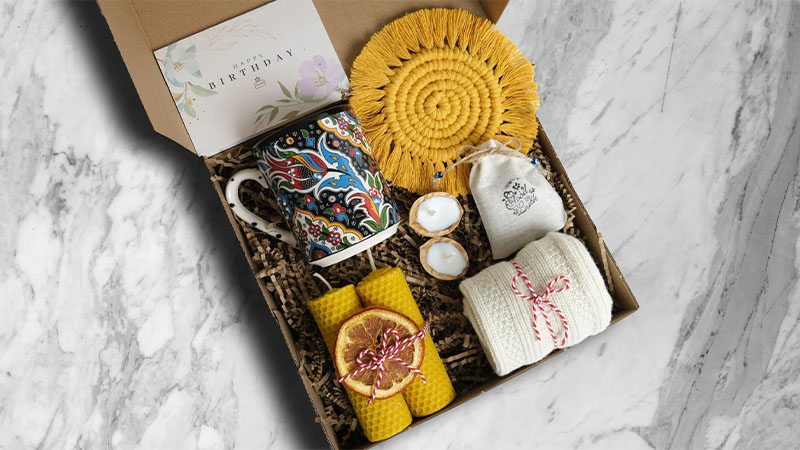 12. Thank You Gift Basket
Saying 'thank you' isn't enough with just words, and at times requires a gesture. This gift box is the ultimate way to give your appreciation to someone. Unlike other boxes, this includes something for everyone, such as buttery nut popcorn, coffee, gourmet cocoa, brownie brittle, mini toasts, cheese, and a mug cake. You can choose the color combination you prefer for the presentation and add a personalized card to complete it.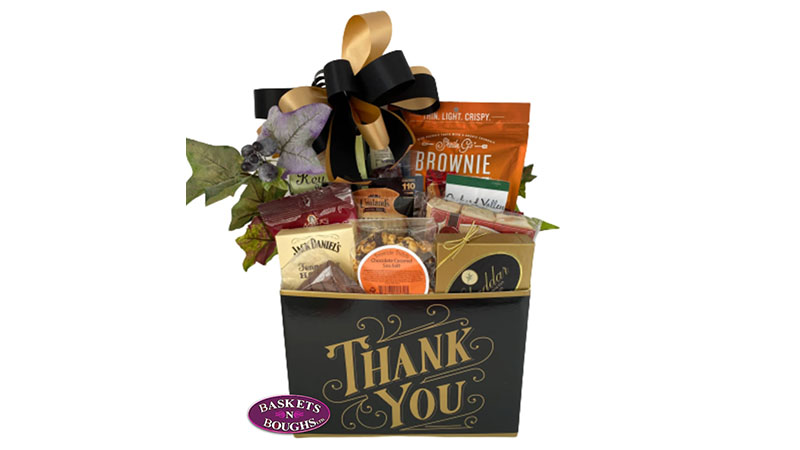 13. Baby Shower Gift Basket
This is a great choice for your friend or family member who is welcoming a new addition to their household. Ideal for a baby shower, it includes an ultra-soft washcloth, a cloth swaddle, baby romper, reversible baby bib, hair brush and comb, and shoes. What's more, it also features baby milestone cards, so they can capture the most precious moments at every stage of their baby's life. Add an extra personalized touch by engraving their name on the hair brush, and choose the pattern you'd prefer for the swaddle. It's the perfect option for a new parent.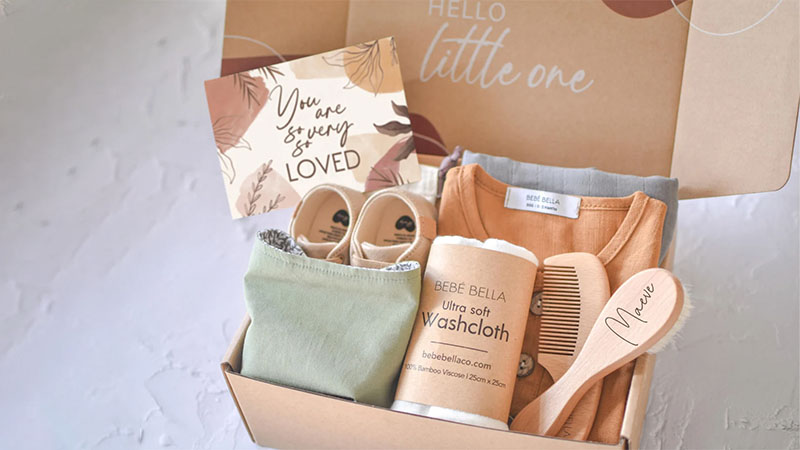 14. Corporate Gift Hampers
Giving gifts in the corporate world is often filled with boring branded things, but this gift box is the perfect deviation from the norm. Complete with a sandalwood and vanilla soy candle, quince paste, espresso chocolate, local honey from Cairns, and artisan crackers, there are Australian specialty delicacies that will make anyone happy. You will also find a reactive glaze cup, a wooden honey dipper, stainless steel cheese knife and a bamboo cheese board, and a printed recycled card. Good luck finding another corporate gift as good as this.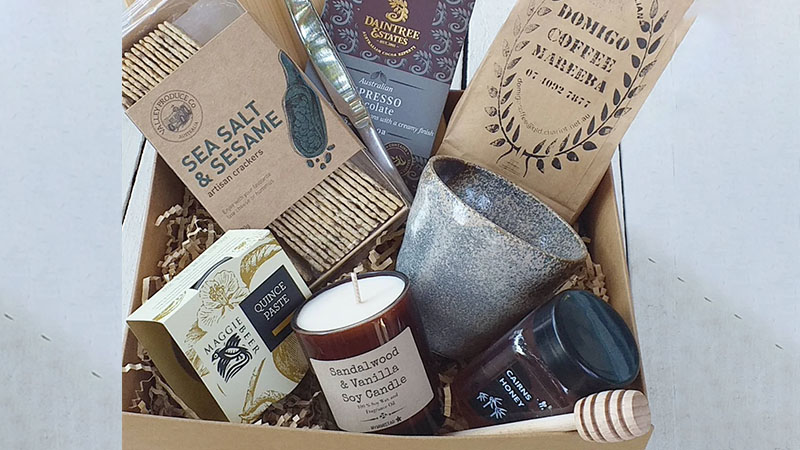 15. Champagne Lover Gift Basket
From Veuve Clicquot to Dom Perignon, this gift basket is a champagne lover's dream come true. There are four delicious champagnes to enjoy – La Marca Prosecco, Veuve Clicquot Yellow Label, Dom Perignon or Moët & Chandon Imperial Brut Champagne. The set is complemented by Lindt Truffles and Lindor chocolates, truffles, key lime coolers, and a selection of chocolates by Annalie's Chocolates. It all comes wrapped in a faux leather basket, adding to the overall luxury of this delightful gift.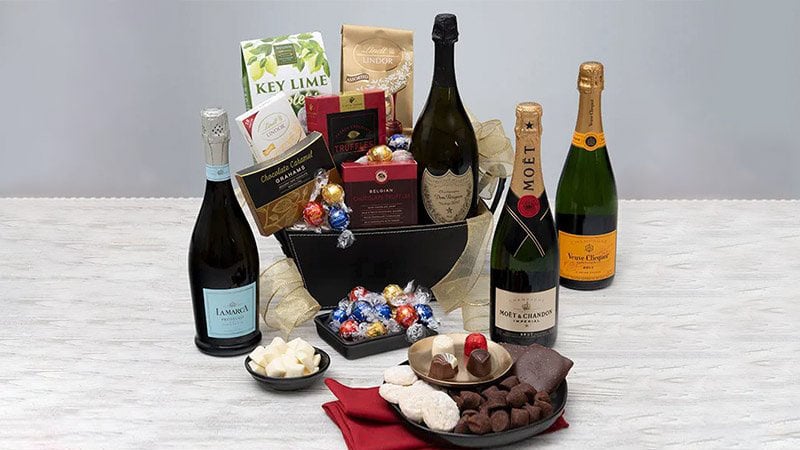 16. Gift Basket Ideas for Girlfriend
Shopping for a significant other can be exceedingly difficult, but this gift basket is a great way to switch things up. This hamper is created using selected foods from Australia, such as a sensitive clay mask, a rose body polish, coconut lemongrass soap, coconut and honey lip balm, and a No Ping deodorant. The set is presented in a stylish toiletry bag with salted caramel chocolate to top it off. It's essentially like having a spa in a box.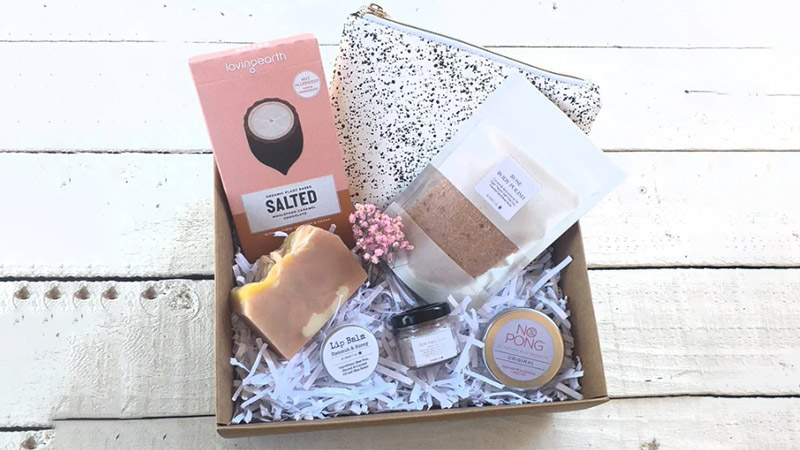 17. Gift Basket Ideas for Boyfriend
Is it time to upgrade your gift-giving game? Well, this hamper has everything your boyfriend needs. This certainly packs a punch and is crafted using local Australian delicacies. With a delicious Ministry of Chocolate, cold brew coffee by St Ali, and some Wondersnacks, he'll be ready for anything. Freshen up his grooming routine with solid cologne from Legendary Aussie and a Mr. Bond candle, hand-poured in Melbourne. This is the ultimate gift for the guy who loves all things delicious.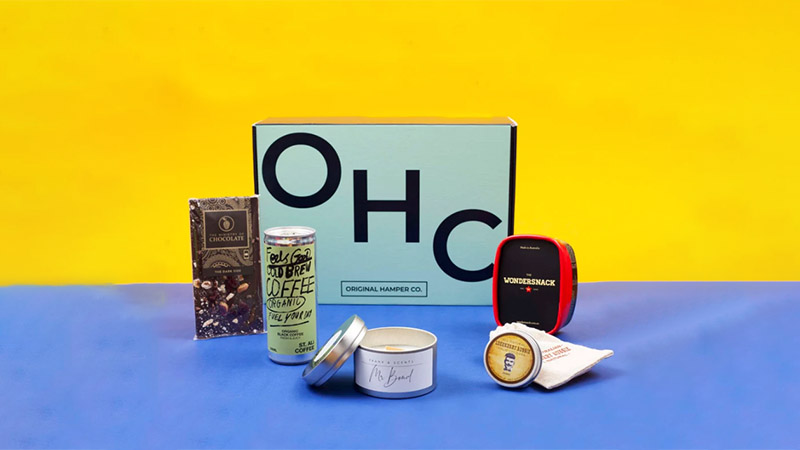 18. Unique Gift Basket
For a friend who loves all things artistic and takes part in spiritual practices, this Moon Magic gift set is the ideal gift. Filled with incredible items, such as a moon phase necklace (available in silver or gold), a black moon phase mug, a gemstone charging stick, an obsidian pentagram candle, and 'Moon Magick' affirmation cards, your friend will feel like a goddess instantly. It's wrapped beautifully in a box with the choice of four various inner lid designs. Why not get one for yourself while you're there?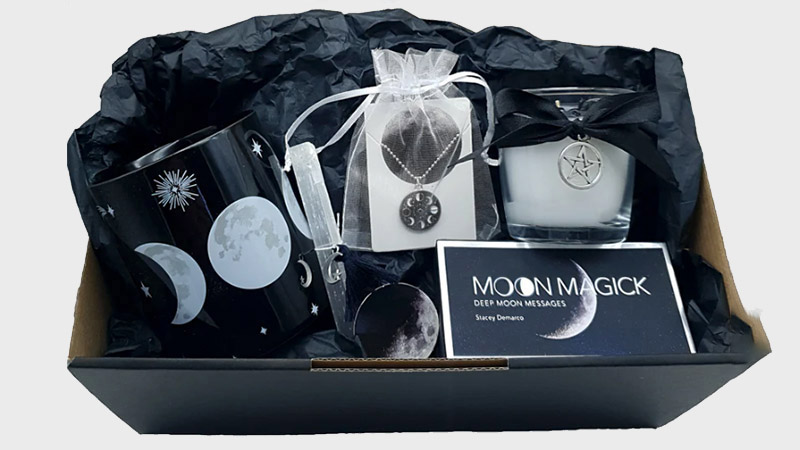 19. Chocolate Lovers Gift Basket
Satisfy the sweet tooth of your loved one with this chocolate lovers gift basket. This luxurious hamper includes some of the finest chocolates and sweets available, including Dark Side and Roses are Red by the Ministry of Chocolate and 'Tart' berry and hazelnut praline. There is also tasty Dry Gin chocolate by Four Pillars that they can try if they're feeling a bit extra. Once they've enjoyed some of the delicious candy, they can top it off with St. Ali cold brew coffee. Just be sure they brush their teeth after sampling this devilishly good box.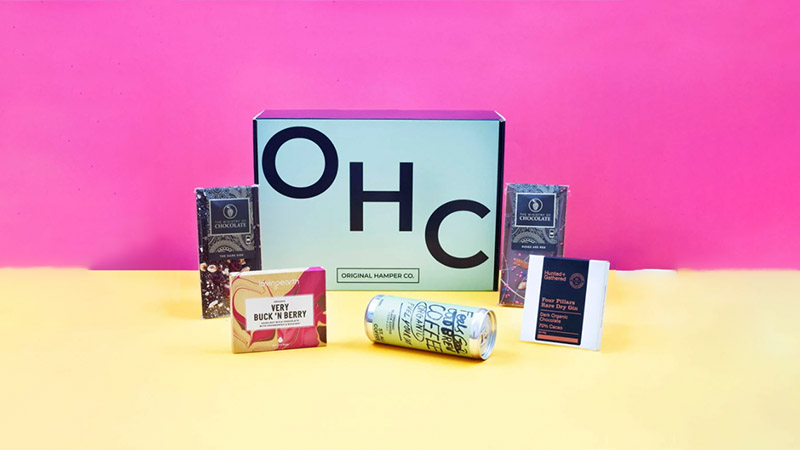 20. Pregnancy Gift Basket
Spoil the mama to be with this incredible pregnancy gift set. This is the ultimate gift box, complete with everything an expecting mother should need in the lead up to the bundle of joy's arrival. Dedicated to self-care, it is complete with a coconut body wash, soft pink loofah, a handmade rose-scented candle with rose petals, plus a satin eye mask and gray and pink socks. Let them indulge even further with a bag of chocolates, special blend tea bags, and two Jarrah raspberry and white chocolate hot chocolate sachets. They will certainly know how much you care when they open this thoughtful present.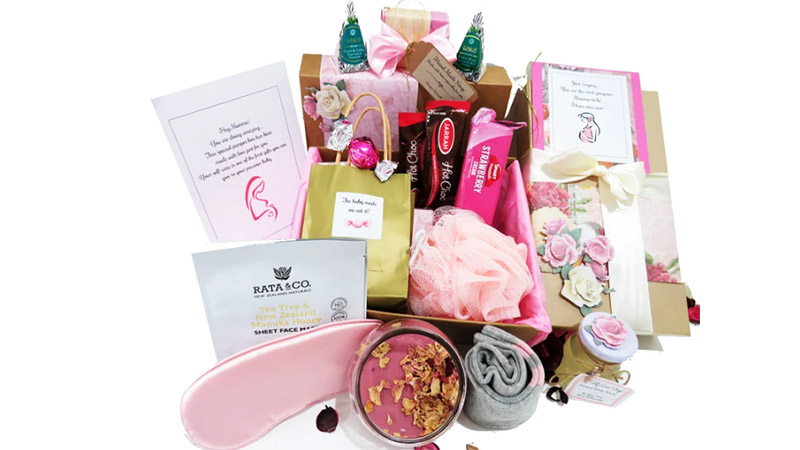 21. Fall Gift Basket Ideas
If your friend adores autumn, this gift basket is the perfect way to welcome the season. Filled with comforting and delicious treats, such as caramel corn and Godiva hot cocoa, they will feel toasty and relaxed as soon as they open the hamper. There's also a soy candle, a set of autumn-themed tea towels, and a snuggly mug – choose from the five designs that speak to you the most. What's more, you can personalize the mug for an extra touch. It all comes wrapped up in a stylish box, ready for any occasion.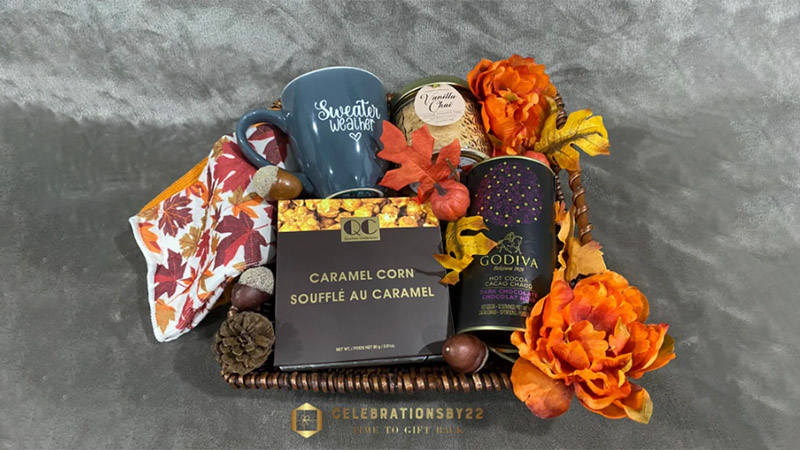 22. Beer Lover Gift Basket
Is your mate absolutely obsessed with beer? Then this is the ultimate gift experience for them. They can explore the world's variations of brews all in one place, thanks to this brilliant gift box. With 12 beers from around the globe, plus delicious treats to help you along the way (what's a beer bucket without salty snacks?). From garlic sausages, beef jerky, garlic cheese, kettle corn, and crackers, they will be absolutely content for days to come. They can also enjoy a cool and crisp lager or pale ale from different countries, including Germany, Italy, the Czech Republic, and many more. It's all presented in a galvanized bucket for the finishing touch.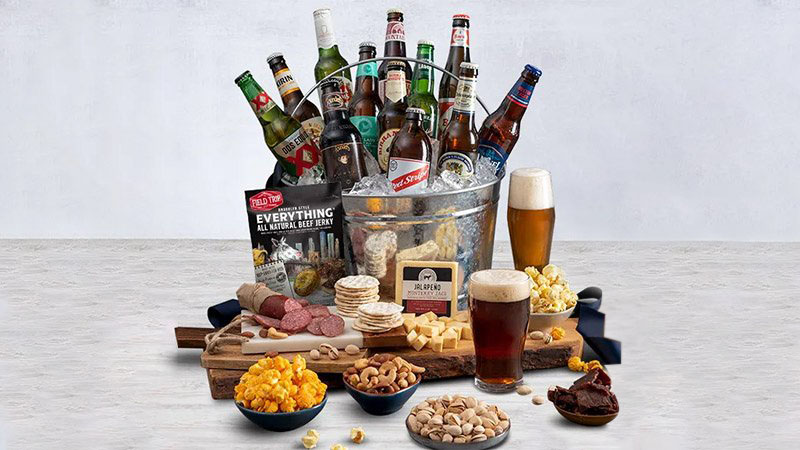 23. Wine Lover Gift Basket
You're usually a beer or wine lover, and for those who identify as the latter, this is an excellent gift choice. Perfect for non-traditional gift receivers, this hamper features delicious goodies that will put a smile on their face. It's ideal for a birthday or Christmas (or any occasion), featuring a bottle of wine, chocolate chip cookies, Lindt truffles, shortbread, mudpuppies, and cashews. Choose from three delicious Cabernet Sauvignons, including Viu Manent, Smith & Hook, or Honig Napa Valley.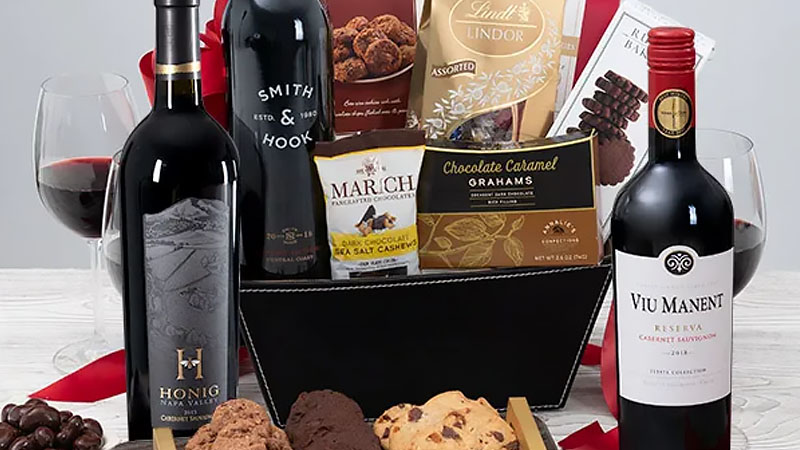 24. Bridal Shower Gift Basket
In preparation for the bride's big day, this hamper is a great gift idea. The baskets are hand woven in Morocco and have embroidered names on the front in the color of your choice. Each basket is made by hand, making it a slow fashion, therefore a more sustainable choice. It's large enough to add goodies, such as flowers, chocolates, spa day gifts, and everything in between. You can fill this basket with anything you like, so it's a great idea for bridesmaids or the bride herself.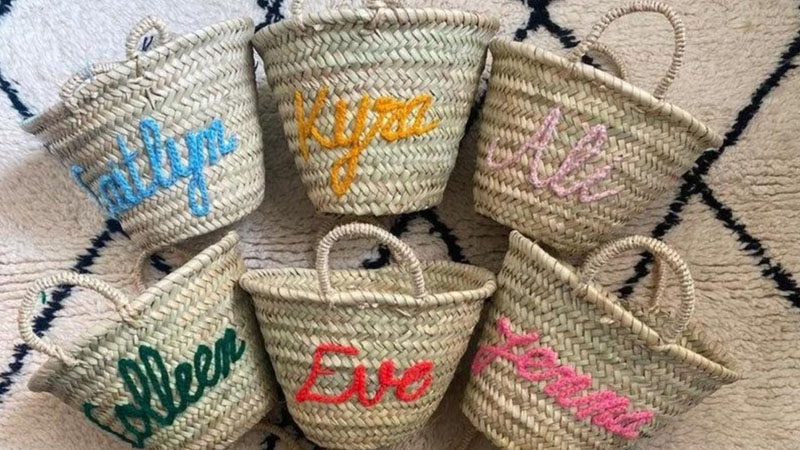 25. Gift Basket Ideas for Raffles
Winning the ultimate prize at a raffle is super exciting, and if the lucky selected person received this gift hamper, they'd be over the moon! The gift box features endless goodies, such as chocolates, cheese, salami, truffles, dips, fudge, caramels, kettle corn, and crackers. If that's not enough, there are two bottles of wine to enjoy in each hamper – Cabernet Sauvignon by Smith & Hook and Crianza Rioja by LAN. Trust us when we say you will want to secure one for yourself while you're there.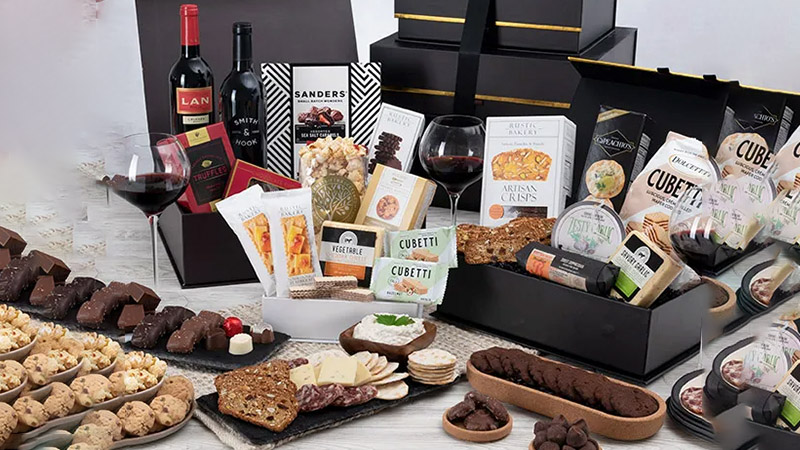 26. Teacher Gift Basket
At the end of a busy year, teachers deserve to feel appreciated. That's where these gift boxes come in. The teacher-specific hamper highlights the hard work educators put into their jobs and showcases how much the student loves them. This box is jam-packed full of goodies, such as a bath bomb, a soy candle, sea salt caramels, handmade soap, lip balm, a personalized bracelet, and a clutch bag. The box aims to provide peace and tranquility, and we can guarantee they'll feel as if they're at the spa when they open this gift.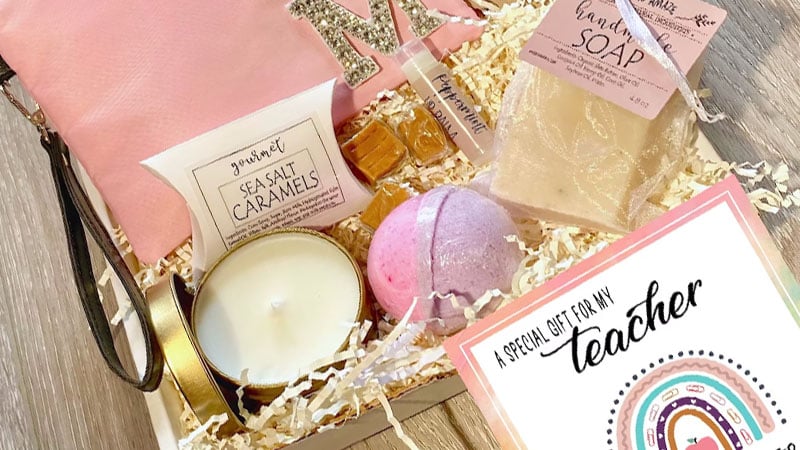 27. Valentine Gift Basket
Show the person you admire how much you love them with this delightful Valentine's Day gift box. Say goodbye to a bouquet of roses and hello to a box of chocolates, a heart-shaped candle, and a relaxing body scrub. Boxes for guys feature coffee scrubs, whereas the girl's option is scented with pink sugar and essential oils. The entire box is padded with tissue paper or wood wool, wrapped in twine or ribbon with a sprig of flowers for a final touch.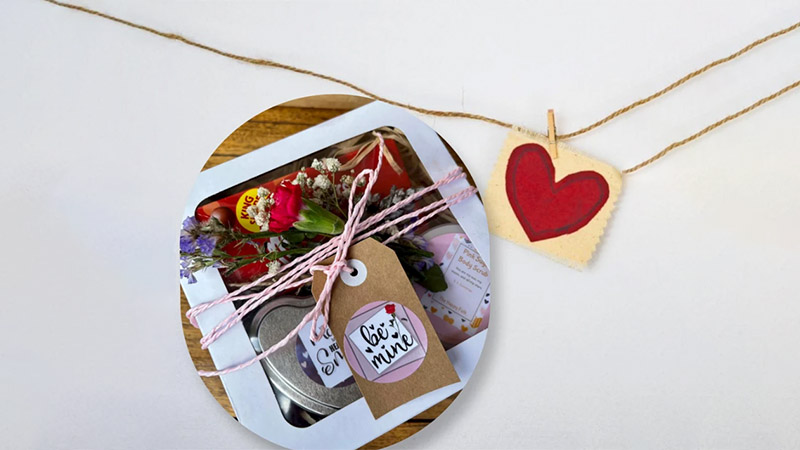 28. Christmas Gift Basket
Spread the gift of giving this festive season – a holiday gift is a great option for someone who has everything. This delightful and thoughtful box features relaxing presents, such as a satin eye mask, a wish bracelet, and a lip balm. Help them unwind after a long day with a handmade bath bomb, sea salt caramels, a bar of organic soap, and a gold soy candle. Choose from four different eye mask colors and nine candle options – the personalized touch will enhance anyone's jolly season.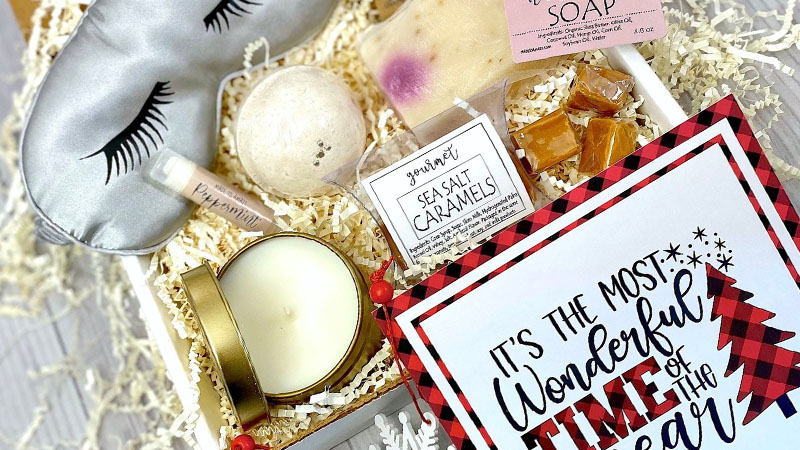 29. Coffee Lover Gift Basket
There's nothing like a cup of joe in the morning, and this gift basket is perfect for the person who can't live without a caffeine kick. This is the ultimate hamper for coffee lovers, filled with delicious and premium beans, a body scrub, St Ali cold brew, a coffee candle, and a coffee drip bag. They also threw in delicious dark chocolate from The Ministry of Chocolate for an extra kick. Each one of these goodies smells like a fresh batch, invigorating their day. A gift like this is sure to give them the perfect levels of energy to smash their day.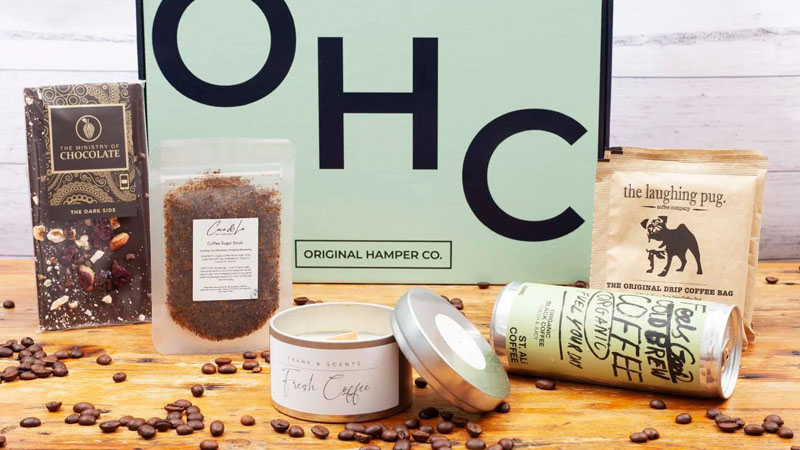 30. Gourmet Food Lovers Gift Basket
For all lovers of fine foods, this is the ideal gift box. Featuring truffles from Godiva, Yves Thuries and Truffettes, chocolate, and cookie thins, it is wonderful for those with a sweet tooth. But if savory is more their style, they can enjoy Bella Campaigna olives, Brown & Haley Cashew Roca, hummus, or Dolcezze & Sapori Scrocchi crackers with olives. It also features crowd favorites like shortbread and English tea – it's perfect as a birthday gift, for a special occasion, or just for fun!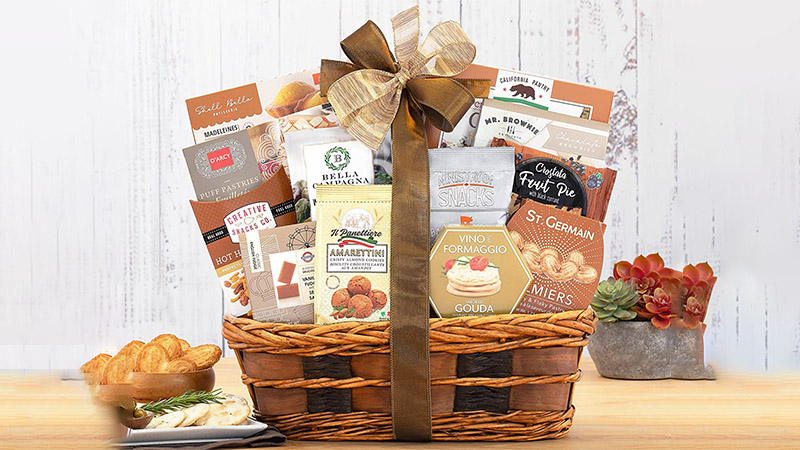 Gift Basket Ideas FAQs
What should I put in a gift basket?
There are many different goodies that you can put in a gift basket, but it's important to stick to a theme first. For a foodie, choose delicious treats such as cheeses, cured meats, dips, and crackers. You can even throw in some seasonal fruits for a fresh twist. A spa-themed hamper should include a scrub, bath bombs, a candle to set the mood, and even a body butter or lotion for afterward. Other ideas include a bottle of wine, chocolates, biscuits, or a beautiful piece of jewelry for a finishing touch. If it's a gift for an expecting mother, stick to baby-relevant gifts, such as baby clothing, milestone cards, and something to help the mom unwind after giving birth. 
What is normally in a gift basket?
Traditionally, gift baskets include non-perishable foods such as tea, coffee, biscuits, or dried fruits. But you will also often find bottles of wine or essentials for charcuterie boards, such as cheese, cured meats, and dips with crackers. You can also find non-food items such as bath bombs, eye masks, and body scrubs. This depends entirely on the type of gift basket you are looking for or the theme. 
SUBSCRIBE TO OUR NEWSLETTER
Subscribe to our mailing list and get interesting stuff and updates to your email inbox.