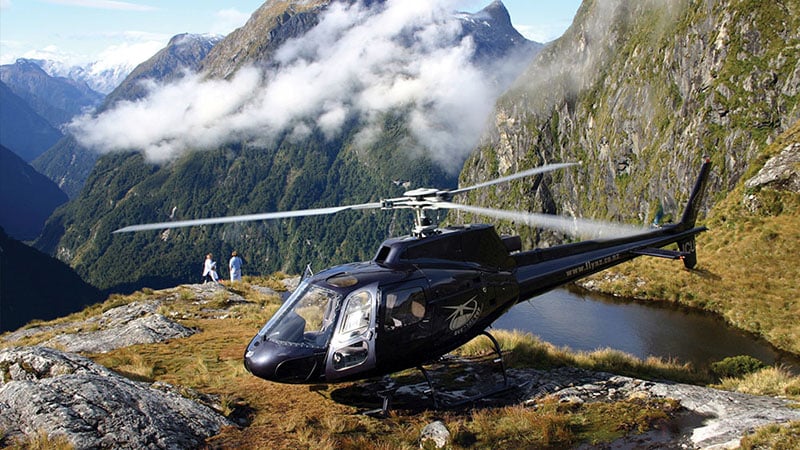 Queenstown, on the South Island of New Zealand, is known for being one of the most beautiful places on Earth. The wild, dramatic landscape is set against the majesty of the Southern Alps and the clear blue waters of Lake Wakatipu. The unique climate makes Queenstown the perfect place to visit any time of year. The warm summer days reach 30C, and there's plenty of snow in winter. Famous for its extreme sports, skiing, and picture-perfect scenery, a fantastic adventure awaits you wherever you look! Here are the best activities on offer for your next trip to one of New Zealand's best destinations.
1. Nzone Skydive
Feeling brave? Skydiving in Queenstown is the ultimate test of your fear factor! Feel the adrenaline as you leap out of a plane and soar over the Wakatipu basin – all with an experienced sky-diving instructor strapped to your back, of course. You can have your experience filmed and photographed and watch the whole thing in the on-site cinema room once you touch back down to Earth. Founded back in 1990, Nzone Skydive is New Zealand's first tandem skydiving operation. They have successfully taken over 300,000 passengers on breath-taking jumps and also won New Zealand's Supreme Tourism Award. You know you're in good hands!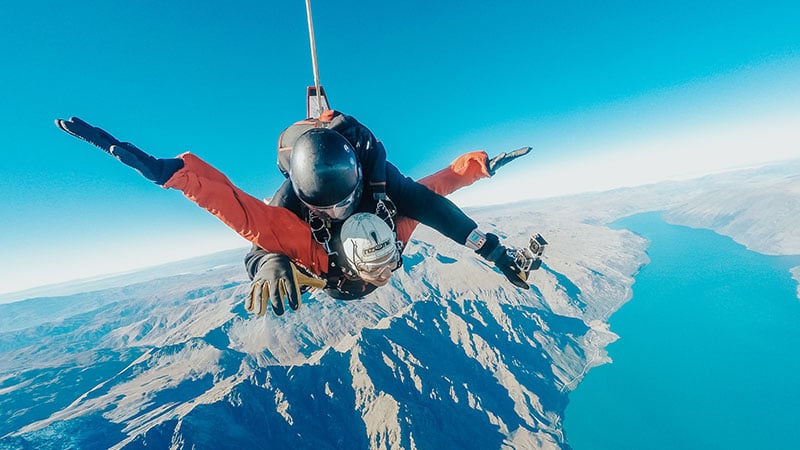 2. Ben Lomond Station Horse Treks
Are you ready to get back in the saddle? Hidden in the mountains near Queenstown is Ben Lomond Horse Trekking, where experienced guides are waiting to take you on an unforgettable adventure. You'll pass by stunning valleys full of fluffy sheep, cross gentle mountain rivers, canter down canyons, and ride along the pristine shores of Moke Lake. Multiple treks leave throughout the day with different trails to suit beginners or more advanced riders. Horse-lovers should not miss the overnight trek, which will see you ride up challenging terrain to a luxurious lodge or rustic cabin high in the mountains. Before you book, check the website for Ben Lomond Horse Trekking's seasonal dates as the service does not run during winter.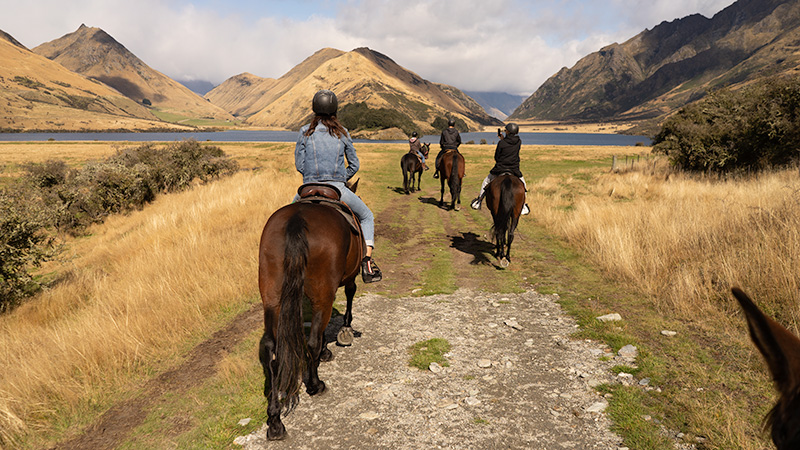 3. Drive to Glenorchy
There's nothing like a scenic drive through the countryside, and the route from Queenstown to the rustic village of Glenorchy is one of the South Island's most famous. The road follows the eastern edge of Lake Wakatipu. You'll have a beautiful view of the snow-capped mountains on the other side as you drive along. As you get closer to Glenorchy, you'll see Pig and Pigeon Islands in the middle of the lake. The trip should take about 45 minutes. Once you arrive at your destination, you'll be greeted by even more awe-inspiring scenery as well as some of the best hiking and horse trekking trails.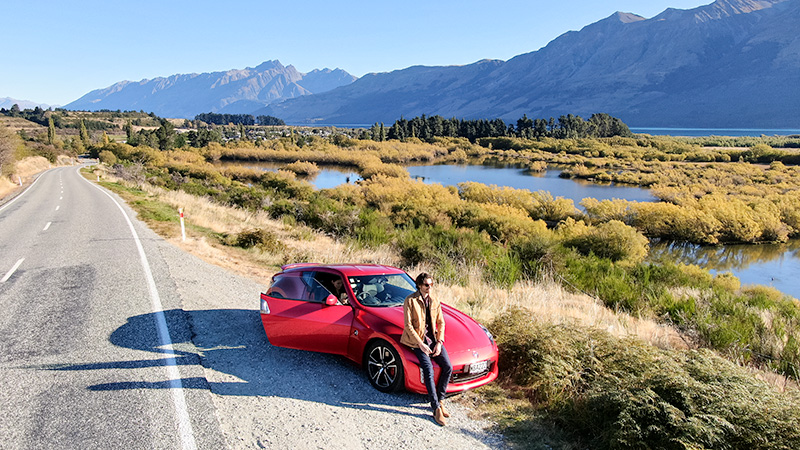 4. Highlands
For those of us who like to be in the drivers' seat, the Queenstown experience wouldn't be complete without a visit to Highlands Motorsport Park in nearby Cromwell. Get behind the wheel of high-speed go-karts or take your dream sportscar (think Ferrari, Porsche, and Aston Martin) for a spin on their world-class tracks! There's something for the less engine-oriented too: go for a stroll through the car museum and admire the mountain scenery and enjoy delicious local wines at the Aroma Tasting Room.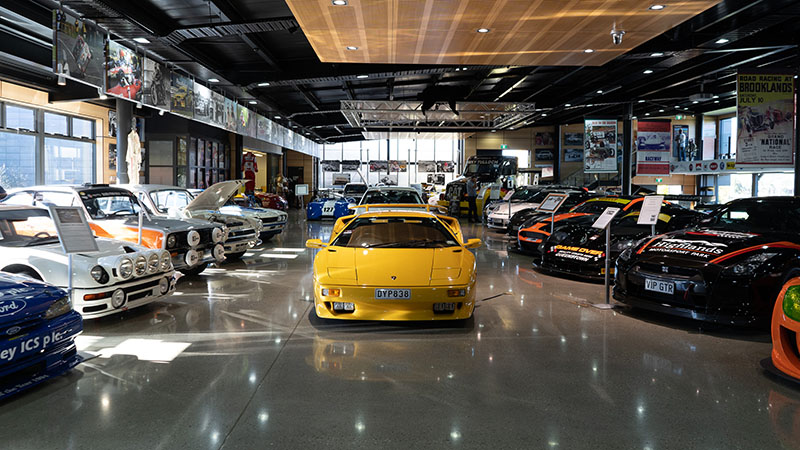 5. Cruise Milford
A visit to New Zealand isn't complete without seeing the incredible forests of Fiordland National Park. What better way to do it than by boat? Cruise Milford offers trips along glorious Milford Sound, where the Lord Of The Rings movies were filmed. This iconic World Heritage-listed landscape is mind-blowing. All around you, massive rocks rise out of the pristine water, and waterfalls crash back down. Keep your eye out for bottlenose dolphins, crested penguins and fur seals too. Milford Sound is nearly four hours' drive from Queenstown, so it's worth booking it as a day trip. Milford Cruise operates a daily coach service to and from the town, or you can take the shortcut and book a small plane or helicopter.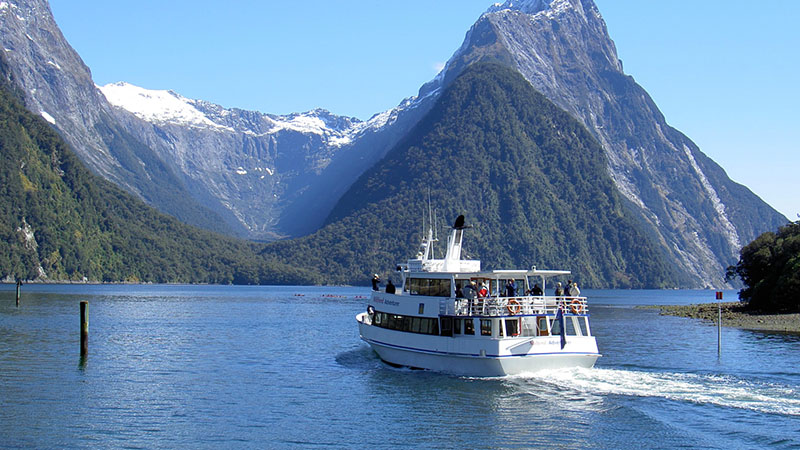 6. Onsen Hot Pools
Relaxing and romantic, a trip to Onsen Hot Pools is the perfect way to spoil your other half while you're visiting Queenstown. Located high on a mountain cliffside, this is the ultimate spa experience and combines nature's beauty with first-class treatments. Start with a soak in a private, cedar-lined hot tub that's full of pure mountain water, as you look out over the Shotover River to the Alps beyond. You can make the water cooler in summer or warmer in winter with the push of a button, and even retract the roof! Next, head to the spa rooms for your massage and facial, before indulging in raw-pressed refreshments and chilling on the sundeck.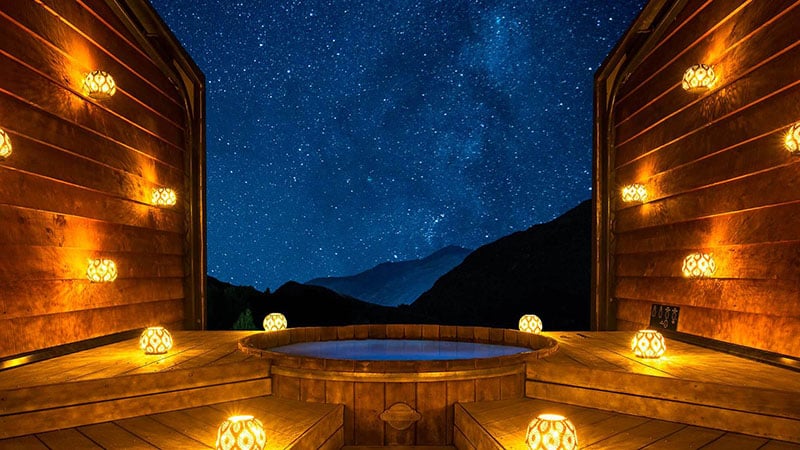 7. Lake Pukaki & Mount Cook
The incredible turquoise waters of Lake Pukaki are a genuinely unmissable sight. The glacial lake gets its unique colour due to the minerals in the water. It also lies right next to Aoraki (also known as Mount Cook) which is New Zealand's highest peak, so prepare for some phenomenal Instagram photos! Located just a three and a half-hour drive from Queenstown, it's an ideal day trip during your visit. Break up the journey by stopping off at the lookouts dotted around the shore.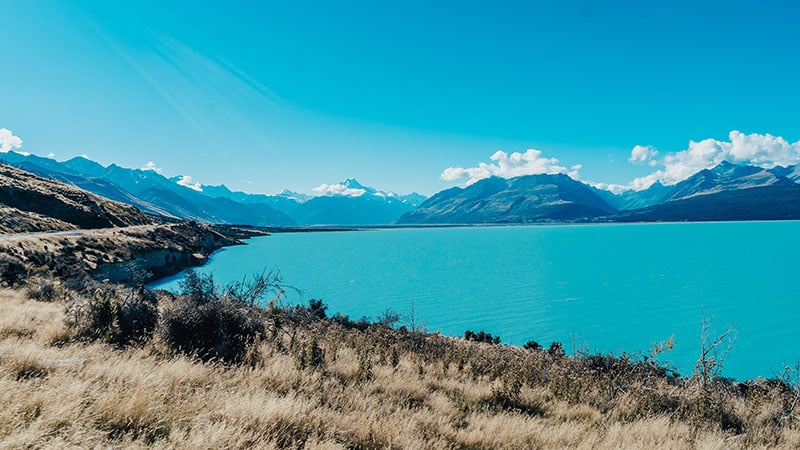 8. Shotover Jet
Got the need for speed? Founded in 1965, this is one of Queenstown's oldest extreme attractions, and it's still one of its best. Shotover Jets takes you on a wild ride through the untouched canyons of the Shotover River. There'll be thrills and spills as the company's signature Big Red jet boats fly between narrow gaps in the rocks, rush through white water and make dizzying 360-degree turns. It's perfect for families, and you'll be able to take your memories home with you as the Jet Cam films every scream-filled second! Best of all, the Shotover Jet departure point is just ten minutes drive from the center of Queenstown.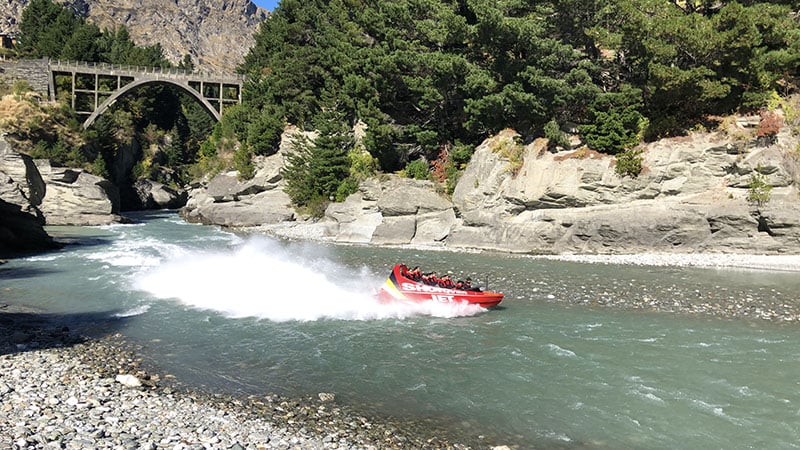 9. The Nevis Swing
Queenstown is famous for its extreme sports, so you'd be crazy not to try the Nevis Swing, known as 'The Most Famous Swing in the World'. A bit like bungee jumping, but in a seated position, you'll be dropped off the Nevis Bungee Platform and fly 300m through the air above the Nevis River. Operator AJ Hackett Bungy is among the most experienced in the world, so you'll be completely safe – although it won't feel like it when you're full of adrenaline and screaming your head off! Check out the #nevisswing hashtag to get a taste of the action.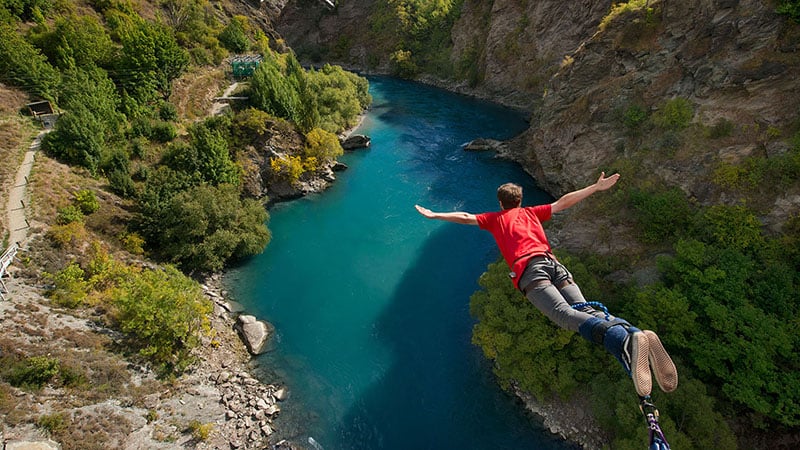 10. Over The Top Helicopters
Your imagination is the only limit when you book a helicopter tour with Over The Top. Think scenic flights to spectacular and secluded locations in Fiordland National Park, Milford Sound, and the Queenstown region. Glaciers, untouched beaches and alpine lakes are just some of the sights you could see. Add in a wine tour, gourmet picnic, fishing trip – or even heli-skiing – and get ready to make unforgettable memories. Over The Top's professional and friendly team fly in some of the world's most advanced sight-seeing helicopters.
VISIT: Over The Top Helicopters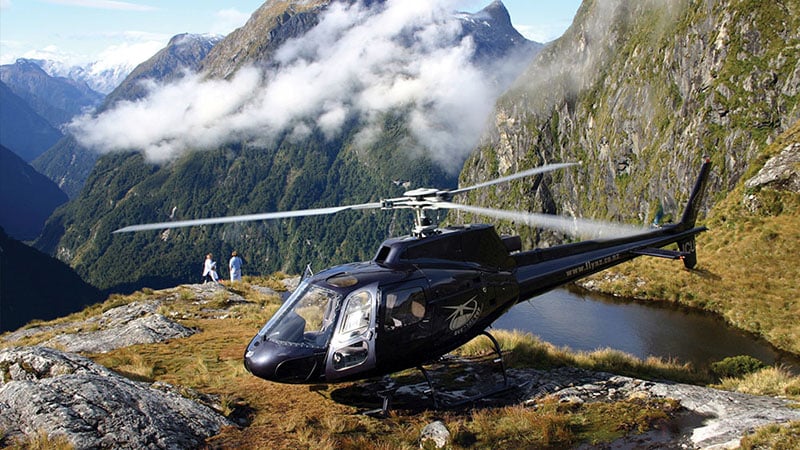 11. Zipline Tour
See Queenstown from the treetops with the Ziptrek Ecotours zipline. It's located right near the Skyline Gondola. Guides will help you glide through the forest canopy as you learn about New Zealand's natural history. You can choose faster or slower ziplines depending on your skills. Plus, the whole operation is sustainably built to keep the environment intact. If you want an extra dose of adventure, go on the Twilight Tour in the dark!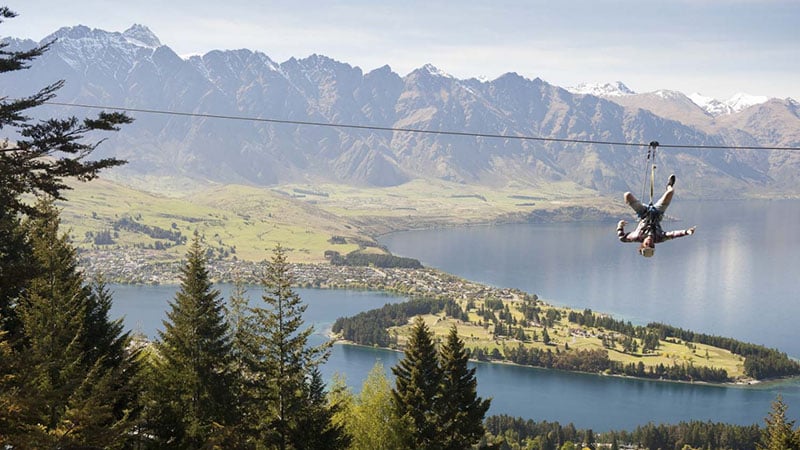 12. Queenstown Gondola
The iconic Skyline Gondola is a must-do in Queenstown – it's the steepest cable car in the Southern Hemisphere, after all! It will carry you from Lake Wakatipu to the top of Bob's Peak. From there, you'll have an unbeatable view of the Remarkables mountain range, Coronet Peak, and the town itself. But the gondola is only the start of your adventure. Adrenaline junkies can take the Skyline Luge down the mountain, while those wanting to relax should book a table at Stratosfare Restaurant.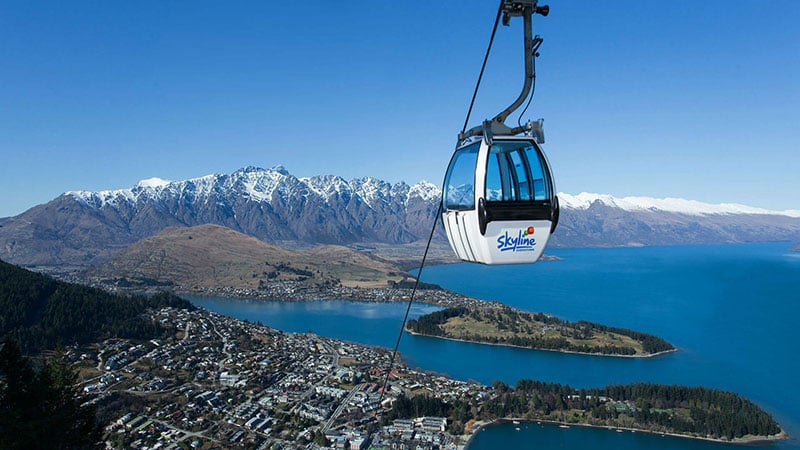 13. Mountain Biking
The Queenstown Bike Park is open from September to May and features more than 30 world-class mountain trails, to suit all abilities. From simple downhill forest tracks to challenging terrain and trick hills, you'll want to try them all. Use your Skyline Gondola Day Pass to take the cable car up to the drop-off point, and ride! There are also multi-ride packages available if you want to go back for more.
14. Stargazing
What could be more romantic than watching the stars from the top of a mountain? Take the Skyline Gondola up to Bob's Peak to the Skyline Stargazing Tour. There, experienced guides will take you on a journey through the Milky Way and Solar System with their sophisticated telescopes. If it's too cold or overcast, settle into the Moonlight Theatre with a complimentary drink and snack. However, this isn't just a great activity for couples. Little space lovers will learn how to navigate using the Southern Cross and see all the latest discoveries from NASA.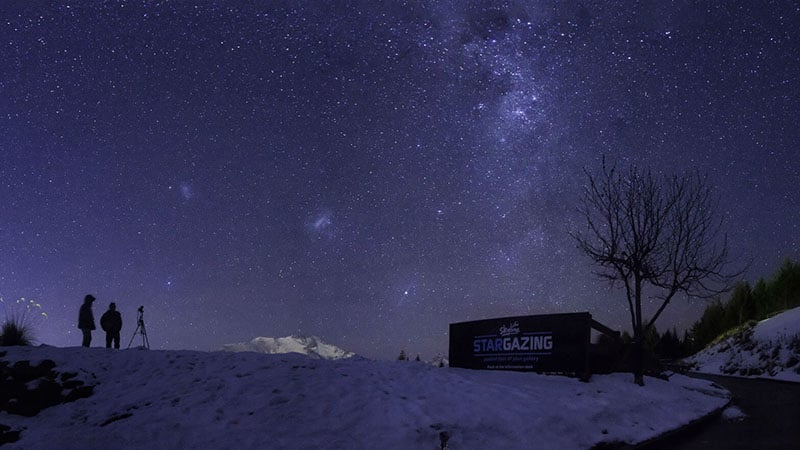 15. Sunrise Balloon Flight
The best view of Queenstown comes from above – 6,000ft above, in fact! All year-round, you can soar through the sky taking in the Southern Alps, The Hobbit filming locations, Lake Wakatipu, and more with Sunrise Balloons. It's worth getting up early for this once-in-a-lifetime experience. Even better, once you touch back down, a Champagne celebration awaits you! The launch site is conveniently located just 15 minutes from Queenstown. Sunrise Balloons also offers a pick-up service from most local hotels and campgrounds.
Fun Activities in Queenstown
Things to do in Queenstown FAQs
What are the top attractions to visit in Queenstown?
Queenstown is the adrenaline capital. As such, you must add some kind of extreme activity to your itinerary. Try skydiving, the Nevis Swing, bungy jumping, or the thrilling Shotover jet. There's also plenty of beautiful nature around, so check out Milford Sound, Lake Pukaki and Mt Cook, Ben Lomond, and take the Queenstown Gondola. Plus, in snow season, Queenstown is home to some brilliant ski fields.
What can you do for free in Queenstown?
There are lots of free activities you can do in Queenstown. Explore the beautiful Queenstown Gardens, take a hike on one of the many trails and summits around town, or cycle along the Queenstown Trail. Take a road trip to nearby locations like Lake Pukaki, Mt Cook, or Glenorchy. There are even self-drive Lord of the Rings tours that you can take to see filming sights.
How do I spend a day in Queenstown?
There are so many ways you can spend a day in Queenstown. Get the adrenaline pumping first thing in the morning with the Nevis Swing, Catapult, or Bungy. Head back into town for lunch at Fergburger (it's iconic), then take in incredible views over Lake Wakatipu with a trip on the Skyline Gondola. Add on some fun luge tips for some gentle adrenaline. Then soak any sore muscles at the Onsen Hot Pools before dinner and drinks featuring the excellent pinot noirs from the Central Otago region.
What are the most popular things to do in Queenstown with kids?
There is so much for kids to enjoy in Queenstown. Head up the Queenstown Gondola and take the fun luge back down. The Shotover Jet is a brilliant thrill for kids over five years of age, as is the horse trek at Ben Lomond Station. Fly through the treetops on a zipline, take a farm tour at a local station, or learn about Kiwi nature at the Kiwi Birdlife Park. There's also plenty of fun to be had on the ski fields during winter, including kids' clubs and lessons.
</p> <div class=" mysite-adsense-desktop-below-content advert style="margin-left: auto; margin-right: auto; text-align: center; " id="mysite-142824337">
SUBSCRIBE TO OUR NEWSLETTER
Subscribe to our mailing list and get interesting stuff and updates to your email inbox.