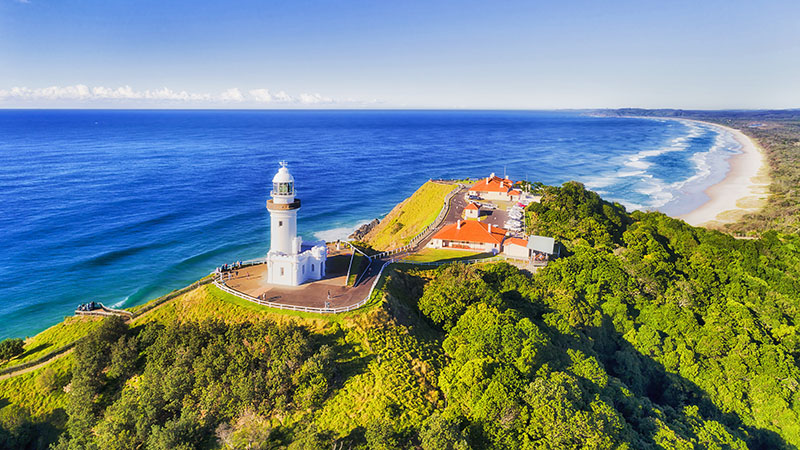 Head up New South Wales' coast to Byron Bay in the Northern Rivers region. This popular town is famous for its alternative lifestyle, and it is a trendy tourist destination. Not only does it have pristine beaches, excellent surf breaks, incredible food, and a vibrant community, it's home to famous festivals, and the iconic Cape Byron Lighthouse. Beyond Byron Bay itself, there are World-heritage rainforests, plenty of waterfalls, and spirited hinterland towns. You can easily spend a couple of relaxing weeks based here, soaking in the sun, enjoying local produce, and exploring locally and beyond.
RELATED: 28 Best Fashion Stores in Byron Bay
RELATED: 28 Best Restaurants and Cafes in Byron Bay
Things to do in Byron Bay
1. Visit Cape Byron Lighthouse
The Cape Byron Lighthouse is one of the most iconic landmarks in Byron Bay. It sits on the easternmost point of Australia's mainland and is still in operation. Construction was complete in 1901, and it was operated by lighthouse keepers until 1989, but it is now automated. Learn more about its history on a 20-minute guided tour, which runs daily from 10 am to 3 pm for a gold coin donation. You can also visit the Maritime Museum located at the base of the tower for an insight into the stories of the seas. Nature lovers will enjoy catching a mesmerizing sunrise or spotting migrating whales between June and November. The lighthouse walk is also part of the Cape Byron Walking Track, which leads to other excellent lookout spots and scenic views.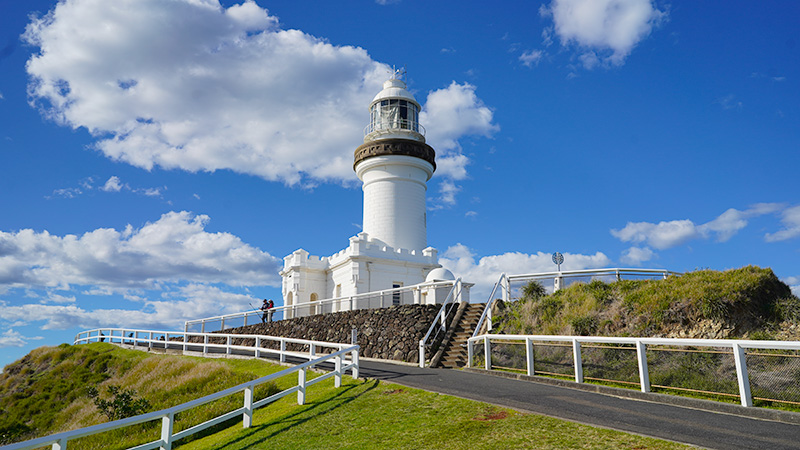 2. Relax at Byron Main Beach
Byron Main Beach is the closest beach to the town center and is patrolled during the summer months. It's a popular and vibrant spot with a vast stretch of sand and clear, calm waters. The facilities are extensive, with parking, a playground, picnic spots, barbecues, showers, and public toilets, making it great for families. Beginner surfers can take lessons on the gentle waves, or you can soak up the sun, take a dip, and savor the views across to The Pass and Cape Byron. Plus, the people-watching is particularly excellent, with the beach's popularity bringing a mixed crowd of colorful characters. Best of all, when you've worked up a sun-bathed appetite, Byron Bay's array of quality restaurants and cafes are just a short meander back into town.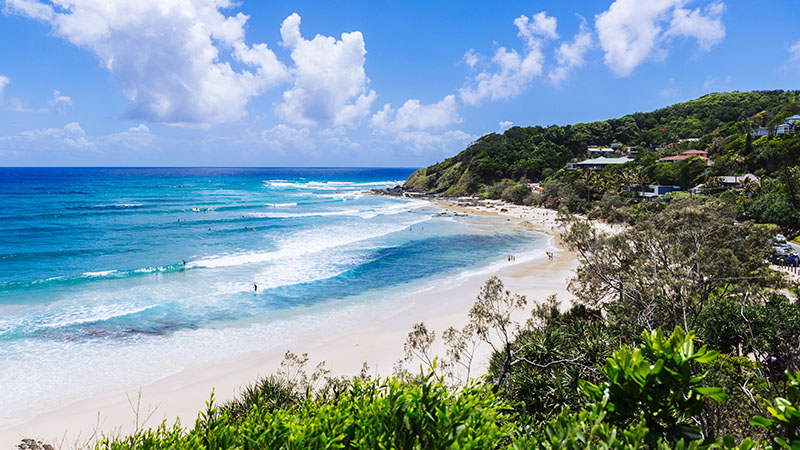 3. Go Surfing at The Pass
The Pass is one of Byron Bay's hottest surfing spots. When the south-east swell is pumping, the right-hand point-break creates some epically long runs, making it extremely popular among experienced boardriders. When the swell is calmer, however, the waves can be suitable for all levels of surfers, including children and beginners. If surfing is not your jam, this vast stretch of beach is also great for sunbathing and swimming, and lifeguards patrol the waters during the summer months. You'll find The Pass located between Clarkes and Wategos beaches.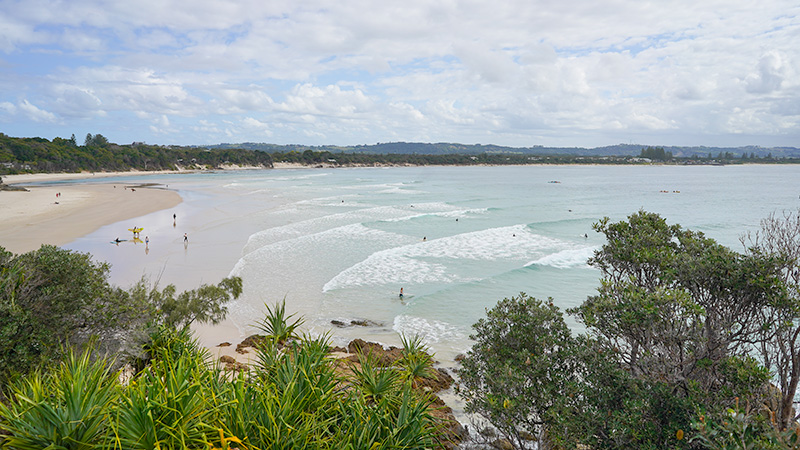 4. Sunbath at Wategos Beach
Beautiful Wategos Beach sits between The Pass and Cape Byron, to the east of the township. It's a peaceful, sheltered stretch of sand and surf, perfect for soaking in the sun. It's also patrolled during the summer months, for safe swimming, and the waves have a gradual break, making it great for beginner surfers and longboards. At the far end, you can take the steps up to the Cape Byron Lighthouse. Even further along you'll find little Wategos beach, which is Australia's most easterly beach. Rae's on Wategos is a lux bohemian vibe hotel that is located next to Wategos Beach with a fantastic restaurant.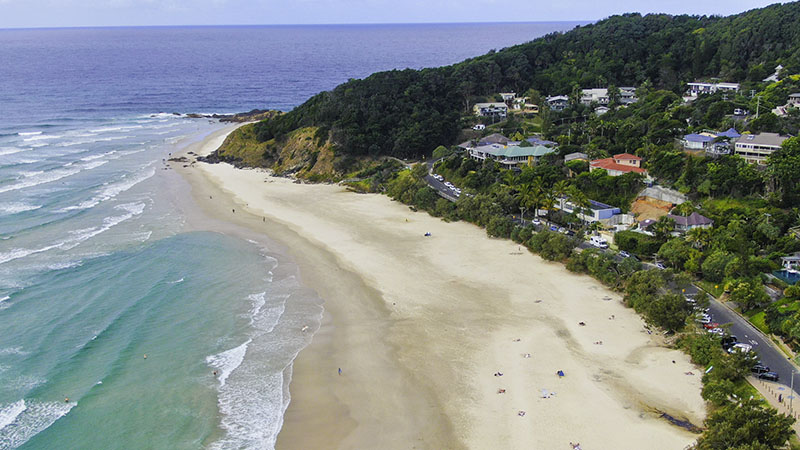 5. Take a Stroll Along Tallow Beach
Enjoy a leisurely walk along the white sands of Tallow Beach. Situated in the Arakwal National Park, this stretch of beach is six and a half kilometers long, with plenty of space to stretch your legs and relish the serenity. It's a delightful place to soak up the sun, take a dip in the ocean, or even throw a line in for some beach fishing. If you're into surfing, the breaks can be decent here, even when they're not pumping on Byron's other beaches. Avid birdwatchers will love the opportunity to spot osprey, white-bellied seas eagles, and pied oystercatchers. Plus, during winter and spring, you might even spot migrating humpback whales as they make their journey up North from Antarctica. Just remember to pack your binoculars!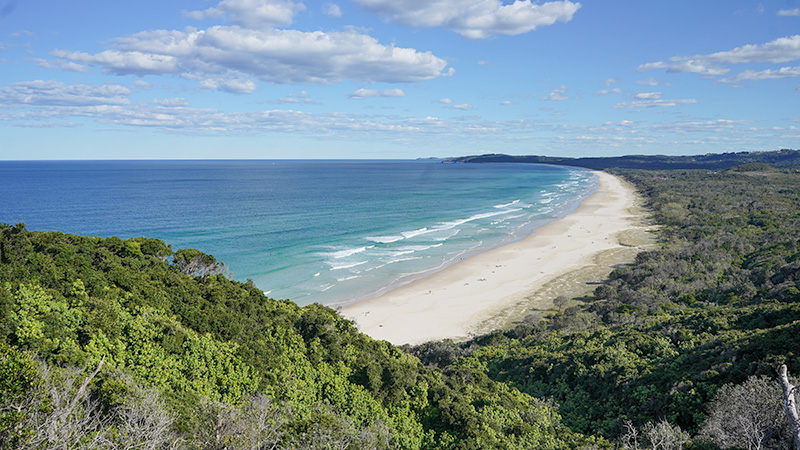 6. Walk the Cape Byron Walking Track
The nearly four kilometer Cape Byron Walking Track is one of the region's must-dos. It's only a grade three, so it's suitable for most fitness levels, and you should allow two to three hours at a leisurely pace. The incredibly varied terrain and surrounds are one of the biggest drawcards. You'll wander along clifftops, through the rainforest, and across grasslands, plus get to enjoy incredible views, epic lookouts, and scenic picnic spots. The track also heads out along the cape to the easternmost point of the mainland, where you can marvel at the views both north and south. Of course, you'll also have to make a stop at the iconic Cape Byron Lighthouse, which sits along the route.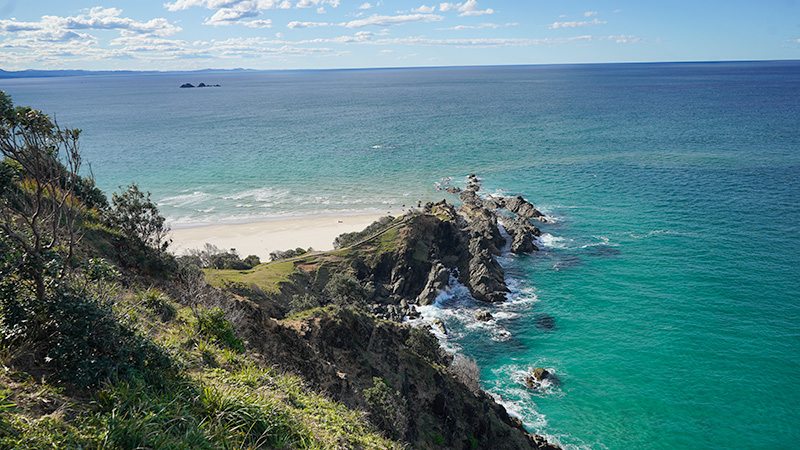 7. Watch the Sunset from Belongil Beach
Head to Belongil Beach half an hour before sunset for a peaceful wander along the sand during golden hour. This stretch of beach is two and a half kilometers long and runs from the sea wall at Main Beach to the Belongil Creek mouth. During the day, part of the beach is patrolled in the summer, and there's an off-leash dog area for puppy spotting. To the north, you'll see The Wreck — the remains of the SS Wollongbar, which was grounded on a sandbar in 1921. However, the key attraction of Belongil Beach is the sunsets. Take a stroll or enjoy a picnic as the sun goes down. The warm orange and yellow light frames the distant but imposing Mt Warning and dances off the crashing waves. It's the perfect way to end the day.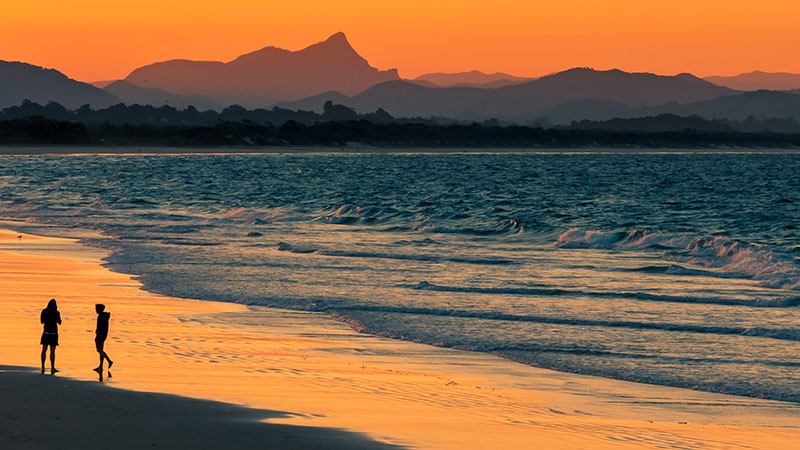 8. Embrace the views from Fisherman's Lookout
If the magnificent views from the lighthouse aren't enough, make your way over to Fisherman's Lookout. It's located on a rocky outcrop on the beach at The Pass, so it's best accessed at low tide. Head up the stairs and along the boardwalk to admire views both up the coast and back towards Cape Byron. It's a great location from which to watch the surfers catching waves, plus it's renowned for dolphin spotting, so keep your eyes peeled.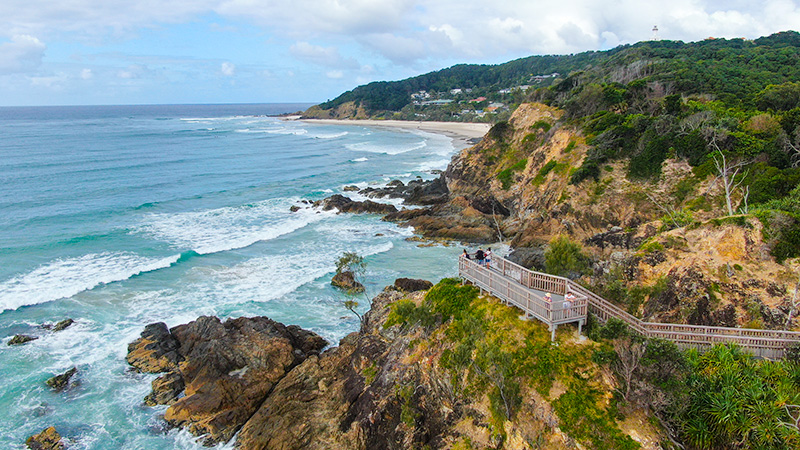 9. Go Hiking at Arakwal National Park
Put on your hiking boots and head out to explore the Arakwal National Park. The park falls within the boundaries of the Bundjalung Nation. As such, it's co-operated between the Awakral People and NSW National Parks and Wildlife Service under a historic Indigenous Land Use Agreement. This small but beautiful national park carries exceptional importance for both its Indigenous history and value, but also for its role as a sanctuary to several threatened and endangered native plants and animals. The park is also excellent for whale watching, fishing, picnicking, and swimming at the stunning Tallow Beach. Take one of the walks down to the shore, or head north along the Cosy Corner Trail to the beach, which is nestled up against the headland.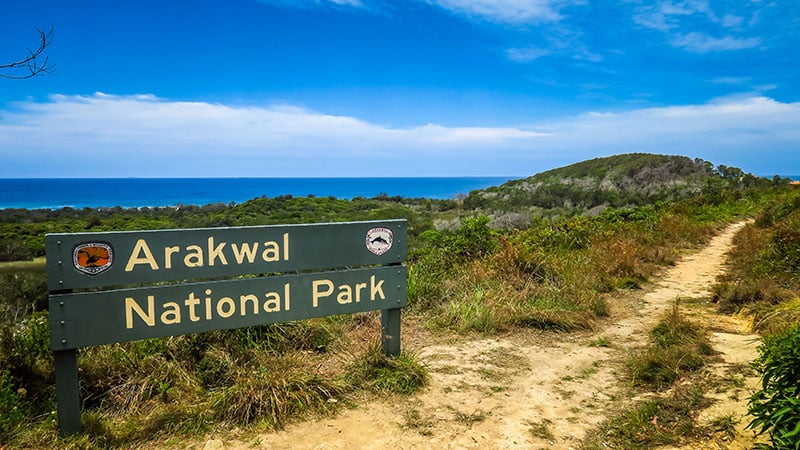 10. Grab a Bite to eat at The Farm
The Farm is a Byron Bay institution. Located just outside of town, along Ewingsdale Road, it redefines the concept of farm-to-table. Their motto is "Grow, Feed, Educate," which shows in the mix of microbusiness and activities available. The site itself is a fully working farm, sprawled across 80 acres of lush land, complete with poultry, pigs, and cattle. Then, there's also the Three Blue Ducks restaurant, The Bread Social bakery, The Produce Store, and Baylato gelato. Plus, there's a Grower's Collective Market Garden supplying the restaurant and community, as well as two nurseries, kids' activities, and adults' workshops. Stop in to explore it all — enjoy a mouth-watering meal, buy some produce or baked goods, and learn more about where your food comes from, all with a good dose of fresh country air.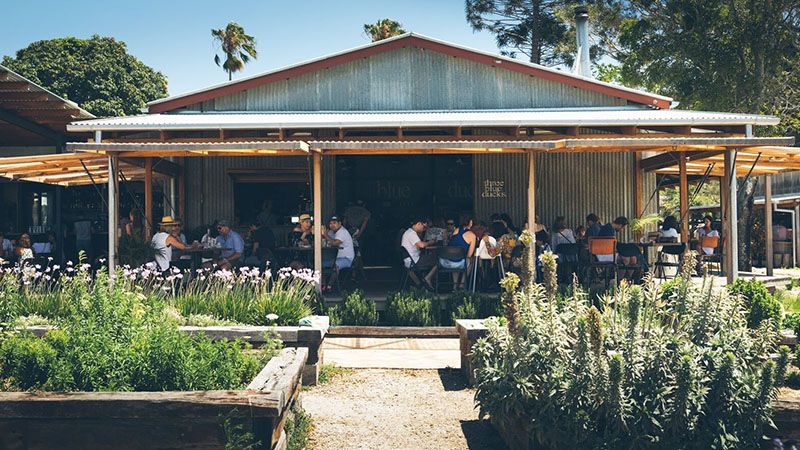 11. Listen to Music at the Railway Friendly Bar
No matter what day of the week it is, you'll be able to head into the Rails Hotel, aka The Railway Friendly Bar, to enjoy live music. This venue has been a staple on the Byron Bay bar scene for over 30 years and has kept all of its original, quirky charms. The lineup of talent is varied and features local and touring bands. You could be in for a night of reggae, jazz, folk, rock, blues, or roots. Head out to the beer garden for some fresh air and a pint. There's over 20 brews on tap, plus a menu of delicious pub classics that you can enjoy for lunch or dinner.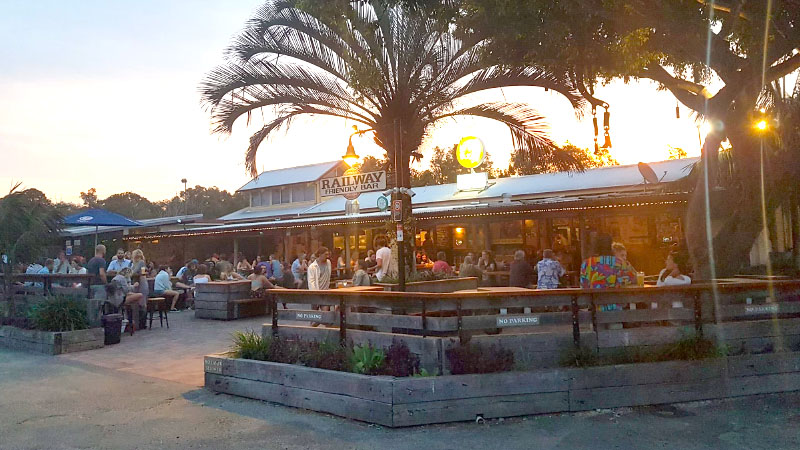 12. Eat at Bryon's Amazing Cafes.
There is much to be said for Byron Bay's incredible food and cafe scene. The proximity to growers and producers around the entire Northern Rivers region means fresh produce is both readily accessible and of excellent quality. There are plenty of amazing places to choose from; picking a favorite can be difficult. Head to Bayleaf or The Roadhouse for incredible coffee and breakfast. The Byron Bay General Store has also been around in various forms since 1947. These days they're serving up a delicious menu of breakfast favorites, vegan-friendly burgers, bowls, and smoothies. Head over the Folk to relax in the lush garden as you dig into their tasty plant-based food. Finally, Combi is another family-owned Byron Bay icon, with an organic menu of tea, coffee, cold-pressed juices, superfood smoothies, and super bowls.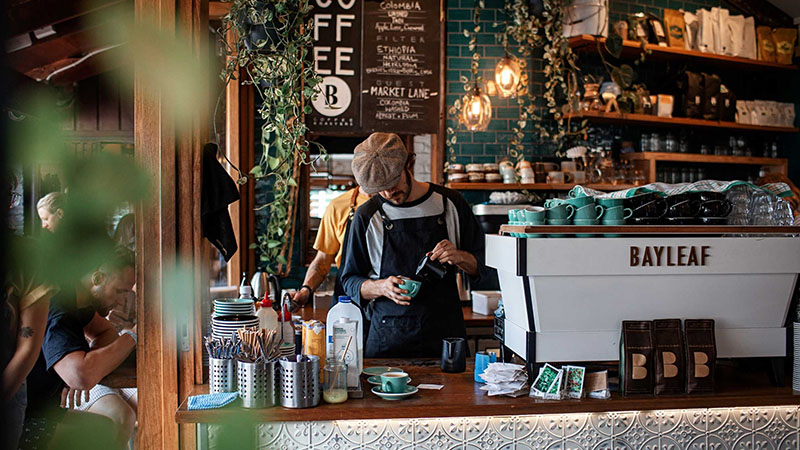 13. Shop at Byron Community Market
Make sure to pack your credit card, cash, and reusable bags so you can shop up a storm at the Byron Community Market. These markets take place on the first Sunday of each month at Dening Park along the Byron Bay foreshore from 8 am to 3 pm. You'll get to enjoy live music and entertainment, delicious food, and a wide range of products. There's artisan-made crafts, jewelry, gifts, homewares, and clothes, as well as exotic imports, and holistic services such as massage and haircuts. The vibe is fun, energetic, and inclusive. If you're not in town when they're on, there are also the Byron Twilight Markets on Saturday nights from August to April and the quarterly Byron Beachside Market.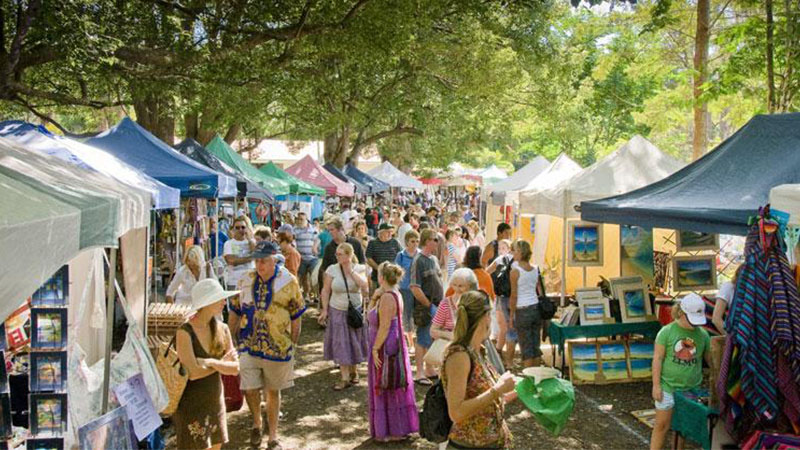 14. Visit Byron Arts & Industry Estate
Delve deep into the creative scene of Byron Bay with a visit to the Byron Arts & Industry Estate. This precinct is chock full of creative business', local artisans, art galleries, and holistic services. Check out brands such as Habitat, Yoli and Otis, Mr. Vintage, Pop and Scott, and McTavish Surfboards. Circus Arts also call the precinct home. They offer a comprehensive program of activities and classes for all ages, from toddlers to adults. The 1200-square-meter space boasts professional equipment, including a static trapeze, silks, Olympic size trampoline, and a climbing wall for those who want to get in on the action. If you're getting peckish after all your shopping, stop into Barrio, the Stone & Wood Brewery, or La Bottega Byron Bay for a delicious bite to eat.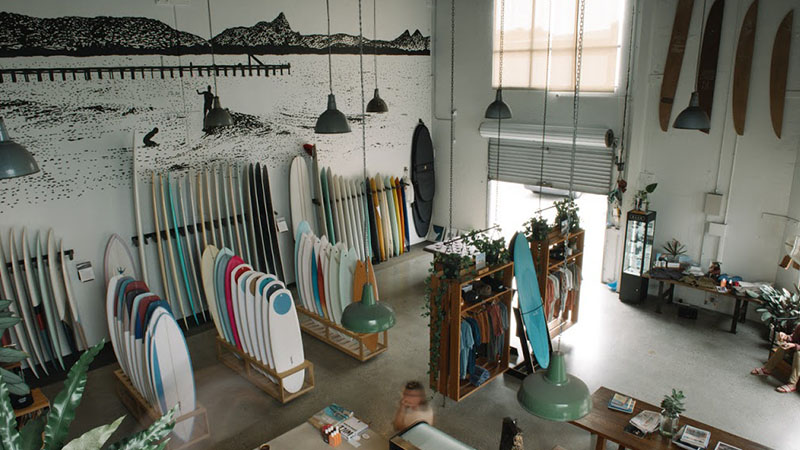 15. Go Shopping at Byron Bay's Main Center
There's something special about small-town shopping. You get to discover unique boutiques and local treasures that you won't find anywhere else. Plus, wandering along sun-bathed streets filled with friendly locals has a certain charm, and Byron Bay is no different. Head to Jonson Street, and the roads and lanes off it for a spot of retail therapy. You'll be able to pick up some great souvenirs, a new outfit, lovely crafts, and luxe decor. Check out sores like Auguste the Label for ethically inspired clothing; Hope & May for homewares and accessories; or The Book Room at Byron for something to read as you soak up the sun on the beach. Alternatively, there are also centers like Mercato on Byron that bring together specialty retailers under one roof.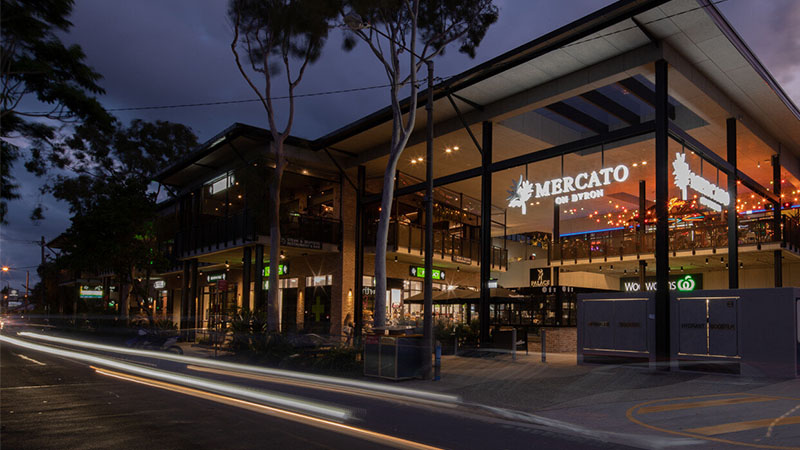 16. Grab a Pint at Stone & Wood
Stone & Wood was one of the early pioneers of craft beer in Australia, opening up in Byron Bay back in 2008. The independent brewery is now an iconic meeting place, where you can pop in a for a pint or two, meet locals, and enjoy the inspired atmosphere. The brand's philosophies focus on sustainability, community, and using beer as a force for good. Some of their initiatives include environmentally conscious waste management, supporting Australian suppliers, providing karma kegs for charities, and the inGrained Foundation. Plus, their beers are ridiculously tasty. The Pacific Ale is one of their original brews and has repeatedly taken out the top spot in the Great Australasian Beer SpecTAPular (GABS) Hottest 100. More of their beers have also ranked well in the same poll and won awards at the Australian International Beer Awards.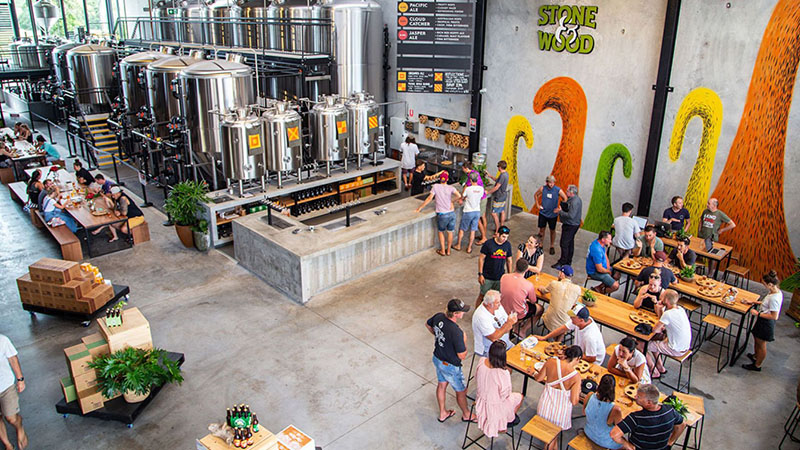 Things to do Near Byron Bay
17. Take an Ebike Tour
Explore the enchanting rainforest, impressive waterfalls, secret beaches, and country lanes of Byron Bay with a Beyond Byron E-bike tour. Select from four options. There's the Hells Hole & Rainforest and Unicorn Falls & National Park. Both take you through the beautiful forest of Mount Jerusalem National Park, with the first stopping at the cascading pools of Hells Hole falls and the second at Unicorn Falls. Alternatively, stick closer to the coast on the Lush Hinterland & Beach half-day tour, or spend a day cruising the ancient rainforest of Nightcap National Park on the Minyon Falls & Nightcap Forest Immersion. Each of these small-group tours fosters a deeper connection to nature and promotes e-bike as an excellent carbon-free transport alternative. Plus, electric bikes are much more accessible to people of different fitness levels and abilities, making it easy to explore and enjoy the ride for longer.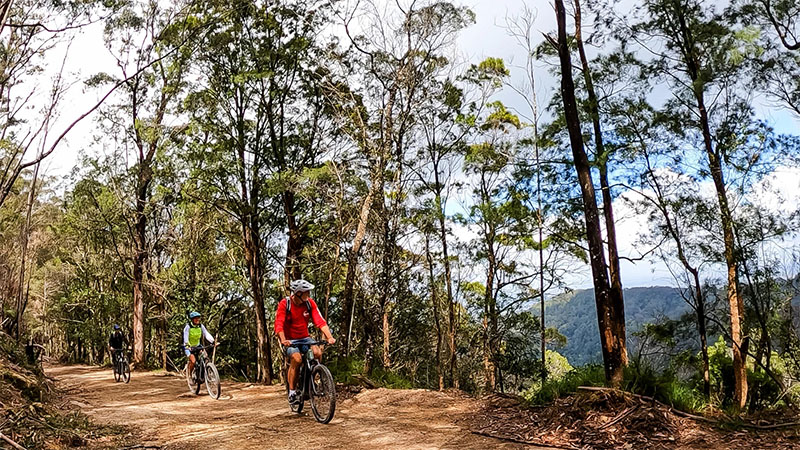 18. Visit Bangalow
Take a break from Byron Bay with a trip inland to Bangalow. This charming historic town, with its traditional country streetscape, is just a 20-minute drive away. Once you're there, you'll be able to enjoy a slower pace as you meander around town. Explore unique boutiques selling understated luxury items, locally designed clothing and homewares, and all kinds of natural lotions and potions. Satisfy the appetite you worked up while shopping by popping into one of the many excellent cafes around town, or head for a pint at the iconic Bangalow Hotel at the top of the main street. If you time your visit for the fourth Sunday in the month, you'll be able to check out the Bangalow Markets. They take place at the showgrounds, under the shade of enormous camphor laurel and fig trees.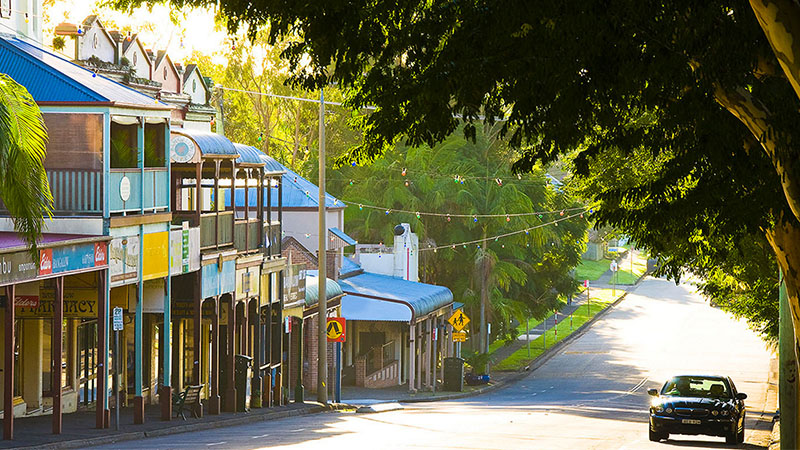 19. Go Surfing at Broken Head
Both expert and beginner surfers can enjoy the waves at Broken Head, but it's best to check the surf report before heading off. The right-hand point and beach break can vary depending on the conditions, with huge swell one day, and small the next. If the waves aren't in your favor, it's also an excellent location for a swim with the family as you bathe in the sun. The facilities are good, with showers, barbecues, and a large grassy picnic area. Fishing conditions can also be promising, so throw a line in and see what you catch. The headland is part of the larger Broken Head Nature Reserve. Away from the beach, you can explore the Three Sisters walking track through the rainforest, and also learn about the local Indigenous culture.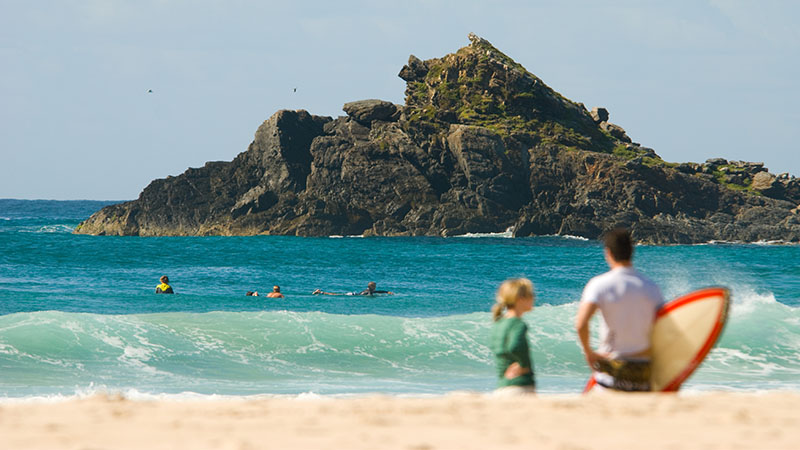 20. View Minyon Falls Lookout
Pack your car with a picnic blanket and tasty lunch for a day trip out to Minyon Falls Lookout in the Nightcap National Park. The drive from Byron Bay is only about 45 minutes, and you'll be rewarded with stunning views of the 100-meter cascade into a palm-shaded gorge. If it's a clear day, you might even be able to see all the way out to the coast. There's a lovely picnic spot beneath shaded trees that has picnic tables and barbecues. From there, you can also take a couple of walking tracks. The Minyon Falls walking trail will take you down to the base of the falls, while the Boggy Creek Walk will take you to the Rummery Park campground. Both are grade three walks, with Minyon Falls taking three to four hours, and Boggy Creek one to two.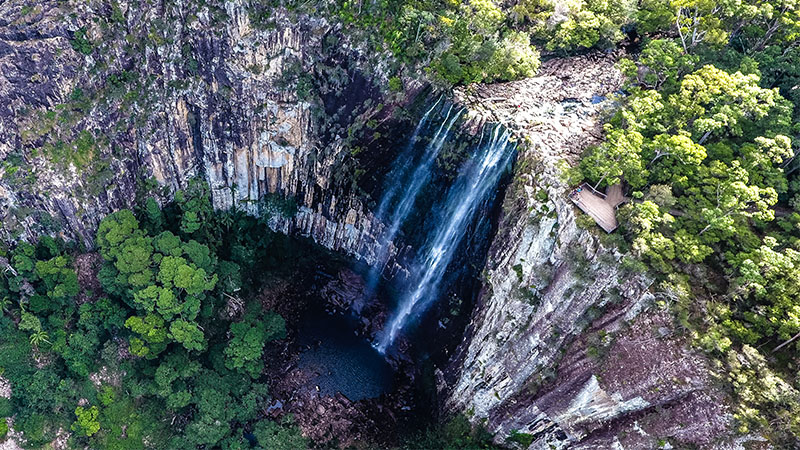 21. Relax at Protesters Falls
Like Minyon Falls, Protestesters Falls are located in the Nightcap National Park. The one and a half kilometer walking track will take you through incredible World Heritage rainforest before rewarding you with the spectacular falls. Allow one to two hours at a relaxed pace for this grade three walk. Nature lovers will be right at home, as this area is an important frog habitat. You might be lucky enough to spy the Fleay's barred frog or pouched frog, as well as birds such as the rose-crowned fruit dove or mammals, including adorable pademelons. In terms of flora, you'll wander among bangalow palms, yellow carabeen, and strangler figs. The nearby Terania Creek picnic area is the best place to sit down for a tasty lunch and to rest your legs.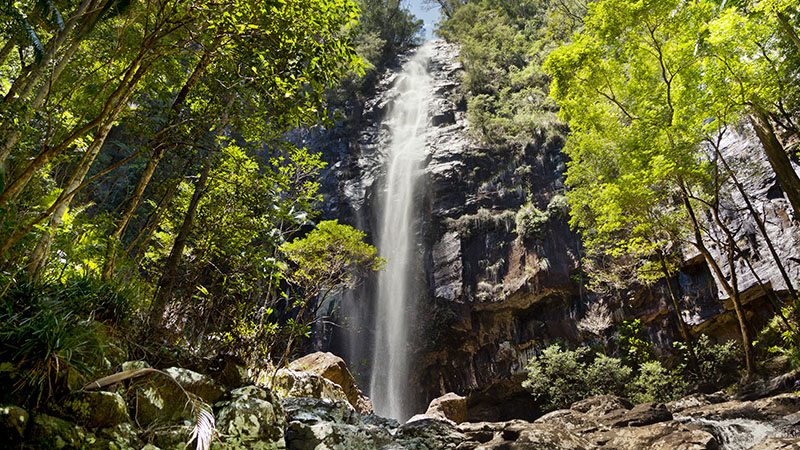 22. Swim at Killen Falls
Half an hour south of Byron Bay, near Ballina, you'll find the 10-meter tall Killen Falls, which is fed from the Emigrant Creek. There's a track to both a viewing platform and down to the waterhole at the base of the falls. While swimming isn't recommended, you can walk around the edge of the pool and even into the cave behind the falls. Perhaps one of the most unique aspects of the Killen Falls is that the surrounding rainforest is one of the last remnants of the big scrub forest which used to cover the entire Northern Rivers region. It's a peaceful escape, where you'll be surrounded by nothing but nature.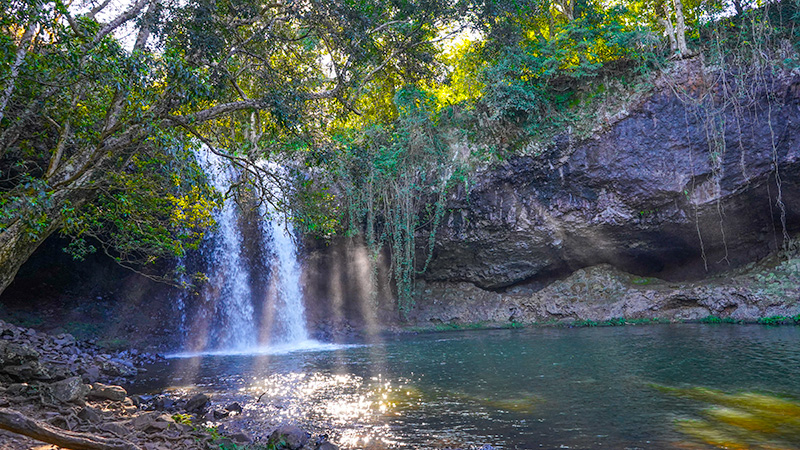 23. Spend the Day at Lennox Head
Lennox Head is another coastal town, just 15-minutes south of Byron Bay. It has a chilled vibe with a world-famous surf break that was declared a National Surfing Reserve in 2007. Experienced surfers will enjoy taking to the powerful right-hand point-break at Lennox Point, but beginners would be best hitting up Flat Rock. Discover excellent swimming along Seven Mile Beach, or if you prefer calmer waters, make your way to Lake Ainsworth, where the calm, protected water is perfect for families. Apart from the beaches, the town boasts a great selection of cafes and restaurants, as well as monthly community markets. There are also spectacular views to soak in from the Pat Morton Lookout at the top of Lennox Point. During whale season, it's one of the best vantage points for watching these magnificent creatures.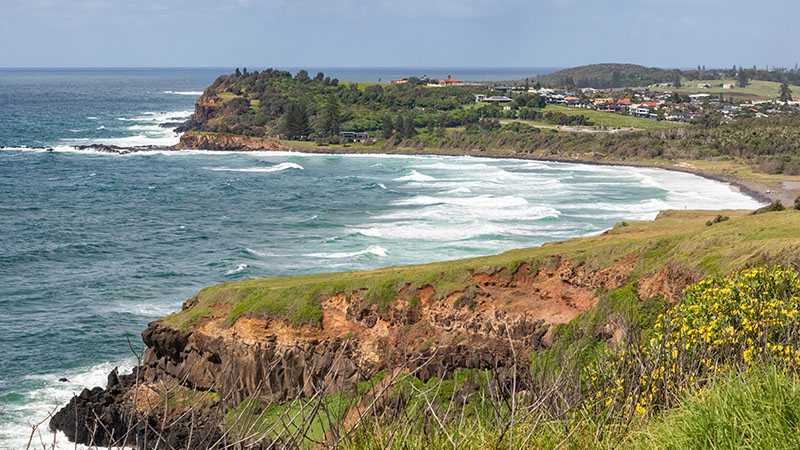 24. Watch the Sunset from Norries Headland Lions Park
One of the most spectacular spots for watching the sunset is 40-minutes north of Byron Bay, near Cabarita. The Norries Headland Lions Park has excellent facilities, including public toilets, barbecues, and a children's playground. Pack some snacks, a blanket, and your loved ones and head up there early to snag a car park and a prime sunset viewing spot. You can also wander along the boardwalk out to the headland for incredible views both north and south. Like many of the bluffs and capes along this stretch of coastline, it's a prime viewing spot to see dolphins and migrating whales.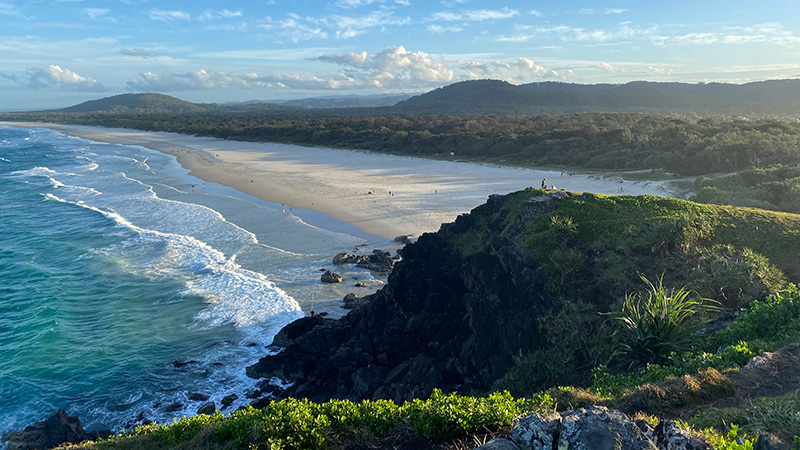 25. Spend the Day at Crystal Castle & Shambhala Gardens
Take a short drive into Byron Bay's hinterland for a unique excursion to a magical world. Crystal Castle & Shambhala Gardens are home to two of the tallest crystals in the world, as well as the Dragon Egg, a magnificent amethyst cave that's so large you can sit in it. Apart from these incredibly beautiful and awe-inspiring phenomena, you can also explore the Shambhala Gardens. It's a subtropical escape filled with treasures. Wander around the labyrinth, the Damanhur stone spiral, and the tranquil Rainforest Walk. It's a healing sanctuary where you can relax and feel at peace. Alternatively, join in a more in-depth experience with a guided crystal workshop, crystal sound bowl meditation, or aura therapy. Finally, there's also a gift shop where you can purchase crystals, books, and jewelry, as well as a cafe for some tasty nourishment after a day of discovery.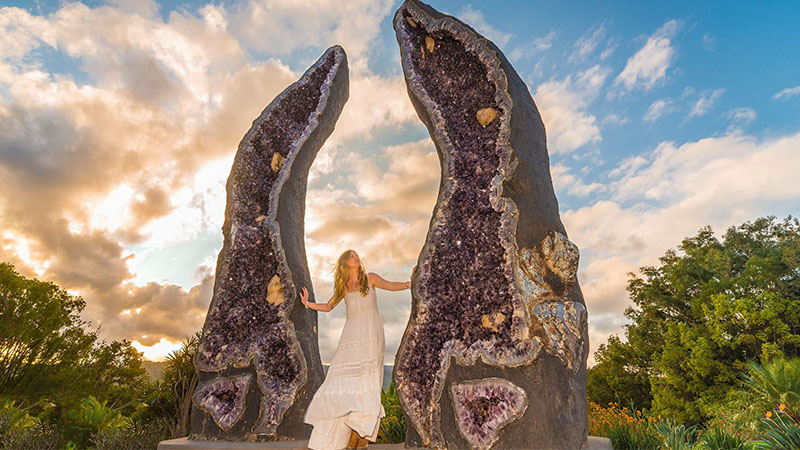 Things to do in Byron FAQs
What are the top attractions to visit in Byron Bay?
The top attractions in Byron Bay are the Cape Byron Lighthouse, Main Beach, The Pass, Tallows Beach, Wategos Beach, Suffolk Park, and the Cape Byron Walking Track. There are also heaps of great cafes, restaurants, and bars.
What is there to do in Byron Bay for free?
There are lots of nature-based activities in Byron Bay that don't cost a cent. Head to any of the amazing beaches to soak in the sun and enjoy a refreshing swim. Alternatively, walk up to Cape Byron Lighthouse, Fisherman's Lookout, or the Cape Byron Walking Tracks for incredible views. Beyond Byron, there's plenty of waterfalls to chase, including Minyon, Protesters, and Killen Falls. You can also visit Bangalow, Nimbin, Lennox Head, or Broken Head, all of which are nearby.
How do I spend a day in Byron Bay?
Start with an early alarm and walk up to the Cape Byron Lighthouse to begin the day with an incredible sunrise over Australia's most easterly point. Then head into town for breakfast and coffee at one of the fabulous cafes. Take in superb views and see many of Byron's most iconic beaches from the Cape Byron Walking Track. It takes a couple of hours, so you can squeeze in some shopping between that and lunch. After a busy morning, spend the afternoon soaking in the sun and enjoying a dip in the ocean, followed by sunset at Belongil Beach. Finally, enjoy dinner at one of Bryon's great restaurants like Balcony Bar, The Tree House, Bang Bang, or Osushi.
What is there to do in Byron Bay for families?
There's a lot for families to do in Byron Bay. A beach day is always a popular choice, and there are so many beaches to choose from. Active kids will love the Cape Byron Walking Track, especially during whale season when they might spot these majestic creatures from the many lookouts. Out of town, there's the magical world of Crystal Castle & Shambhala Gardens, or jump in the car for a day of chasing waterfalls and a picnic lunch at Minyon Falls. Of course, a trip to The Farm is also great for the whole family.
SUBSCRIBE TO OUR NEWSLETTER
Subscribe to our mailing list and get interesting stuff and updates to your email inbox.