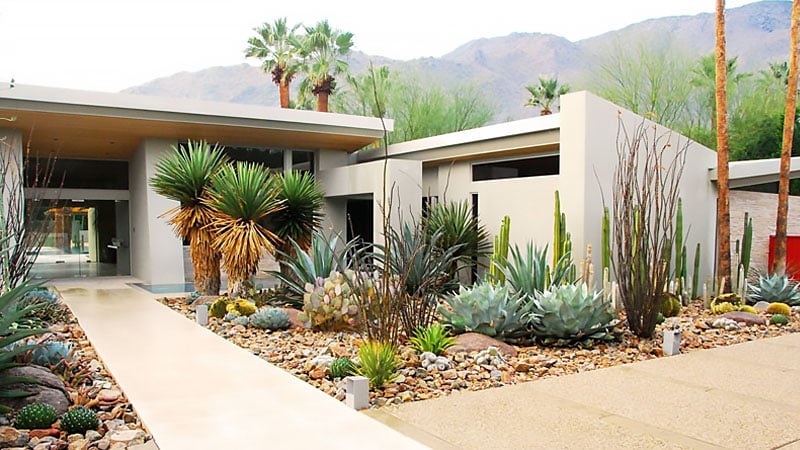 Your front yard is the first thing people see when they enter your home, and it can say a lot about you. Are you someone who wants to give off a neat and professional appearance? Then this can be achieved with minimalist decor or symmetrical landscaping. Or perhaps you love rustic charm or cottage-style decor and want to fill your lawn with rose bushes and a pretty wooden archway. The appeal of landscaping is that it can be adapted to suit your space, budget, and preference, and there are multiple ways to transform this piece of land, making it something that you feel proud of. If you want to update your front yard, let these brilliant ideas inspire you.
1. Desert Front Yard
When designing your garden, you have to consider the weather. If you live in a warm and dry climate, having a yard filled with flowers is not practical, and a desert-inspired space is best. This can include palm trees and a series of succulents and cacti.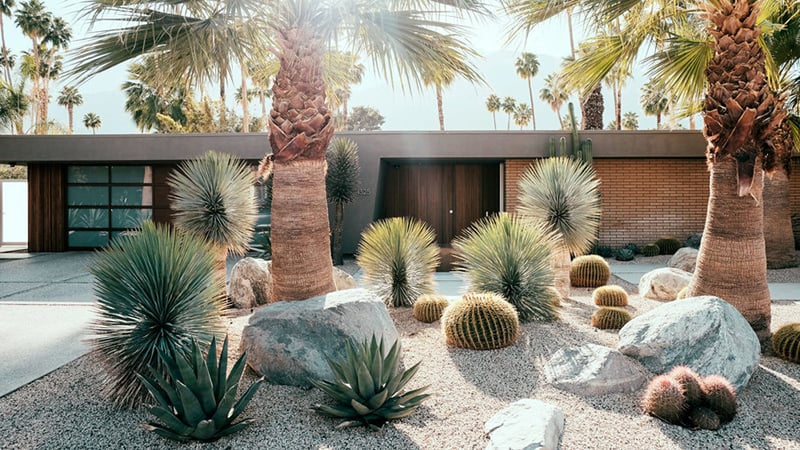 2. Front Yard on a Slope
Front Yards on a slope can be more challenging to style and maintain, so the right design makes all the difference. Adding boulders, shrubs, and trees to help stabilize the slope. Work with your landscaper to create the design of your dreams that works well with the angle of the slope.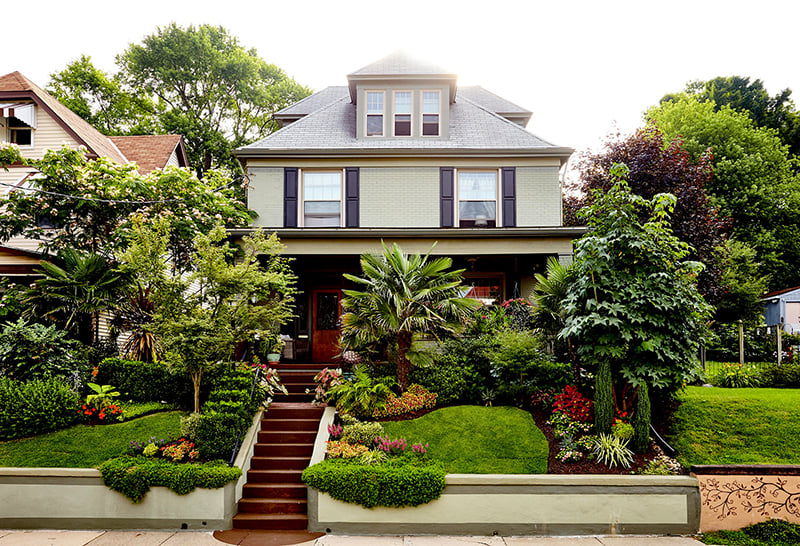 3. Grand Entrance
For a front yard that demands attention and adds to the luxurious finish of your home, you need a grand entrance. This can be achieved in various ways, depending on your preference; for some, it is a large shrub fence. For others, it is a flower archway or a wide statement path.
4. Garden Without Flowers
Gardens with flowers are gorgeous, but they can also be high-maintenance; for something simple but no less appealing, you can ditch the flowers and instead opt for a statement pathway alongside turf or grass.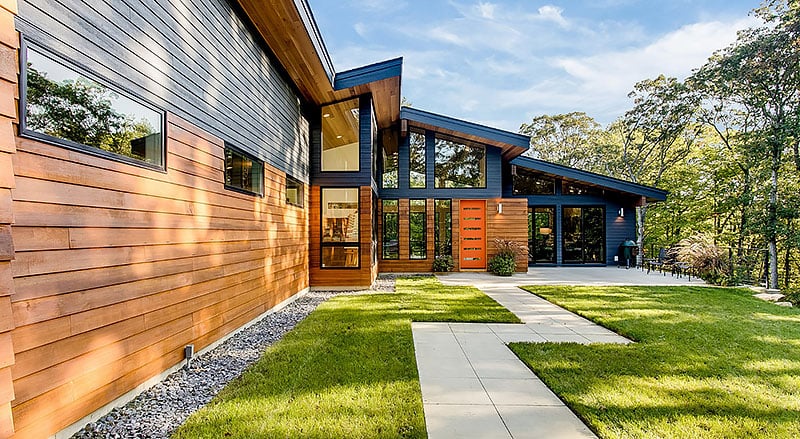 5. Symmetrical Front Yard
For those who want a neat and polished front yard, symmetrical landscaping can achieve this. The idea is for one side of the yard to mirror the other, creating a brilliant balance.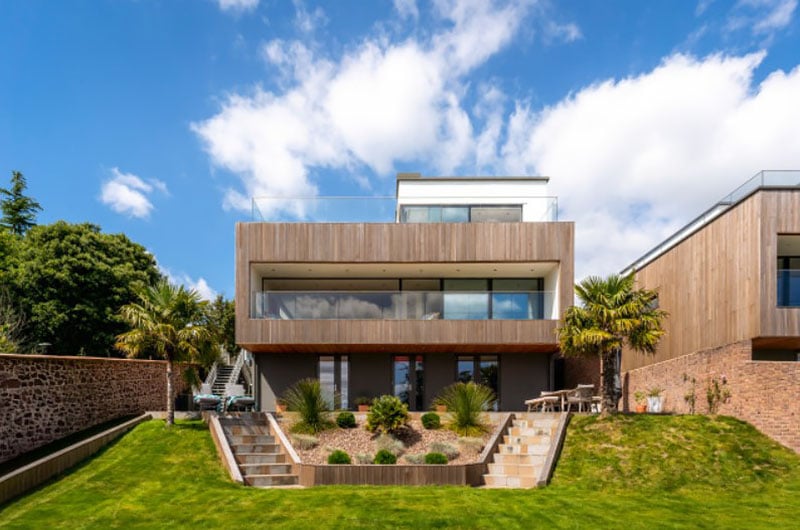 6. Mediterranean Inspired Front Yard
A Mediterranean-inspired yard is stylish and elegant, focusing on the basics and putting them all together with a statement piece of decor, like a large pot. Succulents and plants that do not require a lot of water are ideal. Instead of grass, you will benefit from stones that are low-maintenance.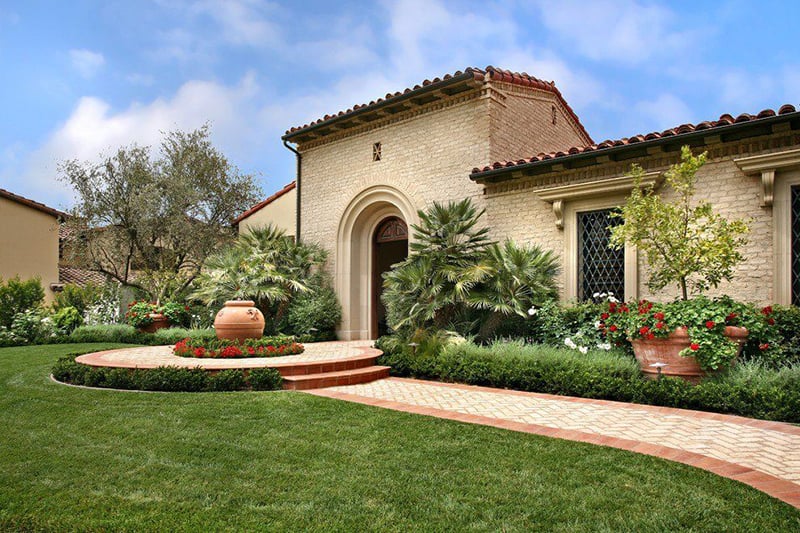 7. Lighted Steps
Not being able to see your steps in the dark can increase your risk of falling and injury, which is why lighted steps are a brilliant idea. It is also modern and decorative and will highlight the steps and illuminate your doorway.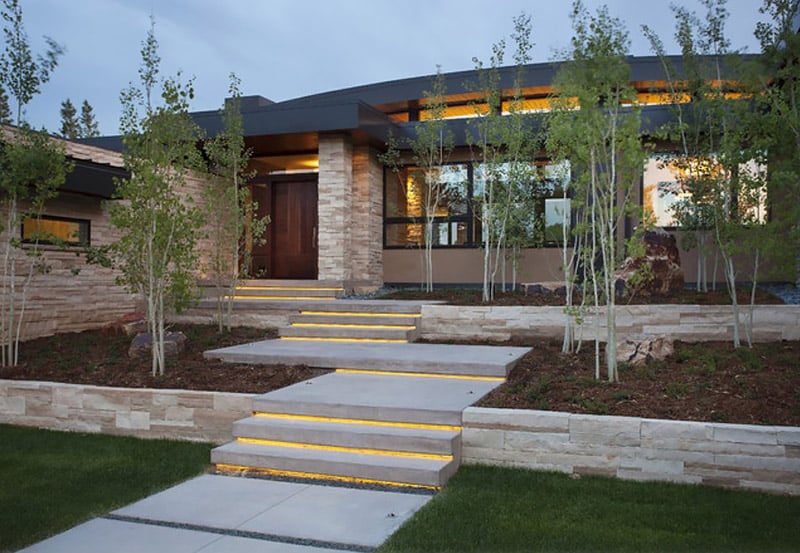 8. Japanese Inspired Front Yard
A Japanese-inspired front yard can be a wonderful place to relax and clear your mind. The things you need to achieve this space are stones, water, and plants of your choosing. You will also benefit from using sand to create movement and stick to a limited color scheme.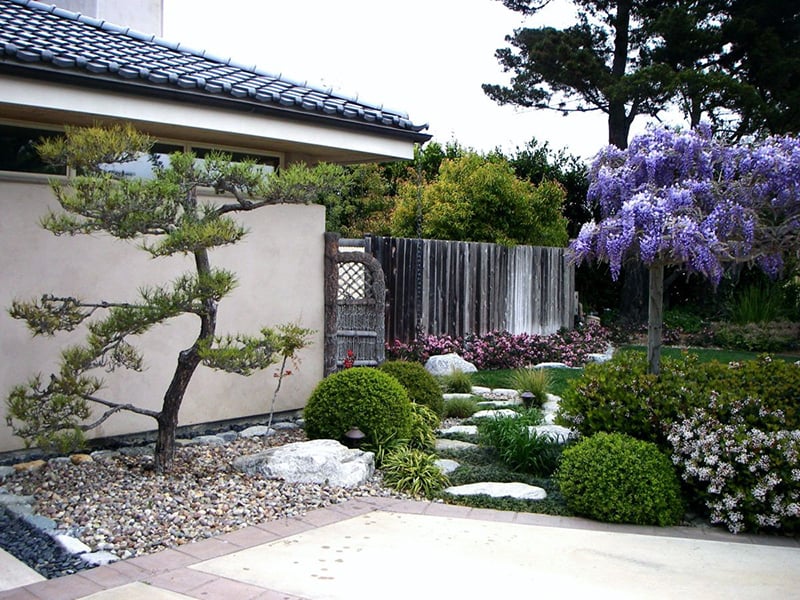 9. Wispy Front Yard
Ornamental grass is a great choice for your yard and will create a pretty, wispy finish. There are several types to choose from, depending on your preference, and they are incredibly low-maintenance and ideal all year round.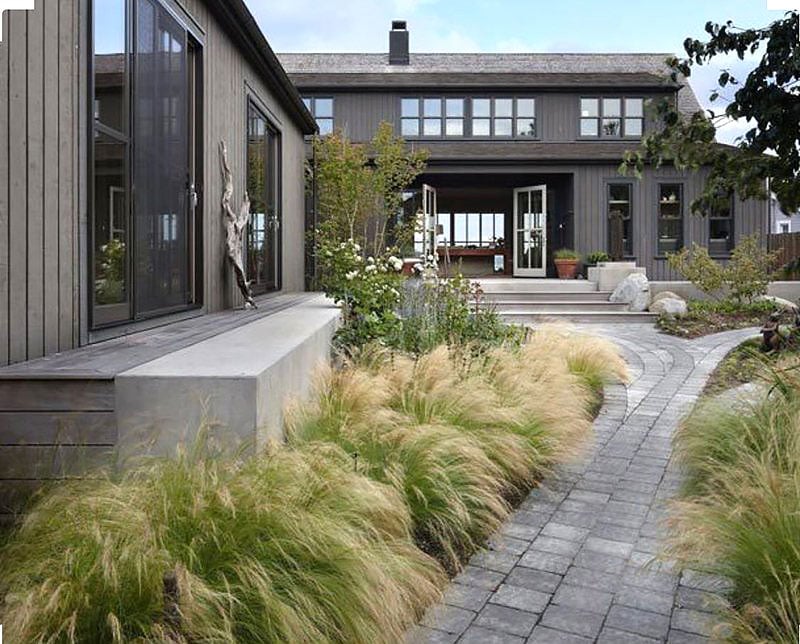 10. Modern Planter Bed
If you love the modern aesthetic with clean designs, limited colors, and natural materials, you can also adapt these principles to your garden. The style lets you get creative, including creating an edgy and cool planter surrounded by a stepping pathway.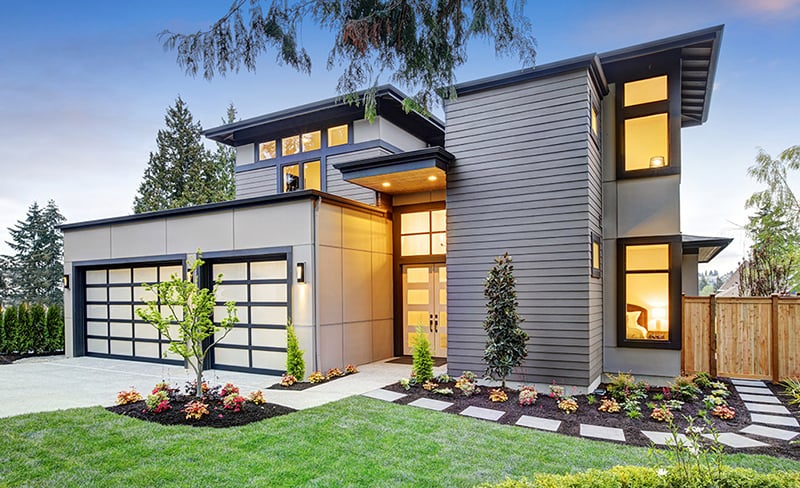 11. Contemporary Pergola
The pergola is both practical and stylish. It is an outdoor garden feature created to give your yard shade, either in the form of a walkway or a seating area; they are often added to a patio or paver. The construction is usually done using wood and has an open lattice and pillars for support. It can look modern and contemporary, or you can opt for a more romantic finish by adding vines or climbing flowers onto it.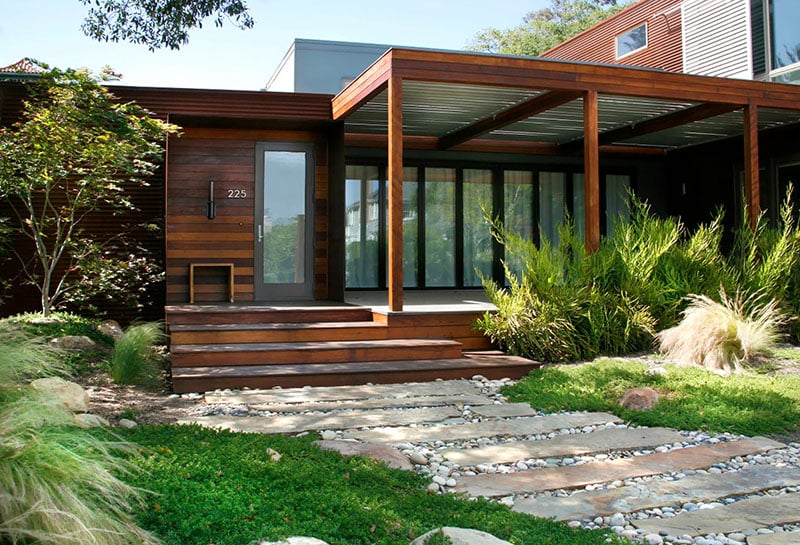 12. White Concrete Pathway
Concrete is durable, long-lasting, and low-maintenance, making it popular for yards. The light color is ideal for warmer climates and can reflect the sun rather than absorb it, making this a practical choice. To complement the concrete, include plenty of green plants or grass around the pathway.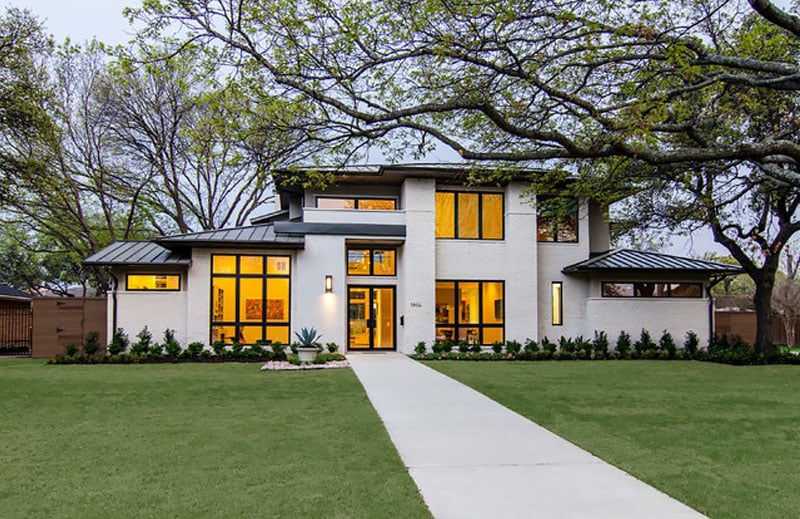 13. Natural Elements
The combination of different natural materials like wood and rock creates an interesting feature; add water into this mix, and you have yourself a standout piece of decor for your garden. In addition to the visual appeal, you will find that running water is excellent for helping you de-stress.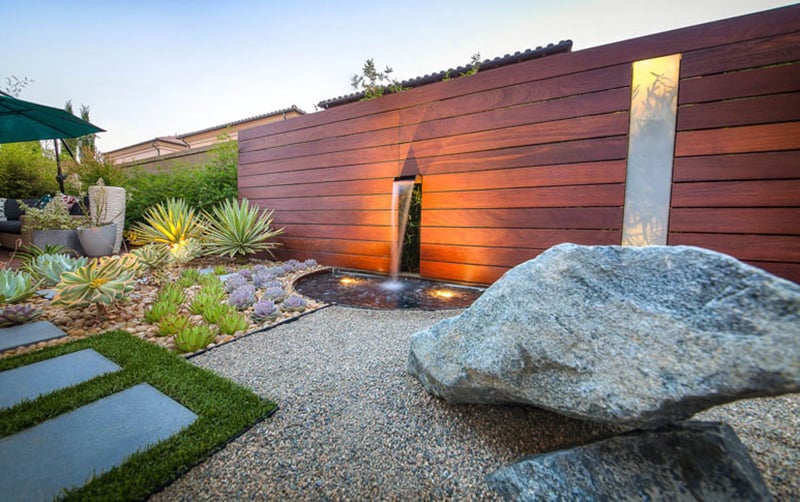 14. Stepping Stone and Gravel
A mixture of a stone pathway and gravel laid onto the ground is a great finish. The difference between the smoothness of the stone and the roughness of the gravel produces a contrast. Complement the space with shrubbery and flowers.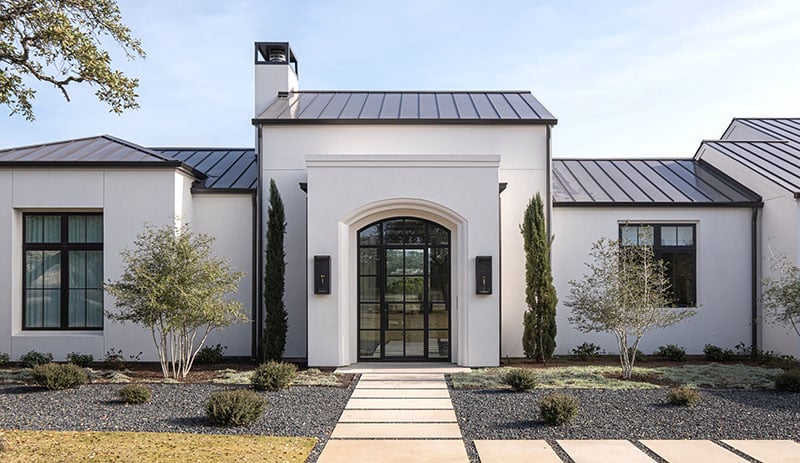 15. Front Yard Planters
Planters will be a statement piece of decor in your front yard. They are sturdy and versatile and the larger, the better. Choose shapes from circular to square with materials in wood, concrete, or stone.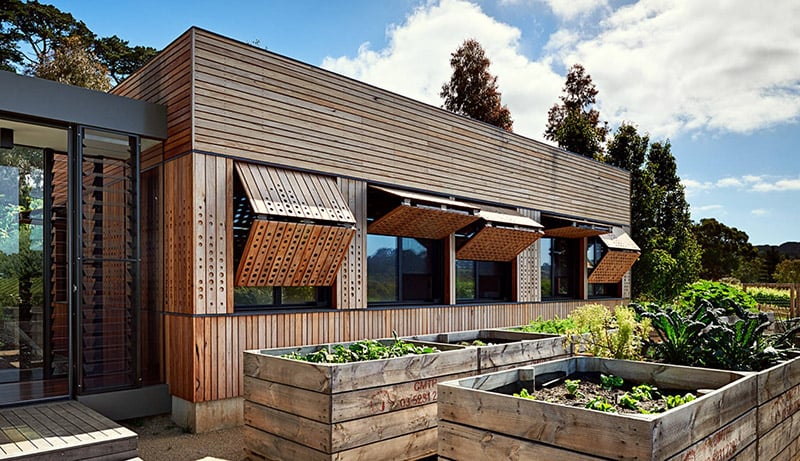 16. Lighted Pathway
Place the lights strategically to illuminate the pathway and your garden. There is also a safety aspect with yards with good lighting, allowing you to see your surroundings. You can also use smart lights like the Philips Hue Outdoor Lilly lights which can add a pop of color to your front yard.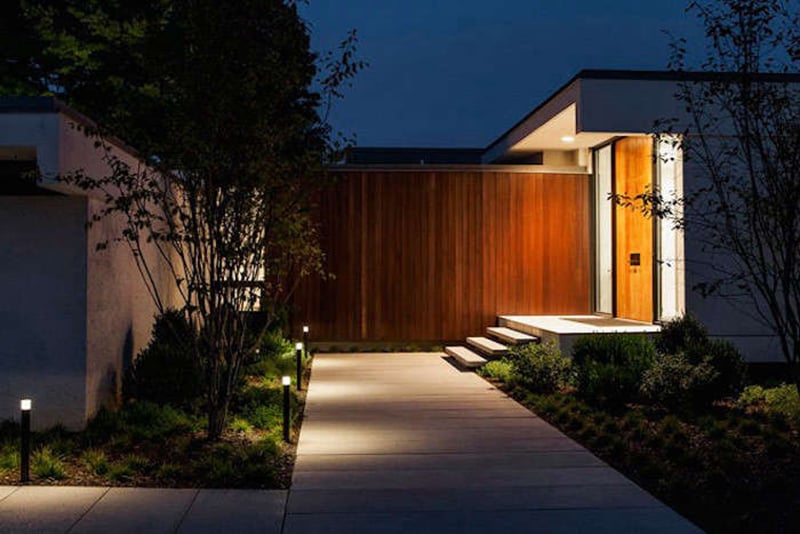 17. Shaped Shrubs
Shaped shrubs are a wonderful way to get creative with your front yard. They are a fantastic alternative for a fence but can also help you achieve your desired aesthetic. Whether you are pruning the shrub to create a globe appearance or have a different shape in mind, there are many options.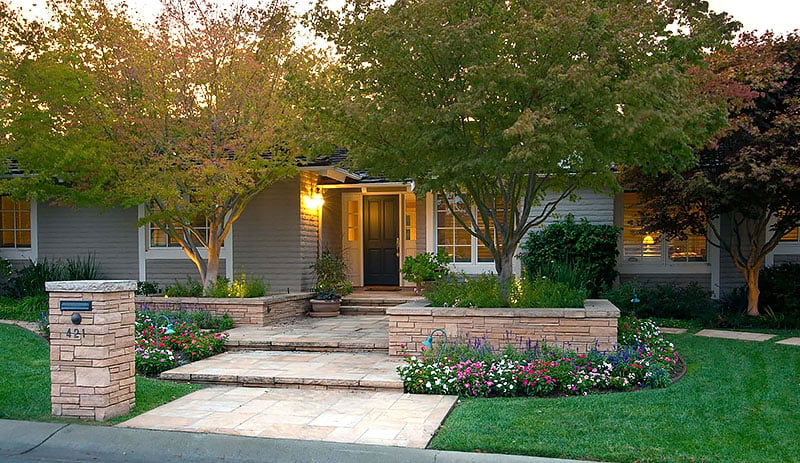 18. Pavers and Steppers
Steppers are a wonderful addition to any garden and can be created in various ways; you can style them to look sleek and modern, to opt for a simple, natural appearance. They can be done with natural stone, including sandstone, granite, and limestone.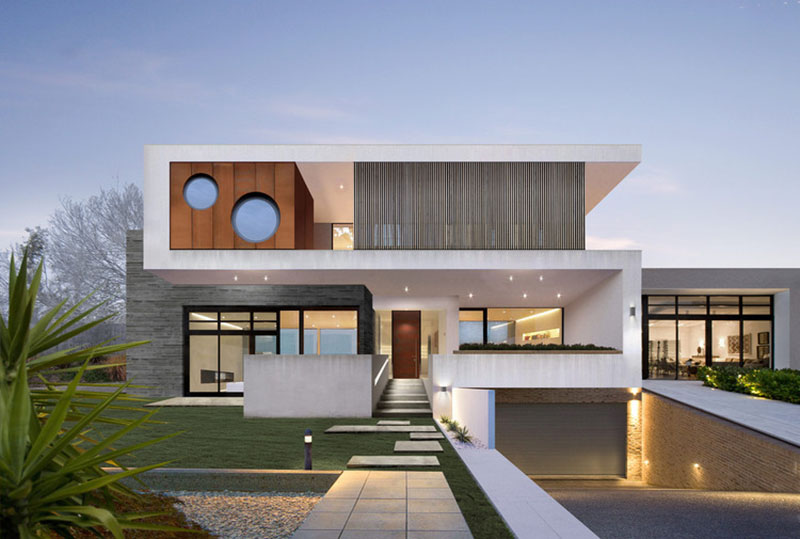 19. Front Yard Hedge
A creative way to build a fence at the entrance of your property is to have it made out of a hedging plant. It will require regular pruning to keep its shape, so this needs to be taken into consideration.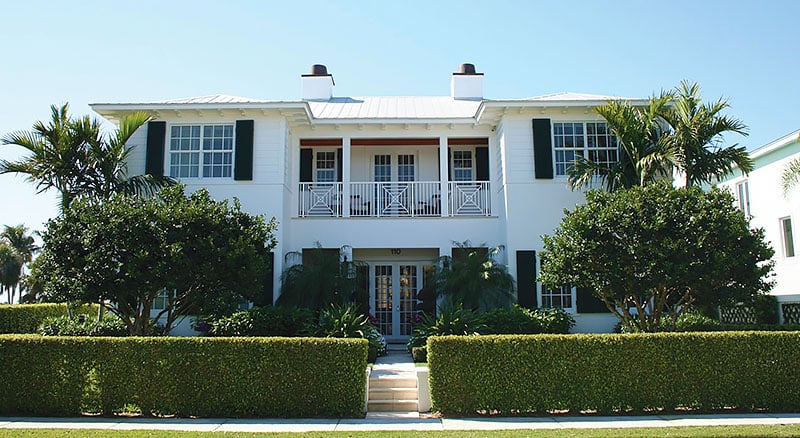 20. Modern Front Yard
Modern gardens benefit from minimalism, natural colors, and clean designs. With this style, less is more, and you can keep the plants to a minimum so that the yard does not look cluttered. Succulents and shrubs are ideal and will complement a stone walkway.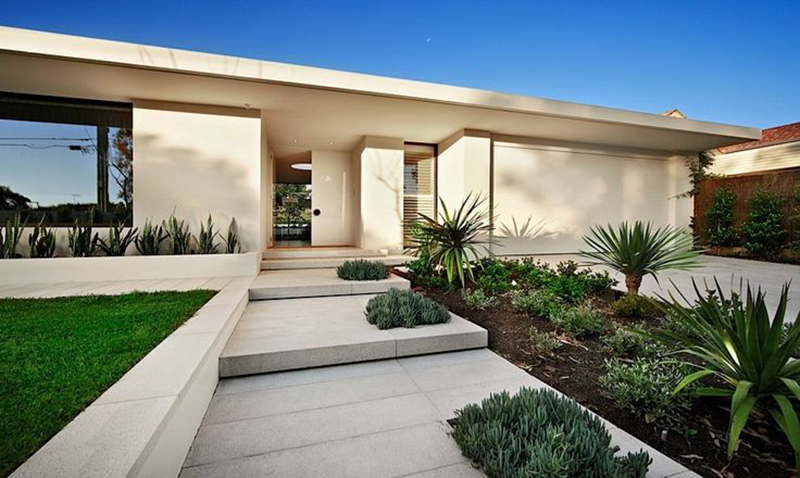 21. Edged Pathway
The appeal of pathways is that they can vary, which lets you get creative, depending on your yard space. For a statement pathway, you can opt for a curved design that is brilliantly lined by flowers or even a low shrub fence.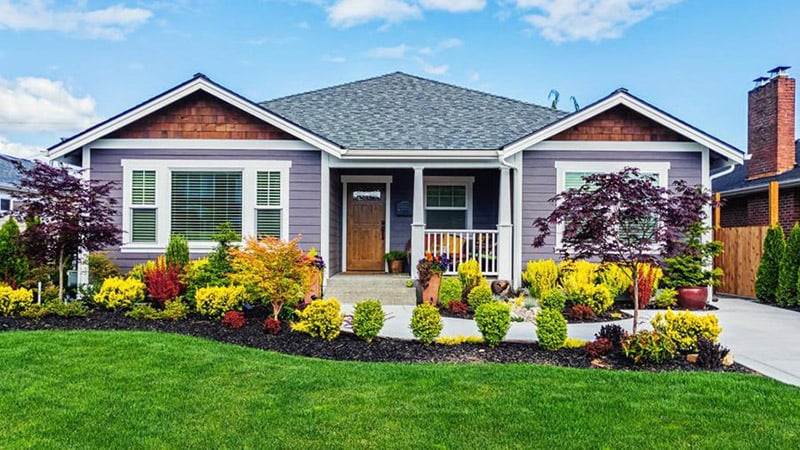 22. Front Yard Pool
There is a lot of room for creativity in a large garden, and if you live in a warm climate, adding a pool in the front yard is a great choice. You can complement the water with a standout concrete fire pit, which will provide warmth and light. This is ideal for someone who wants a modern yard.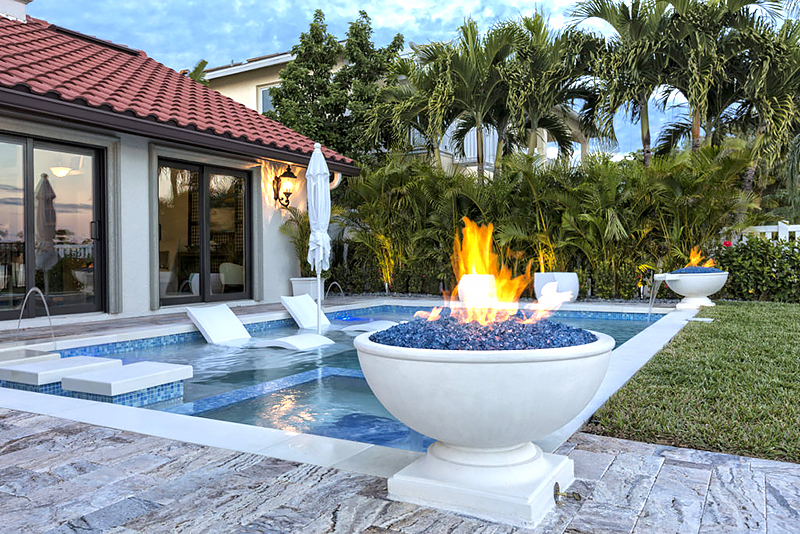 23. Minimalist Front Yard
For those who prefer a more simple, minimalistic approach to decor, this can be translated into how you style your front yard. Keep the plants to a minimum and focus on a clean design, with a lighted pathway for a modern finish.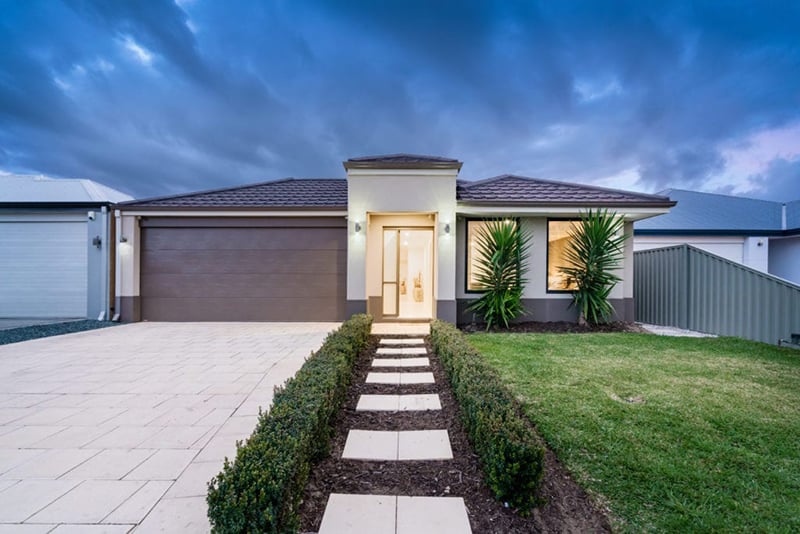 24. Inviting Walkway
If you want your home to look welcoming, a way to achieve this is with the walkway. An inviting walkway can be lined with plants of your choosing and can take on an unusual curve, like an S-shape.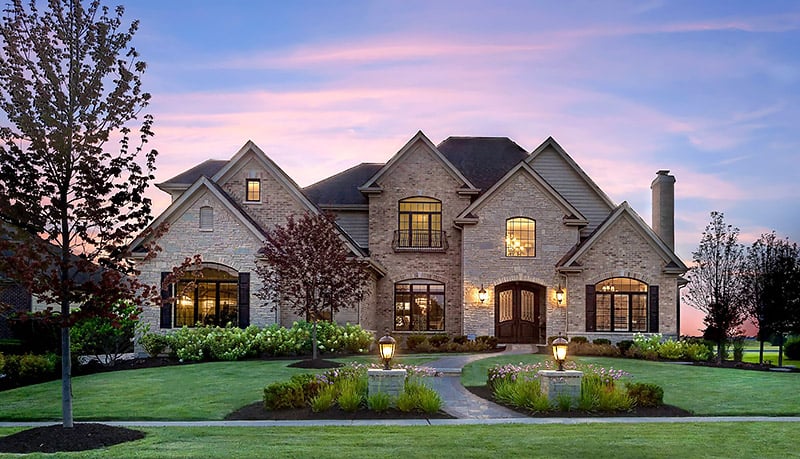 25. Flowerbed Arrangement
Flowers are a great way to add a pop of color to your garden, and with so many to choose from, you can get creative with their placement and the combination of blooms you choose. Try simple flower beds or detailed arrangements that will become the focus of your yard.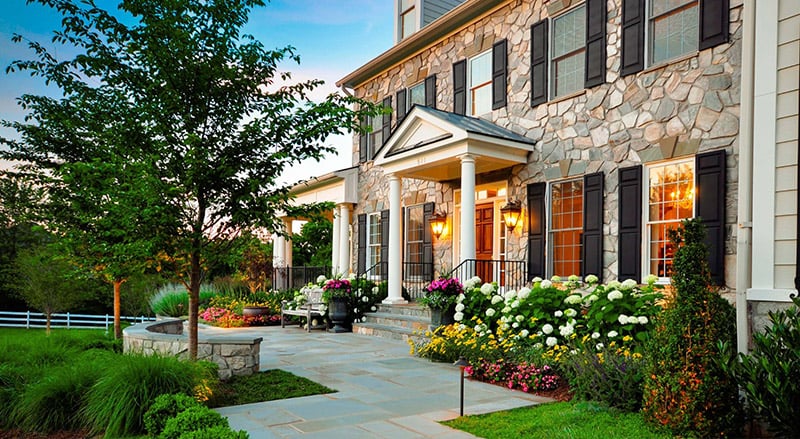 26. Water Fountain
A water fountain in your garden is a lavish addition, giving you a garden that feels expensive and luxurious. In addition to looking beautiful, a water fountain can be calming and block out noise pollution and create ambiance. Be sure to use a fountain that recirculates water to avoid waste.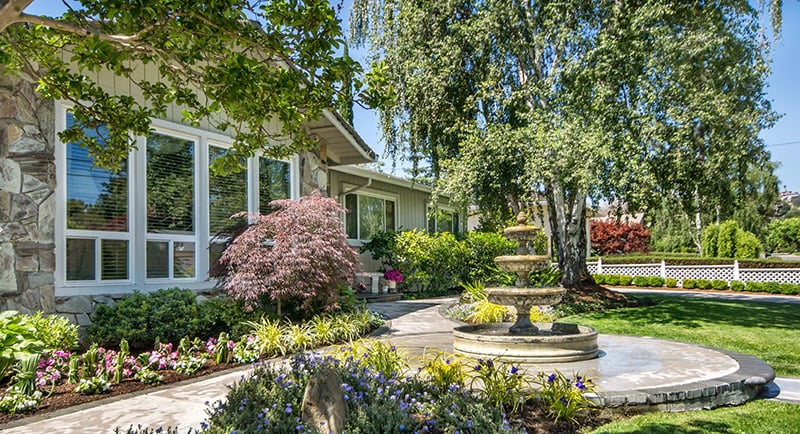 27. Large Pots
Large pots come in a range of sizes and colors, and in addition to serving a functional purpose, they are also decorative. They can be a standout piece of your garden decor, and you can position them just outside your front door.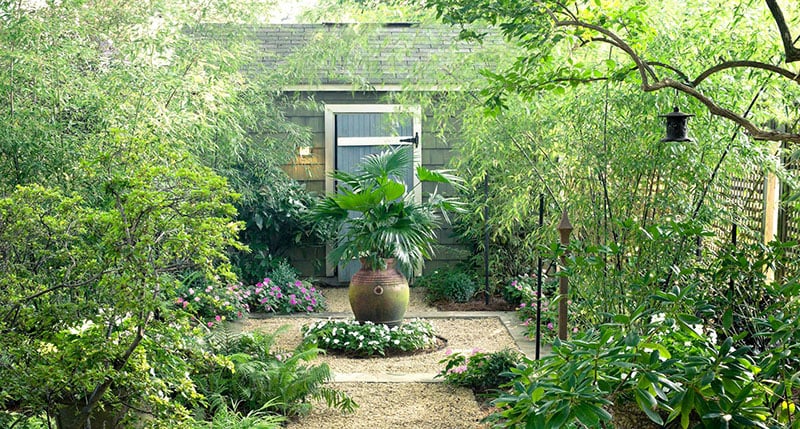 28. Lavender Front Yard
Lavender is a brilliant shade of purple, which will give your garden a pop of color. It also has a lovely smell that boosts relaxation and has a calming effect. Line the lavender along your walkway for a striking finish.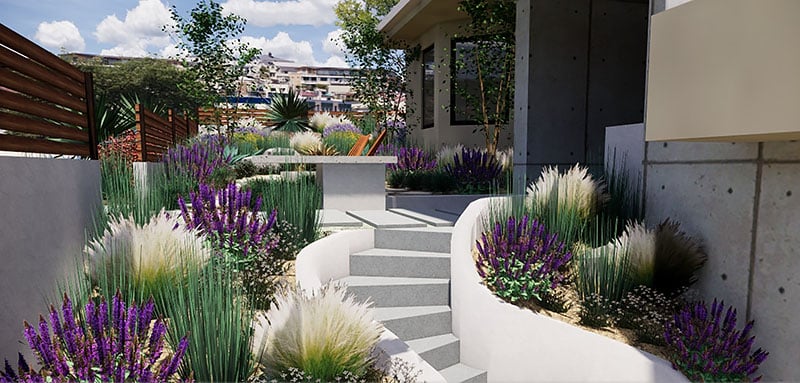 29. Creative Front Yard
There is no limit on what you can do with your front yard, and you can make it a clean and simple design or get super creative. This can be achieved with the unique placement of flowers and interesting decor. You can also take inspiration from one of your favorite films, like Alice in Wonderland, for a quirky and fun yard you will want to show off.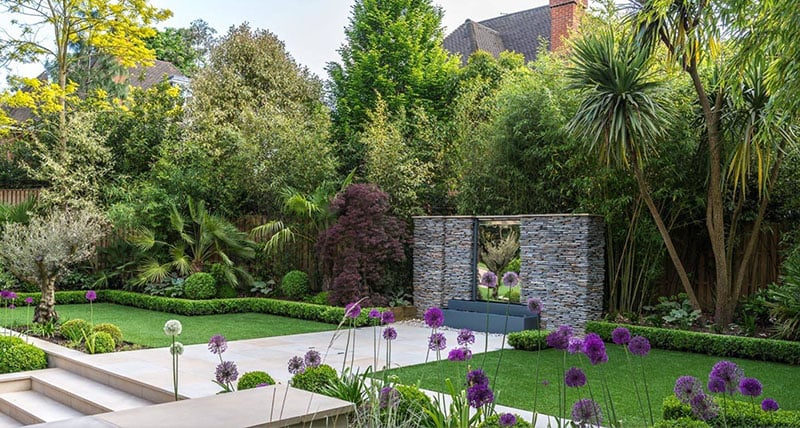 30. Green and White Front Yard
Green and white are a lovely combination for any front yard. It is pretty yet understated and will complement all decor and house styles. The flowers you choose can be anything from white hydrangeas to roses, so choose your favorite for a garden that reflects you.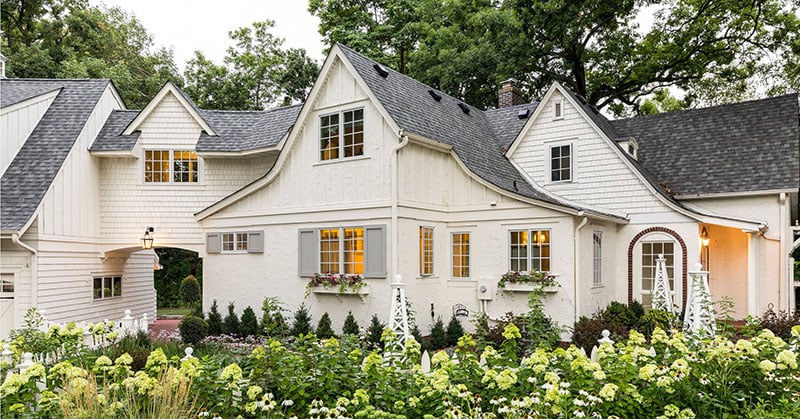 31. Flower Fence
Fences are practical, keeping unwanted people away and marking the perimeters of your home. They can be created with various materials and can be finished in the color of your choosing. If you want something pretty, you can add rose vines to the wood for a gorgeous, romantic finish.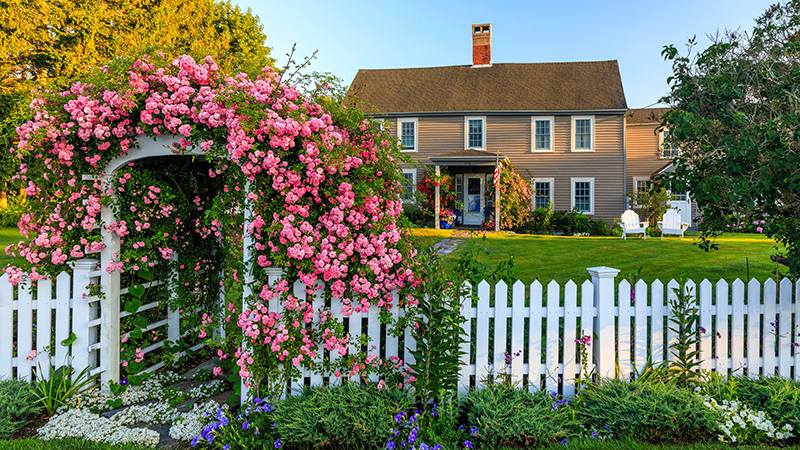 32. Garden Lights
For a dreamy garden that is welcoming, a great idea is to add lighting throughout the yard. This can be done in various ways, including stand-alone lights or lighting that is on the wall or installed on concrete walkways.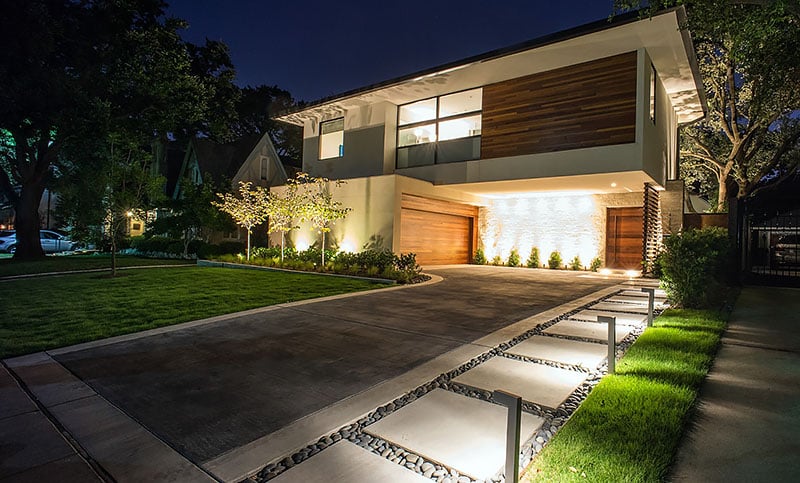 33. Lots of Colour
What better way to enjoy your garden than by filling it with your favorite flowers, creating a brilliant, colorful display. Mix and match your favorite plants to create different levels, textures, and colors. If you love flowers, you can also add them to window boxes, a flower bed, or both.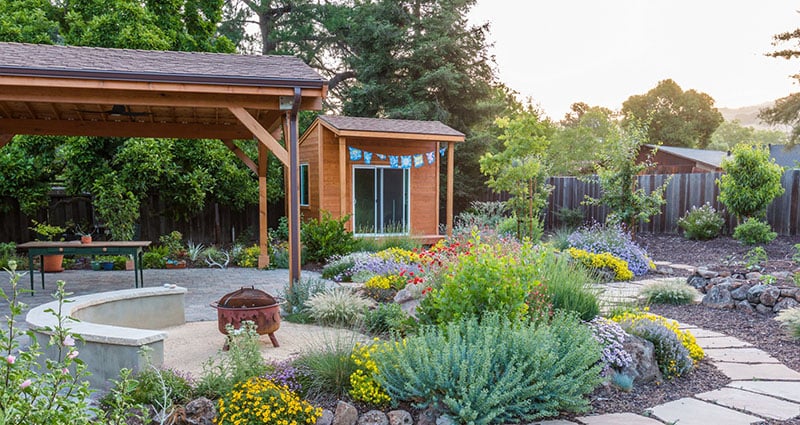 34. Different Types of Stone
Stone can be used in several ways in your front yard, from pathways to marking the perimeters of your home or as an outline for a flower bed. For an interesting finish, you can combine several types of stones like basalt and bush rock and experiment with sizing and coloring.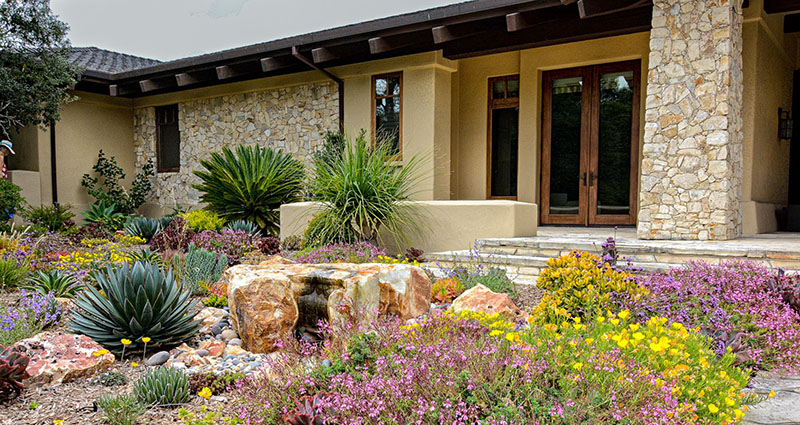 35. Grass Strip on the Driveway
Something as simple as a strip of grass on the driveway can look great and will break up a thick slab of concrete. This strip can be relatively low-maintenance by using plants like mondo grass that will only grow to a certain height.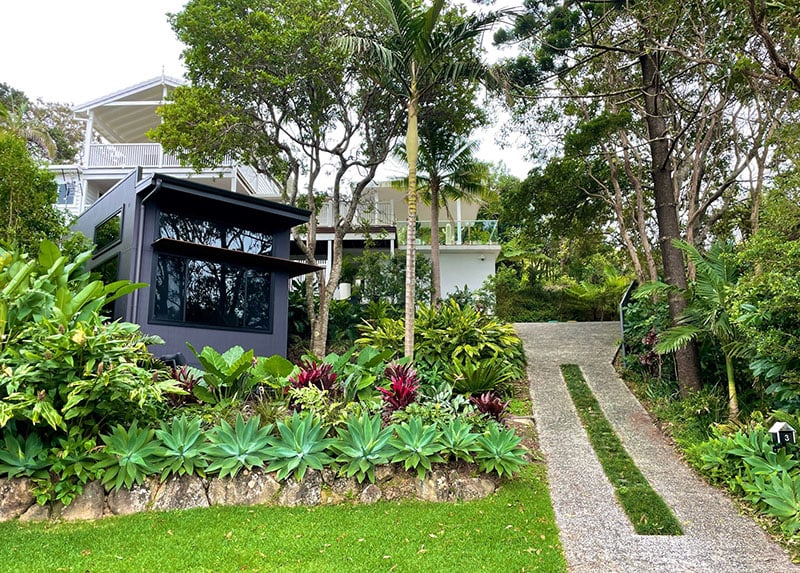 36. Creative Front Yard Lighting
Lighting can make a big difference in a front yard and can be for decorative purposes, but it is also practical and can increase safety; seeing what is in your garden is important. The creativity comes with the placement of your lighting and the colors you choose.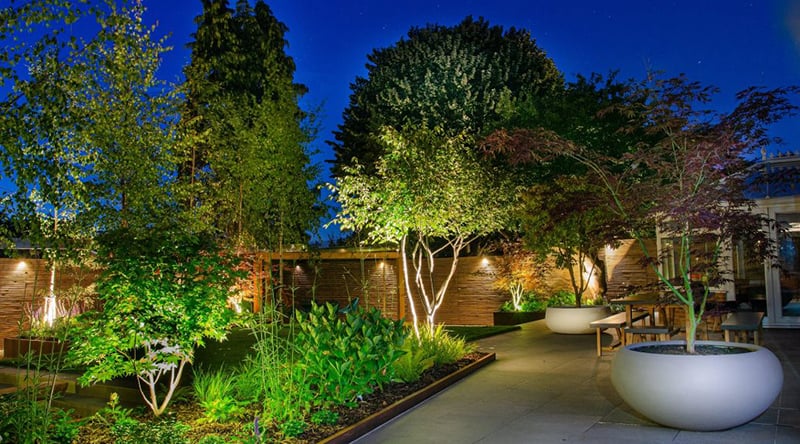 37. Forest Retreat Front Yard
Creating a space full of gorgeous trees, vines, and shrubbery can make you feel like you have been transported into a forest. This is a wonderful space where you can relax and reflect on life, so include a seating area to enjoy all of nature's beauty fully.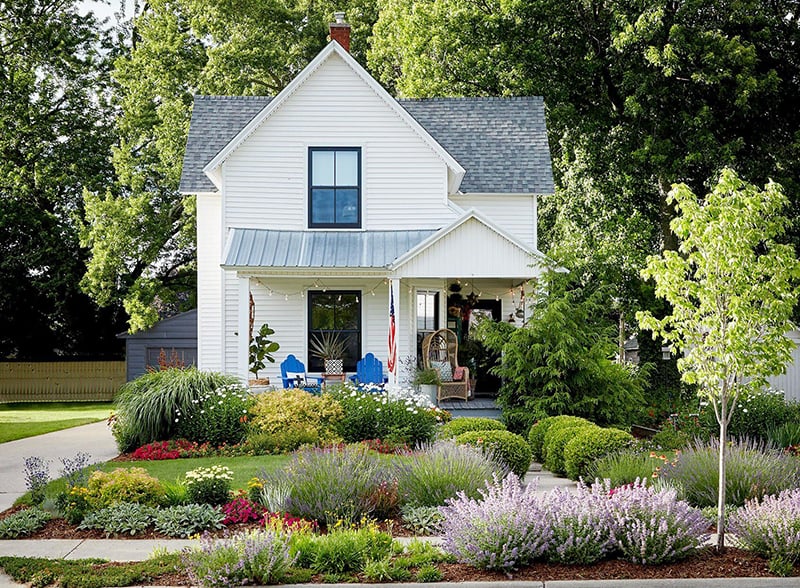 38. Black Planter
Planters and pots are practical and decorative, letting you grow the blooms or trees of your choosing but also adding some of your style to the garden. These can be small and simple or large, statement designs in the colors of your choosing, including black, which is striking and eye-catching.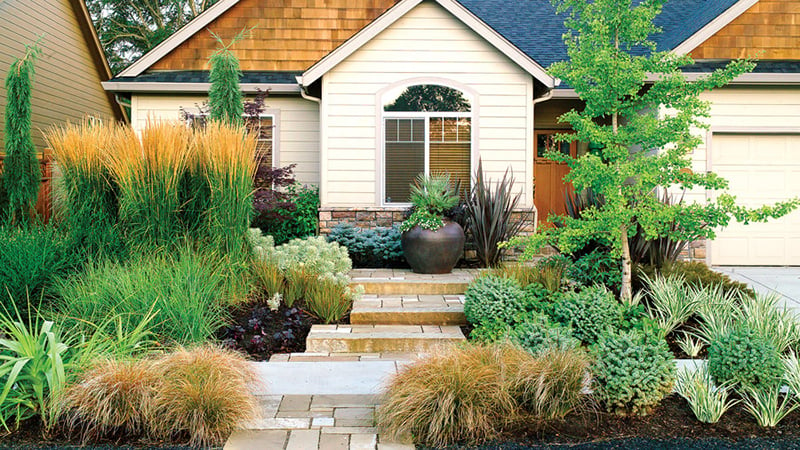 39. Circular Flower Bed
Your front yard is an extension of the house, and it should reflect your style and preference. For those who want a stylish and modern design, try a circular flower bed, offering you something different from the standard rectangular shape. These beds usually require larger spaces and stand-alone.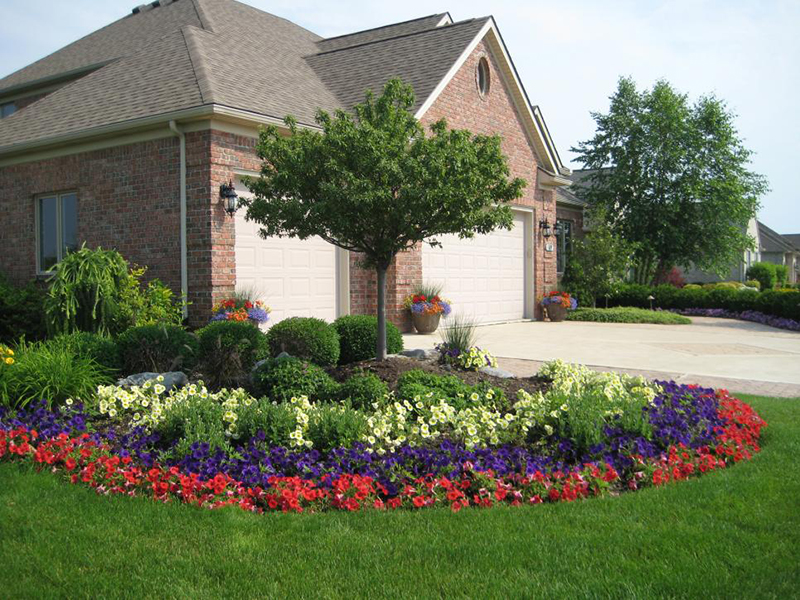 40. Cottage-Style Front Yard
Cottages have a rustic charm, and the decor also combines vintage and shabby chic elements. It appeals to those who want a romantic and laidback space, perfect for sitting outdoors with a good book and an ice-cold beverage. Add a wooden seating area and experiment with the placement of bushes, flowers, and trees, to create the front yard of your dreams.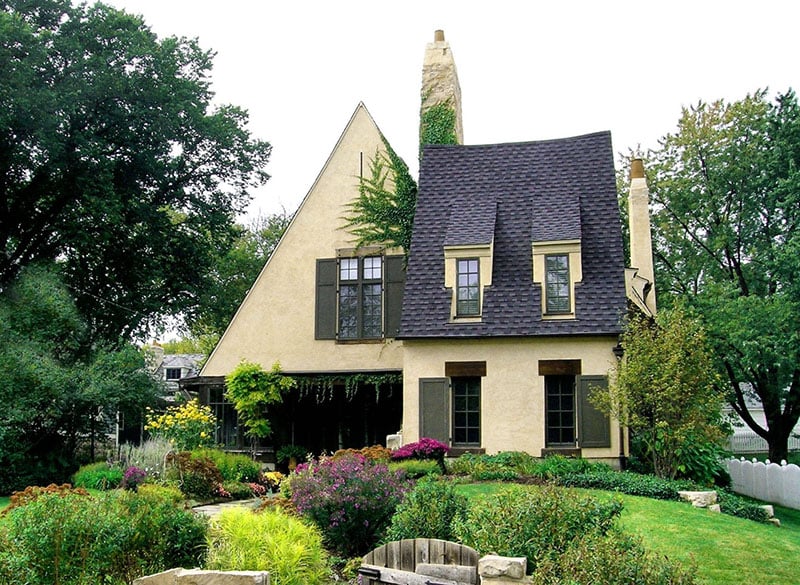 41. Horizontal Fencing
Fences with horizontal boards are less common than vertical fencing but can have a striking finish. You can keep the wood natural or paint it white for a classic finish or black for a modern look. Add the fence around the full perimeter of the property, or focus it only around a patch of your garden; the choice is yours!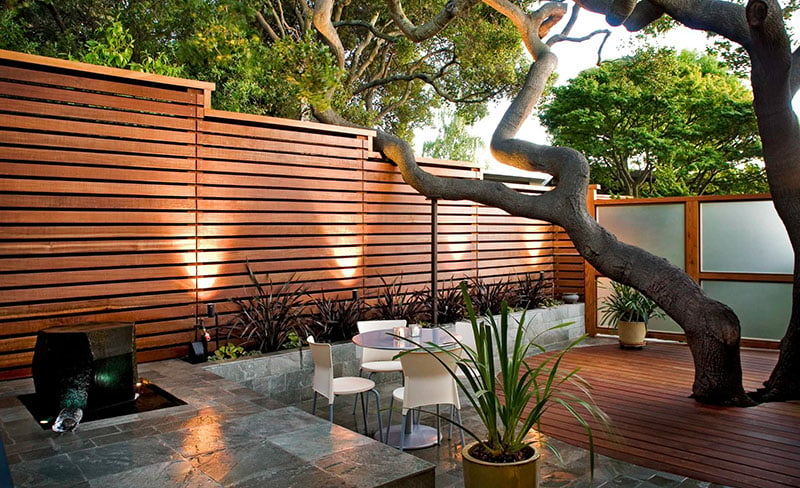 42. Interesting Walkway
If you want to add an exciting feature to your garden, you can do this with your walkway. There are many options, allowing you to experiment with the finish; this includes something modern like concrete steppers and stairs surrounded by a Riverstone. The contrast makes for an eye-catching design, which will be complemented by the planting around.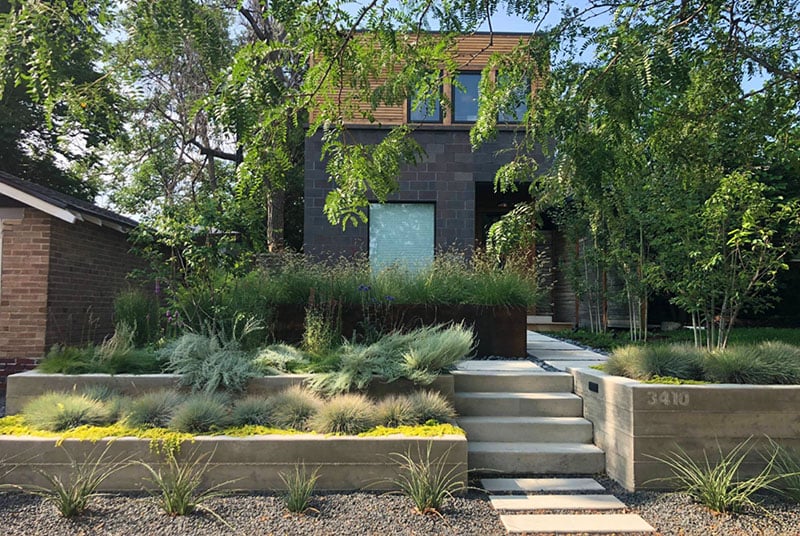 43. Beautiful Hydrangeas
Hydrangeas will brighten your front yard, and they come in a range of shades, including blue, pink, purple, and white. They are relatively easy to grow and maintain and will add a beautiful pop of color to your home, making you excited to spend time outdoors during the spring and summer months.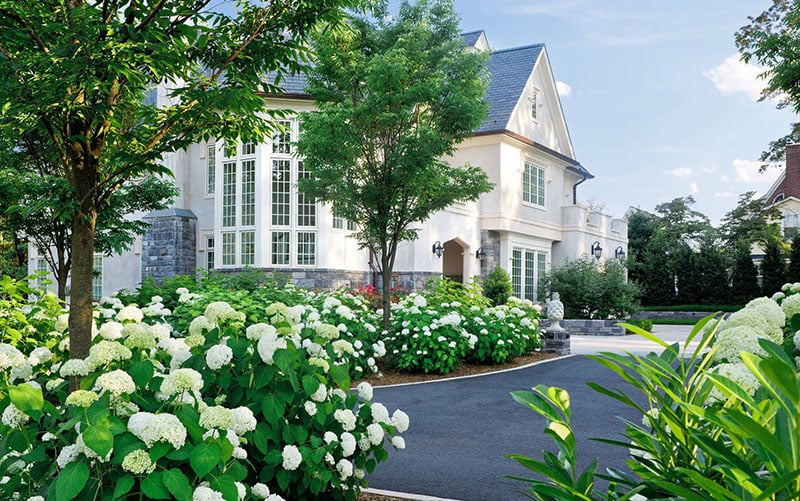 44. Water Feature
A water feature is a gorgeous addition to any home. Moving water has a calming effect and can boost relaxation. These features are also fantastic for attracting wildlife and insects and will become the focus of your yard. To enhance this, you can surround it with a stone retaining wall.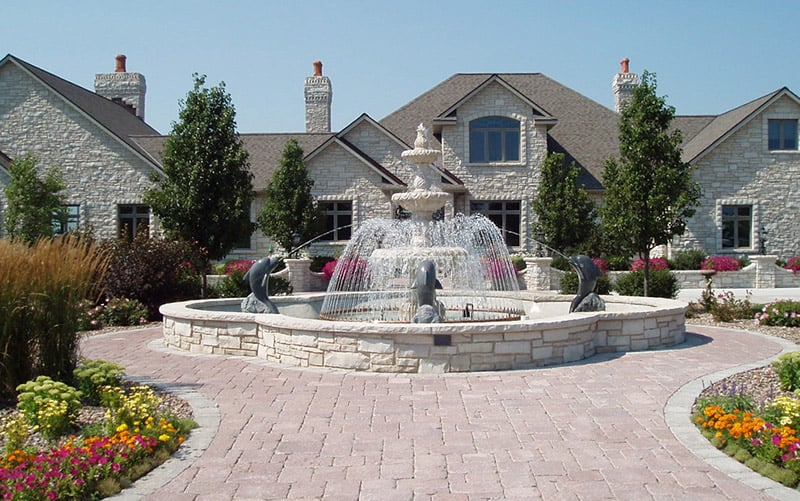 45. Sunken Fireplace
One of the most stylish and modern additions to any yard is a sunken fireplace with built-in seating. This is a great area for relaxing or entertaining, but it doubles as an impressive visual feature in your front yard.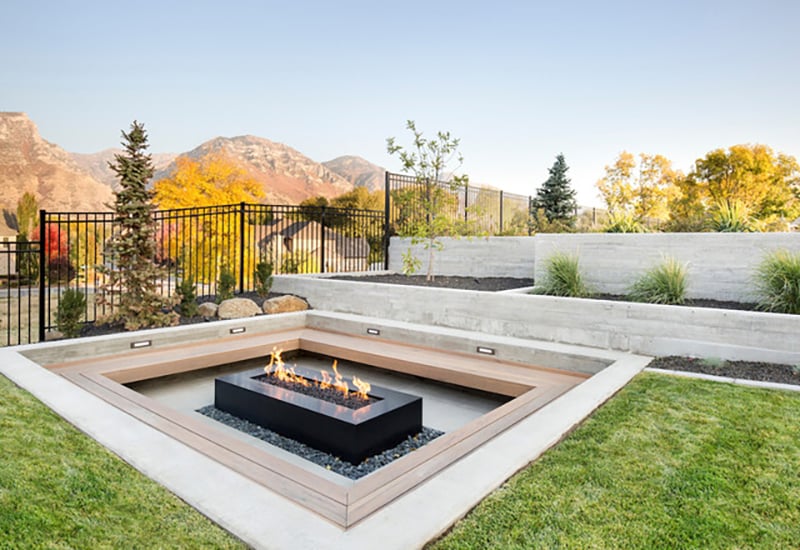 46. Entrance Flower Bed
What could be more beautiful than walking to your front door and being surrounded by flowers? Transforming your entire front yard into a flower bed that features on either side of a path will let you appreciate the colors and smells of the blooms when they are in season. Plus, it looks gorgeous.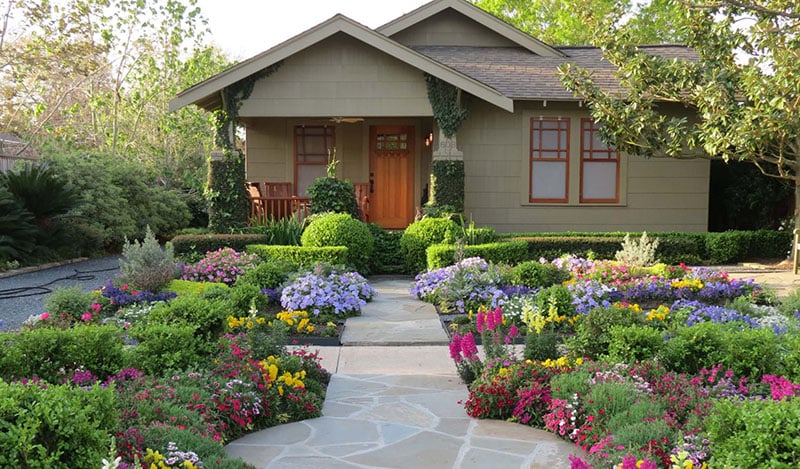 47. Elegant Front Yard
Gardens can be wild and overgrown or perfectly manicured, depending on your preference. Neat, clean designs and shrubs and flowers that have been well-maintained can create a very stylish finish and look fantastic when lining the pathway to your front door.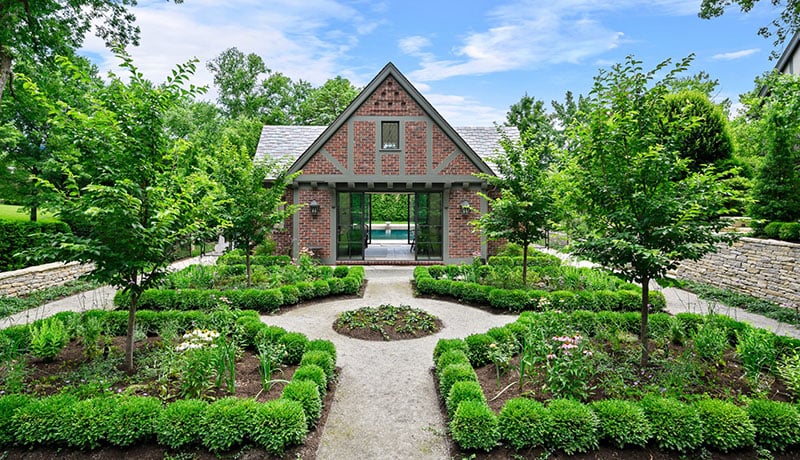 48. Rose Bushes
Rose bushes are a beautiful addition to any garden because they are one of the most beautiful flowers. They are also versatile, coming in a wide range of colors. The downside to roses is that they are high-maintenance and can be challenging to care for.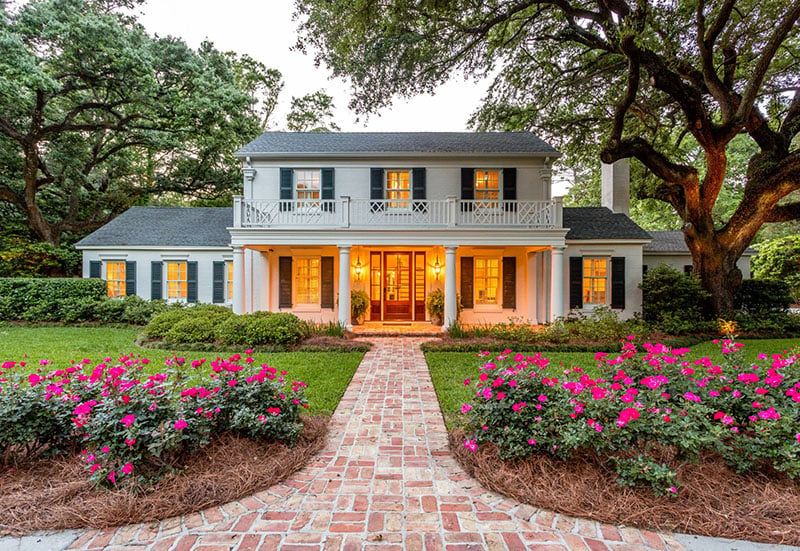 49. Bicycle Planter
An old bicycle can be turned into a wonderful planter, giving your garden character. You can keep the bicycle in its original color for a rustic charm or paint it white for a crisp, clean finish. You can also experiment with color, picking your favorite shade of pink or blue for a brighter look.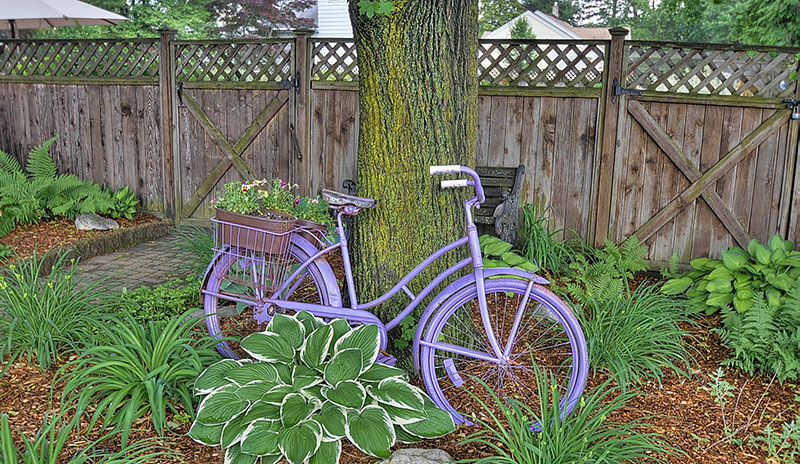 50. Sculptural Front Yard
A sculptural front yard can include flower beds placed at interesting angles, a unique pathway, and a minimalist color scheme. You may also wish to have works of art in the garden or low hedges in a maze pattern.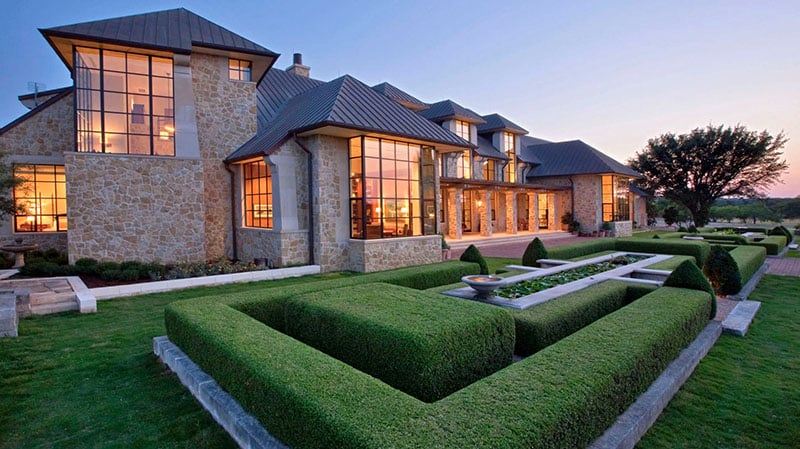 51. Horsetail Hedge
The horsetail plant has a unique appearance, and its height makes it incredibly useful to use for privacy; it can grow up to 20 inches tall. This can be achieved by creating several blocks of horsetail to form a hedge. You can place them in pots or in a planter for a modern and stylish finish.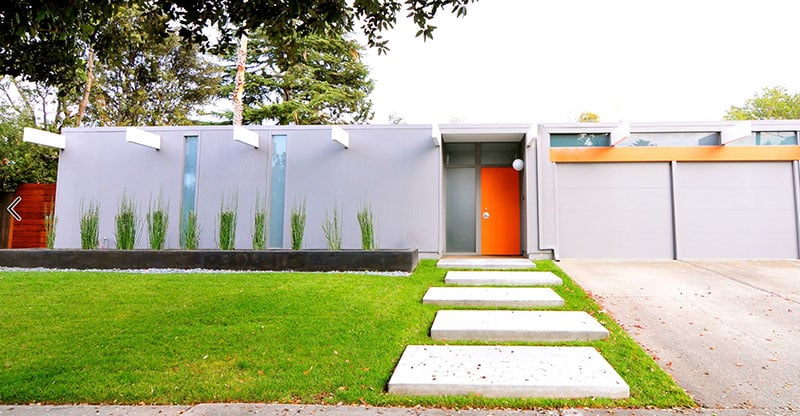 52. Lakeside Home Front Yard
If you live on the lakeside, you want to create your yard so that you can benefit from the view. This includes a large seating area, which will be especially great in wood to give it a natural finish and blend in with the surroundings. Stepping stones and flowerbeds are also a beautiful addition.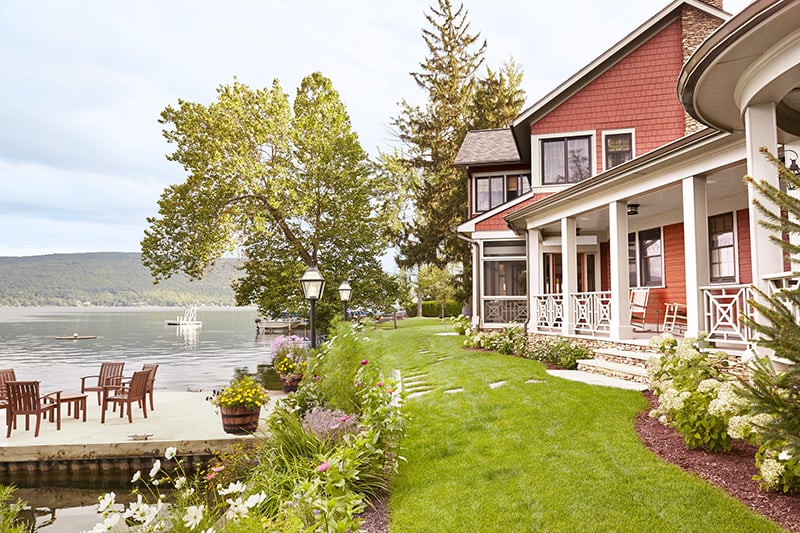 53. European Inspired Garden
A European-inspired garden can feel opulent, with neatly manicured lawns, beautiful flower beds, statement walkways, and the addition of marble or other stone statues and vases. You can also include a waterfall feature in the middle of the yard.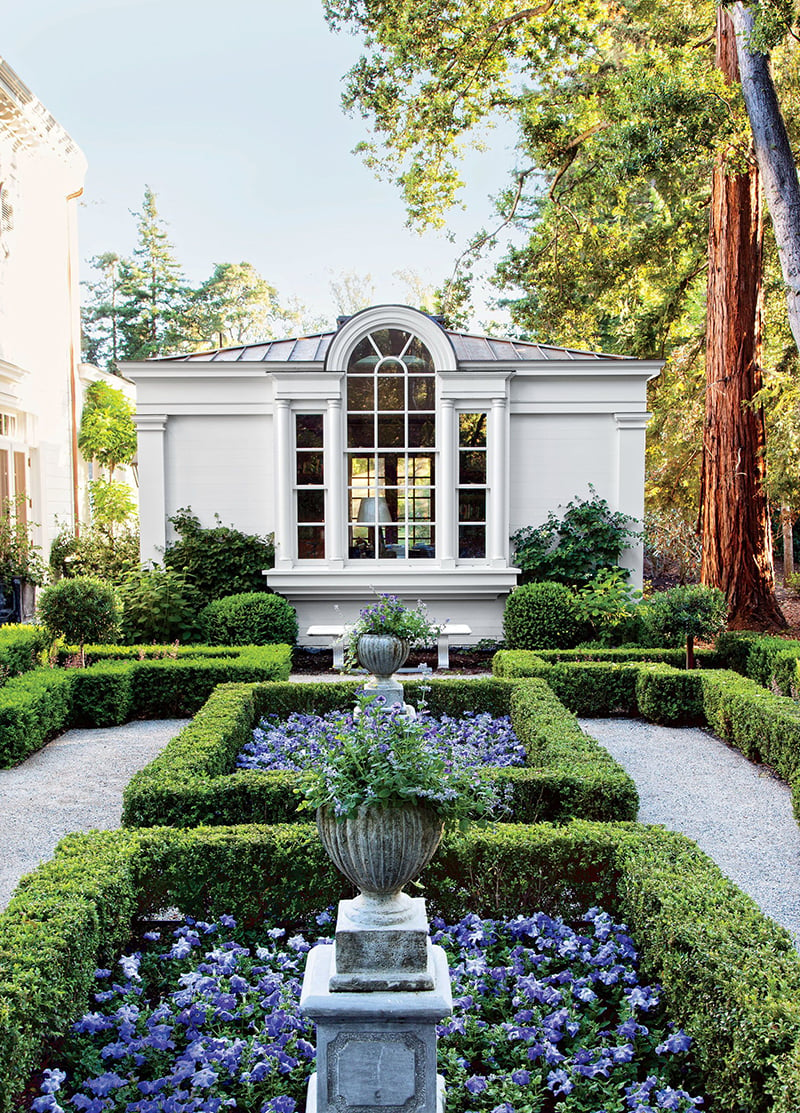 54. Tropical Front Yard
To create a summer vacation vibe for your front yard, planting palm trees and other tropical plants like bromeliads, elephant ears, and bird-of-paradise will help you achieve this.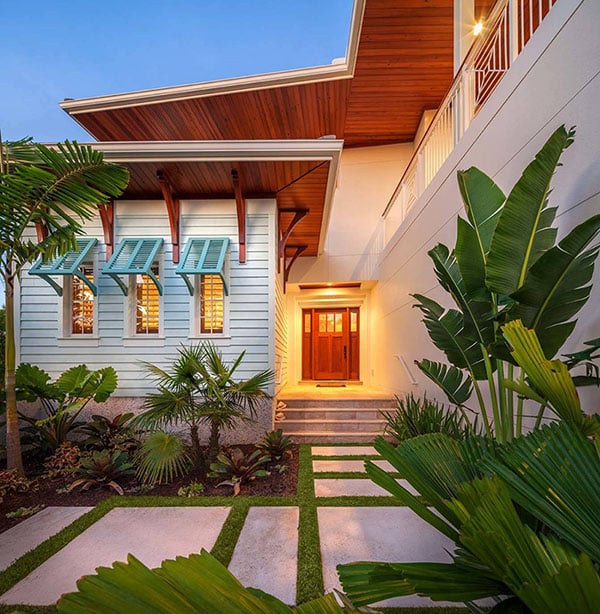 55. Low Maintenance Front Yard
Gardens can be incredibly beautiful and detailed, but these spaces also require a lot of work and upkeep. Opt for a low-maintenance approach that focuses on plants that do not require constant pruning and watering if you do not have the time to constantly care for the yard.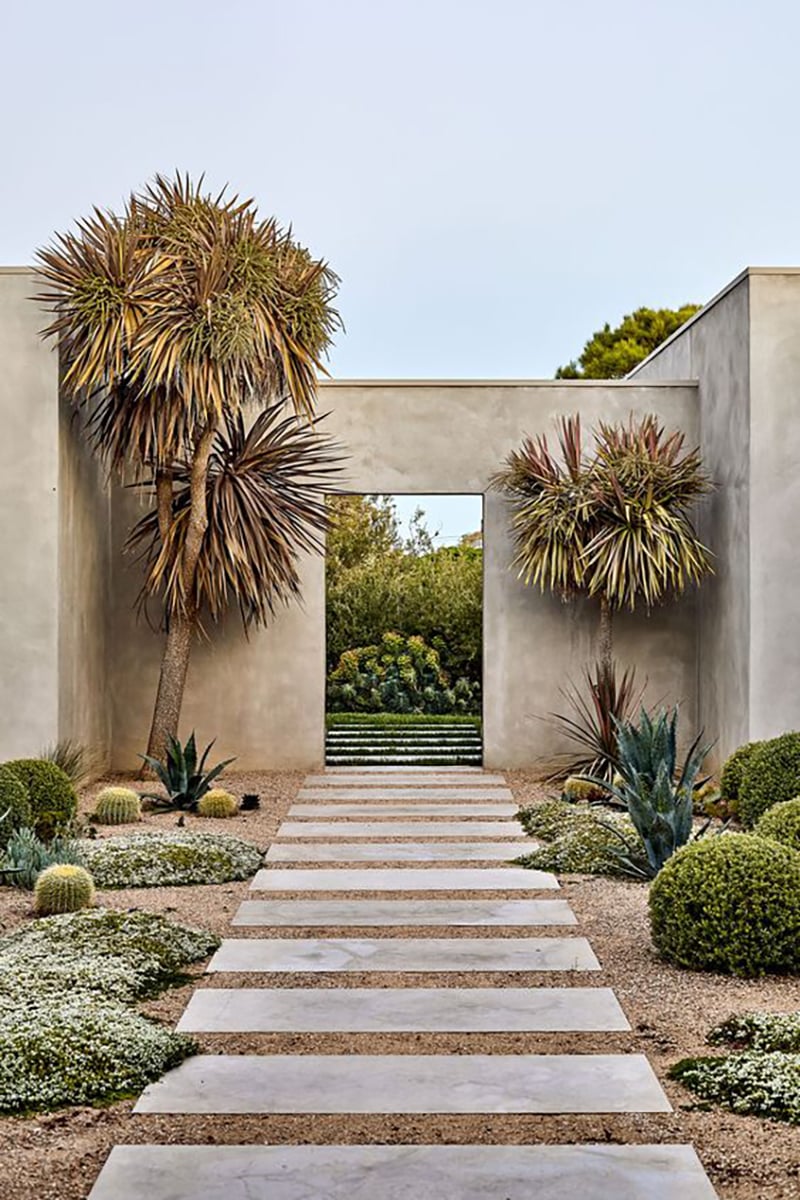 56. Evergreen Entryway
Do you want a low-maintenance entryway that stays green all year round? In this case, evergreens are just what you need. Your entryway will require relatively little watering and will look beautiful, no matter the season.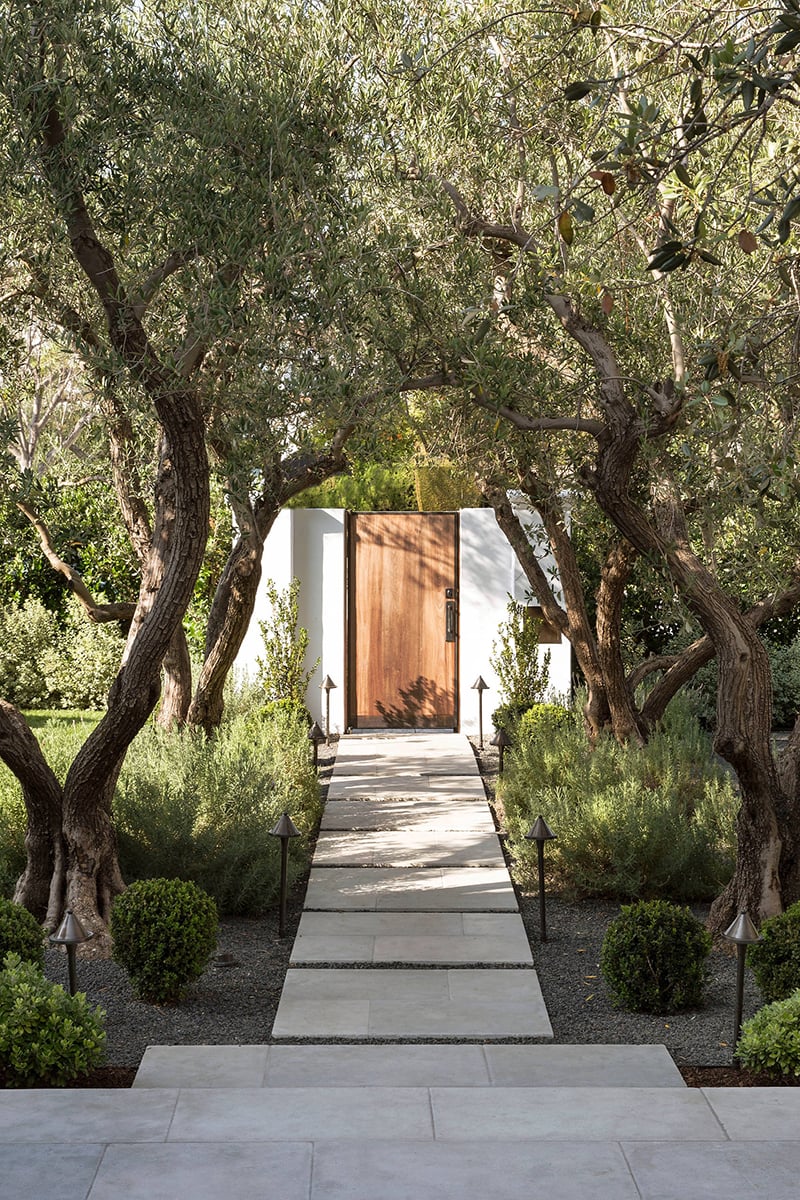 57. Light Wood Fence
Wooden fences are practical, but they also look great and can be created in various types of wood with varying shades of light and dark. A light wood fence can complement a light-colored house and dark house numbers, letting them pop against the background.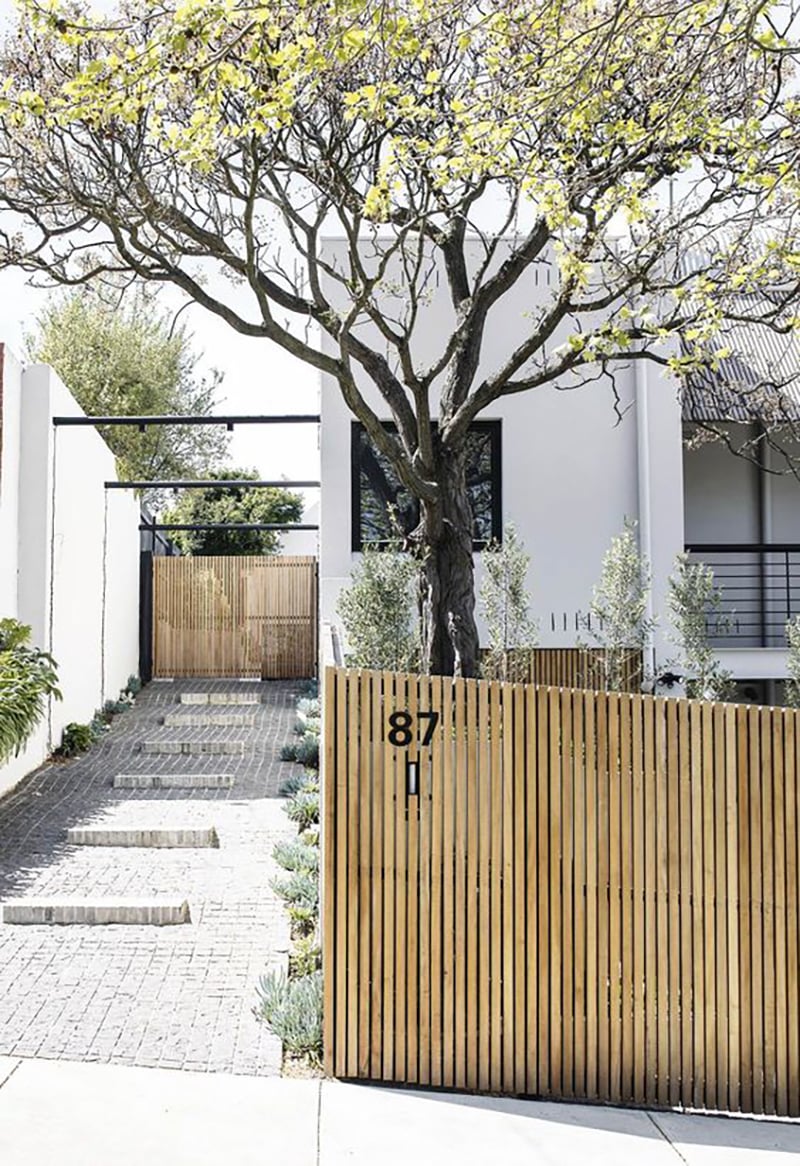 58. Custom House Numbers
House numbers should be visible to show off your address, and while most people understand its importance, they do not opt for overly creative designs. Custom house numbers are a wonderful way to draw attention to the home and can give it a modern finish.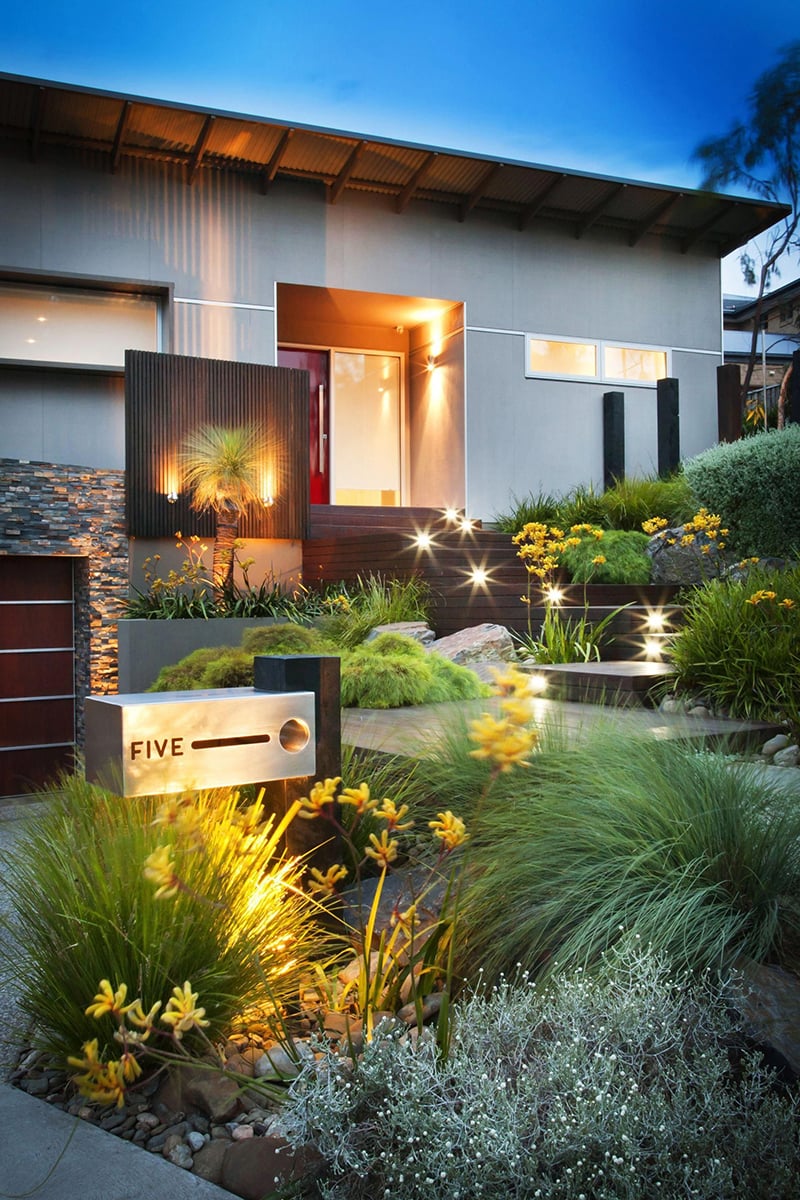 59. Simple Front Yard
Sometimes the simplest approach is the best, and opting for a clean design for your garden will give you a stylish, modern, and low-maintenance finish. A yard that is not filled with shrubbery and blooms will be easier to care for and look neat and tidy.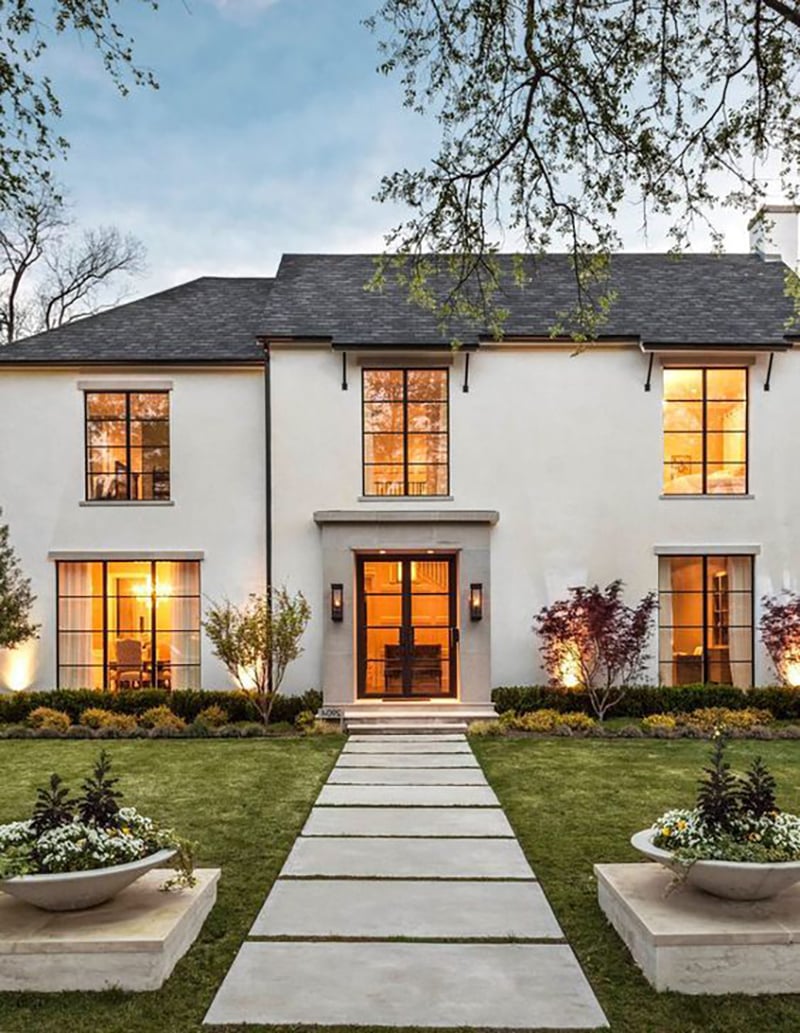 60. Climbing Wall
Instead of planting your flowers in beds, you can go for a climbing wall, making them an eye-catching feature of your garden and home. Vines and roses are excellent options and give the house a romantic, dreamy appearance straight from a fairytale.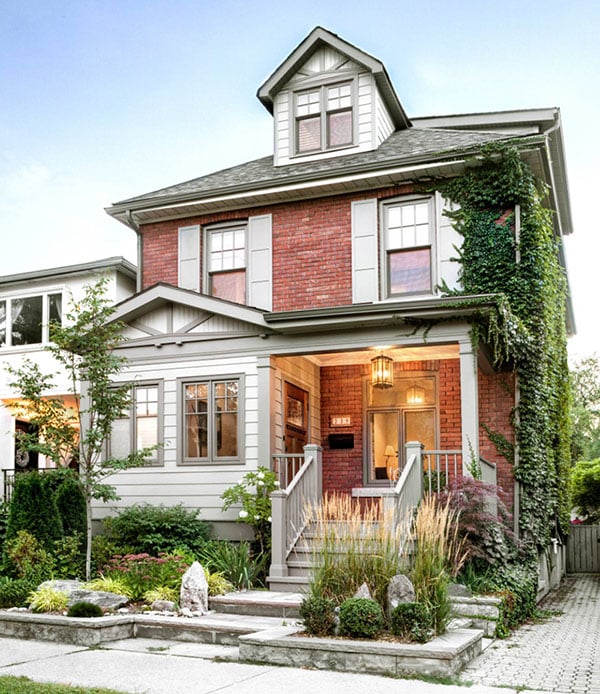 61. White and Black Pebbles
The combination of white and black pebbles will result in contrast, creating a visually striking effect. The pebbles can be used in several ways, including marking off sections of the path and producing a monochromatic finish that feels ultra-modern.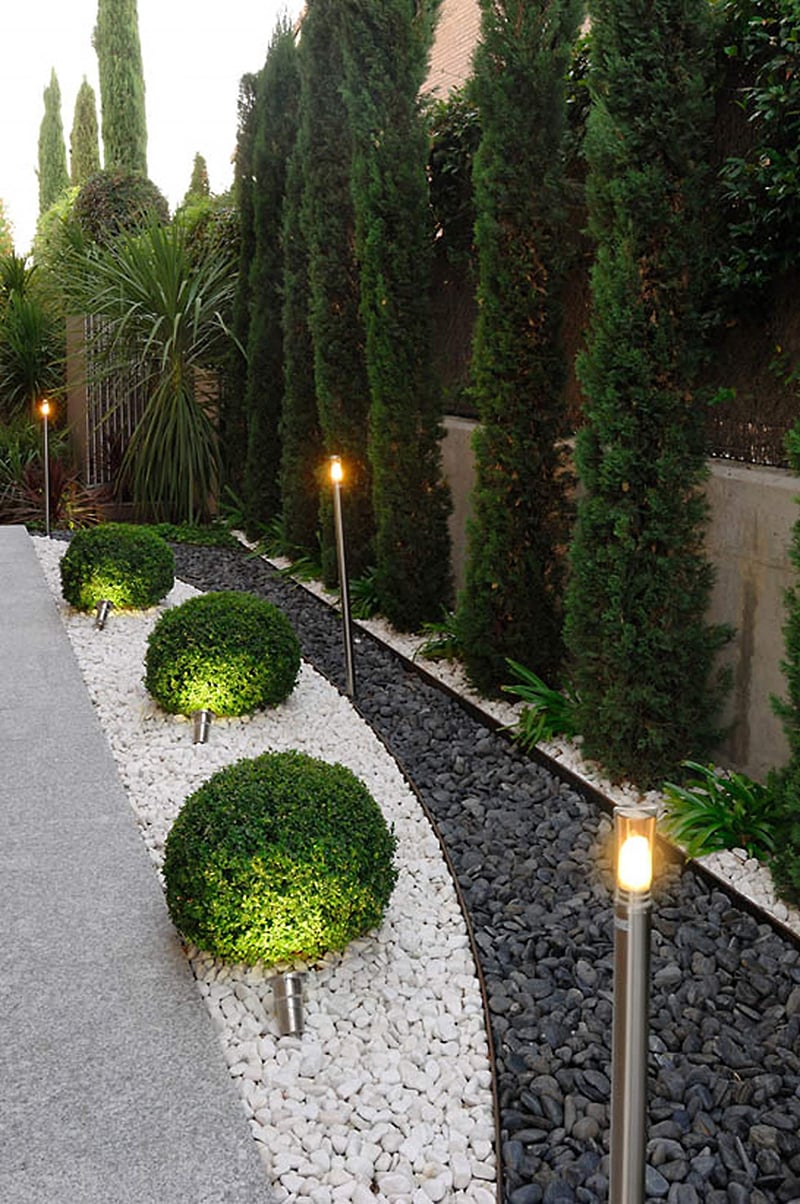 62. Wood and Concrete
Combining wood and concrete to create a feature entrance is an excellent idea as the different finishes are eye-catching. You can use the wood to create a path alongside a concrete retaining wall.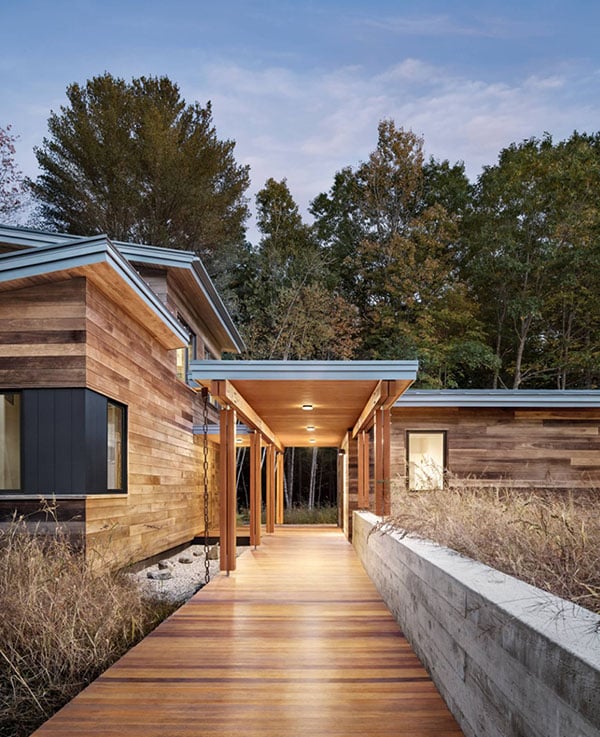 63. Greenery Garlands
A garland is a wreath of flowers and leaves, and having this draped over the wooden pillars of your patio or down your stairs creates a beautiful and natural finish. You want to research the fastest growing climbing plants and then find ones that suit your preference, including the color of the bloom.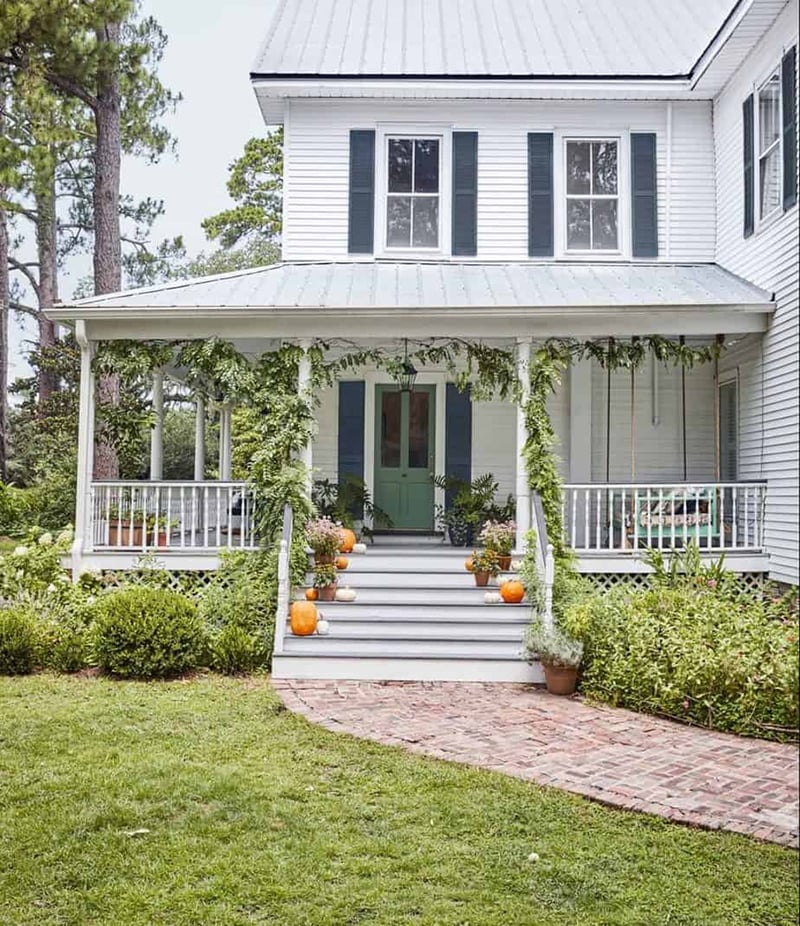 64. White Pavers
White pavers are a great way to create a pathway to your front door. Pavers are easy to install, long-lasting, flexible, and often durable. The pavers can complement the rest of your garden, achieving a minimalistic finish.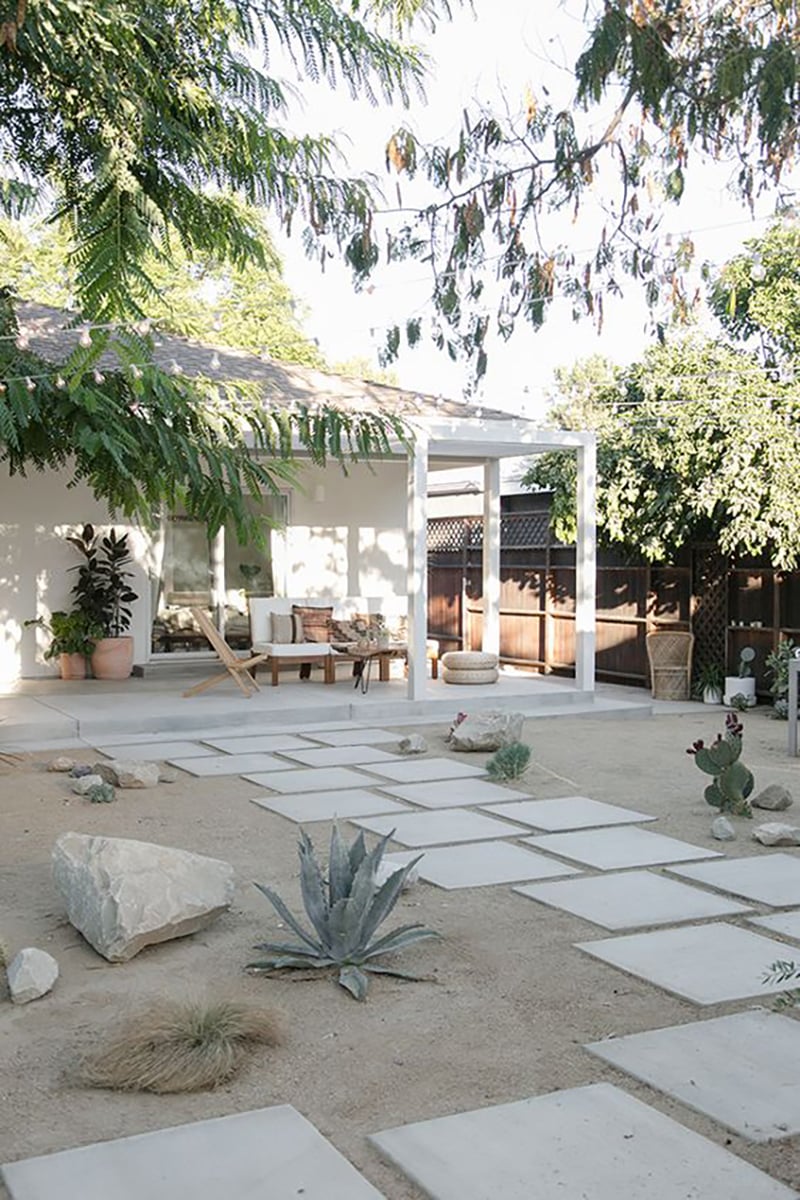 65. Petunias
Petunias are a versatile flower, coming in a range of different colors, making them the ideal plant if you want to add color to your front yard. They smell amazing and bloom for a long time. Plus, they attract bumblebees and butterflies.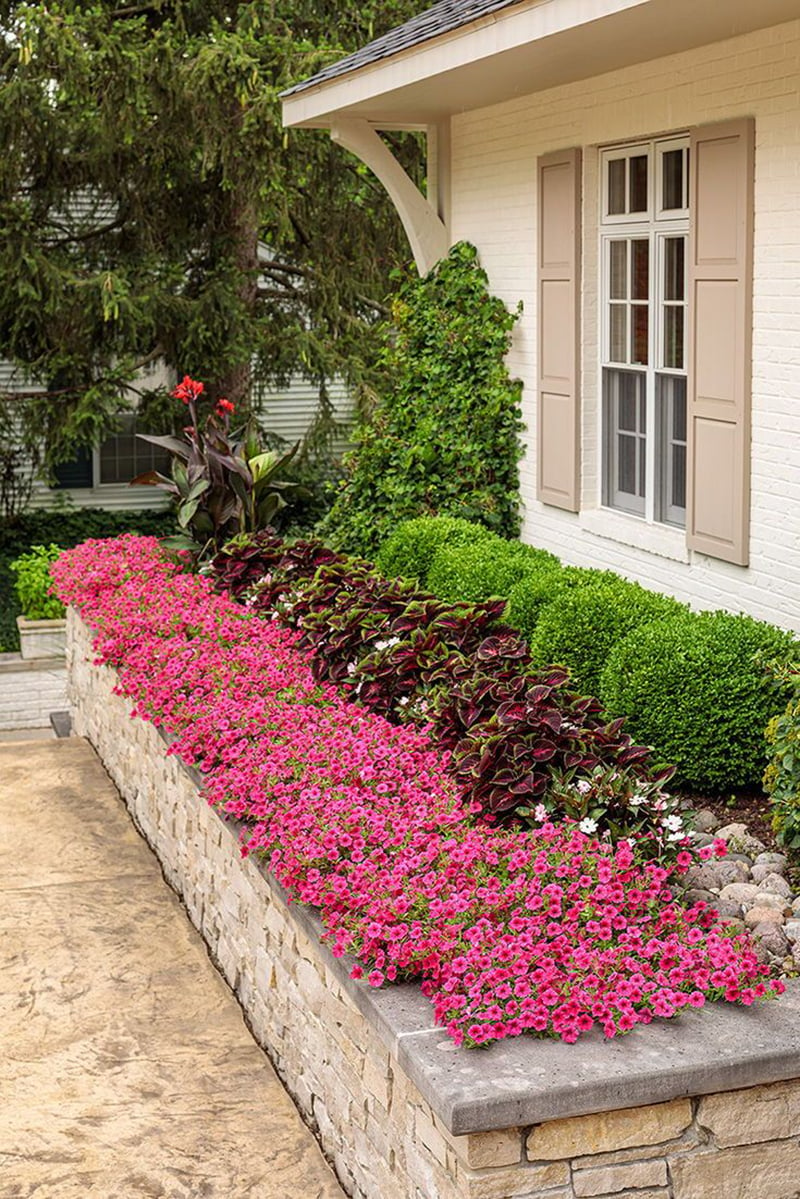 Front Yard Landscaping Ideas FAQs
What should I put in my front yard?
What you should put in your front yard depends on the aesthetic you wish to achieve. For some, this could be rose bushes, wooden archways, and lots of color, while others want to keep it simple, focusing on clean designs and simple finishes. All spaces can benefit from lighting which is practical and decorative.
What do I do with the area in front of my house?
 The front of the house is the most important area as it is the one that you, and others, see first. It can say a lot about your personality, and you can alter it to suit your preference. It can be neat and symmetrical to achieve a professional appearance or filled with flowers and a wooden fence for a cottage-style finish. Consider your space, what you want it to look like, and your budget. You will benefit from using a landscaper who can help you transform your yard.
What can I do with a small front yard?
For small front yards, you want to find clever ways to use the space and not waste it. This could include using the corners and transforming them into flower beds. You can also experiment with your paving, use potted trees or flower boxes, and line the pathway with lights and flowers.
SUBSCRIBE TO OUR NEWSLETTER
Subscribe to our mailing list and get interesting stuff and updates to your email inbox.